October, 8, 2013
10/08/13
8:00
AM ET
With signing day still several months away, schools will add and in some cases lose committed prospects. Here is a look at the best and worst case scenario for each SEC school.
To continue reading this article you must be an Insider
March, 11, 2013
3/11/13
3:49
PM ET
Rebuilding Tennessee, and in particular Tennessee recruiting, will be challenging. Butch Jones could use the help.
Via legacies, he's getting it.
[+] Enlarge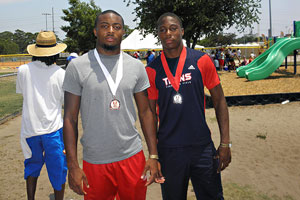 Berry FamilyElliot, left, and Evan Berry would be third-generation Volunteers if they decide to choose Tennessee.
In an unusual coincidence, the Volunteers have a handful of prospects with strong ties to the football program. Just recently, Tennessee picked up commitments from ESPN Watch List defensive back
Todd Kelly Jr.
from Knoxville (Tenn.) Webb and receiver
Neiko Creamer
from Elkton (Md.) Eastern Christian. Kelly's father, Todd Kelly, was a standout defensive lineman for the Vols in the early 1990s. Creamer's father, Andre Creamer, was a defensive back for the Vols in the '80s.
But wait. There's more.
To continue reading this article you must be an Insider
June, 10, 2012
6/10/12
3:12
PM ET
Kipp Adams writes

: On Saturday evening, four-star linebacker Naim Mustafaa became Georgia's 20th verbal commitment for the Class of 2013.
Adams

: Leave it to a young upstart -- a Class of 2015 upstart -- to steal the spotlight at last week's Mark Richt 7-on-7s in Athens, Ga. Rising sophomore Terry Godwin scored several times on offense and intercepted more than enough passes to get Mark Richt & Co.'s attention.
Adams

: Mark Richt 7-on-7 notables.
Radi Nabulsi writes

: Mild-mannered and coveted 2013 OL Delando Crooks has an alter ego on the field.
Nabulsi:
Delando Crooks video interview.
July, 1, 2009
7/01/09
8:00
AM ET
Posted by ESPN.com's Chris Low
The latest twist in Eric Berry's 13-year-old brother committing to Tennessee is that his father, James Berry, tells the Knoxville News-Sentinel that the whole thing was basically blown out of proportion.
Yes, Evan Berry wants to go to Tennessee at this point, but James Berry says there was no planned announcement and that a reporter ran with the story too soon when it was reported Monday on Rivals.com.
What's all this mean?
Exactly what I thought it meant when I first heard about Evan Berry's commitment.
Recruiting and the circus surrounding it (especially the publicity that it generates) gets a little wackier by the day. And for a 13-year-old to be committing to any school is nothing more than a publicity stunt.
It means nothing. Too much can change on both sides of the equation.
That said, Evan Berry may well end up at Tennessee. It sounds like he has all the tools to be a terrific player.
Check back in four or five years, and we'll revisit this story.
In the meantime, let's allow him to be a kid.
June, 30, 2009
6/30/09
2:30
PM ET
Posted by ESPN.com's Chris Low
If you haven't heard by now, one of Tennessee's latest commitments is from a 13-year-old who hasn't even started high school yet.
Not just any 13-year-old, mind you. But the younger brother of Tennessee All-American safety Eric Berry.
Evan Berry told Rivals.com on Monday that he was committed to the Vols. Never mind that given the precarious nature of coaching in the SEC that this current Tennessee staff may well be long gone by the time he ever gets around to signing a letter of intent.
The year of his signing class?
Try 2013
Now before everybody else in the SEC starts laughing and shaking their collective heads, there's not a school in this league that wouldn't love to have somebody on its team with the Berry bloodlines. Evan has a fraternal twin, Elliott, who's also quite the athlete.
But that's not the point.
The point is that the whole idea of kids committing to a school before they've ever even stepped foot in a high school classroom (and the publicity it generates) is absurd.
But maybe that's it. Maybe the publicity is exactly what the Vols were seeking.
Lane Kiffin has been a master to this point at generating publicity (both good and bad), and the Vols were able to close this most-recent recruiting class with a flurry. So he's obviously doing something right.
But a 13-year-old kid?
Even Evan's father, James Berry, concedes that four years is a long time and a lot can happen.
Think about how many times a lot of high school juniors change their mind in a matter of months after committing to a school.
As good as it sounds like Evan is going to be, these next four years should really be a whirlwind.
What's next, though?
Staking out recess at the elementary school playgrounds.