November, 14, 2014
Nov 14
12:00
PM ET
No. 9 Auburn (7-2, 4-2 SEC) and No. 15 Georgia (7-2, 5-2) will renew one of the nation's oldest college football rivalries on Saturday in Athens in a game that could have major implications in the SEC's divisional races.
With an assist from ESPN's Stats & Information group, here are four key storylines to watch on Saturday night.
Gurley's return:
ESPN's Football Power Index shows Auburn has a 50.3 percent chance to win on Saturday, so this is truly a pick-'em game. The main reason for those even odds is that Georgia running back
Todd Gurley
will be back in the Bulldogs' lineup after serving a four-game suspension for accepting money to sign memorabilia.
Freshman
Nick Chubb
was phenomenal as Gurley's replacement, ranking 10th in the FBS in rushes per game (25.5), fourth in rushing yards per game (167.8) and tying for fifth with 17 runs of 10-plus yards during his time as the Bulldogs' starter.
But former Heisman Trophy frontrunner Gurley brings an entirely different level of production to the offense. In case you forgot, here is what the junior star had accomplished before Georgia coach Mark Richt benched him prior to the Missouri game.
Not only is he a home-run threat -- Gurley (8.2 ypc) is on pace to become the third SEC player with at least 100 carries in a season to average at least 8 yards per carry, joining Arkansas' Felix Jones (8.7 in 2007) and Auburn's Brent Fullwood (8.3 in 1986) -- but he also possesses a remarkable ability to make something out of nothing.
That's where the veteran Gurley truly separates himself from freshman Chubb. On runs where he is hit at or behind the line of scrimmage, Gurley still averages 4.0 yards per carry, where Chubb averages just 1.0. The average against Power Five opponents on such carries is 0.5 ypc.
Efficient Tigers offense:
This isn't just the Todd Gurley Show, however. Auburn's offense is every bit the machine that Georgia's is.
According to
ESPN's team efficiency rankings
, Auburn has the third-most efficient offense in the FBS, trailing only Oregon and Baylor. Georgia is fifth.
That's largely because of quarterback
Nick Marshall
-- a former Georgia cornerback --
Cameron Artis-Payne
,
Corey Grant
and the other Tigers' abilities on outside runs. On runs outside the tackles, Auburn leads the SEC in rushing yards per game (149.1) and runs of 10-plus yards (49) and is tied for the lead in touchdowns (13).
That's an especially interesting matchup on Saturday because of Georgia's problems against outside runs, particularly in its upset loss to Florida. The Bulldogs are allowing 6 yards per carry on runs outside the tackles (third worst in the SEC) and surrendered 392 rushing yards outside the tackles combined in their losses to Florida and South Carolina. In Georgia's seven wins, they allowed a total of 364 yards on runs outside the tackles.
Will Georgia pass?:
Largely because of its success running the ball, Georgia hasn't shown much interest in putting the ball in the air. The Bulldogs have run on 62 percent of their offensive plays, and probably won't alter that philosophy much with Gurley back in the lineup.
It might be a good idea for
Hutson Mason
to let it fly a bit more often, however. Auburn's passing defense has been spotty at best in the last four games -- particularly last week, when Texas A&M freshman
Kyle Allen
tossed four touchdown passes in the first half of his SEC starting debut.
The Tigers have been especially atrocious defending receivers after completions, allowing 150.8 yards after the catch this season, the most of any SEC defense.
Mason (140-203, 1,515 yards, 15 TDs, 3 INTs) has been the definition of a game manager at quarterback, but Georgia offensive coordinator Mike Bobo might need Mason to complete a few more passes this week and see if wideouts
Malcolm Mitchell
,
Chris Conley
and
Michael Bennett
can make something happen after the catch.
Tigers' turnover trouble:
Auburn coach Gus Malzahn spoke of attempting to shake things up in practice this week in an effort to get the Tigers off to a better start.
The Tigers turned it over on their first offensive play in both of their losses this season (to Mississippi State, where it actually lost turnovers on its first two plays en route to an early 21-0 deficit, and last week against Texas A&M, when the Aggies led 35-17 at halftime) and lost five fumbles in their games against Mississippi State, South Carolina and Texas A&M.
Auburn has allowed an SEC-high 35 points off turnovers in its last four games and has a 2-2 record in that period. During their 5-0 start, the Tigers did not allow any points off turnovers.
Georgia is tied for the SEC lead with a plus-13 turnover margin, which is fourth nationally, and has outscored opponents 62-6 off turnovers. Only Arizona (three points) has allowed fewer points off turnovers than the Bulldogs.
October, 5, 2012
10/05/12
12:05
PM ET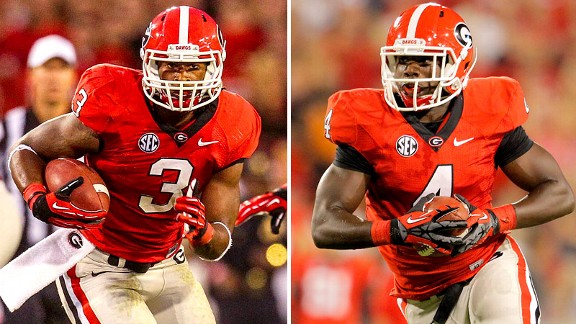 US Presswire, Icon SMITodd Gurley and Keith Marshall have already rushed for a combined 964 yards and 15 scores.
In the realm of Georgia football, it's the ultimate compliment.
Freshman running backs
Todd Gurley
and
Keith Marshall
have burst onto the scene in such explosive fashion that teammates and fans have taken to calling the duo "Gurshall."
That's right, a tribute to the great Herschel Walker, who ran his way into SEC lore more than 30 years ago, and to this day, remains the standard for running backs in this league.
Too early to make such comparisons?
Yep, way too early.
But there's no denying how good Gurley and Marshall have been to this point and the impact they've made on the No. 5 Bulldogs.
They've combined to rush for 964 yards and score 15 touchdowns … in just five games.
Marshall ripped off touchdown runs of 75 and 72 yards last week against Tennessee. Gurley has four scoring runs of 29 yards or longer, and he also returned a kickoff 100 yards for a touchdown in the season opener.
Their ability to strike so quickly and generate yardage in chunks is a big reason the Bulldogs have scored 40 or more points in all five of their games.
Consider this: Gurley has eight rushes of 20 yards or longer, which is tied for the most among FBS players. Marshall is close behind with five runs of 20 yards or longer. Last season, no Georgia player had more than six rushes of 20 yards or longer
As a team, the Bulldogs had three rushing touchdowns of 20 yards or longer last season. Gurley and Marshall have already combined for seven in five games this season.
[+] Enlarge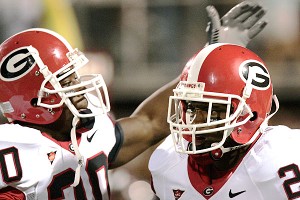 AP Photo/Rogelio SolisBefore Gurley and Marshall, Danny Ware and Thomas Brown carried the Bulldogs to a 10-2 record and an Outback Bowl victory in 2004.
The stakes get higher and the stage gets bigger this weekend for "Gurshall" when No. 5 Georgia travels to Columbia, S.C., to take on No. 6 South Carolina, which is allowing just 2.2 yards per carry and features one of the best defensive lines in the SEC.
But nothing has seemed to faze these guys, who're both from North Carolina and mapped it out in high school that they would attend the same college if possible.
"It's been a blessing, just to be able to come in and have all this success this early as a freshman and getting all this attention," said Gurley, who has 10 touchdowns. "We just keep trying to find things to get better on every day."
There's still a lot left of this season, but good luck in finding two true freshmen on the same team who've come into the SEC made the kind of splash "Gurshall" has.
Who are some of the other dynamic first-year duos that would compare?
Here's a look, and we'll start with the "old" guys first. Again, these are true freshmen:
RB Dalton Hilliard/RB Garry James, LSU, 1982:
They were known as the "Dalton-James Gang" and combined for 1,611 rushing yards and scored 25 touchdowns. The Tigers went 8-3-1 that season and lost 21-20 to No. 3 Nebraska in the Orange Bowl. Hilliard rushed for 901 yards and 11 touchdowns and James 710 yards and seven touchdowns. They also combined to catch 52 passes for seven more touchdowns.
RB Neal Anderson/RB John L. Williams, Florida, 1982:
The famed Florida duo combined for 853 rushing yards and 10 touchdowns in what was Charley Pell's next-to-last full season at Florida. The Gators went 8-4 and lost in the Bluebonnet Bowl. Anderson rushed for 197 yards in his first collegiate start against Kentucky and scored three touchdowns.
RB Keith Henderson/RB Tim Worley, Georgia, 1985:
Just a few years after Walker departed, Henderson and Worley arrived on the scene in Athens. They combined for 1,358 rushing yards and scored 12 touchdowns. Henderson averaged 6.8 yards per carry. The Bulldogs finished 7-3-2 and tied Arizona in the Sun Bowl.
RB James Stewart/RB Aaron Hayden, Tennessee, 1991:
The Vols turned to a pair of true freshmen to carry the rushing load in 1991, and Stewart and Hayden combined for 1,643 yards. Stewart just missed the 1,000-yard rushing mark with 939 yards and eight touchdowns. Hayden finished with 704 rushing yards and seven touchdowns. He also caught a key screen pass for a touchdown in Tennessee's memorable comeback win at Notre Dame. The Vols finished 9-3 and lost in the Fiesta Bowl to Penn State.
RB Fred Taylor/WR Reidel Anthony, Florida, 1994:
If you throw in receiver Ike Hilliard, the Gators had a trio of stellar true freshmen in 1994. Taylor led the Gators in rushing with 873 yards and eight touchdowns and also caught 29 passes. Anthony caught 30 passes and set Florida freshman records with 615 receiving yards and five touchdown catches. Anthony averaged 20.5 yards per catch. Hilliard also had 22 catches for 306 yards and four touchdowns in Florida's Fun 'n' Gun attack. The Gators finished 10-2 and won their second straight SEC championship.
DE Dennis Johnson/S David Johnson, Kentucky, 1998:
The "Johnson Boys" made big splashes for the Wildcats, who had their first winning season (7-5) in eight years and played in the Outback Bowl. Dennis Johnson was a second-team Freshman All-American by The Sporting New and finished with five tackles for loss, including a pair of sacks, two fumble recoveries and a blocked field goal. David Johnson earned first-team Freshman All-America honors. He finished with 53 total tackles, two interceptions, two forced fumbles and returned a fumble for a touchdown.
RB Carnell Williams/CB Carlos Rogers, Auburn, 2001:
The Tigers' "Cadillac" burst onto the scene with 614 rushing yards and six touchdowns and averaged 5.1 yards per carry. Williams' roommate, Rogers, earned Freshman All-America honors by The Sporting News on defense. He finished with 58 tackles (46 solo) and 12 pass deflections and would go on to win the Jim Thorpe Award as a senior. The Tigers finished 7-5 and lost in the Chick-fil-A Bowl.
RB Danny Ware/RB Thomas Brown, Georgia, 2004:
They're the duo "Gurshall" is chasing now in terms of Georgia freshman running back numbers. Ware and Brown combined for 1,567 rushing yards and 12 touchdowns in helping Georgia to its third straight season of 10 or more wins. The Bulldogs finished 10-2 and beat Wisconsin in the Outback Bowl. Brown led the team in rushing that season with 875 yards and eight touchdowns.
RB Darren McFadden/RB Felix Jones, Arkansas, 2005:
McFadden and Jones made a run at the 2,000-yard mark during their freshman seasons. They combined for 1,739 rushing yards and 14 touchdowns. McFadden, who was a two-time Doak Walker Award winner, led the way with 1,113 yards and 11 touchdowns. Jones had 626 yards and three touchdowns. The Hogs finished with a 4-7 record.
QB Tim Tebow/WR Percy Harvin, Florida, 2006:
Do the Gators win the 2006 national championship without Tebow and Harvin? They both came up big in clutch situations. Tebow, the Gators' short-yardage specialist, was second on the team with 469 rushing yards and led the team with eight rushing touchdowns. He also passed for five touchdowns. In the 41-14 win over Ohio State in the BCS National Championship Game, Tebow rushed for a touchdown and passed for a touchdown. Harvin scored five touchdowns and finished with 855 yards in total offense. He averaged 11.4 yards per touch to lead all freshmen nationally. Showing off his versatility, Harvin had a season-high nine catches in the national title game and rushed for a season-high 105 yards in picking up MVP honors in the SEC championship game win over Arkansas.
RB Mark Ingram/WR Julio Jones, Alabama, 2008:
Ingram shared carries with 1,383-yard rusher Glenn Coffee, but still managed to churn out 728 yards of his own to go along with 12 touchdowns. Jones was named the SEC Freshman of the Year by The Associated Press and was also a second-team All-SEC selection. He led the Crimson Tide with 58 catches for 924 yards and four touchdowns. He was fourth that season in the SEC in receiving yards per game. Alabama went 12-0 in the regular season, but lost in the SEC championship game to Florida and in the Sugar Bowl to Utah.
WR Alshon Jeffery/CB Stephon Gilmore, South Carolina, 2009:
The Gamecocks were able to keep two of the best from their state at home, and Jeffery and Gilmore both had big freshman seasons. Jeffery was named Freshman All-American by several outlets and led the Gamecocks with 46 catches for 763 yards. His six touchdown catches were second on the team. On defense, Gilmore started in all 13 games and also earned Freshman All-America honors. He was fifth on the team with 56 total tackles, including six for loss, and had eight pass breakups. The Gamecocks finished 7-6 and lost to Connecticut in the Papajohns.com Bowl.
April, 7, 2011
4/07/11
3:11
PM ET
By
ESPN.com staff
| ESPN.com
Going back to my post on potential 1,000-yard rushers next season in the SEC, I thought it would be interesting to see who has produced the most 1,000-yard rushers in the league over the past five seasons.

That would be Arkansas with six, including four different players. Darren McFadden did it twice, and so did Felix Jones. In fact, they both rushed for 1,000 yards in the 2006 and 2007 seasons.
Florida and Vanderbilt have not had a 1,000-yard rusher over the past five seasons.
The Gators' last 1,000-yard rusher was Ciatrick Fason in 2004 with 1,267 yards. The last time the Commodores produced a 1,000-yard rusher was Jermaine Johnson in 1995 with 1,072 yards.
Last season,
Marcus Lattimore
became the first South Carolina player to rush for 1,000 yards since Derek Watson had 1,066 yards in 2000.
Here's a rundown:
Arkansas: 6
(Darren McFadden 1,830 yards in 2007, Darren McFadden 1,647 yards in 2006,
Knile Davis
1,322 yards in 2010, Felix Jones 1,168 yards in 2006, Felix Jones 1,113 yards in 2007, Michael Smith 1,072 yards in 2008)
Auburn: 3
(
Cam Newton
1,473 yards in 2010, Ben Tate 1,362 yards in 2009, Mike Dyer 1,093 yards in 2010)
LSU: 3
(Charles Scott 1,174 yards in 2008,
Stevan Ridley
1,147 yards in 2010, Jacob Hester 1,103 yards in 2007)
Ole Miss: 3
(Dexter McCluster 1,169 yards in 2009, BenJarvus Green-Ellis 1,137 yards in 2007, BenJarvus Green-Ellis 1,000 yards in 2006)
Tennessee: 3
(Montario Hardesty 1,345 yards in 2009, Arian Foster 1,193 yards in 2007,
Tauren Poole
1,034 yards in 2010)
Alabama: 2
(
Mark Ingram
1,658 yards in 2009, Glen Coffee 1,383 yards in 2008)
Georgia: 2
(Knowshon Moreno 1,400 yards in 2008, Knowshon Moreno 1,334 yards in 2007)
Mississippi State: 2
(Anthony Dixon 1,391 yards in 2009, Anthony Dixon 1,066 yards in 2007)
Kentucky: 1
(Rafael Little 1,013 yards in 2007)
South Carolina: 1
(Marcus Lattimore 1,197 yards in 2010)
October, 8, 2010
10/08/10
4:15
PM ET
By
ESPN.com staff
| ESPN.com
I'm all ears as we delve into our weekly installment of the SEC mailbag:
Tony in Fairfax, Va., writes:
After all we heard in the preseason about Florida throwing the ball all over the place this season, don't you think
John Brantley
has been a disappointment so far? You were pretty high on him. Didn't you expect him to be further along?
Chris Low:
Yes, I did, but I admit I probably got caught up in the hype. There's no question that Brantley can throw the ball and has an accurate arm. What I didn't give enough credence to was how long it would take him to get used to being there in the pocket and making quick decisions with SEC pass-rushers breathing down his throat. Even though he's a junior, he's really more like a freshman because he'd never played any meaningful snaps before this season. I'll agree that Brantley has looked a little hesitant in the pocket at times, but I also agree with Urban Meyer that the people around Brantley need to make more plays and play more consistently. Really, the entire Florida passing game has been disappointing, and that includes the guys catching the passes.
---
Eric in Okinawa, Japan (U.S. Military), writes:
Has Ohio State ever beaten a current SEC team in a bowl game? I think the answer is no, but I'm not sure I have an accurate source.
Chris Low:
First off, Eric, thank you for your service. You are correct. Ohio State is 0-9 against the SEC in bowl games. The two most recent losses came in BCS National Championship Games. LSU beat Ohio State 38-24 in New Orleans to win the 2007 title, while Florida beat Ohio State 41-14 in Glendale, Ariz., to win the 2006 title. To be fair, current Ohio State coach Jim Tressel is only responsible for three of those nine losses. In addition to the two BCS National Championship Game losses, he was in his first season as the Buckeyes' head coach in 2001 when they lost 31-28 to South Carolina in the Outback Bowl. Seven different SEC teams (Alabama, Auburn, Florida, Georgia, South Carolina, Tennessee and LSU) have defeated Ohio State in bowl games. The SEC's superiority over Ohio State in bowl games dates back to the 1978 Sugar Bowl when Bear Bryant's Crimson Tide routed Woody Hayes' Buckeyes 35-6. The SEC's average margin of victory over Ohio State in those nine bowl games is 14.4 points.
---
Paul in Charleston, S.C., writes:
How much more do you think coach Spurrier will use
Marcus Lattimore
than he did against Auburn? If the Gamecocks could have controlled the clock more with the run, Garcia may not have tried to do it on his own.
Chris Low:
Lattimore carried the ball 14 times against Auburn, but only three times in the second half. The Gamecocks led that game 20-14 at the half, too, so I'd say you're on to something. One thing to consider, though, is that they didn't have the ball very much on offense in the second half of that game. Their first three possessions after halftime consisted of three plays or less. I do believe Lattimore will play a key role for the Gamecocks if they're going to beat Alabama. Specifically, he has to be able to make some positive yardage on first down. The Crimson Tide have gone 39 straight games without allowing a 100-yard rusher. Lattimore doesn't necessarily need to rush for 100 yards if the Gamecocks are going to win this game, but he has to be able to run it some to keep Alabama's defense honest and to keep South Carolina out of third-and-long.
---
Nate in Melbourne, Fla., writes:
What is a realistic expectation for an Arkansas team that finishes the season with one loss, speaking in terms of a BCS bowl bid now that playing in the SEC championship game is probably a foregone conclusion since Alabama seems to be unstoppable and will most likely play a two- or three-loss Florida team for the SEC championship?
Chris Low:
An 11-1 Arkansas team would be a lock to play in a BCS bowl. In your scenario, the Hogs would have won eight straight games and be ranked in the Top 10 and possibly even the Top 5 in the polls. They have a marquee player in quarterback
Ryan Mallett
, play an exciting brand of football and took Alabama to the wire. The more dominant Alabama is the rest of the way, the better Arkansas looks. Depending on what everybody else does, a 10-2 Arkansas team might even have a chance at an at-large BCS berth.
---
Playap in Huntsville, Ala., writes:
Chris, recently you have discussed the possibility of Ingram/Richardson being the best one-two running back combo ever in the SEC. After seeing how Peyton Hillis is tearing up the NFL after getting his shot with the Browns, can we put this to rest and say that the Darren McFadden, Felix Jones and Peyton Hillis trio is the greatest backfield in SEC history?
Chris Low:
When you start talking about threesomes, it's hard to argue with those three. And what makes them so great is that they're all different kinds of runners. Remember that Michael Smith was also on those 2006 and 2007 Arkansas teams. And while everybody remembers Cadillac Williams and Ronnie Brown at Auburn, the Tigers also had Brandon Jacobs in that same backfield before he decided to transfer. Tennessee had Jamal Lewis, Travis Henry, Travis Stephens and Onterrio Smith all on the same team at one point in the late 1990s. And at Georgia in the late 1980s, Rodney Hampton, Tim Worley, Lars Tate and Keith Henderson were all teammates. Lastly, don't forget about the trio of Joe Cribbs, James Brooks and William Andrews at Auburn in the late 1970s and early 1980s.
---
Zack in Little Rock, Ark., writes
: Do you know what time the Arkansas-Auburn game is next week? Thanks.
Chris Low:
The official time will be decided Sunday or Monday, as CBS has elected to use its six-day option for choosing games that weekend. I think what it comes down to is this: If both Arkansas and Auburn win Saturday, then CBS will televise their game at 3:30 p.m. ET on Oct. 16. The other possibilities are 6 p.m. ET on ESPN2, 7 p.m. ET on ESPNU and 9 p.m. ET on ESPN2.
---
Fran in Baton Rouge, La., writes:
I noticed in your Offensive Player of the Year category that you didn't mention LSU running back
Stevan Ridley
. I think LSU's quarterback problems are overshadowing the stellar year he's having. He's leading the SEC in rushing yards per game and he is doing it with no passing game whatsoever.
Chris Low:
Good call. Ridley is having an excellent season despite teams loading up to stop the run. He's easily one of the SEC's most underrated players as we near the midway point and running with a real sense of purpose.
---
Jordan in Tuscaloosa, Ala., writes:
Chris, should Alabama fans be concerned about the lack of sacks? Alabama ranks 102
nd
nationally with only five sacks. Also, do you know how many quarterback hurries Alabama has? It seems like as long as they rack up a good amount of quarterback hurries, the low number of sacks does not matter as much.
Chris Low:
Sounds like you've been in one of the meeting rooms with the Alabama defensive staff. There's no question that a sack kills a drive quicker than anything with the exception of a turnover. And at this point, I'm not sure Alabama has that explosive finisher off the edge. But the Crimson Tide have still been able to get good pressure, and what matters most to the coaches is the way they're affecting the quarterback and whether or not they're forcing him into bad plays. The Tide are second in the SEC to Florida with 13 forced turnovers, and even though they only sacked John Brantley once last week, they hit him a bunch. As for quarterback hurries, Alabama has 18 through its first five games. The Tide had 79 in 14 games a year ago, so they're well behind that pace a third of the way through this season.
October, 1, 2010
10/01/10
8:10
PM ET
By
ESPN.com staff
| ESPN.com
Let's see what's on your mind in this week's SEC mailbag:
Caleb in Hot Springs, Ark., writes:
Chris, I enjoy reading your articles and analysis. I may not always agree, but they are good reads. Anyway, I wanted to know what you think would be the best case scenario for the Razorbacks to make it to the SEC championship game, and if they did and won, do you think they would make it to the BCS National Championship Game. I know the odds for the right things to occur are pretty low, but not entirely impossible. Keep up the great work!
Chris Low:
The first thing that needs to happen for Arkansas is Alabama losing at least one game to a Western Division team and would then need a three-way tie. Alabama would win a two-team tie with Arkansas based on the head-to-head tiebreaker. It's difficult at this point to see the Crimson Tide losing two SEC games, but they still have some tough games. After the Florida game this weekend, they still have to play at South Carolina and at LSU with Auburn coming to Tuscaloosa. The Hogs would have to win out, including winning the SEC championship game, to make it to the BCS National Championship Game. I do believe that any one-loss SEC champion, though, would have an excellent chance to finish in one of those top two spots in the final BCS standings. Probably a more realistic possibility for the Hogs is to win 10 or 11 games and grab an at-large spot in one of the BCS bowls.
Brett in Gulf Breeze, Fla., writes:
Florida's kicker, Caleb Sturgis, will not play against Alabama due to a stress fracture. He could be out up to eight weeks. Punter Chas Henry will take over for field goals. Could be a big deal tomorrow night if the game is close.
Chris Low:
Agreed. It could be a huge deal, not only in this game, but as Florida goes through the rest of this season. Something tells me the Gators will be in several close games, and a field goal could be the difference. One of the factors lost in Sturgis being out is that the Gators also have to find a new holder. Henry was the regular holder, but he's going to be doing the place-kicking now. A mishandled snap could prove as costly as a missed field goal.
Brennan in New York City writes:
Hi Chris. I'd like to introduce a 2008 Big 12 South scenario into the SEC. In the event that Alabama, Arkansas and Auburn all finish with one conference loss (Bama over Arkansas, Arkansas over Auburn, and Auburn over Bama), which school would represent the SEC West in Atlanta and how would that team be chosen?
Chris Low:
The final tiebreaker would apply, which would be the team with the highest ranking in the BCS standings following the final weekend of regular-season games. However, if the second of the tied teams is ranked within five spots of the highest ranked team in the BCS standings, the head-to-head results of the top two ranked teams would then determine the divisional representative in the SEC championship game. So in your scenario, let's say Arkansas is sitting there at No. 3 in the BCS standings at the end of the regular season after winning out and Alabama is No. 5 and Auburn No. 6. Alabama would still go to Atlanta because the Crimson Tide were within five spots of the Hogs and beat them in the regular season. But if Auburn jumped to No. 3 after beating Alabama with Arkansas No. 5 and Alabama No. 6, the Hogs would get the nod based on their head-to-head win over the Tigers and being within five spots of them in the BCS standings. We've got a long way to go before we get to that point, but it makes for compelling conversation. Remember, though, it's only the second tied team that comes into play. For instance, if Auburn were to beat Alabama but still wind up as the third team behind Alabama and Arkansas in the BCS standings, the Tigers would not get the nod based on head-to-head results.
Kenny in Hoover, Ala., writes:
I heard you say that
Mark Ingram
and
Trent Richardson
were the best two running backs on one team in SEC history. Did you forget about a couple of guys named Cadillac Williams and Ronnie Brown at Auburn?
Chris Low:
No, I didn't. I also didn't forget about Darren McFadden and Felix Jones at Arkansas, either. When it's all said and done, I think history will prove me right. McFadden and Jones combined to form a fantastic tandem for the Hogs and rushed for nearly 3,000 yards between them in 2007. To me, they are the standard when you start talking about the premier running back combos in this league, and Williams and Brown aren't too far behind. The reason I say Ingram and Richardson are the best is because they're both so difficult to tackle, and yet, both have the speed to break big plays. It's like Arkansas coach Bobby Petrino said. They pound you and pound you, and then they hit you with a long one.
Will in Metairie, La., writes
: What are your thoughts on LSU trying to use Patrick Peterson on offense? I don't like it. I'd rather have him fresh in the fourth quarter when he's covering
Julio Jones
and
Greg Childs
.
Chris Low:
The one thing that would concern me is all the problems he's had with cramps. Patrick told me earlier this season that it's been an issue for him since Pee Wee football. Clearly, the Tigers will have to pick their spots with him on offense, and I think they will. You're not going to see him on the field for 12 or 15 offensive snaps a game. But if they can get him three to five touches a game, I say go for it. I honestly haven't seen anybody more explosive in college football this season. Pitch it to him. Hand it off to him. Throw him a screen. Anything that gives him another chance to score can only help the Tigers, who're screaming for help right now on offense. There's a reason Patterson is averaging 28.8 yards every time he touches the football this season.
Justin in Kansas City, Mo., writes:
Chris, why does it seem that
Cam Newton
is getting so little recognition in the Heisman race? He is obviously the most dangerous player in the SEC right now and is basically winning every week by himself. I thought the Heisman was given to the most talented college football player of the year, not the most media hyped.
Chris Low:
Honestly, the Heisman Trophy means a lot of different things to a lot of different people. It's supposed to go to the most outstanding player each year in college football. I'm a voter and always place extra weight on how a player does in big games, how he impacts his team and how he performs in clutch situations. Statistics are very important. But just as important to me is whether or not that player elevates the level of play of the people around him. That said, I feel like Newton has been the MVP of the SEC to this point. If he keeps it up and Auburn keeps winning, I feel certain that he will be right in the middle of the Heisman race. He was sort of under the radar when the season began, being a first-year starter at Auburn, so that might be holding him back some nationally. Mark Ingram was the same way last year and really didn't become a mainstay in the Heisman race until the seventh week of the season when he rushed for 246 yards in the win over South Carolina. Newton's going to have several more chances on big stages this season. From what I've seen of him so far, he's going to be in the Heisman conversation and deserves to be.
April, 7, 2010
4/07/10
11:30
AM ET
By
ESPN.com staff
| ESPN.com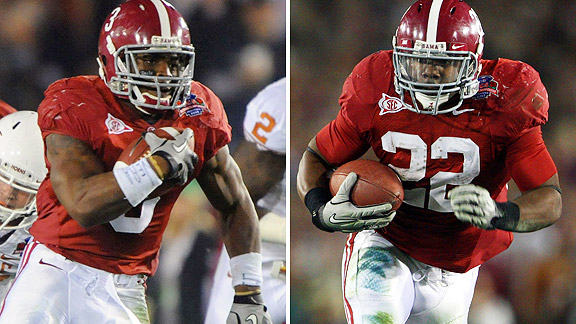 US PresswireMark Ingram, right, and Trent Richardson enter the 2010 season as the two best backs in the SEC.
TUSCALOOSA, Ala. --
Mark Ingram
readily admits that his life has been crazy the past four months.
As the first Heisman Trophy winner in Alabama history, he's been mobbed everywhere he goes. He's even had professors asking for autographs before class.
One thing that won't be crazy next fall, though, is how Alabama splits up the carries between Ingram and sophomore
Trent Richardson
. Ingram received the lion's share a year ago, but it will probably be closer to a 50-50 split in 2010.
And that's not a problem with Ingram.
"We're always going to be fresh," said Ingram, who rushed for 1,658 yards last season and carried the ball 271 times. "Whenever I'm tired, he's coming in fresh. Whenever he's tired, I'm coming back in fresh. That defense is going to have a fresh pair of legs coming at them all game, and all that's going to do is make both of us better."
Richardson rushed for 751 yards on 145 carries as a freshman and may be Alabama's most explosive back. But he can also pound, which is what makes the Ingram-Richardson tandem so hard on defenses.
"They wear down, especially when it gets in the fourth quarter," said Ingram, who had 1,075 yards after contact in 2009. "You can tell by their body language, and they don't want to tackle you anymore. That's how we play as a team. We want to wear teams down. The wide receivers play that way. The offensive line plays that way, and we play that way."
From a defensive player's perspective, linebacker Dont'a Hightower said it's a nightmare going up against a running back duo as well-rounded as Ingram and Richardson. Remember that Ingram also caught 32 passes last season.
"I don't know how you can game plan for two guys like Mark and Trent," Hightower said. "Most teams will have a big, power back and then another guy they bring in who's a speed back, so you can get your defensive personnel on the field depending on who's out there. But with Mark and Trent, you've got strength, power and speed with both of them.
"You can't adjust on defense. I don't see how you can stop them."
Ingram is a little more succinct.
"We shouldn't be anything but a headache for teams," he said.
The SEC has seen its share of talented running back combos in recent years. Arkansas' Darren McFadden and Felix Jones each surpassed 1,000 yards rushing in both the 2006 and 2007 seasons, and both were first-round draft choices.
Auburn's Ronnie Brown was drafted second overall in the 2005 NFL draft, and his backfield mate, Carnell Williams, went fifth overall in that same draft. Williams rushed for 1,165 yards during the 2004 season and Brown 913 yards in leading the Tigers to a 13-0 record.
Now it's Ingram and Richardson's turn to see what kind of numbers they can put up. They enter the 2010 season as the two best backs in the SEC, and they also have talented skill players around them at receiver.
So, it's not like defenses can load up just to stop them.
"Those two guys are the backbone," Alabama quarterback
Greg McElroy
said. "When we need a couple of yards, they're going to get it. If we have third-and-5, we're not going to be afraid to run it with those guys. I can't tell you how much better that makes you as an offense."
October, 30, 2008
10/30/08
6:47
PM ET
By
ESPN.com staff
| ESPN.com
Posted by ESPN.com's Chris Low
Michael Smith's alarm clock goes off every morning at 5 o'clock. Sometimes he sleeps in to 5:15.
| | |
| --- | --- |
| | |
| | AP Photo/Dave Martin |
| | Michael Smith has rushed for more than 100 yards in five of Arkansas' games this season. |
The Arkansas junior tailback has the routine down pat by now. At a listed height of 5-foot-7 and a listed weight of 173 pounds, he has no choice if he's going to keep trading blows with SEC defenders and remain in one piece.
"My legs are my insurance, and they have to be ready to go every Saturday," Smith said. "I'm not like a lot of those guys out there. I'm not carrying 210 or 215 pounds. I'd like to have close to that weight."
Nope, the SEC's leading rusher isn't even carrying 170 pounds. At least he wasn't a few weeks ago the last time he could bear looking at the scale.
"I don't know if I'm supposed to say this," Smith said sheepishly. "But I played the Auburn game at 163 pounds. I was having trouble holding weight. I guess I was doing too much and not giving enough back to my body.
"They told me they were going to go with me to breakfast, lunch and dinner and then I was going to get a couple of shakes, too. I've gained some weight back. How much? I don't want to know. If I get on the scale, I turn my head and tell them, 'Don't call out the number.'
"They just tell me to keep eating and that I'll be OK."
Of course, "they" aren't staring 240-pound linebackers in the face when they come darting through the hole, either.
Smith's early-morning regimen has become legendary around the Arkansas football complex. Several hours before he sets foot in his first class, he's in the training room taking ice baths, contrast baths, getting massages, doing stabilizing exercises, getting in some extra lifting for his legs, getting in some extra stretching, anything he has to do to keep going.
He's also usually the last one to leave the training room after practice is over and is never too far from the weight room. What he lacks in size, he makes up for in strength. Smith can bench-press 370 pounds and has squatted more than 500 pounds.
"Yeah, I'm banged up, but this is football. My mind is what keeps me into it," said Smith, who ranks sixth nationally in rushing with an average of 131.4 yards per game and has already carried the ball an SEC-leading 163 times. "No matter how banged up you are, you brush it off and get ready for the next game. When you're the workhorse, that's the mentality you have to have.
"I'm like that old Chevy that keeps on running and keeps on clicking. You might have to kick it to get it started. But when it's running and running good, it's not going to let you down."
SEC SCOREBOARD
Saturday, 12/20
Monday, 12/22
Tuesday, 12/23
Wednesday, 12/24
Friday, 12/26
Saturday, 12/27
Monday, 12/29
Tuesday, 12/30
Wednesday, 12/31
Thursday, 1/1
Friday, 1/2
Saturday, 1/3
Sunday, 1/4
Monday, 1/12
Tweets from https://twitter.com/ESPNCFB/lists/sec