SEC:

flipping out review 122413
October, 24, 2014
Oct 24
10:00
AM ET
A look ahead to Saturday's games in the Southeastern Conference. All times Eastern:
Noon
UAB at Arkansas, SEC Network:
Bret Bielema will have to wait at least one more week before notching that first SEC victory, but after three straight losses, this Arkansas team needs a win in the worst way. It's not like the Razorbacks are playing poorly. Even Saturday, after falling apart in the first half, they didn't give up. They responded in the second half and outplayed Georgia the final 30 minutes. That first conference win is coming. In the meantime, Arkansas can't afford to overlook UAB. The Blazers put up 34 points on No. 1 Mississippi State earlier in the season, so they're at least capable of getting in the end zone.
[+] Enlarge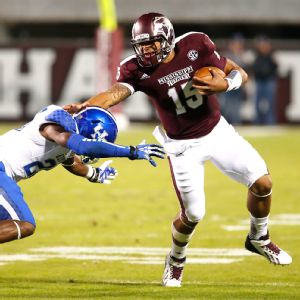 AP Photo/Rogelio V. SolisDak Prescott threw for 268 yards and ran for 33 last season in a 28-22 home victory over Kentucky.
3:30 p.m.
No. 1 Mississippi State at Kentucky, CBS:
What happened to Kentucky? This game was shaping up to be one of the biggest games in program history – a top-25 matchup, a chance to take down the No. 1 team in the country – and then it all fell apart at LSU on Saturday. Losing close is one thing, but the Wildcats were dominated in Death Valley. The good news is that they can still take down No. 1 this weekend as this will be Mississippi State's first game since taking over the top spot. For the Bulldogs, it's a chance to prove they're worthy of No. 1 and it's another opportunity for
Dak Prescott
to shine in front of a national audience.
4 p.m.
Vanderbilt at Missouri, SEC Network:
A week after everybody left Missouri for dead, the Tigers are back in the SEC East race and rolling after a 42-13 win at Florida. The defense feasted on the Gators' offense, forcing six turnovers and taking two back for touchdowns. That's bad news for Vanderbilt quarterback
Johnny McCrary
, who will be making his first start for the Commodores. In his first action since the season opener, McCrary went 10-of-16 for 169 yards with one touchdown and one interception Saturday against Charleston Southern. But that was Charleston Southern. This is Missouri. Good luck Mr. McCrary.
7:15 p.m.
No. 3 Ole Miss at No. 24 LSU, ESPN:
Don't assume that Ole Miss is going to just go to Baton Rouge and handle its business. Yes, the Rebels have arguably the top defense in the SEC. And yes, they're ranked No. 3 for a reason. But winning on the road at LSU is no easy task. Just ask Les Miles, who is 45-4 as LSU coach in night games at Tiger Stadium. There's something special about when the sun sets over Death Valley. So don't be surprised if this game is close in the fourth quarter, and it's up to Ole Miss quarterback
Bo Wallace
to make a play. Wallace did account for more than 350 yards and four touchdowns at LSU two years ago.
7:30 p.m.
No. 4 Alabama at Tennessee, ESPN2:
Thank you, Lane Kiffin, for infusing a little life back into this rivalry. He made it interesting back in 2009 when his Tennessee team nearly knocked off the eventual national champs, and he's doing it again this year with his return to Knoxville as Alabama's offensive coordinator. You can bet the fans will be a little more rowdy in welcoming Kiffin back to Neyland Stadium on Saturday. But despite all the hoopla surrounding Kiffin, there's still a game to be played. Alabama comes in as a heavy favorite, and the Vols could be in trouble if quarterback
Justin Worley
isn't able to play.
South Carolina at No. 5 Auburn, SEC Network:
Gus Malzahn admitted this week that he wears a visor every game because of Steve Spurrier. That's how much respect and admiration he has for the Head Ball Coach. On Saturday, Malzahn will face Spurrier for the first time as a head coach in a game that Auburn has to win for its playoff hopes. The Tigers are coming off a loss to Mississippi State, and this is their first of four SEC games in four weeks. Meanwhile, South Carolina has not delivered on the preseason hype. A top-10 team before the season, the Gamecocks are barely above water at 4-3.
December, 24, 2013
12/24/13
11:00
AM ET
Editor's note: During Week 12, 10 ESPN.com reporters changed conferences to experience college football in unfamiliar territory. Here is what they learned from the experience.
As you know, we here on the blog circuit changed things up this year and took trips to relatively foreign college football lands. We had Big Ten guys in SEC surroundings. SEC guys in 40-degree, rainy weather. ACC folks hanging out with Bevo!
It was a lot to consume during our exciting flip week of fun, and we couldn't express our emotions in just one post. So we are throwing out superlatives for our trips. I dared to set foot in Madison, Wis., for the Badgers game against Indiana in November. It was rainy and gross, but the fans didn't disappoint and Wisconsin rolled over the Hoosiers 51-3 in a game that was pretty much over after the opening kick.
I stuffed my face and started to adore that Midwestern accent that makes Wisconsin go 'round.
Madtown was a blast. Here are a few things that I took away from my time in Dairy Land:
Best meal:
I love food. I want to taste every single flavor in whatever I'm consuming, and I want a good atmosphere. While I loved the signature "Jake" and delicious Oreo malt at Potbelly on State Street, I have to go with homegrown on this one. The cheese curds and brats were scrumptious at State Street Brats, but the meal that almost put me in a food coma was the scrambler I had at Mickies Dairy Bar (cash only!). It was loaded with potatoes (yanks), peppers, onions, eggs and chicken, and was topped with a mound of cheese. I put some salsa and hot sauce on that bad boy, smushed what I could between two slices of whole wheat bread and went to town!
[+] Enlarge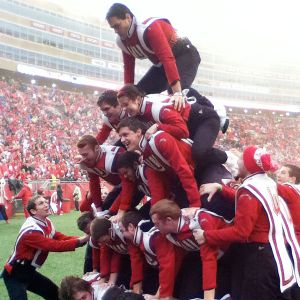 Edward AschoffTheres as much entertainment in the stands as there is on the field during a Wisconsin home game.
Must-see sight in Madison:
There's so much, but I was in awe of how cool the UW Field House looked attached to Camp Randall Stadium. The rustic cathedral is still holding up after opening in 1930, and it really did bring a nostalgic feel to my experience.
Also, check out the "Badger Wagon." It's a souped-up tailgate wagon made from an old utility truck. Thousands of dollars have gone into it, making it this beautiful, metallic party bus. It has a wet bar, there's a push button for four different liquors, an electronic beer tap on the side of the truck that is operated via remote, two grills attached (one for pizza and the other for just about anything), a beautiful TV, an amazing 10-speaker stereo system operated by an iPad and a V-8 engine. You'll find it parked just outside the stadium every Saturday.
Biggest surprise:
The weather was bad so I won't blame UW students too much, but Friday night before the game, I couldn't tell that it was a game-day weekend. Down South, Fridays are sacred nights of celebration. I was expecting a lot of action on State Street, but it was relatively quiet. The students more than made up for it with the most entertaining performance in the stands that I've ever seen at any sort of sporting event. I barely knew the game was going on! That just doesn't happen in the SEC.
Biggest difference from SEC:
The entertainment from the fans, students and band during the game blew my mind. I'm so used to the actual game being the one and only focal point, but inside Camp Randall, everything is the focal point. There's the wave, choreographed dances during songs and action during plays. Students blurted chants at random times and the band struck up tunes while the Badgers played just yards away from them. I didn't know who to focus on.
They said it:
Wisconsin athletic director Barry Alvarez on his first time getting on the team bus with former assistant Dan McCarney on lower University to drive to the stadium before a game with barely any fans around: "You could have shot a cannon through there. There wasn't anybody. I looked at Mac and said, 'We're going to change this.' And we did."
They said it II:
Badgers fan Melissa Lund on comparing tailgates at Wisconsin with the rest of the Big Ten: "Like, Ohio State compared to Wisconsin, they're a football fan first and then they're a tailgater. Where here, it's definitely tailgate and an atmosphere, then it's the football experience.
"Other places it revolves around the football program, which isn't necessarily a bad thing. But at least here, it doesn't matter if you're football, basketball or any other fan, you're definitely a tailgater first and then you're a fan."
If I could go back:
I want to see a big game in Camp Randall. I want to see that place rocking for Ohio State or Michigan. I want to see what kind of show the students can put on when the big boys come to town. I bet it's great.
December, 24, 2013
12/24/13
10:00
AM ET
Editor's note: During Week 12, 10 ESPN.com reporters changed conferences to experience college football in unfamiliar territory. Here is what they learned.
Recall last month that the ESPN reporters flipped out for a few days and ventured to parts of the country unknown to them.
This Southern California boy was transported to a different South. Not going to lie -- most of what I knew about the South I learned from catching snippets of the Blue Collar Comedy Tour on TV. I could already see the "you might be a redneck" texts coming from my buddies. My cable guy neither looks nor talks like Larry.
[+] Enlarge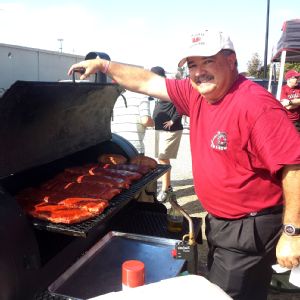 Kevin GemmellSouth Carolina fans welcomed a West Coast native to their tailgate before the Florida game Nov. 16.
But that wasn't what I got. Instead, I was welcomed with open arms by warm people who love their food, love their friends and love their football. I spent a great deal of time with a group called "The Ultimate Tailgaters" who wouldn't let me leave with an empty stomach or empty arms. There were hugs all around.
I saw Florida fans and South Carolina fans mingling -- and talking a little bit of trash. I saw cocktails toasted, toured a Cockaboose and learned a great deal about a region of the country I knew little about.
Excited but admittedly a bit apprehensive about what I'd encounter, I'm happy to say I left richer for the experience.
Best meal:
A good burger in Southern California is a good burger in Columbia, S.C. So checking out Pawley's Front Porch in Five Points with a few of my new USC friends was all well and good. But honestly, the best food I had was wandering from tailgate to tailgate trying out the local fare. From boiled peanuts and fried gator tail to the briskets, ribs and sausages, the tailgating grub was outstanding. And I do find it humorous that I can get better pulled pork in the Columbia, S.C., airport than I can in San Diego.
Must-see sight in Columbia:
I loved the history of the region (which I'll get into in the next section). But aside from seeing good football and some great historical sites, one absolutely must take a stroll through The Horseshoe -- the old part of campus. It's obvious why "College GameDay" picks this venue to set up at when it visits Columbia. The leaves were turning and it was simply beautiful. I could picture myself 20 years ago as a student, parked under a tree with a cup of coffee furiously trying to make sense of Immanuel Kant.
Biggest surprise:
As noted, I found the history of the area fascinating. I'm no Civil War buff, but it always interested me. In Pac-12 country, when we talk about the Civil War, it refers to Oregon's recent dominance over Oregon State. But hearing how most of the college was spared during the Civil War because it was converted into a hospital, and seeing the George Washington statue in front of the state house (allegedly once used as target practice for Confederate soldiers) was engrossing. So the biggest surprise to me was how much the Civil War is still such a part of the daily culture and community, for better or worse. It's something we simply don't think about on the West Coast.
Biggest difference from the Pac-12:
The football wasn't all that different. The SEC has speed. The Pac-12 has speed. In fact, there was a play when Shon Carson broke off a 58-yard run and got caught from behind by two defenders in the open field. I remember thinking to myself, no way Ka'Deem Carey or Bishop Sankey or De'Anthony Thomas gets caught from behind (SEC fans, no doubt, will attribute that to the league's superior defensive speed).
I have been to many Pac-12 games hours in advance where the lots are only half-full. But eight hours before kickoff in Columbia, the traffic on Bluff Road rivaled the 405 at 5 p.m. on a weekday. SEC folks come out early and make it a full day. There are some Pac-12 fans who do as well, but a lot more in the South.
They said it:
My outstanding tour guide for one of the days was Cory Burkarth, a member of USC's sports information department. I asked him how folks from South Carolina refer to Californians like myself. To which he replied: "You're not from the South. You're not a Yankee. If you're from the West Coast, you're a hippie." I laughed and bought him a burger.
If I could go back:
I'd sit in the student section and jump up and down during the players' entrance to "2001: A Space Odyssey" and wave my towel every time "Sandstorm" is played before a kickoff. I was on the field for it, several times, but the vibe and energy coming from the stands was intense. And, next time around, I'll be sure to refer to our USC as Southern California. Lesson learned, Columbia, and thanks for the hospitality.
December, 24, 2013
12/24/13
9:30
AM ET
Editor's note: During Week 12, 10 ESPN.com reporters changed conferences to experience college football in unfamiliar territory. Here is what they learned from the experience.
I was admittedly dreading the freeway traffic. But after just a couple of days in Los Angeles, I was already used to it, whether I was crawling along on the 405 or the 110.
See, I even sound now like I've been in Hollywood all my life. Not really, though.
My junket out West was a blast. I'd been to Los Angeles a few other times, but being able to soak in a Pac-12 doubleheader -- UCLA-Washington on Friday and Stanford-USC on Saturday -- was a treat.
[+] Enlarge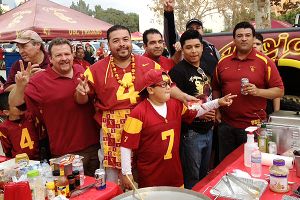 Chris LowAl Bautista (No. 4) hosts one of the better tailgates at USC.
Both the Rose Bowl and Los Angeles Memorial Coliseum should be on your bucket list if you're truly a college football junkie. I guess everything's a little more laid-back in California, and perhaps that's a stereotype, but what struck me the most was the unique blend of energy, warmth and knowledge of both the UCLA and USC fans.
The sheer beauty of the UCLA campus was equally stunning. It was like a postcard, although I don't envy the students having to get from Westwood to Pasadena on game days. Shuttles are available to take them, but it's a dramatically different dynamic than students at Auburn or LSU merely strolling across campus on fall Saturdays.
There are countless contrasts when you start comparing the world of college football in the SEC with the world of college football in Los Angeles.
For instance, they were filming an episode of the NBC sitcom "Parks and Recreation" not far from my hotel in Pasadena the day before the UCLA-Washington game. In the SEC, they're usually filming statues the day before games, as in statues of Bear Bryant and Nick Saban in Alabama's Walk of Champions.
Being a part of the mob scene on the field at The Coliseum following USC's upset over Stanford was something I won't soon forget. I was standing just outside the left upright when
Andre Heidari
kicked his game-winning, 47-yard field goal and could tell the kick was going to be good the whole way.
A couple weeks later, after taking in the Clemson-South Carolina game in Columbia, S.C., I couldn't help but wonder how many people saw both "USCs" play this season on the two different coasts. I know I'll catch grief from my Trojan pals for referring to South Carolina as "USC," but cut me a break. I grew up in South Carolina.
Here are some highlights from a truly memorable trip. Can't wait to get back out there for the VIZIO BCS National Championship in a few weeks:
Best meal:
The chimichanguitas at Mijares Mexican Restaurant in Pasadena were the best I've ever eaten … by far. They're mini-chimichangas that are flaky enough on the outside that it's almost as though you're eating homemade biscuits. And if you're really hungry or share the chimichanguitas with somebody else, you can follow them up with the shrimp and lobster enchiladas at the family-owned restaurant that's been a staple in Pasadena since 1920.
Must-see sight:
Driving down Sunset Boulevard past the famed Beverly Hills Hotel (you can get a room for just south of $700 a night) and then kicking it in Hollywood for a few hours. You never know what celebrities you might run into. One of the most gorgeous sights you're ever going to lay eyes on are the San Gabriel Mountains hovering in the distance at the Rose Bowl. Also, seeing the USC Trojan Band come marching through campus to the The Coliseum was awesome. The coolest part was seeing some of the USC fans sneaking the band members beers as they marched by. Tubas are a great place to hide those beers, by the way.
Biggest surprise:
The tailgating, particularly at The Coliseum prior to the Stanford-USC game, was every bit as elaborate as anything you'll find in the SEC. You're talking about everything from homemade salads and shrimp dishes, to huge, big-screen televisions to watch the other games, to fans arriving at the games as early as 6 o'clock in the morning.
Biggest difference from the SEC:
Fans were definitely fired up and passionate, but I didn't sense some of the nastiness you encounter at some of the SEC stadiums between rival fans. In other words, I didn't see any fights.
They said it:
"I didn't know they played football in the SEC, or at least, played anybody that was any good." -- USC fan Michele Brown of Huntington Beach, Calif.
If I could go back:
I'd figure out a way to buy one of those palatial homes in the Pasadena neighborhood you go through to get to the Rose Bowl. I'd also figure out a way to tailgate a little longer with some of the best people you're ever going to meet -- Jenny Bailey, Justin Bailey, Al Bautista, Angel Bautista, Andrew Biren, Justin Biren, Michele Brown, Benny Castro, Steven Doria, Ryan Draizin, Juan Duran, Daniel Fogelson, Spencer Sloan, Pat West and Lori Zavala.
December, 24, 2013
12/24/13
9:00
AM ET
Editor's note: During Week 12, 10 ESPN.com reporters changed conferences to experience college football in unfamiliar territory. Here is what they learned from the experience.
The damn eagle nearly went to war on my face.
We stood near midfield at an empty Jordan-Hare Stadium (for Big Ten folks, it's pronounced Jerdan-Hare) on a beautiful Friday afternoon, as Nova, better known as War Eagle VII, went through his daily practice in preparation for Saturday's flight before the Georgia game. Nova's handlers from the Southeastern Raptor Center had just finished explaining how the 13-year-old golden eagle with a six-foot wingspan is a natural predator who targets a leather pouch called a lure on his flight from the upper reaches of the stadium. Solely interested in food rewards, Nova knows that when he lands on the lure, lunch is coming.
"We have to make sure other live mascots are off the field, because they will attack," Marianne Hudson, assistant director of raptor training and education, told me before Nova's first flight. "That includes Uga."
[+] Enlarge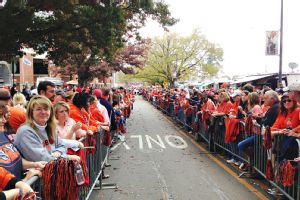 Adam Rittenberg/ESPNAuburn fans wait to welcome the Tigers to Jordan-Hare Stadium during their famed Tiger Walk.
OK, so Georgia's bulldog can't be on the field. But portly sports writers are safe, right? Not when they stand right behind the landing zone.
After watching Nova's first flight from a distance, I tried to get a better video of the second attempt and positioned myself behind handler Andrew Hopkins, who held the lure. But Nova doesn't land softly. It's more "splash and dash," as Hudson said, and as Nova approached, I quickly realized I was in trouble and went into a pathetic backpedal (Darrelle Revis, your job is safe). I'll never live down the video.
Flipping out during eagle practice was merely part of an unforgettable Flip Week experience at Auburn. My fellow ESPN.com colleagues and I traveled to a vastly different part of the country for a football weekend to see how others appreciate the game. I cover the Big Ten on a regular basis and have spent most of my life in the north and west. I was definitely a foreigner in SEC territory.
I got the best draw of the bunch, heading to Auburn for the Georgia game, the start of Auburn's incredible run to the VIZIO BCS National Championship. But the
Prayer at Jordan-Hare
was only part of an amazing weekend on The Plains.
Some highlights:
Best meal:
Blackened catfish with slaw, hushpuppies and sweet tea at Good Ol' Boys in Auburn. I wish I had stuck around long enough to eat some of the brisket or ribs Ryan Molt was cooking in a massive propane grill at the Stoll Family Tailgate in the northwest corner of the hayfields. Best drink definitely is a large lemonade from Toomer's Drugs.
[+] Enlarge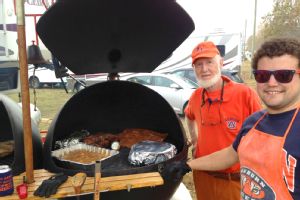 Courtesy Adam RittenbergAuburn fans take their tailgating seriously.
Must-see sight in Auburn:
The Tiger Walk. The rolling of Toomer's Corner is more famous and pretty special, too, but the Tiger Walk is more visually impressive, as thousands upon thousands line Donahue Drive to welcome the team into the stadium. A true spectacle.
Biggest surprise:
How civil the rolling of Toomer's Corner turned out to be. I had seen video of previous rolls and it looked pretty wild. After an incredible win and a long day of libations, I figured things would be pretty rowdy at the corner of College Street and Magnolia Avenue. But the gathering never got out of hand, as the crowd parted for a passing ambulance and allowed children and their families to be part of the celebration.
Biggest difference from the Big Ten:
Aside from the comfortable temperatures in mid-November, Auburn had a bigger and more organized tailgating scene than any I've seen in the Big Ten (Penn State comes the closest). From the hoity-toity corporate crowd near the stadium to the regular folks on the perimeter to the hayfields, where tailgates look more like villages, Auburn fans truly go all out. And the football weekends there really start on Thursday, not just Saturday. But my biggest suggestion for the Big Ten is more live animal mascots.
They said it:
"We've got football problems." -- Will Traylor, Auburn fan and alum, and co-owner of the Tiger Prowler, a 1988 school bus painted orange and blue and parked in the hayfields for each AU game.
If I could go back:
I'd sample some more cuisine around Auburn (Amsterdam Cafe, Hamilton's on Magnolia, Momma Goldberg's, Niffer's Place, Cheeburger Cheeburger) and spend more time in the hay fields with the RV crowd. Maybe I'll go for Thanksgiving dinner in 2015 before the next Iron Bowl at Jordan-Hare. I know they'll be there.