SEC:

Florida State Seminoles
October, 22, 2013
Oct 22
1:10
PM ET
By
Sharon Katz
| ESPN.com
Joshua S. Kelly/USA TODAY Sports
Jameis Winston threw for a career-high 444 yards in Florida State's blowout win over Clemson.
Week 8 featured upsets and surprises as nine ranked teams lost, including five at the hands of an unranked opponent.
Louisville
,
Texas A&M
and
Georgia
all had more than a 90 percent chance of winning midway through the third quarter before blowing double-digit leads. Conversely,
Clemson
,
LSU
,
UCLA
and
Florida
never held a lead Saturday.
With the help of ESPN's new college football metrics (see explanations
here
), ESPN Stats & Information takes a look back at the Week 8 action.
Best individual performances
Marcus Mariota
had a 97.4 opponent-adjusted QBR in
Oregon's
63-28 win against
Washington State
. He completed 10-of-12 passes and ran for a touchdown in the first quarter. As a result, his Total QBR never fell below 95 in the game. Mariota leads the nation with a 96.6 opponent-adjusted Total QBR this season.
Jameis Winston
posted a 97.0 opponent-adjusted QBR after throwing for a career-high 444 pass yards and accounting for four touchdowns in Florida State's 51-14 win at Clemson. Entering the game, Clemson's opponents had a Total QBR of 27, ninth-best in the FBS. Winston is the first player in the last 10 seasons to throw for at least 300 pass yards and three touchdowns in each of his first four conference games.
Bryce Petty
had a 96.3 opponent-adjusted QBR in
Baylor's
71-7 win against
Iowa State
. He has posted an opponent-adjusted Total QBR of 75 or higher in all of his games this season. No other player in the FBS can make that claim (minimum five games played).
AJ McCarron
posted a season-high 95.3 opponent-adjusted QBR in
Alabama's
52-0 rout of
Arkansas
. McCarron completed 71 percent of his passes with three touchdowns and no interceptions, and his Total QBR never dipped below 85 in the game.
Explaining Jordan Lynch's Total QBR:
Northern Illinois'
Jordan Lynch
set the FBS single-game record for rush yards by a quarterback (316), but his Total QBR was ONLY a 85.5. Why? QBR is a rate stat, meaning it measures efficiency.
Lynch gained 471 yards of total offense, but he was involved in 62 passing or rushing plays (7.6 yards per play).
To put that into perspective, Mariota, the nation's leader in opponent-adjusted QBR, is averaging 10.3 yards per play this season. Furthermore, Lynch threw a costly interception from the
Central Michigan
15-yard line with the score tied. That interception decreased Northern Illinois' win probability by 12 percentage points and took 3.5 expected points off the board.
For a full list of Total QBR leaders for the season and Week 8,
click here
.
Best team performances
Offense--
Florida State gained 565 yards of total offense and scored 51 points Saturday against Clemson. The Seminoles' offense added 25.3 expected points in the game, meaning they contributed about 26 net points towards their 37-point victory. Adjusted for the strength of Clemson's defense, which had allowed 16.2 points per game entering Saturday, Florida State had the highest opponent-adjusted offensive EPA of Week 8.
Defense—
Baylor's average margin of victory this season is a ridiculous 48.5 points per game, and both its offense and defense deserves credit. On Saturday, Baylor held Iowa State to seven points and 174 total yards (2.9 yards per play). As a result, its defense added 27.5 expected points, the most for any defense in Week 8. Overall, the Bears lead the nation in both offensive and defensive expected points added this season.
Special Teams—
Alabama blocked a field goal and forced a fumble on the opening kickoff of the second half of its 52-0 win against Arkansas. The Tide's special teams unit contributed 12.1 expected points, the most of any team in Week 8. Alabama is averaging 5.8 expected points added per game on special teams this season, most of any team in the FBS.
Looking ahead to Week 9
Oregon hosts
UCLA
(7 PM ET, ESPN) on Saturday in a game that will feature one of the top offenses in the nation looking to continue its success against one of the Pac-12's best defensive units.
Oregon has scored at least 45 points in each of its first seven games of the season. They are the first major college football program to do that since Harvard in 1887. UCLA, which has the second-best scoring defense in the Pac-12 (19.2 PPG), hasn't allowed more than 27 points in a game this season.
Tune in on Saturday to see of the Bruins can slow the Ducks offensive pace and jump back into the BCS discussion.
December, 31, 2010
12/31/10
1:00
PM ET
A little bit of this and a little bit of that heading into Friday night's Chick-fil-A Bowl matchup between Florida State and South Carolina:
South Carolina changed up its bowl preparation this season and went first-team offense against first-team defense for at least 20 minutes in every practice leading up to the bowl game.
South Carolina coach Steve Spurrier was 5-8-1 against Florida State during his tenure at Florida. During the stretch where the Gators won four straight SEC championships from 1993-96, Florida won only once over Florida State during the regular season.
The Gamecocks are trying to win 10 games in a season for only the second time in school history. They finished 10-2 in 1984 under Joe Morrison, but lost two of their last three games. One of those losses was to Navy when the Gamecocks were unbeaten, ranked No. 2 nationally and in line to play for the national championship. It's a loss that still haunts South Carolina fans to this day.
This is the 29th consecutive bowl game for Florida State, the longest streak in the country among FBS teams. It's a streak that goes back to the 1982 Gator Bowl.
Freshman running back Marcus Lattimore is South Carolina's all-time leader in single-season touchdowns with 19. He needs just one more score to tie Tennessee's Reggie Cobb (1987) for the SEC freshman scoring record.
The Gamecocks are 4-6 under Spurrier in games matching nationally ranked teams. That includes a 3-3 mark this season.
Florida State first-year coach Jimbo Fisher and Spurrier meet as head coaches for the first time. However, they have been on opposite sidelines on numerous occasions. While the quarterbacks coach at Auburn (1993-98) and offensive coordinator at LSU (2000-06), Fisher faced Spurrier's Gators (1990-01) eight times with Florida winning six times.
South Carolina junior Terrence Campbell will fill in for the injured Garrett Chisolm at right offensive guard. Jarriel King could also be an option there.
Florida State leads the country with 46 sacks, while South Carolina is fifth with 39.
November, 24, 2010
11/24/10
11:00
AM ET
In-state bragging rights are on the line once again when Florida travels to Florida State on Saturday, but this year is different for both programs. In Tallahassee, first-year coach Jimbo Fisher has the Seminoles sitting at 6-2 in ACC play, good for at least a share of the Atlantic Division title. In Gainesville, it's been a trying year for Urban Meyer, as the unranked Gators have been humbled by four losses. Have the tables finally turned in this series, which Florida has dominated for most of the decade? SEC blogger Chris Low and ACC blogger Heather Dinich -- who have a friendly little rivalry of their own going on in the blogosphere -- hash it out:
Heather Dinich:
I know it's tough over there in SEC land to actually talk about football, with so much off-the-field drama occupying your time these days, but I thought it would be a good time to revisit the state of the state in Florida. It appears the balance of power has the potential to shift now that Jimbo Fisher has taken over at Florida State and the Seminoles are the state's lone ranked team in the BCS standings. They're coming off an important Atlantic Division win over Maryland and were already talkin' 'bout the Gators before they left Byrd Stadium. With the way Florida has struggled this year, it looks like the perfect time for the Noles to reclaim the unofficial state championship. Is there any reason to think otherwise, C-Low?
[+] Enlarge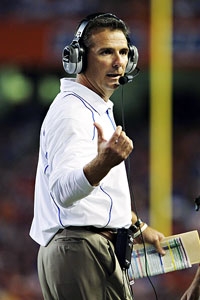 Kim Klement/US PresswireFlorida coach Urban Meyer's Gators have struggled on offense this season.
Chris Low:
Heather, you're right. There has been a flurry of activity off the field in the SEC that has kept me busy. You know the drill, though. You can probably hear basketballs bouncing in your ears now that the "real" season has begun in the ACC. Florida has been a glimmer of the team this season that piled up 22 straight wins during the 2008 and 2009 seasons. Of course, it's hard to win in any league -- even the ACC -- when you don't have a passing game to speak of and aren't making any explosive plays in the running game. Still, there's some young talent on this team. The Gators just have to figure out who they are offensively. Don't get too ahead of yourself on the Seminoles being poised to reclaim the unofficial state championship. There's a reason the Gators have won six in a row in this series. Urban Meyer has never lost to Florida State, and the closest game the last three seasons was 27 points. Even in a down year, I could see how the Gators might be in the Seminoles' heads.
HD:
They might be in their heads, but can they get in the end zone? Florida State has the No. 15 scoring defense in the country, allowing just 18.82 points per game. This isn't App State, or any of the other cupcakes on Florida's notoriously "grueling" schedule. I know the Gators have been playing well on special teams and defense, but there appears to be some weaknesses Florida State can expose. I think we can at least agree that the Gators aren't invincible this year. A win over Florida would be huge for Fisher in his first year -- big for recruiting, big for national respect and the direction of the program. The only way for the Seminoles to re-establish themselves as one of the best in the country is to first own the state. What kind of an impact, if any, do you think would have on Florida's program if they lost this one this year?
CL:
Meyer makes a big deal out of beating his rivals, and he's 17-1 against the Gators' traditional rivals (Florida State, Georgia, Miami and Tennessee). You can bet that he and his coaches remind all those talented prospects in the state of Florida when they're recruiting them that they've never lost to Florida State or Miami. So, yes, this game always has and always will have some recruiting ramifications. But I think more important for the Gators this season is getting back to where they're playing with that same edge Meyer's teams have always played with and playing with the kind of confidence and precision that have defined his program. We've only seen that team in stretches this season. If they're going to put it together for an entire game, this is the game to do it.
[+] Enlarge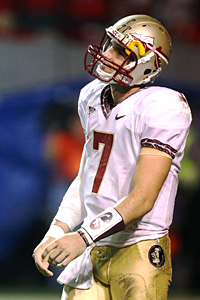 Streeter Lecka/Getty ImagesFSU quarterback Christian Ponder hasn't played up to his Heisman potential this season.
HD:
The same can be said for Florida State. The Seminoles have been hot and cold -- looking dominant against Miami and just good enough against Boston College and Maryland. Quarterback
Christian Ponder
has been injured and hasn't lived up to the Heisman hype this year. Earlier this week, I said that it's more important for Florida State to beat Florida this year than it is for the Noles to make an appearance in the ACC title game. Florida is the program to be measured by in the state -- even in a year in which the Gators aren't ranked -- and I'm not sure the Noles can stack up just yet. I say Meyer gets 'em again, this time 28-24. See? I could boost my picks percentage if I covered the SEC, too.
CL:
Boost your picks percentage? Come on, you'd go the other way if you had to pick games in this league. Similar to the way the grind takes its toll on the actual teams in the SEC, it also gets to those of us who have to pick games in this league. The Gators should have a healthier Jeff Demps for this game, although he's still not 100 percent.
Chris Rainey
has also made a big difference ever since he was allowed to rejoin the team. At the end of the day, though, I have a sneaking suspicion that this game may mean a little more to Florida State this year than it does to Florida, so I'm going with the Seminoles at home, 24-17, and Fisher ending Florida State's drought in this series in his first season as head coach. But, hey, remember that Fisher did cut his teeth in the SEC when he was at LSU under Nick Saban. Imagine that, Heather. You're picking the SEC team, and I'm picking the ACC team. What's next? The ACC making a run at the SEC in off-the-field scandals? Oh yeah, I forgot about that little deal at North Carolina earlier this year.
December, 6, 2009
12/06/09
3:24
PM ET
Tennessee running backs coach and special teams coordinator Eddie Gran has agreed to take a position on Jimbo Fisher's staff at Florida State, multiple sources have confirmed. This is the second departure on Tennessee's staff. Receivers coach Frank Wilson left the Vols on Saturday to take a job on the LSU staff as running backs coach and recruiting coordinator.

More lucrative contracts from other schools have been the issue for Lane Kiffin in keeping his staff intact, although Tennessee has tried to counter the offers. The Seminoles are prepared to pay Gran $300,000-plus. Gran made $190,000 last year at Tennessee and has been one of the Vols' most valuable recruiters in the state of Florida.
July, 21, 2009
7/21/09
12:15
PM ET
Posted by ESPN.com's Chris Low
A few links for you on this eve of the SEC media days:
February, 3, 2009
2/03/09
7:46
PM ET
Posted by ESPN.com's Chris Low
Cornerback Greg Reid, who had backed out of an earlier commitment to Florida, announced Tuesday night that he would sign with Florida State.
Reid, who's from Valdosta, Ga., and is considered the state of Georgia's top prospect, had narrowed his choices to Alabama, Florida State and Georgia. He's rated the No. 2 cornerback prospect in the country by ESPN's Scouts Inc. Reid is the No. 15 prospect overall in the 2009 class.
The Bulldogs, in particular, need cornerback help after losing Asher Allen early to the NFL draft and were hopeful of landing Reid, who visited Georgia officially last weekend.
November, 25, 2008
11/25/08
11:25
AM ET
Posted by ESPN.com's Chris Low
While the college football world waits breathlessly for the Dec. 6 SEC Championship Game, a matchup that's been set for nearly three weeks, Alabama and Florida have done their best to act like each other doesn't exist.
The closer we get to the game, though, the harder that becomes.
It's especially tricky this week.
Both teams face rivalry games, the kind of bitter intrastate rivalries that endure and torment you for an entire year if you don't come out on the winning side.
Both teams are big favorites, more than two touchdowns.
Losing this season would be even worse, much worse -- the equivalent to football Armageddon for both Alabama and Florida if they don't take care of business this Saturday -- especially when you consider what's at stake.
A shot at the BCS national championship.
Auburn, which has won six in a row in the series, would like nothing better than to ruin No. 1-ranked Alabama's dream season.
The same goes for Florida State, which has lost four in a row in the series and has never beaten Urban Meyer since he arrived in Gainesville in 2005.
Meyer has said repeatedly that the professionalism and maturity of this team has been remarkable. The No. 4-ranked Gators (10-1, 7-1 SEC) have won seven straight games, and the average margin of victory in those games has been 41 points.
"They made a decision seven weeks ago to get busy about what's happening this year," Meyer said of the Gators' ability to play one game at a time. "The Citadel became a huge game for Florida. (South Carolina) became a huge game for us. For coaches, every game is a huge game. It's our job and how we feed our families. But this group of players made a decision to make every week a big week, to the point that it's almost overwhelming.
"Was there an extra jump in their step (Sunday)? Absolutely. They have a very clear vision of what the task at hand is, and I'm proud of their approach right now."
For the Alabama players, beating Auburn runs much deeper than just keeping alive their national title hopes. Nobody on the Alabama team has ever beaten Auburn.
"We've come a long way this season. We've just got to finish it," Alabama quarterback John Parker Wilson said.
Alabama coach Nick Saban likens it to a one-game season.
"It doesn't matter what you've done before this or what's coming up next," Saban said. "It's all about this game. It's all about Alabama and Auburn. It's not about where you're ranked or what your record is or any of the BCS or any of that stuff."
In other words, a certain showdown on Dec. 6 in Atlanta can wait ... for now.