August, 31, 2013
8/31/13
5:46
PM ET
ATLANTA -- Alabama's championship defense begins today in the Georgia Dome against perennial ACC power Virginia Tech.


Frank Beamer's Hokies have been hit hard by injuries and attrition leading up to the start of the season, prompting their heavy underdog status.
Logan Thomas
, Beamer's senior quarterback with NFL potential, gives Virginia Tech a fighting chance, though. If he can buy some time in the pocket for his young receivers and gain a few yards on the ground, he could make things interesting.
Meanwhile, Nick Saban's No. 1-ranked Crimson Tide is operating at full strength, with no significant injuries to report. Quarterback
AJ McCarron
was a major point of discussion Friday night when a photo circulated of his arrival at the team hotel with a protective boot on his right foot. But the controversy was cleared up in short order when it was learned the boot was simply a precautionary step to alleviate pain from an ingrown toenail.
McCarron jogged briskly onto the turf here for warmups, sans boot, and moved around without any apparent pain, much to the pleasure of the Tide fans who made the short trip from Tuscaloosa, Ala. McCarron has arguably his most explosive group of receivers since joining the program in 2009, and with Virginia Tech using two freshmen in the secondary, we could see him put the ball in the air early and often to start the game.
That could be predicated on the success of Alabama's rebuilt offensive line, though. UA incorporated three new starters over the offseason, replacing All-SEC players Barrett Jones, Chance Warmack and D.J. Fluker. Reports have been mostly good about their replacements -- center
Ryan Kelly
, right tackle
Austin Shepherd
and left guard
Cyrus Kouandjio
-- but until they see live action it will be hard to tell where they stand, as their chemistry and compatibility is in question.
August, 29, 2013
8/29/13
11:00
AM ET
TUSCALOOSA, Ala. --
Amari Cooper
is nonchalant about most things. Still just a fresh-faced sophomore, it's hard to tell whether the enormity of his young career, the one that took off like a rocket last season and ended with consensus All-American honors, has sunk in. Has he felt the impact he's had the Tide? Or the SEC?
Alabama hasn't had a playmaker at wide receiver like him since Julio Jones. He's not as physically intimidating or as wildly popular, but his impact is approaching that of Jones. Cooper set nearly every rookie receiving record at Alabama last season, passing his dreadlocked predecessor and others in the process. And he did all that without starting a game until Week 6.
[+] Enlarge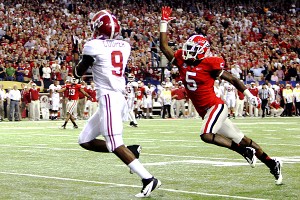 Daniel Shirey/USA TODAY SportsThe go-ahead score against Georgia in the SEC title game, was one of many big plays for Amari Cooper during his 11-score freshman season at Alabama.
"My life hasn't changed," Cooper told reporters on Wednesday night, less than 72 hours removed from the season opener against Virginia Tech in Atlanta. Last December he was there and he was anything but understated when he spiked his foot into the ground to help sell a play-action pass in the fourth quarter. Georgia's
Damian Swann
nearly fell down when Cooper broke left, and 45 yards later Cooper was in the end zone with the game-winning score to give the Tide the SEC Championship. "On the football field I just try to get better every day, so not much changed there either."
At the end of his signature play in the Georgia Dome, Cooper didn't even break his stride to celebrate. He put one hand up and barely recognized the crowd on his jog back to the sidelines. Meanwhile, quarterback
AJ McCarron
pumped his fist and waved his arms like a wild man all the way to the back of the end zone.
Nothing seems too big for Cooper; no moment, no situation. Whether it's a defense trying to beat him up in man coverage -- "They're saying their guys is better than you" -- or the pressure of living up to the past -- "I don't feel like I did a whole lot last year" -- there doesn't seem to be an ounce of stress on his shoulders.
His only expectation: "To have a better year than last year."
"Now I'll be starting the first game this year," he continued. "I didn't start the first game last year. We'll see if I have a better year than last year."
Make no mistake, though, Cooper is confident in his abilities. During his first time speaking with the media in Tuscaloosa this spring, he slipped up and said he only had two years left in school, meaning he intends to enter the NFL draft as an underclassman. The sports information director on hand quickly corrected him and Cooper added "at least" a second too late.
"He can be as great as he wants to be," former UA cornerback Dee Milliner said last October, before the rest of the world had caught on to Alabama's rookie phenom. "He can be one of the greatest receivers we've had at Alabama. He does a lot of things you really don't see freshmen do with his speed, his hands, and his quickness that he got. He can be one of the great receivers in years to come."
Doug Nussmeier didn't hesitate to call Cooper one of the game's best earlier this month. It wasn't just his 59 receptions, 1,000 yards and 11 touchdowns that impressed the second-year offensive coordinator. Instead it was Cooper's savvy.
"Amari, and what he did, from where he started to his progression through the season, we felt that towards the end of the season, he was playing as good as anybody in the country at that position," Nussmeier said. "He continues to develop … he's still learning. He's really starting to focus on the little things that are going to take his game to the next level."
Up and down the roster there's respect for Cooper, who added 7 pounds and cut his 40-yard dash time from 4.4 seconds to 4.3 this offseason. Fellow wideout
Kenny Bell
marveled at Cooper's growth, saying he could be even more explosive this year. Junior tight end
Brian Vogler
said he "really loves the game," praising his hard work and dedication.
John Fulton
has had to go up against Cooper countless times during practice. The senior cornerback said that some of the stuff Cooper does, Fulton has "no idea where he learned it from, but he's absolutely amazing."
"He has this thing he does off the line," Fulton said. "I'm kind of catching onto it now, but he's going to develop something else to mess with my head. He'll take two steps outside, shake inside, shake outside and then shake back inside for a slant and its under .5 seconds. It's so fast, you can't time it. It's crazy."
Defenders around the SEC understand. Coaches do too. Virginia Tech head coach Frank Beamer took a second to connect Cooper with the game film during a conference call on Monday, but when he did he compared him to a two-time, first-team All-American receiver in his conference.
"I know who he is," Beamer said. "In our league he reminds you of Sammie Watkins there at Clemson. A guy that's just athletic, can go. They've got a good group of wide receivers, but certainly Cooper is a guy who is hard … It's hard to cover that guy."
August, 27, 2013
8/27/13
1:00
PM ET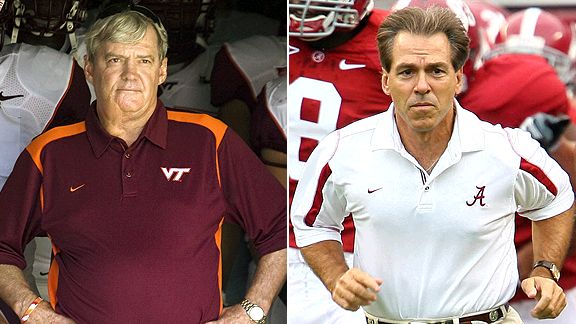 Icon SMI, Getty ImagesVirginia Tech coach Frank Beamer, the winningest active head coach in college football, has a lot of respect for Nick Saban's Alabama team.
TUSCALOOSA, Ala. -- Nick Saban doesn't blush, he fumes. Ask the enigmatic, often high-handed coach of the
Crimson Tide
about being ranked No. 1 and you'll see his nostrils flair as he grips the podium in disdain. Polls, especially those done before the start of the season, are useless to him. He'll say politely that they appreciate the recognition, but that's merely a preamble to a sermon on their worthlessness. The rest of college football might see his team as the front-runner to reach the national championship, but he sees a team that's yet to accomplish a single thing.
"You can make any kind of predictions that you want about what you think you have or what you think you are," Saban said, "but until you actually go and play a game and see how your team's going to respond [you don't know.]"


Frank Beamer sees it another way. He has watched the tape and studied Alabama's roster in preparation for Saturday's season opener in Atlanta. He knows all about
AJ McCarron
,
Amari Cooper
and the Tide's stifling defense, led by All-American linebacker
C.J. Mosley
. And what he's seen in film study is a team that's fully justified of its position atop the polls.
"They've just got it all," Virginia Tech's veteran head coach told reporters, repeatedly calling Alabama the No. 1 team in the country. "They do everything well."
It could have been a classic coaching maneuver, praising the opponent into a false sense of security, but Beamer sounded downright resigned to defeat during a roughly 20-minute teleconference on Monday. He was asked whether he had found any area of Alabama's game he felt the Hokies could exploit, and he said there was none to be had, going so far as to praise Alabama's punter,
Cody Mandell
, rattling off his 44.3 yards per punt average from a season ago.
"I don't think they have a weakness," he explained. "They're just as solid as the day is long."
Saban and Beamer aren't new to this song and dance. With 80 years of coaching experience between them, they know how to play to expectations. The Chick-fil-A Kickoff Game means something different to each team. For Alabama, the stakes are high. It could either be the first step or the fatal fall in the Tide's run toward the championship. For Virginia Tech, the stakes are far less dramatic. The goal is to win, but the more realistic venture is to simply improve as a football team.
"Sometimes when you have runaway wins to start the season, you don't really find what you need to work on or sometimes that's not as clear," Beamer said. "I think playing a team like Alabama, you become a better football team. We understand what a task it is to go in there and beat Alabama. But it's not often that you get a chance to play the best team in the country, the number one team in the country. I think there's plusses, it's certainly a challenge and we know what kind of game we have to play to have a chance."
Is it fair to call the Hokies underdogs? Beamer thinks so.
"I think facts are facts," he said. "We are. I don't think you'll see many people, if any, picking us."
Even with his team favored by three touchdowns, Saban isn't sleeping on Virginia Tech. Always the cynic, he's concerned about how some of his younger players will perform and how the Tide's rebuilt offensive line will play together in its first meaningful action. Alabama lost 10 starters from a year ago, and there are 11 true freshmen on the two-deep depth chart. The ratio is enough to give any coach chills.
"I'm not disappointed in the way we've prepared and the way we've practiced, the things we've done," Saban said. "I'm anxious to see how it all comes together when we play a game."
The seventh-year head coach of the Crimson Tide called Hokies' quarterback
Logan Thomas
"an outstanding player" that will be "a big challenge for our defense." He went on to praise both the their defense and special teams, saying the first-team defense looked "dominant at times" during their spring game. In the end, though, Saban kept coming back to Virginia Tech's head coach, a man who has the most wins of any current coach in college football.
"I've known Frank for a long time," Saban said. "I think he's certainly a class guy that's a credit to college football in everything that he does, from how he represents our game with a lot of class and integrity and the outstanding job he's done as a coach in terms of the product that he's put on the field on a consistent basis over a long period of time.
"I mean, 27 years is a long to be someplace and to have the consistent success that he's had over time, you have to have a tremendous amount of respect for that."
July, 13, 2012
7/13/12
9:00
AM ET
We're always looking for the next best thing. The coaching world isn't any different.
Who's the next Urban Meyer? The next Chris Petersen? What about another Brady Hoke?
Who's that next great assistant who rises up the ranks and takes over a major program ... and succeeds?

I'm not completely sure, but I have a few ideas. Here are some coaches lurking in the SEC who could be on their way to bigger and better things or are ready to take the next step with their current teams:
Head coaches
James Franklin, Vanderbilt: Franklin became the only first-year coach in Vandy history to guide the Commodores to a bowl game. He surpassed the program's win totals in each of its previous two seasons and signed arguably the school's best recruiting class in 2012. He brought attitude, confidence and a bit of swagger to the program. He could have left after one year but is really looking to turn things around at Vanderbilt.
Dan Mullen, Mississippi State: Bulldogs fans probably don't like hearing this, but Mullen is becoming a hot name among the coaching ranks. In his three seasons in Starkville, he has guided Mississippi State to two straight bowl wins. In 2010, he led the Bulldogs to nine wins for the first time since 1999. Mullen says he is happy in Starkville, but if he continues to win, bigger schools won't hesitate to go after him.
Assistants
Shawn Elliott, South Carolina offensive line coach/running game coordinator: Steve Spurrier has raved about Elliott's impact on offense and bringing in the zone read package. Elliott has done wonders for South Carolina's offensive line, which was a continual sore spot in Spurrier's early years at the school. Elliott is also a dogged recruiter. Having grown up in Camden, S.C., Elliott is somebody to watch when Spurrier hangs it up. If he doesn't get that job, somebody is going to snap him up.
Rodney Garner, Georgia defensive line coach/recruiting coordinator: He has been at Georgia for a while and has been wooed several times by other schools. LSU went after him several years ago, and Lane Kiffin was interested in bringing him to Tennessee. In the past 12 years, he has coached plenty of NFL talent, including four first-round draft picks. He has consistently been one of the league's best recruiters as well.
Todd Grantham, Georgia defensive coordinator/associate head coach: He could start getting more looks for head-coaching gigs. He has vast NFL experience, including being a defensive coordinator at that level, and more schools are looking for coaches with NFL experience. Grantham has proven himself as a recruiter and worked under two of the best in the college ranks -- Frank Beamer at Virginia Tech and Nick Saban at Michigan State. He has made a tremendous difference in turning around Georgia's defense and has an edge about him that successful head coaches possess.
Chris Kiffin, Ole Miss defensive line coach/recruiting coordinator for defense: He is one of the bright young names among the assistant ranks. As the defensive line coach at Arkansas State, he coached up Sun Belt Defensive Player of the Year Brandon Joiner, who tied for third in the nation in sacks and 10th in tackles for loss. Arkansas State also led the conference and ranked eighth nationally in tackles for loss (7.62 per game) and tied for 15th in sacks (2.69 per game). He is a tremendous recruiter and helped bring in a solid defensive class in a short amount of time this spring.
Kliff Kingsbury, Texas A&M offensive coordinator: After being a standout quarterback at Texas Tech, he is considered one of the top young assistants in college football. He came over with Kevin Sumlin from Houston, where he helped guide the Cougars' offense to its record-setting year in 2011. Houston led the nation in total offense, passing offense and scoring in 2011 behind quarterback Case Keenum. The Cougars averaged 599.1 total yards per game, including 450.1 through the air, while scoring more than 49 points per game.
Paul Petrino, Arkansas offensive coordinator: He came over to help run Arkansas' offense with his brother, but after Bobby Petrino was fired this spring, Paul Petrino assumed the role as primary playcaller. In 2010, he guided an Illinois offense that broke school records for total points (423) and points per game (32.54). The Illini averaged 42.1 points and 448.9 total yards over the final seven games of the season. If he can keep Arkansas' offense going this year, his phone might start ringing a little more.
Bob Shoop, Vanderbilt defensive coordinator/safeties coach: He has been a head coach at Columbia and is innovative on defense, playing the kind of attacking style that attracts great players. He helped orchestrate one of the most impressive defensive turnarounds in the country last year, as Vanderbilt ranked ninth nationally in pass defense efficiency and 18th in total defense. Vandy's defense also ranked among the nation's top units in interceptions, points allowed and rush defense.
Kirby Smart, Alabama defensive coordinator: He is one of the best defensive coordinators around, and it seems like only a matter of time before he is a head coach somewhere. Smart has already passed on a few head-coaching opportunities. He is making $950,000 a year and is in a position to be picky with coaching jobs.
Trooper Taylor, Auburn wide receivers coach/assistant head coach: He is one of the hottest and most successful recruiters in the SEC. He brought in and trained some elite receivers at Oklahoma State and Tennessee before making his way to Auburn. He is continuing that trend and has turned Emory Blake into one of the SEC's best pass-catchers. He was co-offensive coordinator at Oklahoma State, and if Auburn's receivers make another jump, Taylor could be waving his towel elsewhere soon.
Frank Wilson, LSU running backs coach/recruiting coordinator: He has emerged as one of the sport's top recruiters. As a running backs coach, he has done a tremendous job with the Tigers. Last season, LSU averaged 202.6 rushing yards per game and tied a school record with 35 rushing touchdowns. Three backs eclipsed the 500-yard rushing mark. Wilson commands tremendous respect from his players.
David Yost, Missouri offensive coordinator/recruiting coordinator: He has been at Missouri for 11 years, but he has to start getting more attention as an exceptional playcaller. He has a great eye for talent and pointing out mismatches in his spread scheme. In 2011, Mizzou ranked ninth nationally in rushing (244 yards per game) and had one of the most balanced offenses, as Mizzou was one of only two schools in the country to average at least 230 yards rushing and passing in each game.
February, 14, 2011
2/14/11
7:15
PM ET
Shane Beamer, who played a key role in elevating South Carolina's recruiting over the past three years, is leaving the Gamecocks' staff to join his father, Frank Beamer, at Virginia Tech.

The younger Beamer had served as the Gamecocks' recruiting coordinator since the conclusion of the 2008 season. He'd also coached safeties, Spur linebackers, cornerbacks, outside linebackers and special teams at different points during his four seasons in Columbia. At Virginia Tech, he will coach running backs.

"I'm extremely excited about the opportunity to return to Virginia Tech," said Beamer, who was the Hokies' long snapper when he played for his father. "I've been gone 11 years and during that time I've been around a number of great coaches and great programs and had the opportunity to learn a lot. Now, I look forward to returning to Blacksburg and helping Virginia Tech continue to win championships."

Spurrier said his emphasis in replacing Beamer will be finding the best special teams coach he can find.

"I think it's a wonderful move for Shane to get to coach with his dad," Spurrier said. "(Frank Beamer) will coach about three or four more years, he told me. The opportunity to coach with him has never come up and it came up. We wish Shane well. He did a super job recruiting, not only his guys this year, but coordinating all the recruiting. He's been an excellent coach here."
May, 24, 2010
5/24/10
4:00
PM ET
Cheryl Beamer, the wife of Virginia Tech coach Frank Beamer and mother of South Carolina assistant Shane Beamer, is doing better after a nasty fall last week at the family lake house in Georgia.

Shane Beamer said his mother is hopeful of being released from the hospital in Athens, Ga., on Wednesday and going home.

"The people in Athens and UGA have been great," Shane Beamer said.

Cheryl was holding Shane's 5-week-old daughter, Olivia, when she tripped. Always the protective grandmother, Cheryl covered the baby's head with both hands and didn't have anything to break her fall. The baby wasn't injured.

Cheryl, however, fractured her femur and broke seven ribs.

"She's hanging in there," said Shane Beamer, the Gamecocks' recruiting coordinator, special teams coordinator and strong safeties coach.

Here's wishing Cheryl a speedy recovery, and it's obvious that her husband and son aren't the only ones in the family with terrific football instincts.

You always protect that ball (and your grandchildren) with two hands.