November, 14, 2012
11/14/12
1:00
PM ET
Checking out the SEC with some links on a Wednesday.
July, 9, 2012
7/09/12
9:15
AM ET
Everybody can recite who's the all-time winningest coach in the SEC.
Bear Bryant won 232 career games at Alabama and became one of the most iconic figures in college football along the way.
To this day, Bryant's name is mentioned with reverence around the Capstone.
But even if you take his 232 career wins out of the equation, the Crimson Tide would still have 582 wins.
[+] Enlarge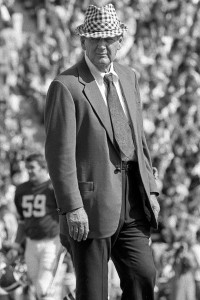 Bernard Troncale/US PresswireBear Bryant won 232 career games at Alabama.
So while the guy with the Houndstooth hat carved out a legendary career at Alabama, the Crimson Tide's success on the football field hasn't been defined solely by the Bryant years.
Frank Thomas won 115 games. Gene Stallings won 62 games. Wallace Wade won 61 games. Nick Saban -- in just five seasons -- has already won 55 games.
All five men, including Bryant, have also won national championships at Alabama.
In surveying the winningest coaches at all 14 SEC schools, some of what you find, especially when you take away each school's all-time wins leader, is telling.
For instance, Bryant is actually the winningest coach at two different SEC schools. He was 60-23-5 at Kentucky from 1946-53, and led the Wildcats to eight consecutive winning seasons.
Since Bryant's departure from the Bluegrass following the 1953 season, the Wildcats have had 10 other head coaches, but only one of them compiled better than a .500 record, Blanton Collier, who succeeded Bryant, was 41-36-3 in eight seasons.
Steve Spurrier could join Bryant this coming season as the second coach to earn the distinction of being the winningest coach at two different SEC schools.
Spurrier owns that distinction at Florida. He won 122 games in 12 seasons in Gainesville from 1990-2001. He's 55-35 in seven seasons at South Carolina, and can pass Rex Enright as the Gamecocks' winningest all-time coach with 10 wins this season. Enright was 64-69-7 in two different stints at South Carolina from 1938-42 and 1946-55.
Since Enright stepped down following the 1955 season, the Gamecocks have had 13 head coaches. Spurrier is one of five since Enright to post a winning record. Other than Enright and Spurrier, only two other coaches have won more than 40 games at South Carolina -- Jim Carlen (45) and Paul Dietzel (42).
Georgia and Tennessee are the only schools in the SEC with three head coaches in their history to have won 100 or more games.
Vince Dooley is Georgia's all-time leader with 201 wins. Wallace Butts won 140, and Mark Richt has won 106. Georgia has 747 wins all-time.
Gen. Robert Neyland is Tennessee's all-time leader with 173 wins. Phillip Fulmer won 152, and John Majors 116. That's a total of 441 of the Vols' 794 wins.
In fact, Tennessee is the only SEC school that still has 600 or more wins if you take away the winningest coach's win total. The Vols would still have 621 even if you didn't count Neyland's 173 wins.
Only eight other schools nationally would have more than 600 wins if you took away their winningest coach -- Miami (Ohio), Michigan, Navy, Notre Dame, Ohio State, Oklahoma, Texas and USC.
Florida has won 669 games, and 187 of those wins have come courtesy of two of the Gators' past four head coaches. In addition to Spurrier's 122 wins, Urban Meyer won 65 in six seasons from 2005-10.
At Ole Miss, John Vaught won career 190 games. Nobody else has won more than 67 there (Billy Brewer). Anybody want to guess who is No. 3 on the Rebels' all-time wins list? David Cutcliffe was 44-29 (.603) from 1999-2004.
The biggest difference in the SEC when you start taking the winningest coach out of the equation can be found at Vanderbilt. Dan McGugin was 197-55-19. But without him, the Commodores would be just 367-519-31 all-time. McGugin last coached at Vanderbilt in 1934. Nobody else at Vanderbilt has won more than 39 games.
At some schools, there simply hasn't been much longevity by coaches.
Charles McClendon is LSU's all-time winningest coach with 137 career wins in 18 seasons from 1962-79.
But since McClendon retired, the only LSU coach to last longer than five seasons has been current coach Les Miles, who's won 75 games in seven seasons.
Below is a look at the win totals for all 14 SEC schools and the winningest coach at all 14 schools:
Alabama – 814 (Bear Bryant 232)

Tennessee – 794 (Gen. Robert Neyland 173)

Georgia – 747 (Vince Dooley 201)

LSU – 733 (Charles McClendon 137)

Auburn – 711 (Shug Jordan 176)

Texas A&M – 681 (R.C. Slocum 123)

Arkansas – 680 (Frank Broyles 144)

Florida – 669 (Steve Spurrier 122)

Missouri – 625 (Don Faurot 101)

Ole Miss – 621 (John Vaught 190)

Kentucky – 578 (Bear Bryant 60)

Vanderbilt – 564 (Dan McGugin 197)

South Carolina – 555 (Rex Enright 64)

Mississippi State – 506 (Jackie Sherrill 75)
August, 6, 2010
8/06/10
2:20
PM ET
By
ESPN.com staff
| ESPN.com
The
House of Pain countdown
is complete, and Texas' 15-14 season-ending win over Arkansas in 1969 (with President Richard Nixon in the stands) gets the nod as the most painful outcome in college football history.
Frank Broyles, Arkansas' legendary coach, has still not watched a replay from that game to this day. The Hogs led 14-0, but the Longhorns rallied on the strength of wishbone quarterback James Street's improbable fourth-down pass to set up the winning touchdown.
Alabama was involved in three of the top 10 most painful outcomes:
No. 9:
Auburn beat Alabama 17-16 in 1972 in the "Punt Bama Punt" game. Auburn blocked two Alabama punts in the fourth quarter, returning them both for touchdowns to shock the No. 2-ranked Crimson Tide.
No. 6:
Notre Dame beat Alabama 24-23 in the 1973 Sugar Bowl. To this day, Alabama fans replay that classic game and ask "What if?" The Irish escaped by completing a 36-yard pass out of their own end zone on third-and-9 with just over two minutes to play. The Notre Dame tight end that caught that ball, Robin Weber, hadn't caught a pass all season.
No. 2:
Alabama beat Penn State 14-7 in the 1979 Sugar Bowl. Barry Krauss became an Alabama icon that night in the Superdome with his fourth-down stop of Penn State's Mike Guman inside the 1. It was a crushing defeat for the No. 1-ranked Nittany Lions and their legendary coach, Joe Paterno.
May, 11, 2010
5/11/10
12:05
PM ET
By
ESPN.com staff
| ESPN.com
Some of what's making headlines in the SEC:
August, 17, 2009
8/17/09
11:45
AM ET
By
ESPN.com staff
| ESPN.com
Posted by ESPN.com's Chris Low
OXFORD, Miss. -- Once a Hog to the core, Houston Nutt is now a diehard Rebel.
He couldn't be happier about his move across the Western Division to Ole Miss and said it's rejuvenated him in more ways than one after a bitter divorce with Arkansas.
The scars from that divorce remain. There's no getting around that, but Nutt says he's thankful to be at a place that genuinely wants and appreciates him.
Approaching the most anticipated season at Ole Miss in more than 40 years, here's the second part of my Q&A with Nutt:
Is there anything you would have done differently at Arkansas?
Houston Nutt: I probably wouldn't have hired a couple of people. I probably would have just stuck to my niche. (He hired current Auburn offensive coordinator Gus Malzahn from nearby Springdale High following the 2005 season).
Why go away from that niche?
HN: It was probably the two losing seasons (in 2004 and 2005), and I was the only coach in Arkansas history to survive two losing seasons. But what people tend to forget is that the reason we had the two losing seasons was because of the sins we paid for the previous group that put us on probation. That took off 10 to 12 scholarships, and that's a major blow. They tend to forget that when the season gets going because everybody wants to win now.
Having gone through what you went through at Arkansas, the highs and the lows, how much better has that experience made you as a coach and how much stronger has it made you to deal with pretty much anything?
HN: It's made myself and my family stronger, closer, and it tends to make you wrap yourself with alligator skin. What I mean by that is you stay more focused and more attentive to detail. You don't worry about things. Especially the first four or five years at Arkansas, being from that state, I tried to please. When you grow up there, it's different, but I've learned.
Will it ever be the same for you when you go back to Arkansas to visit?
HN: I don't know. I have enough friends with my mom living there that I'll always go back. There are still people there that I'm very close with, guys like Jim Lindsey and Frank Broyles, who I still talk to. There are a lot of good people there, Warren Stephens in Little Rock, Rex Horne, who was my pastor at Immanuel Baptist Church. So I've got enough friends there that I'll always go back. What's difficult, and it goes back to what Phil Fulmer said (after he was fired at Tennessee), but you love the place so much, grew up there, played there, coached there and felt like, 'Boy, you've done nothing but give it your all,' so it still hurts a little bit.
Even at your height at Arkansas, did the level of energy and excitement there rival where it is here at Ole Miss leading into this season?
HN: No, because our people here are so hungry. The thing that was discouraging there was that you get to Atlanta twice and it was like, 'You gotta win the big one.' I'm thinking, 'Well, you didn't even go to a bowl game for a long time.' But now, you look at the last eight months here. People can't wait. There's an excitement here. I went to the M Club meeting with guys who played in the 50s and 60s, and they have that same attitude, a pride about their school. It makes you feel good, how good they feel about what we're doing.
How have some of the former Ole Miss stars like Eli Manning and Patrick Willis bought into what you're doing?
HN: They've been awesome. They have bought in full go. I look out there every morning in June and it's amazing. They're in that weight room and around our players. We had Eli in our weight room one morning along with Archie Manning, Derrick Burgess, Todd Wade, Patrick Willis and Deuce McAllister -- all in the same weight room. Pat Patterson is hollering up and down the hallway, 'I caught my first pass this summer from Eli Manning.' They're pumped, too.
Is it an unfair tag that your best seasons as a coach have come when people didn't see you coming or when you weren't picked very highly?
HN: The truth is that I haven't been picked too many times to win, and when I have, I've had some tough injuries. I know that's an excuse. But when you lose real players, it makes a difference.
Do you rethink your decision at all to sign Jamar Hornsby, who had already been kicked off Florida's team and has since been let go by you after getting into trouble again?
HN: In talking to his mother and getting to know him, there are days I wish he were still here. I think I could have helped him. But when he was involved in another court deal, that was one too many bad decisions for him. It was best for him to go to a lower division and get on with his life.
You took a lot of grief for signing 37 players last February, which precipitated the SEC presidents passing a rule limiting the number of signees a school can sign each year to 28. How surprised were you at that legislation?
HN: I was surprised because when we did it, I went to my athletic director, Pete Boone, and said, 'I've never experienced how many junior colleges we have in this state and want to build some relationships. I know that nine guys want to be at Ole Miss, but I know they're not going to make it academically. It gives me a chance to make them feel like a part of the family and let me shuffle them out to these different junior colleges and prep schools.' I never would have thought so much would come from it, because there's never been a rule and we all have to get to 25 by August. I guess they looked at it like it was embarrassing. But to the young men, I think they look at it more like, 'I get to sign with Ole Miss, go to JUCO and then come back.'
How refreshed are you to be at Ole Miss and have this new challenge at this point in your career?
HN: I can't tell you how appreciative I am to be so excited about coming to work every day and coming to a beautiful place. These players make it for you, because they hang onto every word. They're excited. I know we just got here. But to me, that's what it's about.
Has your family fully settled in now at Ole Miss?
HN: They love it. I have three of my four kids (son Houston III and twin daughters Hailey and Hannah) here going to college. My fourth one (youngest daughter Haven) swears she's going to be an actress and is headed to Pepperdine on a half-scholarship.
Pepperdine? That's some serious coin, isn't it?
HN: (laughing) Yeah, I hear that half-scholarship ain't going to help too much.
February, 18, 2009
2/18/09
12:07
PM ET
By
ESPN.com staff
| ESPN.com
Posted by ESPN.com's Chris Low
The Eastern Division was hard enough. Now, onto the Western Division.
I could have picked 10 or 12 for Alabama. Maybe the Crimson Tide should have two Mount Rushmores.
Anyway, here goes and thanks again for all your help. I'm sure there will be no second-guessing, right?

ALABAMA
Bear Bryant: Bryant is revered as much today in Alabama as he was when he was winning six national championships.

Lee Roy Jordan: Bryant referred to Jordan as the "finest player he ever coached."

Joe Namath: Broadway Joe was called the "greatest athlete I ever coached" by Bryant.

Ozzie Newsome: The quintessential tight end, Newsome was one of the most complete players to play for Bryant.

Just missed the cut: Cornelius Bennett, John Hannah, Don Hutson, Ken Stabler, Derrick Thomas, Frank Thomas.

ARKANSAS
Lance Alworth: The first athlete at Arkansas to letter in three different sports in the same year.

Frank Broyles: An iconic figure in the state, Broyles spent 50 years at Arkansas as either head football coach or athletic director.

Darren McFadden: Two-time Doak Walker Award winner is one of the SEC's best backs of the last quarter century.

Billy Ray Smith Jr.: Followed in his father's footsteps and became a two-time All-America defensive end in 1981-82.

Just missed the cut: Gary Anderson, Brandon Burlsworth, Dan Hampton, Ken Hatfield, Lou Holtz.

AUBURN
Pat Dye: As coach, he won 99 games and four SEC titles. As athletic director, he brought the Alabama game to Auburn.

Bo Jackson: The 1985 Heisman Trophy winner remains the greatest all-around athlete the SEC has ever seen.

Ralph "Shug" Jordan: Auburn's stadium bears his name. He won 176 games in 25 years, including the 1957 national championship.

Pat Sullivan: Two-time SEC Player of the Year who became Auburn's first Heisman Trophy winner in 1971.

Just missed the cut: Terry Beasley, Tucker Frederickson, Tracy Rocker, Tommy Tuberville, Carnell "Cadillac" Williams.

LSU
Billy Cannon: A true SEC legend and LSU's greatest player, Cannon won the Heisman Trophy in 1959.

Tommy Casanova: Played offense, defense and returned kicks and was a three-time All-American from 1969-71.

Glenn Dorsey: The most decorated defender in LSU history, Dorsey led the Tigers to the 2007 national championship.

Charles McClendon: LSU's winningest coach with 137 wins and 13 bowl appearances from 1962-79.

Just missed the cut: Paul Dietzel, Kevin Faulk, Dalton Hilliard, Bert Jones, Nick Saban.

MISSISSIPPI STATE
Johnie Cooks: The Bulldogs' greatest defender and a force on some of their best teams. The No. 2 pick in the 1982 NFL draft.

D.D. Lewis: A member of the College Hall of Fame, Lewis was a two-time All-SEC linebacker in 1966-67.

Jackie Sherrill: The winningest coach in Mississippi State history, Sherrill took the Bulldogs to the SEC title game in 1998.

Jackie Parker: An All-America quarterback in 1953 and a two-time SEC Most Valuable Player.

Just missed the cut: John Bond, Jack Cristal, Sylvester Croom, Eric Moulds, Tom "Shorty" McWilliams.

OLE MISS
Archie Manning: The very definition of an icon. The speed limit on Ole Miss' campus is 18 mph to commemorate his jersey number.

Eli Manning: The youngest Manning followed his dad to Ole Miss and became the most prolific passer in school history.

Chucky Mullins: Ole Miss players pass his monument before every game, and many touch his head on the way to the field.

John Vaught: In 24 years as Ole Miss' coach, he made the Rebels a fixture in the national polls and won six SEC titles.

Just missed the cut: Charlie Conerly, Jake Gibbs, Frank "Bruiser" Kinard, Barney Poole, Patrick Willis.