September, 23, 2014
Sep 23
2:00
PM ET
BATON ROUGE, La. -- LSU coach Les Miles and many of his players embraced their roles as good soldiers on Monday, accepting blame for individual failures that allowed
Mississippi State to win 34-29
on Saturday at Tiger Stadium.
[+] Enlarge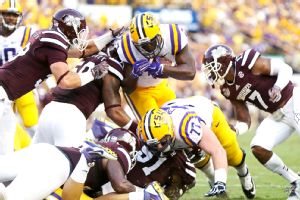 AP Photo/Gerald HerbertLSU's O-line didn't open up much running room for Leonard Fournette against Mississippi State.
There was plenty of blame to go around, from coverage breakdowns to missed tackles to dropped passes to quarterback misfires. But perhaps the most distressing problems the No. 17 Tigers (3-1) experienced came on the interiors of both lines, where they were simply not consistent enough. At times they were even manhandled by the Bulldogs' physical fronts.
"Everybody has their times where they go through stuff," said senior center
Elliott Porter
, whose group paved the way for LSU to rush for just 89 yards in 35 carries. "But we're going through it [and] we're going to get through it. We've just got to get our identity and once we get our identity, it's going to be a good thing for this team."
And what should that identity be?
"Just [like] the LSU offensive line that we had in the past, last year and years before: tough, hard-nosed, physical offensive linemen [who] finish blocks. Including myself," Porter continued. "I believe we all have to improve with that. But I'm definitely putting it more on myself than the other guys. I'm the leader. I have to put it on myself more."
Porter wasn't the only blocker in need of improvement, however.
Miles said
Ethan Pocic
should start again at right guard against New Mexico State (2-2) on Saturday after taking a starting spot away from senior
Fehoko Fanaika
against Mississippi State. Left guard
Vadal Alexander
's starting position might also be in jeopardy.
"We may look at a substitute that will go to the left side or to the right side at that guard spot," Miles said.
Whatever personnel comprises the eventual starting lineup, it must play with far more consistency if LSU's run-first philosophy will have any effectiveness against the better SEC defenses this season. LSU's line struggled to get a consistent push at times even against its nonconference opponents, but talent eventually won out in those games.
The Tigers once again struggled to create running space against Mississippi State, and it was more costly this time -- in part because of poor communication, Porter said.
"The lines that we had in the past, including last year and the year before, we executed because we communicated better," Porter said. "We have to communicate better. It will come. I have a lot of faith that it's coming. It was there sometimes on Saturday night, but it wasn't consistent enough."
On the opposite side of the line, LSU struggled mightily in containing Mississippi State quarterback
Dak Prescott
. That's a tall order for any defense, but Prescott made the Tigers look awful at times, rolling up the highest yardage total -- 570 yards -- surrendered by an LSU defense since 2001.
Much of that production came on runs straight up the middle, with the Bulldogs generating 302 rushing yards and 9.1 yards per attempt on runs between the tackles according to ESPN Stats and Information. In LSU's first three games, opponents averaged 54 rushing yards per game and 3.4 yards per carry on runs between the tackles.
Despite what the numbers say, Miles insisted that defensive tackle is not a weakness for his team, and sophomore
Christian LaCouture
agreed with his coach's assessment.
"I don't see us as a weakness at all," said LaCouture, who has started all four games at tackle. "We've got the talent, we've got the hard-working guys. We've just got to be on the same page as the defense, and we will. Looking at it, I don't think we have any weaknesses on this football team. We've just got to make sure we play as one."
Continuity along the defensive front won't come any easier in the short term. Miles said
Quentin Thomas
, who started three of the first four games is "nicked" and could miss a week or two. Thomas left LSU's football facility with his arm in a sling after Monday's practice.
Meanwhile, redshirt freshmen
Frank Herron
,
Maquedius Bain
and
Greg Gilmore
-- all of whom seemed to be in line for bigger roles prior to the season -- have barely played. Asked about that group on Monday, Miles also mentioned converted end
Lewis Neal
as a player who could see more action.
"I do see some of those guys stepping forward even more in this game," Miles said. "I can tell you that Lewis Neal came in and played late in that game and probably played six or eight snaps, made four tackles. There's a guy that's going to play a lot of football, and he's just making his case. Some of those guys got onto the field in that game and made a case for more playing time, and that's what we needed to have happen."
That is certainly true, as what the Tigers didn't accomplish much along either line against Mississippi State. New Mexico State does not represent a major threat, but the Tigers need to establish more consistent lineups with road trips to Auburn and Florida fast approaching.
"Somebody's got to come up and play more," LaCouture said. "Somebody's got to step up, and I know they will. We've got some great guys back there, and I know they'll step up to the challenge."
September, 4, 2014
Sep 4
9:00
AM ET
BATON ROUGE, La. -- When he and his teammates traveled to Houston last weekend, LSU safety
Jalen Mills
had no idea whether he'd actually play against Wisconsin.
It wasn't until the final moments before his team took the field that Tigers coach Les Miles informed the junior safety of his decision.
"Actually right before we came out the tunnel. Coach Miles told me, 'I hope you're ready to play,' " said Mills, whose offseason arrest led to his banishment from all team activities throughout the summer before Miles reinstated him at the start of preseason practice. "So once he told me that, just a big weight lifted off my shoulders and I was ready."
Mills made the most of his opportunity, starting at safety and intercepting a pass during the Tigers' second-half comeback en route to a 28-24 victory. Several of his teammates weren't as fortunate, with multiple Tigers missing the game because of suspension, injury or simply because they were not quite ready to face a big-time opponent.
That could change soon -- possibly as soon as this Saturday against Sam Houston State in some cases -- as expected contributors like cornerback
Rashard Robinson
, receiver
Malachi Dupre
and defensive linemen
Frank Herron
,
Maquedius Bain
and
Greg Gilmore
start to filter into the lineup.
Like Mills last week, some members of that group -- along with many others who did not play last weekend -- will walk into Tiger Stadium Saturday night not knowing whether this will be their chance to make their season debuts.
Miles said Wednesday evening that "everybody's ready to roll. We didn't lose anybody from the [Wisconsin] game" when asked about the health of the team, although he added that senior center
Elliott Porter
might sit out for a second consecutive game.
Miles would have to improve significantly before anyone would describe his disciplinary practices as transparent, but he responded "Yeah, absolutely" when a reporter on Tuesday asked whether the suspended players would be available this Saturday.
If they are available, and if players like Dupre are able to return from injuries, LSU could have far more firepower at its disposal in the near future -- even if Miles predicted that the starting lineup should mostly remain intact.
"I think it will be very similar," Miles said after Wednesday's practice. "There's some young defensive linemen we'd like to put on the field, but it's one of those things, you have to develop a level of competency in the call. That's the issue. We have very talented guys there. We're just getting them ready to play, hopefully this week. Hopefully they'll play some time. But I think for the most part, you'll recognize the same starting lineups."
Regardless, the youthful Tigers are not the team they will become over the course of this season. Although nine true freshmen and two redshirt freshmen played their first college games, many more -- a group that includes Herron, Bain, Gilmore, receivers
D.J. Chark
and
Avery Peterson
, running back
Darrel Williams
and linebacker
Clifton Garrett
-- still hope to prove to their coaches that they deserve playing time.
"It's definitely your coach trusting you and coming out here in practice every day and working hard," senior middle linebacker
D.J. Welter
said. "Everybody's been doing that, but you've just got to keep grinding every day to close that space and you'll get to see the field."
As Miles mentioned, that is apparently the issue with Herron and the other redshirt freshman defensive tackles. Players complimented Herron throughout the preseason, but Miles said he wasn't ready to go against Wisconsin. Instead it was true freshman
Davon Godchaux
who played alongside veterans
Christian LaCouture
,
Quentin Thomas
and
Lewis Neal
against the Badgers.
"To be honest with you, we'd have loved to have gotten Frank in, and some other guys," Miles said. "But the issue becomes one where when the game's tight and you want to be able to count on the call, you go with that veteran that kind of understands it a little bit more. We're hopeful that we can get Frank coached up a little bit better and get him on the field because he is, in my opinion, a very, very talented guy."
Same with Chark and Williams -- and for that matter the freshmen who did play and didn't exactly dominate. It's part of the learning process, Miles cautioned, and that process sometimes requires some patience.
Regarding freshmen like quarterback
Brandon Harris
and tailback
Leonard Fournette
, Miles said LSU's coaches are "thrilled with their performances" even if they didn't exactly fill up the stat sheet against Wisconsin.
It will come in time, as redshirt freshman
John Diarse
learned a season ago.
"I had the same expectations coming in last year and Coach Cam [Cameron] just told me, 'It's a process. It takes time. It doesn't happen overnight. It takes time and just relax, stay in it, stay focused, keep working hard,' " said Diarse, who caught two passes and scored a 36-yard touchdown in the fourth quarter against Wisconsin.
August, 20, 2014
Aug 20
3:00
PM ET
BATON ROUGE, La. -- LSU has speed and athleticism in spades within its linebacking corps and a secondary that appears ready for a breakout season. The biggest unknown on the Tigers' defense -- a line that has little experience and only marginal productivity -- might be the biggest factor in whether LSU returns to its dominant form on D.
"Going into camp, that's what I was thinking about," senior defensive end
Jermauria Rasco
said. "Our linebackers are the strongest. They're the core of the defense. The secondary, they're real tight. And me personally, I feel like the D-line is the question mark right now."
Rasco's comments came a few days after the Tigers opened preseason camp earlier this month. The ensuing two weeks have reportedly been productive for the group -- as they needed to be.
Teams that win SEC titles usually dominate up front on defense, and even when they don't (see Auburn, 2010), they typically have at least one lineman who creates havoc in opponent backfields. Since 2000, only two SEC championship clubs (Florida in 2008 and Alabama in 2012) failed to have at least one defensive lineman make the coaches' All-SEC team at the end of the season.
Once junior tackles
Anthony Johnson
and
Ego Ferguson
both jumped for the NFL draft after last season, LSU lost its only obvious picks for postseason honors. Now it's up to Rasco and fellow end
Danielle Hunter
-- a combination that totaled just seven sacks a season ago -- and a host of inexperienced players in the middle to pick up the slack.
"We might not be the key, but we're a piece of the puzzle," redshirt freshman defensive tackle
Greg Gilmore
said. "We're all a piece of the puzzle and if we can fit in right, we can make it good for us."
Gilmore and his position mates are probably the most important piece of the puzzle. Hunter seems poised for a breakout season and Rasco is now healthy after struggling with shoulder injuries earlier in his career. But the tackles are largely unknown to those who don't watch the Tigers practice each day.
Those who do continue to project confidence about the group's capabilities despite a lack of on-field experience.
"I think some of those young defensive linemen,
Frank Herron
and some of those guys whose names you don't know, are going to be very, very good players," LSU coach Les Miles said.
Sophomore
Christian LaCouture
played sparingly as a reserve last season, as did
Quentin Thomas
-- still working to return from a biceps injury suffered during camp -- and converted defensive end
Lewis Neal
. Then you have redshirt freshmen Gilmore, Herron and
Maquedius Bain
waiting for the chance to prove that the tackles aren't nearly the cause for concern that their lack of experience would indicate.
"They don't get enough credit, and they will. Their time comes," senior center
Elliott Porter
said. "Just like Ego, his time came [and he became a] second-round draft pick. The time comes. It's going to happen. You've got to open your eyes and see. You've got to open your eyes. We breed D-tackles around here, as you can see the last three or four years."
That is true -- LSU has placed eight defensive linemen in the NFL draft over the past four years -- but that has no impact on the present. When the Tigers open the season against Wisconsin on Aug. 30, they'll rely on multiple interior linemen who have yet to play a college game.
Of course, that's another LSU tradition of late.
"Coach Miles always says we play young guys, we play freshmen," Herron said. "So I'm ready to play and show the world what I've got. Playing next to Christian and Greg and Bain, it's been a blessing. Those guys show me new things each day and they're just telling me to keep pushing myself, keep going."
Herron and LaCouture have reportedly had good camps, but Hunter might be the top breakout candidate on the line. Good luck getting him to admit it, though. The junior defensive end -- who generated lots of attention when practice photos of his ripped physique made the rounds on social media early in preseason camp -- seems completely oblivious to outside attention, even after Miles credited him with nine tackles and four tackles for a loss after last Saturday's scrimmage.
"I didn't really hear all this about what Coach Miles said about me until this morning, when one of my teachers texted me saying I did well in the scrimmage. I didn't realize I did that well," Hunter said, adding, "I actually felt like during the scrimmage, I really didn't feel like I did so good."
If that's the case, LSU fans can't wait until Hunter's offseason focus on pass-rushing results in a sack or three and he actually feels good about a performance.
Nonetheless, the Tigers' defense has emphasized competition since the end of last season, when a strong finish generated some offseason momentum after what had been a sometimes-rocky fall. Things are looking good at linebacker and in the secondary, so if the line can prove Miles correct for being confident, the Tigers will once again become a defensive force within the SEC.
"The ceiling's so high," LaCouture said. "Looking at it, you don't know if you have a ceiling on it. We're full of potential and stuff like that, but potential's just a name. ... You have to know what you're doing."
August, 20, 2014
Aug 20
8:00
AM ET
1. The ALS Ice Bucket Challenge has been sweeping social media and the SEC along with it. On Tuesday we posted a rundown of
some of the notable challenges accepted by SEC nation
, including Arkansas coach Bret Bielema, LSU coach Les Miles and Kentucky coach Mark Stoops. Later on Tuesday, two of the biggest-named coaches who hadn't yet been doused with the cold stuff took the challenges:
Alabama coach Nick Saban
and
South Carolina coach Steve Spurrier
. Saban challenged Heisman Trophy winner and NFL running back Mark Ingram (an Alabama product), U.S. Senator Joe Manchin (a friend of Saban's from West Virginia), Florida coach Will Muschamp and none other than Paul Finebaum. Spurrier handed his challenges out to Saban, Texas A&M coach Kevin Sumlin, Oklahoma coach Bob Stoops and their respective coaching staffs. Saban had his team do the challenge with him and Spurrier had his coaching staff take the dousings with him. These challenges continue to raise a significant number of funds for the ALS Association and have provided some fun videos to boot.
2. Florida's offense is looking for a huge boost this season after a dismal season in 2013 and new offensive coordinator Kurt Roper is what the doctor ordered. On Tuesday,
Roper reflected on his journey
from his own days as a high school quarterback to being the son of a coach. After the work he did at Duke last season and his extensive time coaching in the SEC, he should be a good fit for the Gators. Making the offense more high-paced and wide-open will allow the Gators to utilize the talents of quarterback
Jeff Driskel
and expect them to take a significant step forward, with Roper orchestrating the attack.
3. Many of us figured that Cleveland Browns fans would want a certain SEC product to be their starting quarterback when the Browns season begins next month, but who knew that that SEC quarterback would be Connor Shaw? In
a poll on Cleveland.com asking readers to vote for who they think should be the starting quarterback
in the season opener against Pittsburgh, Shaw -- a South Carolina product -- is winning in a landslide over first-round pick Johnny Manziel of Texas A&M. Of course, considering the way Manziel (and Brian Hoyer) performed and the timing of the poll, some reactionary votes are to be expected. But by
that
wide a margin? Wow. Give Shaw credit, he was the model of toughness and a winner during his South Carolina days and no doubt there are many happy for him after he performed well on Monday night against Washington.
More from around the SEC:
Tweet of the day
Light casualty in the indoor from a fierce punt off the foot of @drewkaser #Kaser4Heisman @TAMUSpecialists pic.twitter.com/RBUzlGqar1

— Texas A&M Equipment (@TAMUequipment) August 20, 2014
August, 7, 2014
Aug 7
2:30
PM ET
BATON ROUGE, La. -- Count LSU coach Les Miles among the supporters of the NCAA Division I Board of Directors' vote on Thursday to
allow more autonomy for the biggest five conferences
.
The board granted new flexibility to the 65 schools from the SEC, ACC, Big 12, Pac-12 and Big Ten for changing rules in specified areas, and the process could go into effect as early as Oct. 1.
"It's fair and safe to say that those five conferences have advantages, and even within those five conferences, there's those schools that have greater advantages," Miles said after Thursday morning's practice. "To me, I think that it's a quality decision to allow like teams to be governed by like rules. I think the major five conferences should have some say."
Native Ohioan Miles cited the Mid-American Conference as an example, noting that while he loved growing up watching teams from the conference, the smaller schools in that league simply don't have the resources to compete with major-conference programs on an annual basis.
That, Miles said, is why Thursday's decision benefits the big schools, and is also good for the NCAA.
"I recognize the premises by which it was always done," Miles said. "As you were in a football job over time, you realize that the NCAA was governing a wide group of schools and it was very difficult for them to come up with rules that really fit everybody."
Defense ahead:
Miles said that LSU had installed about half of its offensive scheme by Thursday and that offensive coordinator Cam Cameron should have the entire playbook in place by next week.
As of now, the Tigers' defense has been the more impressive group in practice.
"I think our defense is ahead. I think they're ready for the situation and ready for the heat and the good offense and the challenge," Miles said. "Offensively, I think we played hard and tough, but I don't know if we quite got it done today. But that happens, and certainly happens against a good defense.
"We'll have enough on offense, I'll guarantee it, but it's like this: When the defense does good, then the offense will have to answer. So that's the challenge at this point."
Asked about the defensive tackles, Miles said sophomore
Christian LaCouture
"looks really good. I think
Frank Herron
is a beast -- a big, strong, fast man. I think he's learning, coming to play."
Pocic with starters at center:
Sophomore offensive lineman
Ethan Pocic
is known for his ability to play every position on the offensive line -- senior center
Elliott Porter
called him "probably the most versatile lineman I've seen here in about three or four years" -- but he's listed as Porter's backup on the preseason depth chart.
Pocic worked with the first-teamers in position drills during the early portion of Thursday's practice that was open to the media. He lined up alongside right guard
Fehoko Fanaika
and right tackle
Jerald Hawkins
to practice a combo blocking drill with offensive line coach Jeff Grimes while Rimington Trophy watch list member Porter watched.
Porter later replaced Hawkins as a right tackle in the same drill, which backs up his comments from a day earlier, when he said many members of the offensive line occasionally work at positions other than the ones where they are listed on the depth chart.
"It gets confusing, so it gets hard. But we do hard things, and in the NFL that's what they do, so you have to prepare for it," Porter said. "I have to prepare to play guard. If I don't, you don't know how long you're going to make it."
Morning changes:
After quarterback
Anthony Jennings
and running backs
Terrence Magee
and
Leonard Fournette
worked with the first-team offense in Wednesday morning's practice, LSU switched things up again on Thursday. Quarterback
Brandon Harris
and running backs
Kenny Hilliard
and
Darrel Williams
were with the starters on Thursday morning, allowing Jennings, Magee and Fournette to shift back to the afternoon session.
Thursday's practice in helmets and shoulder pads was the final day of split-squad workouts, as the Tigers will assemble for a full-squad practice -- for the first time in full pads -- on Friday.
"These two practices were teaching in nature," Miles said. "There was not a real emphasis on the physicality, although this was a very physical practice today. What will happen when we get to the pads is there will be a little bit more emphasis on the physicality and there won't be as many reps. There'll be guys standing on the perimeter really waiting to go."
August, 7, 2014
Aug 7
10:00
AM ET
BATON ROUGE, La. -- With Les Miles opening his 10th season as LSU's head coach this week, we'll use each day to review the decade under the eccentric Miles. Today we look back at the five best recruiting classes of the Miles era.
5. 2013
ESPN class ranking:
Seventh
We're making a call based on potential here, since several of the most talented members of this group have yet to make much of an impact (or haven't played yet at all). Cornerbacks
Tre'Davious White
and
Rashard Robinson
and quarterback
Anthony Jennings
are the headliners thus far. But players like tight end
DeSean Smith
; defensive tackles
Christian LaCouture
,
Greg Gilmore
,
Maquedius Bain
and
Frank Herron
; and linebacker
Kendell Beckwith
could all become household names among LSU fans before the 2014 season is over.
4. 2007
ESPN class ranking:
Sixth
Wide receiver Terrance Toliver was the highest-rated prospect in this 27-man class, and he had a fine college career, but other 2007 signees became the more important college players. The Tigers had three players in this signing class (kicker Josh Jasper, defensive lineman Drake Nevis and offensive lineman Will Blackwell) who became All-Americans according to at least one organization. They also had six players (Blackwell, Jasper, Nevis, defensive lineman Joe Barksdale, safety Chad Jones and running back Stevan Ridley) who made at least one All-SEC team and six (Jones, Ridley, Nevis, Barksdale, cornerback Ron Brooks and receiver Demetrius Byrd) who became NFL draft picks.
3. 2011
ESPN class ranking:
10th
No. 2 overall prospect Anthony Johnson was the biggest fish in this class, but "The Freak" didn't quite live up to his advance billing in three seasons at LSU before becoming an undrafted free agent in the most recent NFL draft. However, this class was loaded with impact players -- including two of the most productive receivers (Jarvis Landry and Odell Beckham) in school history, a pair of All-SEC offensive linemen from 2013 (La'el Collins and Trai Turner) and several others who should make an impact this season (running backs
Terrence Magee
and
Kenny Hilliard
, defensive end
Jermauria Rasco
, safety
Ronald Martin
and defensive tackle
Quentin Thomas
, among others). LSU also added quarterback Zach Mettenberger as a junior college transfer and signed running back Jeremy Hill in this class, although Hill didn't contribute as a member of the team until 2012.
2. 2014
ESPN class ranking:
Second
Yes, this is completely unfair. These kids haven't played a single snap in college yet. Much like the 2013 class, it will be several more years before we know the full impact that this class will have at LSU. But with the nation's No. 1 overall prospect (running back
Leonard Fournette
), the No. 1 players at three different positions (Fournette, receiver
Malachi Dupre
and offensive guard
Garrett Brumfield
) and other exciting additions like quarterback
Brandon Harris
, record-setting receiver
Trey Quinn
, safety
Jamal Adams
and linebacker
Clifton Garrett
, this could conceivably become one of the best recruiting classes in school history before it's all over. Miles said on national signing day that he believes this class can help LSU contend for several national championships, and it certainly has the talent to do so.
1. 2009
ESPN class ranking:
First
No. 1 athlete Russell Shepard was initially the crown jewel in the nation's top signing class, but he wasn't the guy who eventually made this such a successful class. Sure there were several star prospects who panned out in this class -- including No. 1 safety Craig Loston, No. 1 receiver Rueben Randle, No. 2 defensive end Sam Montgomery and No. 11 outside linebacker Kevin Minter -- but the Tigers got as much out of the players who weren't considered to rank among the highest-rated signees at the time. The Tigers signed 10 ESPN 150 honorees in the 25-man class. Among those who didn't make the list of the top 150 prospects: cornerback Morris Claiborne; defensive linemen Michael Brockers, Barkevious Mingo and Bennie Logan; offensive lineman Chris Faulk and linebacker Lamin Barrow. Claiborne, Brockers and Mingo all became first-round NFL draft picks, and five members of that group made at least one All-SEC team.
June, 10, 2014
Jun 10
10:00
AM ET
One of the most beneficial aspects of the LSU coaching staff's philosophy of liberally using true freshmen is that those youngsters are often ready to blossom in their second seasons. Think
Tyrann Mathieu
, who became one of the SEC's most explosive players as a sophomore in 2011. Think
Patrick Peterson
,
Jeremy Hill
,
Odell Beckham
,
Jarvis Landry
and
Eric Reid
-- all of whom emerged as stars when they were sophomores. The list could go on and on and on.
With that history in mind, it should come as no surprise that LSU has plenty of candidates who are poised to repeat what Mathieu and company accomplished in recent seasons by achieving stardom in their second year in the SEC.
The Tigers are
next up in our series
projecting who might become a second-year star at each SEC program.
[+] Enlarge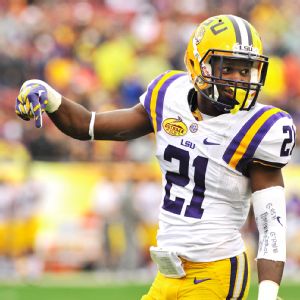 Al Messerschmidt/Getty ImagesLocking down Texas A&M's Mike Evans gave a sign of what rising LSU sophomore Rashard Robinson can do.
Class recap:
Thanks in part to LSU's 11 early entries into the 2013 NFL draft, the Tigers had lots of holes for freshmen to fill last fall. Most notably, cornerbacks
Rashard Robinson
and
Tre'Davious White
had jumped into the starting lineup by the end of the season. But a number of other freshmen played last season, including
Anthony Jennings
-- who filled in at quarterback when senior
Zach Mettenberger
suffered a season-ending knee injury in November -- defensive tackle
Christian LaCouture
, defensive end/linebacker
Kendell Beckwith
, tight end
DeSean Smith
and offensive lineman
Ethan Pocic
. Still, some of the most talented players in the class redshirted in 2013, and there should be several breakout candidates from that bunch, including receiver
John Diarse
and defensive linemen
Maquedius Bain
,
Frank Herron
and
Greg Gilmore
. Overall, the 2013 signing class has left a small impression already, but this should be the year where its impact is truly felt.
Second-year star:
CB Rashard Robinson (6-foot-1/163)
Recruiting stock:
A three-star athlete from Ely High School in Pompano Beach, Fla. -- the same school that sent Peterson to LSU -- Robinson wasn't cleared to enroll at LSU until three days before the first game. But his dynamic athleticism helped him begin contributing by Week 2 and start by the end of the season.
2013 in review:
Robinson put himself on the map when he shut down Biletnikoff Award finalist
Mike Evans
for most of the game in LSU's dismantling of Texas A&M. Evans averaged 107.2 receiving yards per game, but he had only three catches for 13 yards against Robinson before adding a 38-yard reception against a different Tigers defender late in the game. Robinson also notched his first career interception in the game. He finished the season with 16 tackles, 0.5 tackles for a loss, three pass breakups and four passes defended.
2014 potential:
Now that he has found his footing, Robinson is poised to team with White to become LSU's next set of shutdown cornerbacks. As long as he keeps his academic ship in order, the sky is the limit. He probably needs to add some weight to his thin frame, but Robinson has the athleticism and coverage skills to dominate in the SEC and become a pro cornerback in the not-so-distant future.
Also watch for:
Aside from Robinson and White, Smith is another top candidate for the "second-year star" honor from LSU. Offensive coordinator Cam Cameron typically utilizes the tight end, and Smith's receiving skills could make him a major weapon this fall. In addition, Beckwith generated headlines by switching to middle linebacker during spring practice, and he seems ready to challenge
D.J. Welter
for playing time there. Keep an eye, also, on LaCouture,
Tashawn Bower
and the previously mentioned redshirt freshman defensive linemen, who will almost certainly all play key roles this fall. Any of these players would make sense as the LSU pick for this series, but Robinson's potential pushed him to the top of the list.
April, 22, 2014
Apr 22
9:00
AM ET
LSU's spring practice ended two weeks ago, leaving a full 15 weeks before the Tigers return to the practice field.
The position battles that started in the spring will continue through summer workouts before resuming in front of coaches in August. Let's take a look at what happened in a few of those spring battles and what we'll be watching between now and Aug. 30, when the Tigers open the season against Wisconsin.
Defensive tackle:
The spring was as much a feeling-out process as anything for defensive line coach Brick Haley. He mostly rode two departed veterans last fall while using youngsters
Christian LaCouture
and
Quentin Thomas
in spot duty. LaCouture and Thomas jumped into leading roles during the spring, and Haley also tested
Maquedius Bain
,
Greg Gilmore
and
Frank Herron
(at times) in the middle. Haley has probably established a mental pecking order with the group, but August and the early-season games will certainly play important roles in cementing the coach's opinions. It will also be worth watching how signees such as
Travonte Valentine
perform once they arrive on campus, as they might allow Haley to utilize a true rotation in the middle.
[+] Enlarge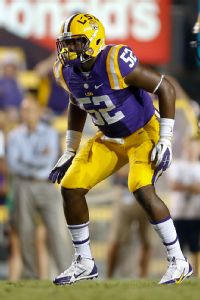 Derick E. Hingle/USA TODAY SportsSophomore linebacker Kendell Beckwith moved inside and was impressive this spring.
Linebacker:
This should be a fun bunch to watch in the fall. While
Kwon Alexander
,
Lamar Louis
and
D.J. Welter
seemed to rank among John Chavis' first options during the spring, it's apparent that the Tigers' defensive coordinator has no shortage of talented options. One of the intriguing spring storylines was
Kendell Beckwith
's transition to middle linebacker behind Welter. The linebackers as a group had an excellent spring game, with
Ronnie Feist
leading all tacklers with 14 stops and both Alexander and
Deion Jones
picking off
Anthony Jennings
passes and returning the interceptions for touchdowns.
Clifton Garrett
is one of the Tigers' highest-rated 2014 signees, and he could add even more intrigue to the competition for playing time once practice resumes.
Quarterback:
Surely you've heard by now that the battle between Jennings and freshman
Brandon Harris
appears to be wide open entering the summer months. Jennings has a slight experience advantage, but Harris was the more effective performer in the spring game. Both players made plenty of mistakes, however. Their offseason preparation in the next few months will be enormously important once August arrives.
Right guard:
This is another battle that the coaches said was wide open once the spring concluded.
Evan Washington
shifted from tackle to guard and seemed to take the leading role in the competition. Fellow senior
Fehoko Fanaika
and sophomore
Ethan Pocic
are lurking, however. It wouldn't be much of a surprise to see all of them play some scrimmage downs against Wisconsin -- or in Weeks 2 and 3 against Sam Houston State and Louisiana-Monroe -- as new offensive line coach Jeff Grimes weighs his options. Coach Les Miles complimented all three players after the spring game, so it seems that the coaches would be comfortable playing any of the candidates.
Safety:
Injuries caused this position to remain as a bit of a mystery during the spring.
Jalen Mills
remained in a starting role, and
Ronald Martin
seemed to be faring well in a return from a fractured right foot. He was injured again by the end of the spring, however, joining
Corey Thompson
(knee surgery) on the sideline by the time the spring game rolled around. Mills and
Rickey Jefferson
were the top options in the spring game, but the Tigers could use any number of combinations when the season arrives -- especially once highly-rated safety prospect
Jamal Adams
and the other signees make it to Baton Rouge this summer. Once the Tigers are back to full strength in August, this should make for one of the most intriguing position battles.
Tight end:
This will be a fun position to track in the fall. They had plenty of playing time last season, but barely made a blip as receivers. They seem to be confident that they will make a more well-rounded contribution in 2014. Sophomore
DeSean Smith
and signee
Jacory Washington
possess intriguing receiver skills, and
Dillon Gordon
,
Travis Dickson
and
Logan Stokes
worked this spring to prove that they are well-rounded players at the position. It's a big group, but all of them should have roles to fill during the season.
Wide receiver:
They were the walking wounded for much of the spring, with
Avery Peterson
,
Kevin Spears
,
John Diarse
and
Quantavius Leslie
all spending time in non-contact jerseys. That was a tough blow for a group that has a lot to prove after
Odell Beckham
,
Jarvis Landry
,
Kadron Boone
and
James Wright
all left the roster after last season.
Travin Dural
-- who had an outstanding spring game with five catches for 130 yards and two touchdowns -- seemed to solidify his spot as the No. 1 receiving option for now. But this will become one of the Tigers' most interesting position battles in August once a star-studded signing class, led by
Malachi Dupre
and
Trey Quinn
, arrives to challenge the returning wideouts.
April, 21, 2014
Apr 21
3:00
PM ET
Sometimes spring practice is important to a football player not because he seizes a starting job, but because he proves to his coaches that he deserves to play.
We've discussed plenty of LSU's key spring position battles here in the last few weeks and speculated about who might become the starters at those spots. But what about some younger players who haven't played much or at all? There are several who made an impression during the Tigers' spring practice and, even if they don't become starters, we should see them make an impact in the near future.
Here are five of those spring movers:
Maquedius Bain:
Christian LaCouture
and
Quentin Thomas
mostly handled the first-team snaps at defensive tackle this spring, but Bain was among the youngsters who made it seem likely that the Tigers will utilize a deeper rotation in the middle this fall. Bain,
Greg Gilmore
and
Frank Herron
-- all redshirt freshmen -- sat out last season while veterans
Anthony Johnson
and
Ego Ferguson
played most of the important snaps. We should hear all three players' names quite a bit in 2014, particularly Bain, who tied with Herron for most tackles (four) among second-team defensive linemen in the spring game.
[+] Enlarge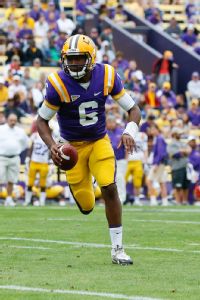 Derick E. Hingle/USA TODAY SportsLSU freshman quarterback Brandon Harris showed plenty of potential this spring.
Ronnie Feist:
LSU has no shortage of talented linebackers, a truth that will become even more evident this summer once
Clifton Garrett
and the other signees arrive on campus. But Feist -- who did not play last season after contributing as a true freshman in 2012 -- proved during the spring game that he will not be ignored. In fact, he was one of the stars of the afternoon, leading all tacklers with 14 stops and a couple of big hits. It remains to be seen where he'll fall on John Chavis' depth chart, but Feist showed that he belongs to be on there somewhere.
Brandon Harris:
The big question entering spring practice was whether Harris could threaten
Anthony Jennings
for the starting quarterback job. The big question afterward concerns how quickly he will overtake his sophomore competitor. An early enrollee, Harris is understandably raw and mistake-prone. He's extremely talented, however, blessed with an outstanding arm and impressive quickness. Harris will become LSU's starting quarterback and, based on what we saw from Harris and Jennings this spring, it might happen sooner rather than later.
Melvin Jones:
Is he going to play tailback at LSU? No. But a shortage of scholarship tailbacks this spring gave Jones a chance to learn a bit more about how to function in the running game. The sophomore switched from linebacker to fullback last season and even caught a touchdown pass against Furman. He has yet to record a carry in a game yet, however, so the opportunity to carry the ball some during the spring will be helpful when he splits time with senior
Connor Neighbors
at fullback this fall. Jones led the backup offense with 38 rushing yards on 12 carries in the spring game.
DeSean Smith:
After catching just one pass last season (for 14 yards against UAB), Smith seems primed to play a much larger role in 2014. The sophomore tight end possesses valuable pass-catching skills and is nimble enough to split out wide as a receiver. If he proves himself as a capable blocker, Smith's three catches for 45 yards in the spring game -- including a 19-yard touchdown catch from Harris -- should be only the tip of the iceberg in terms of his offensive production.
April, 10, 2014
Apr 10
2:00
PM ET
BATON ROUGE, La. -- LSU's spring practice is officially in the books. Now that it's over, we thought it might be fun to review two sets of our predictions from before the spring and see how close we came.
Prediction No. 1: Freshmen will contend for playing time
[+] Enlarge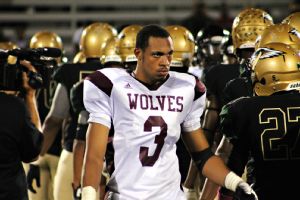 Max Olson/ESPN.comLSU early enrollee Edward Paris is making an impact at defensive back.
Outcome:
Although it's clear that freshmen such as tailback
Leonard Fournette
, receiver
Malachi Dupre
and safety
Jamal Adams
-- none of whom will arrive until this summer -- are likely contributors in 2014, this prediction mostly referred to the redshirt freshmen who will see their first action this fall. It also referred to early enrollees defensive back
Edward Paris
and quarterback
Brandon Harris
, who participated in spring practice and stand a good chance of playing this season.
We were hardly going out on a limb here, but it appears as though plenty of redshirt freshmen secured 2014 playing time over the last month. Players worth mentioning from that group include receiver
John Diarse
and defensive linemen
Frank Herron
,
Maquedius Bain
and
Greg Gilmore
.
Prediction No. 2: Anthony Jennings keeps the QB job
Outcome:
To be determined. Harris clearly outplayed Jennings in last Saturday's spring game, but LSU's coaches and players insist the competition is far from over. Jennings etched his name into LSU lore by leading the game-winning touchdown drive against Arkansas last year in relief of an injured
Zach Mettenberger
, but his mediocre performance in the Outback Bowl and highly average spring game -- he threw two interceptions, both to linebackers who returned them for touchdowns -- leave this race wide open.
Jennings might very well start the opener against Wisconsin, but we can't claim victory (or accept defeat) on our quarterback prediction at this point.
Prediction No. 3: Right guard isn't the only offensive line job that's up for grabs
Outcome:
Right guard is the only spot that didn't return a starter, so it was clearly up for grabs. We were curious as to whether new offensive line coach Jeff Grimes might shake things up along the line, but it doesn't appear that he did.
Returning starters
La'el Collins
,
Vadal Alexander
,
Elliott Porter
and
Jerald Hawkins
apparently held onto their starting roles, although it wouldn't be completely untrue to say that some of their jobs were up for grabs had one of the reserves put together a dominant spring. Nonetheless, the right guard battle --
Evan Washington
,
Fehoko Fanaika
and
Ethan Pocic
all remain in the running for the job -- was the only one that seemed highly competitive this spring.
Prediction No. 4: Rashard Robinson keeps rising at cornerback
Outcome:
Another fairly safe prediction here. As long as Robinson remains on the active roster, it seems highly likely that he will build upon his late charge in 2013 and become a star in the secondary.
Harris and
Rob Bolden
teamed up to beat him on a pretty throw down the sideline in the spring game, but Robinson otherwise held up well last Saturday. After shutting down Texas A&M superstar
Mike Evans
last season, Robinson has LSU fans excited about his potential -- and he didn't seem to hurt his cause on the practice field this spring.
Prediction No. 5: Danielle Hunter improves as a pass rusher
Outcome:
Anyone who saw Hunter manhandle the second-string offensive line in the spring game -- including back-to-back sacks on one possession -- would say this prediction seems to be sound.
LSU posted just 27 sacks last season, which was a big drop-off after the last few Tigers teams boasted at least one or two scary pass rushers.
Jermauria Rasco
led the team with just four sacks, and Hunter tied for second with three.
It would be a major upset -- and a big disappointment -- if Hunter fails to exceed that total this fall.
Now let's take a look at our predictions for five players to watch during the spring: Paris, Jennings, Fanaika, wide receiver
Quantavius Leslie
and defensive lineman
Mickey Johnson
.
There were some hits and misses here. Jennings was an obvious choice since he and Harris were clearly going to battle for the quarterback job. Picking either one made sense, but we went with Jennings since he was the more experienced player. Harris was the contender who generated all of the positive buzz in the spring game, however.
Fanaika, Leslie and Johnson are all veterans at positions with major playing time available, so they seemed like good picks. Fanaika is still a leading contender to start at right guard and Leslie had a productive second scrimmage (four catches, 135 yards and three touchdowns), although he was quiet in the spring game. But Johnson dealt with injuries during the spring and was not a factor in the Tigers' competition at defensive tackle.
The problem with our Paris prediction was that we projected him as a contender at safety, which is where ESPN listed him as a prospect. The early enrollee practiced at cornerback during the spring, so we can't feel too good about that prediction. But he was working with the second-team defense by the end of the spring, so at least he flashed some potential.
If we could redo the list, we'd place Harris, Washington, Diarse, Bain and sophomore
Kendell Beckwith
-- who shifted to middle linebacker this spring -- on there.
April, 4, 2014
Apr 4
12:00
PM ET
BATON ROUGE, La. -- Asked whether Saturday's spring game would be an important factor in some of his team's key position battles, Les Miles clearly saw no need to do his best P.T. Barnum impression in order to draw a crowd -- which is fine since admission to
LSU
's 1 p.m. CT scrimmage at Tiger Stadium is free.
"Not really to be honest with you. We're going to watch competition [and] it's a key scrimmage, but it's also one of those things where there's a lot of time left before we get to [deciding] playing time," Miles said after Thursday's practice. "It's one piece, but obviously it's important and any time we walk into that stadium, we expect our guys to play at a certain level."
[+] Enlarge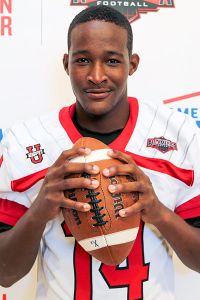 Courtesy of IntersportAll eyes will be on the quarterbacks on Saturday in LSU's spring game, and former Under Armour All-American Brandon Harris has a chance to make a big impression.
Miles and his coaches have been observing practice for a month and then they'll have 29 more August practices to settle their lineups for the
opener against Wisconsin
. But this is the first chance most of us will have to see how some Tigers handle new or expanded roles in a competitive situation. That's what makes spring games fun, even if it's just a glorified scrimmage.
So while Miles indicated it would be a mistake to draw any major conclusions from Saturday's competition, there are still plenty of areas of intrigue worth observing since this is the last time we'll see the Tigers do anything competitive until they take the field at Houston's Reliant Stadium on Aug. 30. Here's what we'll be keeping an eye on from the press box:
Quarterback play:
Duh. It was no surprise at Thursday's practice, which was open for students to attend, that the vast majority of them gathered around the field where LSU's quarterbacks were throwing to their wide receivers. The competition between sophomore
Anthony Jennings
and freshman
Brandon Harris
is by far the biggest source of intrigue among Tigers fans, and their performances on Saturday will generate speculation all summer about who is best prepared to lead the offense in the opener against Wisconsin.
Both players have worked with the first- and second-team offenses, although Miles hasn't been specific about who has done what in practices or scrimmages. Jennings certainly looks to have a better handle on things in the portions of practice that are open to the media. Harris, meanwhile, is all raw potential thanks to a powerful throwing arm. The early enrollee seems more likely to sail a ball over or behind a receiver, but when he does it correctly, it's a thing of beauty.
Defenders could tackle Harris and Jennings when they ran from the pocket in last Saturday's scrimmage, but Miles predicted they will likely wear non-contact jerseys in the spring game.
Offensive line development:
Obviously one of LSU's main position battles this spring has been at right guard, where
Evan Washington
,
Fehoko Fanaika
and
Ethan Pocic
have all gotten a look from new offensive line coach Jeff Grimes. It wouldn't be a surprise to see all three players factor into the Tigers' plans in the fall, although somebody has to be the starter. Washington seems to be the leader, but we'll gain some understanding of the pecking order on Saturday.
Overall, a line that returns four starters was effective last season, particularly as run blockers. They want to become a dominant group this season, however, and their experience and apparent depth make that seem like a possibility. Let's see how they fare against an emerging LSU defensive line on Saturday.
Beckwith vs. Welter:
We could expand this to the performance of the entire reshuffled linebacker corps, with
Kwon Alexander
at weakside linebacker and
Lamar Louis
at strong. But let's narrow our focus on the play of senior
D.J. Welter
and sophomore
Kendell Beckwith
in the middle. Both players have reportedly enjoyed productive springs and both will likely factor into coordinator John Chavis' plans in the fall. But who will be the starter? Saturday won't decide that outcome, but it will be interesting to observe how the two players function in a game-like situation.
Interior defensive line:
Miles has said a time or two this spring that the competition between the offensive and defensive lines has been encouraging. It will be fun to watch them duke it out on Saturday. One group has a decided experience advantage, particularly after starting defensive tackles
Anthony Johnson
and
Ego Ferguson
both bolted for the NFL draft. But there are some up-and-comers along the defensive line who could shine on Saturday.
By all accounts, sophomore
Christian LaCouture
has had a strong spring. Sophomore end
Tashawn Bower
, redshirt freshman tackles
Maquedius Bain
and
Greg Gilmore
and end/tackle
Frank Herron
are among the youngsters we'll be watching, as well.
Secondary play:
This is a group that simply has to play better in 2014. All of the contenders at safety haven't been practicing lately, so it's unclear whether we'll get a clear idea of where that competition stands on Saturday. But how smooth will
Jalen Mills
look at safety? What does early enrollee
Ed Paris
look like after a month of practices at cornerback? Who fills the various defensive back roles if the Tigers line up in their nickel and dime packages? Will
Rashard Robinson
and
Tre'Davious White
continue to develop into the lockdown cornerbacks LSU fans hope they will become? Those are all questions to keep in mind as you watch the scrimmage.
Who are the playmakers?:
Freshmen who could become some of the Tigers' most dangerous 2014 offensive skill players -- such as tailback
Leonard Fournette
and receivers
Malachi Dupre
and
Trey Quinn
-- won't arrive until the summer. But there are several players already on campus who could use a confidence-building performance at Tiger Stadium to catapult themselves into the offseason.
Senior receiver
Quantavius Leslie
had such an outing at last Saturday's scrimmage, catching four passes for 135 yards and three touchdowns. Who else might pull off that kind of feat? Receivers
Travin Dural
or
John Diarse
? Tight end
DeSean Smith
? Tailbacks
Terrence Magee
or
Kenny Hilliard
? Somebody else? Stay tuned.
March, 24, 2014
Mar 24
11:00
AM ET
BATON ROUGE, La. -- We're past the midway point of
LSU
's spring practice with the Tigers' spring game on April 5 less than two weeks away.
Before the Tigers return to the practice field on Tuesday, let's recap some of the developments thus far this spring.
[+] Enlarge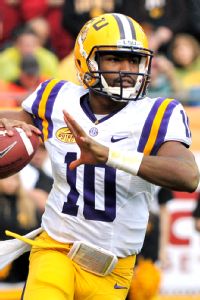 Al Messerschmidt/Getty ImagesSophomore Anthony Jennings has experience on his side in the Tigers' quarterback competition.
The QB race is on:
On national signing day, it looked like LSU might have five quarterbacks vying for playing time in the fall. With the announcements that
Stephen Rivers
will
transfer
and
Rob Bolden
will play receiver, the race was down to three before practice even started.
Anthony Jennings
and
Brandon Harris
appear to lead
Hayden Rettig
in one of the nation's most-watched spring quarterback battles. With 2013 playing time under his belt -- including a start in the Outback Bowl win over Iowa -- Jennings appears to be the more composed, polished contender on the practice field. But Harris possesses special passing talent. It should continue to be an interesting race throughout the summer and into the season.
The young quarterbacks endured many sloppy moments early in camp, to offensive coordinator and quarterbacks coach Cam Cameron's displeasure, but Tigers coach Les Miles said both players threw the ball well in Saturday's scrimmage. Perhaps they are starting to turn a corner toward being ready to face SEC competition.
Receivers are a mess:
Between frequent dropped passes and a spate of injuries, it has not been a banner spring for LSU's receivers. Early in the spring, they seemed to struggle to get on the same page with the quarterbacks. And by the end of last week, they only had a couple of healthy scholarship players available.
Redshirt freshmen
Kevin Spears
,
Avery Peterson
and
John Diarse
have all dealt with injuries, with those setbacks coming at a particularly inopportune time since the youngsters need to establish themselves before a talented group of signees arrives this summer. At last Thursday's practice periods that were open to the media, the only scholarship wideouts catching passes from the quarterbacks were
Travin Dural
and
Quantavius Leslie
.
Miles said last week that he likes what Dural and Diarse have accomplished thus far this spring, and Dural caught a long touchdown pass in Saturday's scrimmage. But the others still have a lot to prove, which might be why Miles predicted that all four receiver signees will have the opportunity to win playing time in the fall.
Defensive line coming together:
Miles seems pleased with the progress that several young defensive linemen have made this spring. In the last week, he has singled out redshirt freshmen
Frank Herron
,
Maquedius Bain
and
Greg Gilmore
for getting stronger and improving their games since they arrived at LSU last year.
He also complimented sophomores
Christian LaCouture
and
Tashawn Bower
after Saturday's scrimmage. LaCouture and Bain both had sacks in the scrimmage, and Bower had two quarterback pressures.
The defensive line competition won't generate a fraction of the national interest that the quarterback battle will, but that group's development might be just as important in gauging LSU's chances to contend in the SEC West this fall. With
Anthony Johnson
and
Ego Ferguson
both bolting for the NFL, the Tigers desperately needed some players to fill their void -- and Miles makes it sound as if they are developing some good options.
OL battle rages:
It's no surprise that LSU's coaching staff continues to weigh its options on the offensive line -- particularly at the right guard position.
Seniors
Evan Washington
and
Fehoko Fanaika
have worked there, as has sophomore
Ethan Pocic
. It's clear that the staff likes what Pocic can do, because he has practiced at guard, center and tackle this spring. Fanaika has been strictly at guard and Washington has worked at both guard and tackle.
With a new offensive line coach, Jeff Grimes, coming on board this spring, it's obvious that he's experimenting with different player combinations to see what he likes best. That experimentation will probably continue beyond the spring game.
Linebacker shuffle:
As with the offensive line, LSU's linebackers are also trying some new combinations this spring.
Kwon Alexander
shifted from strongside linebacker to weakside linebacker,
Lamar Louis
went from middle linebacker to the strong side and
Kendell Beckwith
is now backing up
D.J. Welter
in the middle after playing mostly at defensive end last fall.
LSU's linebackers were somewhat mediocre for portions of 2013, so defensive coordinator John Chavis shook things up a bit this spring. Miles said Saturday that Beckwith's move to the middle appears to be a good one and that Welter has improved his play this spring with the talented sophomore now battling him for playing time.
The linebackers themselves seem excited about the speed and athleticism that their group possesses. It will be interesting to see whether the lineup shuffling affects the Tigers' overall defensive performance.
SEC SCOREBOARD
Saturday, 12/20
Monday, 12/22
Tuesday, 12/23
Wednesday, 12/24
Friday, 12/26
Saturday, 12/27
Monday, 12/29
Tuesday, 12/30
Wednesday, 12/31
Thursday, 1/1
Friday, 1/2
Saturday, 1/3
Sunday, 1/4
Monday, 1/12
Tweets from https://twitter.com/ESPNCFB/lists/sec