September, 3, 2014
Sep 3
12:00
PM ET
COLLEGE STATION, Texas -- Mark Snyder has been down this road before, so before Texas A&M took the field on Thursday against South Carolina, he made sure to look into the eyes of his freshmen.
After a nightmarish 2013 defensive campaign, one which included roughly a dozen freshmen in the two-deep -- many of which had their hands full trying to figure out where to line up and what to do -- the Aggies' defensive coordinator knew this group of freshmen was different but surveyed them visually prior to their season opener. He searched for evidence of nerves, jitters, any sign that they'd be overwhelmed playing on the road in the SEC at a venue where the home team possessed an 18-game winning streak.
He found no such thing.
"I was looking pregame, I promise you, at the hotel and pregame on the field," Snyder said. "I really liked the looks in their eyes. These young guys didn't bat an eye. It was really refreshing to see."
[+] Enlarge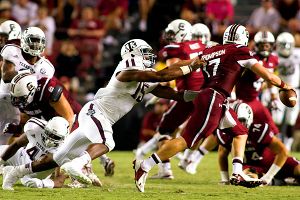 Jeremy Brevard/USA TODAY SportsTrue freshman Myles Garrett had a sack and two quarterback hurries last week against South Carolina.
Many of the Aggies' true freshmen and members of the 2014 recruiting class played like veterans in Texas A&M's 52-28 destruction of South Carolina last week. And that's a relief for Kevin Sumlin and the Aggies staff.
Nine members of Texas A&M's 2014 class saw the field in the season opener, eight of which were true freshmen (one,
Joshua Reynolds
, is a junior college transfer and a sophomore). Most of the true freshmen were on defense: defensive linemen
Myles Garrett
,
Zaycoven Henderson
,
Qualen Cunningham
and
Jarrett Johnson
, safety
Armani Watts
and cornerback
Nick Harvey
.
Garrett and Watts separated themselves as playmakers in their respective debuts. Garrett, a five-star defensive end and the No. 4 overall player in the 2014 class, recorded a sack and two quarterback hurries and was active against opposing offensive linemen throughout the night.
"The thing that doesn't show up in the statistics is the number of times he got pressure on the quarterback and forced a bad throw," Snyder said. "Myles has a ways to go; he's got to learn the defense, he left a lot of plays out there. He had the opportunity to have a three or four sack game. He'll learn and grow from that. But the pressure he put on
Dylan Thompson
with some of those errant throws, that's as good as a sack in my book."
While Garrett's appearance was highly anticipated and almost expected, Watts, an ESPN 300 recruit, was a pleasant surprise at a critical position. The Aggies are sorely seeking upgraded safety play this season and Watts got the start at free safety and performed exceptionally, recording and interception and two pass breakups, including one that saved a touchdown. He, too, didn't seem nervous, according to Sumlin.
"Was the atmosphere, was the stage, was that going to be too big for them?" Sumlin said. "It's pretty good when you have a guy like Armani Watts say, 'This is the best day of my life.' So I don't think he was really worried about playing. I kind of like that. We need more guys like that."
It wasn't all roses. Snyder referenced the fact that a few of his young defensive linemen, Cunningham, Henderson and Johnson specifically, got "baptized" by South Carolina's veteran offensive linemen. And Noil, who played relatively well offensively at receiver, did drop a pass, which offensive coordinator Jake Spavital feels is easily corrected. But there is time and room for improvement. More importantly, the emergence of many of these freshmen is significant for the Aggies, who had several questions to be answered at key positions across the board.
Part of those contributions are a byproduct of recruiting at an elite level, which the Aggies have done since Sumlin arrived. They turned in two consecutive top-10 recruiting classes and they're on track for a third straight in this cycle [the Aggies' class is currently fourth nationally]. Rankings that high means elite players are being signed, several of which are good enough to get on the field immediately rather than having to redshirt.
And the nine 2014 class members who played won't be the only ones. Expect more to see the field Saturday when the Aggies host Lamar.
Players say the added contributions are a significant boost for the team.
"[It's a] very big relief," middle linebacker
Jordan Mastrogiovanni
said. "They've done well in practice and the weight room, all that kind of stuff, but it's very big to see them actually come out and perform in a game. If they keep that up, I think we'll be in great shape."
April, 11, 2014
Apr 11
3:00
PM ET
Texas A&M receiver
Mike Evans
went from relative unknown to bonafide star in college football circles and now is preparing for the NFL draft.
With the sophomore departing early, the Aggies hit the recruiting trail to find someone who they hope could be the next Evans, ESPN 300 receiver
Frank Iheanacho
.
The comparisons have been drawn for several reasons. The Houston Westside High School product, like Evans,
was a varsity basketball player first before deciding to join the varsity football team as a senior
and both have impressive size (6-foot-6, 220 pounds) and leaping ability.
We caught up with the U.S. Army All-American to talk about the comparisons and much more.
Q: You recently attended one of Texas A&M's spring football practices and spent some time with coach Kevin Sumlin. How did that go?
[+] Enlarge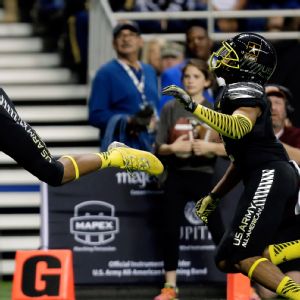 AP Photo/Eric GayFrank Iheanacho could be Texas A&M's replacement for Mike Evans.
Iheanacho:
"It was good. I got to see how practice works, chat it up with all the players and get to learn about the offense. It got me more anxious to get there. [Sumlin and I] were just chatting it up. He told me he can't wait until I get down there to play and practice for them."
Q: How big a factor was Sumlin in your decision to sign with Texas A&M?
Iheanacho:
"He's the type of coach that you can build a relationship with pretty easily. He's cool to talk to. He understands the game and understands where you're coming from so I felt like the connection is easy to make. The vibe that I got from him was good. He's a coach I want to play for."
Q: What was it like for you to go from virtually unknown in football circles to one of the top 100 recruits in the country and receive the accolades and attention that you did?
Iheanacho:
"It was dream come true for me, honestly. I grew up always wanting to be considered one of the best. That's what I worked for. When the moment actually came, it was crazy. I'm still awestruck about everything that happened."
Q: Was it ever overwhelming?
Iheanacho:
"Yeah it was definitely overwhelming. You ask yourself a lot of questions. 'How did this happen?' In my situation, coming on so late, 'Do you deserve to have this role?' You just learn to accept it and appreciate everything that you're given."
Q: I know many who followed your recruitment know your backstory, but for those who don't, summarize your journey to the gridiron
Iheanacho:
"I grew up as a little kid playing basketball and started playing organized in the eighth grade. I was in the AAU circuit and I worked hard every day trying to get my school paid for. That was the goal. I played football in my freshman and sophomore year but I never really took it seriously. It wasn't something I felt was in my future. I decided I was going to go straight to basketball and focus on that. My friends brought me back [to football] my senior year and it just took off from there."
Q: Many people make the comparison between you and Mike Evans because of your paths. How do you react to that?
Iheanacho:
"It's a compliment. He's going to be a great player in my eyes. I'm flattered to have that comparison. At the end of the day, I want people to remember my name and that's what I'm striving for. I want to be a player people look up to and I want to be considered the best."
Q: Did you get to know Mike throughout your recruitment?
Iheanacho:
"Yeah. He's a cool dude. He accepted me from the jump. I actually just talked to him [Thursday]. He had great things to say about the program and how things are going to go."
Q: How helpful is it to have that relationship with someone who has gone down the path you're trying to travel?
Iheanacho:
"It gives me a positive vibe about what I'm doing in life. I listen to him and the No. 1 think he told me is to listen to [receivers] coach [David] Beaty and he'll steer me in the right direction. That's what I plan to do."
Q: Most people call you by your nickname, "Nacho." How often do folks mispronounce your actual last name?
Iheanacho:
(Laughs) "Hundreds of times. But 'Nacho' has been with me since forever."
Q: For those who don't know, how do you say your last name?
Iheanacho:
"Eye-HAN-uh-cho"
Q: What have you been doing during the offseason as you prepare for your arrival in Aggieland this summer?
Iheanacho:
"I've just been getting ready and prepared for the next season. Just working hard and trying to get better at my craft."
Q: Is playing early a goal that you've set?
Iheanacho:
"I set that as a goal. When I come through, I'm going to work hard to achieve that goal."
January, 6, 2014
Jan 6
8:00
AM ET
College football recruiting is currently in a dead period, but that doesn't mean there wasn't a ton of recruiting news around the SEC. There were several commitments during the Under Armour and U.S. Army Bowl All-America games, including the top player in the country,
Leonard Fournette
, announcing his decision. There were also some decommitments and new, important offers were handed out. Here's the latest news around the SEC.

SEC schools land big commitments:
There was a flurry of commitments during and after the All-American games this weekend. SEC schools landed commitments from eight different players during the Under Armour All-America game and the U.S. Army Bowl. Here's a closer look at who committed where. All eight players were ranked in the top 150 players of the ESPN 300.
RB Leonard Fournette (New Orleans/Saint Augustine) -- Committed to LSU over Alabama and Texas.
DT
Gerald WIllis III
(New Orleans/Edna Karr) -- Committed to Florida over LSU and Alabama.
S
Laurence "Hootie" Jones
(Monroe, La./Neville) -- Committed to Alabama over LSU and Ole Miss.
ATH
Speedy Noil
(New Orleans/Edna Karr) -- Committed to Texas A&M over LSU.
WR
Frank Iheanacho
(Houston/Westside) -- Committed to Texas A&M over Missouri, LSU, Oregon and Arkansas.
OL
Brian Wallace
(Saint Louis/Christian Brothers College HS) -- Committed to Arkansas over Alabama and Missouri.
S
Jamal Adams
(Lewisville, Texas/Hebron) -- Committed to LSU over Florida.
DB
Tony Brown
(Beaumont, Texas) -- Committed to Alabama over LSU.