June, 24, 2013
6/24/13
3:00
PM ET
Every year, players come and go in college football. With the turnover teams can either grow or take steps back.
It's time to check out Kentucky's strongest position and weakest position heading into the 2013 season:
Strongest position: Defensive line

New coach Mark Stoops really lucked out when it came to his defensive line. The Wildcats have the pieces in place up front to cause some real discomfort for opposing offenses. The foundation up front could help mask the issues the Wildcats have at linebacker and in the secondary due to inexperience. Inside, Kentucky has starters
Donte Rumph
and
Tristian Johnson
return, along with the talented
Mister Cobble
, who showed vast improvement last year and this spring. Rumph registered four sacks and six tackles for loss last year, while Cobble and Johnson combined for 3.5 sacks and 5.5 tackles for loss. Two starters are gone outside, but
Alvin Dupree
is moving from linebacker to end. He was Kentucky's best pass-rusher last year (12.5 tackles for loss and 6.5 sacks) and could be even more of a threat to passing games with his hand in the ground. Dupree is All-SEC material. And he'll have help from junior college transfer Za'Darius Smith, who registered 47 tackles, 11 for loss and 6.5 sacks at the juco ranks last fall. He had a very good spring and should come in and make an immediate impact. Freshman Jason Hatcher should also help on the outside as well.
Weakest position: Secondary and/or pass-catchers
The Wildcats are really hurting to find a consistent receiving threat now that
La'Rod King
is gone.
Demarco Robinson
and
Daryl Collins
will be in their third years this fall, and while they have big-play potential, they just haven't been able to live up to that potential. Yes, the quarterback play hasn't been great, but there comes a point where players have to step up and figure out a way to make plays. Both players were held under 300 yards last year. It doesn't help that three seniors are gone, making this a very young group overall. Only four players return with any experience from last year, with only Robinson catching more than 20 passes. Freshman Ryan Timmons has a chance to play right away, along with juco standouts Javess Blue and Steven Borden, who was on campus this spring.
As for the secondary, the Wildcats lost three starters and safety
Ashely Lowery
is working his way back onto the field after his horrific car accident. Both cornerback and safety are littered with youngsters, which means that incoming players will have a pretty good shot at getting valuable playing time. Regardless, the secondary is going to be younger and more inexperienced than Stoops would like in his first year. Sophomore corners
J.D. Harmon
(two interceptions),
Cody Quinn
(five pass breakups) and
Fred Tiller
(two pass breakups) are the only returners with any stats at corner. There is a little more experience at safety, but not much. Getting senior
Dakotah Tyler
back from his knee injury will be big, but he's only played sparingly for the Cats during his career.
October, 11, 2012
10/11/12
3:30
PM ET
As Kentucky looks to somehow salvage a season full of first-half disappointments, the Wildcats will have to do so with a much younger roster.
Thanks to the pesky injury bug, the Wildcats have played 24 freshmen (14 true freshmen) and expect to watch the youngsters take hold of this team as the season progresses.
When Kentucky meets a pretty banged up Arkansas team on Saturday, it will do so without two quarterbacks, including starter
Maxwell Smith
, two running backs. Three starters in the secondary could be out as well.
The Wildcats were already dealing with the loss of starting safety
Dakotah Tyler
, who is out for the season with a torn ACL. Now, seniors
Martavius Neloms
(hamstring) and
Mikie Benton
(ankle), and sophomore
Ashely Lowery
(head) could all be out. Reserve linebacker/safety
Kory Brown
(hamstring) is also listed as day to day.
Coach Joker Phillips will now have to rely on five more true freshmen in safeties
Zack Blaylock
and
Daron Blaylock
, and cornerbacks
J.D. Harmon
,
Fred Tiller
and
Cody Quinn
to help the Wildcats out against
Tyler Wilson
and Arkansas' offense.
"It is a challenge, but it's an opportunity for some young guys that we have brought here," Phillips said. "All five of the freshmen are going to play. We expected them to help us this year, but didn't expect them to be starting in our fourth SEC game. We will play them, throw them out there and see how it goes."
So far, this unscheduled youth movement hasn't exactly panned out for the Wildcats. It's easy to tell just how young they are with all the struggles Kentucky has endured during its 1-5 start.
Kentucky is right near the bottom of the SEC in most offensive and defensive categories, and with all of these injuries, especially losing Smith, climbing out of the cellar could be tough.
But all Phillps can do is find the silver lining. When he was at Kentucky as an assistant back in 2005, he watched as 33 surgeries took place, starting in preseason and going right through the season. The Wildcats went 3-8 that year, but Phillips said the positive was that it built depth for the next few years.
The Wildcats then went on a five-year bowl streak.
"The positive behind is that once you start getting some of the guys back, it does nothing but build depth because you got to play some guys that normally wouldn't have been able to play and they start getting some experience and that starts developing depth," he said.
The present is hurt by the injuries, but Phillips hopes the future is helped. Still, there better be plenty of Tussin to go around for these black-and-blue Cats in 2012.
August, 21, 2012
8/21/12
4:50
PM ET
Martavius Neloms
has bounced around between cornerback and safety seemingly his entire career at Kentucky.
He jokes that even he has a hard time keeping track of what position he's playing. For the record, he's back at cornerback entering his senior season, having moved there earlier this preseason when it was learned that promising redshirt freshman cornerback
Marcus Caffey
was academically ineligible.
[+] Enlarge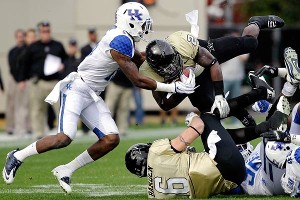 Mark Humphrey/AP PhotoKentucky's Martavius Neloms, left, stops Vanderbilt running back Zac Stacy on Nov. 12, 2011.
"I wasn't sure they were going to come to me. We have a lot of talented young guys," said Neloms, who had moved to safety last season after playing 21 games at cornerback during the 2009 and 2010 seasons.
"But when they did come, I knew it was what was best for the team. Just them having the faith in me that I could make the move back to corner was big for my confidence.
"Besides, if you have the right kind of pride, you feel like you can play any position on the field."
Neloms' pride runs much deeper than where he'll line up this fall. He wants to leave the Kentucky program the way he found it, which was an annual participant in bowl games.
The Wildcats had played in the postseason for five straight years until that streak was broken a year ago.
"A lot of people have us projected at the very bottom," Neloms said. "A lot of people are sleeping on us, but we're preparing every day to come out and play our best ball on Saturdays and prove everybody wrong."
There's a bit of irony in the fact Neloms is switching jersey numbers this season. He's going from No. 15 to No. 1, but he's clearly looking out for a lot more than just No. 1.
Kentucky coach Joker Phillips said Neloms' leadership skills have improved dramatically, which has shown up in his play on the field.
"He's always been a good player," Phillips said. "We think he can be a great player now that he's putting it all together."
The Wildcats will need Neloms to be a rock in a secondary that isn't exactly brimming with experience. Senior
Cartier Rice
is the other starting cornerback, but has just one career start entering the season. Behind Neloms and Rice are true freshmen
Cody Quinn
and
Fred Tiller
.
And taking Neloms' place at safety is sophomore
Ashely Lowery
, who played last season as a true freshman.
"We have a lot of young corners coming in, so I not only have to be ready for myself, but I have to be ready to show them the way," Neloms said. "It's not just you back there. You have to work together, and we all have to be ready."
Even though Neloms is one of the veterans on Kentucky's defense, he's anything but a veteran when it comes to football. He didn't start playing the sport until he was a junior at Fairley High in Memphis.
That makes his transition from cornerback to safety and now back to cornerback all the more impressive. He tied for third on the team last season with 71 tackles despite missing the last two games with a high ankle sprain.
His physical style is tailor-made for playing safety, but he's determined to be just as physical at cornerback.
"I'm still going to be physical and do everything I can to take my man out of the play," Neloms said.
The Wildcats were much more aggressive on defense across the board last season under first-year coordinator Rick Minter. They went from forcing 16 turnovers in 2010 to 25 in 2011, which was fifth in the SEC.
Despite losing top tacklers Danny Trevathan and Winston Guy, Neloms thinks the Wildcats will be even more instinctive in Minter's system the second time around.
"We have a lot of young guys, but they play fast, and because some of these guys have been around now for a year in this defense, I think we'll play even faster," Neloms said. "There's still a lot of room to grow in this defense, and I think we'll be even better this year than we were last year."