June, 17, 2014
6/17/14
3:30
PM ET
In five years as South Carolina's quarterbacks and tight ends coach, G.A. Mangus has become a key cog in the Gamecocks' recruiting efforts. As a lead recruiter for prospects from New Jersey to Tampa, Mangus has a true feel for how the Gamecocks' recruiting brand has risen in recent years with the three straight top-10 finishes, 11-win seasons and marquee players that have been drafted in the NFL.
[+] Enlarge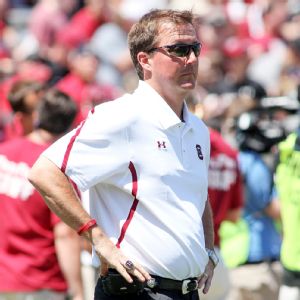 Jeremy Brevard/USA TODAY SportsG.A. Mangus and South Carolina are putting together a 2015 recruiting class that already features five ESPN 300 prospects.
Since you got to Columbia in 2009, how has the perception of South Carolina football changed outside the state?
G.A. Mangus:
Well, I think it has changed a whole lot. I'm going into my sixth season here with Coach [Steve] Spurrier, and things have really changed in many aspects in terms of recruiting, but in the last three seasons, finishing in the top 10 three years in a row and the highest ranking we've ever had last year, the TV contract we have in the SEC … recruiting in New Jersey, or Florida and up and down the Eastern seaboard, there are definitely a lot more people that recognize South Carolina as one of the big boys now. I don't know that was the case up and down the Eastern seaboard, and nationally five or six years ago.
Evaluating and projecting quarterbacks can be the toughest position to conquer. What is it you and the staff looks for in a quarterback prospect?
GM:
… We put a lot into the intangible part of it. The biggest part of it is getting around these young men. You can watch tape and watch them play, but getting around them as a person is the best way to find out what their makeup is … and that's what the most important thing is and that is something I learned from Coach [Steve] Spurrier a long time ago. I think good feet are imperative in today's game and you have to have an 'it' factor. I don't necessarily know how to define an 'it' factor, but you know it once you are around a guy. That's why it's important to be around those guys as much as possible … Obviously, the neck up is huge. You have to be a quick decision maker, a quick thinker. This game today, as athletic as everyone is on defense, you just don't have a lot of time. You have to have quick feet, make quick decisions and have an 'it' factor on top of that. One of the things Coach Spurrier always emphasized is the courage. The ones that have courage is the common denominator. The ones that I've always been around that have courage were the best ones. You have to be able to hang in the pocket and take one on the chin every now and then, and then how they play the next play tells a lot. And the other thing is accuracy. You have to be accurate, and if you combine that with the good feet, quick decisions and courage … that's what we are looking for.
The Gamecocks have the makings of a class that can finish in the top 10. With 15 commitments already in the books, what are the key positions remaining?
GM:
We have the ability in this class to take a larger number than we did a year ago, so we are always looking for good players. The big thing when trying to kind of close out a class, I guess, is to have room for difference-makers, whatever position that may be. Closing with some offensive tackles, tight ends on the offensive side of the ball, and defensive ends on the defensive side of the ball is a priority. Defensive backs also.
What is the most important aspect of recruiting? And has the most important aspect changed in the last two or three years with social media seemingly taking over recruiting in some ways?
GM:
It has changed, but I don't think the meaningful fundamentals of recruiting have changed. … It's still about relationships, and I think it starts and finishes with the families and the high school coach. I think the day the families and high school coach get removed from the process is probably the time I'll really be glad I'm not a young coach just getting out of college because it's just all over the map if we lose those fundamentals in recruiting. Social media has changed some things, and it has made it a little more wide open. Parents are on Facebook, and kids are on Twitter, and like kids like to say, Facebook is for old people and Twitter is for young people. I'm a little of both, I guess, I'm middle age (laughs). It's more of a 24/7 with the social media, and I don't think it's going to stop. Every year there is new social media site that kids are becoming a part of and trying to be the fad, and again it's all things we have to be flexible on as coaches.
Would the ability for prospects to make official visits in the spring of junior year help the process as a whole?
GA:
I don't know that it will help, or change a whole lot because so many of these kids are going on all these unofficial visits. I think it would be nice to be able to pay for the trips if the kids are going to make the visits. ... So many of these kids are changing to early commitments, and I'm all for an early signing period; if a kid's ready to get it done, then get it done. Contrary to what everyone talks about, there are still a lot of kids out there that do it the right way and make a decision and that's the end of it. Kids today don't get to take their official visits that get it done. That's the one thing I do feel bad for the players today is they don't get to enjoy that part as much, as maybe my age group did. Kids today, they commit and take the one official and that's it. And when they do take an official visit somewhere else, then it's all over Twitter and creates a lot of drama. I do think we could eliminate some of the drama if kids could make official visits in the spring of their junior year.
April, 25, 2014
4/25/14
12:00
PM ET
We've arrived at the final weekend in April, which is somewhat bittersweet for SEC football fans. It's a weekend – and that's always a good thing – but it's also the final weekend for the conference's spring football games (Arkansas and Kentucky both play Saturday), meaning no more SEC football until late August.
Enjoy it while it lasts before the long summer – and take a quick look at today's lunchtime links before it begins.
December, 15, 2011
12/15/11
11:23
AM ET
South Carolina has submitted its response
to the NCAA's Notice of Allegations, and in short, the Gamecocks agree that they are guilty as charged. They committed three "major and serious" NCAA violations.
The next step is appearing before the NCAA's Committee on Infractions in Los Angeles on Feb. 17-18. That hearing will determine whether or not South Carolina's self-imposed sanctions are enough in the eyes of the NCAA, which could decide to add penalties.
South Carolina has already placed itself on a three-year probationary period and will cut six football scholarships over the next three years -- one in 2012-13, three in 2013-14 and two in 2014-15. In addition, South Carolina will cut its recruiting visits from 56 to 30 in 2012-13.
Much of the NCAA trouble the Gamecocks find themselves in stems from the extra benefits players received at the Whitney Hotel. They were allowed to stay at significantly reduced rates, and the hotel was managed by someone the NCAA deemed to be a booster of the university. Jamie Blevins, who had donated to the school, was disassociated in September. In its response to the NCAA, South Carolina said there were more than $50,000 in extra benefits provided to athletes by the Whitney Hotel.
One of the sticking points here is that the Gamecocks played four ineligible players in 2008 and 2009 because of the Whitney Hotel extra benefits. Instead of forfeiting or vacating wins, South Carolina offered to pay an $18,500 penalty. Again, the NCAA will have the final say on what South Carolina's penalties are.
South Carolina coach Steve Spurrier hasn't been linked to any of these violations, but he's required to attend the Committee on Infractions hearing in February.
Three boosters have been disassociated, including Student Athlete Foundation (SAM) Foundation president Steve Gordon and treasurer Kevin Lahn. Both are South Carolina graduates and are accused by the NCAA of giving $8,000 in inducements and extra benefits to prospective football players, one prospective basketball player and several members of the men's and women's track teams.
Freshman receiver
Damiere Byrd
, who was a member of the SAM Foundation, was suspended for the first four games of the 2011 season after the NCAA determined he had received $2,700 worth of recruiting inducements from the SAM Foundation.
The big loser in this whole thing, maybe even the scapegoat, is former South Carolina compliance director Jennifer Stiles, who was demoted this week to another position within the compliance office. According to the university, she approved some of the players staying at the Whitney Hotel and their lease arrangements.
The university now says that her assessment of those leases and whether they complied with NCAA rules was flawed and was a "good faith error in judgment."
Obviously, she's the one who's paying the heaviest price, but the entire compliance system at South Carolina failed in this case. There should have been more antennas raised throughout the athletic department, including the football staff, with so many players staying at such a nice hotel that was a member of the Gamecock Club and managed by someone who had donated to the school.
The other thing to keep in mind is that the Gamecocks are subject to repeat violator status. That's because South Carolina's last NCAA case, which involved violations while Lou Holtz was head coach, was settled on Nov. 16, 2005.
So it remains to be seen how hard the NCAA will hit the Gamecocks. Predicting NCAA penalties is a total crapshoot.
All in all, though, if the Gamecocks get off with just the six forfeited scholarships they've self-imposed and no additional penalties, it has to be considered a win for them when you consider the extra benefits involved here and the fact that they played ineligible players.
The thing they have going for them is that only one coach, quarterbacks coach G.A. Mangus, is linked to any wrongdoing in the NCAA's report. Even then, the university has stood behind Mangus, who has denied that he committed any violations.
August, 2, 2011
8/02/11
3:28
PM ET
Turns out that South Carolina quarterbacks coach G.A. Mangus will pay a pretty steep price for his arrest last week.
The university on Tuesday officially announced that Mangus had been reinstated along with fifth-year senior quarterback
Stephen Garcia
.
Mangus had been on suspension since last week when he was arrested and charged with nuisance conduct. Police officers in Greenville, S.C., observed Mangus urinating on a downtown street and said he was slurring his speech, unsteady on his feet and smelled of alcohol.
He will be on the practice field Wednesday night when the Gamecocks open fall camp, but will lose a month's salary -- approximately $14,580. Mangus will also not be eligible for any raises or bonuses this next year and will remain on probation throughout the remainder of his contract.
"We insist that those in the athletics department who work with our student-athletes on a daily basis are held to a higher standard of conduct," South Carolina athletic director Eric Hyman said in a statement. "G.A.'s lack of judgment did not reflect the character or integrity that we expect from our coaches."
South Carolina coach Steve Spurrier said last week that Mangus was very remorseful, but added that one more incident would likely be the end to Mangus' coaching career.
August, 2, 2011
8/02/11
8:30
AM ET
It's rare that a school enters preseason camp with a fifth-year senior quarterback coming off his fifth suspension.
It's even more rare when that quarterback's coach is also coming off a suspension of his own.
Yet,
Stephen Garcia
and G.A. Mangus will both be on the practice field Wednesday night when South Carolina opens fall camp, coach Steve Spurrier confirmed Monday.
[+] Enlarge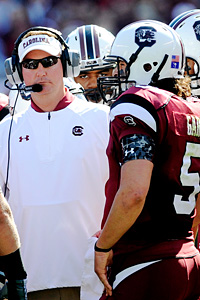 AP Photo/ University of South CarolinaSouth Carolina quarterbacks coach G.A. Mangus and quarterback Stephen Garcia had their suspensions lifted.
Garcia, who's been suspended five times during his career as South Carolina's quarterback, has been fully reinstated. Mangus, who coaches Garcia and the rest of the South Carolina quarterbacks, will also be on the practice field Wednesday. He had been suspended by South Carolina after police officers in Greenville, S.C., caught him urinating in public last week. According to the arrest report, Mangus' speech was slurred. He also had a strong odor of alcohol and was unsteady on his feet.
Garcia's most recent incident, which led to a suspension for the final part of spring practice also involved alcohol. Garcia admitted to Spurrier that he'd been drinking to celebrate a teammate's birthday prior to the SEC-mandated seminar where he was asked to leave.
Spurrier has said multiple times that Garcia has completely changed his lifestyle, and while Spurrier hasn't specified that Garcia has quit drinking, one of the requirements for Garcia to return to the team was that he successfully complete an alcohol counseling program.
For the most part, Garcia's teammates have remained in his corner.
Alshon Jeffery
was adamant at SEC media days that he stood behind Garcia and believed in Garcia.
By the same token, Spurrier isn't kicking Mangus to the curb, either, saying this one embarrassing incident shouldn't be a reason to send Mangus packing for good.
Ultimately, it's going to all play out on the field.
If Garcia plays well, stays out of trouble and leads the Gamecocks back to the SEC championship game, some of his foolishness off the field will be forgotten.
And along those same lines, Mangus will get a lot of the credit.
But if Garcia's "complete lifestyle change" isn't so complete and he struggles on the field, something tells me we're going to hear more than once about how the guy coaching him had his own issues.
It will be interesting to see how much Garcia and Mangus rally around each other. As much as any quarterback and quarterbacks coach in college football this season, they're truly in this one together and will be fighting a lot of the same stigmas.
It's not going to be an easy fight, either ... on or off the field.
July, 26, 2011
7/26/11
7:15
PM ET
South Carolina quarterbacks coach G.A. Mangus
released a statement
this evening after he was arrested early Tuesday morning and charged with nuisance conduct.
Earlier Tuesday, coach Steve Spurrier
suspended Mangus indefinitely
.
This is what Mangus said in a statement released through the school:
"Last night I acted irresponsibly and I deeply regret my actions. I take full responsibility. I would like to publicly apologize to Coach Spurrier, [athletic director] Eric Hyman, the entire team and everyone associated with the University of South Carolina."
July, 26, 2011
7/26/11
2:55
PM ET
In light of quarterbacks coach G.A. Mangus' late-night incident in Greenville, S.C., South Carolina coach Steve Spurrier has
suspended the coach indefinitely
.
Here is a statement from Spurrier that South Carolina released earlier today:
"G.A. has been suspended from all coaching activities until this matter is resolved. We are disappointed in his actions and will handle it accordingly."
July, 26, 2011
7/26/11
12:00
PM ET
South Carolina quarterbacks coach G.A. Mangus was
arrested early Tuesday morning
and charged with nuisance conduct, according to a report by The State Newspaper.
According to the police report, two officers saw Mangus "facing Main St. urinating on the street curb and roadway," at 1:31 a.m. Tuesday. The report stated that another officer was called to the scene and when he approached Mangus, he was "unsteady on his feet and he had a strong odor of alcoholic beverage coming from his person."
The report also stated that when Mangus was questioned by the officer, Mangus' speech was slurred and he failed to provide the officer with "straight answers." Mangus was issued a ticket for $470, handcuffed and taken to the Greenville County Detention Center.
Mangus was in Greenville for the annual South Carolina Athletic Coaches Association convention that is being held there this week.
What is more concerning about this incident is the fact that Mangus is seen as a mentor for troubled quarterback
Stephen Garcia
. He was instrumental in Garcia's development on the field last season.
Garcia was
suspended from the team this spring
after his own alcohol-related incident and returned to working out with the team in June. South Carolina coach Steve Spurrier said at SEC media days last week that he expects Garcia to return to the team for the start of preseason practice.
"Stephen has done well," Spurrier said. "He has some guidelines he must follow to be reinstated in August. He's done everything we've asked. He's certainly behaved very well, gone to all the workouts from what I understand.
"So right now he in all likelihood will be set to return."
Garcia was given an unprecedented sixth chance by Spurrier this summer and Spurrier believes Garcia has finally made the appropriate changes to his life that Spurrier hopes keeps his quarterback out of trouble from here on out.
"I guess we don't want to kick him out for stupidity," Spurrier said. "And there's some reasons that he's probably done some things.
"Basically, we do believe he's a good kid, good person. He's already graduated. He's graduated. With this latest incident, we told him he could go play somewhere else if he wanted to, but he wants stay there.
"He's really made some lifestyle changes to stay there. Hopefully it will keep up. We just felt like he was worth giving another opportunity to sort of change his lifestyle, and thus far he's done it."
But while Garcia seems to be inching toward staying in his coach's good graces, the same can't be said about Mangus. Spurrier won't be too pleased with the fact that one of his coaches acted this inappropriately, but he should be even more upset that it was a coach who acts almost like an adviser to a player with a history of off-the-field issues.
It's too early to say what will happen with Mangus, but Spurrier will likely have to make an example of him in some way. It won't look good if Spurrier punishes players but not coaches for off-field incidents.
March, 18, 2011
3/18/11
10:30
AM ET
By
ESPN.com staff
| ESPN.com
COLUMBIA, S.C. – Give Steve Spurrier credit for keeping his sense humor when it comes to one of the most enigmatic players he's ever coached.
Spurrier said he told fifth-year senior quarterback
Stephen Garcia
recently that he was finished getting mad at him.
"I stayed mad at him for the last two years, and it didn't do any good," Spurrier quipped. "I've accepted that he's doing the best he can. He's just limited when it comes to some of the things you ask your quarterback to be."
Spurrier said he gave Garcia a list of 10 suggestions recently that he thought would help the Gamecocks' quarterback both on and off the field.
"Just to help him sharpen up in everything he does," Spurrier explained.
One of those suggestions was to cut his hair, and Garcia complied. South Carolina quarterbacks coach G.A. Mangus had already made it known to Garcia that he need not show up for spring practice unless he did so with his locks trimmed.
Spurrier figures he's made it this far with Garcia, and he's prepared to ride it out for one more season -- whether Garcia is his starter or relegated to a backup role.
"A lot of my former players have said, 'Coach, I can't believe you've been so patient with him,' " Spurrier recounted, "and I said, 'Well, we were winning and I made up my mind I was going to give him every opportunity and wasn't going to jerk him in and out,' so we gave him every opportunity and he did play well most of the time.
"Of course , we were only throwing 20 times a game. It wasn't as if we depended on the quarterback to take us up and down the field. We don't have a team built for that, but Stephen did do enough to get us to the SEC championship game."
Now, if only Spurrier can get Garcia to wear a helmet when he rides his scooter.
"He'll go flying around the corner when he's riding that scooter with no helmet and his hat on backward," Spurrier said. "Like I said, he's just different."
February, 10, 2011
2/10/11
10:00
AM ET
ESPN recruiting analysts Corey Long and Jamie Newberg have come up with their
list of the 25 best recruiters
in college football this year.
These are all assistant coaches, and eight SEC coaches made the cut -- Sal Sunseri of Alabama, Tim Horton of Arkansas, Trooper Taylor and Tommy Thigpen of Auburn, Mike Bobo of Georgia, Frank Wilson of LSU, G.A. Mangus of South Carolina and Charlie Baggett of Tennessee.
The ACC was second with five assistant coaches on the list.
I put together my own list earlier this month of the
SEC's top 25 recruiters
among assistant coaches, and six of the eight SEC guys on the national list were also on my list. The two I didn't have on my list (Mangus and Thigpen) should have been.
Bottom line: If you can't recruit in the SEC, you're probably not going to be around very long -- or you better be one of the best position coaches in the business.
October, 26, 2010
10/26/10
5:36
PM ET
By
ESPN.com staff
| ESPN.com
The play-calling duties for Steve Spurrier the last few years have been like a hot potato.

He keeps trying to pass them off, which is mind-boggling when you stop and think how brilliant the Head Ball Coach has been at calling plays during his Hall of Fame career.

Eric Clapton plays the guitar. Steven Spielberg directs films, and Steve Spurrier calls ball plays.

That's what he does … better than anybody else I've seen over the last two or three decades in college football.

But now, all of a sudden, with South Carolina poised to make history and the pathway to a first-ever SEC championship game wide open, Spurrier decides the play-calling duties will be more of a "community" effort.

That's like Kobe Bryant saying he's going to start letting his teammates take more shots when the game's on the line.

Listen, Spurrier is always going to be in the middle of everything South Carolina does offensively, and whatever quarterbacks coach G.A. Mangus calls, Spurrier is going to be right there listening on the headset.

But haven't we been down this road before when Spurrier turned most of the play-calling duties over to his son, Steve Spurrier Jr., a couple of years ago?

No disrespect to Spurrier Jr., and no disrespect to Mangus, but these next three weeks may be the most important ones in South Carolina football history.

It's not like the Gamecocks are in contention for an SEC championship every year.

Now isn't the time for Spurrier to be experimenting with the play-calling.

And, yes, I realize that play-calling is often times overrated and that most of the work is done during the week.

Still, Spurrier is the best there is at calling plays, and if I'm a South Carolina fan, he's the only guy I want calling plays these next three weeks.

I understand the "community" concept and that Mangus and offensive line coach/running game coordinator Shawn Elliott may have a better feel for the zone-read part of the Gamecocks' offense. None of that changes the fact, though, that I want the Head Ball Coach as my trigger man.

Spurrier spent as much time on the defensive side of the field last week in practice as he ever has at South Carolina. He was worried about his pass defense, and rightfully so. He won't stray too far from the Gamecocks' punt return team this week in practice. They're ranked 112th nationally.

All this branching out that Spurrier is doing is well and good. There's nothing wrong with being hands-on as a head coach. He's the one who's ultimately responsible.

Delegating is fine as long as you have the most qualified people in the right spots, and there's nobody more qualified to call plays at South Carolina than Spurrier.

With so much at stake over these next few weeks, why tinker with one of the most proven products out there?
November, 17, 2009
11/17/09
10:22
AM ET
By
ESPN.com staff
| ESPN.com
Steve Spurrier made it known last week that he was going to take over more of the play calling the rest of the season from his son, Steve Spurrier Jr.
Or as the Head Ball Coach said it, be the "principal" playcaller.
Well, now, he tells Ron Morris of The State newspaper that he might
turn over those duties next season
to quarterbacks coach G.A. Mangus.
I understand that Spurrier has wanted for a couple of years now to delegate more of those responsibilities to his staff. He's also convinced that the Gamecocks' problems this season on offense are more tied to execution than they are play calling.
Still, it's hard to argue with the flow of the game offensively for South Carolina last week in its 24-14 loss to Florida and the way Spurrier was able to counter what the Gators were doing defensively until that crippling interception in the fourth quarter. After that, Florida just came after
Stephen Garcia
.
I still believe that the Head Ball Coach is one of the top playcallers in the college game, maybe
the
top playcaller.
Having talented players who can execute what you call is the most important facet of play calling. Likewise for putting players in a position to make plays.
But having a feel for the game, picking up on tendencies and getting into the mind of the opposing defensive coordinator are also qualities any good playcaller has. Spurrier's the best in the business at all three, which is why the Gamecocks' best chance to break through is going to come with Spurrier calling most, if not all, of the plays.
August, 5, 2009
8/05/09
1:30
PM ET
By
ESPN.com staff
| ESPN.com
Posted by ESPN.com's Chris Low
South Carolina coach Steve Spurrier said during the SEC media days that the Gamecocks hadn't really formalized who would be the primary play-caller on offense this season.
The Head Ball Coach's son, Steve Spurrier Jr., took over a lot of the play calling last season and will be involved again this season. But look for running game coordinator and offensive line coach Eric Wolford to also take a pretty active role in calling plays after making the move from Illinois.
Spurrier likes what Wolford has to offer in the running game, and the Gamecocks have no choice but to get better. They were last in the SEC a year ago in rushing offense (and 112th nationally). They were the only team in the SEC to average fewer than 100 yards a game on the ground.
At the end of the day, as Spurrier has repeatedly pointed out, he will be "in charge" of the play calling.
But it's clear he's doing a lot more delegating in that area than he used to.
Quarterback Stephen Garcia said Tuesday that as many as four of the South Carolina coaches will have a hand in calling players. In addition to Spurrier, Spurrier Jr. and Wolford, you can also throw quarterbacks coach G.A. Mangus into that mix. Mangus was the offensive coordinator at Middle Tennessee for the past three seasons.
"I think it's going to be a lot better for us having a bunch of experienced coaches seeing the field," Garcia said.
As for Garcia's maturation into a leader, Mangus likes what he's seen over the summer. Now it's time to take that next step.
"I think he is slowly but surely earning some respect," Mangus said. "He has to earn the respect of all of his teammates."