SEC:

Gamecocks-Dores-083012
August, 31, 2012
8/31/12
1:45
AM ET
NASHVILLE, Tenn. – The only thing missing was the "Rocky" music blaring in the background.
South Carolina junior quarterback
Connor Shaw
was battered and bruised on Thursday night, and his right shoulder was throbbing.
For a while, it looked like he might not even be able to come back for the second half.
But he came back all right, and despite a painful shoulder contusion, led No. 9 South Carolina back from the dead in the fourth quarter for a season-opening
17-13 victory
over Vanderbilt at Vanderbilt Stadium.
"It's just guts. He's our leader," South Carolina junior running back
Marcus Lattimore
said of his quarterback. "He's determined and he loves this team, and he's going to do whatever he can to win games."
Even when he has just one good shoulder.
Shaw took a knee to his shoulder in the second quarter. He went to the sideline in tremendous pain, which sent a ripple up and down the Gamecocks' bench. He said the hit popped a nerve, and he couldn't feel his arm for a while.
"I just kept trying to work it out," said Shaw, who finished with 92 rushing yards on 14 carries.
Shaw is as tough as they come, and for him to even leave the game, it was obvious to everybody that he was hurting.
"It was no time to panic," Shaw said. "I knew we would bounce back."
Shaw kept bouncing back up every time he would land on his ailing shoulder. His 12-yard dash to the Vanderbilt 1, setting up the Gamecocks' game-winning touchdown, was the kind of play that lifts an entire team.
And, clearly, Shaw's romp was inspiring on a couple of different fronts for the Gamecocks, who found a way to gut things out when they weren't anywhere close to being on top of their game.
"Maybe it's good for us," South Carolina coach Steve Spurrier said. "You look at the preseason press … we thought we were hot stuff, and then we almost got that stuff beat out of us."
[+] Enlarge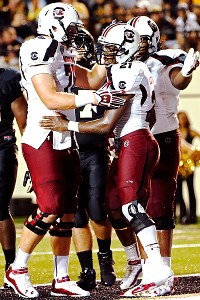 AP Photo/John RussellMarcus Lattimore (21) recovered from a fumble on his first carry to run for a pair of scores, including the winner.
There was a lot that didn't go right for the Gamecocks in their nationally televised opener. They turned the ball over early, including a fumble by Lattimore on his first carry. They gave up a big play on defense for a touchdown, and the passing game (67 yards) was non-existent.
But as Spurrier noted, they were also going against a salty bunch of Commodores, who are a far cry from being the perennial SEC doormat of years gone by.
"We were fortunate to beat Vandy. They don't have a bunch of slow dudes like they used to," Spurrier quipped.
Plus, there's no such thing as a "bad" SEC win, especially when you go on the road to get it.
"We held it together when a lot of teams probably wouldn't have," said South Carolina tight end
Justice Cunningham
, who miraculously held on for a clutch catch on the Gamecocks' winning drive despite being leveled.
"Our quarterback was hurting. We were behind in the fourth quarter, and we hadn't played our best football. We'll build off this. These are the kinds of games you have to win in this league."
It was also encouraging for the Gamecocks to see No. 21 back in there at tailback.
Lattimore might not be all the way back to his old self after tearing his anterior cruciate ligament midway through last season, but he's still better than most and will only get better and more explosive as this season progresses.
Lattimore carried the ball 23 times for 110 yards. Not surprisingly, he was the guy the Gamecocks turned to in the fourth quarter.
"I just had to forget about [the fumble on his first carry]," said Lattimore, who now has nine 100-yard rushing games in his career. "After a few runs, I started to feel like myself again."
It remains to be seen when Shaw will feel like himself again. He received a shot after the game and will take it easy the next couple of days.
He didn't sound concerned, though, that it would be something that would linger.
In fact, he said he would "absolutely" be playing on Sept. 8 when South Carolina returns home to face East Carolina. After that, the Gamecocks get Alabama-Birmingham at home, and then it's back to the SEC fray with Missouri coming to Columbia, S.C.
"He'll be sore for a while, but I think he'll be OK," Spurrier said.
The Gamecocks, even though they didn't win any style points, should also be OK.
Grinding out games just may be the way this team rolls this season.
August, 30, 2012
8/30/12
10:30
PM ET
South Carolina's offense rarely looked pretty, but it did just enough behind a quarterback whose right arm was barely attached for most of the night, as the Gamecocks won their season opener against Vanderbilt
17-13
.


South Carolina's defense frustrated Vandy's offense all night, but the Commodores missed a lot of opportunities in the passing game against a young Gamecocks secondary.
Vanderbilt's defense was impressive all night as well, as the Commodores limited South Carolina to 270 total offensive yards and forced two turnovers.
It was over when:
Vanderbilt quarterback
Jordan Rodgers
' pass to
Jordan Matthews
on fourth-and-7 at Vandy's 38-yard line fell incomplete, giving South Carolina the ball with 1:47 remaining. It clearly looked like pass interference should have been called on the play, but the Gamecocks got the ball and ran the clock out.
Game ball goes to:
South Carolina quarterback
Connor Shaw
showed the ultimate grit by coming back with a hurt shoulder and taking a bunch of licks, but
Marcus Lattimore
was the best player on the field for the Gamecocks on Thursday night. Almost a year removed from his season-ending knee injury, Lattimore pounded his way to 109 yards and two touchdowns.
Stat of the game:
Both teams were awful on third down, combining to go 6-for-27 on conversion attempts.
What it means for South Carolina:
The Gamecocks got a bit of a scare from the Commodores, but a win is a win, and this team is 1-0 in conference play. More specifically, the Gamecocks are 1-0 in SEC East play. The offense certainly needs a lot of work in the passing game, and Shaw needs a lot of rest.
What it means for Vanderbilt:
The Commodores certainly would have preferred to beat South Carolina, but you have to be impressed with the effort. Both lines held their own for the most part and the defense took the passing game away even before Shaw's injury. The Commodores are 0-1, but this team showed that the swagger from last year still remains.
August, 30, 2012
8/30/12
6:24
PM ET
NASHVILLE, Tenn. -- No more waiting.
The 2012 college football season is here, and a big part of the intrigue in tonight's South Carolina-Vanderbilt game is
Marcus Lattimore
and whether or not he's back to the old Marcus Lattimore.


If he is, the Gamecocks should be able to grind out a win over a Vanderbilt team that is buying what second-year coach James Franklin is selling.
The Commodores are anything but the Commodores of old. They're more talented, deeper and play with an edge that comes directly from their coach, who's tired of hearing what hasn't happened in the past at Vanderbilt.
And speaking of coaches, South Carolina's Steve Spurrier lost here four years ago to open the season, and I'll never forget the look on his face that night.
He looked like a coach who wasn't long for the job and looked like he'd rather be golfing.
If somebody would have bet me that night that he would still be coaching at 67 and have the Gamecocks ranked in the top 10 nationaly and seeking a second straight 11-win season, I would have lost a lot of money.
He's turned this program around in a major way, and we'll see -- starting tonight -- if the Gamecocks can build on their success and win an SEC championship.