SEC:

Gamecocks-Gators-102012
October, 21, 2012
10/21/12
2:43
AM ET
GAINESVILLE, Fla. -- After the first 15 minutes of Saturday's game against No. 9 South Carolina, No. 2 Florida had minus-9 yards of total offense.
After the first 30 minutes, the Gators had more than twice as many penalty yards (64) as they had yards of offense (29).
Yet somehow, Florida had a 15-point halftime lead over the Gamecocks at the Swamp after one of the strangest halves of college football you'll ever see.
The Gators came out in the second half and steamrolled the Gamecocks 44-11 in front of a sellout crowd of 90,833 at Ben Hill Griffin Stadium, handing South Carolina coach Steve Spurrier a second consecutive defeat after the Gamecocks opened the season by winning their first six games.
"It's another team win, and we don't have a lot of margin for error here," said Florida coach Will Muschamp, whose Gators improved to 7-0 (6-0 SEC) in his second season, after finishing 7-6 in 2011. "We are a team that is playing defense pretty consistently, and on offense we're doing what we have to do to take advantage of other teams. That's really who we are."
For Mark Schlabach's full column, click
here
.
October, 20, 2012
10/20/12
11:05
PM ET
GAINESVILLE, Fla. -- Even during some of the darkest moments last season, Will Muschamp had a very clear vision of what he wanted this Florida football program to be.
Envisioning it was the easy part. Getting here was the hard part.
And while Muschamp himself would tell you that the No. 2 Gators are still a long way from being a finished project, they've made the kind of transformation that few teams in the SEC make in a year's time.
Their
44-11 dissection
of No. 7 South Carolina on Saturday at the Swamp was another reminder of what playing good defense, playing even better special teams and capitalizing on mistakes can do for a football team.
That, and a blend of physicality and mental toughness that was missing a year ago in Gator Land.
"There's no mad recipe for what we're doing," Florida defensive tackle
Sharrif Floyd
said. "It's simple. We're just playing physical and out-dominating the person in front of us."
It remains to be seen whether these Gators (7-0, 6-0 SEC) are a legitimate national championship threat, but this much is clear: They're doing all the things it takes to win a title.
In fact, they could clinch the Eastern Division title next week in Jacksonville, Fla., with a win over bitter rival Georgia.
A year ago at this point, the Gators were merely trying to survive. They were on their way to going 0-for-October. They were getting mauled in the fourth quarter by SEC foes. They weren't forcing turnovers. They weren't making anything happen at quarterback, and they weren't very physical.
On top of it all, there was a toughness element missing.
"I outlined for our coaches in late July what our program needed to be," said Muschamp, whose Gators were 0-6 last season against teams that finished the season with a winning record. "We needed to get production out of our defense and special teams and help our offense in a new year, a new scheme and a new system.
"Right now, we're doing what it takes to win football games, and that's the bottom line. That's all I care about."
On Saturday, the Gators jumped out to a 21-3 lead despite having just 29 total yards of total offense at the time. Sophomore quarterback
Jeff Driskel
threw a career-high four touchdown passes but finished with only 93 passing yards.
As a team, Florida was held to a season-low 183 yards in total offense.
[+] Enlarge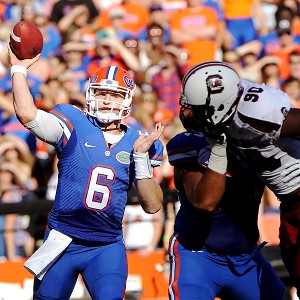 Kim Klement/US PRESSWIREQuarterbacks Jeff Driskel threw four touchdowns in Florida's blowout win over South Carolina.
Driskel conceded that the Gators needed to be better at hitting more passes down the field. Then again, he only attempted 16 passes.
"We didn't throw the ball that much because we didn't have to," said Driskel, who has thrown eight touchdowns and one interception this season. "When you're winning ballgames by 33 [points], that's pretty good. It doesn't get any better than 7-0."
The Gators have owned the fourth quarter this season, although Saturday's game had long since been over by the time the fourth quarter arrived. In SEC games, they've outscored opponents 51-13. That's after being outscored 72-22 in the fourth quarter of SEC games last season.
It's been a similar story in the turnover department.
The Gators got four Saturday. Three of those came in the first half and led to 21 points.
For the season, Florida is now plus-11 in turnover margin. The Gators have forced 15 and lost just four. A year ago, they finished 113
th
nationally in turnover margin at minus-12. They forced 14 and lost 26.
Equally important, the Gators have been masterful when it comes to making adjustments at halftime, both offensively and defensively.
Florida didn't have any success moving the ball in the first half against South Carolina's defense. But first-year offensive coordinator Brent Pease tweaked a few things, got the ball out on the perimeter a little more and took advantage of some things the Gamecocks were doing.
The result was a 10-play, 59-yard touchdown drive coming out of halftime to put the Gamecocks away. It was a drive that featured a little bit of
Trey Burton
in the Wildcat package and culminated with a double handoff to
Omarius Hines
on a reverse for a 6-yard touchdown.
Pease has been able to find things offensively all season coming out of the half that have worked for the Gators. He was a key hire for Muschamp this offseason, as was strength and conditioning coach Jeff Dillman.
There's no comparison to how much more physical the Gators are now, both offensively and defensively, than they were a year ago.
"We were probably sleep-talking it," Florida center
Jonotthan Harrison
joked of the constant push by the coaches to be more physical. "We heard it day in and day out, in the weight room, in the locker room, in the training room.
"Wherever we were, we heard that, and it's showing right now."
Moreover, Driskel said Muschamp's intensity has been infectious.
"Our guys really respond well to him," Driskel said. "He's a high-energy guy. He's going to be there during practice, and he's going to be there during games. He's not going to change."
Muschamp might not say it publicly. But down deep, he loves the way this Florida team is winning games with its blue-collar, physical approach that's long on resourcefulness and lean on style.
After all, the SEC has never been a fashion show.
"Our style of play will continue to evolve as we're here," Muschamp said. "That's who we are at this point and will be who we are in three weeks. Next season, I think we'll continue to evolve. We want to be more balanced and continue to stretch the field vertically and create more opportunities down the field.
"In our league, though, look at the last two [defensive] fronts we've played, LSU and South Carolina. Those are first-round draft picks. They're not good players. They're really, really good players, and come April, they'll be building houses for their parents."
No doubt. And come next Saturday, the Gators will be playing for a chance to return to the SEC championship game for the first time since 2009.
"We'll take this as if it's our last game, our national championship game," Harrison said. "That's what's driving us."
So far, it's been one heck of a drive.
October, 20, 2012
10/20/12
10:12
PM ET
GAINESVILLE, Fla. -- It was laughable two months ago.
Six weeks ago it was improbable.
A month ago it started to seem plausible.
After Saturday's 44-11 victory over South Carolina, however, the idea that Florida could win an Eastern Division title and play in the SEC championship game doesn't appear to be so outlandish. In fact, it's less than a week from becoming a reality.
All the Gators have to do is beat Georgia on Saturday in Jacksonville, Fla., and they'll be headed to Atlanta -- something pretty much no one (if they're being honest) expected when the season began.
Leading Florida's resurgence is quarterback
Jeff Driskel
, which again is something no one expected. A year ago at this time he was a scared freshman. Now he's throwing four touchdown passes against an SEC opponent, the first time that has happened since Tim Tebow did it against Kentucky in 2007.
"He's maturing, day by day, practice by practice, game by game," said wide receiver
Frankie Hammond
, who caught a 6-yard TD pass in the third quarter. "The game's just slowly slowing down for him. He's becoming a better quarterback."
Driskel didn't put up big numbers against the Gamecocks -- 11-for-16 for 93 yards, the third game in a row in which he threw for fewer than 100 yards -- but he was poised in the pocket and made few mistakes. He threw two third-down TD passes, didn't hold on to the ball too long, and didn't turn it over when he got knocked around by South Carolina's pass rush.
That is pretty much what the 6-foot-4, 232-pound sophomore has done all season.
Read the complete story here
.
October, 20, 2012
10/20/12
9:00
PM ET
By
ESPN.com staff
| ESPN.com
Chris Low talks to Florida defensive tackle
Sharrif Floyd
after the Gators' 44-11 win over South Carolina.
October, 20, 2012
10/20/12
7:41
PM ET
The game couldn't have started any worse for South Carolina. On the first play from scrimmage, Florida sacked Gamecocks quarterback
Connor Shaw
, forcing a fumble. The Gators recovered and scored three plays later to take an early 7-0 lead. The play set the tone for the rest of the game, which ended as a
44-11
Florida victory.


In all, the Gamecocks turned the ball over four times, and Florida turned the miscues into 17 points. On the other hand, UF's offense wasn't overwhelming, but it was efficient. Quarterback
Jeff Driskel
finished 11-of-16 for 93 yards with four touchdowns and no interceptions.
Still, the key to the victory was the Gators' defense. In addition to forcing four turnovers, Florida held South Carolina to just 36 yards on the ground, and both Shaw and backup quarterback
Dylan Thompson
threw for under 100 yards and each had less than 50 percent completion percentage.
It was over when:
With the way Florida played in the second half, the game was essentially over at halftime, but the final nail in the coffin came when Driskel hit
Frankie Hammond
on a 6-yard touchdown pass late in the third quarter to put the Gators up 37-8. It was Driskel's fourth touchdown toss of the game.
Game ball goes to:
Florida dominated in all facets of the game, but the game ball has to go to the Gators' special teams. They recovered a fumble on a South Carolina kick return in the second quarter that resulted in a touchdown. They blocked a field goal. UF's
Caleb Sturgis
drilled a 42-yarder on his only attempt, and
Kyle Christy
averaged 54.3 yards on seven punts.
Stat of the game:
At the conclusion of the game, South Carolina had more total yards than Florida, yet lost 44-11. The Gators finished with just 183 total yards in the game, but turnovers and special teams made it easy for the Florida offense.
Unsung hero:
Florida is a team built around its defense, but UF offensive coordinator Brent Pease deserves credit for his work on Saturday. The Gators finished with less than 200 total yards, but they scored touchdowns when they got in the red zone, and they put together an impressive drive to start the second half, scripted by Pease himself.
What it means for Florida:
Ranked No. 2 in the debut of the BCS rankings, Florida continues to prove it's an elite team, and depending on what happens in the Alabama-Tennessee game, it has a chance to pass the Crimson Tide for the top spot next week with Saturday's victory. The question now is can the Gators stay up for the Georgia game next week? A win there means they are headed back to Atlanta for the SEC championship.
What it means for South Carolina:
When the Gamecocks blew out Georgia two weeks ago in Columbia, S.C., everybody thought they were on track to win the SEC East and compete for a BCS title appearance. After a close loss at LSU last weekend, the wheels fell off on Saturday. South Carolina has to bounce back with games against Tennessee and Arkansas coming up, but fortunately, it gets both the Volunteers and the Razorbacks at home.
October, 20, 2012
10/20/12
3:25
PM ET
GAINESVILLE, Fla. -- I had a chance to watch South Carolina's
Marcus Lattimore
during pregame warm-ups, and he was moving well.
There were no telltale signs that his bruised hip was bothering him, but that's an injury that's going to flare up after you take a few hits on it.
Lattimore, senior
Kenny Miles
and freshman
Mike Davis
have all been working at tailback in goal-line drills during warm-ups.
Lattimore returned to practice Thursday, but didn't do a lot. Coach Steve Spurrier said Miles would start for South Carolina at tailback, although Lattimore will play.
October, 20, 2012
10/20/12
3:01
PM ET
GAINESVILLE, Fla. -- Welcome from the house that Steve Spurrier built.

OK, the Head Ball Coach didn't build it, but he did name it.

The Swamp and Spurrier will always be intertwined.

But on Saturday, Spurrier will be trying to ruin his alma mater's season, and in the process, take a big step toward getting South Carolina back to the SEC championship game for the second time in three years.

Spurrier, who was 68-5 at the Swamp as Florida's coach, won the last time he was here to clinch the Gamecocks' first-ever trip to the SEC championship game in 2010.

If he can duplicate that feat, the Gamecocks would be two wins away -- home games against Tennessee and Arkansas -- from locking up the Eastern Division title.

The No. 2 Gators will be trying to take down their second top-10 foe at home in the past three weeks. They beat LSU two weeks ago here and didn't allow a touchdown.

A win Saturday would set up a showdown with Georgia next week in Jacksonville that would almost certainly decide the East race.

There have been a lot of big games played in this stadium over the past two decades. But with the way the Gators have it going now under Will Muschamp, and when you add in the Spurrier factor and what the game means, this one is as big as any since Tim Tebow's senior season in 2009.
October, 20, 2012
10/20/12
1:52
PM ET
By
ESPN.com staff
| ESPN.com
Join our ESPN.com college football experts as they break down the SEC throwdown between the South Carolina Gamecocks and the Florida Gators.

Contribute your thoughts and questions beginning at 3:30 p.m. ET. See you there.


SEC SCOREBOARD
Saturday, 12/20
Monday, 12/22
Tuesday, 12/23
Wednesday, 12/24
Friday, 12/26
Saturday, 12/27
Monday, 12/29
Tuesday, 12/30
Wednesday, 12/31
Thursday, 1/1
Friday, 1/2
Saturday, 1/3
Sunday, 1/4
Monday, 1/12
Tweets from https://twitter.com/ESPNCFB/lists/sec