SEC:

Gators receivers coach
August, 3, 2012
8/03/12
10:10
PM ET
GAINESVILLE, Fla. – Florida coach Will Muschamp said he was surprised when receivers coach and recruiting coordinator Aubrey Hill turned in his resignation on Thursday night, but it didn't take him long to decide how he wanted to replace the former Gators receiver.

He immediately chose graduate assistant Bush Hamdan.

The former backup quarterback at Boise State came to UF in January with offensive coordinator Brent Pease, is intimately familiar with Pease's offense and has experience coaching at the BCS level at Maryland. It was a no-brainer for Muschamp.

"He's a very mature guy," Muschamp said after the Gators' first day of practice on Friday. "He's an outstanding football coach. Bush has got a really great background with the offense. I feel very comfortable with that situation. I'm not at all worried. I never blinked."

After playing at Boise State from 2005-08, he spent a year at Colorado before becoming an offensive GA at Maryland in 2010 under Ralph Friedgen. When assistant coach James Franklin left to become the head coach at Vanderbilt at the end of the season, Hamdan coached the Terps' quarterbacks in the bowl game.

Hamdan coached tight ends at Sacramento State in 2011 before joining UF's staff when Muschamp hired Pease.

"Bush is very experienced and knows the offense terminology," Muschamp said. "He's got a great rapport with our players. They're disappointed (in Hill resigning) obviously, but fully embraced (Hamdan) this morning."

Hamdan will count as one of UF's nine assistant coaches. His recruiting responsibilities have not been determined.

Muschamp said he would take over recruiting South Florida for Hill. He also said he would serve as UF's recruiting coordinator.

"That title don't mean a whole lot to me," Mushcamp said. "I'm the recruiting coordinator. I handle all of that. I recruit every player we have."
August, 3, 2012
8/03/12
12:28
PM ET
GAINESVILLE, Fla. -- Aubrey Hill's resignation could cost Florida at least one 2013 commitment.
Four-star receiver
Rodney Adams
(St. Petersburg, Fla./Lakewood) told GatorNation Friday morning that he was going to reopen his recruitment after hearing that Hill had quit as the Gators' receivers coach and recruiting coordinator.
"Now that he's resigned, I'll look into what receivers coach they're going to bring in," the 6-foot-1, 166-pound Adams said. "Right now I'm going to open up my recruitment."
August, 3, 2012
8/03/12
11:50
AM ET
Florida opened practice to some interesting news when wide receivers coach
Aubrey Hill resigned
for what he and the school said were for "personal reasons."
With Hill moving on, Will Muschamp will now look to offensive coordinator Brent Pease and graduate assistant Bush Hamdan to work with the Gators' wide receivers. That means Pease will be running Florida's offense, working with the quarterbacks and tending to the receivers. That might sound like a lot to put on a new coordinator's plate, but Hamdan should help ease Pease's workload.
[+] Enlarge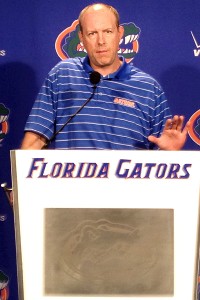 Jeff Barlis/ESPN.comBrent Pease will now work with receivers, in addition to working with quarterbacks and coordinating the offense.
Pease probably wouldn't have much of an issue working with receivers more because he has coached receivers before at Boise State and Montana, but that's still a lot to ask of him in his first year. So having Hamdan there is a plus. He was a backup quarterback at Boise while Pease was there, meaning he knows the terminology and the ins and outs of Pease's offense. Relaying info to receivers shouldn't be too tough for him and he'll be looked at as an educator at times.
Hamdan has experience coaching pass-catchers, as he was the tight ends coach at Sacramento State before joining Florida's staff in January. Also, being a quarterback means he knows a thing or two about working with wide receivers and knows most of their tendencies.
With Hill's connection to the Miami probe involving booster Nevin Shapiro, Muschamp had to be prepared if something were to happen with Hill. Hamdan isn't a big name by any means, but Muschamp wouldn't have promoted him if he didn't trust him to fill in.
Word out of Florida's camp is that Hamdan started working with the receivers mostly by himself during Friday morning's practice, so the transition has already begun.
While Pease will have new responsibilities this fall, he won't have to carry the entire load himself. And that's a very good thing for the Gators, as players try to get more familiar with their new coordinator.
One thing to point out is just how vocal and interactive Hamdan is with players. While I was on the sideline for Florida's spring game I saw Hamdan making sure he was the most involved coach on my side of the field. He was directing the quarterbacks -- on and off the field -- after every single pass. He was barking out plays, shifts and suggestions to just about everyone lining up on offense.
He clearly knows Pease's offense very well and he didn't just keep his comments to the quarterbacks. He was instructing receivers and running backs on footwork and routes when he saw something he didn't like.
Losing Hill this close to the start of the season certainly isn't what Florida wanted, but the duo of Pease and Hamdan should be enough to get the Gators through the fall.
August, 3, 2012
8/03/12
11:15
AM ET
Florida coach Will Muschamp announced Friday that receivers coach and recruiting coordinator
Aubrey Hill has resigned
.
The Gators open preseason practice later Friday.
Most of the buzz surrounding Hill's resignation revolves around his name being mentioned in the Nevin Shapiro mess at Miami. Shapiro is the former Miami booster who allegedly provided improper benefits to Miami players from 2002-10. Hill was the receivers coach and recruiting coordinator at Miami from 2008-10. He reportedly delivered recruits to Shapiro's home and luxury suite.
Muschamp said in his statement that Hill's resignation was for personal reasons and had nothing to do with Florida. Hill, who played at Florida, didn't go into details, either, but did say he didn't want to be a distraction for the Gators.
We'll have more on this story later on the SEC blog and any consequences it could have for the Gators on the field or the recruiting trail.