October, 3, 2010
10/03/10
1:53
AM ET
TUSCALOOSA, Ala. --
Mark Ingram
knows that look.
More precisely, he knows what a group of guys look like when they're playing with a certain object on their collective shoulders.
"They're playing with a chip on their shoulder," Alabama's Heisman Trophy running back said of his defense. "I've had the utmost confidence in them. They have great athletes and great playmakers. Just because they lost nine players doesn't mean that they're not a great defense.
"They came out here with a chip on their shoulder and wanted to prove everybody wrong."
Nobody's going to mistake this Alabama defense for the one that choked the life out of everything in its sight a year ago on its way to the BCS national championship.
[+] Enlarge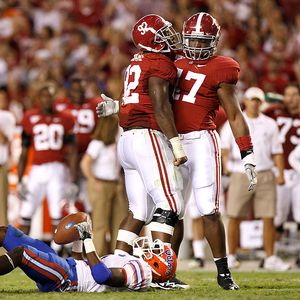 Kevin C. Cox/Getty ImagesAlabama's defense dominated Florida, forcing four turnovers and allowing just 79 rushing yards. Alabama has not allowed a touchdown in the second half this season.
But who's to say this defense won't get there, either, especially when you consider that most of the guys doing the heavy lifting this season were watching from the sidelines a year ago?
Top-ranked Alabama beat up on No. 7-ranked Florida for a
31-6 victory
Saturday night at Bryant-Denny Stadium that was really never close.
The Crimson Tide forced four turnovers, two of those on the doorstep of their own goal line, and turned the back side of Florida quarterback John Brantley's jersey a distinct shade of green.
Alabama only sacked Brantley once, but knocked him around a bunch. Moreover, the Gators managed just 79 rushing yards.
Never mind that was supposed to be a veteran Florida offensive line and an offensive line that was supposed to be the backbone of the Gators' offense this season.
On Saturday, they were no match for an Alabama defense that came at them in droves.
"I think we can do whatever we want to do if we just go out and work hard," Alabama defensive end Marcell Dareus said. "We worked hard all week. We didn't think about who they had on the o-line. We were mostly worried about capitalizing on our plays and doing what we're supposed to do.
"We don't too much worry about whether they've got veteran offensive linemen, whether they got big, old offensive linemen or whether they're mature up front. We just worry about going out and playing the best we can play."
Alabama hasn't been perfect, far from it. The Crimson Tide are still busting some assignments in the secondary, and they could use another finisher when it comes to getting to the quarterback.
But they still haven't allowed a touchdown in the second half and have given up a total of three touchdowns in five games -- all this with eight first-year starters in the lineup. Junior linebacker Dont'a Hightower opened last season as a starter, but suffered a season-ending knee injury in the fourth week.
Who needs experience, right?
"It shows at some points," junior safety Mark Barron said of all the new faces in the starting lineup. "But the guys that are young and new, we try to let them know that being young is not an excuse. You have to step up and grow up.
"Being young is not an excuse here."
Alabama has forced seven turnovers in its past two games, and just about all of them have come at key junctures.
Freshman linebacker C.J. Mosley returned a Brantley interception 35 yards for a touchdown for Alabama's final touchdown.
"It's something we have emphasized tremendously with this group in terms of the turnover drills we do," Alabama coach Nick Saban said. "Every ball that hits the ground, we have to pick it up and run with it. There's a lot of conscious effort into trying to make and get turnovers. That's the one thing that probably has the biggest effect on the outcome of the game."
Barron admits that the defense has bailed itself out more than once this season thanks to getting turnovers.
"Turnovers save us sometimes," Barron said. "That's playing a big role in our defense doing as well as we are."
Dareus, who hurt his ankle last week against Arkansas, still isn't back to full speed. He estimated that he's probably around 80 percent.
The same goes for this defense, which isn't what it will be come November when some of the mistakes are eliminated and everybody is fully acclimated.
"There's no telling," said Dareus, asked how good this defense could be.
"The sky's the limit. We'll just keep going and see."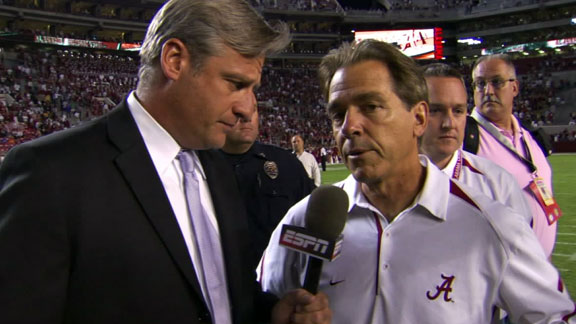 October, 2, 2010
10/02/10
11:14
PM ET
TUSCALOOSA, Ala. -- Taking charge from the outset, No. 1-ranked Alabama routed No. 7-ranked Florida
31-6
on Saturday night in Bryant-Denny Stadium.
Here's an instant analysis from the game:


How the game was won:
Alabama built a 24-0 lead and took advantage of four Florida turnovers, two of those with the Gators near the goal line, and were never threatened in a game that the Tide dominated physically.
Turning point:
Florida freshman
Trey Burton
was intercepted in the end zone by Alabama linebacker Nico Johnson on a fourth-and-goal play from the 2 on the Gators' first possession of the game. Alabama had kicked a field goal on its opening possession to go up 3-0, but Florida coach Urban Meyer elected to go for it and Burton's jump pass was picked off.
Player of the game:
Alabama freshman linebacker C.J. Mosley put the Gators away for good with a 35-yard interception return for a touchdown in the third quarter.
Unsung hero:
Alabama junior safety Mark Barron gets a lot of credit for helping that inexperienced secondary stick together, and the Tide are getting better back there every game.
Stat of the game:
Alabama gave up just two field goals in the game and has still not given up a second-half touchdown this season.
What it means:
Alabama left little doubt about who's the best team in the SEC -- and the country, for that matter. Florida may get another shot at Alabama in the SEC championship game if the Gators can win the East, but they'll have to get a lot better and play a lot better to have a chance.
October, 2, 2010
10/02/10
10:41
PM ET
TUSCALOOSA, Ala. -- You knew there would be rough patches for Florida quarterback
John Brantley
, playing the first meaningful snaps of his college career.
But tonight has been a nightmare.
His fumble at the Alabama 1 after tripping over one of his offensive linemen was the second time Saturday night the Gators had the ball at the 1 and came away with no points.
Brantley had already thrown an interception that was returned for an Alabama touchdown.
He's getting the kind of "seasoning" on the road all SEC quarterbacks have to endure at some point.
October, 2, 2010
10/02/10
9:40
PM ET
TUSCALOOSA, Ala. -- Top-ranked Alabama dominated the first half and took a
24-3 lead
over No. 7-ranked Florida into halftime Saturday night at Bryant-Denny Stadium.
Here's a quick halftime analysis:
Turning point:
Florida, trailing 3-0, took the ball on its first possession and drove down the field to the Alabama 2. The Gators elected to go for it instead of kicking the field goal and tying the game. Freshman
Trey Burton
tried a jump pass out of the Wildcat formation, but linebacker Nico Johnson intercepted it in the end zone for the Crimson Tide.
Best player of the half:
Alabama quarterback
Greg McElroy
made every right decision in the first half and was completely in charge in guiding Alabama's offense. He was 8-of-12 for 80 yards and spread the ball around to five different receivers.
What Florida needs to do:
If the Gators are going to get back into this game, they have to find a way to create some turnovers. Alabama is having its way offensively with three scoring drives of eight plays or longer. The Gators need a big play to open the second half, either a forced turnover or possibly a big play on special teams.
October, 2, 2010
10/02/10
9:23
PM ET
TUSCALOOSA, Ala. -- Alabama hasn't been hesitant to pull out a few new things from its offensive playbook.
Marquis Maze
's 19-yard touchdown pass to tight end
Michael Williams
came out of the Wildcat package. Maze has been back there in that formation a couple of different times this season, but it's the first time he's thrown the ball out of it.
Alabama leads this game 24-0, and the Gators are on the verge of getting blown back to Gainesville.
October, 2, 2010
10/02/10
9:15
PM ET
TUSCALOOSA, Ala. -- The more you watch
Mark Ingram
and
Trent Richardson
pound away on defenses and slice through would-be tacklers, the more you think it's almost unfair for two running backs that good to be on one team.
The way Alabama uses them makes them even more difficult to deal with for opposing defenses.
Richardson pounds away for a while and them breaks one to the outside, and then Ingram comes in with fresh legs and does his thing.
They get along great, too. When Ingram scored his touchdown to make it a 17-0 game, the first guy off the sideline to congratulate him was Richardson.
October, 2, 2010
10/02/10
8:57
PM ET
TUSCALOOSA, Ala. -- The most balanced Alabama offense since Nick Saban arrived looked pretty good throwing the football in the nine-play, 80-yard touchdown drive to go up 10-0.
Quarterback
Greg McElroy
looks incredibly poised in the pocket, but he's also getting great protection. Here's the other thing about Alabama's passing game: When the receivers catch the ball -- and it doesn't matter who it is -- they get upfield immediately.
There's not a lot of juking and trying to fake guys out. They get north and south in a hurry.
McElroy is also spreading the ball around.
October, 2, 2010
10/02/10
8:47
PM ET
TUSCALOOSA, Ala. -- Alabama coach Nick Saban said this week that the Tide needed to get junior defensive end
Marcell Dareus
playing at a high level for this defense to be at its best.
Dareus was slowed by an ankle injury this week in practice, but showed up big on third down during Alabama's goal-line stand. He was able to get good push most of the first quarter and looks more active than he did last week.
October, 2, 2010
10/02/10
8:03
PM ET
TUSCALOOSA, Ala. -- Florida's Jeff Demps is dressed and went through all the pregame warm-ups.
He seemed to be moving pretty well, although Florida coaches don't think he will be 100 percent. He's done very little in practice this week and didn't go full speed.
It might be one of those things where the Gators see how effective he is during the first part of the game and then make a decision on how much to use him.
The matchup to watch is Alabama receiver
Julio Jones
vs. Florida cornerback Janoris Jenkins. If Jenkins can lock down on Jones without any help, then the Gators will be able to crowd the line with more defenders to try and slow down the Crimson Tide's running game.
If Jenkins needs help or if Jones is making a bunch of plays down the field, it's probably going to be a long game for the Gators.
October, 2, 2010
10/02/10
7:15
PM ET
TUSCALOOSA, Ala. -- The first of two?


As Alabama and Florida get set to square off for the first time since 2006 in the regular season at Bryant-Denny Stadium, there's already talk about this being a first act to a second meeting in December in the SEC championship game.
You're never going to get a coach or player on either side to say so, but the reality is that the loser Saturday night is by no means out of the BCS national championship race.
Now, if somebody gets blown out Saturday, that could change things.
But if Florida loses a close one, wins out and then takes down Alabama in the SEC championship game rematch, the Gators would still be in great shape to claim one of those two spots in the BCS National Championship Game.
The same goes for Alabama if the Crimson Tide loses a close one and then wins out.
Still, the buildup to this game has rivaled that of the past two meetings between Alabama and Florida each of the last two seasons in the SEC championship game.
In a sense, it's the rubber match.
But the one that counts the most could still be a few months away.