July, 9, 2012
7/09/12
9:15
AM ET
Everybody can recite who's the all-time winningest coach in the SEC.
Bear Bryant won 232 career games at Alabama and became one of the most iconic figures in college football along the way.
To this day, Bryant's name is mentioned with reverence around the Capstone.
But even if you take his 232 career wins out of the equation, the Crimson Tide would still have 582 wins.
[+] Enlarge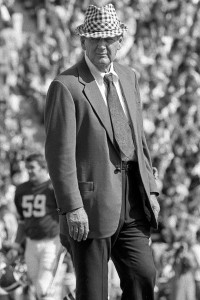 Bernard Troncale/US PresswireBear Bryant won 232 career games at Alabama.
So while the guy with the Houndstooth hat carved out a legendary career at Alabama, the Crimson Tide's success on the football field hasn't been defined solely by the Bryant years.
Frank Thomas won 115 games. Gene Stallings won 62 games. Wallace Wade won 61 games. Nick Saban -- in just five seasons -- has already won 55 games.
All five men, including Bryant, have also won national championships at Alabama.
In surveying the winningest coaches at all 14 SEC schools, some of what you find, especially when you take away each school's all-time wins leader, is telling.
For instance, Bryant is actually the winningest coach at two different SEC schools. He was 60-23-5 at Kentucky from 1946-53, and led the Wildcats to eight consecutive winning seasons.
Since Bryant's departure from the Bluegrass following the 1953 season, the Wildcats have had 10 other head coaches, but only one of them compiled better than a .500 record, Blanton Collier, who succeeded Bryant, was 41-36-3 in eight seasons.
Steve Spurrier could join Bryant this coming season as the second coach to earn the distinction of being the winningest coach at two different SEC schools.
Spurrier owns that distinction at Florida. He won 122 games in 12 seasons in Gainesville from 1990-2001. He's 55-35 in seven seasons at South Carolina, and can pass Rex Enright as the Gamecocks' winningest all-time coach with 10 wins this season. Enright was 64-69-7 in two different stints at South Carolina from 1938-42 and 1946-55.
Since Enright stepped down following the 1955 season, the Gamecocks have had 13 head coaches. Spurrier is one of five since Enright to post a winning record. Other than Enright and Spurrier, only two other coaches have won more than 40 games at South Carolina -- Jim Carlen (45) and Paul Dietzel (42).
Georgia and Tennessee are the only schools in the SEC with three head coaches in their history to have won 100 or more games.
Vince Dooley is Georgia's all-time leader with 201 wins. Wallace Butts won 140, and Mark Richt has won 106. Georgia has 747 wins all-time.
Gen. Robert Neyland is Tennessee's all-time leader with 173 wins. Phillip Fulmer won 152, and John Majors 116. That's a total of 441 of the Vols' 794 wins.
In fact, Tennessee is the only SEC school that still has 600 or more wins if you take away the winningest coach's win total. The Vols would still have 621 even if you didn't count Neyland's 173 wins.
Only eight other schools nationally would have more than 600 wins if you took away their winningest coach -- Miami (Ohio), Michigan, Navy, Notre Dame, Ohio State, Oklahoma, Texas and USC.
Florida has won 669 games, and 187 of those wins have come courtesy of two of the Gators' past four head coaches. In addition to Spurrier's 122 wins, Urban Meyer won 65 in six seasons from 2005-10.
At Ole Miss, John Vaught won career 190 games. Nobody else has won more than 67 there (Billy Brewer). Anybody want to guess who is No. 3 on the Rebels' all-time wins list? David Cutcliffe was 44-29 (.603) from 1999-2004.
The biggest difference in the SEC when you start taking the winningest coach out of the equation can be found at Vanderbilt. Dan McGugin was 197-55-19. But without him, the Commodores would be just 367-519-31 all-time. McGugin last coached at Vanderbilt in 1934. Nobody else at Vanderbilt has won more than 39 games.
At some schools, there simply hasn't been much longevity by coaches.
Charles McClendon is LSU's all-time winningest coach with 137 career wins in 18 seasons from 1962-79.
But since McClendon retired, the only LSU coach to last longer than five seasons has been current coach Les Miles, who's won 75 games in seven seasons.
Below is a look at the win totals for all 14 SEC schools and the winningest coach at all 14 schools:
Alabama – 814 (Bear Bryant 232)
Tennessee – 794 (Gen. Robert Neyland 173)
Georgia – 747 (Vince Dooley 201)
LSU – 733 (Charles McClendon 137)
Auburn – 711 (Shug Jordan 176)
Texas A&M – 681 (R.C. Slocum 123)
Arkansas – 680 (Frank Broyles 144)
Florida – 669 (Steve Spurrier 122)
Missouri – 625 (Don Faurot 101)
Ole Miss – 621 (John Vaught 190)
Kentucky – 578 (Bear Bryant 60)
Vanderbilt – 564 (Dan McGugin 197)
South Carolina – 555 (Rex Enright 64)
Mississippi State – 506 (Jackie Sherrill 75)
April, 29, 2010
4/29/10
11:18
AM ET
By
ESPN.com staff
| ESPN.com
Andy Kozar, who played on some of Gen. Robert Neyland's best teams at Tennessee, died Thursday at his home in Knoxville. He was 79.

One of the most dominant fullbacks in Tennessee history, Kozar was a member of the Vols' 1951 national championship team and was one of the stars of the 20-14 win over Texas the year before in the Cotton Bowl.

Kozar was much more than just a football player. In fact, one of the things that made him so special was that he was as accomplished as an academic as he was an athlete. He earned a Ph.D. from Michigan in 1961 and returned to Tennessee to become head of the men's Physical Education Program. He served in that role until 1974.

At that point, he turned his focus to teaching and was awarded the title of University Professor. Kozar remained a part of UT's Exercise Science Department for 25 years.

In 1978, Kozar was honored as an NCAA Silver Anniversary Award winner, presented to former athletes who have distinguished careers in other fields.

Honors continued to come his way as he was named to the Tennessee Sports Hall of Fame in 1979, the Greater Knoxville Sports Hall of Fame in 1989 and the Cotton Bowl Hall of Fame in 2005.

In 2002, after six years of diligent research, Kozar's dream of passing the knowledge of his legendary college football head coach to future generations became a reality. He authored the book "Football as a War Game -- The Annotated Journals of General R.R. Neyland."

Kozar is survived by his wife, the former Marian V. Higgs of Toano, Va. She was a graduate student at UT when they met. They have three children: Mary Anne, Andrew Joseph Jr., and Amy Elizabeth.
August, 17, 2009
8/17/09
9:00
AM ET
By
ESPN.com staff
| ESPN.com
Posted by ESPN.com's Chris Low
Without villains, would there be any such thing as heroes?
College football has spawned its share of legendary villains, those players, coaches, officials, anybody or anything that has made a living out of making life miserable for your team.
I've put together a team-by-team look in the SEC at some of the most "dastardly" villains this conference has ever known. Keep in mind that the word "villain" can be a relative term.
As you might imagine, the viewpoints on something like this are extremely varied. So let's hear your input, too, and I'll produce another list Tuesday based on who you think has caused your team the most grief.
Here are my picks:
ALABAMA
Current villain: Tim Tebow. If Tebow doesn't take matters into his own hands and make one clutch play after another in last season's SEC championship game, Alabama would have been the team facing Oklahoma in the BCS Championship Game.
All-time villain: The NCAA rulebook. Alabama finds itself on NCAA probation ... again. It's the third time the Crimson Tide have been in the NCAA's doghouse since 1995. They're appealing their latest sanctions, which vacated 21 victories from 2005-2007.
ARKANSAS
Current villain: Houston Nutt. Never mind that he's one of their own and coached the Razorbacks for 10 seasons, taking them to two SEC championship games. The divorce was a messy one, and he's now heading up Western Division rival Ole Miss.
All-time villain: James Street. Arkansas fans still wince when they think back to the 1969 showdown in Fayetteville featuring No. 1 Texas vs. No. 2 Arkansas. The Hogs built a 14-0 lead and looked to be on their way to a national championship, but Street rallied the Longhorns thanks to a pair of improbable plays, sending the Hogs to a crushing 15-14 defeat.
AUBURN
Current villain: Nick Saban. In a little more than two years, Saban has completely changed the landscape in that state. The Crimson Tide are recruiting like gangbusters and ended Auburn's six-game winning streak in the Iron Bowl with a 36-0 rout last season, which wound up being the final blow for Tommy Tuberville at Auburn.
All-time villain: Bear Bryant. The guy with the Houndstooth hat was hard on a lot of teams in the SEC, but he really did a number on Auburn. Bryant was 19-6 against the Tigers as head coach at Alabama and won nine in a row from 1973-81.
FLORIDA
Current villain: Lane Kiffin. The day he was introduced as Tennessee's coach, Kiffin called out Urban Meyer and the Gators. But he became Public Enemy No. 1 in Gainesville when he accused Meyer of cheating ... and was wrong.
All-time villain: Lindsay Scott. It's debatable what galls Florida fans more, the footage of Scott running down the sideline in that 1980 game on his way to the winning 92-yard touchdown or Larry Munson's legendary call?
GEORGIA
Current villain: Urban Meyer. The Bulldogs won the SEC championship in 2002 and again in 2005, but they've gone the last three years without getting to Atlanta. Meyer's arrival at Florida has changed the landscape in the Eastern Division. Think he may save a few timeouts for the final seconds this season?
All-time villain: Steve Spurrier. Not only did Spurrier beat up on the Bulldogs when he was at Florida, but he rubbed it in. Who could ever forget the 52-17 debacle in 1995? Bulldog Nation sure won't. The game was played in Athens that year, and Spurrier tacked on a late touchdown just for good measure. He only lost once to the Bulldogs in 12 meetings.
KENTUCKY
Current villain: Eastern Division rivals. Rich Brooks has done a terrific job of getting Kentucky's program up to respectability with the three straight bowl victories. But there's been little progress against the Wildcats' East counterparts. They are just 1-23 against Florida, Georgia, South Carolina and Tennessee since Brooks arrived in 2003.
All-time villain: Kentucky hoops. There's just no way around it. No matter how well the football program does, it will always be dwarfed by Kentucky basketball. They grow up dreaming of playing hoops in the Bluegrass. Their heroes are former UK basketball players. And if they have time, they might check in on the football team.
LSU
Current villain: Nick Saban. The guy just keeps on showing up on different villain lists, which tells you that he must be pretty good at what he does. They once loved him on the Bayou after he won a national title at LSU in 2003. But now that Saban is at Alabama, he's perceived as nothing more than a traitor.
All-time villain: Archie Manning. Back when the LSU-Ole Miss rivalry was at its peak, Manning beat the Tigers two of his three seasons in school and went on to become a legend in the state of Louisiana after a long career with the Saints. But when it came time for Peyton and Eli to go to college, neither chose LSU.
MISSISSIPPI STATE
Current villain: Jevan Snead. The Bulldogs are probably still seeing footballs flying through the air in their sleep. Snead threw four touchdown passes last season in Ole Miss' 45-0 shellacking of Mississippi State, the most lopsided Egg Bowl since Ole Miss' 48-0 rout in 1971.
All-time villain: Rich Johanningmeier. He was the lead NCAA investigator in the case against Mississippi State, which ultimately sent Jackie Sherrill packing following the 2003 season and landed the Bulldogs on four years' of probation. Sherrill accused Johanningmeier of unethical conduct in his investigation.
OLE MISS
Current villain: Atlanta travel agencies. "Huh," you say? The chatter around Ole Miss about getting to the SEC championship game this season in Atlanta is deafening. The Rebels just need to make sure they don't spend more time talking about it than doing something about it. In other words, hold off on the reservations.
All-time villain: Billy Cannon. His legendary punt return for a touchdown on Halloween night in 1959 ruined what would have been a perfect season for John Vaught's Rebels. They only gave up three touchdowns all season, and Cannon's was one of them in that 7-3 loss to LSU. It remains the most infamous play in Ole Miss history.
SOUTH CAROLINA
Current villain: That other school in the state. Clemson might not be in the SEC, but the Tigers have and continue to be the Gamecocks' biggest pain in the you know where. Since 1980, Clemson is 21-7-1 against South Carolina, and Spurrier is just 1-3 against the Tigers
All-time villain: The Chicken Curse. Ask anybody who's remotely tied to South Carolina football, and they will fill you in on the dreaded Chicken Curse. Basically, it's a curse that has doomed the Gamecocks to mediocrity, which explains why they've won more than eight games in a season only twice in school history.
TENNESSEE
Current villain: In-state talent. Unlike the states of Alabama, Florida, Georgia and Louisiana, Tennessee isn't loaded with great high school football talent. It's gotten better, but pales in comparison to some of the Vols' rivals. What's more, some of the best players have gotten away the last few years.
All-time villain: Steve Spurrier. The Head Ball Coach might have grown up in Johnson City, Tenn., but he's anything but a
favorite son. Remember the "You can't spell Citrus without a U and a T" jokes? He owned the Vols when he was at Florida and delighted in needling them.
VANDERBILT
Current villain: Admissions office. Coach Bobby Johnson would never use the rigid academic standards at Vanderbilt as an excuse. In fact, he embraces them. But getting players into school at Vanderbilt is a whole different animal compared to the rest of the SEC, meaning the Commodores are forced to recruit from a different pool.
All-time villain: Gen. Robert Neyland. Before Neyland was named head coach at Tennessee in 1926, Vanderbilt had dominated the rivalry with its neighbor from the eastern part of the state. But Neyland was hired to beat Vanderbilt, and that's what he did. It hasn't turned around much for the Commodores ever since.