October, 10, 2014
Oct 10
12:00
PM ET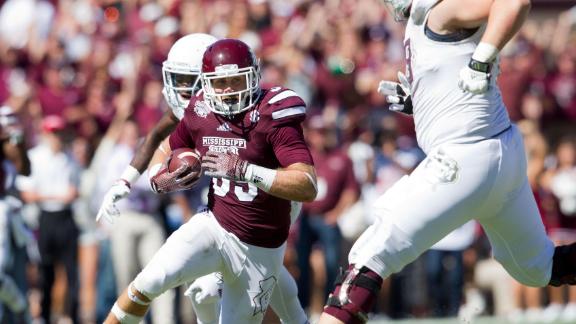 STARKVILLE, Miss. -- He's got a great beard, full and lush for a 21-year-old. It's so impressive someone decided to start its own Twitter account: @RichiesBeard
But last Saturday, things got even more interesting for Mississippi State linebacker
Richie Brown
.
During the best game of his career -- a game in which he set a school record by intercepting three passes against Texas A&M -- Twitter lit up about him again, but this time it was from way out of left field. The chatter wasn't about Brown eventually counting dead presidents in the NFL, it was about him being compared to one.
Ulysses S. Grant ties the school record with three interceptions! 6th player in school history. pic.twitter.com/bc4R7zjQyM

— MSU Football (@HailStateFB) October 4, 2014
Can you see the resemblance?
"Countless times I've seen that picture pop up," Brown said. "I can't forget it now.
"My whole family has seen it. My cousin Robby, who looks just like me, completely agrees with it. He thinks we both look like him."
Much to the dismay fans of State, Brown said he doesn't plan on dressing up as our 18th president for Halloween. While he's having fun with the comparison and taking the jokes in stride, if you spend more than a few minutes with the redshirt sophomore, you know he's not one for attention.
Before his three-INT day, very few people outside of Starkville knew about the 6-foot-2, 235-pound Mississippi native. As the backup to star middle linebacker
Benardrick McKinney
, he wasn't anywhere near the face of the defense, despite his rugged looks.
"It's kind of hard to get a lot of notoriety behind Benardrick because he's so special," said defensive coordinator Geoff Collins. "He's 6-foot-5, 260 pounds and runs a 4.5 40-yard dash."
Brown may not be that athletic, but he's got a nose for the football. And given the way State rotates between the first and second string, he has plenty of opportunities to make plays.
In a way, he's part of what makes the Bulldogs' defense so special.
For the first time since Dan Mullen arrived, he has a defense that's two-deep at every position with SEC-caliber players. It's why whenever you ask a Mississippi State coach about the second string, they'll correct you and say there are 1As and 1Bs.
Chris Jones
, a preseason all-America favorite, is one of those 1Bs.
"Everybody rotates in," Collins explained. "Nobody plays a full game."
"It's an interesting thing," Brown said. "Benardrick is a heck of a player and I'm sure will be a top NFL draft pick. I don't mind at all sharing playing time with him. It's good for both of us because if either one of us gets tired we can call the other person in and have confidence we can run full speed to the ball."
Brown had to admit, however, that his three interceptions last weekend was "overwhelming."
His teammates made sure he didn't forget it, either.
"They've been picking on me, screaming at me," Brown said. "They've been messing with me all week about it. They've been saying, 'Thorpe Award winner, All-American,' all this stuff that's way, way down the road."
Whether Brown does become a household name for his play or not, he's experienced his brush with fame. It maybe wasn't what he expected, but at least it was entertaining.
This Jackie Sherrill parody account may have explained it best. Maybe Richie Brown should never shave again.
Dissecting game film. Wanted to see what K. Hill saw on int's. Was pretty obvious .@richiebrown39 .@richiesbeard pic.twitter.com/MBzFrKlHtd

— Not Jackie Sherrill (@Coach_Sherrill) October 5, 2014
October, 8, 2014
Oct 8
12:00
PM ET
STARKVILLE, Miss. -- Geoff Collins has seen this type of receiver before. It was 2006 and he was the recruiting coordinator at Georgia Tech.
At practice and during games, he'd watch No. 21 running routes and his eyes would light up. Tall, rangy, explosive; he saw was the kind of player who would drive him nuts when he later became a defensive coordinator.
They say you can't teach size. Well, it's almost as impossible to defend it.
[+] Enlarge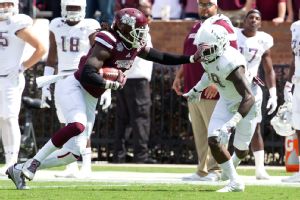 Marvin Gentry/USA TODAY SportsDe'Runnya Wilson has size that can't be taught and so much raw ability that Mississippi State coaches can't help but be excited about his potential.
No. 21 was, of course, Calvin Johnson.
The Biletnikoff winner was a once-in-a-generation receiver. At 6-foot-5 and 235 pounds, he took over games with his size and athleticism. He became the second overall pick in the 2007 draft by the Detroit Lions and then became an NFL superstar.
"I'm not putting Bear at that level," Collins said, "but you see the similarities and the natural physical ability. However far he wants to take it, he can take it."
Bear, or Bear Force One depending on who you ask, is better known as Mississippi State's
De'Runnya Wilson
. The true sophomore is tied for second in the SEC in receiving touchdowns (5) and fourth in yards per reception (17.6).
Wilson isn't Megatron yet, but if you're looking for raw talent to dream on, look no further than Mississippi State's biggest receiver, the dreadlocked target wearing No. 1. On Saturday, he'll be on the national stage again as the No. 3-ranked Bulldogs host No. 2 Auburn.
It's a somewhat obscure stat, but maybe this will paint a picture of how explosive a player Wilson can be: Of his 14 receptions, 100 percent of them have gone for a first down or touchdown. Only one other player in the country, Miami's
Phillip Dorsett
, has that same perfectly productive percentage.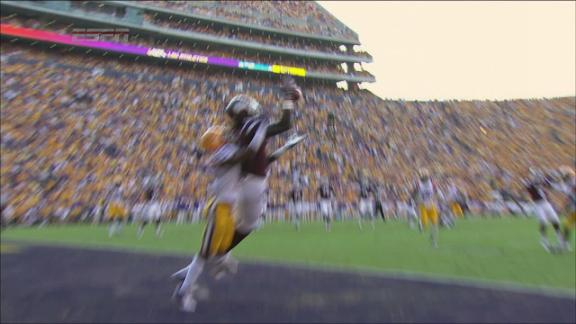 It's a shame to think all that ability might have gone to waste.
Wilson, who grew up in Birmingham, Alabama, gave up football at a young age. He didn't think he'd be able to play much in high school, so he drifted to the hardwood. There, at 6-foot-5, he could dominate at power forward, and he eventually earned the title of Mr. Basketball in the state in 2013. While Wenonah High's football team struggled to win games, the basketball team won three straight state championships with Wilson as its double-double machine.
Then, almost on a whim, Wilson decided to give football another chance.
He didn't know what he was doing. Lining up was a chore. His job was simple: go up and get the football.
And that's what he did, leading his team with seven touchdowns that year.
Collins, who recruits the Birmingham area for Mississippi State, hadn't heard of Wilson until he was sent a newspaper clipping about the fast-rising senior. He was able to get some tape of him and decided a trip to the high school was worth it.
"He had unbelievable physical gifts," he explained.
Wilson was a raw prospect but that's what Mississippi State likes to pursue.
Bernardrick McKinney
, the team's star middle linebacker, was a quarterback in high school.
Taveze Calhoun
, Mississippi State's starting cornerback, only had offers from FCS programs.
It's not a program that reaches for many four-star and five-star recruits; that's the business of the Alabamas and Floridas of the world. Instead, coach Dan Mullen asks his assistants to find him diamonds in the rough.
And boy, did Collins have one on his hands.
Billy Gonzales, Mississippi State's wide receivers coach, would later see just how far in the weeds Collins had gone to find him his next project.
"Ex-treme-ly raw," Gonzales said, drawing out every syllable.
Usually, Gonzales spends the first round of two-a-days yelling at rookies about defensive recognition and route adjustments. But with Wilson, he couldn't even start there. He didn't know what coverages were.
"That was all completely new to him, so I had to take a step back and reteach from the very beginning and set the foundation at the ground level," Gonzales said.
Wilson's response: "Coach, I'll do whatever we need to do. But you have to remember I've played only one year of football, so this is all new."
"I didn't realize he was going to be as athletic as he was," Gonzales said. "When you have a big kid coming in, you wonder if he's going to grow into a tight end. Watching him move around it was obvious he was going to be a big receiver and cause mismatches. As a position coach, those are the guys who get you excited."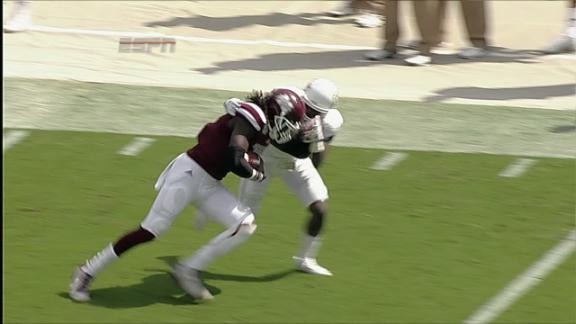 Wilson somehow knew football was the right path.
He just didn't know it until after he took his first official visit. Murray State and Utah State had offered hoops scholarships. There was even the temptation of a paycheck to play pro basketball overseas, he said.
"I had plans to play basketball, but I don't know what it was," Wilson said. "I took that football home and I really wanted to bring that back. I really wanted to be a Mississippi State Bulldog."
There was a financial incentive, too.
As a 6-foot-5 forward, Wilson was a dime a dozen. But as a 6-foot-5 receiver with a 35-inch vertical, he was something special.
Catching 26 passes as a true freshman at State showed he could play. With a little effort on the Jugs machine, running routes and studying defenses during the offfseason, he wanted to see how much further he could go.
So Wilson went to work, continuing to earn his nickname "Bear," which came from his high school coach's description of a schedule that included football, basketball and track. It was a "bear of a load," he said.
"A year ago, I never would have thought I'd be a starting receiver in the SEC," Wilson said. "It paid off. It's really hard to explain because I'm still learning the game of football."
Just how high is Wilson's ceiling?
"The sky's the limit," said Collins.
"Oh heck, we've not even come close," said Gonzales.
"He's still developing," said Mullen. "He has great ball skills and body control. His size makes him a tough matchup."
When asked who he patterns his game after, Wilson's answer shouldn't surprise you.
"Calvin Johnson," Wilson said after taking a few moments to think. "He's a monster."
August, 18, 2014
Aug 18
4:00
PM ET
One of the joys of coaching at the college level is seeing some of the less-talked-about guys succeed.
Mississippi State coach Dan Mullen got to experience that firsthand when he awarded walk-on sophomore linebacker
DeAndre Ward
a scholarship in front of the team Sunday.
Click here to see the video
.
Ward, who played against Alabama and in the bowl game against Rice last season, was obviously surprised when Mullen handed him an envelope to open in front of everyone. The team erupted when Ward realized what was in his hands.
That was true happiness for a guy people around the program say is one of the hardest workers out there and pushes everyone around him -- verbally and with his play in practice. It's no wonder he was named the camp's walk-on MVP.
When you get to the end of the video, check out the hug between Ward and defensive coordinator Geoff Collins. That was really powerful. I don't care who you root for, moments like that have to touch your heart.
April, 30, 2014
Apr 30
7:30
AM ET
Three things we learned in the spring about the Mississippi State Bulldogs:

1. Expectations are fine:
Mississippi State
has long relished the underdog role behind Alabama, LSU and Auburn. But no longer. Armed with a dark horse Heisman contender at quarterback and a defense high on depth and talent, Dan Mullen and his staff are embracing sky-high expectations this spring as a legitimate contender to win the West and reach the SEC championship game.
2. Leadership on both sides:
Mullen is in a position most coaches only dream about. Not only does he have a strong leader on offense and defense, but both players happen to be among the most talented athletes on the team.
Dak Prescott
, who dealt with injury and personal loss last season, is the heartbeat of the offense at quarterback, while veteran linebacker
Benardrick McKinney
guides the defense after posting 173 tackles the last two seasons.
3. 1A and 1B:
Chris Jones
, who emerged as one of the most talented freshmen in the SEC last season, isn't technically a starter. Instead, he's a defensive lineman with the 1Bs. That's how deep Mississippi State's defense will be. Instead of ones and twos, coordinator Geoff Collins has a 1A and 1B unit. Both are littered with returning starters at all levels. Of the 25 or so players who saw action in 2013, 22 were back on campus this spring.
Three questions for the fall:
[+] Enlarge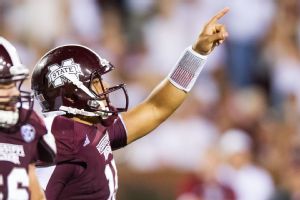 Michael Chang/Getty ImagesMississippi State quarterback Dak Prescott had a stellar outing in the AutoZone Liberty Bowl win over Rice, completing 17 of 28 passes for 283 yards and three touchdowns.
1. Prescott's evolution:
He has the intangibles. He has the talent. But what do we really know about Prescott? He has shown flashes of promise and finished last season with a bang, but we've yet to see consistency from the unseasoned starter. For him to become a legitimate Heisman contender, he'll have to put the offense on his shoulders and take his team to another level.
2. Help on offense:
Prescott won't be able to do it on his own, though. Playmakers must emerge on offense. Mullen likes the tandem of
Jameon Lewis
and
De'Runnya Wilson
at wide receiver, and the running back situation is bright with
Josh Robinson
leading the charge. But like Prescott, they're all largely unproven in their careers.
3. Kicking game:
During the final practice before the spring game, Mississippi State's kickers missed everything from extra points to chip shots. Groans could be heard from the sidelines every time the ball sailed shy of the goalpost. While Mullen has a lot to like about his offense and defense, without a strong kicking game it could all be for naught.
One way-too-early prediction:
Mississippi State's schedule could be its savior as much as its doom. A nonconference slate of Southern Miss, UAB, South Alabama and UT-Martin should be a cakewalk. Crossover games against Vanderbilt and Kentucky is as undaunting as it gets in the SEC. So where are the tests? Playing down to the level of competition could ultimately backfire against Alabama, LSU and Auburn.
April, 25, 2014
Apr 25
9:00
AM ET
STARKVILLE, Miss. -- Make no mistake, Dan Mullen is a coach who thinks offense first. In addition to being the head coach at
Mississippi State
, he fancies himself the quarterbacks coach, sitting in on meetings and delivering pointers during practice. He wants his offense to go places in 2014, and with
Dak Prescott
,
Jameon Lewis
and
Da'Runnya Wilson
in place, he has the tools to see that vision through.
[+] Enlarge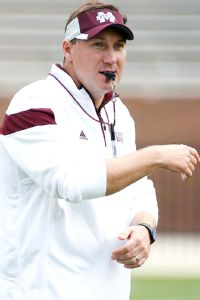 AP Photo/Rogelio V. SolisDan Mullen sees the defense as Mississippi State's strength.
But Mullen is also a practical man. He knows that however good his offense is or however good it will be, Mississippi State will rely most heavily on its defense. He acknowledges that the unit, led by defensive coordinator Geoff Collins, is the strength of the program entering a season that promises to be special as both players and coaches are embracing expectations now, rather than playing the familiar role of underdog in the SEC West.
Mississippi State has the momentum of three straight wins to end last season thanks to its defense, which surrendered an average of 11.3 points per game against Arkansas, Ole Miss and Rice. If not for the scoreless second half the defense pitched in the Egg Bowl, the tenor of this spring might have been much different. The fairytale ending might have gone sideways.
"They grew up," Mullen said of his defense, which lost three-quarters of its secondary from 2012, and then watched as its only returning starter,
Jay Hughes
, went down with a season-ending injury Week 1 against Oklahoma State. It was an uphill battle, but the defense eventually coalesced. "Coming into the season, we knew we had talent on the defensive side of the ball. We were just young. Both corners had gone on to the NFL. Our corners now are maybe better. They just hadn't played. They were developing."
It must be ringing in his ears constantly, because in multiple conversations with Mullen over the past few months he's cited the fact that of the 25 or so defensive players who saw action a season ago, 22 are back. It's been an emphasis for obvious reasons. There aren't many SEC teams that can boast such strong numbers, which are usually a good indicator of future success. By developing them even further this spring -- "We put the pressure on them," Mullen said -- the hope is they will become a defense capable of keeping Mississippi State close in games.
Losing
Deontae Skinner
,
Nickoe Whitley
and
Denico Autry
hurt, but there's reason for optimism at every level of the defense this spring.
Chris Jones
is poised to become a household name on the defensive line, and he's not even technically a starter,
Nick James
, a highly rated defensive tackle coming out of high school a season ago, is developing quickly, and the secondary is loaded with talent at corner and safety.
As Collins said: "They got thrown into the fire of SEC play last year. Now they've had a spring to sink their teeth into it."
"He's such a big, physical presence," Collins said of Jones. "He's a freakish athlete. The good thing about him is everyone talks about him a lot and he's a high-profile kid, but the thing that's nice about Chris is he knew his fundamentals and his technique had to improve. Last year we had to rely on his God-given ability. So he really took the time to be with [defensive line coach David Turner] to focus on technique, focus on fundamentals, really learn the scheme even more and invest in playing hard."
[+] Enlarge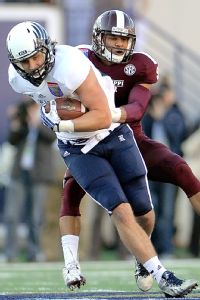 Stacy Revere/Getty ImagesJustin Cox is expected to be an impact player on defense this fall.
Collins was overwhelmingly positive in assessing his defense this spring. The two major questions he said he had entering the spring -- leadership and an eagerness to compete -- his defense passed with flying colors. Getting
Benardrick McKinney
back for his senior year was a huge boost in both areas.
"He's such a great kid," Collins said of McKinney, who is a vocal presence during every practice. "He's blessed to be 6-foot-5, 250 pounds and run a 4.6. He has a 40-inch vertical jump. But he's even a better kid than he is an athlete. His attention to detail, a great leader.
"The nice thing for us is we have Dak Prescott, who's an incredible leader on the offense, and then you have Benardrick McKinney, who's an incredible leader on the defensive side of the ball. And both of them are big-time players for us. So that's a nice thing to have during the summer when the coaches can't be around."
It's not just the front seven that has Collins excited, though. The secondary, he said, has "10 kids that can play SEC ball."
"It's just a lot of confidence, a lot of positive guys about kids who can step in and play for us," he said.
One such defensive back to watch is
Justin Cox
, who was a high-profile junior college transfer to Mississippi State last season that ultimately played more of a reserve role at cornerback. Now he's been moved to safety, where he said he's much more comfortable.
At 6-3 and in the neighborhood of 200 pounds, he fits the part. Mullen called him a "violent, aggressive player with some toughness -- and he runs a 4.3 [40-yard dash] so he can cover lots of ground out there."
"You can see the light coming on for him," Collins said. "He's going to be another kid with tremendous physical gifts. With more confidence we'll see him make a big impact for us."
Armed with confidence, talent and depth, look for the entire Mississippi State defense to take off. The end of last season might have just been the prelude. Now Mullen and his staff hope they're ready to turn the defense into the blockbuster surprise of the SEC.
December, 17, 2013
12/17/13
12:00
PM ET
It seems as if everyone is denying interest in the now-vacant Texas head coaching position. Even Philadelphia Eagles coach Chip Kelly took a swing at
stamping out the speculation
the other day. But even so, this thing is far from over. Until the Longhorns have their guy in place, expect the rumor mill to continue churning.
March, 21, 2013
3/21/13
9:30
AM ET
Schedule:
The Bulldogs opened spring practice Wednesday afternoon, a day earlier than scheduled to take advantage of better weather. All practices are open to the public. Their spring will conclude with the annual Maroon-White spring game on April 20 at 2 p.m. ET in Davis Wade Stadium as part of Super Bulldog Weekend.

What's new:
Mississippi State coach Dan Mullen has three new assistants, and he also shifted around some responsibilities. Geoff Collins was promoted to defensive coordinator after serving as co-defensive coordinator the past two seasons. Collins, who will still coach the linebackers, replaces Chris Wilson, who left and is now the defensive line coach at Georgia. Also, Scott Sallach is back as the tight ends coach after being moved to coordinator of scouting in February. Sallach was switched to that off-the-field position after Mullen hired Billy Gonzales as receivers coach and moved Tim Brewster to tight ends. But Brewster left to take a job on the Florida State staff, and Mullen announced this week that Sallach was returning to his old job of coaching tight ends. The other two new assistants are David Turner, who will coach the defensive line, and Deshea Townsend, who will coach cornerbacks. This is Turner's second stint on the Mississippi State staff. He coached the Bulldogs' defensive line from 2007-09 and was Kentucky's defensive line coach for the past three seasons. Townsend was an All-SEC player at Alabama and played 13 seasons in the NFL. He was a part of the Arizona Cardinals' staff for the past two seasons.
On the mend:
Among the players who are recovering from injuries and won't be going through contact this spring are quarterback
Dak Prescott
, running back
Nick Griffin
, running back Johnathan Long, receiver Michael Hodges and cornerback
Taveze Calhoun
.
On the move:
Junior
Christian Holmes
has moved from linebacker to tight end, and junior
Kaleb Eulls
has moved inside to defensive tackle from defensive end.
Question marks:
The secondary was depleted with cornerbacks
Johnthan Banks
and
Darius Slay
and safety
Corey Broomfield
all departing. Banks and Slay combined to intercept nine passes last season, and Banks was the 2012 Jim Thorpe Award winner as the top defensive back in college football. The Bulldogs will be breaking in three new starters back there, and they also need to prove they can get more pressure on the quarterback. They finished with 18 sacks in 13 games last season, which ranked 13
th
in the SEC. One of Collins' goals as the Bulldogs' new defensive coordinator is to put more of an attacking unit on the field and create more negative plays. That's where sophomore tackles
Nick James
and
Quay Evans
come in. Both have star potential after playing some last season as true freshmen. Junior end
Preston Smith
has also been impressive in the offseason conditioning program and now weighs more than 250 pounds after coming to Mississippi State closer to 225. He led the team with 4.5 sacks last season and was a reserve. It's imperative that the Bulldogs make more happen up front defensively in 2013.
New faces:
The Bulldogs have four new players on campus and participating in spring practice, including two junior college transfers who could end up starting right away. Cornerback
Justin Cox
is listed as one of the starters on the pre-spring depth chart, while receiver
Jeremey Chappelle
is listed as a backup. Freshman safety
Kivon Coman
and freshman tight end
Artimas Samuel
both attended Hargrave (Va.) Military Academy last fall after initially signing with Mississippi State in 2012.
Key battle:
Gone are four senior receivers, including three starters.
Chad Bumphis
led the SEC last season with 12 touchdown receptions. The Bulldogs will be looking for playmakers on the perimeter. Juniors
Robert Johnson
and
Jameon Lewis
will be vying with sophomore
Joe Morrow
and Chappelle to fill those receiver spots. The 6-foot-4 Morrow has been impressive the past two springs, but needs to take it to the game field next season. Junior Michael Carr is also back with the team after leaving the program during the latter part of the 2011 season. Heralded true freshmen
Fred Ross
and
De'Runnya Wilson
arrive this summer. There's a ton of opportunity to play at receiver. Johnson is the leading returning pass-catcher among wide receivers, and he only caught 17 passes last season.
Breaking out:
With Banks and Slay both departing, the Bulldogs will be looking for cornerback help. Junior
Jamerson Love
has all the skills to slide into that ball-hawking role that Banks played so well for four years in Starkville. Love played extensively last season, and had 25 tackles and an interception. Look for him to take that next step in 2013.
Don't forget about:
The Bulldogs return four starters in the offensive line, including All-SEC guard
Gabe Jackson
. Guard
Tobias Smith
was awarded a sixth year of eligibility by the NCAA and would have been a fifth starter returning up front. He won't be going through spring practice and has yet to decide whether he'll play next season. He's been plagued by a glut of injuries (knee, leg and ankle) during his career and could opt to serve as a student coach. Sophomore
Justin Malone
, who filled in some a year ago for Smith, would be first in line to replace Smith.
All eyes on:
Despite a rough outing in the bowl game, quarterback
Tyler Russell
made huge strides last season and set school records with 2,897 passing yards and 24 touchdown passes. His senior season needs to be his best yet, and he's going to be throwing to a whole new group of starting receivers. The Bulldogs will also lean heavily offensively on senior running back
LaDarius Perkins
, who rushed for 1,024 yards last season and was second in the SEC in all-purpose yardage. Perkins is one of the more underrated players in the league, but it's also important that the Bulldogs find him some help. Sophomores
Josh Robinson
and
Derrick Milton
are both more than capable of sharing the backfield load with Perkins.
January, 15, 2013
1/15/13
12:00
PM ET
Hitting the links on a Tuesday.
July, 1, 2011
7/01/11
9:00
AM ET
By
ESPN.com staff
| ESPN.com
On the docket today is Mississippi State.

Coach:
Chris Wilson
Position:
Defensive coordinator and defensive line.
Experience:
He's entering his second season on the Mississippi State staff and was co-defensive coordinator last season, assisting Manny Diaz. A 16-year coaching veteran, Wilson was the defensive ends coach for five seasons at Oklahoma before coming to Starkville prior to the 2010 season. He also served as the Sooners' special teams coordinator his final three seasons in Norman. Wilson got his start in coaching at Indiana State as a graduate assistant in 1993 and has also worked on the staffs at Northern Illinois, Northeastern Oklahoma A&M, Illinois State, Army and Colorado. Wilson was promoted to defensive coordinator in January, a day after Diaz left Mississippi State to become the defensive coordinator at Texas.
Of note:
Earlier in his career, Wilson also coached linebackers. ... In his final season on the Oklahoma staff, the Sooners finished sixth in the country in sacks and were also in the top 10 nationally in scoring defense, total defense and rushing defense. ... He played his college football at Oklahoma and was a four-year letterman at linebacker from 1988-91. He finished his career with 311 tackles, which at the time placed him 11th all-time among Oklahoma linebackers.
His challenge:
Obviously, this won't be completely new ground for Wilson. He was a co-defensive coordinator working under Diaz last season, but it was still Diaz's defense and he was the one game-planning each week and making all of the calls. That duty now falls on Wilson, who will have help from co-defensive coordinator Geoff Collins in his first year on the Mississippi State staff after coming over from Florida International. Diaz had the Mississippi State defense playing at a high level last season. The Bulldogs finished 21st nationally in scoring defense, allowing just 19.8 points per game. There will be considerable pressure on Wilson and the Bulldogs to pick up where they left off a year ago. He doesn't plan on changing up a whole lot in terms of scheme, but the Bulldogs lost all three of their starting linebackers. K.J. Wright and Chris White made a ton of plays, too. This figures to be Mississippi State's best secondary under Dan Mullen, and there's a lot of experience back there. Moreover, the defensive tackle tandem of Fletcher Cox and Josh Boyd should be one of the best in the league. The Bulldogs still need to find a finisher off the edge, but Wilson's track record of producing top pass-rushing ends speaks for itself. The potential is there for this to be a very good defense. The Bulldogs have gotten better each season under Mullen, and now it's up to Wilson to navigate that next step of making this a championship-caliber defense.
February, 18, 2011
2/18/11
12:46
PM ET
By
ESPN.com staff
| ESPN.com
Nothing like a little SEC linkage on a Friday:
February, 11, 2011
2/11/11
10:30
AM ET
By
ESPN.com staff
| ESPN.com
There's always a lot of turnover every year in the SEC when it comes to coaching staffs.
Here's a team-by-team look at the new coaches in place heading into spring practice:
ALABAMA
Mike Groh – receivers coach/recruiting coordinator
Chris Rumph – defensive line coach
Jeff Stoutland – offensive line coach
FLORIDA
Will Muschamp – head coach
Charlie Weis – offensive coordinator/quarterbacks coach
Dan Quinn – defensive coordinator/defensive line coach
Aubrey Hill – receivers coach/recruiting coordinator
Derek Lewis – tight ends coach
Travaris Robinson – secondary coach
Frank Verducci – running game coordinator/offensive line coach
Bryant Young – defensive line coach
GEORGIA
Will Friend – offensive line coach
KENTUCKY
Rick Minter – co-defensive coordinator
Steve Pardue – running backs coach
LSU
Steve Kragthorpe – offensive coordinator/quarterbacks coach
MISSISSIPPI STATE
Geoff Collins – co-defensive coordinator/linebackers coach
Angelo Mirando – receivers coach
OLE MISS
Gunter Brewer – associate head coach/passing game coordinator/receivers coach
David Lee – offensive coordinator/quarterbacks coach
Keith Burns – secondary coach
TENNESSEE
Peter Sirmon – linebackers coach
Ron McKeefery – strength and conditioning coordinator
VANDERBILT
James Franklin – head coach
John Donovan – offensive coordinator/running backs coach
Bob Shoop – defensive coordinator/safeties coach
Brent Pry – co-defensive coordinator/linebackers coach
Charles Bankins – special teams coordinator/tight ends coach
Chris Beatty – receivers coach/offensive recruiting coordinator
Dwight Galt – strength and conditioning coordinator
Wesley McGriff – secondary coach/defensive recruiting coordinator
Ricky Rahne – quarterbacks coach
Sean Spencer – defensive line coach
January, 12, 2011
1/12/11
4:08
PM ET
By
ESPN.com staff
| ESPN.com
Mississippi State coach Dan Mullen has filled the spot vacated by Manny Diaz's move to Texas as defensive coordinator.

Geoff Collins, who was the Florida International defensive coordinator and linebackers coach this season, will be the Bulldogs' co-defensive coordinator, alongside Chris Wilson, and also coach linebackers. Collins headed up a Florida International defense that led the Sun Belt Conference in total defense, scoring defense, pass efficiency defense, and turnover margin. Prior to Collins' arrival, the Panthers were 119th nationally in total defense and 111th in scoring defense the year before.

Before his one-year stint at Florida International, Collins was at UCF for two seasons as linebackers coach and recruiting coordinator.

"Geoff has shown the type of immediate impact he can bring to a defense by what he did at Florida International last season," Mullen said. "He's a smart, young coach that has great experience, and he'll bring the same kind of aggressive attitude and philosophy that we expect from our defense at Mississippi State."