June, 17, 2014
Jun 17
12:00
PM ET
Recuperated from yesterday's U.S.-Ghana match at the World Cup yet? Check out this
snippet of video
that one of my media cohorts in Baton Rouge, Ross Dellenger, shot at the Varsity Theatre shortly after the Americans scored the winning goal. LSU folks know how to celebrate ... that's for sure.
Here are today's SEC links:
June, 4, 2014
Jun 4
12:00
PM ET
May, 6, 2014
May 6
12:00
PM ET
Lots more NFL draft talk and a bit from spring practice as we take a spin around the SEC with today's lunchtime links.
November, 29, 2013
11/29/13
8:00
AM ET
Even now, after all these years of covering college football, there's something about the Clemson-South Carolina rivalry that has an almost mystical feel for me.
Maybe it's because I grew up in the state of South Carolina and spent many of my Saturday afternoons and evenings in the fall listening to Bob Fulton and Jim Phillips paint a picture on the radio as only those two late, great broadcasters could.
If you grow up in that state, you're either a Gamecock or a Tiger, a "chicken" or a "tater," as the two fanbases refer to each other. There's really no in between, although I somehow managed to hover in that margin as best I could.
Going back to the Jeff Grantz and Ron Bass days in the 1970s and attending a smattering of games at Williams-Brice Stadium before there was an upper deck on the East side, I cheered for the Gamecocks.
George Rogers won the Heisman Trophy in 1980, my sophomore year of high school. I can still remember somebody in the principal's office at Rock Hill High School coming over the intercom and announcing that Rogers had won.
[+] Enlarge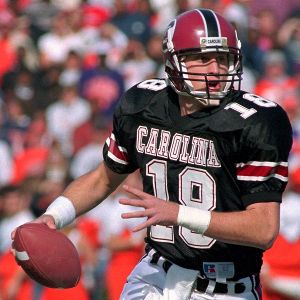 AP Photo/Lou KraskyNearly 20 years after he quarterbacked South Carolina, Steve Taneyhill's antics, and success, against Clemson is a sore subject for Tigers fans.
That was a huge deal for the state, and Rogers was the running back we emulated in our backyard games. We all wanted a No. 38 tear-away jersey.
So at the time, I leaned more toward the Gamecocks.
But, boy, were those Danny Ford years at Clemson a lot of fun, and I had several dear friends who were Clemson fans. I'll never forget my first trip to Death Valley and the pristine beauty of that campus. The same goes for seeing the Clemson players get off that bus for the first time and come galloping down the hill to a sea of orange.
This rivalry will always hold a special place in my heart, which is why I'm so stoked to be going back Saturday and covering my first Clemson-South Carolina game in nearly two decades.
And talk about good timing.
It's the first time in the history of the rivalry that both teams have been ranked in the top 10 nationally. There are BCS bowl implications for both teams, and South Carolina is trying to win five in a row in the series for the first time ever.
Back in the day, I'm not sure I ever envisioned a game between these two old rivals being this big nationally.
But my memories of the rivalry are as rich today as they were 30-plus years ago.
The first Clemson-South Carolina game I ever saw was on television, and very few games were on TV back then. It was the 1977 classic in Columbia, as Jerry Butler seemed suspended in midair for an eternity as he pulled in a leaping, twisting touchdown catch to beat South Carolina 31-27 in the final seconds.
I was watching that day from the sprawling metropolis of Taylors, S.C. (just outside Greenville) with childhood friend Mike Campbell and his family. They were huge Clemson fans, and you can bet it was one festive party at their house the rest of the evening.
The upset I remember most was the 1980 game when Willie Underwood intercepted a pair of passes, and Clemson -- adorned in all-orange -- stunned No. 14 South Carolina 27-6 in Death Valley. It was Rogers' final game in the series, and Clemson fans will still tell you proudly that he never scored a touchdown against the Tigers.
The first game in the series that I personally attended was in 1984 at Death Valley. South Carolina's "Black Magic" team rebounded from a disastrous upset loss at Navy the week before to rally from a 21-3 deficit and win 22-21. Mike Hold guided South Carolina on a game-winning 84-yard touchdown drive in the final minutes. Scott Hagler actually missed the extra point. But Clemson was penalized for having too many men on the field, and Hagler didn't miss a second time to win it for the Gamecocks.
I was also on hand for one of the signature moments in the rivalry in 1992, when South Carolina freshman quarterback Steve Taneyhill pretended to autograph the Tiger Paw at midfield after throwing a touchdown pass to seal the Gamecocks' 24-13 win.
Taneyhill was a jewel in those days, running around like a wild man and sporting one of the most hideous mullets the sport has ever seen. But he never lost at Clemson and told me a few years ago that he still catches some serious grief for his "defacing" of the Tiger Paw.
The mullet is now gone, but Taneyhill is scheduled to be at Saturday's game to lead the "Game-Cock" cheer right before the team makes its famed entrance to the "2011: A Space Odyssey" theme. Taneyhill has gone on to carve out a hugely successful high school coaching career in the state of South Carolina. And, yes, he even sent one of his players to Clemson.
This is a rivalry that transcends bloodlines. Former South Carolina kicker/punter Spencer Lanning, who's now punting for the Cleveland Browns, grew up in a family that was Clemson to the core. His grandfather, Don Lanning, even helped Danny Ford do a little recruiting back when the rules were different.
In 2005, James Davis rushed for 145 yards and scored the winning touchdown to lift Clemson to a 13-9 victory over South Carolina in Columbia. Davis plans to be back in the Williams-Brice Stadium stands on Saturday to watch his younger brother -- South Carolina star running back
Mike Davis
.
I'll be there, too, and I'm sure the memories will come flowing back.
It's been 36 years since Butler made his legendary catch in what was my introduction to the rivalry.
I can only hope my return is equally memorable.
May, 21, 2013
5/21/13
4:45
PM ET
In conjunction with the 100-day countdown to the start of the 2013 college football season, ESPN's Stats & Info group has put together
100 numbers to know
.
Not surprisingly, there are more than a few that might be of interest to SEC fans:
1. (Preseason No. 1): Who will be this year's AP Preseason No. 1? Whoever it is must overcome recent history. Only two teams in the BCS era have won the national title after being ranked No. 1 in the preseason poll, 1999 Florida State and 2004 USC.

6. (Bear Bryant's national titles): No coach in the poll era (since 1936) has won more national championships than Alabama's Bear Bryant's six. In fact, no other coach has more than four. Nick Saban will go for his fifth this season.

7. (Jadeveon Clowney): Jersey number of South Carolina's freakish defensive end, Jadeveon Clowney, the top NFL prospect in college football and a serious threat to become the first defensive player to win the Heisman since Charles Woodson in 1997.

8. (SEC dominance continues?): Conference goes for its eighth straight BCS title.

9. (Nine-game SEC schedule?): Much has been made of the Big Ten announcing a nine-game conference schedule as part of its expansion. Though the SEC remains steadfast in its adherence to an eight-game conference slate, many people (including Nick Saban) have shown preference for adding a game as well.

20. (Aaron Murray touchdown passes needed): Aaron Murray needs 20 more touchdown passes to surpass Danny Wuerffel's SEC career record.

21. (Johnny Manziel rushing touchdowns): Heisman winner Johnny Manziel rushed for 21 touchdowns last season, second most by a quarterback in the FBS. Collin Klein had 23.

28. (Ole Miss recruits): Players signed by Ole Miss in its 2013 class. The Rebels landed two of the top five players in the ESPN 150 rankings, including the No. 1 overall recruit, DE Robert Nkemdiche.

38. (George Rogers' jersey number): South Carolina RB George Rogers wore No. 38 while amassing 1,894 yards and 14 scores en route to winning the 1980 Heisman Trophy.

55. (Alabama ESPN 150 recruits): The Tide have signed 55 players ranked in the ESPN 150 over the past five seasons, most of any school.

59. (Billy Cannon wins Heisman): LSU HB Billy Cannon won the Heisman Trophy in 1959 and led the Bayou Bengals to the Sugar Bowl. He remains the only Heisman winner in LSU history.

60. (Bowl appearances for Alabama): The Crimson Tide have appeared in 60 bowl games, the most in FBS history. Bama is 34-22-3 with one vacated victory in those games and has won four straight.

63. (SEC players drafted): The SEC has big holes to fill after a record 63 players were drafted in the 2013 NFL draft. No other conference had more than 31 players drafted.

66. (The Head Ball Coach as player): Steve Spurrier won the Heisman Trophy in 1966. He'70. (Percentage of Texas A&M's offense accounted by Johnny Manziel): Johnny Football accounted for more than 70 percent of Texas A&M's total offense en route to shattering the SEC record for total offense offense in a season.ll try to coach Jadeveon Clowney to the award and become the 12th head man to coach multiple Heisman winners.

82. (Bear's finale): Bear Bryant's legendary career came to a close in 1982 when he announced his retirement. His final game was a 21-15 win over Illinois in the Liberty Bowl, his 323rd career win. A month later, Bryant died of a massive heart attack.

85. (Bo knows): In 1985, Bo Jackson won the Heisman Trophy, the Walter Camp Player of the Year Award and was named the SEC Player of the Year. In that year, he also batted .401 with 17 home runs and 43 RBIs.

89. (Scary punt return): On Halloween night in 1959, with top-ranked LSU trailing third-ranked Ole Miss 3-0, LSU's Billy Cannon returned a punt 89 yards to give the Tigers a 7-3 win. It was perhaps the most famous punt return in NCAA history. Cannon would go on to win the Heisman Trophy that season.

92. (SEC changes college football landscape): In 1992, the SEC became the first conference to showcase a championship game. The first game was Dec. 5, 1992, when Alabama used a late Antonio Langham interception return to seal a 28-21 win over Florida and go on to win the national championship a few weeks later.

98. (The BCS is born): 1998 was the first season for the BCS, which will conclude in 2013. Tennessee won the first BCS national title in 1998.
October, 6, 2012
10/06/12
6:38
PM ET
COLUMBIA, S.C. -- The Georgia-South Carolina game has always been big, even before the Gamecocks joined the SEC.
These two teams have had some memorable battles going back more than three decades.


In fact, South Carolina Heisman Trophy winner George Rogers was reminiscing about the 1980 game in Athens earlier Saturday while standing on the field at Williams-Brice Stadium.
The Bulldogs, led by freshman Herschel Walker, were ranked No. 4 nationally and would go on to win the national championship that season. The Gamecocks were ranked No. 14, their highest ranking in the AP poll since 1959.
"I can still see Herschel running down that other sideline," Rogers said of Walker's long touchdown run. "Nobody could catch him."
Georgia prevailed 13-10, but only after Rogers lost a fumble late in the game with South Carolina driving deep in the Bulldogs' territory.
"It happened right over there," said Rogers, pointing across the field to the approximate spot where the fumble occurred 32 years ago in Sanford Stadium. "I still can't believe I fumbled that ball."
Rogers, who now works for the University of South Carolina, said the game Saturday night between No. 5 Georgia and No. 6 South Carolina reminds him of that 1980 affair, especially with the national build-up and ESPN's "College GameDay" being in town.
He just hopes it turns out a lot better for the Gamecocks, who've never won three in a row over the Bulldogs.
This is also the first-ever top -0 matchup between the border rivals.
"It's the way this rivalry is supposed to be," said Rogers, who was from Duluth, Ga. "It's one of the best ones out there and always has been."
April, 16, 2010
4/16/10
2:30
PM ET
By
ESPN.com staff
| ESPN.com
All but two of the SEC teams will have their spring games in the books following Saturday. Arkansas and Kentucky will finish up next week. So let's empty out the SEC mailbag:
Bullet Hand in Benton, Ala., writes:
The problem is solved regarding open dates prior to Alabama's SEC games in 2010: 1. Move Arkansas at South Carolina to Oct. 2. Both are open that day; 2. Move Kentucky at Mississippi State back one week to Nov. 6. Both are open that day; 3. Move Georgia at Auburn back to Nov. 20. Both are open that day … and three of Alabama's six SEC games following opponents' open dates are eliminated with very small "tweaks." I did this in five minutes. Surely, the SEC office can do it.
Chris Low:
You've missed your calling. I bet Mike Slive will be on the phone within seconds after reading this. Actually, Kentucky doesn't have an open date on Nov. 6. The Wildcats play a nonconference game against Charleston Southern, but I still think you could be onto something. As it stands now, Kentucky has to play 11 straight weeks to open the season and probably wouldn't mind breaking up that gauntlet with a bye. The SEC says it hopes to have the schedule "tweaked" by the end of this month. I don't know that anybody is lining up to move their game just to help Alabama. But, then, nobody wants to be in a position where they're having to play six SEC teams in a season coming off byes. That's something the SEC will certainly be more cognizant of as we go forward. But, hey, I don't blame Alabama in the least bit for notifying the league office, because it looks like the Crimson Tide are going to get some relief.
---
S. Hickman in Lake Wales, Fla., writes:
Who in your opinion is a better quarterback,
John Brantley
or
Aaron Murray
? Who has more raw talent in your humble opinion?
Chris Low:
I don't know about my humble opinion. But my honest opinion is that Brantley is a much more polished passer right now who's at least played some in the SEC. If you were going to pick between one of those two to win a game right now, I'd take Brantley in a heartbeat. But Murray also throws the ball well and is more versatile when it comes to pulling the ball down and running. Give Murray a season in the SEC, and I may feel differently. And to be fair, Brantley hasn't taken any meaningful snaps in this league. But he throws as pretty a pass as you'll see and also has an NFL-like release.
---
Kevin in Newport Beach, Calif., writes:
Hey, Chris, just a note of thanks for all the fine work you are doing keeping us "sons of the south" up to speed on SEC and my long suffering Gamecocks. As you know, USC stands for something entirely different out here in LaLa Land so reading your "fair and balanced" assessments are very refreshing and much appreciated. As a sidebar, I was a member of the Carolina broadcast team when George Rogers won the Heisman, so to say I have been the eternal optimist (along with thousands more) goes without saying. It's almost a badge (albeit bloody) of honor for those of us who continue to endure. We'll see how it goes this year. As the saying goes around South Carolina, ".... it's too bad we can't play our games on paper because we ALWAYS look good on paper."
Chris Low:
Having grown up in South Carolina, I know from experience how eternally optimistic the Gamecocks' fans truly are. And as a sidebar of my own, I can still remember sitting in class as a sophomore at Rock Hill High School (home of the Bearcats) in 1980 and having one of the school administrators come over the P.A. system at the school to announce that Rogers had just won the Heisman Trophy. That was a huge deal for the entire state, and it's hard to believe that was almost 30 years ago.
---
Burt in Little Rock, Ark., writes:
Some people seem to be picking LSU over Arkansas in the West this year. I don't see it. LSU is 1-2 against the Hogs the past three years with an officials-aided home win at night in overtime the difference in losing all three. The Razorbacks will be improved, and LSU appears to be the same at best. Add in the fact that Bobby Petrino is no Houston Nutt and Les Miles is no Nick Saban, and how can anyone but a Tiger fan pick LSU to win in Little Rock? Don't forget that Arkansas has a 158-2 record its last 160 in the Rock!
Chris Low:
OK, you've sold me. I'm picking Arkansas No. 2 in the West. Actually, I've been leaning that way for some time. The Hogs still have to prove to me that they're going to be better on defense before I'm completely on board, but they're going to put up crazy numbers on offense. That said, I wouldn't sleep too much on LSU or Auburn in the West. Somebody's going to finish fourth in that division and still be a very good football team. And by the way, I think the key game for Arkansas next season is the trip to Georgia the third week of the season.
---
Patrick in Gainesville, Fla., writes:
You said you think John Brantley is one of the top three quarterbacks in the SEC. Obviously, Ryan Mallet is first on your list. Who else do you have in the top three? Thank you.
Chris Low:
Going into next season, I would have Alabama's
Greg McElroy
in my top three. He was excellent at what they asked him to do last season, didn't try to do too much, rarely hurt the Crimson Tide and made plays when they were there. The other guy I would consider is South Carolina's
Stephen Garcia
, although he's really in Steve Spurrier's doghouse right now. I'll also be interested to see how Cameron Newton plays at Auburn next season. The bottom line is that there once again is a lot of uncertainty surrounding the quarterback position in the SEC, and this is at least the third straight year you could say that.
February, 18, 2009
2/18/09
9:30
AM ET
By
ESPN.com staff
| ESPN.com
Posted by ESPN.com's Chris Low
First of all, thanks for your input on the Mount Rushmore selections for all 12 of the SEC football programs.
Whew, what a task.
Narrowing it down to four at each school was impossible to do. You can't without leaving off so many deserving individuals.
But with your input, as well as discussions with several others around the league, here's my best shot. We'll do the Eastern Division first and come back with the Western Division later Wednesday.
The four individuals who make up that school's Mount Rushmore are listed alphabetically, and I'll also include a few people who just missed the cut:
FLORIDA

Urban Meyer: A member of the Florida family for only four years, but he already has two BCS national championships.
Steve Spurrier: The Head Ball Coach won a Heisman Trophy as a player at Florida and revolutionized the SEC as a coach.
Tim Tebow: Meyer has called him the greatest college football player of this era, and he still has another year.
Danny Wuerffel: He's known simply as "Danny Wonderful" and is one of most beloved players in school history.
Just missed the cut: Jeremy Foley, Wilbur Marshall, Emmitt Smith, Jack Youngblood.
GEORGIA

Vince Dooley: He's the most successful coach in Georgia history and also juggled athletic director duties for much of his career.
Larry Munson: His famous calls over the radio airwaves are as much a part of Georgia lore as any coach or player.
Uga: He's been dubbed as the nation's most well-known mascot. Uga VII debuted during the 2008 season.
Herschel Walker: Many consider him the greatest player in SEC history. He attained near-mythical status as a freshman in 1980.
Just missed the cut: Champ Bailey, David Pollack, Mark Richt, Frank Sinkwich, Fran Tarkenton, Charley Trippi.
KENTUCKY

Bear Bryant: The Bear merits Mount Rushmores at two different schools. Can you guess the other?
Jerry Claiborne: Played at Kentucky under Bryant and returned to coach his alma mater.
Nat Northington: The first black player to sign with an SEC school and go on to play in an SEC game in 1967.
Babe Parilli: A two-time All-American who led the Wildcats to their only outright SEC title in 1950.
Just missed the cut: Tim Couch, Fran Curci, Lou Michaels, Derrick Ramsey, Art Still.
SOUTH CAROLINA

Joe Morrison: The Man in Black took the Gamecocks to unprecedented heights in the 1980s before dying of a heart attack.
George Rogers: The 1980 Heisman Trophy winner is the greatest player in South Carolina history.
Sterling Sharpe: Rewrote the receiving record books at South Carolina and had his No. 2 jersey retired.
Steve Wadiak: The first real sports idol at South Carolina. He was killed in a car crash in 1952.
Just missed the cut: Jim Carlen, Todd Ellis, Jeff Grantz, Bob Fulton, Tommy Suggs.
TENNESSEE

John Majors: A legendary single-wing tailback at Tennessee who returned to win three SEC titles as head coach.
Peyton Manning: The modern face of Tennessee football and one of the best pure passers in SEC history.
Gen. Robert Neyland: The father of Tennessee football who served three different stints as coach wrapped around military duty.
Reggie White: The Minister of Defense is one of the greatest defensive ends to ever play the game.
Just missed the cut: Doug Atkins, Doug Dickey, Phillip Fulmer, Bob Suffridge, Al Wilson.
VANDERBILT

Jay Cutler: Broke nearly every Vanderbilt passing record during his career (2002-05) and was taken in the first round of the NFL draft.
Bobby Johnson: Entering his eighth season as coach, Johnson brought Vanderbilt its first bowl victory in 53 years.
Dan McGugin: Coached Vanderbilt for three decades, retiring in 1934 with 197 wins. The current football complex bears his name.
Bill Wade: One of the Commodores' most celebrated players, Wade went on to a 14-year professional career.
Just missed the cut: Earl Bennett, Watson Brown, Josh Cody, Jamie Duncan, Carl Hinkle.
SEC SCOREBOARD
Saturday, 12/20
Monday, 12/22
Tuesday, 12/23
Wednesday, 12/24
Friday, 12/26
Saturday, 12/27
Monday, 12/29
Tuesday, 12/30
Wednesday, 12/31
Thursday, 1/1
Friday, 1/2
Saturday, 1/3
Sunday, 1/4
Monday, 1/12
Tweets from https://twitter.com/ESPNCFB/lists/sec