August, 21, 2013
8/21/13
12:00
PM ET
Starters are being named, injuries are being assessed and coaches are seeking consistency. Yup, the season is drawing closer. Take a look around the SEC and see.
August, 20, 2013
8/20/13
2:45
PM ET
In the SEC, it's all about recruiting and player development. It's the big reason why the league has won seven straight BCS championships and produced more NFL players than any other conference. The two go hand-in-hand.
The Senior Bowl, which
released its 2014 Watch List
on Tuesday, further illustrated that fact, selecting nearly 20 percent (72) of its 400 candidates from the SEC. The ACC twas nearly lapped with 48 selections, followed by the Big 10 (46) and the Pac-12 (38).
And the team with the most players should come as no surprise as defending-champion Alabama had 10 make the list, including quarterback AJ McCarron and All-American linebacker C.J. Mosley. Florida, Mississippi State and Missouri tied for the second-most players taken from the SEC with six apiece.
Alabama:
WR Kenny Bell, CB Deion Belue, CB John Fulton, P Cody Mandell, QB AJ McCarron, LB C.J. Mosley, WR Kevin Norwood, RG Anthony Steen, S Nick Perry.
Arkansas:
WR Jevontee Herndon, DT Brian Jones, DE Chris Smith, C Travis Swanson, DT Robert Thomas.
Auburn:
P Steven Clark, DC Chris Davis, DE Nosa Eguae, DE Dee Ford, FB Jay Prosch, DT Jeffrey Whitaker
Florida:
WR Andre Debose, DE Dominique Easley, OG Jon Halapio, C Jonatthan Harrison, WR Soloman Patton, DC Jaylen Watkins.
Georgia:
OG Chris Burnett, OG Kernarious Gates, TE Arthur Lynch, QB Aaron Murray, OB Garrison Smith.
Kentucky:
IB Avery Williamson
LSU:
IB Lamin Barrow, RB Alfred Blue, FB JC Copeland, FS Craig Loston, QB Zach Mettenberger
Mississippi State:
DE Denico Autry, OG Gabe Jackson, RB LeDarious Perkins, QB Tyler Russell, OB Deontae Skinner, FS Nickoe Whitley
Missouri:
OT Justin Britt, QB James Franklin, DC EJ Gaines, WR Marcus Lucas, WR L'Damian Washington, IB Andrew Wilson
Ole Miss:
PT Tyler Campbell, IB Mike Marry, DC Charles Sawyer, RB Jeff Scott, IB DT Shackleford
South Carolina:
DC Jimmy Legree, QB Connor Shaw, DE Chaz Sutton
Tennessee:
OT Ju'Wuan James, DT Daniel McCuller, RB Rajon Neal, DE Jacques Smith, C James Stone
Texas A&M:
LB Steven Jenkins, RB Ben Malena, OT Jake Matthews
Vanderbilt:
IB Chase Garnham, DC Andre Hal, OT Wesley Johnson, FS Kenny Ladler, WR Jordan Matthews
January, 5, 2013
1/05/13
5:33
PM ET
By
Jon T. Stewart, ESPN Stats & Info
| ESPN.com
When the No. 1
Notre Dame Fighting Irish
take on the No. 2
Alabama Crimson Tide
in the Discover BCS National Championship Game on Monday, one of the biggest difference-makers on the field could be
Tyler Eifert
.
Eifert, this season's
John Mackey
Award winner, given annually to the nation's top tight end, is the latest and possibly the best in a long line of great players Notre Dame has produced at that position.
Notre Dame's last three starting tight ends –- Anthony Fasano (2003-05), John Carlson (2004-07) and Kyle Rudolph (2008-10) –- are all playing in the NFL, yet no tight end has caught more passes for more yards in Irish history than Eifert.
A major reason Eifert could be the player who gives the Crimson Tide defense more fits than anyone else is that Alabama has had issues when its linebackers are forced into pass coverage.
When opposing offenses have lined up in four-or-five-receiver sets against the Tide, they've been more effective than in sets with three or fewer receivers.
The numbers are even more telling when you take a look at the five games in which Alabama faced ranked opponents (Michigan, Mississippi State, LSU, Texas A&M and Georgia).
No team was more successful than the Aggies, a natural spread-offense team with a mobile, redshirt freshman quarterback; eventual Heisman Trophy winner
Johnny Manziel
completed 19 of 23 passes for 184 yards and 2 TD when A&M operated out of a four-or-five-receiver set in a 29-24 upset in Tuscaloosa, the Tide's only loss of the season.
In comes Notre Dame, also a natural spread-offense team with a mobile, redshirt freshman quarterback. As a unit, the Irish passing attack is better when operating out of a four-or-five-receiver set.
However, when it comes to Eifert, the senior has been more effective when working out of a set with three or fewer receivers (including him), a formation that usually dictates opposing defenses cover him with a linebacker.
When the Irish had three or fewer receivers on the field and Eifert was the targeted receiver, they completed 25 of 42 passes for 363 yards and four touchdowns.
He was most lethal when Notre Dame operated out of what's known as "11" personnel (one running back, one tight end, three receivers) and he was the targeted receiver.
In those situations, the Irish were 15-of-23 for 208 yards and a touchdown. But when operating out of a four-or-five-receiver set and Eifert was targeted, Notre Dame was 19-of-33 for 261 yards and no touchdowns.
In other words, Eifert's presence opened things up for the other receivers.
Therein lies the conundrum for Alabama. What should the Tide do with Eifert?
No one's had success covering him with a linebacker when the Irish are operating out of "21" (two backs, one tight end) or "11" personnel and rolling the coverage over toward him when they've operated from four-or-empty (five-receiver) sets only opened things up for Notre Dame's other capable pass catchers like
TJ Jones
,
Robby Toma
and
Theo Riddick
when they move him from running back spot and into the slot-receiver position.
It's a sure bet that Nick Saban is glad to have had the extra time to prepare for this problem.
December, 1, 2012
12/01/12
11:20
PM ET
By
ESPN Stats & Information
| ESPN.com
John David Mercer/USA TODAY SportsEddie Lacy ran for 181 yards for Alabama.
Alabama won its first SEC championship since 2009, handing Georgia an SEC championship game loss for the second straight season.
The Tide got it done on the ground. They ran for 350 rushing yards, the most in SEC championship game history.
Eddie Lacy
and
T.J. Yeldon
became the first teammates to each run for 100 yards in SEC championship game history. Lacy's 181 rushing yards are the third-most in the history of the SEC title game.
The Tide were committed to the run, as they ran the ball 51 times, two shy of the SEC championship game record of 53.
Two tight ends, too much
Alabama ran 36 times for a season-high 298 yards with two or more tight ends in the formation. The Tide ran out of this personnel package on 26 of their 34 second-half plays, gaining 199 yards and two touchdowns. Alabama averaged a season-high 5.5 yards before contact out of this formation.
AJ McCarron
completed 8 of 9 passes for 114 yards and a touchdown with two or more tight ends in the formation.
Getting it done inside the tackles
Alabama outrushed Georgia 304-72 inside the tackles. The Tide averaged 8.0 yards per carry on such runs, including a season-high 13 that gained 10 yards or more. Lacy (172) and Yeldon (125) led the way for Alabama, with both running backs gaining over 100 yards inside the tackles for the second time this season. They also did it against Missouri.
Strong run game leads to play action
McCarron completed 5 of 7 passes off play action for 116 yards and a touchdown. McCarron has 11 touchdown passes off a run fake this season, six more than he had all of last season. Eight of the 11 touchdowns have been on passes thrown 20 yards or longer, including Cooper's 45-yard touchdown against Georgia.
Georgia's defense allowed a season-high 512 total yards, just the second time the Bulldogs allowed 500 yards in the past seven seasons. For the first time since at least 2000, they've allowed 300 rushing yards in three straight games.
Alabama will most assuredly face Notre Dame in the BCS National Championship Game on January 7, as the SEC goes for its seventh straight BCS National Championship.
January, 8, 2012
1/08/12
10:10
AM ET
The retail market for licensed collegiate apparel is, quite simply, a behemoth of a business that brings in about $4.3 billion annually.
Seemingly everyone wants a piece of it, which is why so many people at so many major events hawk items of all shapes, types and sizes -- whether the items are legitimately made and licensed or counterfeit.
[+] Enlarge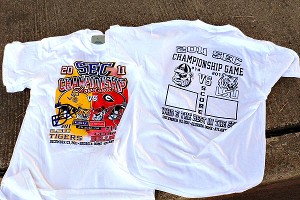 Kristi Dosh/ESPN.comSome counterfeit shirts look more authentic than others.
Vendors selling counterfeit goods mixed right in with legitimate vendors at the SEC Championship game in December in Atlanta. They did it at the Rose Bowl, too. And they'll do it again Monday night at the 2012 Allstate BCS National Championship Game.
Last year, more than 60,000 pieces of counterfeit merchandise valued at more than $1 million overall were seized by Collegiate Licensing Company. While CLC represents nearly 200 colleges, universities, bowl games, athletic conferences, the Heisman Trophy and the NCAA, it's not the only licensing agency around; Learfield Sports, Licensing Resource Group, and Silver Star Merchandising represent collegiate properties in their licensing efforts as well.
At the 2011 SEC championship Game, CLC took possession of 1,012 pieces of unlicensed product with an estimated retail value of more than $15,000. That's up from 2010, when 541 pieces of unlicensed produced were seized or voluntarily surrendered by vendors. More than twice that many products were seized last January at the Rose Bowl by CLC.
CLC officials said that on average, nearly 5,000 counterfeit items, from T-shirts to hats to bracelets, are seized outside the host stadium of the BCS title game each year.
Some of the items are obvious: In December in Atlanta, a roaming vendor on Mangum Street south of the Georgia Dome peddled T-shirts, gold letters emblazoned on purple reading: "BATON [expletive] ROUGE." The back of the shirt warned: "IF YOU DON'T BLEED PURPLE AND GOLD TAKE YOUR [double expletive] HOME!"
Most people wouldn't consider such a shirt an officially licensed product of Louisiana State University because of the vulgar language. But another vendor sold shirts proclaiming a "2011 SEC Championship Showdown" and featured the trademarked logos for LSU and Georgia. Few buyers would be able to determine the shirts were counterfeit.
CLC investigators team with local police at major events and seize such material, give citations to the vendors or arrest them. Companies like CLC conduct such enforcement activities because federal law requires trademark owners to "police" their mark. Trademark law is largely enforced through private lawsuits, although there are also criminal penalties for counterfeiting goods. Failure to police a mark by attempting to prevent infringing uses can result in a loss of protection for a trademark.
[+] Enlarge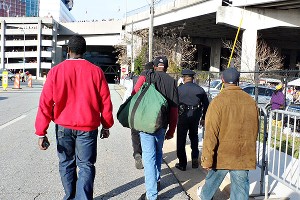 Kristi Dosh/ESPN.comAtlanta police and investigators from Collegiate Licensing Company walk a man accused of selling counterfeit apparel away from the SEC championship game in December.
The most clear-cut violations by vendors are those involving the use of trademarks that are registered at the state or federal level. Trademarks include more than just the university, conference or BCS logo. For example, University of Georgia lists the following trademarks: "Georgia," "University of Georgia," "Georgia Bulldogs," "Bulldogs," "Dawgs," "UGA," "University of Georgia Athletic Association," "Between The Hedges," "How Bout Them Dogs," "Go You Silver Britches," "Hairy Dawg," the oval "G" mark and many others.
In addition to registered trademarks at the state or federal level, universities can also claim common law rights to marks or wording typically associated with the university.
In 2008, the Fifth Circuit Court of Appeals upheld a decision by a Louisiana federal district court against Smack Apparel for intentional trademark infringement based on its use of school colors in combination with other designs and words that made it apparent the references were designed to associate with a particular school. For example, one shirt featured the following: "Got Seven?" "We do! 7 Time National Champs." The shirt included a depiction of the state of Ohio and a marker noting Columbus, Ohio, on the back. The court decided the shirt referred to the seven college football national titles claimed by Ohio State University.
The court ruled that the schools involved in the suit owned trademark rights in their color schemes and that combined with other indicia on the various shirts, such as the reference to Ohio State's location in Columbus and national titles in the example above, trademark infringement had occurred, even without use of the school name or logo.
So, who are these vendors?
One of them cited in Atlanta was the man selling the shirts with the expletives. He said he planned to keep $8 of the $20 shirt cost, with $12 going to his boss. He expected to make $1,500 to $2,000 that day before he was stopped by CLC investigators and Atlanta police for vending without a permit.
The man said he was based out of Cleveland but traveled nearly every weekend for major sporting events. He said he worked for a company named Street Talk Tees, which is registered as a business in Ohio for "novelty tees and apparel." The vendor said his company employs about 30 people who travel to events -- two others also worked the SEC game.
Requests for comment from Street Talk were not answered.
[+] Enlarge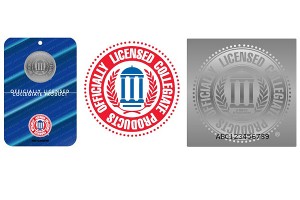 CLCThese tags and holograms can be found on licensed collegiate apparel and items.
CLC says buyers have a few ways to determine the authenticity of their purchases:
• Look for an "Officially Licensed Collegiate Products" hologram on the product or hangtag.
• Consider taste of the product, as distasteful designs are not approved by trademark holders.
• A torn or missing tag usually is evidence of a second-hand garment.
• The name of the manufacturer will be on the product somewhere, either in the form of a hangtag, a neck label, or screen-printed directly.
• All merchandise should have appropriate trademark designations next to a specific name or design.
Why be so conscientious when you buy collegiate merchandise? Each year, universities depend on millions of dollars in royalties to fund athletic programs and other university initiatives. For example, the University of Florida showed more than $6 million in licensing revenue on its audited financial statement for 2010-11, with just $40,000 of that going to CLC in marketing fees.
Ohio State budgeted for $3.5 million in licensing revenue for 2011-12 and projects $1.58 million of that will move from the athletic department to the university, to be used for academic programming and scholarships.
SEC SCOREBOARD
Monday, 12/22
Saturday, 12/20
Tuesday, 12/23
Wednesday, 12/24
Friday, 12/26
Saturday, 12/27
Monday, 12/29
Tuesday, 12/30
Wednesday, 12/31
Thursday, 1/1
Friday, 1/2
Saturday, 1/3
Sunday, 1/4
Monday, 1/12
Tweets from https://twitter.com/ESPNCFB/lists/sec