October, 26, 2011
10/26/11
10:30
AM ET
Maybe all the glitter really isn't gold.
Just take a gander at Florida's 2010 recruiting class.
Praised by many as the greatest recruiting class ever, Florida watched as two more from that group walked away Tuesday.
Even after both players practiced during the bye week, Florida coach Will Muschamp announced that tight end
Gerald Christian
and
Robert Clark
will
transfer from Florida
.
"Both of these players have expressed a desire for more playing time and felt that it would be in their best interests to transfer," Muschamp said. "We wish them both the best of luck and appreciate their contributions to the program."
Neither one had done much in their Florida careers, as Christian redshirted last year and spent time as both a linebacker and tight end. He caught four passes for 72 yards, including a 45-yard touchdown. Clark has touched the ball twice this season on punt returns, and muffed one. Last year, he caught seven passes for 69 yards and a touchdown.
That makes eight players who have left the team in the past year from that vaunted class – a class that featured 18 ESPNU 150 members (wide receiver
Adrian Coxson
signed with Florida, but transferred to Maryland before the 2010 season and is listed as a Maryland signee).
Attrition aside, this class has yet to make the kind of impact many expected it to. Yes, they are sophomores or redshirt freshmen, but even former Florida coach Urban Meyer said he expected this class to come right in and make significant contributions.
We've seen some here and there.
Trey Burton
, who was one of Florida's least heralded members from the 2010 class, led Florida with 12 total touchdowns last season. Matt Elam has become one of Florida's most trusted defenders at the strong safety spot. Chaz Green is starting to get more reps on Florida's offensive line in his second year.
After that, this class has had mixed results. When you look at Florida's defensive line haul from that year, we're still waiting to see what it can really do. Defensive end Ronald Powell, who was the No. 1 recruit in the country, had a tough freshman year, but hasn't made much improvement in 2011. Sharrif Floyd had a solid freshman year at tackle, but after moving to end this year he hasn't made much of an impact at all. Dominique Easley has shown flashes here and there inside, but just isn't consistent.
Cornerback Cody Riggs had a handful of good moments last year, but has had coverage issues this season. Joshua Shaw was the No. 3 corner coming out, but has moved to safety, and running back
Mack Brown
can't seem to crack the depth chart.
Outside of inconsistency on the field, this class was ravaged by attitude problems that caused a major rift with the upperclassmen last year. With a new coaching staff and a fresh start, the thought was that wouldn't be an issue, and maybe it hasn't been, but the hype surrounding this class has been damaging from the start.
The interesting thing about Christian and Clark wanting more playing time is that the positions they were at didn't exactly have playmakers wowing everyone with their numbers. Florida's leading wide receiver is senior
Deonte Thompson
, who has 12 catches for 152 yards and no touchdowns. Tight end
Jordan Reed
has 12 catches for 91 yards.
Regardless, this class has yet to live up to its billing. Twelve of the 26 who made it on campus for the first game played in six or more games, with six playing in all 13 games, so it's not like this class hasn't had the chance to get some on-field development.
There is certainly time for this class to get things together, but the moniker of "best ever" is long gone.
September, 17, 2011
9/17/11
3:21
PM ET
GAINESVILLE, Fla. -- Florida tight end
Jordan Reed
isn't dressed for today's game against Tennessee.
The 6-foot-3, 239-pound sophomore suffered a hamstring injury in last week's 39-0 win over UAB and while he was listed on Florida's dress roster, he came out onto the field for warmups in his jersey top and shorts and isn't participating.
Reed is considered one of Florida's most athletic offensive weapons and provides matchup issues with linebackers with his speed and defensive backs with his size and strength. He would have been a valuable weapon
John Brantley
and Florida's offense.
On the season, Reed has four catches for 47 yards, with a long of 23. Expect to see more action for sophomore tight end
Gerald Christian
and utility man
Trey Burton
today for the Gators.
March, 16, 2011
3/16/11
3:49
PM ET
By
ESPN.com staff
| ESPN.com
Schedule:
The Gators open spring practice on Wednesday, and their Orange & Blue Debut spring game will be played on April 9. The noon ET game will be televised live by Sun Sports. None of the Gators' practices or scrimmages will be open to the public.

What's new:
Actually, what isn't new? Will Muschamp takes over for Urban Meyer in what will be Muschamp's head coaching debut. Former Notre Dame head coach Charlie Weis will run the offense and plans to put in a pro-style attack. Longtime NFL assistant Dan Quinn moves in as the Gators' defensive coordinator, and five other new coaches round out Muschamp's first staff at Florida – Aubrey Hill (receivers), Derek Lewis (tight ends), Travaris Robinson (defensive backs), Frank Verducci (offensive line) and Bryant Young (defensive line).
On the mend:
Cornerback Janoris Jenkins (shoulder), running back Mike Blakely (shoulder) and linebacker Neiron Ball (congenital syndrome) will all be held out of spring practice. Running back Jeff Demps is running track this spring and won't participate. Other players who will be limited because of injuries include offensive linemen Matt Patchan, James Wilson and David Young, defensive tackles Omar Hunter and Jaye Howard, linebacker Kedric Johnson and defensive back Jaylen Watkins.
On the move:
Sophomore
Gerald Christian
is moving from tight end to strong side linebacker, where he's listed No. 1 on the depth chart. Sophomore
Jordan Reed
, after playing some at quarterback last season, is at tight end to stay. Sophomore
Trey Burton
, who also rotated in at quarterback last season in the Gators' old spread attack, will move to a hybrid position on offense. He could be used as an H-back, running back, receiver or tight end. Redshirt freshman Leon Orr has moved from defensive end to defensive tackle.
Key battle:
Senior quarterback
John Brantley
gets a do-over in Weis' pro-style system after being miscast in the spread last season. To hold onto the starting job, he's going to have to hold off true freshman Jeff Driskel and redshirt freshman
Tyler Murphy
. Driskel was ESPN's No. 1 quarterback prospect in the country last year and is a freakish athlete who's equally adept at throwing the ball from the pocket.
New faces:
The Gators had seven players to enroll early, including Driskel. Blakely was another one, but shoulder surgery will keep him from going through the spring. The others were defensive end Clay Burton, punter Kyle Christy, tight end A.C. Leonard, receiver Javares McRoy and cornerback De'Ante Saunders.
Breaking out:
Take your pick of some of those sophomore defensive linemen, namely tackle Sharrif Floyd and buck end Ronald Powell. Switching over to offense, junior receiver Frankie Hammond, Jr. has been the talk of the offseason program and could be the one to provide some of those big plays that were missing in the Gators' offense last season.
Don't forget about:
Although he was on campus last season, Chris Martin didn't play for the Gators. He had to sit out after transferring from California, where he signed in 2010 as one of the most highly rated defensive end prospects in the country. A redshirt freshman, Martin was a force on the scout team last season and opens this spring No. 2 on the depth chart at defensive end.
All eyes on:
Not only are the Gators putting in a new offense, but they will be doing it with a brand new offensive line. The projected starters going into the spring have a combined 19 career starts. The right side of the line is the most experienced with sophomore guard Jon Halapio and junior tackle Xavier Nixon.
March, 14, 2011
3/14/11
7:55
PM ET
GAINESVILLE, Fla.
–
As expected,
Trey Burton
and
Jordan Reed
won't be playing quarterback at Florida this coming season.
[+] Enlarge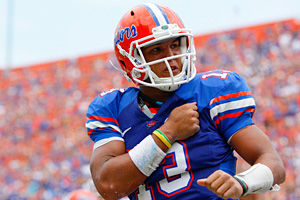 Kim Klement/US PresswireFlorida's Trey Burton has played quarterback, tight end, receiver, H-back, wildcat and running back.
But Burton, who was one of three players who took snaps for the Gators last season, won't be moving to defense as originally believed.
Offensive coordinator Charlie Weis said Monday that Reed is moving to tight end and Burton will play a hybrid "F" position in Florida's offense when the Gators open spring practice on Wednesday.
In fact, Burton and Reed were listed as starters on a depth chart released by new Florida coach Will Muschamp on Monday. Muschamp told reporters that the depth chart "probably isn't worth the paper it's printed on" because his coaches haven't yet evaluated players in live action.
"There's a lot of guessing," Muschamp said. "We're a new staff. It's based on film review and the offseason program. It's a starting point. It's about like a preseason top-25 poll. It doesn't mean anything."
But Weis made it clear that Burton and Reed will play a big role in Florida's offense. Rising senior
John Brantley
was listed as the team's No. 1 quarterback, and
Tyler Murphy
and freshman Jeff Driskel were listed as co-backups.
Reed, a rising sophomore from New London, Conn., played quarterback in five games last season. He completed 26 of 46 passes for 252 yards with three touchdowns and one interception.
Weis, a former Notre Dame coach and offensive coordinator for the NFL's Kansas City Chiefs last season, said Reed wanted to move to tight end.
"Could Jordan play quarterback?" Weis asked. "You betcha. Jordan can play quarterback and he can sling it. But Jordan sees himself as a tight end."
Burton, a rising sophomore from Venice, Fla., completed four of six passes for 83 yards with no touchdowns and one interception. He ran 75 times for 349 yards with a team-high 11 rushing touchdowns in 2010.
"Burton didn't really see himself as a quarterback," Weis said. "He just didn't know what he was. I think more than anything, he was just trying to find a home and niche and grow into a position."
Weis said Burton might be used as an H-back, fullback, tight end or wide receiver.
"It gives you a lot of flexibility with formations," Weis said. "They're not going to wonder if he's going to be on the field. They're going to wonder what he's going to do."
In other Florida football news:
Muschamp announced four Florida players would miss all of spring practice. Cornerback Janoris Jenkins is recovering from shoulder surgery from the end of last season and isn't ready to practice. Muschamp said linebacker Neiron Ball has a "congenital" condition and the medical staff was still evaluating his long-term prognosis. Running back Mike Blakely, a mid-year enrollee, will miss spring drills after having shoulder surgery. Running back Jeff Demps, who on Saturday won an NCAA indoor 60-meter national championship for the second season in a row, will compete in outdoor track and field and won't practice with the football team.

Eight other players – defensive linemen Omar Hunter and Jaye Howard, linebacker Kedric Johnson, defensive back Jaylen Watkins, kicker Caleb Sturgis and offensive linemen Matt Patchan, David Young and James Wilson will be limited during spring drills because of undisclosed injuries.

Gerald Christian, who played tight end last season, was listed as the team's No. 1 strongside linebacker on the depth chart. Leon Orr has moved from defensive end to defensive tackle.
February, 10, 2010
2/10/10
12:05
PM ET
By
ESPN.com staff
| ESPN.com
Some of what's going on around the SEC: