August, 1, 2014
Aug 1
12:00
PM ET
COLLEGE STATION, Texas -- Texas A&M begins preseason training camp today. In about four weeks, they'll take the field at South Carolina to open the 2014 season. Here are some things to watch throughout camp:
[+] Enlarge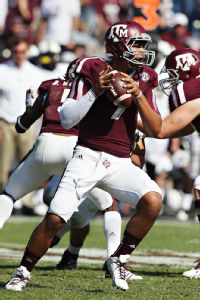 Bob Levey/Getty ImagesFormer three-star recruit Kenny Hill, a sophomore, played in five games last season. Could he be the successor to Johnny Manziel?
1. The quarterback battle:
Kenny Hill
or
Kyle Allen
? That's the question that has been asked and will continue to be until coach Kevin Sumlin and offensive coordinator/quarterbacks coach Jake Spavital make a decision on who the starting quarterback will be on Aug. 28 at South Carolina. Hill, a sophomore, has slightly more experience after seeing some playing time in a backup role last season. Allen, the true freshman, enrolled early in January to catch up. Allen had a solid spring, as did Hill until an arrest for public intoxication caused him to miss the final two scrimmages and the final week of spring practice. But both players were told they were on even footing entering summer 7-on-7 workouts. How much each has progressed in the past three months will be displayed early on in training camp. Expect a decision midway through August.
2. Defensive line depth:
The Aggies lost two starting defensive linemen for off-the-field reasons: defensive end Gavin Stansbury (left team for personal reasons) and defensive tackle Isaiah Golden (dismissed after two arrests). For a team that struggled to stop the run last season, that doesn't help as the unit tries to find the quality depth necessary to succeed in the SEC. Fortunately for the Aggies, they get two players who missed spring football because of injuries back for training camp -- sophomore defensive ends
Jay Arnold
and
Daeshon Hall
, both of whom saw playing time last season. There are also several veterans (
Julien Obioha
,
Alonzo Williams
,
Tyrell Taylor
) and youngsters (
Hardreck Walker
,
Justin Manning
,
Zaycoven Henderson
) not to mention a few incoming recruits to help the unit, but the Aggies have to find answers quick to improve on a disastrous 2013.
3. Safety play:
Sumlin hasn't been shy about saying it and it's true: the Aggies have to get better play from their safeties. They return three players who started last season --
Howard Matthews
,
Floyd Raven
and
Clay Honeycutt
. Matthews got positive reviews from defensive coordinator Mark Snyder in the spring. Keep an eye on
Devonta Burns
, who saw time in the spring at safety and nickel cornerback, as someone who could be in the mix. And an influx of 2014 recruits could help here as well.
4. Fabulous freshmen:
The Aggies' 2014 class was a top-five haul for a reason. They brought in some big-time talent, so don't be surprised if some of those freshmen make waves quickly in camp. Receiver
Speedy Noil
already impressed in the spring and will look to build on that this month. Five-star defensive end
Myles Garrett
is the highest-ranked player nationally the Aggies have signed since Reggie McNeal in the 2002 class. With depth concerns on the defensive line and Garrett's college-ready physique, it's safe to say he'll find a way on the field in short order. Henderson, who was an early enrollee, likely figures into the rotation at defensive tackle. And of course, all eyes are on Allen at quarterback to see if he can win the starting job.
5. Right side of the O-line:
Sophomore
Germain Ifedi
, who started all of 2013 at right guard, saw much time at right tackle during spring drills and is listed as the starter there heading into camp. If that holds, the battle on the offensive line -- a unit that returns four of five starters -- will likely be at right guard where
Joseph Cheek
saw first-team action and junior college transfer
Jermaine Eluemunor
saw second-team work in spring. Veteran guard and starter
Jarvis Harrison
, who missed spring because of shoulder surgery, should be ready to go at left guard. He has a capable backup behind him in
Garrett Gramling
, who started two games last season and saw virtually all the first-team work at left guard this spring. Left tackle (
Cedric Ogbuehi
) and center (
Mike Matthews
) is set in stone.
A few other notes:
" Redshirt freshman cornerback
Victor Davis
, who was arrested on a shoplifting charge in his hometown of Rosenberg, Texas, last month, is still serving an indefinite suspension. Sumlin said on Wednesday that Davis still has some things to do internally in order to get back in the team's good graces.
" Sumlin noted that every one of the class of 2014 recruits is qualified academically and on campus.
Kealvin "Tank" Davis
, the Aggies' offensive tackle recruit from Garland (Texas) Lakeview Centennial, was the last player Texas A&M was waiting on in that regard and he arrived on campus Wednesday and will be ready to go. This is the second consecutive year the Aggies have not lost a signee to qualification issues (the 2013 class only had one player who didn't make it to campus, Kohl Stewart, who was a first-round pick in the MLB draft).
" The Aggies will practice in helmets only Friday and Saturday, have meetings only on Sunday (no practice), helmets and shoulder pads on Monday and Tuesday and they'll have their first full-padded practice on Wednesday. Thursday will be their first two-a-day practice followed by a single practice on Aug. 8, then a scrimmage on Aug. 9.
March, 19, 2014
Mar 19
2:30
PM ET
COLLEGE STATION, Texas -- With four returning starters, the offensive line is a position group the Texas A&M coaches feel good about.
But the battle to be the right tackle, the lone starting spot up for grabs, is one of the most intriguing storylines of spring practice.
One name that continues to surface is sophomore
Germain Ifedi
, who worked at right tackle again on Tuesday when the Aggies resumed practice after taking a week off for spring break.
[+] Enlarge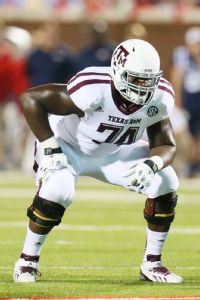 Spruce Derden/USA TODAY SportsRising sophomore Germain Ifedi is angling to be Texas A&M's right tackle, moving outside from right guard.
Last season, Ifedi started every game at right guard. With right tackle
Cedric Ogbuehi
moving to left tackle, Ifedi has made it clear he's interested in the possibility of following in Ogbuehi's footsteps and sliding outside.
"He likes playing tackle," Texas A&M coach Kevin Sumlin said of Ifedi. "We'll see. He's competing, and the way he's playing right now, he really doesn't want to give it up."
Sumlin noted Ifedi's efforts to stay in shape. The 6-foot-5 lineman has tipped the scales as high as 340 pounds in the past but trimmed down when he entered the starting lineup last season. He checked in this week at 327 pounds.
"I was on him a little bit about his weight and he pulled his shirt up and his belly wasn't hanging over," Sumlin said with a smile. "He's catching up with his body."
Ifedi's emergence allows the Aggies to shift players around on the offensive line, including the pair of junior-college transfers who began spring competing for the right tackle job:
Jermaine Eluemunor
and
Avery Gennesy
.
"It's given us an opportunity to really take the two new junior-college guys and put them with the twos so they can really hone in and learn," Sumlin said.
With starting left guard
Jarvis Harrison
sitting out while recovering from offseason shoulder surgery, the Aggies have also inserted
Garrett Gramling
-- who started two games at left guard last season -- at Harrison's position for the spring and veteran tackle
Joseph Cheek
at Ifedi's old right guard spot.
Sumlin stressed that with Harrison, "we know what he can do," and he said he fully expects Harrison healthy and ready for preseason training camp in August. But Ifedi's emergence as a competitor to be the right tackle opens up several possibilities for 2014.
"The thing about the offensive line is you want to create what we call a nickel, and not five pennies," Sumlin said. "The five best guys aren't always the best O-line. [It's] the guys who can communicate and the guys who can play. We'll figure that out.
"I think the experience that Germain is getting at tackle gives us some real different combinations without having to put an inexperienced player on the field right away at South Carolina."
October, 17, 2013
10/17/13
2:30
PM ET
COLLEGE STATION, Texas — After losing a left tackle who was the No. 2 pick in the NFL draft and a center who was a two-year starter at the position and a four-year starter overall, it was easy to believe that there would be a drop-off in performance from the Texas A&M offensive line.
Through six games, the No. 7 Aggies can safely say all is well up front. Even with two newcomers and some shuffling by moving returning starters around, the unit is again performing at a high level and is one of the reasons Texas A&M's offense continues to be one of the best in college football.
While it's difficult to replicate what the Aggies had last season, when all five starters last season played multiple seasons together, it's easy to see how well this year's group is doing. All it takes is watching quarterback
Johnny Manziel
drop back and sit comfortably in the pocket for five, six and sometimes seven seconds looking for a receiver or deciding to use his scrambling ability to gain yardage.
[+] Enlarge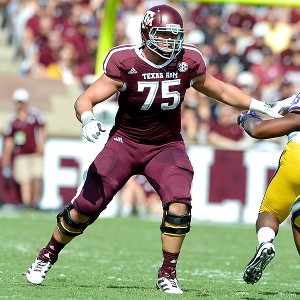 Cal Sport Media via AP ImagesJake Matthews is playing well at left tackle after playing right tackle in 2012.
And in the Aggies' victory over Arkansas on Sept. 28, the line paved the way for two second-half touchdown drives that consisted of all running plays. Texas A&M had more rushing yards than passing yards.
"Offensive line has played really good, with the exception of one game," offensive coordinator Clarence McKinney said. "I think those young guys in one of those six games -- I think it was SMU -- had some struggles. But for the most part, they've played great."
Against SMU, there were some penalties and self-inflicted errors that the Aggies needed to clean up. Their performance against No. 1 Alabama was strong and they've been consistent, for the most part, the rest of the year.
The transition began back in spring, moving
Jake Matthews
from right tackle to left tackle to replace Luke Joeckel. To fill Matthews' void, right guard
Cedric Ogbuehi
kicked out to right tackle. Jake's younger brother
Mike Matthews
stepped in as the starter at center and redshirt freshman
Germain Ifedi
slid in at right guard. The only player still in the same position last season is left guard
Jarvis Harrison
.
Behind that quintet, the Aggies are putting up 586.5 yards per game (No. 3 in the country) and have allowed only seven sacks, which puts them in the top 30 statistically in the country. They're 20th in rushing yards (224.6 yards per game) and sixth in passing yards (361.8 per game).
"They're getting better every week," senior running back
Ben Malena
said. "It's hard to compare this year's group to last year's because they're only six games in, but I can tell you every week they are getting better."
The biggest question marks coming into the season centered around the first-time starters. So far, they've answered the questions.
"I'm really pleased with the young guys," offensive line coach B.J. Anderson said. "I think they've made some strides. They've played in some atmospheres where we had to communicate. Mike's done a really good job. I've changed protections on him a couple games. ... I'm really pleased with where he's at, and the same way with Germain. He's getting better every game and we're fixing some things that need to get fixed and we'll just keep working."
Anderson noted that they're not holding anything back from Mike Matthews, who is just a sophomore, when it comes to game-planning and protections. That's critical considering the vast array of defensive looks Anderson said opponents have thrown at the Aggies.
"If you had told me that I had that flexibility back in August, I'm not sure I would have believed you," Anderson said. "But he's got the kitchen sink right now. I'm not doing anything that I didn't do with Pat Lewis, who was a senior. He's able to make all the adjustments I need and I'm really pleased with the mental work he does during the week, preparation-wise."
The "older guys" -- senior Jake Matthews and juniors Harrison and Ogbuehi -- have also shined. Matthews' adjustment to left tackle has been smooth, as has Ogbuehi's to right tackle. Harrison has impressed Anderson with his effort week to week.
"Jake's Jake and Ced's doing a good job and Jarvis Harrison is playing his tail off -- as well as he's played since I've been here," Anderson said. "He's playing with great effort. It shows on tape and I'm happy with those older guys."
Manziel's progression and mastery of the offense in the second season in the scheme has helped as well. Players say they notice Manziel has tried to stay in the pocket more often.
"I feel more this year that he hasn't scrambled as much and he has been more patient," Ogbuehi said. "He looks to throw more, too. He's always looking to make a big play with his arm, and that's good."
Perhaps the best aspect of this group is it has stayed healthy. The Aggies were fortunate to keep all five starters healthy last season, and that's been the case this year, too. It isn't a perfect group, but it is a smart, talented one that continues to improve every day.
"This year, we're still trying to get there but so far we're getting there," Ogbuehi said. "It's exciting so far what we've done in the little time we've had together."
SEC SCOREBOARD
Monday, 12/22
Saturday, 12/20
Tuesday, 12/23
Wednesday, 12/24
Friday, 12/26
Saturday, 12/27
Monday, 12/29
Tuesday, 12/30
Wednesday, 12/31
Thursday, 1/1
Friday, 1/2
Saturday, 1/3
Sunday, 1/4
Monday, 1/12
Tweets from https://twitter.com/ESPNCFB/lists/sec