September, 12, 2012
9/12/12
10:15
AM ET
To say the buildup heading into Saturday's tilt between Ole Miss and No. 14 Texas is enormous is a vast understatement.
The quaint southern town of Oxford, Miss., has been buzzing about Saturday's game for more than a year, and with the weekend approaching, residents are expecting a burnt orange invasion.
"I'm positive we've never seen anything like this weekend," Oxford resident and Ole Miss graduate Campbell McCool said.
Games with LSU, Alabama and Mississippi State receive a bevy of attention and excitement in Oxford, but this one has a different feel. It's almost historic, as one of college football's most storied programs will venture onto the Square and into the Grove for the first time.
[+] Enlarge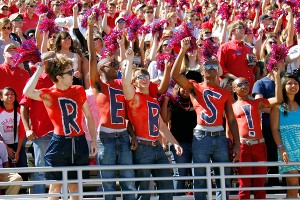 AP Photo/Rogelio V. SolisOle Miss fans have something to cheer about this weekend with the 2-0 Rebels slated to play Texas this weekend in Oxford.
A town of around 40,000 people is expected to more than double in size this weekend, which has created quite the housing circus.
With hotels in Oxford and neighboring Tupelo booked for more than a year, weekend rental rates have skyrocketed.
McCool said a Texas fan gave him a "nutty offer" to rent his house for the weekend. He turned it down, but has friends who have rented their house for more than $20,000 for the weekend.
"There's never been another game that's remotely approached that," he said.
"The demand for housing for this thing is clearly unprecedented for a game around here. I knew that to be the case, but I was still surprised at how strong and how high it's going."
But that's how big this weekend is for Oxford and Ole Miss' program. For a football team and fan base that has been riddled with disappointment for two years, this is a big deal. The Rebels will be facing a renowned program on national TV.
"It's been a long time since we've been in a good spotlight," senior fullback
H.R. Greer
said. "A lot of times there's been a lot of negativity around the program. It's great for the fan base and the university to be in a positive spotlight."
That spotlight only grew with the Rebels' 2-0 start under first-year coach Hugh Freeze. Fervor has returned. With that newfound excitement has come wild rumors about what to expect.
There's celebrity gossip, like Texas alum and actor Matthew McConaughey renting out the famed City Grocery and Taylor Grocery for the weekend. Republican presidential candidate Mitt Romney has been rumored to show up, and so has Kevin Durant. Maybe Bevo will even hit up the Square.
Who's next? Godzilla?
One of the rumors that can be scrapped is McConaughey buying out City Grocery. Oxford chef/restaurateur John Currence said his beloved restaurant hasn't been rented out -- not even for the $250,000 that he supposedly turned down.
Currence actually helped start the rumor by playing along when a pesky eavesdropper misinterpreted a conversation Currence and one of his general managers had about a Texas fan supposedly being interested in paying more than double City Grocery's opportunity cost for a night (more than $100,000).
For the last eight months, Currence kept quiet as rumors swirled around southern sports talk radio and Internet message boards about City Grocery being home to Texas fans this weekend.
The offer never came, but Currence said he wouldn't hesitate at the opportunity to collect a six-figure check.
"If they show up with $100,000 and want to buy the restaurant out, you better … believe I'm going to do it," Currence said.
"They come, and they pay to play."
Currence, however, will host 500 Texas alums with a food spread near Ole Miss' baseball stadium that will earn him between $15,000 and $20,000.
With more than 100,000 people expected in town, Oxford's economy should see a boom, as businesses expect to see a double-digit profit increase from the weekend.
And expect quite the increase of bodies in the Grove, where two unique cultures will meet.
Cowboy hats will face Croakies and sport coats. Cowboy boots and ripped jean shorts will meet loafers and sundresses. "Hook 'em Horns" will challenge "Hotty Toddy." Ribs and brisket will be shared with fried chicken, shrimp and a toddy.
One of the most respectable football programs' fan bases is in for a real treat when it wanders around the 10-acre, tent-covered Grove.
Former Oxford mayor Richard Howorth said he expects very cordial interactions between Ole Miss and Texas fans. His bookstore, Square Books, is even selling a special burnt orange ball cap for the weekend.
It won't resemble the epic scene in Oxford in 2003 when LSU came to town to face Eli Manning with the SEC West on the line. The Square mirrored a war zone Friday night before the game, as Ole Miss and LSU fans split downtown in half, yelling and screaming at each other for hours.
Without the rivalry feel, there won't be that bitter tinge in the air.
"This will be a nice, friendly greeting between these two teams," Howorth said. "But I definitely think it'll be big. There will be a lot of people. Texans are known for being proud of themselves, so we'll have to see how tolerant we can be."
Currence is skeptical about the magnitude of the game equaling 2003, but he welcomes the financial benefits of dealing with Texans.
"You have some people that are coming down that have some money and will spend it like crazy," he said. "That's wonderful."
"Am I excited? Hell, yes. Am I excited that we're playing a team that travels hard and spends well and is going to make an impact on our local economy? You better believe I am."
Texas' arrival will also pump more excitement into Ole Miss' program. It's been a rough two years, but there's a fresh feel in Oxford with a national power coming to play on national television.
An Ole Miss win might create a party not even the Grove can handle.
"It'd be a big-time win," Greer said. "They're a great team, and it would really spark us for the rest of the year."
July, 10, 2012
7/10/12
10:30
AM ET
We continue our position rankings by looking at some of the hardest working players in the league. Running backs are very important in the SEC and more is always better around these parts.
Past rankings:
On to the running backs:
[+] Enlarge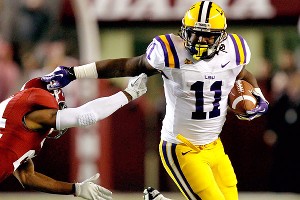 Streeter Lecka/Getty ImagesThe powerful Spencer Ware should be a key part of LSU's running back depth this upcoming season.
1. LSU:
The Tigers claim the top spot thanks to depth, talent and more depth. They have five guys back there who could start for a lot of teams.
Michael Ford
is the speed guy.
Spencer Ware
is a bruiser who also has great cutting ability,
Alfred Blue
is extremely versatile and strong, and
Kenny Hilliard
is an even bigger bruiser. This group combined for 2,338 rushing yards and 30 touchdowns last fall. Keep an eye out for freshman
Jeremy Hill
, too.
2. South Carolina:
Marcus Lattimore
alone would warrant the Gamecocks being near the top. All reports coming out of Columbia are that he's healthy and ready to pick up where he left off when he hurt his knee. Sophomore
Brandon Wilds
was excellent in filling in for Lattimore last season, veteran
Kenny Miles
has said he will be back for his senior season and the talented
Shon Carson
should be back after his ACL injury.
3. Arkansas:
It was a close call between the Hogs and the Gamecocks. Similar to Lattimore,
Knile Davis
insists he's as good as new after missing all of last season with a fractured ankle.
Dennis Johnson
can do a little bit of everything and certainly won't be forgotten about in the Hogs' offense, while
Ronnie Wingo Jr.
returns for his senior season.
4. Alabama:
Eddie Lacy
gets his shot to be the Crimson Tide's feature back now that Trent Richardson is gone, but Nick Saban prefers to share the wealth. Who wouldn't when you've got a true freshman on campus as talented as T.J. Yeldon? Don't forget about
Dee Hart
, either. Hart would have played some last season had he not been injured. And
Jalston Fowler
adds another big, bruising body to Bama's backfield.
5. Texas A&M:
If the NCAA rules that Oklahoma transfer
Brandon Williams
is eligible this season, the Aggies may move up this list. Williams was sensational this spring, and
Christine Michael
also returns after rushing for 899 yards last season prior to tearing his ACL. In addition, incoming freshman Trey Williams was one of the premier running back prospects in the country.
6. Vanderbilt:
We're still not sure what
Warren Norman
can do, as he returns from his knee injury.
Jerron Seymour
is a do-it-all guy. The centerpiece of the Commodores' offense will again be
Zac Stacy
, who set a school record last season with 1,193 rushing yards. He's the leading returning rusher in the SEC. Highly-touted freshman Brian Kimbrow could also be used at running back.
7. Mississippi State:
The competition this preseason at running back ought to be fierce at Mississippi State. Speedy
LaDarius Perkins
is the likely starter, but the Bulldogs' coaches can't wait to see what a healthy
Nick Griffin
can do. There are two talented redshirt freshmen --
Josh Robinson
and Derek Milton -- who've also been waiting their turn.
8. Georgia:
Losing Isaiah Crowell was a real blow for the Bulldogs, but they're not lacking in talent. We won't have to wait long to see if true freshman Keith Marshall is the real deal, but he's at his best when he's in space or used in the passing game.
Ken Malcome
had a very good spring and was a co-starter heading into summer. Incoming freshman Todd Gurley will be called upon this fall as well.
9. Auburn:
Onterio McCalebb
remains one of the top breakaway threats in the league, but he's going to need help.
Tre Mason
could emerge as the Tigers' every-down back. Transfers
Mike Blakely
and
Corey Grant
also impressed this spring and will add good depth. Either way, losing a player the caliber of
Michael Dyer
always stings.
10. Missouri:
People forget that
Kendial Lawrence
was the starter before he went down with an injury last year. He regrouped well and was even better this spring.
Marcus Murphy
was out last season with a shoulder injury, but will be back and adds explosion to the backfield. Big-bodied rising senior Jared McGriff-Culver returns and should get carries along with redshirt sophomore
Greg White
. It still looks as though leading rusher
Henry Josey
won't be healthy enough for the fall.
11. Florida:
Mike Gillislee
has been inconsistent during his career, but is perhaps the key to the team and is the first downhill runner Florida has had since Tim Tebow. The Gators also hope this is the year finally
Mack Brown
comes on.
Hunter Joyer
might be best true fullback in the league and
Trey Burton
will also play a role as an H-back/fullback.
12. Tennessee:
The Vols will be searching this preseason for their go-to back. Junior
Rajion Neal
has gotten bigger and stronger and may be the most explosive back. He left spring practice tied with an improved
Marlin Lane
and
Devrin Young
for the starting spot. Tennessee's rushing game has to improve greatly, as it ranked 116th nationally last year.
13. Kentucky:
All four top rushers are back, but none eclipsed the 500-yard mark last year. The Wildcats hope
Josh Clemons
can recover from a knee injury that cut short his promising freshman season.
CoShik Williams
was Kentucky's leading rusher last year (486) and is one of the Wildcats' more elusive backs.
Jonathan George
will be in the mix again, while
Raymond Sanders
figures to be healthier this fall.
14. Ole Miss:
The Rebels can't afford to lose top back
Jeff Scott
, whose academics are still being monitored. Seniors
Devin Thomas
and
H.R. Greer
provide depth, but have combined for 125 career rushing yards. Redshirt sophomore
Nicholas Parker
has dealt with shape issues and has yet to see any game action, while
Tobias Singleton
moved from receiver to running back this spring. The Rebels will have to turn to their incoming freshmen for help here.