November, 25, 2013
Nov 25
3:30
PM ET
Here are the SEC players of the week, as announced by the league Monday:
OFFENSE: Terrence Magee, RB, LSU
Rushed for a career-high 149 yards and one TD on 13 carries in win over No. 9 Texas A&M.
Had a 65-yard run on LSU's third possession of the game that setup his 1-yard TD run to give the Tigers a 7-0 lead in the contest.
Averaged 11.5 yards per carry as the Tigers racked up 324 yards on the ground, the most in an SEC game for the Tigers since a 52-3 win over Ole Miss in 2011.
DEFENSE: Chase Garnham, LB, Vanderbilt
Garnham paced the Commodore defense with 10 total tackles, including seven solo stops and a tackle for loss, in Vanderbilt's 14-10 victory over Tennessee. The 10-tackle total tied a career high for the three-year starting linebacker.
Garnham's performance was a key factor in Vanderbilt limiting the Volunteer offense to 237 total yards and the fewest points scored by Tennessee against Vanderbilt since 1968.
SPECIAL TEAMS: Harold Brantley, DT, Missouri
Had two huge plays that impacted the outcome of Mizzou's 24-10 road win Saturday at No. 24 Ole Miss, as he first blocked a Rebels field goal attempt in the first quarter to snuff out a scoring threat. Mizzou led 7-0 at the time, and Ole Miss drove to the Tiger 1-yard line before being forced to settle for a 23-yard try. Brantley got a big push and blocked the kick to give Mizzou back the ball with its lead intact. Fellow freshman Josh Augusta was initially credited with the block, but after film review, it was Brantley.
Later, in the third quarter, after Ole Miss scored on its opening possession of the half to cut Mizzou's lead to 17-10, Mizzou's offense went three-and-out, but on fourth-and-2 from the Tigers' 20-yard line, Brantley's number was called on a fake punt. Serving as one of the shield protectors for the punt, Brantley took the direct snap and raced around to the left edge to daylight. He made a nice move to shake one potential tackler near the first-down line, and raced 26-yards to the Tiger 46-yard line to squelch the Ole Miss momentum.
Co-FRESHMAN: Rashard Robinson, DB, LSU
In his first career start, shut down Texas A&M's top receiver Mike Evans, Robinson limited the SEC's leading receiver to his season SEC-low for receptions (four) and second-lowest yardage output in an SEC game this year (51) … Also held him without a TD.
Evans came in with a league-best 12 receiving TDs … Had 2 tackles and his first career interception in the game … Interception came on A&M's first possession of second half and resulted in a LSU touchdown nine plays later that stretched the Tiger lead to 31-10.
CO-FRESHMAN: Paris Head, DB, Vanderbilt
Inserted into the Vanderbilt defensive secondary after injuries forced both starting cornerbacks to the sidelines, Head contributed two key interceptions in the Commodores' 14-10 victory over Tennessee.
Head's second pick ended a Tennessee threat deep in Vanderbilt territory in the fourth quarter. His interception of a Tennessee fake field-goal attempt came at the Vanderbilt 10-yard line with Tennessee leading 10-7.
Head's performance at cornerback helped the Commodores limit Tennessee to 53 passing yards, 237 total yards. The secondary also picked off three Volunteer passes.
OFFENSIVE LINE: Gabe Jackson, OL, Mississippi State
Jackson was credited with three pancake blocks and was instrumental in the Bulldogs totaling 488 yards of offense, including 209 on the ground.
DEFENSIVE LINE: Garrison Smith, DE, Georgia
Smith was Georgia's second-leading tackler against Kentucky with seven tackles, including two sacks for 10 yards and three tackles for a loss of 11 yards.
He also forced a pair of fumbles, one of those leading to a Bulldog touchdown.
Smith moved to fourth on the team's tackle list with 58.
He helped anchor a defense that held Kentucky to 211 total yards on offense, including just 62 on the ground.
November, 24, 2013
Nov 24
2:00
AM ET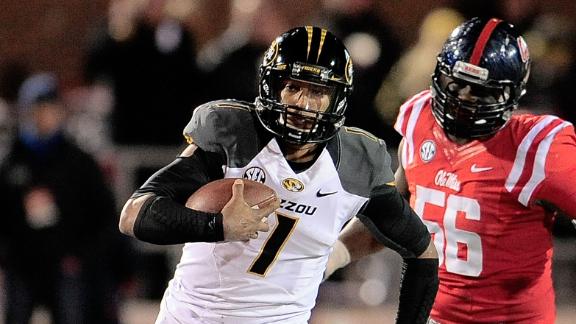 OXFORD, Miss. -- Somewhere between reveling in Missouri's final victory formation and taking a rare victory lap in the opposing team's stadium, Mizzou offensive lineman
Max Copeland
nearly hurled.
The 6-foot-3, 300-pound senior chugged along as he and his teammates rushed to the north end zone of Vaught-Hemingway Stadium to greet a huge cluster of black-and-gold-clad Missouri fans, who braved frigid temperatures to watch the Tigers roll over Ole Miss in a
24-10 win
.
Ecstatic about the win and running on adrenaline, Copeland realized his excitement might be getting the better of him.
"I almost puked," said Copeland, sporting a fresh wound on the bridge of his nose. "I was like, 'Wow, this is a 100-yard field.' I kinda forgot.
"I tried to jump in the stands; too fat, couldn't do it."
Yet again, the Tigers were faced with a situation in which no one would have been surprised if they failed, and yet again they prevailed. Playing in a raucous environment with all the pressure of a playoff atmosphere, the Tigers didn't flinch.
The win extends Mizzou's SEC Eastern Division title hopes, while a loss would have eliminated it and sent South Carolina, which beat the Tigers in overtime last month, to Atlanta for the SEC title game.
"We know our back is against the wall right now," receiver
L'Damian Washington
said. "The phrase 'control your own destiny' is kind of getting irritating, but we know what's at hand, and we knew we had to come out and play our best.
"We're already self-motivated. We know where we want to go."
[+] Enlarge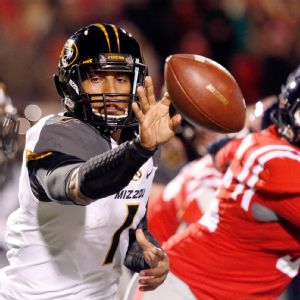 AP Photo/Rogelio V. SolisJames Franklin was efficient in his return from injury, directing an offense that rolled up 485 yards.
They want to go to Atlanta, and now only a home game with Texas A&M, which was throttled 34-10 by LSU earlier Saturday, stands in the way.
Win, and the Tigers are East champs.
"If you think that was big, it's going to be a lot bigger than that," coach Gary Pinkel, who won his 100th game as Mizzou head coach, said of the meeting with the Aggies and
Johnny Manziel
. "It's going to be huge. We're going to play against the best player in college football.
"This is a championship game. That's what you want. We have a share of the [SEC East] championship now. This is what you do it for."
How the Tigers have done this has been so impressive. They don't worry about the outside world. Pressure and stakes mean little. There's only tunnel vision for the Tigers, who all year have preached the same message of one day and one play.
They beat Georgia and Florida in consecutive weeks, and bounced back after the South Carolina loss to win three by an average of 24 points.
"It doesn't matter where we play a game, it doesn't matter who we play," Pinkel said. "And that's a big deal to them.
"When it's all said and done and they've prepared, it doesn't matter who we're playing, and it does not where we play them. It matters how we play and how we perform out there, how we compete."
Saturday, a bruising running game that churned out 260 yards and 5.1 yards per rush gashed a Rebels defense playing on its heels all night. Quarterback
James Franklin
, who threw a pass in a game for the first time in more than a month because of a shoulder injury, looked healthy, cool and collected and attempted his best Manziel impersonation with a few magnificent, drive-extending runs that left Ole Miss' defense dizzy.
Mizzou's defense held an Ole Miss offense that was averaging 498 yards and 34.5 points per game before Saturday to just 10 points and 378 yards. It also stopped the Rebels inside the 10-yard line twice, including a second-quarter drive that featured a first-and-goal, and allowed three points on three red-zone trips.
Pinkel even called a successful fake-punt run with nose guard
Harold Brantley
on a fourth-and-2 at his own 20 that went for 26 yards, after an Ole Miss touchdown had cut Mizzou's lead to 17-10 with 13:27 left in the third quarter.
"Sometimes when rubber meets the road you just kinda gotta rock and roll, man," Copeland said. "It's what we did.
"We're having fun, man. That's a big key. We're just having a damn good time. We're just a bunch of kids out there playing in the mud. That's all we are -- a bunch of fat kids playing in the mud."
The Tigers gained traction after the Florida win, but most thought the South Carolina loss rattled them. Now, Mizzou could be making its first trip to Atlanta in only its second year in the SEC.
Not even Manziel and his Aggies have done that.
The truth is that Mizzou is good. It was better than we thought at the beginning of the season, and it's better than we thought it was on Friday.
In a league known for eating its own and devouring its young, the SEC could see one of its newbies play for not just a conference championship but a BCS bowl game.
"It's no way to sugarcoat it: We want to be a part of history," Washington said.
"That was our goal going into the year, for people to mention the 2013 team forever."
June, 6, 2013
Jun 6
5:00
PM ET
It wasn't easy for Missouri coach Gary Pinkel to say goodbye to star defensive tackle Sheldon Richardson. Not only was he Mizzou's best player last season, he was a first-round draft pick back in April.

Replacing his production won't be easy, but Pinkel understands it's going to take a committee to right things along the defensive line. And he's pretty pleased with the bodies he has there.
"Guys really stepped up (this spring)," Pinkel said. "I think we have a lot of things in place."
When it comes to the defensive tackle spot, the Tigers don't have another Richardson to work with, but there is talent inside. Junior
Matt Hoch
really impressed this spring, and has always been a guy with a great motor. He might not have showed up on the stat sheet as much as Richardson, but he knew how to get to and make plays last season. He continued that this spring.
Then there is redshirt freshman
Harold Brantley
, who came on strong as well at defensive tackle this spring. He has good size at 6-foot-3, 300 pounds and is a very athletic player. He doesn't have any college experience, but Pinkel was pretty excited about the progress Brantley made during the spring.
Lucas Vincent
is another tackle to keep an eye on. He played in 12 games last season, but only recorded three tackles. He still has some room to grow up front.
What will help is having two strong ends to work with.
Kony Ealy
and
Michael Sam
both had solid seasons last year. Sam led the Tigers with 4.5 sacks, and Ealy recorded 10 tackles for loss and 3.5 sacks.
Ealy could really be a special player. He's extremely athletic, and has continued to develop into a better pass-rusher. Not having Richardson there will bring more attention his way, but he should be prepared to take on more this fall.
"He did some great things last year and we're expecting him to do some great things this year," Pinkel said. "We'll just have to see where it goes."
The key for this line is that it has to be able to rotate as much as it did last season. There are bodies to do it, and it will obviously help keep guys fresh. It will also help if the offense generates more production next season, because this line wore down last year, even with its rotation, because it was on the field so much.
Pinkel certainly understands how important it is to have strength up front in the SEC. Right now, he thinks he still has some.
"It's a league where you've got to be good up front," Pinkel said. "The league we came from you had to be the same way, but the thing in is this league is there are more good teams."
May, 6, 2013
May 6
7:30
AM ET
2012 record:
5-7
2012 conference record:
2-6 (fifth, Eastern Division)
Returning starters:
Offense: 8; defense: 6; kicker/punter: 1
Top returners

QB
James Franklin
, RB
Henry Josey
, RB/RS
Marcus Murphy
, WR
Dorial Green-Beckham
, OL
Evan Boehm
, DE
Kony Ealy
, LB
Andrew Wilson
, CB
E.J. Gaines
Key losses
RB
Kendial Lawrence
, WR T.J. Moe, OT Elvis Fisher, DT Sheldon Richardson, LB Zaviar Gooden, LB
Will Ebner
, CB Kip Edwards
2012 statistical leaders (*returners)
Rushing:
Kendial Lawrence (1,025 yards)
Passing:
James Franklin* (1,562 yards)
Receiving:
Marcus Lucas
* (509 yards)
Tackles:
Andrew Wilson* (79)
Sacks:
Michael Sam
* (4.5)
Interceptions:
Kip Edwards (2)
Spring answers
1. Henry's health:
After missing all of last season because of a devastating knee injury that occurred halfway through the 2011 campaign, many weren't sure how running back Henry Josey would respond this spring. But he shed his knee brace early and craved contact from Day 1. He didn't care if he left spring as the starter -- he just wanted to prove to himself that he was ready to play again. Coach Gary Pinkel says he ran a 4.3 in the 40-yard dash before spring, and Josey insists he's at 100 percent.
2. DGB's maturity:
It sounds like last year's top recruit is really getting it in Columbia. The offense wasn't totally in sync this spring, but that didn't stop Green-Beckham from making some good noise at receiver. He dealt with an ankle injury early, but bounced back well and it appears he showed that he's ready for more responsibility and passes thrown his way this fall. His development is crucial to Mizzou's offensive improvement.
3. Replacing Richardson:
One person won't replace the Tigers' first-round defensive tackle, but it sounds like the team should have a lot to work with up front this fall, starting with junior
Matt Hoch
, who can play either nose guard or tackle. He might have had the best spring of any Mizzou defender and found ways to make plays. He'll also have help from talented ends Kony Ealy and Michael Sam.
Harold Brantley
and
Lucas Vincent
also had solid springs inside.
Fall questions
1. Quarterback controversy:
Franklin might have looked sharper and was the starter leaving spring, but redshirt freshman
Maty Mauk
is right behind him. He had a rough spring game, but has all the tools to be very good in the Tigers' offense. They shared reps with
Corbin Berkstresser
, who is still in the hunt after serving as Franklin's backup last year. Pinkel was very quiet about the race for most of spring, and this one will continue to go through fall camp.
2. Linebacker work:
Losing two starters hurt the Tigers, and they'll try to replace those bodies with younger, unproven players. Andrew Wilson and
Donovan Bonner
are both seniors, which helps, but there isn't much game experience around them. Redshirt sophomore
Kentrell Brothers
made strides this spring, and the coaches expect more out of
Darvin Ruise
, who primarily played on special teams last year. Tackling was a problem last year, so this group has to improve there as well.
3. Protection issues:
The offensive line might be healthier this spring, but has had a lot of issues with protection. It stunted the growth at times for an offense that desperately needs to improve in 2013. Evan Boehm might be Mizzou's top lineman, but he moved to center and is still trying to get a handle on his new position. Veterans
Justin Britt
,
Max Copeland
and
Mitch Morse
are back, but there were still communication issues and protection problems that have to get corrected during fall camp.
March, 12, 2013
Mar 12
11:00
AM ET
Schedule:
The Tigers open spring practice today at 4:30 p.m. ET and conclude the spring on April with their annual Black & Gold Game on April 20 at 2 p.m. ET in Memorial Stadium.

What's new:
After spending 12 years as a Missouri assistant, offensive coordinator David Yost resigned after the 2012 season and was named the inside receivers coach at Washington State. Josh Henson was then promoted from co-offensive line coach to offensive coordinator, while Andy Hill was promoted from wide receiver coach to quarterbacks coach/associate head coach. Pat Washington, who coached at Kentucky in 2012, was hired as the Tigers' new receivers coach.
On the mend:
Running back
Henry Josey
is still recovering from the devastating knee injury he suffered halfway through the 2011 season, but coach Gary Pinkel recently said that Josey ran a 4.4 in the 40-yard dash and should be able to go through spring camp. Offensive linemen
Justin Britt
and
Taylor Chappell
are also recovering from knee injuries, but could be at full strength later this spring. Fellow lineman
Anthony Gatti
is recovering from recent ACL surgery and could also return in late spring. Defensive end
Markus Golden
is playing with a hand cast this spring, while wide receiver
Dorial Green-Beckham
rolled his ankled during offseason workouts and is currently in a walking boot.
On the move:
Green-Beckham is moving from the inside "Y" receiver spot to the outside "X" spot. With redshirt freshman tight end/Y
Sean Culkin
back from injury, Green-Beckham was moved outside, where he should be more of a deep threat for the Tigers. Sophomore Ernest Payton has moved from cornerback to safety. Senior linebacker Andrew Wilson has moved from strong side linebacker to middle linebacker. Redshirt freshman offensive lineman Jordan Williams has moved from tackle to center.
Question marks:
With
Sheldon Richardson
gone, the Tigers are looking for someone to step in and help fill that void. Mizzou might have to replace Richardson by committee this year. Junior
Matt Hoch
(defensive tackle) and
Lucas Vincent
(nose guard) will get the first shots at filling the middle. Vincent was Richardson's backup last year, but still has a lot of room to grow on the field. Hoch had a decent 2012 season and the staff is excited about redshirt freshman
Harold Brantley
. With the heavy amount of ends, the Tigers could move some guys inside to help with depth. Wide receivers
Marcus Lucas
and
L'Damian Washington
are listed as starters this spring, but after underwhelming 2012 seasons, they will be battling for their spots this spring. Also, keep an eye on
Bud Sasser
and
Jimmie Hunt
at the "H" receiver spot. One of them has to solidify that spot this spring. Really, the offense in general has a bunch of question marks, but the biggest one of all might be at quarterback, where
James Franklin
will be in a heated competition with redshirt freshman
Maty Mauk
and sophomore
Corbin Berkstresser
. Franklin's history of injuries could keep the concern level around him high.
New faces:
Mizzou welcomed quarterbacks Trent Hosick and Eddie Printz, who enrolled early this spring. Wide receiver
Darius White
sat out last season after transferring from Texas during the offseason. The Tigers might have a lot of bodies at receiver, but the coaches are very excited about his potential, and he could push for real time this spring.
Key battle:
Franklin's past injuries can't be overlooked, and after the season he had in 2012, the coaches have to get his current backups ready for the 2013 season. Franklin enters the spring as the starter, but he'll have to earn it throughout the next two months because the staff is very excited about the potential Mauk has. He's been compared to former Mizzou QB Brad Smith and people around the program feel he can run the offense as well as anyone. Word is that Mauk is really going after the No. 1 spot, so Franklin will be constantly looking over his shoulder this spring. Berkstresser got good experience last year and should be even more comfortable in Mizzou's offense. Getting more confidence at the QB spot is critical heading into the offseason.
Breaking out:
Keep an eye on senior cornerback
Randy Ponder
. The former walk-on has had a lot of time to watch others and should be prepared for his starting role opposite shutdown corner
E.J. Gaines
. Brantley could be a big player at defensive tackle. He has packed on the pounds and with the position not solidified, the coaches are expecting a lot from him. Culkin should push
Eric Waters
for the starting spot at the "Y." The coaches are really excited about him and they didn't really want to redshirt him last year.
Don't forget about:
Josey had to sit out all of last year, and while
Kendial Lawrence
rushed for more than 1,000 yards, the offense missed the home run presence Josey brought to the offense in 2011. Josey was the Big 12's best rusher before he went down halfway through the season in 2011, and the Tigers need him to be back to his old ways this fall. Things are starting off right for Josey, who will participate in drills this spring.