August, 13, 2013
8/13/13
7:45
PM ET
Alabama starting linebacker
Trey DePriest
has been suspended for violation of team rules, according to Crimson Tide coach Nick Saban, who stressed that the team's second-leading tackler from a season ago would be able to return to the field shortly if he fulfills his obligations.
DePriest, a junior with NFL potential at 6-foot-2 and 245 pounds, missed Tuesday's practice in Tuscaloosa. He's part of a linebacking corps that returns all four of its starters from a season ago, including All-American inside linebacker
C.J. Mosley
and top pass-rusher
Adrian Hubbard
on the outside.
[+] Enlarge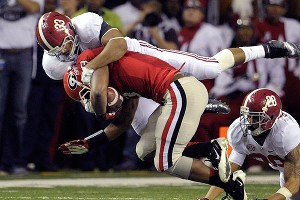 Paul Abell/USA TODAY SportsTrey DePriest has been suspended by Alabama for a violation of team rules.
"[DePriest] played very well for us," Saban told reporters. "He made a mistake. He didn't do the right thing. It wasn't a very smart thing to do, and there has to be consequences sometimes when you don't do the right things. Hopefully, he'll learn from it, it will make him better and he'll have a better chance to be successful in life."
Saban also announced that star wide receiver
Amari Cooper
would miss the next few practices with a strained foot. The preseason All-SEC selection led the team with 59 catches, 1,000 yards and 11 touchdowns last season, setting nearly every Alabama rookie receiving record in the process.
Cooper wore a black no-contact jersey during practice on Tuesday.
"He's going to be out for a few days," Saban explained, "and then he will be day-to-day. I don't think he's going to be hurt for a long time."
Luckily for Saban, Alabama is loaded at wide receiver.
Kevin Norwood
,
Christion Jones
,
DeAndrew White
and
Kenny Bell
all have starting experience and freshmen such as
Chris Black
,
Robert Foster
and
Raheem Falkins
are pushing for playing time as well.
"The receiver group has progressed very, very well from where we were at this point last year," offensive coordinator Doug Nussmeier said at UA's media day on Aug. 4. "We have a couple of new players, a lot of returning guys, a lot of guys who've played a lot of games. Obviously we had some injury issues last year that helped us develop some younger players."
Alabama was able to welcome back tight end
Malcolm Faciane
on Tuesday after he finished a 30-day suspension for violation of team rules. The 6-foot-5, 267-pound redshirt sophomore was in line for more reps this season after the departure of Michael Williams, but will have an uphill battle now that backups such as
Harrison Jones
and
O.J. Howard
have begun making their case for playing time.
"I don't like suspending players," Saban said. "If we're going to punish any players or suspend any players, it's going to be in their best interest to change their behavior so they have a better opportunity to be successful. If it's not going to do that, I don't see any reason to do it.
"It's almost like raising your kids. If you're going to spank them and it doesn't change their behavior, why spank them? If you take their computer or their cell phone away from them and it changes their behavior, I'd say that's the thing to do. We would only do it in the best interest of the player."
August, 8, 2013
8/08/13
9:30
AM ET
TUSCALOOSA, Ala. -- Consistency has been the hallmark of the tight end position at Alabama since Nick Saban arrived in 2007.
Michael Williams was as dependable as they come, starting 41 games in his four years on campus. He was big, hard-nosed and reliable, a force blocking downhill in the running game and a sure-handed target in the red zone. Brad Smelley and Preston Dial before him were the same way, blue-collar players who put their hand on the ground and went to work everyday.
Brian Vogler
doesn't want that identity to change. Rather, he'd like to see it evolve.
[+] Enlarge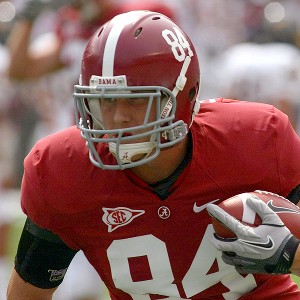 Greg McWilliams/Getty ImagesBrian Vogler hopes he can play a big role in Alabama's offense.
A former four-star prospect out of Georgia, Vogler signed with Alabama in 2010 and watched the progression of the tight end position from afar. And like those before him, his No. 1 point of pride is his work ethic. No. 2 is his intelligence. He may not be the fastest or the most athletic, he admits, but he wants to bring a little something different to the table this season as the presumptive starter.
"Each year you have a different mold of a guy," he explained. "When you watch film on each guy, you try to take something they do and bring it into your game. That's what I'm trying to do. I'm trying to pull everything I see out of their talents and try to mix it in my game."
At 6-foot-7 and 260 pounds, his size is the first thing you notice. And despite what he'd describe as lackluster athleticism, he can move. A former high school basketball player, he knows how to create space and use his long arms to shield defenders. That's only translated to three career receptions thus far, but that should change as he becomes a focal point of the offense.
Nick Saban called Vogler "one of the top conditioned guys coming back from summer," and praised his ability to sustain. Much of fall camp has been about promoting mental toughness for Alabama's seventh-year head coach, and he was able to point to Vogler on Tuesday as an example of just that.
"You create your own standard of superiority whatever you're trying to do," Saban said. "But the challenge is, Can you sustain that? Can you continue to do it with consistency and consistency in performance? That's one thing that he has, the mental toughness and maturity to do so it allows you to continue to improve."
Trust has never been in short supply at the tight end position for Saban. Unfortunately the ability to create big plays has.
If there's been one noticeable gap in Alabama's offense in recent years, it's been that no tight end has had more than 35 catches in a season since 2007. This past year was an all-time low as Williams and Co. combined for a paltry 33 catches and 249 yards. Meanwhile a new wave of tight ends like Notre Dame's Tyler Eifert snagged 50 receptions and 685 yards.
Vogler isn't likely to develop into that type of player overnight. But combined with backups
Harrison Jones
,
O.J. Howard
and
Jalston Fowler
, the position could become more potent in 2013.
Fowler's transition to a utility running back/fullback/H-back role was cut short by season-ending knee surgery last season, but now he's back where he left off, according to Vogler, who called the bowling ball of a back a "hard-hitting guy who's not afraid of anybody."
"That's the exact same guy you're going to see at the H-back position," he said.
Fowler's ability to play multiple spots on the field could be of use to offensive coordinator Doug Nussmeier. Fowler said he had begged coaches to let him catch the football, and last year they finally listened. After having things end tragically, he said he's coming out with something to prove.
"I've got a big chip on my shoulder," he said. "I'm trying to show the world what I'm worth."
The wild card in it all is Howard, an early enrollee who came to campus in January and immediately began making waves. If there's anyone on the roster capable of taking the tight end position into the 21st century, it's him. A former four-star recruit, he was a "monster on tape," according to scouts. He has the size at 6-foot-6 and 237 pounds to dominate cornerbacks and the track-level speed to blow by linebackers.
Vogler called Howard a "whole new dimension to this offense" in the spring and praised his athleticism and ability to run after the catch. If he made the right kind of progress, Vogler said he thought he'd be a viable part of the offense.
On Tuesday, Vogler revisited the subject, praising the way the former blue-chip prospect has come into camp eager to do all the little things right.
"He's working really hard," Vogler said. "He asks me questions if he has any problems or wants to know how to do things. He's one of those guys that comes into work everyday with a really good work ethic and tries to learn."
October, 16, 2012
10/16/12
12:40
PM ET
By
TideNation staff
| ESPN.com
Alex Scarborough writes
: Alabama has been able to avoid big tests of its passing defense in its 6-0 start. It won't be able to this week, as the Crimson Tide face Tyler Bray and the high-flying Tennessee offense.
Scarborough
: Nick Saban said Monday afternoon that D-lineman LaMichael Fanning's hit on Missouri RB Russell Hansbrough was excessive, and he had the player write the player and Missouri coach Gary Pinkel a letter of apology.
Greg Ostendorf writes

: Alabama versus Tennessee recruiting battles.
Scarborough
: Alabama awards tracker.
April, 16, 2012
4/16/12
11:11
AM ET
By
Bryan Mullen
| ESPN.com
TideNation has more on Alabama football.
Alex Scarborough writes
: For those who have seen freshman running back
T.J. Yeldon
up close this spring, his remarkable performance during Alabama's A-Day game came as no surprise.
Scarborough writes
: TideNation's Alex Scarborough was invited to be a coach during Saturday's A-Day game. He didn't call any plays, but was impressed with T.J. Yeldon's composure and Kirby Smart's endless energy.
Greg Ostendorf writes

: 2013 LB
Walker Jones
, brother of Alabama's
Barrett Jones
and
Harrison Jones
, attended A-Day and is considering playing for the Tide. But he also visited Tennessee, Mississippi State and Vanderbilt in the last week.
February, 24, 2012
2/24/12
3:30
PM ET
Barrett Jones
has already made a name for himself at Alabama. He was the Outland Trophy winner last season.
His father, Rex, played basketball at Alabama in the early 1980s, and one of his brothers, Harrison, is currently a tight end for the Crimson Tide.
Another Jones is on the way to college football. Younger brother Walker, a high school linebacker from Cordova, Tenn., has received offers from Ole Miss, Mississippi State, Purdue, Cincinnati and Alabama.
But even with his family's long history at Alabama, Walker Jones says it's
not a given that he will sign with the Crimson Tide
.