May, 3, 2013
5/03/13
3:00
PM ET
Now that we've officially kissed the 2013 NFL draft goodbye, it's time to look ahead to 2014 and find out who the NFL stars of tomorrow could be.
Todd McShay has you covered in that department with his
list of the top 32 eligible players for next year

. Obviously, this is a very, very early list, but don't act like you aren't interested!
First shocker (yeah, not really) of the list is that South Carolina monster defensive end
Jadeveon Clowney
tops the list. I mean, he's arguably the most athletic player in the country (6-foot-6, 256 pounds and runs a 4.5 40-yard dash). Seriously, someone check this man's DNA. I'm still not convinced he's from this planet.
Clowney might not have the ball in his hands on every play, but he's a true game-changer and hasn't even reached his full potential. The scary thing is that he could -- and should -- be even better in 2013. He's a legit Heisman candidate, will most certainly skip his senior season, and has the talent to make an immediate impact with whichever team takes him next year.
After Clowney, McShay has 12 other SEC players on his list, including five Alabama players. Five SEC players are in McShay's top 10. One of those players in the top 10 is Heisman Trophy winner
Johnny Manziel
. He's extremely athletic and makes very good throws on the run, but his size is certainly an issue. The good news is that his elusiveness will help make up for his lack of size at times.
Here's a list of the 13 SEC players in McShay's top 32:
No. 1:
Clowney
No. 3:
Cyrus Kouandjio
, OT, Alabama
No. 6:
Jake Matthews
, OT, Texas A&M
No. 9:
Manziel
No. 10:
Adrian Hubbard
, OLB, Alabama
No. 12:
C.J. Mosley
, LB, Alabama
No. 15:
AJ McCarron
, QB, Alabama
No. 16:
Antonio Richardson
, OT, Tennessee
No. 19:
Loucheiz Purifoy
, CB, Florida
No. 22:
Anthony Johnson
, DT, LSU
No. 23:
Daniel McCullers
, DT, Tennessee
No. 24:
Ha'Sean Clinton-Dix
, S, Alabama
No. 30:
Mike Evans
, WR, Texas A&M
April, 11, 2013
4/11/13
1:00
PM ET
TUSCALOOSA, Ala. -- It's a good problem to have, losing players early to the NFL draft. Alabama coach Nick Saban knows all too well what it's like to watch talent walk out the door, especially from the secondary. In two of the last three drafts he's seen at least one of his defensive backs get taken in the first round. This year will be no different as
Dee Milliner
is likely to go among the top 10 picks.
"We keep losing first-round picks back there," Saban told ESPN on Wednesday afternoon. "For guys to step up on a consistent basis is the biggest concern I have."
Not a rebuilt offensive line, a thin linebacking corps or a defensive line replacing two of three starters. It's the secondary that worries Saban most.
[+] Enlarge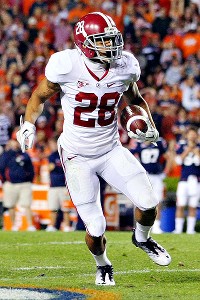 Marvin Gentry/US PresswireDee Milliner stepped in and became an immediate impact player in Alabama's secondary. Now that he's NFL-bound, who's next for the Tide?
"Even though we have a lot of guys back at safety, we don't have the depth or quality corners and experience at corner that we've had in the past," he said, "so that's the challenge."
With top reserve cornerback
John Fulton
out all spring recovering from a turf toe injury, the depth in the secondary has been left wanting. As a result, Alabama opened camp with three offensive players trying their hands at cornerback: running back
Dee Hart
and wide receivers
Christion Jones
and
Cyrus Jones
.
It was an experiment, Saban said, one he hoped would yield at least one player who could make the move to defense full time. And after 10 practices it appears he's found his man. Cyrus, who caught four passes as a reserve wideout last season, has practiced every day at corner and has even spent some time with the first unit at nickel back.
"The first couple weeks out there, it felt weird because [Cyrus] used to be right next to me, running routes with me," said UA receiver
Kenny Bell
, "but he took ownership of the position."
Bell went on to say that Cyrus has become a "great player" on defense, a spot he's familiar with from his time at Gilman School in Baltimore. Cyrus was the No. 4-rated athlete in the 2012 class and could have played on either side of the ball, according to scouts. It just so happens he would play both in his first two years on campus.
"He picked up on it fast and he comes out there and competes," Bell said.
March, 22, 2013
3/22/13
1:00
PM ET
TUSCALOOSA, Ala. -- Nick Saban opened spring practice by saying it was a time for re-invention. When you lose 25 percent of your team each season, it has to be. Who would be this team's leaders? Who would be the ones to step up and set an example?
Then, in the next breath, the head coach of the defending national champion Alabama Crimson Tide spoke about three players trying their hands at new positions. Running back
Dee Hart
and wide receivers
Christion Jones
and
Cyrus Jones
are all playing cornerback this spring. And through three practices, they've done their best to pick up the new, yet somewhat familiar position.
Deion Belue
, who started at cornerback opposite
Dee Milliner
last season, said the rookies on defense have played like naturals.
"Coming out of high school they were athletes, so it was a smooth transition," he said, "because they've played on defense before. It's not their first time."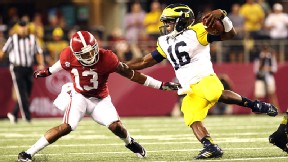 Kevin Jairaj/US PresswireDeion Belue has been impressed at how three players who moved to cornerback have performed so far this spring.
But for the secondary as a whole, it might as well be starting from scratch. Milliner is gone, as is veteran safety
Robert Lester
. Even rising senior cornerback
John Fulton
is out for the spring as he recovers from surgery on his toe, leaving few experienced options for Saban and defensive coordinator Kirby Smart to work with. Thus the experiment with Hart and the Jones receivers. Belue isn't guaranteed anything after an up-and-down first season, and though rising sophomore
Geno Smith
played well down the stretch, he's not being handed anything. Competition, Belue said, is at a premium.
"It's the University of Alabama," Belue said matter of factly. "All we do is compete all year around. In the summer, spring -- it doesn't matter. If the spot is there, just put your best foot forward and we'll see who comes out with it."
Even rising junior safety
Ha'Sean Clinton-Dix
is battling for starter's reps. Though he started 10 of 14 games at free safety and finished strong with a standout performance against Notre Dame in the championship game, he's not considering himself a shoo-in. Clinton-Dix,
Vinnie Sunseri
,
Nick Perry
,
Landon Collins
and
Jarrick Williams
are competing for two spots.
"There's a lot of competition going on," Clinton-Dix said, adding that Hart, his former high school teammate, is coming along quickly and recovering well from back-to-back knee operations. "The safeties, the corners -- like I said, no one has a starting job. So everyone is out there competing, going after it, balls to the wall, so you never know who could step up and who could step down."
Collins is one player poised to rise up the depth chart. The former top-rated prospect in the 2012 signing class and the No. 1 safety in the country played primarily on special teams last season. But with Lester gone, he has his chance. So far, he's earned the praise of his teammates.
"Landon's coming along very well," Clinton-Dix said. "He's maturing a lot. He loves the playbook now. He's competing.
"He's fast, he's strong, he can break on the ball really well -- he has it all down pat."
Whether that will translate to game situations remains to be seen.
Said Saban: "It takes time. We're very patient with the players we have."
He'll have to be, with so many new and young faces. He's called the team a work in progress, and for a coach who specializes in the secondary, that's where it will start. Thankfully for him, he has the spring to get his affairs in order.
"We feel like we can make a lot of progress toward getting where we want to be by the end of the spring," Saban said. "Then being able to work on the things that they need to do over the summer so we have an opportunity to continue to progress in the fall."
January, 11, 2013
1/11/13
11:30
AM ET
Now that we've looked at five
offensive
and
defensive
players to keep an eye on in 2013 from the SEC Eastern Division and five offensive players from the West, it's time to look at five
defensive players from the West
that could have breakout seasons in 2013:
[+] Enlarge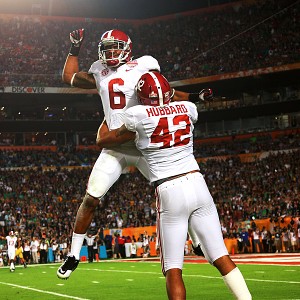 Mike Ehrmann/Getty ImagesHa'Sean Clinton-Dix had an interception in each of his final three games of the season -- including one against Notre Dame in the BCS title game.
Ha'Sean Clinton-Dix, S, Alabama:
We got to know more about Clinton-Dix as the season went on for Alabama, and he only got better as the games came. After starting nine games for the Crimson Tide in 2012, Clinton-Dix is primed to have a real breakout year in 2013. He's extremely athletic and can cover so much ground in Alabama's defensive backfield and isn't afraid to get physical. He notched four interceptions last fall, but with his field instincts, that number should rise in 2013.
Trey Flowers, DE, Arkansas:
Flowers had a solid 2012 campaign, but could have a huge 2013 for the Razorbacks. He had the duty of replacing Jake Bequette and started every game for the Hogs. He finished the year with six sacks, but 3.5 of them came in the win over Auburn. He also registered 13 tackles for loss and 11 quarterback hurries. With
Chris Smith
coming back on the other side, Flowers should have good room to move around even more this fall. Smith's play will help relieve some pressure from Flowers, which isn't a good thing for opponents.
Kris Frost, LB, Auburn:
He was expected to be a major player for the Tigers last fall after a shoulder injury cost him his 2011 season. He spent last year playing backup to
Daren Bates
, but with Bates leaving, Frost has a chance to make a real name for himself this fall. He has very good size and speed at outside linebacker, which should make him a real threat as a pass rusher and a run stopper. Frost could be a big-time player for new defensive coordinator Ellis Johnson.
Anthony Johnson, DT, LSU:
He's called "Freak" for a reason. He's a big, barrel-chested man-child who could turn into a monster in 2013. With
Bennie Logan
leaving for the NFL, Johnson should get even more time in the middle for the Tigers. He started just three games in 2012, but recorded 30 total tackles with 10 going for loss and three sacks. He should be much more disruptive this year with Logan gone and could be one of the league's top defensive tackles this fall.
Channing Ward, DE, Ole Miss:
He was Hugh Freeze's top recruit in his first class. Ward played in 12 games last fall, registering 21 tackles, including 1.5 for loss. He didn't register any starts in 2012, but after having a year under his belt, Ward should be much more comfortable with the college game. He's a tremendous athlete and should push for a starting job heading into the fall. He was one of the top defensive recruits in the 2012 class for a reason, and he'll be able to show more of why he garnered such high praise coming out of high school.
December, 14, 2012
12/14/12
10:30
AM ET
After further review, the SEC has decided not to punish Alabama defensive end
Quinton Dial
for his hit on Georgia quarterback
Aaron Murray
in this year's SEC championship game.
This means that the SEC has decided not to suspend Dial for Alabama's meeting with Notre Dame in the Discover BCS National Championship Game on Jan. 7, but any action Alabama wants to take is fine with the league.
Here's the official statement from the SEC:
[+] Enlarge

Beth Hall/USA TODAY SportsThe SEC declined to suspend Quinton Dial for his late hit on Georgia quarterback Aaron Murray.

"The Southeastern Conference has completed its review of video from the 2012 SEC Football Championship Game. Several plays involving both teams were reviewed. After review, all subsequent action will be handled internally by the two institutions and the conference office is satisfied with their actions."
Really, the main play in question was Dial's nasty hit on what appeared to be a very defenseless Murray during an interception return by Alabama safety
Ha'Sean Clinton-Dix
in the first half. The hit appeared to be helmet-to-helmet, but no flag was thrown. Murray stumbled to his feet after the play, but later said that he only had the wind knocked out of him.
Earlier this month, SEC coordinator of officials Steve Shaw told Al.com that Dial
should have been penalized for his hit
on Murray and that the officials "missed the call."
Here's a little of what Shaw told Al.com about reviewing the hit:
"By rule, you can't hit a defenseless player above the shoulders. What the determination needs to be is was this a defenseless player and was contact initiated above the shoulders? When we go through video review of it, that's what we'll have to determine. And then you as you break it down, did he lead with the head or lead with the shoulder? From game action, it was a personal foul regardless of how we break it down frame by frame."
This isn't the first time the league has had to deal with a hit like this. Ole Miss safety
Trae Elston
was
suspended for the Texas game
after he hit defenseless UTEP wide receiver
Jordan Leslie
the week prior. Like Dial, Elston wasn't flagged on the play.
The SEC ruled Elston's hit was in violation of Rule 9-1-4 of the NCAA rulebook, which reads:
"No player shall target and initiate contact to the head or neck area of a defenseless opponent with the helmet, forearm, elbow or shoulder."
Rule 9-1-3 also states:
"No player shall target and initiate contact against an opponent with the crown (top) of his helmet."
South Carolina safety
D.J. Swearinger
was
also suspended by the SEC
for a game for his hit on UAB's Patrick Hearn. Swearinger was actually flagged for the play because his helmet hit Hearn's face mask after he launched himself into Hearn.
But the league didn't suspend Vanderbilt's
Andre Hal
at the beginning of the season after he was flagged for launching into South Carolina tight end
Justice Cunningham
, causing Cunningham's helmet to fly off.
When it comes to this issue, it's all about consistency and I'm not sure the league is consistent right now. Say what you will about Murray turning into a defender on the play, but he was as defenseless as ever when Dial laid that vicious hit on him. A flag should have been thrown. We saw consistency with Swearinger being suspended after Elston, but not with Dial's hit.
Just like the officials, the league missed this one.
October, 31, 2012
10/31/12
3:00
PM ET
TUSCALOOSA, Ala. -- Kirby Smart came in with scruff on his face that looked less like a 5 o'clock shadow and more like a day-after cover. In fact, it was only midday on the University of Alabama campus and the Crimson Tide's defensive coordinator was in a hurry.
It's LSU week in the football offices and Smart has his work cut out for him. His young defense has been the best in the country this season, coming in first in all four major defensive categories, but on Saturday it will face a top-5 team that knows its strength: power football.
"They really run the ball well," Smart told ESPN's Samantha Steele. "You have to stop them."
Even when they do get bogged down, the Tigers don't give up.
"They're stubborn with the run and that's toughest to defend," Smart continued.
Alabama has the bodies to match up with LSU up front. Smart said that despite losing three-quarters of his starters from a year ago, he feels UA has more depth on the line, and possibly less in the secondary. When you're going up against a team with a sometimes shaky starter in
Zach Mettenberger
and a consistently bruising rushing attack, that's a good thing. Not that Smart is sleeping on the passing game.
"Zach throws a good deep ball," Smart explained. The lanky quarterback who transferred to LSU from Georgia has thrown for 1,419 yards, seven touchdowns and four interceptions this season.
Starting cornerbacks
Dee Milliner
and
Deion Belue
will be tasked with defending LSU's weapons on the outside. Milliner leads the country in passes defended, a stat that combines pass breakups with interceptions. Belue hasn't been much easier to throw on either. The junior college transfer stepped in as the starter opposite Milliner right away.
LSU coach Les Miles told ESPN on Tuesday that his team will have to throw the ball against Alabama, something the secondary is prepared for.
"We know they are going to run the ball and take shots down the field," UA safety
Robert Lester
said. The senior from southern Alabama has gone back-to-back weeks with an interception, his last coming in the end zone against then-undefeated Mississippi State. "As long as we're prepared for it and we know at least something that is coming, I think we'll be good."
Lester is one of the few returning starters from a year ago. Smart and head coach Nick Saban had to rebuild Alabama's defense this offseason, incorporating first-time starters such as Milliner and Belue, as well as sophomores such as
Trey DePriest
and
Vinnie Sunseri
who starred on special teams last season.
Smart said he's seen a more hungry, more coachable group of players this season. The latter might contribute to the scruffy beard.
"There's a lot of work, a lot of effort," Smart explained.
In Baton Rouge, the Crimson Tide will need all the effort they can muster. Only one team will leave Death Valley on the fast track to the SEC Championship Game, and the defense is likely to be the difference in who comes out on top.
October, 31, 2012
10/31/12
2:21
PM ET
TUSCALOOSA, Ala. -- At the University of Alabama, Goliath feels more like David. The team with the undisputed No. 1 defense in the country has a pair of stars playing with a chip on their shoulders.
"All we heard all summer is we wouldn't be good enough," UA linebacker
Nico Johnson
told ESPN's Samantha Steele.
Johnson said he didn't feel like the defense got the respect they deserved after losing seven starters to the NFL over the offseason. Those who returned came back during spring and fall practice ready to work hard to prove the doubters wrong, incorporating rookies like
Deion Belue
at cornerback,
Xzavier Dickson
at Jack linebacker and
Ha'Sean Clinton-Dix
at safety.
The transition, by all accounts, has been seamless. UA is No. 1 in the country in all four major defensive categories, giving up less than 9 points per game. In fact, the defense has actually gotten better at creating more big plays, coming in this week on pace to surpass last year's number of interceptions, fumble recoveries and sacks.
But there's a standard Alabama's defense is living up to, said fellow linebacker
C.J. Mosley
. The standard isn't about statistics or standings. It's about blocking out the hype and getting better every week. With LSU on tap Saturday, the challenge is bigger than ever. The Tigers have a physical running game unlike anything the Tide has seen this season.
"We know what kind of game it's going to be," Mosley told Steele.
Johnson said the defense is preparing as it does for every game: "Like it's our last."
Two years ago, LSU beat Alabama with a late touchdown in Baton Rouge. That season, Alabama fell to South Carolina and Auburn in dramatic fashion as well. Johnson said he felt like the defense let them down then and he's not ready for a repeat this season.
"We feel like this year we can't let that happen," Johnson said.
May, 11, 2012
5/11/12
9:00
AM ET
A lot of votes were cast and it came down to the wire, but the fans have spoken and South Carolina has
won the poll battle of the defenses
.
With nearly 12,000 votes cast, South Carolina barely claimed first place with 24 percent of the vote. Alabama was second with 23 percent, while LSU grabbed 21 percent. Georgia got 13 percent of the vote while the category of "Other" received 19 percent.

South Carolina is a solid pick when you look at who returns. Defensive ends
Jadeveon Clowney
and
Devin Taylor
are back alongside tackle
Kelcy Quarles
. Clowney and Taylor combined for 20.5 tackles for loss and 14 sacks. Quarles really progressed as the season went on and provided a nice big, disruptive body against the run.
Veterans return at linebacker, with seniors
Shaq Wilson
and
Reginald Bowens
in the middle and
DeVonte Holloman
is back at the Spur, where he's at his best. Seniors
D.J. Swearinger
(safety) and
Akeem Auguste
(cornerback) are back in the secondary, as well.
Most of the questions for this defense lie in the secondary, with sophomores-to-be
Victor Hampton
(cornerback) and
Brison Williams
(safety) expected to start this fall. Williams collected a start against Florida last year, while Hampton did most of his damage on special teams. Expect offenses to key in on them early.
At this moment, I'd have to go with LSU. The Tigers return one of the best defensive lines in the country, with two potential first-rounders in ends
Barkevious Mingo
and
Sam Montgomery
. And LSU's staff is very excited about what
Bennie Logan
and
Anthony Johnson
can do at the tackle spots. This line should be the strength of this team and it will make it hard to run and throw on the Tigers. It'll take pressure off the linebackers, which lose two starters.
The secondary loses Morris Claiborne and Brandon Taylor, but the Honey Badger (
Tyrann Mathieu
) is back and so is
Eric Reid
, who might be the league's top safety. Keep an eye on
Tharold Simon
at cornerback. He should be a solid cover corner this fall.
Alabama is down a handful of starters from last year, but don't think that will send this unit into a tailspin. Defensive tackle
Jesse Williams
is an animal and linebackers
C.J. Mosley
,
Nico Johnson
and
Adrian Hubbard
aren't slouches by any means. Yes, the secondary is a little green, but corner
Dee Milliner
and
Robert Lester
should help provide some stability. JUCO standouts Deion Belue and Travell Dixon impressed this spring and youngsters
Vinnie Sunseri
and
Ha'Sean Clinton-Dix
look ready to be big contributors.
And with nine starters returning for Georgia, the Bulldogs should have another solid defensive squad this fall. There has to be some worry with four starters suspended for the beginning of the season, but at full strength, this defense will be a handful, especially with one of the best linebacking corps in the country that includes All-American
Jarvis Jones
, speedster
Alec Ogletree
and work horse
Michael Gilliard
. Once
Bacarri Rambo
,
Sanders Commings
,
Shawn Williams
and
Branden Smith
are all back and together, Georgia's secondary will be potent.
May, 8, 2012
5/08/12
11:00
AM ET
We all know that defense wins championships and the SEC is very much a testament to that. Alabama possessed the nation's No. 1 defense last season and now possesses another national championship. Runner-up LSU ranked second nationally.
Alabama ran away with the crown as the nation's and the SEC's best defense, but that title is for the taking in 2012. Alabama is down key players from last year's squad, like linebackers Courtney Upshaw and Dont'a Hightower, defensive tackle Josh Chapman, and defensive backs Mark Barron, Dre Kirkpatrick, and DeQuan Menzie.

Alabama's defense isn't as green as the 2010 group, but it's still drawing some comparisons to it. That's exactly what the Tide wants to hear.
Nico Johnson
seems primed to be a true leader at linebacker, while
Adrian Hubbard
could be a budding star at Upshaw's old position. Defensive backs
Robert Lester
and
Dee Milliner
are back and will be joined by a couple of JUCO standouts and talented sophomores
Vinnie Sunseri
and
Ha'Sean Clinton-Dix
.
Jesse Williams
could be a real force at defensive tackle along with end
Damion Square
.
Then you have LSU. The Tigers lost All-World cornerback Morris Claiborne to the NFL draft and two starting linebackers. Michael Brockers is gone at defensive tackle as well. But LSU is still loaded. The Tigers return Heisman finalist
Tyrann Mathieu
and
Tharold Simon
, who should be fine with an expanded role at cornerback. Junior
Kevin Minter
really stepped up at linebacker last year and should pick up right where he left off. Even without Brockers, the line is solid with future first-rounder
Sam Montgomery
at one end position and the underrated
Barkevious Mingo
at the other. The two combined for 17 sacks last season.
Bennie Logan
and
Anthony Johnson
should provide some meat nastiness in the interior, while the very talented
Eric Reid
is back at free safety.
Georgia and South Carolina both finished the 2011 season ranked in the top five nationally in total defense. South Carolina was third, while Georgia was fifth, respectively. The Gamecocks lost first-round defensive end Melvin Ingram, but return freshman standout
Jadeveon Clowney
and
Devin Taylor
, who many thought would be better than Ingram last season.
Kelcy Quarles
is back at defensive tackle and the coaches think he'll be even better in his second year.
Shaq Wilson
and
Reginald Bowens
, who combined for 96 tackles last year, will grab time at linebacker again, while the very athletic
DeVonte Holloman
returns to the Spur for his senior year. There are questions in the secondary, but seniors
D.J. Swearinger
(safety) and
Akeem Auguste
(cornerback) return.
Georgia returns nine defensive starters. Brandon Boykin is gone at corner, and the Bulldogs will enter the fall with a lot questions in the secondary, especially with starters
Branden Smith
,
Sanders Commings
and
Bacarri Rambo
suspended to start the season. Star freshman receiver
Malcolm Mitchell
moved to corner this spring and fits right in, but there are depth issues at the position.
Other than that, the Bulldogs are still pretty stacked. Inside linebacker
Alec Ogletree
will serve a suspension to start the year, but Georgia will fill his spot by committee. Mike Gilliard,
Cornelius Washington
,
Christian Robinson
,
Amarlo Herrera
and
Ramik Wilson
provide Georgia with a very solid linebacking unit alongside star
Jarvis Jones
, who racked up 19.5 tackles for loss and 13.5 sacks. Georgia's defensive line should also be pretty stout with the massive
John Jenkins
and
Kwame Geathers
battling in the middle.
Abry Jones
really progressed at end as well this spring.
Or maybe someone else will step up and take the crown ...
March, 19, 2012
3/19/12
4:35
PM ET
We're starting a new series today called "Spring shoes to fill." We'll be taking a look at one key player who must be replaced on each of the 14 teams in the SEC and how these teams will go about it this spring.
We're going to go in alphabetical order so that means that Alabama is up first. Coincidentally, Alabama starts up spring practice again today.

OUT: S Mark Barron:
Why Barron and not Heisman finalist
Trent Richardson
? Well, for starters, Richardson's understudy,
Eddie Lacy
(turf toe), is out for the spring as he recovers from surgery. There are other running backs that will be completing this spring, but Lacy is the one who will get the bulk of the carries this fall. Plus, Alabama does just fine running the ball, regardless of who carries the rock. So, why not go with someone who was extremely valuable on the other side of the ball? Barron was arguably the top safety in all of college football last season. He was an All-American and an All-SEC performer after recording 68 tackles (including five for loss), intercepting two passes and defending seven in 2011. Barron was physical enough to play the run and instinctive enough to take away the deep ball. Barron could play all over the field for the Crimson Tide, so replacing him on the field won't be easy. Linebackers
Courtney Upshaw
and
Dont'a Hightower
got most of the credit and attention on defense, but Barron might have been Alabama's best defender for most of the season. It also won't be easy to replace his leadership skills inside the locker room, either so this will be quite the job in 2012.
IN: Ha'Sean (Ha Ha) Clinton-Dix, Nick Perry, Vinnie Sunseri or Jarrick Williams:
This one should be fun to watch this spring. Clinton-Dix is the one everyone is excited about in Tuscaloosa. He was one of the top prospects coming out of the 2011 class and was a real high-flyer in the secondary in high school. The coaches are excited about what Clinton-Dix can do when it comes to playing the pass and the run, so he'll certainly have the chance to take over Barron's spot. Sunseri is someone who will also have a shot. He got some time last year when Barron was injured and has played with fellow safety
Robert Lester
before. That will really go a long way when it comes to knowing plays and where each other is on the field. Familiarity is a plus. Sunseri proved his worth when he was on the field last season and he does have more experience than Clinton-Dix. Perry and Williams are both juniors, but played sparingly in 2011. Neither registered eye-popping stats, but have been around the program and the defense a while. You certainly can't count either out. Regardless of which player takes Barron's spot, he will greatly benefit from having Lester by his side.
June, 29, 2011
6/29/11
1:00
PM ET
True freshmen have been rolling onto SEC campuses this month to get a jump on summer school, and more are on the way for the second session of summer school.
Every year about this time, it's the same question: Who among the true freshmen will make the biggest impact?
We'll take our stab at it, breaking it down by division.
We'll start with the West. One thing to keep in mind is that we're only including true freshmen who weren't on campus early and didn't go through spring practice, so you're not going to see guys like LSU's
Anthony Johnson
, Arkansas'
Brey Cook
, Auburn's
Reese Dismukes
and Florida's
Jeff Driskel
on this list.
We'll do our impact newcomers (freshman early enrollees, junior college players, transfers, everybody) at a later date.
For now, here's a look at who among the incoming true freshmen in the West might contribute right away. Edward will do the same with the East later today:
ALABAMA

Ha'Sean Clinton-Dix, S:
Alabama boasts one of the best safety tandems in the league in
Mark Barron
and
Robert Lester
, but the 6-foot-1, 203-pound Clinton-Dix has the size and skill set to come in and make the Crimson Tide even stronger on the back end of their defense.
Cyrus Kouandjio, OT:
One of the top offensive tackle prospects in the country last year, Kouandjio could provide some immediate depth. The Tide were already looking at moving All-SEC guard
Barrett Jones
to left tackle.
ARKANSAS

Tevin Mitchel, CB:
The Hogs ended the spring a cornerback short in their secondary, which is where Mitchel comes in. He'll get a chance to show what he can do this fall both as a lock-down cover guy and potentially as a return specialist. It was a real coup for Arkansas to get him away from Nebraska.
AUBURN

Erique Florence, S:
The Tigers were hit hard in the secondary by personnel losses, and Florence was one of the most coveted safety prospects in the country last year. He's a big-time talent with the size (6-2, 190 pounds) to come in and contribute right away.
Kiehl Frazier, QB:
It's never easy for a quarterback to go straight from high school to the SEC without the benefit of enrolling early and going through spring practice. But the Tigers haven't settled on a quarterback, and Frazier is the type of run-pass threat Gus Malzahn is looking for in his offense.
Jermaine Whitehead, CB:
There should be some fierce competition at cornerback this fall on the Plains, and Whitehead will be one to watch. Auburn was able to sway him late in the recruiting process, and he's expected to vie for a starting spot from the time he walks onto the practice field.
LSU

Jarvis Landry, WR:
If the Tigers are going to make a run at a national championship in 2011, they're going to need a lot more production from their passing game than they got a year ago. Landry is dynamic in the open field and should complement
Rueben Randle
and
Russell Shepard
nicely.
MISSISSIPPI STATE

Joe Morrow, WR:
Mississippi State coach Dan Mullen has been outspoken about the Bulldogs' need for more receivers. The 6-4, 200-pound Morrow gives them a different dimension with his size and ability to make plays over the middle.
OLE MISS

C.J. Johnson, LB:
As long as Johnson stays away from Twitter, he's poised to play a major role at linebacker for the Rebels in 2011. Losing D.T. Shackelford to a knee injury threw the door wide open for Johnson, who could play in the middle or outside.
Tobias Singleton, WR:
A lot of the attention in Oxford has been concentrated on who's going to be throwing passes for Ole Miss this coming season. Singleton, who says he qualified academically, is one of those sure-handed, athletic receivers who could help spruce up any passing game.