January, 15, 2014
Jan 15
1:45
PM ET
Vanderbilt's search for its next head coach is heating up, as St. Louis Rams offensive coordinator Brian Schottenheimer is
interviewing for the opening today
, NFL sources told ESPN's Adam Schefter.

With Schottenheimer in charge of the Rams' offense during the 2013 season, St. Louis ranked 22nd in scoring but 30th in total yards. The Rams finished the season 7-9, but played more than half of the year without starting quarterback Sam Bradford.
While he didn't have a talked-about college career, Schottenheimer spent three years as a backup quarterback at Florida from 1994-1996. So he does have some knowledge of the SEC. While Schottenheimer has spent the majority of his coaching career in the pro ranks, he did coach wide receivers at Syracuse in 1999 and tight ends at USC in 2000.
Schottenheimer has received mixed reviews as an offensive coordinator, so it would be interesting to see him as a head coach at the college ranks. But with his offensive mind, he could help continue the trend of Vanderbilt's more explosive offenses it had under former coach
James Franklin
, who left to become Penn State's coach.
Schottenheimer would certainly have his hands full early with the departures of superstar receiver
Jordan Matthews
and starting quarterback
Austyn Carta-Samuels
.
But Schottenheimer isn't the only name being thrown around for the Vandy opening. Sources told Schefter and ESPN's Joe Schad that Stanford defensive coordinator Derek Mason, Indianapolis Colts offensive coordinator Pep Hamilton and Vanderbilt offensive line coach Herb Hand are also candidates for the job.
One advantage to promoting Hand would be keeping continuity with the approach that Franklin took when it came to running this football team. Hand brings the same sort of energy and enthusiasm that made Franklin so popular with players and on the recruiting trail. It would also help preserve part of a solid recruiting class that has been shaken by Franklin's departure.
Vandy athletic director David Williams has said that he has received a lot of interesting in the opening. On Saturday, David said "there's already a list of 20-25 people who've reached out to us," which is a far cry from where the interest in this job was before Franklin took the job. That's a good sign for a program seeking to remain relevant in the SEC after the job Franklin did during his 24-15 record in three years.
January, 11, 2014
Jan 11
9:30
AM ET
The loss of James Franklin
is really going to sting for Vanderbilt. There's just no way to get around it, but all should not be lost for those that make up a more-energized Commodores fan base.
While it will be very hard for Vanderbilt athletic director David Williams to replace the charisma, fire and work ethic that Franklin displayed every day he was on the job, the program is light-years ahead of where it was before Franklin's arrival in 2010, which should help make this a more attractive job for top-notch coaching candidates.
[+] Enlarge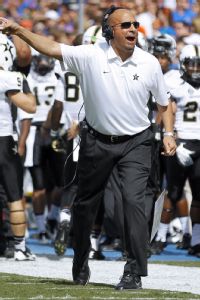 Zumapress/Icon SMICoach James Franklin, who is now Penn State's new coach, has left a solid foundation at Vanderbilt.
Vanderbilt was the perennial cellar-dweller of the SEC before Franklin came along. Now, there's swagger after three consecutive bowl berths (two straight wins) and back-to-back nine-win seasons (all firsts for the Commodores). The facilities have vastly upgraded and they'll only continue to get better because of what Franklin did -- and demanded. A new coach might not have the attitude and salesmanship of Franklin, but he'll have a good base to work with in Nashville, Tenn.
When Vanderbilt hired Franklin more than three years ago, the program had won just four games total in the previous two seasons and had always been traditionally looked down upon. Making a bowl would have been a major accomplishment for Franklin and the program, but he went far beyond that. Because of his triumphs with the Commodores, it will be much easier for this program to attract a decent name from the coaching ranks.
The Commodores could certainly look in-house, at defensive coordinator Bob Shoop or offensive-line coach Herb Hand, but if Williams decides to search elsewhere, he shouldn't have much of a problem luring solid candidates. Expect well-known up-and-coming coordinators to hear their names attached to this opening. Vandy might never be a true SEC championship contender, but it's now a job that you can't laugh at. There's moxie and confidence swirling throughout that locker room and program.
There's also a new breed of talent. Studs such as
Jordan Matthews
,
Wesley Johnson
,
Andre Hal
and
Kenny Ladler
might be gone, but there's a solid group of youngsters still in town. Keep an eye on running backs
Jerron Seymour
and
Brian Kimbrow
. Defensive end
Caleb Azubike
appears to have a bright future ahead of him, as do cornerbacks
Paris Head
and
Jahmel McIntosh
.
Getting Vandy to stay competitive means the Commodores' next head coach has to be able to build immediately. Even with a solid foundation, he has to be able to hit the same recruiting spots in the Southeast, especially the Atlanta area, with the same tenacity Franklin showed. He has to be able to keep the same level of confidence in that locker room and he has to invigorate a fan base that took a bit of an emotional hit with the loss of Franklin in order to keep this program relevant.
What Franklin did in Nashville was tremendous. Even after taking Vandy bowling in his first season, there was still plenty of skepticism. But the next year he did it again, this time winning a bowl, and equaled that accomplishment in 2013.
Really, keeping Franklin this long was a major win for Vandy, and now he leaves this program in much better shape than how he found it. He showed that there's a recipe for winning at Vandy -- but it isn't easy, and he's leaving some monster shoes to fill. The expectations are much higher at Vandy and it's going to take a special person to keep this momentum going.
Institutions with strong academic traditions have proven of late that winning is in fact an option. Vandy beat Florida, Georgia and Tennessee in the same season for the first time ever in 2013 and hasn't lost a game in November since 2011. This team had a ton of momentum going into the offseason with Franklin as the coach, but now it's someone else's turn to keep that fire burning. With what Franklin has taught these guys, they'll be able to find it, and you had better believe they'll be motivated to show they can win without him.
May, 22, 2013
5/22/13
12:10
PM ET
Spreading a little "propaganda" in the SEC:
April, 29, 2013
4/29/13
10:30
AM ET
Looking at the NFL draft, it's easy to see how some of the SEC teams had so much success in 2012.
Alabama and LSU led the way for the conference with nine draft picks each and both registered double-digit wins last season. Alabama won 13 games and a national championship last year, while LSU went 10-3.

Georgia, which went 12-2 last year, and 11-2 Florida both had eight draft picks, while 11-2 South Carolina had seven.
But take a gander at Vanderbilt. The Commodores went 9-4 in James Franklin's second year, but did it with just two future NFL draft picks -- running back Zac Stacy (first Vandy running back drafted since 1980) and offensive lineman Ryan Seymour. Vandy had eight draft-eligible players this year.
It's clear Franklin and his staff were able to do a lot -- including making it to back-to-back bowl games for the first time in school history -- with less than the other big boys around the league.
Three SEC teams with less wins in 2012 had more draft picks than Vandy this year:
Arkansas (4-8) -- 4
Mississippi State (8-5) -- 3
Tennessee (5-7) -- 4
Granted, the Commodores return two top-flight wide receivers in
Jordan Matthews
and
Chris Boyd
, and have some solid defensive players coming back in 2013, but they lost some key starters from last season, including quarterback Jordan Rodgers, Stacy and Seymour on offense. They also lost their top corner in
Trey Wilson
, a solid defensive tackle in
Rob Lohr
and hard-nosed linebacker
Archibald Barnes
.
Vandy will likely have more draft picks next year, but you have to commend the coaching job Franklin and his crew have done in their two years. Only two Commodores were drafted in the 2012 draft, too, and this program hasn't had near the success it's having now in a very, very long time.
Players have completely bought into Franklin's philosophy and the coaches are doing a very good job developing players. The offensive line was one of the most improved units in the SEC in 2012, thanks to line coach Herb Hand's teachings, and defensive coordinator Bob Shoop has totally turned this defense around. Vandy is one of five SEC schools to finish in the top 20 nationally each of the past two seasons in total defense.
The Commodores have also showcased a pretty explosive offense during the past two seasons and won five conference games in 2012 for the first time since 1935.
It's been a pretty impressive two-year run for Franklin and his Commodores, and they've done it without the same amount of top-grade talent as the bigger guys.
December, 12, 2012
12/12/12
3:00
PM ET
The head coaches are the ones who make the big money in the SEC.
But without a quality staff, a head coach isn't going to survive very long in this league.

So as we look back on the 2012 regular season, let's pay tribute to 12 assistant coaches who separated themselves from the rest. Each of these guys made a huge difference in their development of players and units.
We'll call it our "Dandy Dozen" of SEC assistant coaches, and they're listed in alphabetical order:
Mike Bobo, Georgia, offensive coordinator/quarterbacks:
A finalist for the Broyles Award, Bobo has the Bulldogs ranked in the top four in the SEC in both rushing and passing offense. They scored 28 or more points in 11 of their 13 games, and did it with an offensive line that was both young and unproven when the season began.
Burton Burns, Alabama, associate head coach/running backs:
Despite injuries to
Dee Hart
and
Jalston Fowler
, Alabama didn't miss a beat in its running game. In fact,
Eddie Lacy
and
T.J. Yeldon
became the first two players in school history to each rush for 1,000 yards in the same season.
John Chavis, LSU, defensive coordinator/linebackers:
Like clockwork, Chavis just keeps on churning out rock-solid defenses at LSU. The Tigers are No. 8 nationally in total defense and No. 11 in scoring defense, and that's despite losing their top playmaker on defense (Tyrann Mathieu) in the preseason.
D.J. Durkin, Florida, special teams coordinator/linebackers:
When you play as many close games as the Gators did this season, you better be good on special teams. They weren't just good. They were excellent in all facets, which is a credit to Durkin and the job he did in coordinating the entire kicking game.
Herb Hand, Vanderbilt, offensive line:
For the second year in a row,
Zac Stacy
rushed for 1,000 yards, and for the second year in a row, the Commodores more than held their own up front offensively. One of the best decisions James Franklin made when he took the job was holding onto Hand from the previous staff.
Kliff Kingsbury, Texas A&M, offensive coordinator/quarterbacks:
Just his work with Heisman Trophy winner
Johnny Manziel
alone was enough to get Kingsbury some serious props. But Texas A&M's offense also put up crazy numbers in its first season in the SEC. Kingsbury, a finalist for the Broyles Award, has suddenly become a hot commodity in the head coaching ranks.
Brad Lawing, South Carolina, defensive line:
One of the more underrated coaches in the SEC, Lawing has been doing it for a long time at a very high level. His defensive lines at South Carolina have been excellent the past few years and are one of the big reasons the Gamecocks have made their move into the SEC's upper tier.
Matt Luke, Ole Miss, co-offensive coordinator/offensive line:
Just about everybody agreed in the preseason that the offensive line was Ole Miss' weakest link, but Luke was able to get everything and then some out of that group after a lackluster showing by the Rebels in the trenches in 2011. What's more, Ole Miss was one of only three teams in the league (Texas A&M and Georgia) to average more than 250 yards passing and 165 yards rushing this season.
Sam Pittman, Tennessee, offensive line:
Few units in the league improved as much from 2011 to 2012 as Tennessee's offensive line. The Vols gave up just eight sacks in 12 games, which was tied for fourth nationally, and padded their rushing average by more than 70 yards per game. Pittman's approach was exactly what the Vols needed up front, and they blossomed into one of the top offensive lines in the SEC.
Dan Quinn, Florida, defensive coordinator/defensive line:
The Gators won 11 games in the regular season, and they held the opposition to 17 or fewer points nine times. Quinn, a Broyles Award finalist, put a defense on the field during his first season at Florida that was very good. But the one this season played at a championship level. The Gators head to the Allstate Sugar Bowl ranked No. 3 nationally in scoring defense and No. 5 in total defense.
Bob Shoop, Vanderbilt, defensive coordinator/safeties:
For the second straight season, the Commodores rank among the top 20 teams nationally in total defense. They're also No. 15 in scoring defense. They're not real big up front and lost three key players from last season (Chris Marve, Casey Hayward and Tim Fugger), but Shoop keeps finding ways to stop people.
Kirby Smart, Alabama, defensive coordinator/linebackers:
Alabama fans were holding their breath when it looked like Smart might be going to Auburn as head coach. The Crimson Tide had six players drafted off of their 2011 national championship defense, but here they are again going back to the national title game and ranked No. 1 nationally in total defense and No. 2 in scoring defense.
August, 16, 2012
8/16/12
1:35
PM ET
Vanderbilt offensive line coach Herb Hand has no time to ease his group of wide-eyed freshmen into the mix this fall.
He wants to chuck anything and everything at the six true freshmen in order to give them every single opportunity to show him that they aren't ready to play this fall.

"We want to throw them right in the mix," Hand said.
"I want to throw everything at them; not just give them the easy stuff to do.
"We have thrown the kitchen sink at them. A lot of those guys probably feel like they're drinking out of a fire hose right now."
Add in the big screen TV and the dining room table and Hand has the recipe for finding out which guys won't be able to cut it this fall. The ones who withstand the pounding earn the opportunity to play.
Knowing there would be depth issues in 2012, coach James Franklin and his staff made the offensive line a priority in the 2012 class. Six was a good number for the Commodores because bodies were needed.
Vandy's staff spent most of the spring trying to keep the offensive line together with tape, as injuries and procedures sidelined some of the big guys throughout spring practice. At one point this spring, Franklin and Hand could only use seven offensive linemen during practices because so many injuries piled up. It also didn't help that center Logan Stewart and Mylon Brown were both dismissed, after combining for 14 starts in 2011.
What was one of the most improved groups in the SEC last year now enters the fall with questions surrounding it. The good news for Hand is he feels very confident in eight core players, including projected starters
Wesley Johnson
,
Ryan Seymour
,
Spencer Pulley
,
Josh Jelesky
and
Andrew Bridges
, who, outside of Pulley, all have starting experience.
Redshirt freshman
Jake Bernstein
and sophomore
Joe Townsend
will also get their shots at playing time this fall, Hand said.
To Johnson, who is Vandy's most talented and versatile lineman, getting the freshmen acclimated quickly was a priority during summer workouts. He and the other vets made sure they hit the playbook with the youngsters as much as possible in order to pound the plays and schemes into their brains before real practices began.
Though there have been plenty of hiccups and setbacks from the newbies, Johnson said he's confident a few will end up stepping up and contributing this fall in order to make this line as strong as it was last year.
"We pretty much know we can get it done," Johnson said.
Hand still isn't ready to say which freshmen he can count on yet, but
Adam Butler
and
Andrew Jelks
have made the most progress in his eyes. Both were highly regarded coming out of high school. Hand is also happy that each of his new linemen were blessed with ideal genetics, as he considers each one "long" when it comes to their arms and legs and heavy enough to hold up in this league.
"We don't have the 250-pound guy that you're trying to build up," he said. "Not that we wouldn't take a guy like that, but with this particular class we feel like we've got some length and we've got some girth."
He added that each is pretty athletic on their feet, which helps as they adapt to the speed of the college game.
Hand won't know where his freshmen stand until after 15 fall practices, which essentially equates to them going through spring. After that, he'll have a much better understanding of where his line stands.
Fortunately for Vanderbilt, the vets are getting healthier and are much more comfortable with the offense, which is something Johnson said will help as they continue to prep the youngsters.
"Now, we pretty much have most of the playbook in, as opposed to last year where we were still learning plays and trying to figure everything out," he said. "There's a much better understanding of what we have to do."
August, 2, 2012
8/02/12
9:00
AM ET
Schedule:
The Commodores' first practice is on Thursday, and their first day in pads is on Aug. 7. They open the season on Aug. 30 at home against South Carolina, which will air at 7 p.m. ET on ESPN.
Returning starters:
Nine on offense, eight on defense and the place-kicker and punter on special teams.

Star power:
Running back
Zac Stacy
returns this fall as the SEC's top statistical back from a year ago after he broke Vanderbilt's single-season rushing record with 1,193 yards and single-season rushing touchdown record with 14.
New faces:
The Commodores welcome in six true freshmen offensive linemen. That's big for Vanderbilt, considering the depth issues along the offensive line. The coaching staff will be looking to expedite the learning process for them, as they'll all be expected to compete for some sort of time this fall. Also, the staff is especially excited about incoming frosh
Brian Kimbrow
, who could lineup at running back and return punts for the Dores. And don't forget that former Montana QB and Mountain West Freshman of the Year
Austyn Carta-Samuels
is eligible to play this fall and will continue to push
Jordan Rodgers
in camp.
Don't forget about:
Running back/return specialist
Warren Norman
is back and should be healthier than he's been since his sophomore year. Norman was Vandy's top rusher back in 2009 and was also one of the league's best kick returners. Injury cut his 2010 season short and he missed all of 2011 with a bad knee. If he's back at 100 percent, he'll not only bolster Vandy's return game but he should add another solid weapon in the running game.
Big shoes to fill:
Linebacker Chris Marve wasn't just a tremendous player out on the field for the Commodores, he was the unquestioned leader of this team inside the locker room. This spring,
Chase Garnham
did a pretty good job of filling in for Marve on the field, but growth is still needed for him to become an impact player on defense. The staff has been happy with Garnham in the leadership department, but more is expected during camp and when the season starts.
Key battles:
Vandy returns two starters on the offensive line --
Wesley Johnson
and
Ryan Seymour
-- and there is still a lot of inexperience that offensive line coach Herb Hand will have to deal with. One interesting battle should be between sophomores
Spencer Pulley
and
Joe Townsend
for the center spot. The third receiver spot is also up for grabs, with juniors
Wesley Tate
and
Jonathan Krause
battling redshirt freshman
Josh Grady
.
Rising star:
Grady made the move from quarterback to wide receiver and shined this spring. The staff has always been excited about his potential because of how athletic of a player he is, and it seems as though he has the best chance to be a big-play threat at receiver. He showed his versatility this spring by lining up receiver, running back and as the Wildcat quarterback.
Bottom line:
James Franklin turned Vandy around during his first year, after the program underwent a major attitude adjustment. There was more confidence and excitement surging through the program last year, and it has spilled over into Year 2 of Franklin's tenure. The Commodores have to replace some key defensive weapons and are thin on the offensive line, but there are enough offensive playmakers returning to make the Commodores' offense fun to watch. And if the defense holds up like last year, the Commodores could go bowling for a second straight year.
July, 12, 2012
7/12/12
3:35
PM ET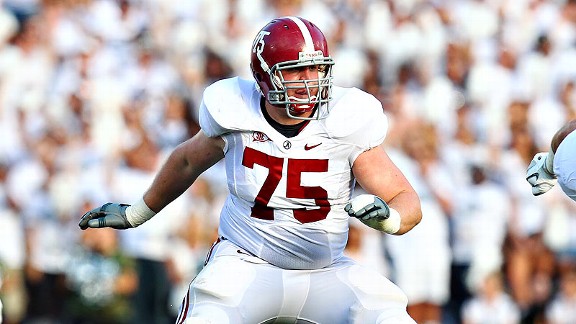 Ned Dishman/Getty ImagesA move to center shouldn't slow Alabama's Barrett Jones, last season's Outland Trophy winner.
Our preseason SEC position rankings continue with the big uglies. The
real
muscle down in the trenches. Offensive lines are crucial in every level of football, but teams seriously do live and die by the play of their offensive lines in the SEC.
Past rankings:
On to the SEC's offensive line groups:
1. Alabama:
Four starters return (with 95 combined starts), there's size, there's athleticism and this line just screams first-round NFL talent, starting with mammoth tackle
D.J. Fluker
and guard
Chance Warmack
. Reigning Outland Trophy winner
Barrett Jones
is moving to center, but with his versatility he should excel there. Add former top recruit
Cyrus Kouandjio
at left tackle and this is arguably the country's top offensive line.
2. LSU:
Like Alabama, this line is full of experience, as four starters return and so does
Josh Dworaczyk
, who was granted a sixth-year after a knee injury caused him to miss all of 2011. Some think he was LSU's best lineman before last season began. Tackles
Chris Faulk
and
Alex Hurst
are two of the best in the league and center
P.J. Lonergan
is tough to beat. Former highly-touted recruit La'El Collins should also contend for time this fall, too.
3. Texas A&M:
This could be the strength of the team. Left tackle
Luke Joeckel
is a future first-rounder, while right tackle
Jake Mathews
has All-SEC potential. Senior center
Patrick Lewis
provides a very sturdy anchor in the middle. Guards
Jarvis Harrison
and
Cedric Ogbuehi
are young, but both got good experience last year, as Harrison started five games and Ogbuehi started six. Depth could be an issue, as most reserves are younger.
4. Arkansas:
The Hogs have one of the better center-guard combos in the league in
Travis Swanson
and
Alvin Bailey
. Both have received preseason accolades and should be even better in 2012. Sophomore tackle
Brey Cook
came in with a lot of hype and if he develops in his second season, this line will be really good. Sophomore
Mitch Smothers
proved he can play just about anywhere and big left tackle
Jason Peacock
is back, but is still in the doghouse after his arrest this spring.
5. South Carolina:
Replacing Rokevious Watkins at left tackle won't be easy, but the staff feels like redshirt freshman
Brandon Shell
might be the man for the job. He's incredibly talented and athletic and improved his blocking ability during his redshirt year. Center
T.J. Johnson
and guard
A.J. Cann
are coming off of solid seasons, but the right side has questions. Right tackle
Mike Matulis
started five games last year, but missed spring while recovering from shoulder surgery and right guard
Ronald Patrick
recorded zero starts last year.
6. Tennessee:
The good news is that everyone is back. The bad news is this is the same line that was incredibly inconsistent last year in the run game, as Tennessee ranked 116th in rushing offense. However, the staff feels it has a better lineup with the emergence of sophomore
Antonio Richardson
at left tackle. Stud
Dallas Thomas
moves to left guard and
Ja'Wuan James
, who has started 25 games at right tackle, provides some good stability. The line has 99 combined starts and allowed just 18 sacks last year, but the proving ground with this group is establishing that it can come off the ball and be a better running team.
7. Missouri:
The Tigers lost three starters from last year, but that doesn't mean Mizzou is without experience. Old man
Elvis Fisher
was granted a sixth year after last year's season-ending knee injury and will provide a major boost at left tackle. And three other linemen return with starting experience from last year: tackle
Justin Britt
, who took over Fisher's spot last year, and guards
Jack Meiners
and
Travis Ruth
. One thing to keep an eye on is the line's durability. The average weight of this group is roughly 295 pounds.
8. Auburn:
Three starters return to a line that has a ton of young depth. Center
Reese Dismukes
is the anchor and one of the top centers in the league. Guard
John Sullen
and tackle
Chad Slade
combined for 21 starts last year. The staff really likes redshirt freshman
Greg Robinson
at left tackle and former top recruit
Christian Westerman
will compete for time after sitting out last year. Guard
Eric Mack
made strides this spring before he was shot near the hip during the tragic shooting that occurred near Auburn's campus in June.
9. Mississippi State:
Injuries and constant reshuffling along the line caused the Bulldogs' offense to struggle for most of last season. Three starters are gone, but junior guard
Gabe Jackson
, who is one of the league's best, is back and so is right guard
Tobias Smith
. If Smith, who suffered a season-ending knee injury early last year, is healthy, this line should be very strong along the interior.
Dillon Day
started six games last year and returns at center, while junior college transfers Charles Siddoway and Dylan Holley are pushing for time.
10. Florida:
The Gators return four starters to a line that struggled all last season. Will Muschamp said he saw vast improvement up front this spring, but tackles
Xavier Nixon
and
Matt Patchan
must show more consistency and leadership.
Jonotthan Harrison
is solid at center and guard
Jon Halapio
has improved each year. Sophomore tackle
Chaz Green
and impressive early enrollee D.J. Humphries will compete for time as well.
[+] Enlarge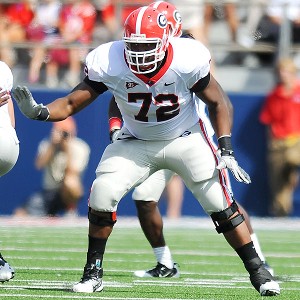 Radi Nabulsi/ESPN.com Georgia may have O-line questions, but likely none concerning junior Kenarious Gates.
11. Georgia:
Yet again the Bulldogs have questions up front. Junior
Kenarious Gates
is very versatile and athletic and is Georgia's most reliable lineman. The staff was pleased with guards
Dallas Lee
and
Chris Burnette
coming out of spring, but a lot is riding on sophomore
David Andrews
making it at center. If he has to move, Burnette will have to move to center and more reshuffling will come. Inexperience is worrisome and true freshman John Theus should get plenty of chances to take one of the tackle spots.
12. Vanderbilt:
Thanks to offensive line coach Herb Hand, this group was one of the most improved in the league last year. He'll have a tall task again with a lot of youth and inexperience. Left tackle
Wesley Johnson
is one of the most underrated linemen out there, while
Ryan Seymour
has been solid up front. The right side has issues and the depth is a concern. Injuries made it tough for this line to get through spring practice, and six freshmen are coming in to compete for spots during fall camp.
13. Kentucky:
The Wildcats lost three starters from a line that struggled throughout 2011, but vets
Larry Warford
and
Matt Smith
are back to provide a solid center-guard combo. However, they'll be asked to help a cluster of youngsters. The left side is gone and will be replaced by youngsters
Zach West
(redshirt freshman) and
Darrian Miller
(sophomore). Right tackle
Kevin Mitchell
started just one game last year. Any sort of injury up front would be devastating for the Cats.
14. Ole Miss:
This is arguably the Rebels' weakest position. Hugh Freeze wasn't thrilled with the line this spring, continuing to say it didn't handle the offense's tempo well. Guard
Matt Hall
, who had double-digit starts last year, left the team this spring. Center
Evan Swindall
was Ole Miss' most consistent lineman this spring, while senior
A.J. Hawkins
moved to guard. Comfort was an issue for everyone, and the tackle spots were filled this spring by
Emmanuel McCray
, who missed all of last season, and JUCO transfer Pierce Burton.
December, 23, 2011
12/23/11
9:00
AM ET
By
ESPN.com staff
| ESPN.com
The regular-season grades for the
Vanderbilt Commodores
are pretty spiffy. They're headed to the AutoZone Liberty Bowl to face Cincinnati on Dec. 31.
OFFENSE: B-

When you consider that the offensive grade for the Commodores each of the past two seasons was a resounding F, the fact that they check in this season with a B- is a testament to how much they improved on offense. That improvement was most glaring in the offensive line, which paved the way for
Zac Stacy
to rush for a school-record 1,136 yards. The Commodores averaged 26.9 points per game, a full 10 points more than they averaged a year ago.
Jordan Rodgers
' emergence at quarterback helped bring the big play back to the Vanderbilt offense. Sophomore receiver
Jordan Matthews
averaged 19.5 yards per catch, while redshirt freshman receiver
Chris Boyd
caught seven touchdown passes. After being held without a touchdown in back-to-back games against South Carolina and Alabama, Vanderbilt averaged 31.6 points in its final seven games and scoring at least 21 points in all seven.
DEFENSE: B
The Commodores had several veterans returning on defense and played at a high level on that side of the ball all season. Early on when the offense was trying to find its identity, the defense carried this team. Senior leaders Chris Marve, Tim Fugger, Sean Richardson and Casey Hayward all had big seasons, and it's a defense that specialized in taking the ball away. The Commodores forced 27 turnovers, tied for fourth in the SEC, and returned four of their 17 interceptions for touchdowns. The Commodores ranked 19
th
nationally in total defense, allowing an average of 324.6 yards per game, and were 27
th
in scoring defense, giving up an average of 20.8 points per game. Vanderbilt has had some good defenses over the years, but this one ranks right up there with any of them.
SPECIAL TEAMS: C+
The Commodores made some big plays on special teams. They gave themselves a chance to beat Georgia with the late blocked punt, and Andre Hal returned a kickoff 96 yards for a touchdown earlier in that game. But they also made just 7 of 13 field-goal attempts, missing two in the 27-21 overtime loss to Tennessee, and had a costly running-into-the-kicker penalty go against them in that loss to the Vols, too. They were fourth in the league in both net punting and kickoff coverage. Richard Kent averaged 42.5 yards per punt.
COACHING: B
Some might look at this grade and think it's a bit high for a team that went 6-6 in the regular season. But how many times have the Commodores won six games in the regular season, and how many times have they played in a bowl game? In his first season, James Franklin came in and completely changed the culture at Vanderbilt. He also brought an edge to the program that should serve it well for years to come. It wasn't just Franklin, either. His staff is excellent. Look at the job offensive coordinator John Donovan did with a unit that ranked 112
th
nationally in scoring offense last season. The same goes for offensive line coach Herb Hand, who was the only holdover from the previous staff. Defensive coordinator Bob Shoop is one of the brightest defensive minds out there. It's a staff that wasn't shy about trying new things, either, and they obviously pressed all the right buttons with this team – only the fifth in school history to play in a bowl game.