August, 8, 2014
8/08/14
10:00
AM ET
BATON ROUGE, La. -- With Les Miles opening his 10th season as LSU's head coach this week, we'll use each day to review the decade with Miles helming the Tigers' program. Today we take a swing at naming a roster of the best players from the Miles era.
Let's break down the picks by offense, defense and special teams and discuss some of the tougher decisions.
OFFENSE
Among the most difficult positions to settle on were running back and wide receiver.
We went with Jeremy Hill (who set a record for a back with at least 200 carries by averaging 6.9 yards per carry in 2013) and Jacob Hester at running back. Because of his ability to play fullback, Hester -- the leading rusher on the 2007 BCS championship club with 1,103 yards and 12 touchdowns -- gets the nod over a host of talented alternatives like Charles Scott, Joseph Addai and Stevan Ridley.
[+] Enlarge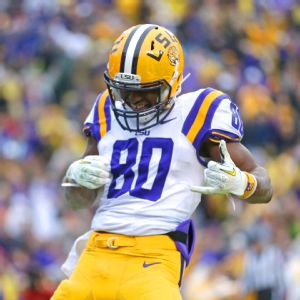 AP Photo/Gerald HerbertJarvis Landry had 77 catches for 1,193 yards last season before being drafted by the Dolphins in the second round.
Receiver was an even more difficult position to evaluate. Wideouts such as Dwayne Bowe, Early Doucet and Rueben Randle all belong on the list, but we went with Jarvis Landry, whose 2013 (77 catches, 1,193 yards, 10 TDs) was the best single-season effort in the Miles era, and Brandon LaFell, a two-time All-SEC pick who is LSU's career receiving leader (2,517 yards) under Miles. We added Odell Beckham Jr. as an all-purpose player thanks in large part to a standout 2013 season (59 catches, 1,152 yards, eight TDs) when he won the Paul Hornung Award as the nation's most versatile player and ranked second nationally in all-purpose yardage (178.1 yards per game).
There are quarterbacks worth mentioning aside from JaMarcus Russell, namely Matt Flynn and Zach Mettenberger, but Russell completed one of the best seasons by a quarterback in LSU history in 2006 (232-of-342, 3,129 yards, 28 TDs) before becoming the top overall pick in the 2007 NFL draft.
La'el Collins gets the nod at one offensive tackle spot over candidates like Andrew Whitworth and Joe Barksdale, so he needs to prove he deserves that distinction this season. He has the potential to be the best pro prospect LSU has had at tackle under Miles.
LINEUP
QB: JaMarcus Russell
RB: Jeremy Hill
RB: Jacob Hester
WR: Brandon LaFell
WR: Jarvis Landry
TE: Richard Dickson
OT: Ciron Black
OG: Herman Johnson
C: Rudy Niswanger
OG: Will Blackwell
OT: La'el Collins
AP: Odell Beckham Jr.
DEFENSE
Defensive line and secondary have been loaded positions under Miles and John Chavis, so picking just two players at those positions wasn't easy.
[+] Enlarge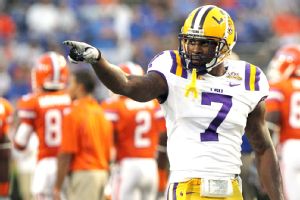 Kim Klement/USA TODAY SportsPatrick Peterson won the Thorpe and Bednarik awards during the 2010 season.
At defensive end, we went with two-time All-SEC pick and eventual No. 3 overall draft pick Tyson Jackson and Sam Montgomery, LSU's sack leader under Miles with 32.5 between 2010 and 2012, over alternatives like Barkevious Mingo and Melvin Oliver.
One tackle position was easy with 2007 Outland, Lombardi, Nagurski and Lott award winner Glenn Dorsey claiming one of the spots. The other tackle was a tough call, but we went with 2012 first-round pick Michael Brockers over a ton of great options such as Drake Nevis, Al Woods, Bennie Logan, Claude Wroten and Kyle Williams.
It would have been awfully difficult to pick just two cornerbacks if we hadn't added a nickelback spot for Tyrann Mathieu to occupy. One of the SEC's leading defensive playmakers of the 2000s, he definitely belongs on the roster, but Patrick Peterson and Morris Claiborne feel like no-brainers at corner, too.
At safety, it wasn't much fun leaving All-American Craig Steltz off the list, but Eric Reid and LaRon Landry both made All-America teams, too -- and both of them became first-round draft picks, while Steltz went in the fourth round in 2008.
Linebackers Kevin Minter (130 tackles, 15 tackles for a loss in 2012) and Kelvin Sheppard (116 tackles in 2010) posted the top single-season tackle totals of the Miles era, while Ali Highsmith earned one All-America designation when he totaled 101 tackles and nine tackles for a loss on the 2007 BCS championship club.
LINEUP
DE: Sam Montgomery
DT: Glenn Dorsey
DT: Michael Brockers
DE: Tyson Jackson
LB: Ali Highsmith
LB: Kevin Minter
LB: Kelvin Sheppard
CB: Patrick Peterson
S: Eric Reid
S: LaRon Landry
CB: Morris Claiborne
Nickel: Tyrann Mathieu
SPECIAL TEAMS
LSU has had a bunch of electric kick returners under Miles. Peterson, Claiborne and Beckham would have been among the top options among kickoff returners, but since they're already on the roster, we went with Trindon Holliday, LSU's career kickoff return yardage leader under Miles (1,806 yards between 2006 and 2009). Peterson, Beckham, Holliday and Mathieu were phenomenal punt returners, so let's add another new name to the list in Skyler Green, who ranks second all-time among LSU punt returners with 1,064 yards between 2002 and 2005.
It's tough to ignore LSU's single-season and career kicker scoring leader Colt David, but Josh Jasper is the most accurate field goal kicker in school history (83.9 percent) and trails only David on the kicker scoring list with 120 career points.
Brad Wing posted two of the top five seasons by a punter in school history in 2011 (an All-America season where he averaged 44.37 yards per punt) and 2012 (44.8), so he gets the nod over Derek Helton, Patrick Fisher and Chris Jackson.
LINEUP
PK: Josh Jasper
P: Brad Wing
KOR: Trindon Holliday
PR: Skyler Green
May, 5, 2009
5/05/09
9:00
AM ET
By
ESPN.com staff
| ESPN.com
Posted by ESPN.com's Chris Low

LSU Tigers
2008 overall record: 8-5

2008 conference record: 3-5

Returning starters

Offense: 7; Defense: 6; Kicker/punter: 0

Top returners

QB Jordan Jefferson, RB Charles Scott, WR Brandon LaFell, TE Richard Dickson, OT Ciron Black, DE Rahim Alem, LB Perry Riley, CB Patrick Patterson, CB Chris Hawkins, S Chad Jones

Key losses

FB Quinn Johnson, WR Demetrius Byrd, OG Herman Johnson, C Brett Helms, DE Tyson Jackson, LB Darry Beckwith, PK Colt David

2008 statistical leaders (* returners)

Rushing: Charles Scott* (1,174 yards)
Passing: Jarrett Lee* (1,873 yards)
Receiving: Brandon LaFell* (929 yards)
Tackles: Harry Coleman* (71)
Sacks: Rahim Alem* (8)
Interceptions: Chris Hawkins* (3)

Spring answers

2009 Schedule
Sept. 5 at Washington
Sept. 12 Vanderbilt
Sept. 19 La.-Lafayette
Sept. 26 at Mississippi State
Oct. 3 at Georgia
Oct. 10 Florida
Oct. 24 Auburn
Oct. 31 Tulane
Nov. 7 at Alabama
Nov. 14 Louisiana Tech
Nov. 21 at Ole Miss
Nov. 28 Arkansas

New chief in charge: First-year defensive coordinator John Chavis didn't waste any time placing his imprint on the LSU defense this spring. Nicknamed "Chief" during his time at Tennessee, Chavis restored the intensity, emotion and hustle to the practice field, and the LSU defenders responded. Chavis was a perfect fit for what LSU coach Les Miles was looking for in a defensive coordinator.

Jefferson makes his move: Jordan Jefferson showed his potential at the end of last season as a true freshman. But this was his first spring practice, and he didn't disappoint. He was more consistent as a passer, made plays scrambling and also established himself in the huddle. Make no mistake. He's the Tigers' starting quarterback and ready to take on a much larger role in the offense.

Getting the edge back: Somewhere along the way, LSU lost its edge last season, particularly on defense, that was so vital in the Tigers' run to the 2007 BCS national championship. This spring in Baton Rouge was all about getting that edge back, and Miles likes what he saw from his team. There was competition for spots, better leadership and nobody taking anything for granted.

Fall questions

Shepard's role: Russell Shepard is a quarterback at heart, but may have to do most of his damage at receiver next season. The explosive true freshman proved this spring that he can do some serious damage in the open field. Now it's up to LSU offensive coordinator Gary Crowton to figure out different ways to get him the ball. He'll definitely be behind center some in the Wildcat package.

Looking for receivers: Senior Brandon LaFell is coming off a big season and is the anchor of the Tigers' receiving corps. But he needs help. They can't wait on the Bayou to see highly touted signee Rueben Randle in an LSU uniform. He could start right away. The Tigers also need more production from the likes of Terrance Toliver, Jared Mitchell and Trindon Holliday.

Defensive line depth: LSU's defensive line depth took a hit with the loss of Tyson Jackson, Ricky Jean-Francois and Kirston Pittman. The Tigers got some good news when tackle Charles Alexander received a sixth year of eligibility from the NCAA, and tackle Drake Nevis has a chance to be one of the breakout players in the league. But some of the younger players have to keep coming in order to build the depth back.
January, 13, 2009
1/13/09
11:15
AM ET
By
ESPN.com staff
| ESPN.com
Posted by ESPN.com's Chris Low
The SEC has 22 players who've been invited to play in the 60th Senior Bowl on Jan. 24 in Mobile, Ala.
Alabama and LSU lead the way, each with four invitees. Quarterback John Parker Wilson, tight end Travis McCall, center Antoine Caldwell and safety Rashad Johnson are on the list for the Crimson Tide, while fullback Quinn Johnson, receiver Demetrius Byrd, guard Herman Johnson and linebacker Darry Beckwith are slated to represent the Tigers.
Ole Miss and Tennessee each have three. Offensive tackle Michael Oher, defensive tackle Peria Jerry and linebacker Ashee Palmer are the Rebels' invitees. Running back Arian Foster, offensive guard Anthony Parker and defensive end Robert Ayers are the Vols' invitees.
Florida, which had very few senior players this season, placed offensive tackle Jason Watkins and receiver Louis Murphy on the invitation list, while receiver Mohamed Massaquoi and defensive tackle Corvey Irvin were invited from Georgia.
Rounding out the selections were Arkansas center Jonathan Luigs, Auburn offensive guard Tyronne Green, Mississippi State safety Derek Pegues and South Carolina receiver Kenny McKinley.
December, 22, 2008
12/22/08
12:45
PM ET
By
ESPN.com staff
| ESPN.com
Posted by ESPN.com's Chris Low
Making the rounds in the SEC, as pre-Christmas bowl preparations wrap-up at the different campus sites:
December, 16, 2008
12/16/08
4:15
PM ET
By
ESPN.com staff
| ESPN.com
Posted by ESPN.com's Chris Low
The SEC had eight players named first-team All-America by the Associated Press on Tuesday, including three from Alabama.
The Crimson Tide placed offensive tackle Andre Smith, center Antoine Caldwell and defensive tackle Terrence Cody on the first team. The other SEC first-team selections were Ole Miss offensive tackle Michael Oher, Ole Miss defensive tackle Peria Jerry, LSU offensive guard Herman Johnson, Florida linebacker Brandon Spikes and Tennessee safety Eric Berry.
Making second team were Georgia running back Knowshon Moreno, Florida running back/receiver Percy Harvin, Vanderbilt cornerback D.J. Moore and Alabama safety Rashad Johnson.
Third-team honors went to Florida quarterback Tim Tebow and Alabama linebacker Rolando McClain.
Below are all three teams:
FIRST TEAM
Offense
Quarterback -- Sam Bradford, sophomore, 6-foot-4, 215 pounds, Oklahoma.
Running backs -- Shonn Greene, junior, 5-11, 235, Iowa; Javon Ringer, senior, 5-9, 202, Michigan State.
Wide receivers -- Michael Crabtree, sophomore, 6-3, 214, Texas Tech; Dez Bryant, sophomore, 6-2, 210, Oklahoma State.
Tackles -- Andre Smith, junior, 6-5, 330, Alabama; Michael Oher, senior, 6-5, 318, Mississippi.
Guards -- Duke Robinson, senior, 6-5, 330, Oklahoma; Herman Johnson, senior, 6-5, 350, LSU.
Center -- Antoine Caldwell, senior, 6-3, 305, Alabama.
Tight end -- Chase Coffman, senior, 6-6, 245, Missouri.
All-purpose player -- Jeremy Maclin, sophomore, 6-1, 200, Missouri.
Kicker -- Louie Sakoda, senior, 5-9, 178, Utah.
Defense
Ends -- Aaron Maybin, sophomore, 6-4, 236, Penn State; Brian Orakpo, senior, 6-4, 260, Texas.
Tackles -- Terrence Cody, junior, 6-5, 365, Alabama; Peria Jerry, senior, 6-2, 290, Mississippi.
Linebackers -- James Laurinaitis, senior, 6-3, 240, Ohio State; Rey Maualuga, senior, 6-2, 260, Southern California; Brandon Spikes, junior, 6-3, 243, Florida.
Cornerbacks -- Alphonso Smith, senior, 5-9, 190, Wake Forest; Malcolm Jenkins, senior, 6-1, 201, Ohio State.
Safeties -- Taylor Mays, junior, 6-3, 230, Southern California; Eric Berry, sophomore, 5-11, 195, Tennessee.
Punter -- Kevin Huber, senior, 6-1, 220, Cincinnati.
SECOND TEAM
Offense
Quarterback -- Colt McCoy, junior, Texas.
Running backs -- Knowshon Moreno, sophomore, Georgia; Donald Brown, junior, Connecticut.
Wide receivers -- Austin Collie, junior, BYU; Jarrett Dillard, senior, Rice.
Tackles -- Eugene Monroe, senior, Virginia; Andy Levitre, senior, Oregon State.
Guards --Brandon Carter, junior, Texas Tech; Trevor Canfield, senior, Cincinnati.
Center -- A.Q. Shipley, senior, Penn State.
Tight end -- Jermaine Gresham, junior, Oklahoma.
All-purpose player -- Percy Harvin, junior, Florida.
Kicker -- Graham Gano, senior, Florida State.
Defense
Ends -- Everette Brown, junior, Florida State; Jerry Hughes, junior, TCU.
Tackles -- Gerald McCoy, sophomore, Oklahoma; Mitch King, senior, Iowa.
Linebackers -- Scott McKillop, senior, Pittsburgh; Brian Cushing, senior, Southern California; Aaron Curry, senior, Wake Forest.
Cornerback -- Victor "Macho" Harris, senior, Virginia Tech; D.J. Moore, junior, Vanderbilt.
Safeties -- Rashad Johnson, senior, Alabama; Trimane Goddard, senior, North Carolina.
Punter -- T.J. Conley, senior, Idaho.
THIRD TEAM
Offense
Quarterback -- Tim Tebow, junior, Florida.
Running backs -- Kendall Hunter, sophomore, Oklahoma State; Jacquizz Rodgers, freshman, Oregon State.
Wide receivers -- Kenny Britt, junior, Rutgers; Jordan Shipley, senior, Texas.
Tackles -- Jason Smith, senior, Baylor; Phil Loadholt, senior, Oklahoma.
Guards -- Louis Vasquez, senior, Texas Tech; Rich Ohrnberger, senior, Penn State.
Center -- Alex Mack, senior, California.
Tight end -- Rob Gronkowski, sophomore, Arizona.
All-purpose player -- Derrick Williams, senior, Penn State.
Kicker -- Kai Forbath, sophomore, UCLA.
Defense
Ends -- Nick Reed, senior, Oregon; George Selvie, junior, South Florida.
Tackles -- Fili Moala, senior, Southern California; B.J. Raji, senior, Boston College.
Linebackers -- Mark Herzlich, junior, Boston College; Sean Witherspoon, junior, Missouri; Michael Tauiliili, senior, Duke (tie); Rolando McClain, sophomore, Alabama (tie).
Cornerback -- Vontae Davis, junior, Illinois; Mike Mickens, senior, Cincinnati.
Safeties -- Myron Rolle, junior, Florida State; Nic Harris, senior, Oklahoma.
Punter -- Pat McAfee, senior, West Virginia.
November, 7, 2008
11/07/08
9:00
AM ET
By
ESPN.com staff
| ESPN.com
Posted by ESPN.com's Chris Low
The big news off the field this week was Tennessee forcing Phillip Fulmer out after 17 seasons at his alma mater. His emotional news conference on Monday was a reminder that nobody has a lifetime contract in the SEC.
On the field, it figures to be equally emotional at Tiger Stadium on Saturday when Nick Saban returns with his unbeaten and No. 1-ranked Alabama football team. Saban insists this game is not about him. Actually, it has everything to do with him. Just ask any of the LSU fans, who've been counting down the days.
Here's a look at what to watch in the SEC in Week 11:
1. Welcome back, Nick: Saban says he and his wife, Terry, still have many wonderful friends in the state of Louisiana. I wouldn't look for many of them to be in Tiger Stadium on Saturday. They will boo him when he arrives, boo him when he hits the field for the first time and boo him when he leaves. Let's hope that's all they do.
2. Bama's OL vs. LSU's DL: One of the best matchups of the season right here. The Tigers have the experience, strength and depth up front defensively to hold their own with an Alabama offensive line that has punished teams this season. If you want to have some fun, count the future NFL players in the trenches.
3. How healthy is Cody? It's one thing to recover from a sprained medial collateral ligament in your knee in a couple of weeks. It's another to do it when you're 365 pounds. Terrence Cody returns to the middle of the Alabama defensive line after missing the last two games. How rusty is he?
4. Battle of the behemoths: What happens when a total of 700 pounds line up across from each other? Well, you get Alabama nose tackle Terrence Cody vs. LSU offensive guard Herman Johnson. Standing 6-foot-7, Johnson is the lighter of the two. He only goes around 350 pounds.
5. Breaking the drought: Nobody on Alabama's team has ever beaten LSU. That's right, LSU has won five consecutive games in this series. The only SEC team that's won more consecutive games against the Crimson Tide is Auburn, which has won six in a row. Alabama can only take care of one drought at a time.
6. General Lee: A couple of things to note about Jarrett Lee as LSU's starting quarterback are that he tends to look for Brandon LaFell anytime he gets in trouble, a big chunk of his interceptions have come on throws over the middle and he's been especially shaky when teams have blitzed him on his side of the field.
7. Fulmer's farewell: Tennessee's Phillip Fulmer actually has two more home games before he steps aside, but the Wyoming game Saturday at Neyland Stadium will be his first since the announcement that he would step down. Do the Vols play their best football the rest of the way or do they put it on cruise control?
8. Show your gold: Vanderbilt hasn't shown much of anything since getting off to its 5-0 start and mastering the art of finding ways to win. But the Commodores are still looking for that sixth win to make them bowl eligible for the first time since 1982. They've had a week off heading into Saturday's Florida game and have had chances to win two of their last three games against the Gators.
9. Every Dog has his day: It sure wasn't Georgia's day last weekend in Jacksonville. You've got to wonder how the Bulldogs will respond now that they're all but out of the SEC race. The trip to Kentucky is a scary one, too, because the Wildcats are starting to get some of their key defensive players back healthy.
10. Spurrier winning with defense: Because of his penchant for pitching it around the ballpark, people forget that Steve Spurrier had some pretty salty defenses at Florida. But his defense this season at South Carolina is one of the best he's had -- period. The Gamecocks are winning with defense, although you can tell that the Head Ball Coach is still frustrated that his offense has been so hit and miss.