October, 30, 2013
Oct 30
1:00
PM ET
COLLEGE STATION, Texas -- Texas A&M's defense has taken a beating – on the field and off – throughout the season.
On the field, it has been the statistically the worst in the SEC in total defense, yards per play, rushing defense and near the bottom in several other categories. The national rankings in many areas have been in the 100s. As a result, the unit has taken a heap of criticism, especially when compared with the team's high-powered offense which puts up points in bunches.
[+] Enlarge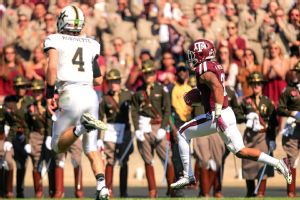 Thomas Campbell/USA TODAY SportsHoward Matthews and the Aggies had their best defensive performance of the season in the win over Vanderbilt. Matthews had 14 tackles and an interception.
But on Saturday in a
56-24 win over Vanderbilt
, the Aggies' defense got up off the mat and punched back, putting together a strong performance against the Commodores. Texas A&M allowed only 329 total yards, 95 rushing, forced three turnovers and had a season-high seven sacks.
For once, the defense was a source of positive discussion.
"I feel like we finally put together a complete game," senior linebacker
Nate Askew
said. "There weren't a lot of blown coverages or assignments gap-wise. That was the biggest thing and having fun out there."
The sack totals were particularly eye-opening because Texas A&M had been one of the country's worst in generating a pass rush before Saturday. The Aggies had seven sacks total entering Saturday's game, but matched the season tally in one day.
The reason? More blitz calls from defensive coordinator Mark Snyder, who said he finally felt comfortable dialing up more pressure. As the defense continued to see players go in and out of the lineup all season for various reasons (suspensions, injuries, inept play), it was a challenge to get a group of 11 players that Snyder felt he could trust to be in the right place in the right time, especially considering how much youth is on that side of the ball (11 freshmen exist in the two-deep depth chart).
But as players begin to settle into their roles and get more comfortable, especially in the secondary, Snyder is beginning to feel more comfortable taking risks. The group back there on Saturday – cornerbacks
Deshazor Everett
and
De'Vante Harris
along with safeties
Howard Matthews
and
Floyd Raven
– were the projected four starters at the beginning of the year but have rarely been on the field together for one reason or another.
"We need to stay healthy and keep the young DBs coming along and learning," Snyder said. "There is a degree of difficulty for the back end to do some of the things we do and to have those guys all in place helped a lot."
It also helped that Vanderbilt's starting quarterback on Saturday,
Patton Robinette
, was a freshman making his first career start, though Snyder said the game plan appeared to be the same as the previous week when the Commodores beat Georgia. Considering that Texas A&M struggled to stop virtually everybody this season, including FCS team Sam Houston State and Rice, whom it gave up 306 rushing yards to in the season opener, any positive sign is a good one for the Aggies.
So is Saturday's performance reason for optimism with the A&M defense or will they simply revert back to previous ways moving forward? It might be hard to tell this week, because the No. 12 Aggies host a struggling nonconference opponent in UTEP (1-6). Should the Aggies repeat what they did on Saturday for a second straight week, however, they could build some momentum to take into the home stretch of their conference slate as they finish up the year against Mississippi State, LSU and Missouri.
If the Aggies can stay healthy and keep the personnel consistent on that side of the ball, Snyder can continue to be aggressive in his calls. That aggressiveness was one trait of the 2012 A&M defense, which was surprisingly good despite question marks on the defensive line, about depth in general and was a key part to Texas A&M's inaugural 11-2 campaign in the SEC.
With an open date following the Aggies final two home games before they have to hit the road for battles at LSU and Missouri to close out the year, the defense will need to continue to improve if the Aggies have hopes of winning the remainder of their games.
"I think at this point what happens is for them to have some success Saturday I thought was important and hopefully we were better," coach Kevin Sumlin said. "We were not great by any means and hopefully because of some success, particularly by the young guys and some success as a defense, we'll continue to get better and gain some confidence from that because that's going to be important moving forward."
October, 26, 2013
Oct 26
6:27
PM ET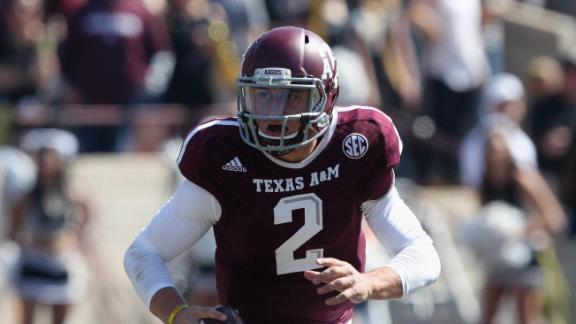 COLLEGE STATION, Texas -- Just like it has been all season, the attention going into Saturday was on Texas A&M quarterback
Johnny Manziel
.
Was he going to play, or would he sit? How was his shoulder? As he often has this year, Johnny provided a lot of drama.
But the real story from the Aggies' 56-24 win over Vanderbilt at Kyle Field was the performance of the A&M defense. A unit that came into the game ranked 118th in total defense, and was in the bottom 20 nationally in most major defensive statistical categories, put together what was easily one of its best performances of the season.
[+] Enlarge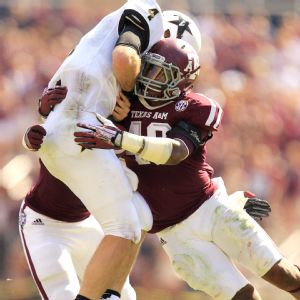 Thomas Campbell/USA TODAY SportsTexas A&M turned Darian Claiborne and its pass rush loose, which resulted in seven sacks against Vanderbilt.
Sure, Vanderbilt was playing with a backup quarterback (freshman
Patton Robinette
made his first start in place of injured
Austyn Carta-Samuels
), but honestly, that mattered little. This is an A&M defense that struggles to stop virtually everybody. The Aggies allowed 306 rushing yards to Rice. They allowed 240 to FCS opponent Sam Houston State.
After taking a gut punch from Auburn last week to the tune of 45 points and 615 yards (379 rushing), any positive sign is acceptable at this point.
"We need an example to show us how we should play, and now we have an example," sophomore defensive end
Julien Obioha
said. "We can always go back to the Vandy tape. This type of production we expect from the defense, and this is the standard that we expect from our defense. So, it was good to have a game like this."
There was an energy there that didn't seem to exist consistently in recent weeks for the Aggies' D.
Howard Matthews
(14 tackles, one interception return for a touchdown) played probably his best game of the season. The pass rush was relentless, led by
Gavin Stansbury
's two sacks, and the 12 tackles for loss. The unit matched its season total for sacks with seven against the Commodores and held an opponent to under 100 yards rushing for just the second time this season. It finally looked like the unit defensive coordinator Mark Snyder envisioned he'd have coming into the season.
"I dialed it up," Snyder said of what generated the consistent pass rush. "We pressured a lot more than we have pressured because we finally could. We felt like we finally got to the point where all the pieces were in place. We had practiced together, and I felt comfortable calling some pressures because everybody knew where they were supposed to be."
Much of that came from a few noteworthy personnel moves. True freshman cornerback
Noel Ellis
got plenty of time in place of
Toney Hurd Jr.
at nickel cornerback. Junior linebacker
Donnie Baggs
, who hasn't started since Sept. 14 against Alabama, got the starting nod at strongside linebacker. True freshman defensive end
Daeshon Hall
didn't start but saw heavy playing time rotating with starting ends Stansbury and Obioha. Starting defensive tackle
Alonzo Williams
missed the game with a foot injury, and junior
Ivan Robinson
replaced him.
The Commodores' best weapon -- receiver
Jordan Matthews
-- had a solid day (eight catches, 92 yards), but his longest reception was 21 yards. The biggest play came from
Jonathan Krause
on a 44-yard reception in the first half. Matthews, to his credit, became the SEC's career receiving yards leader with 3,172.
If the Aggies can build on this performance, the outlook for the rest of the season is bright.
Although the defense showed well, most eyes were on Manziel in the early going. For a guy with an injured throwing shoulder, it sure didn't seem to affect him. He completed his first 10 passes and led the Aggies to four consecutive touchdown drives to start the game.
Coach Kevin Sumlin was tight-lipped about Manziel's status all week leading up to the game, calling the Heisman Trophy winner "hopeful." He never budged from that statement but said Saturday that he wasn't playing coy and that Manziel was truly a game-time decision as he tried to recover from the shoulder injury he suffered last week.
Manziel began throwing Wednesday and participated in 11-on-11 drills Friday and even woke up Saturday with soreness. But he said there was no keeping him off the field.
"In my mind, I was always going to play," Manziel said. "It would take a lot to keep me off the field and away from these guys. They count on me, and they expect me to be there."
He completed 25 of 35 passes for 305 yards and four touchdowns with one interception. He ran much less than he usually does because it wasn't in the game plan, mostly to protect him from further injury.
Although Manziel was able to make every throw necessary to put the Aggies' offense in the right position, he got plenty of support from the running game as the Aggies combined for 189 yards, led by
Trey Williams
' 65 and
Brandon Williams
' 61.
It was far from a clean win. The Aggies committed five turnovers and allowed the game to get closer than it had to in the first half. But it's something they can build off of as they approach the homestretch.
"It's been a little frustrating as of late with some games a little closer than we wanted," Manziel said. "We felt we've played pretty good all around, but we just need to continue to get better. That's the thing. We're not where we were last year in every aspect of our game, but we have a coaching staff that won't quit until we're where we need to be."
October, 25, 2013
Oct 25
11:45
AM ET
COLLEGE STATION, Texas — The words "youth" and "inexperience" are frequently used to describe the Texas A&M defense this season.
The struggles are significant. The Aggies rank near the bottom of the FBS in most defensive statistical categories. According to ESPN Stats & Information, the five teams that have allowed more yards per game than the Aggies -- New Mexico State, Idaho, California, Nevada and Indiana -- have a combined record of 8-27.
Texas A&M is fortunate enough to have a 5-2 record (2-2 in the SEC). It certainly helps to have one of the nation's most high-powered offenses and a reigning Heisman Trophy winner at quarterback (
Johnny Manziel
).
For defensive coordinator Mark Snyder and his staff, it has been a challenge from the start of the season. Suspensions, injuries and ineffectiveness are all to blame.
The Aggies currently have 11 freshmen in their defensive two-deep depth chart. Two true freshmen (defensive tackle
Isaiah Golden
and linebacker
Darian Claiborne
) are starting. The four defensive line first-team spots include Golden and two sophomores. At linebacker, a former receiver who moved to linebacker this offseason (
Nate Askew
) is the starter at strongside linebacker. Of the seven linebackers on the Aggies' two-deep, only one (
Steven Jenkins
) started a full season at the position before this year.
Head coach Kevin Sumlin's first signing class that was completely under his watch had 32 members, 18 of whom were on defense. Of those 18, a dozen have already played this season.
But how did the Aggies get to this point, playing this many freshmen and newcomers? There are some juniors and seniors on the field, but there aren't nearly as many as there were a year ago when the Aggies went 11-2 in their debut season in the SEC.
In 2012, the Aggies were fortunate to have the benefit of some good leaders on defense and others who were productive. At linebacker, Sean Porter and Jonathan Stewart both provided leadership and production. Along the defensive line, Spencer Nealy made the move from defensive end to defensive tackle effectively despite not having the ideal size for the position. Steven Terrell was a steady and heady player at free safety. All four of those players were seniors and part of the 2009 recruiting class. So was Dustin Harris, who didn't always start but played plenty at cornerback and was the team's primary punt returner.
One defensive player still remains from that 2009 class: defensive tackle
Kirby Ennis
, who started last season and this year but suffered a season-ending knee injury on Sept. 28 against Arkansas. But last year's A&M starting defense was more than half made up of what turned out to be a solid recruiting class on the defensive side of the ball.
So to understand why A&M is in the position it is now, take a look at the recruiting classes on defense since then:
In 2010, the Aggies signed seven defensive players and two more that were offensive players but eventually moved to defense. Defensive end Damontre Moore turned out to be a star, but declared for early entry into the 2013 NFL draft with a year of eligibility remaining. For a team that's lacking in its pass rush (only three FBS teams have fewer sacks than Texas A&M's seven this season) a guy like that could help. Of the remainders in that class, three are starting: Toney Hurd Jr. at nickel back, Gavin Stansbury at defensive end and Askew, who was recruited and spent his first three years at receiver, at strongside linebacker. Two others (defensive tackle Ivan Robinson and quarterback Clay Honeycutt, who's now a reserve safety) are playing but not starting. Nehemiah Hicks was considered to be either a defensive end or tight end and became a tight end. The other two players in the defensive class are no longer on the team.
The 2011 class -- the final class signed by former head coach Mike Sherman -- brought 13 defensive players. Deshazor Everett, a cornerback with ability to play safety, is currently the defense's best player. Safeties Howard Matthews and Floyd Raven and linebacker Steven Jenkins also emerged as starters out of that group. One of the big fish landed late in that class, defensive end Brandon Alexander, has rarely played. He's now getting some playing time at tight end. Linebacker Donnie Baggs entered this season as the starting middle linebacker but is now a reserve. Tyrell Taylor is rotating at defensive end. The rest of the group hasn't made any impact at all. Five players in that group are no longer with the program.
The 2012 class, the first one Sumlin signed after essentially two months on the job, had some holdovers that committed to the program under Sherman. It is a mixed bag. Four of those players are starting as either true sophomores (Julien Obioha at defensive end, Alonzo Williams at defensive tackle and De'Vante Harris at cornerback) or in one case, a senior (cornerback Tramain Jacobs, who was a junior college transfer). Defensive end Tyrone Taylor, brother of Tyrell, gets some playing time at defensive end. Edward Pope, who was a receiver/defensive back, is playing receiver for the Aggies. A car accident took away one member from that class -- defensive tackle Polo Manukainiu, who died in a crash in July and is being honored by the team every week this season. A spinal injury took away another member, linebacker Michael Richardson, who played as a freshman. He had successful surgery and was fortunate to not suffer any major physical issues, but is no longer playing football. Defensive back Kenneth Marshall, though on the team, was not part of the 105-man roster during preseason training camp. Linebacker Jordan Richmond transferred to Navarro College in the offseason and one player in the class, defensive tackle Edmund Ray, never made it to campus because of qualifying issues.
September, 26, 2013
Sep 26
1:00
PM ET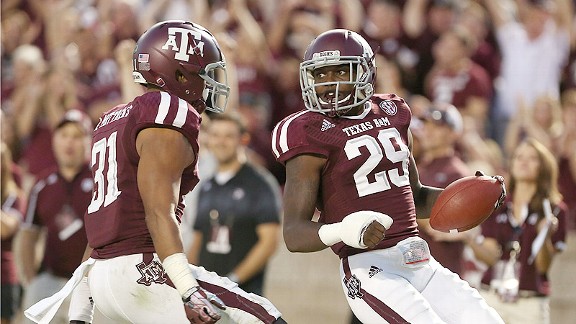 Thomas B. Shea/Getty ImagesTexas A&M's willingness to use starters such as safety Deshazor Everett (right) on special teams has allowed the Aggies to have one of the best units in the SEC.
COLLEGE STATION, Texas — When Alabama receiver and return specialist
Christion Jones
carried the ball out of the end zone on the Crimson Tide's first kickoff return against Texas A&M on Sept. 14, he was quickly faced with a host of defenders.
The first Aggie to make contact was cornerback
Tramain Jacobs
. Defensive back
Toney Hurd Jr
. followed him by wrapping up Jones for a tackle. If Hurd would have been unable to wrap him up, cornerback
Deshazor Everett
was nearby, and so was linebacker
Steven Jenkins
.
The common thread among the above names? They're all either regular starters or players who have started before for the Aggies.
Special teams -- kickoff and punt coverage units in particular -- are a place where many non-starters find their homes, and Texas A&M is no different. But the Aggies' coaching staff is also liberal about using its best players when the need arises.
The Alabama game was a prime example. With the threat of a return man such as Jones, who returned a punt and a kickoff for a touchdown in the Crimson Tide's season-opening win against Virginia Tech, Texas A&M special teams coordinator Jeff Banks wanted to ensure he had the best players available to prevent Jones from making a game-breaking play. The Aggies got the desired result, as Jones finished with 83 yards on four kickoff returns and just 5 yards on his one punt return.
"We're
always
going to use the best players," Banks said. "Coach Sumlin's an advocate of 'Jeff, you just tell me who you need and who you want and that's how we're going to do things.'"
Banks said offensive coordinator Clarence McKinney, defensive coordinator Mark Snyder or any of the other A&M assistants also have no qualms about the policy. Since he has been at Texas A&M, Banks said not one coach has said a word about who he can use or not use on special teams, whether it's in the return game or punt or kick coverage.
That luxury is something Banks, who is in his first year in Aggieland, hasn't always had in his career as a special teams coach.
"Usually you get a deal where it's 'Hey, take that guy off of there,' or 'Hey, don't use that guy,'" Banks said. "And here's my deal with that: That's fine. Because I try to be as flexible as I can because we're dealing with 60-80 people and players that have to go in and out, seniors, veterans, juniors, sophomores, freshmen, true freshmen, you've got to coach what you can get and get the best on the field.
"But you also have to be careful because if you practice them in training camp for 30 days and then you get them in the first week and someone says 'Oh no, he can't play on that many special teams,' now you're playing a guy with no experience.'"
So the planning has to begin in August when preseason training camp starts. Banks tries to get a feel for which newcomers have the size, speed or physicality to contribute, and the first week of camp is largely spent trying out numerous players in different roles to get a feel for who he can rely on. The rest of training camp is about getting those that are going to make his two-deep on special teams as many repetitions as possible so that he's comfortable with who is out there come the start of the season.
Playing offensive and defensive starters is nothing new for a Sumlin-coached team. It was something done regularly at Houston when he was there. One of the Cougars' special teams aces in their 12-1 season in 2011 was running back Michael Hayes, who played a major role in the Cougars' backfield, but could regularly be seen making tackles in punt coverage.
That attitude has carried over to Texas A&M. McKinney, who also coaches running backs, made it clear to his position group in the spring of 2012 that they would be expected to contribute on special teams. Players accepted the challenge, and
Ben Malena
and
Trey Williams
became key players on special teams.
Malena eventually emerged as the starting running back for the Aggies last season and remains that this season but can be seen on the kickoff return team making blocks and last season spent time covering kicks and punts at times, too.
"You have to realize that special teams wins and loses games," Malena said. "You need the best players out there, whether you're a starter or just a special teams guy. If you're the best player at that position, we need you on the field to help us win. I just took that to heart and will do anything for my team to win."
The example set by players with that attitude has an effect on the younger players, many of whom have a role on special teams. Many true freshmen such as
Darian Claiborne
-- who started at linebacker last week -- linebacker
Shaan Washington
, safety
Jonathan Wiggins
and cornerbacks Alex Sezer and
Tavares Garner
are already playing key roles on coverage units, and the example set by their elders is important.
"It's huge," Banks said. "They see Ben in practice, they see Jenkins in practice, they see those guys doing special teams drills at a high level.
Howard Matthews
,
De'Vante Harris
, Floyd Raven when he was healthy. That's huge. That's bigger than anything I can say. When they go out there and they give us great effort as a staff, that sells it and now you get the buy-in of the younger guys."
Banks said it helps increase the desire for the younger players to contribute, particularly in high-profile games.
"You see the Alabama game and go 'Man, I want to be out there,'" Banks said. "Tavares Garner's a prime example. He gets substituted in for Deshazor Everett and he's like 'Man, I know Deshazor's a veteran guy and he's going to make the play, but I want to be in there.' Then he gets in there and makes a tackle."
There's a balance to be struck, however. Playing starters constantly on coverage teams can fatigue them, especially if they're playing a large amount of snaps on offense or defense. So Banks is conscious to employ the personnel wisely.
"You can't wear a guy out because a Deshazor Everett or a Toney Hurd is so good at everything, you can't overuse them and start them on four special teams and expect them to play 60-80 snaps on defense," Banks said. "There's kind of a responsibility on my end, because I've gotten the leeway from the head football coach and the coordinators to use whoever we want. I think it's really important that you don't take advantage of that deal either."
Complementing players such as
Sam Moeller
, who has been the Aggies' special teams player of the week twice already this season and doesn't have a major role on defense, with some of these starters are what help the Aggies find a mix that Banks and Sumlin hope lead to one them having one of the best special teams units in the SEC.
"With Coach Sumlin being as awesome as he is about letting us use whoever we need to in order to be the No. 1 team, special teams-wise, in the conference, I think we've got a good mix of him and I of making sure we have the right guys on there, but also give an opportunity to guys who maybe aren't starting on offense or defense," Banks said.
May, 6, 2013
May 6
11:48
AM ET
2012 record:
11-2
2012 conference record:
6-2 (tied for second, West Division)
Returning starters:
Offense: 6; defense: 6; kicker/punter: 1

Top returners
QB
Johnny Manziel
, RB
Ben Malena
, OT
Jake Matthews
, WR
Mike Evans
, DT
Kirby Ennis
, OLB
Steven Jenkins
, CB
Deshazor Everett
, S
Howard Matthews
Key losses
LT
Luke Joeckel
, C
Patrick Lewis
, WR
Ryan Swope
, DE
Damontre Moore
, OLB
Sean Porter
, MLB
Johnathan Stewart
, FS
Steven Terrell
2012 statistical leaders (*returners)
Rushing:
Johnny Manziel* (1,409 yards)
Passing:
Johnny Manziel* (3,706)
Receiving:
Mike Evans* (1,105)
Tackles:
Damontre Moore (85)
Sacks:
Damontre Moore (12.5)
Interceptions:
Deshazor Everett* and Steven Terrell (2)
Spring answers
1. Johnny Football:
The Aggies are in the rare position of returning the previous season's Heisman Trophy winner. Heading into his sophomore season, Texas A&M is hoping that quarterback Johnny Manziel can be even better than he was a season ago. This will be his second year in the offense and for quarterbacks who have played in this system, year two is typically a season in which they progress significantly as passers. That's one of Manziel's primary goals, even though he'll still run when the time calls for it. As long as he's healthy and playing well, things bode well for the Aggies.
2. Experienced secondary:
Last season, the defensive backfield was young and inexperienced. This fall, there are still young players back there, but it is the most experienced unit on the Aggies' defense. Three of the four starters in the secondary from the AT&T Cotton Bowl are back: Deshazor Everett,
De'Vante Harris
and Howard Matthews. Junior
Floyd Raven
has moved from cornerback to free safety and appears to have the skill set (range and tackling prowess) to fit into the position well.
3. Loaded backfield:
The Aggies have four good options in their offensive backfield for Manziel to hand off or throw to. Starting running back Ben Malena returns, as does
Trey Williams
, who returned kicks and received carries as a true freshman. Add to the mix a pair of transfer backs who sat out last season,
Brandon Williams
(Oklahoma) and
Tra Carson
(Oregon) and the Aggies have a quartet that gives them a multitude of options.
Fall questions
1. Front seven:
The Aggies are looking for someone to replace the production that third-round NFL draft pick Damontre Moore brought last season. Moore led the team in tackles, tackles for loss and sacks a year ago. Also, with two senior leaders gone from linebacker (Sean Porter and Jonathan Stewart) Texas A&M not only has to replace the bodies but also the leadership. Because of injuries, the Aggies were thin up front in the spring but when all their key players return in the fall, it will ease at least some of those concerns. Keep an eye on names like defensive end
Julien Obioha
(who started opposite Moore last year), defensive tackle
Alonzo Williams
and linebacker
Donnie Baggs
as players who have a chance to see their contributions increase significantly this year.
2. New receivers:
Only one starting receiver returns from last year's squad: Mike Evans. Four of the top six players in receiving yardage are no longer on the roster, including second-leading receiver Ryan Swope. So who will Johnny Manziel throw to? Keep an eye on guys like
Malcome Kennedy
, who caught a fourth-quarter touchdown against Alabama last season,
Derel Walker
, who had a strong spring game,
Edward Pope
, who was a star on the scout team when he redshirted last year and a host of recruits from the 2013 class like
Ja'Quay Williams
and ESPN 150 duo
Ricky Seals-Jones
and
Sebastian LaRue
. Developing other reliable pass-catching options is critical, so keep an eye on how they use the tight ends with newcomer
Cameron Clear
(6-foot-7, 270 pounds) on campus.
3. Kicking game:
One player who fans kept a close eye on this spring was kicker
Taylor Bertolet
. In his redshirt freshman season, the strong-legged kicker struggled with consistency, hitting just 13-of-22 field goal attempts and missing seven point-after attempts. With a new special-teams coordinator (Jeff Banks) who has college punting and kicking experience around to guide him, the Aggies are looking for an improvement from Bertolet this fall. Also the Aggies are working in a new punter,
Drew Kaser
, who takes the reins after senior
Ryan Epperson
graduated.
April, 25, 2013
Apr 25
2:35
PM ET
One of the most promising developments this spring at Texas A&M was the way junior
Floyd Raven
took to the free safety position.
Raven was a backup at cornerback last season and moved to safety this spring. The Aggies thought about moving the 6-2, 190-pound Raven to safety last fall, but coach Kevin Sumlin said they didn't feel as if he'd have enough time to get comfortable at safety.

"It was a heck of a lot easier to put him in and blitz and play man-to-man (as a corner)," Sumlin explained.
But with
Steven Terrell
departing, the Aggies were looking for a full-time free safety. Raven, with his size and athletic ability, made perfect sense.
He made a ton of plays this spring and helped to solidify the Texas A&M secondary, especially with junior
Howard Matthews
and senior
Toney Hurd Jr.
, returning at safety.
"He's a physical guy who just needed to learn the position and has tremendous range and the right size and the right attitude to be a really, really good safety," Sumlin said. "For him to get all the reps he got this spring really helps us. With Howard Matthews coming back, and he played very well for us at the end of the year, that helps Floyd, too, to have some guys who it's not their first time back there."
Sumlin said the summer months will be equally valuable for Raven as he continues to develop the right rapport and communication with his secondary mates.
"Through the summer with players organizing 7-on-7's, we look for him to get better and better as he goes, and certainly the consistency back there this spring with he and Howard at the safety position makes you feel a lot better as coaches now than we did at the beginning," Sumlin said.
"We knew he had the talent and knew he had the skills, and after coming through the spring and seeing the way he practiced, we're pleased with his progress."
April, 15, 2013
Apr 15
4:00
PM ET
COLLEGE STATION, Texas -- Texas A&M wrapped up spring football on Saturday with the annual Maroon and White game. After 15 practices, there's plenty to take away, but here's five things we learned during the Aggies' spring:
To continue reading this article you must be an Insider
August, 31, 2012
8/31/12
12:00
PM ET
The offenses weren't pretty last night in the SEC opener, but the rust is off and a game has been played. Now, bring on the weekend!
August, 30, 2012
8/30/12
12:00
PM ET
I can smell the barbecue, chicken tenders and potato salad. It's time to put the ball and glove away. It's football season!
June, 27, 2012
6/27/12
10:00
AM ET
Texas A&M linebacker
Steven Jenkins
and defensive back
Howard Matthews
have been
suspended one game
by coach Kevin Sumlin for violating a team policy.

Jenkins, who will be a senior this fall, is expected to be a major piece of the Aggies' defense. He started six games last year, but recorded 61 tackles and a sack. Jenkins had what many consider a breakout spring and is expected to excel in Texas A&M's new 4-3 defensive scheme at outside linebacker.
Like Jenkins, Matthews played in all 13 of the Aggies' games last year, but made just two starts. He collected 28 tackles, including three for loss and two sacks. He will also compete for one of the starting safety spots.
This is the first disciplinary action Sumlin has taken publicly since he took over for former coach Mike Sherman, and he's making a pretty big statement to his new team. With a defense that lost six starters from a year ago and is changing schemes, Sumlin is taking a chance by sitting two potential starters for at least a game. That game hasn't been determined, but it really doesn't matter which game it is; this defense has to have all of its pieces in place early in order to develop the proper chemistry.
Now, the Aggies are basically playing from behind to start the season. And if these players are suspended for the opener against Louisiana Tech, expect some sort of impact on this defense. Louisiana Tech isn't exactly a pushover and this game isn't exactly in College Station, Texas.
In his first chance to make a point with his team when it came to transgressions made by his players, Sumlin sent a strong message. He's benching two players who could have an impact on a defense that will go through some growing pains and some adjustments this fall as it not only transitions over to the 4-3 but transitions to the SEC.
Sumlin's team isn't getting off on the right foot heading into the season, but Sumlin is by informing his players that there will be consequences for the wrong actions taken by players.