August, 22, 2011
8/22/11
3:00
PM ET
Everyone is looking for the next Nick Fairley.
Everyone would love to have their own Cam Newton.
So as we look around the league at some of the newcomers from either the junior college ranks or who have transferred in from other schools, we'll try to find them.
Could Georgia noseguard John Jenkins be the beast in the middle that Fairley was? Does
Barry Brunetti
have what it takes to have a Newton-like impact at Ole Miss?
Here is a look at some of the new athletes around the league to keep an eye on this fall:
ALABAMA
Duron Carter, WR: Carter could be a big-time playmaker for the Tide, but he has yet to enroll because of transcript issues. The former Ohio State and juco wideout is the son of star former NFL receiver Cris Carter.
Quinton Dial, DL: Dial could play both inside and out, but is currently getting quality reps at defensive end for Alabama. The former juco standout has made quite the impression on his head coach and he seems to be in line for a starting spot.
Jesse Williams, DT: Like Dial, Williams transferred in from the juco ranks in January and has also performed well in practice. He's gotten reps all around the line, but could also be in contention for one of the end spots. He's a massive lineman at 6-foot-4 and 319 pounds.
ARKANSAS
Alonzo Highsmith, LB: The juco transfer is an extremely athletic linebacker and has really impressed since his arrival. He stepped in at the starting weakside linebacker spot on Day 1 of preseason camp and appears to have the edge there heading into the season.
Robert Thomas, DT: Speaking of athleticism, the Razorbacks might have found their most athletic defensive lineman in Thomas. The juco transfer got a ton of reps this spring with Byran Jones and DeQuinta Jones out with injuries, and is currently competing for a starting spot.
FLORIDA
Dan Wenger, C: He earned an extra year of eligibility after concussions cut his Notre Dame career short. He's reuniting with offensive coordinator Charlie Weis and offensive line coach Frank Verducci and is not only competing for the starting spot at center but has become a leader on the offensive line.
GEORGIA
John Jenkins, DT: He was a giant gem of Georgia's 2011 class and was expected to snatch the starting noseguard position. However, the juco standout has had injury issues and hasn't been in the best shape. At 6-foot-4, and 340 pounds, people are hoping he can be a force in the middle this fall, but he's currently behind Kwame Geathers.
Jarvis Jones, LB: Jones transferred in from USC last year and takes over as the starting strongside linebacker. Georgia's coaches feel that with his speed and athleticism he could be a more versatile player than former stud Justin Houston.
LSU
Zach Mettenberger, QB: If Jordan Jefferson is indeed punished for his alleged involvement in a horrific fight outside of a Baton Rouge bar, Mettenberger's time could be now. He matches his cannon of a right arm with tremendous accuracy and might have the best skill set of any of LSU's current quarterbacks.
MISSISSIPPI STATE
Brandon Maye, LB: Maye transferred from Clemson and with the Bulldogs looking to replace three starters at linebacker, Maye is expected to make an immediate impact at middle linebacker. He had a slow start to fall camp, but improved throughout.
OLE MISS

Barry Brunetti, Randall Mackey, Zack Stoudt, QBs: All three are vying for the starting quarterback spot and all have done well since the spring. Brunetti transferred from West Virginia, while Mackey and Stoudt are former juco athletes. Brunetti has the edge at quarterback, but Mackey was on top this spring and won't make things easy for the sophomore. Stoudt isn't as athletic as the other two, but has been very sharp with his passing ability.
Uriah Grant, Gilbert Pena, DT: Both players were brought in to add some beef in the middle of Ole Miss' line and both could end up starters for opening day. Both have dealt with injuries, but that really hasn't slowed their on-field production in practice.
Wesley Pendleton, CB: Pendleton had an impressive juco career and has really caught on in Ole Miss' defense. He's in the thick of it for one of the starting cornerback spots and has shown that he might be the Rebels' most athletic defensive back.
TENNESSEE
Alex Bullard, OG: He transferred from Notre Dame and was granted a hardship in order to play this fall. Bullard has moved all along the line this preseason, but it looks like he could be in the running for one of the starting guard positions.
Maurice Couch, DT: A lot is expected from Couch, who hopes to fill one of the spots in the middle of Tennessee's line. It hasn't been an easy preseason for Couch, who suffers from asthma, but he has made improvements. He'll contribute at noseguard and the three technique this fall.
Izauea Lanier, CB: Though he made his mark playing safety in junior college, Lanier is competing for time at corner. At 6-foot-1 and 190 pounds, he's a bigger corner, which coach Derek Dooley likes.
Byron Moore, DB: Moore appears to be a "tweener" on defense. He could play safety or corner for the Vols. With Tennessee running a lot of nickel formations, Moore should see the field in some capacity this fall.
VANDERBILT
Jordan Rodgers, QB: Rodgers missed the 2010 season and missed the spring while recovering from shoulder surgery, but is No. 2 at quarterback. The younger brother to Super Bowl champ Aaron Rodgers, Jordan Rodgers is a player coach James Franklin has been especially excited about seeing.
June, 22, 2011
6/22/11
9:30
AM ET
We head into high-flyer mode as we discuss defensive backs today. They are athletic as ever this season, and some teams return a bevy of secondary talent in 2011.
Here's how the teams look:
[+] Enlarge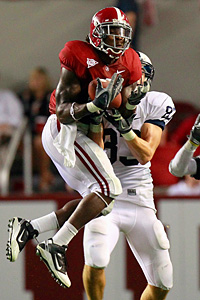 Kevin C. Cox/Getty ImagesMark Barron decided to return to Alabama instead of making himself eligible for the NFL draft.
1. Alabama:
This was an area of the team that was a problem and it wasn't so much the yardage given up but the lack of consistency, especially in big games (see the Auburn game). This year, the Tide should have one of the best defensive backfields in the country. Safety Mark Barron could have entered the NFL draft, but stayed. And while he was in a non-contact jersey this spring, he'll be one of the top safeties around this fall. Robert Lester is another solid safety who is also making everyone's short list of top safeties for next year's draft. At corner, everyone knows Dre Kirkpatrick, but DeQuan Menzie could be Alabama's best weapon in the secondary. Dee Milliner is still in the mix at corner and there is a lot of good young talent as well.
2. LSU:
No Patrick Peterson? No problem. The Tigers are once again loaded in their secondary with corners Morris Claiborne and Tyrann Mathieu. Both are All-SEC material and Claiborne led the Tigers with five interceptions last season. Mathieu found a way to get to the ball often last season and both should make it tough for any quarterback to throw on LSU this fall. Sophomore Tharold Simon made strong improvements at corner this spring as well. Safety Brandon Taylor is another top player at his position and he should be fine after suffering a foot injury at the end of last season. Youngsters Eric Reid and Craig Loston look like stars in the making at safety.
3. Mississippi State:
The Bulldogs return five players who started at some point in 2010. Johnthan Banks, Corey Broomfield and Nickoe Whitley each recorded three interceptions and had 50-plus tackles last year. Broomfield should be the Bulldogs' top option at corner, while Banks can play both corner and safety. Charles Mitchell returns at safety and was third on the team with 93 tackles last season. All of Mississippi State's defensive backs not only have a knack for making big plays down field but they can each play efficiently in the box.
4. Arkansas:
This group is a little inexperienced, but there is a lot of talent to go around. Things start with safety Tramain Thomas. Thomas was fourth on the team in tackles last season and grabbed four interceptions. Thomas looked even better this spring, making play after play. Fellow senior Elton Ford should get time at safety, and converted corner Eric Bennett should get reps as well. Hybrid linebacker Jerico Nelson enhances the group when he drops back with the safeties and Isaac Madison returns at one of the corner spots and should team up with Darius Winston. The two have 27 career starts under their belts.
5. South Carolina:
The Gamecocks' secondary has to improve after underachieving a year ago, and South Carolina has the weapons to do it. Corner Stephon Gilmore wasn't at his best last year, but has tremendous cover ability and speed to be tops at his position. Akeem Auguste moved from safety back to his more natural position at corner and should give the Gamecocks one of the top corner tandems in the SEC. DeVonte Holloman moved to the Spur linebacker spot, so there are still questions at safety, but D.J. Swearinger really impressed this spring and some think he's the most gifted defensive back in Columbia. Replacing Holloman's spot is going to be tough, and the coaches have yet to find someone to solidify that position.
6. Vanderbilt:
This is the strongest part of Vanderbilt's team. The Commodores return a heap of talent, starting with senior corner Casey Hayward, who was a second-team All-SEC pick a year ago. Hayward led the SEC with 11 pass breakups and had six interceptions. Safety Sean Richardson led the team with 98 tackles and would start on a lot of teams in the SEC. The other safety spot is occupied by Kenny Ladler, who was one of the top safeties in the league last season, even as a freshman. Junior Trey Wilson had a great spring and could move past last year's starter Eddie Foster on the depth chart.
7. Georgia:
Like most positions at Georgia, there's no shortage of talent. However, there are still questions. Senior Brandon Boykin is solid at one of the corner spots with his natural corner instincts, great speed and is the defensive leader. Sanders Commings is talented and has the best size, but he'll have to battle Branden Smith at the other corner spot. Smith is a total athlete, but he has to improve his coverage skills. Bacarri Rambo is solid at safety, but he needs to return to the form he had as a freshman. Finding someone to line up next to him is important. With Alec Ogletree moving to linebacker, there is a hole at safety and one of Georgia's newcomers might have to step in this fall.
8. Florida:
The Gators would have been higher on this list had it not been for the dismissal of All-SEC corner Janoris Jenkins. There's a gaping hole at corner, and the hope is that junior Jeremy Brown can help fill it. He finally played after a severe back injury kept him out for two years, and while he struggled at times, Florida's coaches were very impressed with his play this spring. Sophomore Cody Riggs was a pleasant surprise at corner last season and is battling unproven senior Moses Jenkins. There is nothing but youth and inexperience behind them. At safety, Matt Elam had a good spring at strong safety, while free safety wasn't totally locked down by Josh Evans. The good news is that Florida signed six defensive backs this year.
9. Tennessee:
This group could be decent, but there are so many questions. We aren't sure if star Janzen Jackson will return after leaving school this spring. Prentiss Waggner moved from safety to corner last season, where he was an All-SEC performer, and then back to safety when Jackson left. But he might be back at corner this fall. If Waggner is a corner and there's no Jackson, there's an enormous hole at safety. If he stays at safety, then there's one at corner. Fortunately, Brent Brewer, a former minor league baseball player, is a solid safety, and corner Marsalis Teague returns after converting from receiver last season. Incoming junior college transfer Byron Moore should compete immediately for time at corner.
10. Kentucky:
There is a lot of experience with four senior starters returning, but the unit has to show that it can be consistent in big games. Safety/linebacker hybrid Winston Guy leads the group with his speed, strength and athleticism, and will move down into the box as the nickel linebacker. Seniors Randall Burden and Anthony Mosley are back at corner after combing for 11 pass breakups and two interceptions. Junior Martavius Neloms began the spring as the starter at corner, but could see more time at safety this fall. Mychal Bailey will line up at safety and was second behind Guy with two interceptions last season. Inexperience behind this group is still a problem.
11. Auburn:
Things started off poorly when senior safety Michael McNeil was one of the four players arrested for robbery and later dismissed this spring. McNeil, who started seven games last season, was supposed to be one of the stars of the Tigers' defense this fall. Now he's gone and former corner Neiko Thorpe is moving over to safety. The move actually benefits the hit-first defensive back. T'Sharvan Bell is at corner and has the speed and tight cover skills to be one of the best at his position. After that, it's a free-for-all. Incoming freshman Erique Florence should get an opportunity to come in and play immediately at safety.
12. Ole Miss:
This group had to hear about how it was the goat of last season's 4-8 campaign after allowing 246 passing yards a game. It was a motivational tool this spring, but there's a lot of work to do. New defensive backs coach Keith Burns was pleased with the spring progress and really liked how JUCO transfer Wesley Pendleton played at corner. He's competing to take one of those spots from either Marcus Temple, who missed spring with injury, or Charles Sawyer, who had to be pushed at times this spring. The reliable Damien Jackson is back at safety and could line up next to Brishen Mathews, who got good playing time last season, but is still unproven. JUCO transfer Ivan Nicholas and freshman Cliff Coleman will compete for time at safety and corner, respectively.
May, 27, 2011
5/27/11
11:00
AM ET
Most of the news concerning Ole Miss' defense -- especially its secondary -- lately hasn't been great.

The Rebels lost defensive standout -- and emotional leader -- D.T. Shackelford this spring. Then, coach Houston Nutt dismissed linebacker Clarence Jackson and defensive end Delvin Jones just days after both were after arrested for public drunkenness.

Let's not forget the defense as a whole has a lot of questions surrounding it heading into the 2011 season.
Well, the Rebels' defense finally got some good news -- and at just the right area, too.

Defensive back Denzel Nkemdiche, which is pronounced kim-DEECH-ee (thank you, Ole Miss), signed a financial aid agreement with Ole Miss and is expected to be available to play for the Rebels this fall.

Nkemdiche, of Loganville, Ga., is a member of Ole Miss' 2011 class. Originally, Nkemdiche signed with Mississippi Gulf Coast Community College in February because it was thought that he would be an academic non-qualifier. Earlier this week, Nkemdiche received the news that he had gotten a high enough score on his SAT to be cleared academically.

Due to NCAA rules, Nkemdiche can't sign a letter of intent because the LOI period ended on April 1, but he was allowed to sign the financial aid agreement. Technically, he won't officially be counted as an Ole Miss recruit until he attends his first day of classes this summer.

"Denzel helps our numbers in the defensive backfield immensely," Nutt said in a release. "He is physical and very fast. He is a blitzer who tackles fundamentally sound, and most importantly, he finds the football. With his versatility, he provides a lot of options."

The 5-foot-11, 198-pound athlete could wind up playing safety for the Rebels, but there was a shortage of cornerback numbers this spring. He recorded 101 tackles, including 18 for loss, eight sacks and three interception returns for touchdowns as a senior. On offense, he rushed for 192 yards and three scores on 39 carries.

The addition of Nkemdiche brings some much-needed help to the Rebels' secondary. Ole Miss worked with just three scholarship cornerbacks this spring. The Rebels have better depth at safety, but as a whole, the unit is still unproven.

The Rebels do return senior starter Damien Jackson at free safety, and sophomores Brishen Matthews and Frank Crawford are also back. Ole Miss also got some good production out of junior college transfers Ivan Nicholas and Josh Shipp this spring.
April, 13, 2011
4/13/11
3:45
PM ET
Everywhere Ole Miss' secondary turns, it's there: 4-8.

It's a simple reminder -- or punishment -- of the Rebels' disappointing 2010 record and it's something the secondary takes seriously.

The secondary knows the word around town is that it was the reason for last season's debacle. And players read how the defensive backs squandered chances at comebacks.

It's hard to argue.

The Rebels surrendered 246.3 passing yards per game, which ranked 11th in the SEC and 103rd nationally. Ole Miss collected just six interceptions, but allowed 24 touchdowns though the air.

For that, Ole Miss' secondary understands why it must live with its damning label and why the only way it will vanish is with its own transformation.

"Every day we go out onto the field, we carry that on our back -- 4-8," junior college transfer cornerback Wesley Pendleton said. "Every day in the huddle we tell ourselves we are not going 4-8 again, no matter what."

But shaking that stigma won't be easy.

The Rebels entered spring sparse at the cornerback spot, with just three having any field experience with last season's team. Reserve Julian Whitehead also left the team before spring.

However, one of those three, senior Marcus Temple was already out for the spring after undergoing surgery for a sports hernia.

Pendleton, who arrived in January, was immediately thrown into the regular rotation with sophomore Charles Sawyer, who started four games in 2010, and youngsters Cliff Coleman and Frank Crawford.

As for safety, the Rebels' only experience comes from senior Damien Jackson, who started eight games in 2010, and sophomore Brishen Mathews, who played in all 12 games, recording 15 tackles.

Helping out at safety is JUCO transfer Ivan Nicholas, who has impressed at times this spring.

The numbers aren't ideal, but Burns isn't worried.

"I can take thin as long as there's talent," Burns said. "The guys we have are very talented. They're eager to be coached and they want to be good and that's a combination that gives you a chance to be successful."

It's quite the rebuilding process for Burns, who joined the Rebels after coaching Kansas State's secondary in 2010. With the Wildcats, safety Ty Zimmerman was a Freshman All-American, while defensive backs Stephen Harrison and Terrance Sweeney earned All-Big 12 honors.

But it's not coverage schemes or fancy formations that Burns teaches. His basic rule is to have his players go into each practice with the goal of getting something out of it, whether it's improving one's stance or learning to finish plays.

One motivational story Burns tells is about coaching long-time New York Giants safety Jason Sehorn at USC. Sehorn got beat by a receiver on a double move and while he was frustrated and embarrassed, he got back in line, went again, and batted the ball away.

Sehorn's willingness to get back up has motivated Burns' current players and he thinks they are getting the message.

"I've been real impressed with their work ethic and attitude," Burns said. "If we continue to work together, stick together, stay together, we have a chance of being really good."

That work ethic has spilled over into 6 a.m. walk-throughs, where the secondary is improving its communication skills. And one instance of attitude adjustment came when Burns benched Sawyer for falling behind in practice. Burns said Sawyer's demeanor immediately changed and is finally showing quality reps in order to stay away from the back end of the depth chart.

But spring practice isn't going to magically reshape this unit. It's a starting point, but there is much more for it to learn.

The thing Burns wants his players to take from spring is developing confidence and learning to finish plays. The Rebels got caught looking a lot in 2010 and Burns doesn't want that epidemic plaguing them this time around.

"You gotta believe you can finish and make the play," he said.

"I've had a lot of corners that could cover. I've had a lot of defensive backs that could hit. But the guy that you really remember is the guy who could finish on the ball."