August, 20, 2013
8/20/13
2:45
PM ET
In the SEC, it's all about recruiting and player development. It's the big reason why the league has won seven straight BCS championships and produced more NFL players than any other conference. The two go hand-in-hand.
The Senior Bowl, which
released its 2014 Watch List
on Tuesday, further illustrated that fact, selecting nearly 20 percent (72) of its 400 candidates from the SEC. The ACC twas nearly lapped with 48 selections, followed by the Big 10 (46) and the Pac-12 (38).
And the team with the most players should come as no surprise as defending-champion Alabama had 10 make the list, including quarterback AJ McCarron and All-American linebacker C.J. Mosley. Florida, Mississippi State and Missouri tied for the second-most players taken from the SEC with six apiece.
Alabama:
WR Kenny Bell, CB Deion Belue, CB John Fulton, P Cody Mandell, QB AJ McCarron, LB C.J. Mosley, WR Kevin Norwood, RG Anthony Steen, S Nick Perry.
Arkansas:
WR Jevontee Herndon, DT Brian Jones, DE Chris Smith, C Travis Swanson, DT Robert Thomas.
Auburn:
P Steven Clark, DC Chris Davis, DE Nosa Eguae, DE Dee Ford, FB Jay Prosch, DT Jeffrey Whitaker
Florida:
WR Andre Debose, DE Dominique Easley, OG Jon Halapio, C Jonatthan Harrison, WR Soloman Patton, DC Jaylen Watkins.
Georgia:
OG Chris Burnett, OG Kernarious Gates, TE Arthur Lynch, QB Aaron Murray, OB Garrison Smith.
Kentucky:
IB Avery Williamson
LSU:
IB Lamin Barrow, RB Alfred Blue, FB JC Copeland, FS Craig Loston, QB Zach Mettenberger
Mississippi State:
DE Denico Autry, OG Gabe Jackson, RB LeDarious Perkins, QB Tyler Russell, OB Deontae Skinner, FS Nickoe Whitley
Missouri:
OT Justin Britt, QB James Franklin, DC EJ Gaines, WR Marcus Lucas, WR L'Damian Washington, IB Andrew Wilson
Ole Miss:
PT Tyler Campbell, IB Mike Marry, DC Charles Sawyer, RB Jeff Scott, IB DT Shackleford
South Carolina:
DC Jimmy Legree, QB Connor Shaw, DE Chaz Sutton
Tennessee:
OT Ju'Wuan James, DT Daniel McCuller, RB Rajon Neal, DE Jacques Smith, C James Stone
Texas A&M:
LB Steven Jenkins, RB Ben Malena, OT Jake Matthews
Vanderbilt:
IB Chase Garnham, DC Andre Hal, OT Wesley Johnson, FS Kenny Ladler, WR Jordan Matthews
August, 19, 2013
8/19/13
10:00
AM ET
TUSCALOOSA, Ala. -- It was a mixture of old and new on the University of Alabama campus on Saturday. Coeds went one direction toward their future sorority houses on Bid Day while the school's silver-haired alumnus went another, walking toward Bryant-Denny Stadium for the Crimson Tide's second scrimmage of the preseason.
[+] Enlarge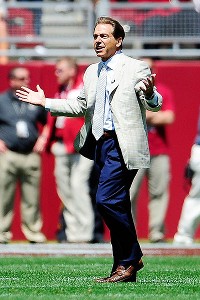 Stacy Revere/Getty ImagesNick Saban brought Alabama from middling to powerhouse. Which SEC school will do that next?
Boosters came en masse to watch the practice, agonizing over a team picked by the Associated Press that morning to begin the season at No. 1. Quarterback
AJ McCarron
would throw for 152 yards and a touchdown in yet another sign pointing toward his contention for the Heisman Trophy, and pass-rush specialist
Adrian Hubbard
had three sacks to help add to the anticipation of the season.
Up and down University Boulevard, the buzz was obvious. With Nick Saban at the helm, Alabama is back contending for another national championship.
The scene in Tuscaloosa wouldn't have been familiar seven years ago, before Saban arrived and the football program had swung out of neutral. A fraction of the team's boosters went to scrimmages and the school's undergraduate enrollment was some 5,000 students fewer.
But for those on the outside looking in that day, it was a reminder not only of how far Alabama has come but of how far other teams can go in the blink of an eye.
Tennessee tackle
Antonio Richardson
knows the history. He pointed out as much at SEC media days in July.
"Before Bama turned it around they were terrible … I mean, dead terrible," he said. "So why can't we be the next team that blows up?"
He's not the only one asking the question. Players at Kentucky, Arkansas, Auburn and Missouri are wondering the same thing: Why can't they reverse their fortunes and bounce back in 2013? If you're looking for a sense of defeat from teams that have become familiar with losing, think again.
Jacques Smith
is hoping his new coach, Butch Jones, can bring the Vols out of the doldrums and return them to competitiveness in the SEC. Tennessee has a lot to replace with quarterback Tyler Bray and his top three pass-catchers from a season ago gone, but there's something Rocky Top has now that it didn't have a year ago -- energy.
"He's brought the confidence," Smith said of Jones, "and now we have our swagger back."
At Auburn, where the Tigers went winless in league play last season, players are substituting "swagger" for "edge." As coach Gus Malzahn explained, when the Tigers play with the right "blue collar" attitude, history shows they can compete for championships.
"The No. 1 thing that our players have to do for us to be successful this year is get our edge back," he explained at media days. "That is the mental and physical toughness, the blue-collar, hard-nosed hit-you-in-the-mouth Auburn football that's made Auburn great. Worry about your teammate, not worry about yourself. Lose the entitlement issue."
On the field, Auburn took one step forward and one step back in that respect last week, losing safety
Demetruce McNeal
on the same day it announced that
Nick Marshall
had won the starting quarterback job. The good news: Malzahn had decent success with his last transfer quarterback, Cam Newton. The bad: Marshall will be the seventh different quarterback to start a season opener for the Tigers in the last seven years.
Kentucky, which had the fewest wins of any SEC team a year ago, doesn't know who its starting quarterback is. The Wildcats entered preseason camp with three players competing for the job:
Maxwell Smith
,
Jalen Whitlow
and
Patrick Towles
, who ended spring practice in a dead heat. Determining who will handle snaps under center, whether it's one player or a mixture of all three, will be Step No. 1 in getting a team that is returning 13 starters back on track.
But what Mark Stoops has done off the field has already reinvigorated the Bluegrass State. Football may never trump basketball in Kentucky, but UK's new head coach is at least making the game more competitive, creating a buzz on the recruiting trail that's spread out to players and the fan base as a whole. If the saying is true that Jimmies and Joes do more than X's and O's, then Stoops is on the right track. Kentucky finished a respectable 36th in the ESPN Class Rankings in February and is off to a hot start for the 2014 class, coming in at No. 16, ahead of programs like Oklahoma, Virginia Tech and Mississippi State.
To the Southwest, Arkansas is taking the old-school approach under new head coach Bret Bielema, who insists that the Razorbacks return to "normal American football." John L. Smith might have been a disaster as head coach in 2012, losing four of eight games, but he didn't leave the cupboard completely bare. With All-American candidates on both the offensive and defensive line and a fullback that looks as though he could run through a brick wall, Bielema has the pieces to run the type of smashmouth system he wants.
The problem for Bielema is the schedule, which sets up dreadfully with Texas A&M, Florida, South Carolina and Alabama in consecutive weeks. By the time Auburn and Ole Miss role around, there's no telling where the Razorbacks will stand, if they're standing at all.
Unlike the previously mentioned schools, Missouri is hoping for a significant rebound despite no significant overhaul on the coaching staff as Josh Henson was promoted from co-offensive line coach to offensive coordinator. Gary Pinkel is back for his second turn in the SEC and this time he hopes to bring senior quarterback
James Franklin
along with him for the ride.
Last year Franklin missed a significant portion of the season with a shoulder injury and Pinkel didn't do him any favors when he came back this spring, thrusting him into a quarterback competition that didn't end until last week. Now fully healthy, Franklin hopes to return to his form of 2011, when he finished fourth in the Big 12 in passing efficiency behind future pros Robert Griffin III, Brandon Weeden and Landry Jones. And with some help from the running game and a boost from rising star
Dorial Green-Beckham
, those expectations might not be that far off.
Like so many programs hoping to bounce back in 2013, Missouri relies on more than the play of its quarterbacks. Winning the line of scrimmage and protecting the football will be vital to competing against traditional powers like Alabama, Florida, Georgia and LSU. In this league, you can't give games away, which is exactly what Kentucky, Tennessee, Auburn and Arkansas did last year, finishing among the bottom five schools in the SEC in turnover margin.
Luck will be important too.
Alabama didn't get to where it is without the stars aligning properly. Saban had to sign before the program took off, and even then he had some cleaning house to do. Without landing standouts like Julio Jones, Courtney Upshaw and AJ McCarron, there's no telling where the Tide would be right now.
Instead of packing the stands for a scrimmage in mid-August, Alabama could be like much of the SEC, looking up at empty bleachers while it waits for its luck to turn.
March, 19, 2013
3/19/13
12:36
PM ET
Making the rounds on a Tuesday:
March, 26, 2012
3/26/12
6:10
PM ET
By
ESPN.com staff
| ESPN.com
Tennessee coach Derek Dooley isn't ready to say his Vols have arrived, but he does like what he sees in the way of depth.
In short, the Vols have more of it, which is a necessity if you're going to contend in the SEC.
"I think this is the first time since I've been here that we have some quality depth at a lot of positions, and there should be a lot of good competition," said Dooley, whose Vols opened spring practice on Monday. "I think that's going to help our team."
In his first two seasons, Dooley was relying on freshmen and sophomores to step in and play lead roles. It's a big reason the Vols suffered through losing seasons each of the last two years. But approaching Year 3, Dooley feels like the roster is much more stable.
"We finally have guys who are settled in and have a lot of guys who have played a lot of snaps, so there is a lot more maturity," Dooley said. "There's a lot more experience, and I think the ability in the roster has led to a better work environment and better dynamic day-to-day."
The Vols don't have a depth chart entering the spring. Rather, they have an organizational chart.
The reason being: Dooley plans to move a lot of guys around and look at different combinations, especially with Tennessee shifting from a 4-3 to a base 3-4 defense.
"We're going to be moving guys around a lot trying to find the right mix in all the areas, whether it's the offensive line or on defense," Dooley said. "We're going to have a pre-spring organizational chart, and then we'll give you a post-spring depth chart. [There's] really nothing in between, because it's going to be a lot of experimenting."
Already, the Vols have moved
Curt Maggitt
from outside linebacker in the 4-3 to one of the inside linebackers in the 3-4, although he'll still line up as a pass-rusher on third down.
Jacques Smith
and
Willie Bohannon
, both of whom played defensive end last season, will line up at "Jack" linebacker in the 3-4 scheme. Also, senior
Prentiss Waggner
is moving from safety to cornerback, which is his more natural position. And to further solidify the depth at linebacker,
Channing Fugate
is moving there from fullback, while
Brent Brewer
will move from safety to strong side linebacker.
March, 26, 2012
3/26/12
10:45
AM ET
Schedule:
Tennessee begins spring practice Monday and concludes with the Orange and White Game on April 21.
What's new:
There was a lot of movement on coach Derek Dooley's staff this offseason. Seven new coaches are in Knoxville this spring. Sal Sunseri arrives as the Vols' new defensive coordinator after serving as Alabama's linebackers coach the previous three seasons. After being a defensive assistant at Alabama from 2010-11 and the defensive backs coach at Central Florida for a couple months, Derrick Ansley joined Tennessee's staff to coach the Vols' cornerbacks. Charlie Coiner is Tennessee's new special teams/tight ends coach. Josh Conklin left The Citadel to coach Tennessee's safeties, and Jay Graham left South Carolina to return to his alma mater to coach running backs. John Palermo and Sam Pittman round out Tennessee's new hires. Palermo will coach the Vols' defensive line, and Pittman will coach the offensive line. Tennessee also welcomed seven early enrollees -- Cody Blanc (wide receiver), Alden Hill (running back), Justin Meredith (tight end), Nathan Peterman (quarterback), Darrington Sentimore and Trent Taylor (defensive line), and Tino Thomas (defensive back).

On the mend:
Wide receiver Justin Hunter and defensive back/linebacker
Brent Brewer
are both coming off of ACL injuries from last fall and will be limited during the spring. Linebacker
Curt Maggitt
, nose guard
Daniel Hood
and defensive back
Prentiss Waggner
all had offseason shoulder surgery and will be non-contact this spring. Offensive lineman
Zach Fulton
will be limited this spring as he tries to recover from a stress fracture suffered a couple of weeks ago during offseason workouts. Offensive lineman
JerQuari Schofield
and defensive lineman
Corey Miller
will not be practicing for academic reasons.
On the move:
Dooley plans to move a few players around this spring. With Tennessee moving to a 3-4 defense, the team is adding to its linebacker depth. Brewer (defensive back),
Channing Fugate
(fullback),
Jacques Smith
(defensive lineman), and
Willie Bohannon
(defensive lineman) are all working at linebacker this spring. Smith and Bohannon will compete at the Jack linebacker spot. Maggitt is also moving to inside linebacker.
Rajion Neal
is moving exclusively to running back after playing both wide receiver and running back last season. Waggner is moving back to cornerback after playing safety last season.
James Stone
, a center last season, will play some guard and tackle this spring.
Questions:
The Vols return a lot of bodies on defense, but with a new coordinator, new scheme, and several position changes, there will be starting jobs available. With the 3-4 coming in, Tennessee will be in search of a reliable nose guard.
Maurice Couch
played there more as last season progressed, but Tennessee's staff thinks very highly of incoming junior college noseguard Daniel McCullers, who will be on campus this summer. Having Hood limited also means depth is an issue there this spring. There is still a little uncertainty in Tennessee's secondary. Waggner moving to cornerback will help with boundary play, but it takes a solid player out of the safety spot. Redshirt senior
Rod Wilks
takes over at free safey, but has no career starts. The running back position also enters the spring with questions surrounding it. The Vols were last in the SEC in rushing last season, and lose starter
Tauren Poole
. Only three lettermen return, and none are proven. Neal and
Marlin Lane
will start spring getting the majority of reps, but they combined for just 414 rushing yards on 102 carries last season.
Key battle:
Injuries to Hunter and quarterback
Tyler Bray
certainly hurt Tennessee's offense last season, but being unable to run the ball effectively really kept the Vols from overcoming their struggles in the passing game. There is no question that Tennessee's run game, which ranked 116th nationally (90.1) last season, needs a major upgrade. Lane and Neal will get the first shots at earning the job this spring, but having Hill on campus early will definitely add some depth, and he should push both this spring. Sophomore
Devrin Young
, who rushed for 25 yards last season, will also compete for time this spring. Tennessee can't go another season without having much of a running game to speak of if it wants to take a step forward and compete for an SEC East title.
Don't forget about:
Tennessee will get back a familiar face on defense this spring when linebacker
Herman Lathers
returns. After fracturing his ankle last June, Lathers missed all of the 2011 season, but will be full go this spring. Tennessee needs more linebackers, and adding a veteran like Lathers will help. Tennessee's staff is also excited about what Sentimore can bring to the defensive end spot. He played one season at Alabama before going the JUCO route in 2011. He's on campus now, and is listed on the Vols' two-deep at one of the end spots. Sentimore has a good shot at earning a starting spot this spring.
Breaking out:
The staff has high expectations for offensive lineman
Antonio Richardson
. The sophomore spent 2011 playing on special teams, but after being such a highly regarded recruit coming out of high school, the coaches are expecting him to compete for playing time even though the Vols return all five starters. With Fulton limited this spring, Richardson will get his chance to impress. Also, Lane is a player who has the physical tools to make a big jump this spring. He was a top high school prospect, and now has a chance to claim the running back spot for himself. He's a big body with pretty good speed, but Lane needs to work on his consistency.
All eyes on:
Bray has yet to play a full season at Tennessee. A thumb injury kept him out for half of the 2011 season, but he appears to be back to full health. He wasn't great when he returned at the end of last season, but rust will do that to a quarterback. Now is a chance for Bray to get back into the swing of things and get more comfortable after his injury. It's also time for him to improve his leadership skills. Those have been called into question during his two years in Knoxville, but now that he's officially a veteran, it's time for him to take hold of this team. He has weapons around him to help his passing numbers, but Bray should look to improve this team as a whole by leading by both example and with his words.
August, 19, 2011
8/19/11
6:30
PM ET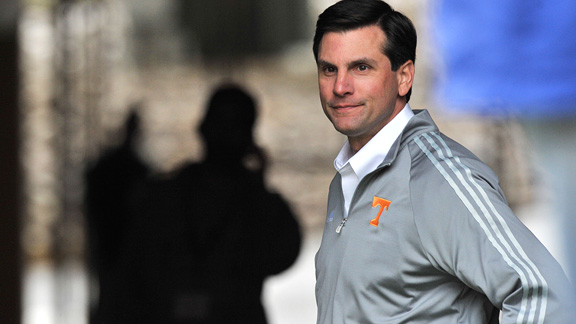 Jim Brown/US PresswireDerek Dooley's young Volunteers will face a brutal schedule this season.
KNOXVILLE, Tenn. -- Derek Dooley finally feels like a football coach again.
Not that the hard part is necessarily behind him as he enters his second season at Tennessee, but the tedious and often times frustrating task of establishing the kind of infrastructure he wants within his program is all but complete.
Now, it gets down to football, and more specifically, winning a few more football games.
"We were able in this preseason camp to do what we were hired to do, and that's to go coach and motivate and teach our team instead of dealing with a lot of drama and explaining to everybody that that's not how we're going to do it here and that we're going to do it a certain way here," Dooley said. "There's a lot less emotion and drama with this year's team, and that's good."
It's also a more talented team thanks to back-to-back top-15 recruiting classes nationally.
Dooley is convinced the Vols have upgraded height, weight, speed and athleticism at every position.
But they had to. Only four seniors are slated to start this season, and as many as 14 of the 22 position starters are projected to be freshmen or sophomores. That goes for both of the kicking specialists, too.
[+] Enlarge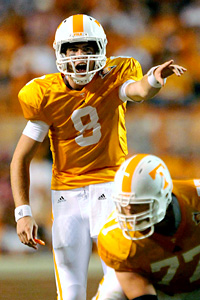 Jim Brown/US PresswireTyler Bray is now expected to lead Tennessee's offense.
Two of the three starting linebackers will be true freshmen -- Curt Maggitt on the weak side and A.J. Johnson on the strong side.
"We feel like we're better. We feel like we're a lot better," Dooley said. "But I don't know if we're any good … if that makes sense."
For one thing, Dooley knows what he's up against in taking such a young team into the teeth of the SEC gauntlet.
The Vols are the only Eastern Division team this season that has to face all three of the highest-ranked Western Division foes: No. 2 Alabama, No. 4 LSU and No. 14 Arkansas.
They do trade Oregon for Cincinnati in the nonconference schedule, but as Dooley is quick to point out, they trade a home game against Ole Miss for a road date at Arkansas in league play.
After going 6-7, including a controversial loss to North Carolina in the bowl game, in what Dooley calls "Year Zero" last season, what are realistic expectations for the Vols this season?
Dooley, a former lawyer, is too slick to be pinned down on that one.
He doesn't dare toss out a number. Instead, he points to a sign hanging up in the Vols' Neyland-Thompson Sports Center.
"It goes back to what our whole core value is: 'Relentless pursuit of continued improvement,'" Dooley said.
The translation: The Vols sure can't take a step backward this season, and just about anybody in orange would tell you that another 6-6 finish in the regular season would be a step backward.
At Tennessee, you're always going to be measured by how well you do against Alabama, Florida and Georgia. And here lately, you could probably throw South Carolina into that mix.
Beating one or two of those teams and finishing above. 500 in the regular season would go a long way toward living up to that standard of relentless pursuit of continued improvement.
It would also be a nice segue to a 2012 season in which the Vols will be expected to compete for the SEC title.
The Tennessee players are clearly motivated by so little being expected of them this season. They're also tired of hearing their youth being used as an excuse as to why they won't be a factor in the Eastern Division race.
"We're going to shock a lot of people this year, so just be on the lookout for Tennessee. Old Rocky Top is coming back," said sophomore defensive end Jacques Smith, who has a chance to be one of the real breakout players in the league this season.
The Vols have several of those players, especially on offense. Six of their projected starters on that side of the ball either started or played extensively a year ago as true freshmen, including quarterback
Tyler Bray
.
Dooley said it will be a completely different ballgame for those guys this season.
"We didn't have any pressure last year [on offense]," Dooley said. "Our two receivers (
Justin Hunter
and
Da'Rick Rogers
) had no pressure. They had two seniors ahead of them. They'd go into a game, and if they couldn't make a big play, would get out. They didn't have any pressure. The quarterback [Bray] came in and we were 2-6. If we lost a game, there was no pressure.
"Now, we start over. It's their team. It's a different story."
Dooley said it's imperative that the Vols run the ball more effectively this season, and he's seen signs of being able to do that in the preseason. It's helped having a deeper stable of running backs, and true freshman
Marlin Lane
has added the speed element to the equation.
Defensively, Dooley's two biggest areas of concern remain the interior of the defensive line and cornerback.
The good news is that senior end Ben Martin has come back from a pair of Achilles tendon injuries, and Smith is a budding star at the other end.
"It's nice to have Ben Martin back," Dooley said. "He's got some size and stature and provides leadership. That's been a little bit of gravy that we weren't counting on.
"What we're seeing is that we're not where we need to be at certain positions. Our concerns are at defensive tackle and cornerback. Austin Johnson is the new mike (middle) linebacker, but we're showing signs that we're going to get a lot better pressure with four guys, which we didn't last year. And we're showing signs that we're matching patterns and covering better.
"So we're showing signs that we're going to make offenses work a little bit more to score points, and that's encouraging."
August, 1, 2011
8/01/11
12:55
PM ET
One of Tennessee's most promsing defensive players, sophomore end Jacques Smith, is healthy and will be "full-go" for the start of preseason camp, Tennessee coach Derek Dooley said Monday.
The Vols open practice on Tuesday.

The 6-foot-2, 255-pound Smith had surgery on both feet during the offseason, so there was some concern over when he might be ready. Having him there for the start of camp is good news for the Vols, who have no choice but to play a ton of new faces and younger players on defense this season. Smith was named to the SEC's All-Freshman team by the coaches last season after recording five tackles for loss.
While Smith will be back, Dooley said it would still be a few more months before senior linebacker Herman Lathers would be back on the field. Lathers was the Vols' only returning starting linebacker, but broke his ankle during summer workouts in June.
With Lathers out, senior linebacker Austin Johnson was expected to play an even bigger role. Johnson was arrested late last month and charged with public intoxication and disorderly conduct. Dooley said Monday that he was disappointed in Johnson, but added that Johnson's punishment would be handled internally. Dooley said Johnson had been having one of the best summers of anybody on the team until his arrest.
The Vols' lack of depth at linebacker guarantees that a few true freshmen will be in the rotation this season. Curt Maggitt, A.J. Johnson and Christian Harris were all highly rated and will get a chance to play right away.
April, 15, 2011
4/15/11
11:27
AM ET
By
ESPN.com staff
| ESPN.com
Spring game:
2 p.m. ET on Saturday

Questions answered:
Even though
Tauren Poole
topped 1,000 yards rushing last season, the Vols' running game lacked consistency. Coach Derek Dooley felt like they left too many yards on the field. This spring, they added another piece to that running game in sophomore
Rajion Neal
, who had some big scrimmages. Dooley feels like you have to have two No. 1 running backs to make it in the SEC, and both of the incoming freshmen (Marlin Lane and Tom Smith) will get their shot when they arrive this summer. The Vols' continued development in the offensive line was also one of the highlights of the spring, and they're building depth up front. Right tackle Ja'Wuan James, right guard Zach Fulton and center James Stone are all returning starters who played last season as true freshmen. Sophomore Alex Bullard, who transferred from Notre Dame, has worked at left tackle and is somebody who will definitely be in the rotation if he gets a hardship waiver from the NCAA. Marcus Jackson, a highly rated true freshman who enrolled early, has been a starter all spring at left guard.
Questions unanswered:
Sophomore quarterback
Tyler Bray
added a few pounds, got a lot stronger and gained a deeper understanding of the Vols' playbook. But it remains to be seen if he's the kind of leader who can help take this team to the upper echelon of the SEC. Bray said he made a conscientious effort to be more vocal this spring. What's not up for debate is his ability to throw the football. He has a big-time arm and is fearless in the pocket. The entire front seven on defense also remains a huge question mark. Tennessee lost five of its seven starters from a year ago, including key leaders such as Nick Reveiz and Chris Walker. The Vols were still shuffling guys around on the defensive line this spring to find the right combination, and the jury's still out on whether they have enough SEC-quality linebackers. Staying on defense, the Vols will probably be counting on a pair of junior college players (Byron Moore and Izauea Lanier) to come in and play right away in the secondary, especially with no guarantees that safety Janzen Jackson will be back.
Spring stars:
Sophomore Da'Rick Rogers has All-SEC receiver written all over him. He's a 6-foot-3, 215-pound specimen who can go get the football with the best of them. He made huge strides this spring in the finer points of playing receiver and made as many big plays as anybody on the team. He and fellow sophomore
Justin Hunter
as a combo should be something to see. Sophomore defensive end Jacques Smith was one of the Vols' top defenders this spring and has a chance to be a dominant pass-rusher. He suffered an injury to his foot (believed to be a broken bone) this week in practice that will likely sideline him until June. Sophomore Brent Brewer, who made a big impact a year ago in his debut, has been lighting people up at safety and made even more improvement this spring.
Of note:
James has missed the past two and a half weeks of practice with mono. … The Vols would like to get sophomore fullback
Channing Fugate
more involved in the offense. The 251-pound Fugate rushed for 3,000 yards as a junior in high school. … Tennessee appears set at the kicking positions with sophomore Michael Palardy handling the place-kicking duties and redshirt freshman Matt Darr doing the punting. … Junior safety Prentiss Waggner broke one of his fingers and has played the last two weeks with one of those clubs over his cast. … True freshman Vincent Dallas has made a strong push this spring to be a part of the receiver rotation next season, and Bray said sophomore
Matt Milton
is also coming on. Milton, who's 6-foot-5, would fit in nicely with the 6-4 Hunter and 6-3 Rogers. The Vols also have heralded freshman receiver DeAnthony Arnett arriving this summer.
February, 22, 2011
2/22/11
10:00
AM ET
Our SEC spring preview continues with a look at the Eastern Division:
FLORIDA
Start of spring practice:
March 16
Spring game:
April 9

What to watch:
Stamp of Muschamp: All eyes will be on Will Muschamp as he sets foot for the first time on a practice field as a head coach. He takes over for Urban Meyer, who won two national championships in six seasons at Florida, but let it get away from him last season. Muschamp's first order of business is restoring that edge to the Florida program that made the Gators so successful under Meyer. It was a disjointed bunch a year ago with some obvious chemistry problems, but the talent is in place for Muschamp to come in and win right away if he can get everybody on the same page.
New life for Brantley: With Charlie Weis taking over as the Gators' offensive coordinator, he plans to install a pro-style offense, which fits senior quarterback John Brantley a lot better than the spread attack the Gators tried to run with Brantley rotating in and out last season. Tim Tebow was a hit in that offense. Brantley was woefully out of place. But in this new offense, he gets a chance to do what he does best -- throw the ball from the pocket. He'll also have true freshman Jeff Driskel pushing him every step of the way. Driskel, ranked by ESPN as the No. 1 quarterback prospect in the country, enrolled early and will go through spring practice.
Second time around: Remember that freshman class the Gators signed last year that was being hailed as perhaps the most talented ever? We start to find out a lot more about those guys this spring, and the Gators will need a lot more production out of that crowd, too. We're talking about defensive linemen Ronald Powell and Sharrif Floyd, running back Mack Brown, receiver Chris Dunkley, safety Matt Elam and cornerback Joshua Shaw, to name a few. It's time for some of the Gators' younger talents to make their presence felt.
GEORGIA
Start of spring practice:
March 10
Spring game:
April 16

What to watch:
Murray's ankle: There was a collective sigh of relief across the state of Georgia when it was learned that Aaron Murray's ankle injury wasn't more serious than it was. The Bulldogs' sophomore quarterback sprained his ankle playing soccer this past weekend and says he will be ready to go for spring practice. Still, don't look for him to overdo it, particularly early, which means sophomore Hutson Mason may get some increased reps with the first unit. This will be Murray's third spring at Georgia, and he's going to get plenty of work. Something says, though, that his soccer days are over.
Elevating the O-line's play: Most Georgia fans would readily tell you that the Bulldogs' play in the offensive line each of the past two seasons has been disappointing. There's a new guy calling the shots up there this spring, former Alabama All-SEC performer Will Friend. Look for Friend to move some guys around and try to settle on the best combination. Cordy Glenn will get a shot at tackle, and Kenarious Gates may, too, after playing some at right guard last season as a true freshman. However it shakes out, the Bulldogs need to play with more consistency up front next season.
Lining up linebackers: Losing outside linebacker Justin Houston early to the NFL draft was a big blow. He was Georgia's finisher on the edge in Todd Grantham's 3-4 defense and was second in the SEC in sacks last season. Jarvis Jones, a talented transfer from Southern California, is probably the closest thing the Bulldogs have to Houston, which means he'll probably start out on the outside. Jones also worked some on the inside last season. Senior Richard Samuel needs a big spring and could really help fill the void inside.
KENTUCKY
Start of spring practice:
March 30
Spring game:
April 23

What to watch:
Moving to the 3-4: Rick Minter came aboard as Kentucky's new defensive coordinator prior to the bowl game last December and will continue the transition from the 4-3 to the 3-4 this spring. The Wildcats still need to recruit to this defense, in particular find a bigger nose guard, before going full scale to the 3-4. But Minter would like to create a hybrid position where he can take a linebacker and play him some at end, thus giving the Wildcats more flexibility. Kentucky isn't short on talent at linebacker, and junior Ridge Wilson could be a candidate for that hybrid role.
Newton's law: Mike Hartline's eligibility has run out, and Ryan Mossakowski is transferring. That leaves Morgan Newton as the Wildcats' quarterback of record. Heading into his junior season, he needs a big spring with the focus clearly being on becoming a more consistent passer, while also establishing himself as a leader. He needs to prove it to the coaches. But more importantly, he needs to prove it to his teammates that he's the guy to lead this team.
Finding the end zone: Randall Cobb and Chris Matthews combined for 22 touchdowns last season, but they're now gone. Derrick Locke, when healthy, was one of the more dangerous breakaway threats in the SEC at running back. He's also gone. The good news is that Kentucky returns four offensive line starters, but one of the priorities this spring will be identifying guys who can get the ball into the end zone, which is where Raymond Sanders, Brandon Gainer, CoShik Williams and La'Rod King all come in. Getting junior receiver Gene McCaskill back will help, too. He missed all of last season after tearing his ACL in preseason practice.
SOUTH CAROLINA
Start of spring practice:
March 15
Spring game:
April 9

What to watch:
Shoring up the pass coverage: Ellis Johnson, South Carolina's assistant coach for the defense, is determined to get to the bottom of the Gamecocks' issues covering the pass last season. They're plenty talented in the secondary, but were beaten way too often and gave up far too many big plays. One change is Akeem Auguste moving back to cornerback from safety. Auguste played cornerback two years ago. The Gamecocks also hope redshirt freshman Victor Hampton can provide some coverage help when they go to extra defensive backs.
Retooling up front: Gone are four senior offensive linemen who started at some point last season. Of course, some of the best news for the Gamecocks is that they're going to have the same offensive line coach for the second year in a row. When Shawn Elliott arrived last year, he was the third different offensive line coach at South Carolina in as many years. He did a nice job with the Gamecocks' offensive line in his first season and was able to mix and match when guys were injured. Redshirt freshman A.J. Cann will have a chance to win one of the starting guard jobs, while junior college signee Kaleb Broome is already on campus and will vie for the right tackle spot.
Sustaining success: The Gamecocks made history last season by playing in their first SEC championship game. They're likely to be favored in the East race again in 2011, but are they ready to embrace that role and properly manage those expectations? The leaders need to take charge of this team this spring and make sure there's no complacency from simply having gotten to Atlanta last season. The goal now is getting there and winning a first-ever SEC championship. The Gamecocks have the returning talent to make that happen, but do they possess everything else it takes to win a title in this league?
TENNESSEE
Start of spring practice:
March 22
Spring game:
April 16

What to watch:
Growing as an offense: The Vols were so young on offense last season that a lot of the time they were merely trying to keep their heads above water. But with the three true freshman offensive line starters a year older and quarterback Tyler Bray going through his second spring practice and being able to get his timing down that much more with receivers Justin Hunter and Da'Rick Rogers, Tennessee has a chance to really have its offensive attack humming by the fall. Having everybody together this spring and working under offensive coordinator Jim Chaney should only expedite the process.
Living in limbo: Janzen Jackson, the Vols' star junior safety, will not be around for spring ball. He's withdrawn from school this semester to deal with personal problems. Tennessee hopes to get him back for the fall, but there are no guarantees. Brent Brewer, a former minor league baseball player who really came on at safety the latter half of last season, is suspended indefinitely from all team activities following his arrest on a domestic assault charge. The Vols signed two junior college defensive backs, Byron Moore and Izauea Lanier, but they won't be on campus until this summer.
Beefing up the front: The Vols really like promising defensive ends Jacques Smith, Corey Miller and Willie Bohannon and will be looking to bolster their pass rush with those three coming off the edge. Senior Malik Jackson will likely stay inside after moving from end to tackle last season and leading the Vols in tackles for loss (11) and sacks (5). But there's still a huge need for more muscle inside. Junior college signee Maurice Couch will certainly help, although he doesn't arrive until this summer. Montori Hughes is coming off a disappointing 2010 season. The Vols will be looking for all the bodies they can find inside this spring.
VANDERBILT
Start of spring practice:
March 18
Spring game:
April 17

What to watch:
Franklin's debut: With the exception of offensive line coach Herb Hand, Vanderbilt will have an entirely new coaching staff running the show this spring. It will be the first collective look that new coach James Franklin has had at his team. It's also his first chance to evaluate his returning talent, not to mention the returning players' first chance to get a feel for Franklin and the new assistants on the practice field. Franklin has vowed that he won't be afraid to take some risks and that the Commodores will be aggressive.
Smith's time to shine: As quarterback Larry Smith enters his senior season, his slate is wiped clean with this new staff. He won't stray too far from new quarterbacks coach Ricky Rahne this spring and gets a chance to take an early lead in the quarterback battle before the three true freshmen arrive this spring. Jordan Rodgers will be limited this spring after undergoing shoulder surgery last year, but will also get a chance to prove to the new staff that he's the guy to pump some life into a passing game that finished 105th nationally last season.
Identifying playmakers: The Commodores need to generate more big plays in 2011, and that goes for all three areas of the game. This is a big spring for younger receivers Jordan Matthews, Jonathan Krause and Chris Boyd. And on defense, Vanderbilt needs to find a few more finishers in terms of getting to the quarterback. The Commodores were last in the SEC with 20 sacks last season and were also last with 15 forced turnovers. Creating more short fields for the offense and making more happen on special teams will be a must next season.
February, 14, 2011
2/14/11
6:46
PM ET
After missing all of last season with a torn Achilles tendon, Tennessee defensive end Ben Martin has suffered another Achilles injury to his other leg and is scheduled to undergo surgery this week.

Martin, a rising senior, hopes to be able to rehabilitate fast enough following surgery to get back for the 2011 season, but there are no guarantees -- especially with a pair of Achilles injuries so close together.

With or without Martin, the Vols were counting on big sophomore seasons from Jacques Smith and Corey Miller. Both showed a lot of promise last season as true freshmen. Rising junior Willie Bohannon will also see his role increase in Tennessee's end rotation. Among them, Smith, Miller and Bohannon combined for five sacks last season and will be the only three scholarship ends on the roster this spring.

Malik Jackson, a rising senior, came to Tennessee from Southern California as an end, but moved to tackle midway through last season. He's expected to stay inside, where the Vols are equally thin.

Tennessee also signed two players in this recruiting class projected to play end -- Curt Maggitt and Jordan Williams.