September, 4, 2010
9/04/10
7:45
PM ET
ATLANTA -- At one point, it looked like either redshirt freshman Craig Loston or true freshman Eric Reid might start at free safety for LSU.

But the Tigers have decided to go with senior Jai Eugene, who moved to safety in the spring from cornerback.

That means all four starters in the secondary for the Tigers will be players who started their careers as cornerbacks.
June, 1, 2010
6/01/10
11:00
AM ET
It's not every day that a team has a Heisman Trophy winner returning, and some in and around the program are wondering if his backup might be even better.
Running back
Mark Ingram
became the first Alabama player in history last season to win the Heisman Trophy. He rushed for 1,658 yards and scored 20 touchdowns.
Is it too farfetched to think that
Trent Richardson
might be the second from Alabama to take home college football's most prestigious individual award somewhere down the road?
[+] Enlarge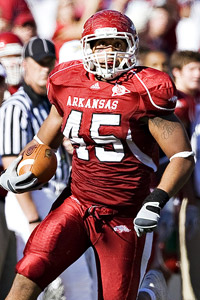 Wesley Hitt/Getty ImagesD.J. Williams is part of a very deep Arkansas receiving corps.
It makes for good conversation, and at the same time, underscores how well stocked the Crimson Tide will be at running back in 2010. Don't forget about redshirt freshman
Eddie Lacy
, either.
While Alabama's at the head of the class in the SEC when it comes to being the most prepared to replace a key player, the Crimson Tide's hardly the only team with quality depth in key spots.
One of the best examples is Georgia's offensive line, specifically senior left tackle Clint Boling. The Bulldogs have eight lettermen returning up front, and while Boling has played both guard and tackle during his career, offensive line coach Stacy Searels could have some flexibility if Trinton Sturdivant and Tanner Strickland both come back healthy in the fall.
Sturdivant was Georgia's starting left tackle for 13 games as a true freshman. The Bulldogs' coaches felt like he was their best offensive lineman at the time, but he's missed each of the past two seasons after tearing up his left knee. Strickland could also be a factor at guard after missing last season with a shoulder injury.
The Arkansas receiving corps is another position that's among the deepest in the league.
Greg Childs
,
Joe Adams
,
Jarius Wright
and
Cobi Hamilton
are all big-time players in their own right. And when you throw in tight end
D.J. Williams
, it's a collection of pass-catchers that any quarterback would love to have.
Losing one of those guys would hurt the Hogs' passing game, but it certainly wouldn't devastate it.
Ole Miss' depth at defensive tackle is equally staggering. Jerrell Powe is one of the top two or three interior defensive linemen in the SEC. But the Rebels will be able to run tackles in and out of the game next season with the likes of Ted Laurent, Lawon Scott, LaMark Armour and Justin Smith.
LSU would have several options in its secondary if something were to happen to one of the starters.
Junior cornerback Patrick Peterson is the backbone of the unit, but the Tigers made some changes this spring and essentially went with four cornerbacks as the four starters. Jai Eugene moved from cornerback to safety, while safety Brandon Mitchell has also played a lot of cornerback during his career.
Sophomore cornerback Morris Claiborne looks like he's going to follow in Peterson's footsteps as one of the SEC's best, while junior cornerback Ron Brooks has also played a lot of quality snaps for the Tigers. If redshirt freshman safety Craig Loston comes around next season, that would give the Tigers' even more flexibility in an already deep and talented secondary.
May, 19, 2010
5/19/10
11:45
AM ET
We look closer today at the Tigers' strengths and weaknesses coming out of the spring.
Strongest position: Secondary

Key returnees:
Junior cornerback Patrick Peterson (52 tackles, two interceptions, 15 passes defended), senior safety Jai Eugene (26 tackles, one interception), junior safety Brandon Taylor (41 tackles, two interceptions), junior cornerback Ron Brooks (nine tackles), sophomore cornerback
Morris Claiborne
(seven tackles)
Key departures:
Safety Chad Jones (74 tackles, 2.5 tackles for loss, three interceptions), cornerback Chris Hawkins (43 tackles, two interceptions, nine passes defended), safety Danny McCray (49 tackles)
The skinny:
LSU coach Les Miles commented recently that the Peterson-Claiborne cornerback combo might be as good as any in the country. We know Peterson returns as perhaps the best cornerback in college football with his blend of size, speed and superb tackling ability. He can take away one whole side of the field. The LSU coaches think Claiborne is also on his way to being equally complete as a cornerback. He's not real big (171 pounds), but has outstanding speed. The Tigers certainly won't lack for speed in the secondary next season. Eugene has moved to safety, and Taylor has also played cornerback in the past. So, in effect, LSU will have four cornerbacks on the field, which should help improve the Tigers' pass defense. They ranked eighth in the SEC last season in defending the pass. One of their challenges will be in run support, although defensive coordinator John Chavis will have some options. Redshirt freshman Craig Loston could also be a factor. The Tigers want to see him become more physical and more consistent, but he has all the physical tools to be a top-notch safety in this league.
Weakest position: Quarterback
Key returnees:
Junior
Jordan Jefferson
(182 of 296, 2,166 yards, 17 touchdowns, seven interceptions), junior
Jarrett Lee
(16-of-40, 197 yards, two touchdowns, one interception)
Key departures:
None
The skinny:
This one changed a bit after the spring simply because Jefferson didn't take the job and run with it like most on the LSU staff thought he would. In fact, Lee outplayed him a lot of the time in the spring. Jefferson will have this summer and the preseason to re-establish himself. He's still the starter, but Miles has said on numerous occasions now that he wouldn't have a problem playing Lee if that's how it all shakes out. Lee played in a backup role last season. But it's hard for LSU fans to get out of their minds the 16 interceptions (seven returned for touchdowns) that Lee threw as a redshirt freshman two years ago. Jefferson didn't play poorly last season. At times, he held onto the ball too long and was also a victim of an offensive line that didn't do a good job of protecting him. But he completed 61.5 percent of his passes and only threw seven interceptions. Against the best defenses, though, he was ineffective. He needs to play more instinctively in 2010 and has the talent to do so. If he doesn't, it could be one of those situations where the Tigers are going back and forth among quarterbacks. Sophomore
Russell Shepard
could still line up some at quarterback in special situations, but he's a full-time receiver now, and that's where he will spend his time practicing.
May, 5, 2010
5/05/10
9:00
AM ET
LSU's Patrick Peterson has never been short on confidence, which is a prerequisite if you're going to play cornerback at the level he does in the SEC.
"I'm always talking out there on the field. That's a huge part of my game," Peterson said. "I just love to talk, and I love to talk trash and back it up. Every receiver I guard will tell you that I'm going to talk. I don't care if we're losing. I'm going to be talking until the clock has zeros on it."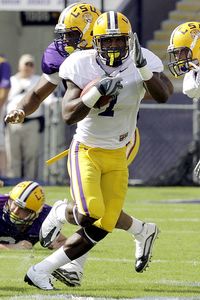 Derick E. Hingle/US PresswireLSU Tigers cornerback Patrick Peterson plays with a chip on his shoulder.
Entering his junior season, Peterson returns as perhaps the premier cornerback in the country. He's already been tabbed as one of the top 10 defensive prospects for the 2011 draft by ESPN's Todd McShay.
In Peterson's mind, there's no "perhaps" to it when talking about college football's best corner.
"I believe I'm the best corner right now in the country, but I definitely have to go out there and prove myself and prove it to anybody who thinks they're better than me," said Peterson, who led all SEC cornerbacks with 15 passes defended last season. "I just have to go out there every single day with a chip on my shoulder, knowing that I want to be the best and what I want out of this career."
What makes the 6-1, 211-pound Peterson so special is that he can just as easily manhandle a receiver physically as he can swoop in with blazing closing speed to knock a ball away.
In the open field, few corners are better tacklers. Peterson had 43 solo stops last season, which was second on LSU"s team to linebacker Kelvin Sheppard.
Peterson also scored a pair of touchdowns, one on a 37-yard interception return against Mississippi State and another on a 53-yard return of a blocked field goal.
"People talk about explosive playmakers," Sheppard said. "He's our explosive playmaker on defense."
Even with the early departure of safety Chad Jones to the NFL, the Tigers return a secondary that could be one of the best in the league in 2010. Jai Eugene has moved from cornerback to safety, and sophomore
Morris Claiborne
looks like he's following in Peterson's footsteps as the Tigers' next great cornerback.
"I think we'll have two corners, Peterson and Claiborne, that may be as good a corner tandem as there is," LSU coach Les Miles said.
Peterson said it's definitely the most speed the Tigers have put on the field in the secondary and across the board defensively since he's been in Baton Rouge.
"We might be a little smaller, but there's a lot of toughness out there," Peterson said. "You win games in the fourth quarter with toughness."
For Peterson, he's still haunted by the fourth quarter/overtime from the Alabama game each of the past two seasons.
As a freshman, Peterson had the coverage on
Julio Jones
when he made a sensational 24-yard catch at the 1 to set up the game-winning touchdown for Alabama in overtime.
And then last season, Peterson had to leave the game briefly with cramps. Up until that point, he'd clamped down on Jones. But with Peterson getting treatment on the sideline, Jones gathered in a receiver screen on the left side, shook off an LSU defender and raced 73 yards for a touchdown that changed the complexion of the game and put Alabama ahead to stay.
There was even more heartache for Peterson later in the fourth quarter. He appeared to intercept a pass on the sideline that would have given LSU a chance to reclaim the lead. But the officials on the field ruled that Peterson was out of bounds. It looked like on the replay that he did get one foot down with possession, but that's not the way the replay official saw it -- and the call wasn't overturned.
"It's still tough," Peterson said. "My freshman year, I was on the field when (Jones) had the big catch. He made a great play. When I went in this year, I was like, 'I can't let him catch one on me,' and he didn't catch a ball on me the whole game.
"I don't want to blame it on anything, but I had the flu the week prior and wasn't getting fluids inside of me. But that play goes through my head every single day. I kid you not.
"This year, I'm going in thinking, 'No catches and no cramps.' "
One thing Peterson insists he's not thinking about, not yet anyway, is whether or not this will be his final season at LSU.
He's exactly what the NFL is looking for, that big, physical corner who can cover.
"There's too much to do here before I start thinking about that," Peterson said. "We'll just have to see. I still need to improve on the little things, and I also have to take care of some unfinished business on the field."
March, 24, 2010
3/24/10
9:00
AM ET
Today, we take a look at what should be the strongest and weakest positions for LSU entering the 2010 season:

Strongest position:
Secondary
Key returnees:
Patrick Peterson, Jai Eugene, Morris Claiborne, Brandon Taylor, Ron Brooks
Key departures:
Chad Jones, Chris Hawkins
The skinny:
Jones was a playmaker for the Tigers at safety, but defensive coordinator John Chavis thinks they will be even faster in the secondary next season. Essentially, they will be playing four cornerbacks back there when you consider that Eugene is moving from cornerback to safety. Peterson is the best cornerback in the country and a future star in the NFL. He's good enough to take away one whole side of the field. The Tigers' defensive coaches think Claiborne will be their next great cornerback. He's had a terrific spring and will step in at the other cornerback position opposite Peterson. Taylor's a returning starter at the other safety position, and Ron Brooks gives them quality depth as the third cornerback. If redshirt freshman Craig Loston keeps coming, this has a chance to be one of the best defensive backfields in the league.
Weakest position:
Offensive line
Key returnees:
Joseph Barksdale, Alex Hurst, Josh Dworaczyk, Will Blackwell
Key departures:
Ciron Black
The skinny:
It was a brutal season for the LSU offensive line a year ago. The Tigers were 11
th
in the league in rushing offense and gave up 37 sacks, which tied South Carolina for the league high and ranked 105
th
nationally. The Tigers have shuffled some people around up front with the hope of finding the right combination. Coach Les Miles likes the way the offensive line has responded this spring, but the real test will come in the fall. Barksdale will be moving from right tackle to left tackle for the departed Black, who had a disappointing senior season. Hurst, a sophomore, has moved from guard to right tackle. There are signs that the Tigers will be better in the offensive line in 2010, but they have to prove it on the field first.
March, 23, 2010
3/23/10
2:30
PM ET
BATON ROUGE, La. -- Even though LSU lost two starters from a year ago, including All-SEC safety Chad Jones, LSU coach Les Miles thinks the Tigers will be even better in the secondary next fall.

"This year, we're younger than we've been, but I think we'll be better at corner and better in the secondary overall," said Miles, adding that the Tigers will also have more speed back there.

Much of Miles' optimism revolves around the way sophomore cornerback Morris Claiborne has played this spring. He's physical, tackles extremely well and locks down his man in coverage.

Of course, the other cornerback is manned by junior Patrick Peterson, who returns as one of the best cornerbacks in the country.

Junior cornerback Ron Brooks has also played well this spring, which is key. LSU defensive coordinator John Chavis likes to play five and sometimes six defensive backs.

Claiborne's development made it a lot easier to move senior Jai Eugene to safety, and junior Brandon Taylor returns at the other safety spot.

The Tigers got some good news this week on safety Craig Loston, who received a medical redshirt by the NCAA and will be classified as a redshirt freshman for next season.

Loston, one of the top-rated safety prospects in the country last year, has shown big-play ability in spots this spring. But the LSU coaches would still like to see him be more physical on a consistent basis.
March, 3, 2009
3/03/09
12:17
PM ET
Posted by ESPN.com's Chris Low
LSU starts spring practice next Thursday, and I'll make the first of many predictions as we count down toward the kickoff to the 2009 season.
The Tigers' secondary will be one of the most improved units in the SEC.
Despite what the ugly pass defense numbers said last season, there's no shortage of talent returning in the secondary, and new defensive coordinator John Chavis will put that talent to good use. He likes to play extra defensive backs and should have the depth to do so next season.
In particular, an athletic, physical cornerback like Jai Eugene, who's had some ups and downs to this point, is a perfect fit for Chavis' system. Eugene is one of those guys who could have a breakout season in 2009.
We know how talented cornerback Patrick Peterson is after playing last season as a true freshman, and Chris Hawkins also returns for his senior year after starting 13 games at cornerback last season.

Chad Jones is a prototypical Chavis safety. He's big, athletic and versatile enough to move around. He, too, should flourish in Chavis' system, and it's noteworthy that Jones doesn't plan to miss any spring practice time to play baseball this year.
When you're learning a new system, you need every rep you can get.

Harry Coleman returns at strong safety after leading the Tigers in tackles last season. Safety Danny McCray and cornerback Phelon Jones also return, and both players started in games a year ago.
Seven of the Tigers' top 11 tacklers last season were defensive backs, and the only one of those who's gone is safety Curtis Taylor.
Chavis loves to go after the quarterback, which puts even more pressure on his cover guys. But it's also a way to force more turnovers. LSU intercepted just eight passes last season, which was tied for last in the SEC with Mississippi State.
Look for those numbers to go up, too.