June, 4, 2014
6/04/14
12:00
PM ET
March, 18, 2014
3/18/14
3:00
PM ET
Oh, the offseason. A time for hype, excitement, and plenty of nervous coaches.
The games are months and months away, but coaches are on high alert with the temptations that usually dwindle during the regular season. Right now, Georgia and Missouri are feeling the effects of a long offseason, as both programs watched four players get arrested in the last few days.
For the Bulldogs, starting safety
Tray Matthews
and three reserves were
arrested and charged with theft by deception
Monday evening. At Missouri, four athletes, including defensive backs
Aarion Penton
and
Shaun Rupert
, were arrested Saturday night on
suspicion of possession of 35 grams or less of marijuana
during a traffic stop.
[+] Enlarge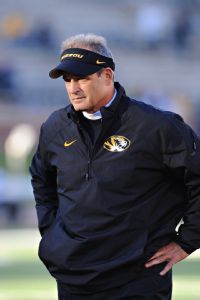 Denny Medley/USA TODAY SportsGary Pinkel and Missouri have no choice but to move on after four players were arrested.
Not the way you want to get spring practice going.
Matthews is clearly the biggest name on this list, but Penton was expected to compete for a starting spot at cornerback for the Tigers. Mizzou already is replacing three starters in its secondary, while the Bulldogs lost other starting safety Josh Harvey-Clemons earlier this year when he was dismissed from the team.
Penton and Rupert have been suspended indefinitely. Georgia coach Mark Richt issued a statement that said the incident "will be handled in an appropriate way."
So what is the theft and deception from the Georgia players? Well, three allegedly took their stipend checks from the school and deposited them with a mobile app and then
cashed them somewhere else
. That doesn't fly. You can't take money twice.
The other three players arrested and charged were defensive lineman
Jonathan Taylor
, outside linebacker
James DeLoach
and receiver
Uriah LeMay
. All backups, but all players who add depth to a defense looking to rebound across the board in 2014.
Now before you start the "Mark Richt has lost control" message board or Twitter banter, this is something that was completely out of his hands. A situation so ridiculous and idiotic isn't something Richt can monitor. He has to trust that his players won't make boneheaded decisions like this one that put themselves and their team in jeopardy. This is a breach of trust.
All of these players put themselves in bad situations and now have to pay the consequences. The invincibility complex is an epidemic that inflicts student-athletes all across the college landscape.
Georgia and Missouri are dealing with this complex right now, and it has to be frustrating, especially when dealing with players at key positions and spring ball just getting underway.
Losing Matthews for any amount of time would be a huge blow for the Bulldogs because there already is so much uncertainty at safety, and the secondary in general. Matthews didn't have a stellar freshman season in Athens and dealt with nagging injuries, but he's experienced and has a wealth of talent and potential. He's supposed to be a leader, but something like this doesn't help that reputation.
Penton was atop the Tigers' depth chart at one of the corner spots and filled in well for
E.J. Gaines
last year when Gaines was injured. Losing him for any amount of time means a more inexperienced player will get reps, which is good, but having the favorite held out of practice isn't exactly what you want when there is no proven player at the position.
Richt and Gary Pinkel have to be extremely frustrated and disappointed in their players, but they have to move forward. Future punishments will come, but all these coaches can do now is shove other players into their spots and keep things rolling.
March, 18, 2014
3/18/14
12:15
PM ET
Three SEC teams begin spring practice on Tuesday, and there's a host of news and nuggets, including a bit of the off-the-field variety, in today's lunch links:
March, 18, 2013
3/18/13
2:00
PM ET
By
ESPN.com staff
| ESPN.com
DawgNation
From David Ching
: Georgia wasn't sure what it had when it signed
James DeLoach
13 months ago. Now after a solid performance in 2012 and a strong spring thus far, the Bulldogs might have found their starting strongside linebacker.
GatorNation
From Michael DiRocco

: The Gators opened spring practice up to the world over the weekend and among the observations was that a few players have emerged as potential stars in 2013.
GeauxTigerNation
From Gary Laney

: With the Tigers having to replace their entire defensive line, it gives some talented but inexperienced players a chance to shine.
More from Laney

: By landing WR recruit
Tony Upchurch
, the Tigers nabbed their seventh commit for the 2014 class, and their third from Texas.
GigEmNation
From Sam Khan Jr.
: After an 11-win season, the Aggies have new expectations going into 2013.
TideNation
From Alex Scarborough
: Alabama opens up spring practice with a bad taste in its mouth. Nick Saban and the Tide are trying to push past an uncharacteristically tumultuous offseason.
From Greg Ostendorf

: The opening of spring practice in Tuscaloosa brought with it visits from some high-profile recruits, including several of the best from Louisiana.
September, 3, 2012
9/03/12
1:25
PM ET
By
DawgNation staff
| ESPN.com
David Ching writes

: Georgia's high-ranked signing haul from February is quickly paying off, as several freshmen already are filling big roles for the Bulldogs on game day.
Ching

: Freshman tailback Todd Gurley's big debut could be considered one of the best of the Mark Richt era.
Ching

: UGA power rankings, Week 1
Kipp Adams writes

: Opponents are on the lookout for four-star Naim Mustafaa, and so are college programs. The Georgia commit has three official visits planned.
Adams

: Georgia's top Class of 2013 recruit Shaq Wiggins took a little trip into No Man's Land this past weekend, visiting the Bulldogs' archrival, the Florida Gators.
Adams

: Georgia target Tyren Jones didn't take long to start having a banner year in 2012.
Radi Nabulsi writes

: Georgia commits weigh in on the Bulldogs' season opener, and they aren't shy about assessing the team's struggles with an unexpectedly feisty Buffalo squad.
Nabulsi (Video):
Catching up with Georgia safety commit Quincy Mauger.
August, 10, 2012
8/10/12
2:51
PM ET
By
ESPN.com staff
| ESPN.com
David Ching writes:
Georgia freshman outside linebacker Jordan Jenkins hasn't downshifted once since arriving on campus for fall camp, and while he's blowing past senior offensive linemen, it all reminds one particular All-American outside linebacker of himself.
Ching

: Already facing so much pressure to fill two pairs of pretty impressive shoes, Georgia's new kicker-punter duo Marshall Morgan and Collin Barber have been set up as roommates and have forged a fast friendship.
Ching

: Highly touted freshman Josh Harvey-Clemons answers questions ranging from his adjustment in playing safety, to how he plans to gain the 30 extra pounds he needs.
Ching

: Georgia's new freshman outside linebackers are turning heads and grabbing coaches' compliments left and right, and the upperclassmen are impressed as well.
Kipp Adams writes

: Class of 2014 UGA commit Nick Glass wonders with all the shuffling and movement in recruiting lately what his future really holds in Athens. The talented defensive back recently accepted an early invitation to December's all-star Rising Seniors week in Atlanta.
Ching

: Around the Hedges in 80 Days – 22 days to kickoff.
All-American safety Bacarri Rambo is one of the Bulldogs' defensive stars whenever he's on the field. It's fully expected that he will return to his opportunistic ways when his off-the-field issues are behind him.
Radi Nabulsi:
Redshirt freshman Sterling Bailey is working hard in his transition to a new position. He admits that sometimes the process is slow, but says he's headed in the right direction.
July, 3, 2012
7/03/12
12:50
PM ET
By
ESPN.com staff
| ESPN.com
Kipp Adams writes

: Four-star UGA commit Tray Matthews and BFF Reuben Foster, a five-star Bama commit, have created the ultimate signing day cliffhanger, deciding to commit to the same team without yet revealing to anyone else which team that will be.
Radi Nabulsi writes

: Auburn commit Trey Johnson, Georgia's No. 1 inside linebacker and the nation's No. 2 ILB, figures it can't hurt to attend UGA's Dawg Night, just to reconnect with some players and coaches he hasn't talked to or seen in a while. Also:
Video highlights
David Ching writes

: Around the Hedges in 80 Days – 60 days to kickoff. UGA signee James DeLoach has the versatility Todd Grantham looks for on defense, which means the incoming freshman could see time at two positions -- linebacker and defensive end.
Listen to DawgNation on the radio.
June, 9, 2012
6/09/12
11:03
AM ET
By
ESPN.com staff
| ESPN.com
David Ching writes

: There are four key elements in the breakdown of Mark Richt's new, 33-page contract that the UGA Athletic Association's executive board approved Thursday evening.
With:
Ching:
UGA releases a draft of defensive coordinator Todd Grantham's contract.
Ching

:
Recruit 411
-- From tiny Millen, Ga., freshmen Jonathan Taylor and James DeLoach are coming to Athens together as teammates and roommates.
With:
Taylor/DeLoach high school coach Q&A
With:
Taylor interview
Radi Nabulsi writes

: Standouts at this weekend's Mark Richt 7-on-7 camp.
Day 1
and
more
.
Nabulsi

: Georgia offers 2014 linebacker Korie Rogers.
April, 16, 2012
4/16/12
3:07
PM ET
By
ESPN.com staff
| ESPN.com
David Ching writes

: This summer's influx of new freshmen, including ILB Leonard Floyd, will only bolster Todd Grantham's masterful orchestration of carefully moving parts in the UGA defense.
Kipp Adams writes

: With junior Arthur Lynch as the only returning TE with game experience, the Bulldogs are hoping to add another elite prospect in the 2013 recruiting class -- perhaps former Georgia resident Hunter Henry -- to keep the pipeline going.
And:
Kipp Adams, Monday chat transcript