November, 14, 2012
11/14/12
12:30
PM ET
Florida coach Will Muschamp said during Wednesday's SEC coaches call that starting quarterback
Jeff Driskel
is
out for Saturday's game with Jacksonville State
.

Driskel suffered an ankle injury in Florida's 27-20 win against Louisiana-Lafayette last Saturday and was listed as doubtful at the beginning of the week. Driskel has been in a walking boot and on crutches this week, so no one should be surprised at the news. Muschamp added that Driskel wasn't going to be able to practice on Wednesday.
And since he can't practice on Wednesday, he won't play Saturday, Muschamp said. Fellow sophomore
Jacoby Brissett
will get the start against the Gamecocks.
"I have a lot of confidence in Jacoby, and this is his opportunity," Muschamp said. "I'm looking forward to seeing him play."
Muschamp said Driskel's ankle injury was a "day-to-day" issue and he wasn't sure if he'd be available for next week's game against No. 10 Florida State in Tallahassee.
Driskel's injury puts Florida's offense in an awkward situation. Obviously, the offense has to go on, but Driskel and his receivers need all the time on the field they can get. Florida's passing game has really taken some steps back in the past few weeks, and heading into the FSU game without Driskel in the lineup does nothing for generating better chemistry.
He'll have to really be on those mental reps in practice.
Muschamp also said three other players are out for Saturday's game: wide receiver
Andre Debose
(knee), safety
De'Ante Saunders
(knee) and linebacker
Neiron Ball
(ankle).
Muschamp also said defensive back
Valdez Showers
and offensive lineman
Ian Silberman
are questionable with shoulder injuries. Offensive linemen
Xavier Nixon
and
James Wilson
are both probable with knee injuries.
Muschamp comments on Floyd
A USA Today story concerning defensive tackle
Sharrif Floyd
's
adoption by Kevin Lahn
last year has raised questions outside of Florida's football program about his eligibility, but Muschamp said he was aware of everything going on and was "absolutely never concerned about any eligibility issues" surrounding Floyd's situation, and never thought what Floyd or Lahn did was wrong.
"Sharrif's a fine young man," Muschamp said. "Everything is above board that the University of Florida has handled in Sharrif and Kevin Lahn. What is wrong with someone caring about someone else? What is so bad about that is my question. The young man has done nothing wrong. My statements speak for themselves in what I said a year ago, and I stand by it today."
November, 7, 2012
11/07/12
1:00
PM ET
After physical games over the weekend, Alabama and Florida are hurting a bit heading into Saturday.
The sixth-ranked Gators (8-1, 7-1 SEC) could be missing a handful of players against Louisiana-Lafayette, while No. 1 Alabama (9-0, 6-0) is hoping running back
Eddie Lacy
and wide receiver
Amari Cooper
are 100 percent for Saturday's showdown with 15th-ranked Texas A&M (7-2, 4-2).
Alabama's injuries aren't too significant. Both Cooper and Lacy suffered ankle injuries in last week's win over LSU, but both practiced on Tuesday.
"Amari seems to be getting better and Eddie's, you know, hopefully he'll be even better today," coach Nick Saban said during Wednesday's SEC coaches call. "He probably took about half the reps yesterday. We're optimistic that both those guys will be ready to go."
Having freshman
T.J. Yeldon
helps take some of the pressure off Lacy, and if he were hobbled this weekend, Yeldon would have no issues taking the bulk of the carries (he's had no issue doing it before), but if Cooper isn't 100 percent the Tide could lose an important part of its passing game. Cooper is Alabama's best deep threat and has been the team's most consistent receiver. He leads Alabama Tide with 32 catches, 472 yards and five touchdowns.
The Gators are hurting a little more. Coach Will Muschamp said on Wednesday that backup running back
Mack Brown
will "probably be out" with an ankle injury and hasn't been able to do anything in practice this week. Wide receiver
Andre Debose
hyperextended his knee last Thursday and could miss his second straight game. Also, defensive tackle
Leon Orr
has been working his way back from an illness and "probably will not play Saturday."
Florida left the Missouri game with a laundry list of battered Gators: K
Caleb Sturgis
(ankle injury suffered in last week's practice), OG
James Wilson
(knee), OT
Xavier Nixon
(knee), LB/DE
Lerentee McCray
(ankle), OG
Jon Halapio
(undisclosed), FB
Hunter Joyer
(knee) and S
Matt Elam
(groin).
On Wednesday, Muschamp said he expects players back from Saturday's injuries. Expect to see a lot more of Florida's younger players this week and next, as the Gators play tune-up games before traveling to Tallahassee, Fla., to take on archrival Florida State.
October, 13, 2012
10/13/12
9:57
PM ET
NASHVILLE, Tenn. -- No. 4 Florida had to overcome injuries, double-digit penalties, and giving up its first fourth-quarter points of the season to
extend its winning streak
over Vanderbilt.


How the game was won:
After Vanderbilt closed Florida's lead to 24-17 late in the fourth quarter, the Gators took over on their own 30-yard line after a Commodores squib kick. UF needed just one play to seal its 22nd consecutive victory over Vanderbilt. QB
Jeff Driskel
kept the ball on the option to the right and went 70 yards for a touchdown.
Turning point:
Florida turned the game permanently in its favor with two special-teams plays in the third quarter. DE
Earl Okine
blocked
Richard Kent
's 44-yard field-goal attempt, which gave the Gators the ball on their own 38-yard line with 6:17 remaining. Four plays later, the Gators lined up to punt on their own 43, but instead ran a fake. Up back
Trey Burton
took a direct snap and handed the ball off to WR
Solomon Patton
, who was streaking across the formation. Patton went 54 yards down the left sideline before getting pushed out of bounds at the Vandy 3. That set up Driskel's touchdown run with 4:31 remaining to put the Gators ahead 18-7. Vandy also gave up a 61-yard kickoff return to
Andre Debose
that set up
Caleb Sturgis
' 26-yard field goal with 5:22 remaining.
Stat of the game:
Florida won the game despite going 2-for-11 on third down. The Gators didn't convert a third down in the second half (0-for-4).
Player of the game:
Driskel rushed for 177 yards, which is a UF record for rushing yards by a quarterback. He ran the ball only 11 times, but two of those carries went for touchdowns. One was a 37-yarder and the other was a 70-yarder that clinched the victory. Driskel also went 11-for-20 for 77 yards.
Second guessing:
Vanderbilt hit a big play to quickly get down to Florida's 22-yard line with a little less than five minutes remaining and the Gators leading 24-14. But instead of going hurry-up, the Commodores huddled and ran four consecutive plays and wasted about 90 seconds of clock time. Vandy also had all three timeouts remaining but coach James Franklin chose to keep them for defense. Turns out the Commodores didn't need them because Driskel went 70 yards for a touchdown on the Gators' ensuing possession to seal the victory.
What Florida learned:
All the talk about the Gators being a deeper team in 2012 was proven true on Saturday, as they were able to overcome a slew of injuries. Florida was without three starters (G
James Wilson
, DT
Dominique Easley
and LB
Jelani Jenkins
) and lost two more on the offensive line (LT
Xavier Nixon
, C
Jonotthan Harrison
) and starting TE
Jordan Reed
in the first half. Reed eventually returned in the second half, but the Gators had several other players leave the game for periods of time before returning. UF would not have been able to overcome those losses last season.
What Vanderbilt learned:
Franklin may have found something effective with a hurry-up offense late in the second half, but the Commodores still only managed to throw a scare into one of the SEC's traditional powers. Vanderbilt is still searching for that breakthrough victory.
What it means:
Florida (6-0, 5-0 SEC) already has as many regular-season victories this season as it did in 2011. The Gators will play host to South Carolina in a key Eastern Division game next Saturday and then plays against Georgia in Jacksonville, Fla. UF could make that game in Jacksonville the division championship game if it beats South Carolina.
October, 6, 2012
10/06/12
10:23
PM ET
GAINESVILLE, Fla. – The 41-11 beatdown LSU gave Florida last season took quite the emotional toll on the Gators -- especially the defense.
The Gators were gutted by LSU's ground attack, giving up 238 rushing yards. They looked overmatched, overwhelmed and listless in Baton Rouge, La.
Angry probably isn't the best word to describe how Florida's defense felt, but depressed and humiliated are good starts.
That debilitating pain was something this team didn't want to go through again. It wanted that pain to be transferred over to LSU when the Tigers ventured into the Swamp on Saturday. The Gators wanted LSU to feel what they felt last year … and then some.
"We wanted to come in this game and win, but more, we wanted to come and hurt them," defensive lineman
Dominique Easley
said after No. 10 Florida's
14-6 victory
over fourth-ranked LSU. "We wanted them to feel the pain that we felt last year. We had hurt in our heart and we wanted them to feel the pain that we had."
And for the better part of 60 minutes, Florida's defense pounded LSU, allowing just two field goals, 200 yards and 42 rushing yards. LSU averaged just 1.7 yards per carry and mustered just 12 rushing yards in the second half. The best part of LSU's offense was terminated from the start, and it was all downhill from there.
Say what you will about how poorly quarterback
Zach Mettenberger
played or how banged-up and bewildered LSU's offensive line was, but Florida's defense manhandled LSU. The team that tops the physical charts was outplayed and outmuscled by the Gators. And Florida's defense was the reason for a lot of LSU's offensive ineptitude.
[+] Enlarge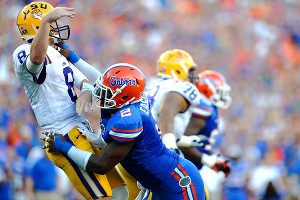 Jake Roth/US PresswireDominique Easley, one of the SEC's most disruptive linemen, might just be Florida's best player and replacing him will be no easy task.
The Gators brought the pressure to Mettenberger, gobbling him up for four sacks and smacking him around all day. When he did throw, Florida's man coverage proved too much, and Mettenberger's confidence looked shaken with all those blue shirts swarming around him, as he completed just 44 percent of his passes.
This unit looked gassed at times last season, but was a total juggernaut Saturday. The Gators flew around on defense, and there was no slowing the Gators down when LSU had the ball.
No play exemplified that more than the game-changing fumble forced by
Matt Elam
late in the third quarter, right after Florida made it 7-6. LSU beat Florida's defense with a double move that completely took cornerback
Marcus Roberson
out of the play, leaving a wide-open
Odell Beckham Jr.
To complicate matters for the Gators, Elam took a bad angle on Mettenberger's pass as he connected with Beckham down Florida's right sideline for a 56-yard play. But Elam kept chugging after Beckham and eventually stripped him of the ball.
Florida's recovery sucked every ounce of life out of LSU.
"Them boys were huffing and puffing," Easley said. "I was looking into people's eyes and they were scared. We wanted to take somebody's will. Not just win the game, take their will, make them remember this night."
Added defensive tackle
Sharrif Floyd
: "We knew that they were banged up and we knew that they were tired and we wasn't taking our foot off the gas."
Florida then drove 77 yards for a touchdown to put the game away.
But that wasn't all the defense had. It made the stop of the season for the Gators when it forced LSU to kick a field goal late in the first half after the Tigers recovered a
Jeff Driskel
fumble at Florida's 7-yard line. LSU gained 3 yards, took two timeouts and settled for three points on a drive that might have buried Florida if the Tigers went up 10.
Florida's defense constantly bailed the offense out, even with all the great field position it gave the offense. Five of LSU's last six drives in the first half were three-and-outs, and LSU's offense crossed into Florida territory just once in the second half … to the 49.
As Gators coach Will Muschamp put it, this defense has the capability to adjust better than it could last season because it's smarter, tougher and deeper.
With Florida's offense stumbling along for most of the game, its defense kept the Gators going with its smothering play.
"Without those guys, we wouldn't be celebrating this," offensive lineman
James Wilson
said. "The defense is amazing."
The offense is worrisome at times, but that defense could keep everyone in Gainesville happy. The offense might not be pretty, but that defense sure is, and it's mean. That's the demeanor it had Saturday, and that's what it intends to be from here on out.
"Defense wins championships, offense wins games," Elam said.
"It's another step to Atlanta and that's our goal. I feel like the sky's the limit from here."
September, 20, 2012
9/20/12
2:45
PM ET
Florida gained a big addition to its offensive line Thursday when former Nebraska tackle
Tyler Moore
informed Gators coach Will Muschamp that he
plans to join Florida's football team
.
Moore's father, Brian Moore, told Derek Tyson of ESPN.com's GatorNation that his son's comfort in Florida's staff is what sold him on the Gators.
"Tyler visited both Florida and Florida State, and he said the feeling was just different at Florida," Brian Moore told GatorNation. "He really likes Coach Muschamp and the Florida staff and just felt really comfortable when he was there."
Tyler Moore attended St. Petersburg College in his hometown of Clearwater,Fla., after
deciding to sit out the 2012 season
for personal reasons. As a true freshman last year, Tyler Moore played in nine games, starting four at right tackle, so he'll bring some good experience to Florida's line next year.
With him sitting out the 2012 season, Tyler Moore will arrive in Gainesville as a redshirt sophomore and will be eligible to play immediately next fall.
Tyler Moore joins former Maryland lineman
Max Garcia
as two welcomed additions to the Gators' offensive line. Tyler Moore, who stands 6-6 and weighs 305 pounds, should compete at both tackle spots for Florida. With left tackle
Xavier Nixon
graduating,
D.J. Humphries
, who will be a sophomore next season, could be the first in line to take that spot, meaning Tyler Moore could compete right away for the right tackle spot.
Garcia, who is 6-4, 307 pounds, could play either guard or tackle for the Gators, but will likely get his shot at guard. With
James Wilson
graduating, Garcia could compete opposite
Jon Halapio
at the left guard spot. He'll bring 14 career games and 12 starts to the line.
These two transfer additions will give the Gators some good experience to work with on a line that will bring good depth back in 2013.
August, 11, 2012
8/11/12
2:50
PM ET
By
ESPN.com staff
| ESPN.com
Michael DiRocco writes:
Florida's cornerbacks should prove to be a fearsome foursome for opposing quarterbacks. While coach Will Muschamp says matchups will dictate playing time more than set starting jobs, the friendly competition is intense.
DiRocco:
Senior O-lineman James Wilson has endured an up-and-down career with the Gators, and he's taking nothing for granted in his final -- and hopefully completely healthy -- season.
April, 27, 2012
4/27/12
5:10
PM ET
By
ESPN.com staff
| ESPN.com
Michael DiRocco writes

: Starting left guard James Wilson is ecstatic to finally be healthy as he heads into his sixth season at Florida.
February, 20, 2012
2/20/12
8:07
PM ET
By
GatorNation staff
| ESPN.com
GatorNation has plenty of analysis from Saturday's successful junior day, which saw Florida add six new commitments.
Derek Tyson writes

: Florida's recruiting coordinator and wide receivers coach Aubrey Hill had a pretty memorable birthday on Saturday. Six commitments brings the Gators' class of 2013 total to 10 -- all from within the state -- a few offers were made and several other visitors got plenty of attention.
Video
: Tyson and Jeff Barlis review Florida's big junior day, with insight into each of the six pledges.
Video
: Five-star safety/cornerback prospect Nick Washington talks about his commitment to Florida with Tyson on Saturday.
Michael DiRocco writes

: Florida is seeking a sixth year of eligibility for offensive lineman James Wilson, and the Gators are hopeful to have an answer from the NCAA by the time spring practice begins next month.
DiRocco writes

: Madison (Fla.) County cornerback Shedrick Williams came away from Saturday's visit to Florida in awe and with a new leader.
August, 26, 2009
8/26/09
2:10
PM ET
By
ESPN.com staff
| ESPN.com
Posted by ESPN.com's Chris Low

The best news for Florida's offensive line was getting junior Maurkice Pouncey back onto the practice field Tuesday.

Pouncey, who started at center in all 14 games last season, had yet to practice in full this preseason after being slowed this summer with a torn labrum in his shoulder. Pouncey, one of the team captains, worked with the first unit during team drills Tuesday.

There had been some talk about Pouncey possibly moving to guard, where he started 11 games in 2007, but it looks like now the plan is for him to remain at center.

That doesn't mean there isn't still some pretty intense competition going on in the Gators' offensive line.

Sophomore James Wilson has really made the decision difficult for the coaches. He's played very well this preseason and is making a bid for the starting left guard job. Wilson was slowed by a foot injury earlier in camp and nearly transferred to Wake Forest following the 2007 season. He's also weathered a pair of knee surgeries during his career.

The right side of the line appears set with Mike Pouncey at guard and Marcus Gilbert at tackle.

Sophomore Matt Patchan appeared to have a beat on the left tackle job after playing on defense last season, but Wilson's progress has made things interesting. Junior Carl Johnson is right there in the mix, too. He started eight games at left guard a year ago.

Redshirt freshman center Sam Robey and junior guard Maurice Hurt are two other guys who've made bids for playing time, so the Gators enter the season with excellent depth up front.