March, 4, 2014
Mar 4
11:00
AM ET
COLLEGE STATION, Texas — While many eyes in Aggieland are fixed on the quarterback competition and who
Johnny Manziel
's successor will be, another task that carries significant weight at Texas A&M is finding the next big-time receiver.
With
Mike Evans
gone, the Aggies are looking for their next star at the position, one that has seen records broken several times in the last few years.
There is a lot of talent among the Texas A&M receivers, but it is mostly unproven and inexperienced talent. With spring football underway, the Aggies coaches have a chance to discuss and dissect the multitude of openings they have at wide receiver.
[+] Enlarge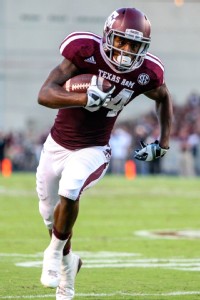 Troy Taormina/USA TODAY SportsMalcome Kennedy is the Aggies' most experienced returning receiver after catching 60 passes for 658 yards and seven scores in 2013.
"One thing that we have now that we didn't have at this position when we got here is that we have an enormous amount of depth," Texas A&M receivers coach David Beaty said. "We have real SEC receivers here. That's something that we've developed over a two-and-a-half, three-year period."
The most productive returning receiver is veteran
Malcome Kennedy
. He is the lone returning starter, having hauled in 60 passes for 658 yards and seven touchdowns last season. Beaty has praised Kennedy's work ethic and leadership before, and Kennedy emerged as a reliable target for Manziel last season.
Now it's about figuring out who the starters will be, which eight receivers will occupy the two-deep and who will separate themselves from the pack. One player most people seem excited to have back in the fold is redshirt freshman
Ricky Seals-Jones
, who sat out most of last season with a knee injury he suffered in the season-opening win over Rice.
"Getting him back healthy is a blessing for us," Beaty said. "The guy's got unlimited potential. We really needed him back. I look for him to make huge waves for us."
Through two practices so far, coaches say the 6-foot-5, 230-pound Seals-Jones doesn't appear to show any ill effects from knee surgery.
"He looks good to me out there," offensive coordinator Jake Spavital said. "He's a big target and he's obviously going to bring a whole other element to what we're trying to do. He can stretch the field vertically, and he's very big and physical on the perimeter."
Perhaps the most exciting name to Aggies fans among the receiver group is one of the newest: five-star recruit
Speedy Noil
. Ranked as the nation's No. 1 athlete prospect in the
2014 ESPN 300
, he is already drawing positive reviews from teammates and coaches in his short time on campus.
Beaty called Noil "the best receiver in the country" in the 2014 recruiting class.
"As explosive as anybody I've ever seen," Beaty said. "Combination of strength, speed and explosiveness. Really smart guy."
One player who could emerge as an option at outside receiver is redshirt freshman
Kyrion Parker
. At 6-foot-2, 190 pounds, Parker has several physical gifts.
"This guy is as talented as any receiver I've ever had," Beaty said. "He's got to grow up and mature, and I've watched him do that before my eyes. He's starting to grow into his own. I look for great things from him in the future. He does things that other people can't do. He's big, he's strong, he's fast, he's got great hand-eye coordination. He can go get the ball deep. He's a better route runner than Mike [Evans] probably was at this point in his career."
There is also an assortment of receivers who received modest playing time last season at varying levels:
LaQuvionte Gonzalez
(21 catches, 240 yards),
Edward Pope
(nine catches, 65 yards) and
JaQuay Williams
(four catches, 71 yards). Any of the three could be factors this fall.
"LaQuvionte Gonzalez grew up a ton this year," Beaty said. "You'd like to redshirt a guy like that, but we weren't able to. He was a guy that benefited from it. ... I think you're going to see him do some great things.
"JaQuay Williams, another really good talent that can do a lot of great things and has come a long way from the time he got here at this time last year. Ed Pope, another guy that I'm looking for to step up and compete. He's got to do a better job of putting on weight and getting really serious about this because there are some real guys here now."
With so many inexperienced receivers and only one real seasoned veteran in Kennedy, head coach Kevin Sumlin said getting all of these players as much work as possible is the most important part of spring for the receiver group.
"Reps, reps, reps," Sumlin said. "Reps right now are as important as anything."
When it comes to figuring out which of the above names are going to emerge as prominent players, Beaty said it's simple to figure out.
"Here's what's going to happen: The serious, committed guys, those guys will rise to the top," Beaty said. "The ones that are here just kind of messing around, those guys will drop to the bottom. There are just too many good players here now."
September, 14, 2013
9/14/13
11:58
PM ET
COLLEGE STATION, Texas — There was no plan for
Johnny Manziel
to speak to the media on Saturday.
In fact, win or lose,
Texas A&M
officials made it clear before the game that the Heisman Trophy winner would not be available for postgame interviews. Earlier this week, coach Kevin Sumlin noted that Manziel's family and attorneys advised him not to speak publicly this week.
[+] Enlarge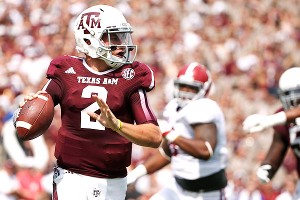 Scott Halleran/Getty ImagesJohnny Manziel produced more than 500 yards but admitted there were a couple of throws he wished he could take back.
But Manziel wasn't going to be told no. He approached Sumlin and Texas A&M associate athletic director for media relations Alan Cannon and said he was going to speak. When Cannon mentioned the objections from Manziel's parents and lawyers, Manziel said, according to Cannon, "My team didn't quit on me, so I'm not quitting on them."
The No. 6 Aggies showed no quit in their 49-42 loss to No. 1
Alabama
on Saturday at Kyle Field in one of the most highly anticipated games in school history. What they did show is that they're a good team with a lot of flaws that still need ironing out.
The message from Manziel, who played brilliantly for much of the day but had a couple of throws he'd like to have back, was that the Aggies had to keep playing -- both on Saturday and moving forward.
"My initial reaction is that I'm just proud of these guys," said Manziel, who threw for 464 yards and five touchdowns and ran for 98 yards. "I kept telling them that no matter what point in the game it was, we were never out of it. Didn't matter what [Alabama] did. I told the offense that going into it, that no matter what happened on the defensive side of the ball, no matter what happened on special teams, we felt like we could come out and score points. So I was proud initially more than anything else, proud of the way they kept fighting until the very end. I mean, we're a young team. That's impressive to me."
The Aggies (2-1) were down by as many as 21 points in the third quarter after taking a 14-0 lead in the first quarter. Alabama roared back with 35 unanswered points and used its power running game and efficient passing attack behind
AJ McCarron
to eat up yardage and extend drives to score points while keeping the Aggies' offense on the sideline.
The biggest flaw seen on Saturday was on defense. The Aggies' front seven was hammered by the Alabama offensive line -- a unit that struggled in its season opener against Virginia Tech -- to the tune of 234 rushing yards and 6.3 yards per carry, led by
T.J. Yeldon
's 149-yard effort. McCarron was rarely pressured in the passing game and wasn't sacked a single time; only one player on the Aggies defense,
Kirby Ennis
, recorded a quarterback hurry. There were big plays given up in the passing game as well, as the Tide threw for 334 yards.
"We've got to get some things shored up in our front defensively," Sumlin said. "We're playing a lot of young guys in there. [Gavin] Stansbury was back and [Steven] Jenkins was back [from suspensions], so they were a little rusty. We didn't have
Isaiah Golden
today because of the tragedy [involving the death of a family member] earlier this week. That put a lot of pressure on Hardreck [Walker] to handle that type of stuff with Kirby. We just have to get those guys in a routine, a steady routine and a rotation and shore some things up up front."
Mike Evans
, who already was considered one of the country's better receivers, made his case to be considered among
the
best after catching seven passes for a school-record 279 yards and a touchdown. He beat man-to-man coverage consistently, ran good routes and was an asset for Manziel when scrambling.
"I couldn't be prouder of him," Manziel said. "Last night in the hotel, me and him, we're roommates, and we were just talking about how the game was going to play out. I knew he was going to come out and play really well."
Manziel wasn't perfect. A fade pass to Ja'Quay Williams in the end zone was intercepted by
Cyrus Jones
in the second quarter ("We probably could have run a better route," Sumlin said). He tried to squeeze a pass in to
Travis Labhart
early in the third quarter but it was tipped by Alabama defensive back
Jarrick Williams
and intercepted by
Vinnie Sunseri
, who returned it 73 yards for a touchdown.
[+] Enlarge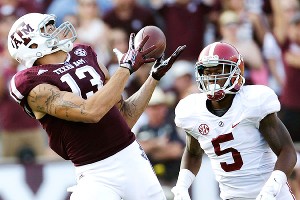 AP Photo/David J. PhillipMike Evans set a school record with 279 receiving yards, including this 95-yard touchdown.
"I had a couple throws that I want to have back, two in particular," Manziel said. "Coach Sumlin always says there's no regrets. Leave it all out on the field. I think that's what we all did. I know I did."
But he was, like the Aggies, still very good. He set the single-game school record for passing yards and put up the second-most total offensive yards in a game (562), second only to his own total (576) against Louisiana Tech last year.
He made what many would call an ill-advised throw in the second quarter after magically evading a sack while in the grasp of Alabama defensive end
Jeoffrey Pagan
, heaving a jump ball 40 yards downfield while falling backward. The ball wound up in the hands of a leaping
Edward Pope
for a first down that sent the crowd into a frenzy. The gain was only 12 yards; Manziel retreated back far to evade pressure.
At some point, it seems it might just be worth chalking it up to a little Manziel magic, since he has seemingly found an uncanny ability to make jaw-dropping plays of the sort each week. It's part of what captivated the college football world en route to his Heisman Trophy last year.
For those who said Manziel's eventful and sometimes tumultuous offseason would come back to haunt him when the games started this year, none of that seemed to be a factor. Though there were some mistakes made on the field, Manziel's play is hard to criticize, especially against the team that was No. 1 in the country last season in total defense. Manziel said afterward that it wasn't a factor.
But for all the flash, the bottom line was that Manziel and the Aggies fell short of their goal on Saturday. They were beaten by a better team.
The disappointment could be heard in the voices of the players afterward; they wanted Saturday's win badly. But with nine games to go in their season, they feel that what they want -- an SEC West title, SEC title and BCS title game berth -- is still within reach; it's just more difficult to obtain now that they're 0-1 in SEC play.
But if the Aggies are still serious about pursuing those goals, there's still much work to do.
"Just got to go game by game," Manziel said. "Just like last year, continue to get better, week by week, and the result was what happened in the Cotton Bowl. For us this wasn't the end of our season. This wasn't the Super Bowl. This wasn't the last game of the season.
"Alabama lost a game last year and still went on to win a national championship. They lost to
LSU
the year before and still went on to win the national championship. Our season isn't over. Anything can happen. This is college football. Some of the craziest things happen every week. So you never know. All we can do is take care of ourselves, take care of what's in this locker room and continue to get better as a team."
September, 8, 2013
9/08/13
1:30
AM ET
COLLEGE STATION, Texas — With the biggest game of the season a week away, there's still some good and bad when it comes to Texas A&M. And that should make the Aggies' showdown with Alabama on Sept. 14 even more compelling.
The Aggies ran away with a
65-28 win over FCS power Sam Houston State
on Saturday at Kyle Field in a game that provided plenty of positives for A&M but also raises some concerns.
[+] Enlarge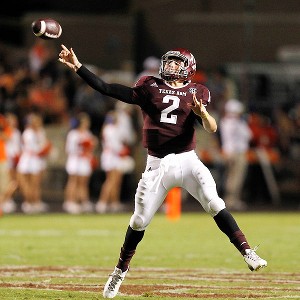 Bob Levey/Getty ImagesQuarterback Johnny Manziel, who passed for 403 yards in Texas A&M's win over Sam Houston State, said he had an emotional meeting with his teammates last week after the conclusion of an NCAA investigation.
Saturday was the final dress rehearsal for Texas A&M (2-0) before it opens up SEC play against defending BCS champion Alabama, the nation's No. 1 team. The Aggies defeated the Crimson Tide 29-24 last season in Tuscaloosa, Ala., and will be looking to make it two in a row against coach Nick Saban & Co.
Offensively, the Aggies looked like one of the nation's best teams on Saturday against Sam Houston State, rolling up 714 yards in quarterback
Johnny Manziel
's first start of the year. The Heisman Trophy winner played a little more than a quarter last week and didn't start while serving a suspension in the first half of a win over Rice.
The redshirt sophomore quarterback showed shades of the player that won the Heisman last season, making a few plays with his feet. He scooted for a 6-yard touchdown run with 5:24 to go in the third quarter that kick-started a string of 21 unanswered points that the Aggies would close the game out with.
He also showed plenty of his signature emotion on the field, including when he lowered his head like a power running back and ran through cornerback
Shelby Davis
for a would-be 7-yard touchdown run that was reviewed on replay and later turned into a 6-yard gain for stepping out of bounds, setting up a 1-yard
Ben Malena
touchdown in the second quarter.
"It was just an emotional play and I play with my heart on my sleeve," Manziel said. "That play, I was doing anything I could to get six points on the board and get this team a bigger lead, to, by any means, get this team six points. That's what I was going for."
While his feet were still a factor occasionally, Manziel showed his progression as a pocket passer when planting his feet and throwing the ball downfield. He found his favorite receiver, sophomore
Mike Evans
(seven catches, 155 yards) plenty of times and threw a picturesque fade pass to freshman
Ja'Quay Williams
for a 20-yard touchdown in the second quarter. He finished 28 of 41 passing for 403 yards and three touchdown tosses.
"He was very efficient," coach Kevin Sumlin said. "There was some maturity shown on the scrambles, the ability to throw the ball away and not take big losses and take care of the football in times where he might have just slung it up in the middle of the field."
His only significant mistake was an interception thrown when the Aggies were inside the Bearkats' 10 in the first quarter, something Sumlin attributed to a bad play call.
The Aggies were also effective running the ball, compiling 214 yards between five different players, led by Ben Malena (10 carries, 91 yards) and
Tra Carson
(nine carries, 51 yards) who combined for three scores.
And while the offense functioned smoothly, the area that the Aggies struggled for a second straight week was on defense and specifically, defending the run. Sam Houston State's option attack was effective early, as the Bearkats marched 74 yards on six plays -- all runs -- on their first drive of the game.
For the night, Sam Houston State finished with 240 rushing yards, 170 of which came from running back
Timothy Flanders
. In the first game of the season, the Aggies allowed 306 rushing yards to Rice, while missing six key defensive players to suspensions (Texas A&M was still missing three starters to suspension on Saturday, plus starting defensive end
Julien Obioha
, who was injured). There were also big plays given up in the passing game, notably a 75-yard touchdown pass from
Brian Bell
to
Torrance Williams
.
With the Crimson Tide looming, the Aggies have plenty of work to do when it comes to shoring up the defense.
"We had our moments," Sumlin said. "You look at about really, four big plays, we can't do that. We'll go back and watch the video and assess where we are. I know one, in particular, was a missed tackle. We had a young guy jump out of a gap and they got out to the edge on us. We've got to continue to keep coaching and I think the addition this week of having [Steven] Jenkins back [will help]."
The Aggies also have health issues to deal with. Safety
Floyd Raven
sat out the second half because of what Sumlin called a collarbone injury. Obioha didn't play, nor did freshman receiver
Ricky Seals-Jones
or sophomore running back
Trey Williams
. Williams is expected back, Sumlin said after the game, but the status on the others is uncertain at this point.
As for Manziel, it was his first time speaking to the media since SEC media days in July. He touched on his meeting with his teammates last week after the conclusion of an NCAA investigation and noted that it was somewhat emotional.
"I said a lot of good things," Manziel said. "It was kind a little bit of an emotional deal for me getting up [there] and trying to get them fired up and let them know that I'm here and I'm focused on this season and I love each and every one of these guys and that these guys mean the world to me.
"There's so much other stuff that gets played on and is out in the public and we know what's in this building and what's in this room, stays in this room. There's a general love for each and every guy on this team, so that's what we were focusing on and that's the message I was trying to get across."
He said his teammates have provided good support for him during the recent months as he has endured criticism and scrutiny nationally.
"The biggest thing that has helped has been being around these guys here in this building and having my teammates and still being able to be around them," Manziel said. "It was easy to block all the stuff out, get off everything and not read anything and just grow with my teammates and continue to get a better bond with them and just being up here, spending time with them, that was something that was really, really helpful."
Alabama rested with an open date on its schedule this weekend after a season-opening win over Virginia Tech on Aug. 31. The Aggies got to tune up a little more. So who had the advantage? Time will tell, but Manziel feels like the Aggies benefited from playing.
"We had another opponent, another game, a full-speed game to play before they did," Manziel said. "It's hard to simulate a game in practice even though you get to go over more tape and what-not, but we had another game to go out and get some of these young guys up to speed and that's hard to really simulate in practice."
Now, the Aggies turn their attention toward trying to repeat history.
September, 4, 2013
9/04/13
10:00
AM ET
COLLEGE STATION, Texas -- Silence isn't a word typically synonymous with a stadium hosting more than 86,000 rabid fans, particularly at Kyle Field, where Texas A&M is known to hold a tremendous home-field advantage.
But silence is a key word in describing some of the growing pains the Aggies had to go through in their season-opening win against Rice on Saturday, as they played 16 true freshmen, 11 of which were defensive players.
A&M coach Kevin Sumlin illustrated that point thusly:
"We had a couple situations where a couple guys actually froze up out there and wouldn't even open their mouths and couldn't get lined up," Sumlin said after Saturday's 52-31 victory. "The D-line said they couldn't hear and then one of them admitted to me "Coach, I just didn't say anything. I was just standing there.'"
Not exactly what a coach is looking to hear from defensive players, particularly when facing a no-huddle offense. Communication, especially in those situations, is key for a defense.
[+] Enlarge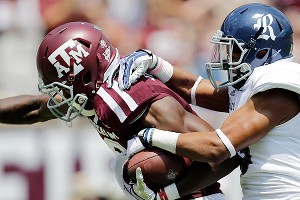 AP Photo/Eric GayFreshman wide receiver Ricky Seals-Jones made an impact in his college debut, hauling in a 71-yard touchdown pass.
But that was the position the Aggies were put in, missing eight players to start the game, six on defense -- including five defensive players who were listed as starters on the week's depth chart -- because of suspensions. There were true freshmen playing in every defensive position group, plus some at receiver. That doesn't include a handful of redshirt freshmen and junior college players who were making their debuts as well.
The Aggies coaches did what they could to prepare their newcomers, but some lessons are only learned the hard way.
"It's like anything else," Sumlin said. "As a coach, you try to prepare guys for all situations, but until the live bullets are flying, you don't know. It'll get better as it goes on, but I think the experience that we gained from today will help us down the road, a bunch. Particularly [in the front seven] because that's where most of the guys are gone."
The struggles were clear. As the defense tried to find its footing, Rice showed the ability to move the ball with ease. The Owls finished the game with 509 total offensive yards, including 306 rushing. The last time they gave up that many offensive yards was in their marathon battle against Louisiana Tech last October (615) and they haven't allowed that many rushing yards since a 66-28 drubbing at the hands of Oklahoma on Nov. 8, 2008.
True freshman played on the defensive line (
Jay Arnold
,
Isaiah Golden
,
Daeshon Hall
and
Hardreck Walker
), at linebacker (
Darian Claiborne
,
Jordan Mastrogiovanni
,
Shaan Washington
) and defensive back (
Noel Ellis
,
Tavares Garner
,
Alex Sezer Jr
. and
Jonathan Wiggins
).
"There's no way to duplicate the tempo and the emotion [of a game]," Sumlin said on Tuesday. "You know what you're doing, but the pressure to perform in that environment can be very, very difficult on a young guy, and that's what experience is all about."
Offensively, the Aggies were much better off. Even though
Matt Joeckel
made his first career start at quarterback, he's a junior who has spent more than a year practicing in the offense and he had at least seen some game time. Center
Mike Matthews
, who received high praise from Sumlin on Tuesday, also played in games and traveled with the team last season.
The true freshmen who saw the field for the first time on offense were all receivers:
Ricky Seals-Jones
,
Jeremy Tabuyo
,
LaQuvionte Gonzalez
and
Ja'Quay Williams
. But because there were more experienced players surrounding them on Saturday, not to mention Heisman Trophy winner
Johnny Manziel
entered the game in the third quarter, the transition was smoother for the Aggies' offense.
In total, 21 newcomers saw the field for Texas A&M on Saturday, many in significant roles. Plenty will log significant time this Saturday against Sam Houston State, as four players received two-game suspensions and won't be back until Sept. 14 against Alabama. With a signing class of 31 players in February, there was no question the Aggies were going to need some of the newcomers to contribute. By being forced to play so many in the first game, Sumlin feels like it could be a positive later in the season.
"[It's] a real, real learning experience," Sumlin said. "I think for those guys, that's going to pay dividends for us down the road."
August, 26, 2013
8/26/13
3:00
PM ET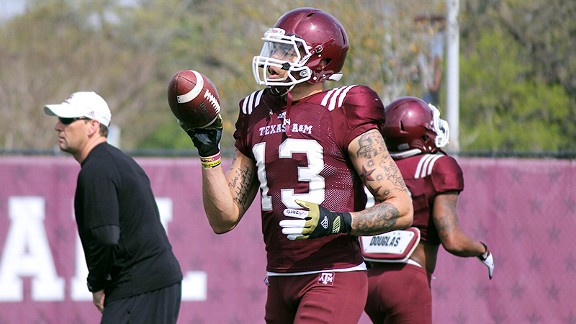 Sam Khan Jr./ESPNAs a redshirt freshman in 2012, Mike Evans led Texas A&M with 82 catches and 1,105 receiving yards.
COLLEGE STATION, Texas — Just like the quarterback for whom he became a favorite target,
Mike Evans
was a relative unknown outside of Aggieland at this time a year ago.
A redshirt freshman without much organized football under his belt -- he played just a year of varsity football at Ball High in Galveston, Texas -- Evans became much more well known to the college football world as
Johnny Manziel
's favorite target in 2012.
This spring, Texas A&M quarterbacks coach Jake Spavital used a unique term to describe what Evans -- who led the Aggies with 82 receptions and 1,105 receiving yards in 2012 -- became to the Heisman Trophy-winning quarterback.
"I call him his 'Panic guy,' " Spavital said. "When you're in a panic, you turn and you find Mike Evans and throw it at him. And he did a lot of that last year."
The 6-foot-5, 230-pound Evans won't surprise anybody this season, as opponents are now well aware of what he can do. Whether it was making a clutch catch to help the Aggies pull out a comeback win at Ole Miss, using his physicality to stiff-arm his way past smaller defensive backs or simply becoming a consistent option for Manziel, the sophomore receiver is looking to build off a strong first season.
And yes, he can get better, according to his coaches. That's not an ideal thought for opposing secondaries.
"Probably the biggest thing for himself [that he can improve] is route running," receivers coach David Beaty said. "Just the art of route running and understanding how to control that big ole body and play with bent knees, his posture being a little bit lower, really being able to use that tool, playing lower and creating more explosiveness."
Beaty would like to see Evans improve near the goal line as well.
"With his 6-5 frame, we need more production from him down by the red zone," Beaty said. "He should be a human red-zone highlight film himself. We need him to step up and do that, along with the rest of the guys -- it's not just going to be Mike. But we've got to be able to throw it up to that big sucker and have him come down with it."
Aside from Evans, there are openings for three starters at receiver because of graduation.
The heir apparent to Ryan Swope, who was the team's second-leading receiver last year and leader in touchdown receptions, is junior
Malcome Kennedy
.
Perhaps best known for making the touchdown catch that gave the Aggies their final points in a 29-21 upset win at No. 1 Alabama, Kennedy is the new starter at Swope's old 'Y' receiver position, which is essentially the slot receiver to the right side of the offensive formation. Kennedy's goals are clear.
"Being a playmaker," he said. "I made a few plays last year, but people only saw a few of them: the Alabama play and a few plays against Missouri. I'm ready to be a go-to guy. The position that I play, the 'Y' for Texas A&M, that's the go-to man."
Senior
Derel Walker
, who had an impressive spring game, has been working as the first-team outside receiver opposite Evans during preseason training camp and could be the starter there. Beaty called Walker the "brightest surprise" of his group since spring. At the other slot position opposite Kennedy, sophomore
Sabian Holmes
has received much of the first-team work in camp after playing part time last season as a true freshman.
And the six freshmen who were part of the Aggies' top-10 recruiting class that signed in February are making their presence felt as well. One in particular that has caught the eye of almost everyone during camp is former Sealy (Texas) High School standout
Ricky Seals-Jones
.
If there's anyone on the Aggies roster that could compare to Evans in body type it's Seals-Jones, whom Evans called "bigger" than him earlier this month. At 6-5 and now 240 pounds, Seals-Jones was an ESPN 300 selection who was ranked as the No. 8 receiver in the country coming out of high school.
"The guy's all muscle," strength and conditioning coach Larry Jackson said. "This guy is 18 years old and he looks like a grown man. Chest, abs, everywhere there are muscles. I just have to make sure for 70, 80, 90 snaps that he can keep rolling."
Head coach Kevin Sumlin said that Seals-Jones, who has practiced a lot as the 'Y' with the second team, will get plenty of playing time.
"He's got real ability," Sumlin said. "He's very athletic, but he's got to learn the nuances of the position. He's seeing a lot of different blitzes; we're throwing things at him. I think with Malcome in there right now, it's giving us some flexibility that he doesn't have to start right away. We can kind of bring him along, which is good with him. But he's definitely going to have a role in our three and four-wide and maybe even some two-wide package, but he's got real talent and he's working on it.
"He's big and he's fast and he's got real good hands."
LaQuvionte Gonzalez
, a quick, versatile weapon out of Cedar Hill, Texas, who was also an ESPN 300 recruit, figures to have a role. So does four-star signee
Ja'Quay Williams
out of Georgia. And the Aggies figure to use more tight ends in their attack this season with the return of senior
Nehemiah Hicks
and the addition of 6-foot-7, 270-pound
Cameron Clear
out of Arizona Western College.
If training camp is any indication, Manziel will have plenty of quality targets in addition to Evans this fall.
May, 6, 2013
5/06/13
11:48
AM ET
2012 record:
11-2
2012 conference record:
6-2 (tied for second, West Division)
Returning starters:
Offense: 6; defense: 6; kicker/punter: 1

Top returners
QB
Johnny Manziel
, RB
Ben Malena
, OT
Jake Matthews
, WR
Mike Evans
, DT
Kirby Ennis
, OLB
Steven Jenkins
, CB
Deshazor Everett
, S
Howard Matthews
Key losses
LT
Luke Joeckel
, C
Patrick Lewis
, WR
Ryan Swope
, DE
Damontre Moore
, OLB
Sean Porter
, MLB
Johnathan Stewart
, FS
Steven Terrell
2012 statistical leaders (*returners)
Rushing:
Johnny Manziel* (1,409 yards)
Passing:
Johnny Manziel* (3,706)
Receiving:
Mike Evans* (1,105)
Tackles:
Damontre Moore (85)
Sacks:
Damontre Moore (12.5)
Interceptions:
Deshazor Everett* and Steven Terrell (2)
Spring answers
1. Johnny Football:
The Aggies are in the rare position of returning the previous season's Heisman Trophy winner. Heading into his sophomore season, Texas A&M is hoping that quarterback Johnny Manziel can be even better than he was a season ago. This will be his second year in the offense and for quarterbacks who have played in this system, year two is typically a season in which they progress significantly as passers. That's one of Manziel's primary goals, even though he'll still run when the time calls for it. As long as he's healthy and playing well, things bode well for the Aggies.
2. Experienced secondary:
Last season, the defensive backfield was young and inexperienced. This fall, there are still young players back there, but it is the most experienced unit on the Aggies' defense. Three of the four starters in the secondary from the AT&T Cotton Bowl are back: Deshazor Everett,
De'Vante Harris
and Howard Matthews. Junior
Floyd Raven
has moved from cornerback to free safety and appears to have the skill set (range and tackling prowess) to fit into the position well.
3. Loaded backfield:
The Aggies have four good options in their offensive backfield for Manziel to hand off or throw to. Starting running back Ben Malena returns, as does
Trey Williams
, who returned kicks and received carries as a true freshman. Add to the mix a pair of transfer backs who sat out last season,
Brandon Williams
(Oklahoma) and
Tra Carson
(Oregon) and the Aggies have a quartet that gives them a multitude of options.
Fall questions
1. Front seven:
The Aggies are looking for someone to replace the production that third-round NFL draft pick Damontre Moore brought last season. Moore led the team in tackles, tackles for loss and sacks a year ago. Also, with two senior leaders gone from linebacker (Sean Porter and Jonathan Stewart) Texas A&M not only has to replace the bodies but also the leadership. Because of injuries, the Aggies were thin up front in the spring but when all their key players return in the fall, it will ease at least some of those concerns. Keep an eye on names like defensive end
Julien Obioha
(who started opposite Moore last year), defensive tackle
Alonzo Williams
and linebacker
Donnie Baggs
as players who have a chance to see their contributions increase significantly this year.
2. New receivers:
Only one starting receiver returns from last year's squad: Mike Evans. Four of the top six players in receiving yardage are no longer on the roster, including second-leading receiver Ryan Swope. So who will Johnny Manziel throw to? Keep an eye on guys like
Malcome Kennedy
, who caught a fourth-quarter touchdown against Alabama last season,
Derel Walker
, who had a strong spring game,
Edward Pope
, who was a star on the scout team when he redshirted last year and a host of recruits from the 2013 class like
Ja'Quay Williams
and ESPN 150 duo
Ricky Seals-Jones
and
Sebastian LaRue
. Developing other reliable pass-catching options is critical, so keep an eye on how they use the tight ends with newcomer
Cameron Clear
(6-foot-7, 270 pounds) on campus.
3. Kicking game:
One player who fans kept a close eye on this spring was kicker
Taylor Bertolet
. In his redshirt freshman season, the strong-legged kicker struggled with consistency, hitting just 13-of-22 field goal attempts and missing seven point-after attempts. With a new special-teams coordinator (Jeff Banks) who has college punting and kicking experience around to guide him, the Aggies are looking for an improvement from Bertolet this fall. Also the Aggies are working in a new punter,
Drew Kaser
, who takes the reins after senior
Ryan Epperson
graduated.
April, 15, 2013
4/15/13
4:00
PM ET
COLLEGE STATION, Texas -- Texas A&M wrapped up spring football on Saturday with the annual Maroon and White game. After 15 practices, there's plenty to take away, but here's five things we learned during the Aggies' spring:
To continue reading this article you must be an Insider
February, 1, 2012
2/01/12
9:42
AM ET
Auburn was able to hold onto receiver
Ja'Quay Williams
of Tyrone, Ga., after Williams gave some late consideration to Georgia.
Williams, ranked by ESPN as the No. 26 receiver prospect in the country, announced Wednesday he had signed with the Tigers.
Emory Blake
was the only consistent receiving option Auburn had last season, and Blake is going to be a senior in 2012. So Auburn can use all the help it can get at the receiver position.