August, 8, 2014
Aug 8
12:00
PM ET
COLLEGE STATION, Texas -- As part of Texas A&M's nightmarish 2013 season on defense, the Aggies linebackers endured more than their fair share of struggles.
Whether it was a position change, someone playing out of position or something as simple as inexperience keeping the Aggies from playing well, the group never quite found its footing in 2013.
The first week -- and even just the first day -- of training camp provided linebackers coach Mark Hagen with reason for optimism in 2014.
One area the Aggies' linebackers -- and the defense as a whole -- struggled with was communication. Sometimes when the ball was snapped, players were out of position or not certain of their assignments.
So far on the practice field there is much less of that, according to Hagen.
"Night and day," Hagen said of the difference in communication. "The biggest thing we lacked last year were guys that had been there and done that ... I don't have to relive the 2014 season for you guys. It was constantly swimming uphill. And even though we got some pieces in the right place, the communication was never where it needed to be.
"We've got a different feel right now. It wasn't perfect. Going back to Friday, the first day of practice, even though it wasn't totally clean out there, there was never a time where you had guys looking left and looking right, [while the offense is] snapping the ball .... We got lined up and we played fast when the ball was snapped. That doesn't mean we played perfect in terms of the fits and the coverages, but we operated as 11 instead of 9 or 10 guys being on one page and a couple guys being on another page. That's a recipe for disaster."
Defensive line depth improving
One of the key tasks for Texas A&M's defense since joining the SEC is building the type of depth needed to compete in the league. The defensive line is especially important in that area.
The Aggies have focused on the defensive line in recruiting and in 2014 were able to bring in five true freshman defensive linemen in the recruiting class plus a junior college transfer.
"It's going to help everybody this season, not just me,"
Julien Obioha
said of the increased depth. "It's going to help
Alonzo Williams
,
Hardreck Walker
,
Daeshon Hall
. There are two or three guys behind all those guys."
Obioha was a true freshman who started in 2012 and is now entering his third season in Aggieland. The improvement in overall talent across the defensive line is evident to him.
"Depth is amazing compared to what it was [in 2012]," Obioha said. "Freshman year, we were playing maybe six guys [on the defensive line]. This year we'll be able to play 12-14 guys."
Defensive line coach Terry Price was able to secure top-flight talent in 2014, including the nation's No. 1 defensive end,
Myles Garrett
, as well as ESPN 300 defensive end
Qualen Cunningham
and three-star defensive end
Jarrett Johnson
. Price seems pleased with what they've shown him thus far.
"Our biggest deficiency last year, to me, was speed on the edge of our defense at the defensive end spot," Price said. "We went out and tried to find the best we could find, which have added speed and depth to our defense which is huge."
Competition at kicker
Walk-on kicker and former FC Dallas goalkeeper
Josh Lambo
emerged as an unlikely hero last season for the Aggies, making a game-winning field goal as time expired at Ole Miss. Midway through the 2013 season, Lambo assumed place-kicking duties from
Taylor Bertolet
, but just because Lambo finished the year as the starter doesn't automatically make him the go-to guy.
Bertolet, a junior, is having a strong training camp according to special-teams coach Jeff Banks, making this year's battle at kicker a close one. Last season Bertolet was 2-for-3 on field goals and 23-of-26 on point-after attempts. Lambo was 8-for-10 on field goal tries and 50-of-51 PATs.
"I'm in a great position," Banks said. "To have two Division I guys who can kick the ball 60 yards and have a little depth, length and distance .... I'm in a great position from that standpoint; I'm in a tough position in [deciding] who's going to be the best guy for the job. It's probably a lot like quarterback. If you name a guy right off the bat then the other guy might get discouraged."
"So we're not going to do that. We're going to continue to compete during fall camp. We've still got at least 15-18 practices before we get ready for South Carolina and we have to do the best job we can to evaluate who is the best for the job."
Lambo sat out the first week of training camp, recovering from a groin injury but said he should be 100 percent soon.
March, 26, 2014
Mar 26
10:00
AM ET
COLLEGE STATION, Texas -- One of Kevin Sumlin's top priorities since becoming
Texas A&M
's head coach more than two years ago has been building a team that could compete in the trenches in the SEC.
[+] Enlarge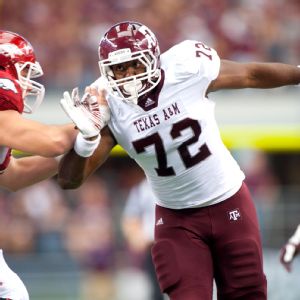 Rob Tringali/SportsChrome/Getty ImagesGavin Stansbury will be in the mix to be a big contributor on the Aggies defensive line.
Central to that effort is building the caliber of offensive and defensive lines necessary to win in the league. With a strong offensive line already on campus upon his arrival, Sumlin and his staff have been able to focus their efforts on recruiting SEC-caliber defensive linemen. So far, the Aggies appear to have done a good job stockpiling talent on the defensive line in the last two recruiting classes.
While young players continue to come in, that puts the onus on veterans on the roster to step it up. That's certainly the case at defensive end, where the Aggies had two true freshmen see time last year (
Jay Arnold
and
Daeshon Hall
) but also have a handful of veterans (
Gavin Stansbury
,
Julien Obioha
,
Tyrell Taylor
and
Tyrone Taylor
).
Arnold and Hall are both sitting out spring recovering from injuries and Stansbury has been limited as well, but Sumlin addressed the state of his defensive ends on Monday.
"Obioha has been good," Sumlin said. "He hasn't had any problems with that back, which has been great for us. Stansbury, we know what he can do so we just want him to be completely healthy, which has given the Taylors a lot of reps because we don't know what they can do. They haven't been put in those positions to have to play a bunch of snaps and be counted on. Gavin has proven to us what he can do on Saturdays when he's healthy. When he's not healthy, it's a different guy. So we want to make sure he's healthy for the fall."
Once Arnold and Hall are healthy, it stands to reason both will figure into the mix at defensive end in the fall since both did enough to earn playing time a season ago. But the current crew will also be joined in the summer by a trio of highly touted freshmen from the 2014 recruiting class: five-star prospect
Myles Garrett
, ESPN 300 prospect
Qualen Cunningham
and three-star prospect
Jarrett Johnson
.
That means now is the time for inexperienced players to prove they're worthy of playing time, because the competition will only get stiffer come August.
"That puts some of the onus on the Taylors to kind of show us what they can do and get them going because we've got two other D-ends in the program who have shown what they can do in Jay Arnold and Dae Dae (Daeshon Hall)," Sumlin said. "They're getting healthy and out running now. And the guys we recruited are obviously guys we expect to come in here and compete to play. In our way of thinking ... it's time for the Taylors to show what they can do and we're giving them every opportunity to do that right now."
Though the Aggies have been precautionary with Stansbury this spring, Sumlin was encouraged by his progress last season and feels like he is now a proven commodity.
"Defensively, Gavin was probably the most improved player that we had coming through the year," Sumlin said. "That's why I said, when he's healthy, he's really, really effective for us."
Obioha is a two-year starter who said earlier this spring that he feels good. His veteran presence will be welcome in the fall, too.
For the Taylor twins, Tyrell (a senior) and Tyrone (a redshirt sophomore), now is the time to perform, Sumlin says.
"What we're trying to do right now is get the guys healthy that have experience and the Taylor twins, who don't have that type of experience, they need to prove where they are in their capability to be able to help us win," Sumlin said.
March, 21, 2014
Mar 21
1:00
PM ET
COLLEGE STATION, Texas -- Texas A&M's work toward putting a defensive product on the field that is drastically better than the one that lined up in 2013 is among the most important offseason tasks.
Climbing out of the SEC cellar in major defensive statistical categories is critical if the Aggies wish to succeed in the SEC West. Central to that goal is the performance of the Aggies' defensive line, a unit that is a work in progress this spring.
[+] Enlarge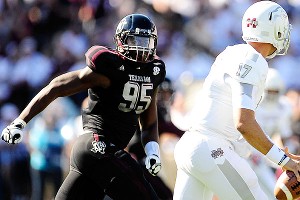 Stacy Revere/Getty ImagesJulien Obioha is a season contributor on the Aggies' DL. Now he's looking for some help.
There's a mix of missing bodies due to injury (defensive ends
Jay Arnold
,
Daeshon Hall
and
Tyrone Taylor
) as well as one to a suspension (
Isaiah Golden
,
who recently withdrew from school but is expected back
). That has given a chance for new faces to get turns in the rotation and show their worthiness to the coaching staff.
"Zaycoven [Henderson] has continued to impress," head coach Kevin Sumlin said of the true freshman, who enrolled in January.
Henderson, at 6-foot-1 and 310 pounds, appears to be a possible instant-impact player. The four-star 2014 prospect, who was previously committed to TCU and Texas before eventually landing in Aggieland, brings the size and ability the Aggies need to improve their quality and depth at defensive tackle. That's significant for a run defense that allowed 222 rushing yards per game and ranked 110th nationally (as well as last in the SEC) in that area.
Another defensive tackle making waves this month is one from the previous recruiting class: 2013 signee
Justin Manning
.
Ranked as the top defensive tackle in the state of Texas in his class, and the ninth-best nationally, Manning didn't see a snap of game action last fall while he redshirted. But Golden's absence has allowed Manning to get some time in the two-deep this spring and show the improvements he has made.
"[He] showed some twitch that he had in high school," Sumlin said. "He lost a little weight; when he got here he was out of shape. He has come on."
If Henderson and Manning can contribute, that helps bolster the Aggies up the middle, where they already have veteran
Alonzo Williams
and sophomore
Hardreck Walker
, who also contributed as a true freshman. With ESPN 300 defensive tackle DeShawn Washington arriving this summer and Golden expected to return, the Aggies could begin to show the kind of depth Sumlin has been pining for since taking over the program.
At defensive end, there's a mix of veterans and youth.
Julien Obioha
, who has been a starter since his true freshman season, is now a junior. Senior
Gavin Stansbury
is coming off his best season in Aggieland, showing flashes of his potential last fall. Senior
Tyrell Taylor
is back also and has been getting turns this spring.
The two young players at the position who are sitting out with injuries this spring -- Arnold and Hall -- both saw time as true freshmen last season, suggesting a promising future for each. And in the summer, the Aggies will welcome the services of five-star recruit
Myles Garrett
as well as ESPN 300 defensive end
Qualen Cunningham
and three-star prospect
Jarrett Johnson
.
Obioha said he is looking forward to the increased depth.
"I'm really excited," he said. "My first couple of years here I had to play 60-70 plays [per game] and you don't want to play that much. When you think about a two-deep or a three-deep, you want to play maybe 35 plays and having those 35 plays be where you can come 100 percent every play and you're not tired."
Defensive line coach Terry Price's message to his group this spring has been clear.
"Last year, bottom of the SEC, bottom 25 in the nation, that's not going to happen this year, that's been the message," Obioha said. "We're going to be completely different this year from the bottom to the top and it all starts with the D-line."
June, 3, 2013
6/03/13
3:30
PM ET
By
ESPN.com staff
| ESPN.com
DawgNation
Roundtable

: With Georgia's secondary suddenly in flux, which players step into bigger roles on opening day?
From Radi Nabulsi

: ESPN 150 DE
Lorenzo Carter
checks in after his visit to Athens.
GatorNation
From Michael DiRocco

: After Mike Slive's comments about wanting SEC schools to schedule more marquee nonconference games, we looked at a few teams Gators fans would love to see.
GeauxTigerNation
From Gary Laney

: With school still in session for some top recruits, it was a quiet start to LSU's June camp, but things are expected to pick up before long.
GigEmNation
From Sam Khan Jr.
: DE
Jarrett Johnson
is commit No. 11 for Texas A&M.
Also from Khan Jr.

: Notes from Texas A&M's camp on Sunday, where the Aggie coaches handed out one offer.
TideNation
Question of the week

: QB
David Cornwell
will be the most-scrutinized player at Alabama's camp this week, but the Tide have other needs. So, which players have the most to gain at the camp?
From Greg Ostendorf

: QB
Brandon Harris
checks in after his recent visits to Alabama and Ohio State.