January, 20, 2014
Jan 20
1:30
PM ET
TUSCALOOSA, Ala. -- Alabama safety
Vinnie Sunseri
isn't without good advice to rely upon.
His father, Sal, has been an assistant coach in the NFL and in college for nearly three decades. His brother, Tino, was a quarterback at Pittsburgh before joining the Canadian Football League in 2013. And his coach, Nick Saban, has guided countless players to the pros and understands the draft process as well as anyone could.
[+] Enlarge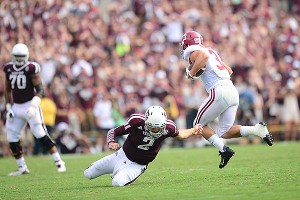 Phil Ellsworth / ESPN ImagesAlabama safety Vinnie Sunseri had two interceptions this season before tearing his ACL against Arkansas.
But that's all a way of illustrating how surprising it is that Sunseri would do the unthinkable and
forgo his senior season to enter the NFL draft
, while still recovering from major knee surgery and without any promise of being drafted.
So what was the hurry?
Sunseri has always been one to fly to the ball with reckless abandon. It's what made him a star on special teams as a freshman and a key contributor in the defensive secondary as a sophomore and junior. Before going down with a torn ACL against Arkansas this season, he had two interceptions, both of which he returned for touchdowns. ESPN thought enough to vote him a Midseason All-American.
Maybe that instinct to attack and make something happen is at play here. We all know the draft is a gamble -- go early and you risk it, go late and you risk it just the same -- so Sunseri opting to roll the dice might not be out of character. If he thinks he should strike while the iron is hottest, then best of luck. He's a limited player athletically and sometimes struggles in coverage, but he's as hard a worker as they come and has a nose for the football.
From Alabama's perspective, though, the move is troubling.
The most immediate question -- "Are you running from Tuscaloosa or toward the NFL?" -- isn't readily answered. With so much up in the air this offseason, from coaching staff changes to other underclassmen turning pro, could it have influenced his decision?
Sunseri was the heartbeat of the secondary, its most vocal leader and its best playmaker. He would have been one of the centerpieces of the defense next season. He and
Landon Collins
playing side by side at safety would have been a good starting point for defensive coordinator Kirby Smart to build around. Mixing in veterans
Jarrick Williams
and
Nick Perry
would have been plenty to work with, helping relieve some of the pressure off of Alabama's young set of cornerbacks.
Now Alabama is left with more questions than answers. Losing
Ha Ha Clinton-Dix
at free safety was hard enough. Sunseri vacating his spot at strong safety only makes matters worse. Collins showed he's an immensely talented player this season, finishing second in tackles and first in passes defended, but he's still raw. We saw that in a few key missteps against Auburn to end the regular season and then again against Oklahoma in the Sugar Bowl. Granted, Collins will improve, but Alabama will need another player or two to step up and fill Sunseri's shoes.
The silver lining for Saban is he's not without talented players to call upon. Former four-star corner
Geno Smith
made the transition to safety this past season and former professional baseball player
Jai Miller
should be better prepared after a season of re-acclimating to the game. Welcoming in two early enrollee defensive backs -- five-star cornerback
Tony Brown
and No. 2-rated safety
Laurence "Hootie" Jones
-- will help in terms of depth, too.
But make no mistake, Alabama is in transition. As curious a move as it was for Sunseri to turn pro early, it leads to just as puzzling questions for the Tide moving forward. There are the right coaches in place to make it work -- men like Saban, Smart and others -- but it doesn't make the events any less surprising.
October, 21, 2013
10/21/13
2:10
PM ET
TUSCALOOSA, Ala. -- Vinnie Sunseri sat on the far sideline Saturday night watching the game in track pants, his hands stuffed in his pockets. Only moments earlier Alabama's starting safety was huddled around his teammates, counting off something on his fingers. He shook his head, started back from zero and counted again.

Today we know what he was likely counting: weeks or maybe months. Sunseri
will miss the remainder of the season
with a torn knee ligament.
Alabama coach Nick Saban announced the diagnosis Monday. Sunseri's loss cannot be understated. His leadership and big-play ability have been a boon to a secondary that's dealt with a lot of turnover this season.
Though his replacement, sophomore Landon Collis, is arguably more talented in terms of sheer measurables, he's not yet the same type of leader and playmaker. When Alabama needed a play against Texas A&M earlier in the season, Sunseri made it, intercepting a pass and juking Johnny Manziel before going the distance for the touchdown. Sunseri's nose for the football will be missed.
Alabama has Saturday's game against Tennessee and a bye week to work out the kinks in the back end of the defense. Then comes Nov. 9 and the 13th-ranked LSU Tigers for a game with championship implications. Zach Mettenberger and his duo of talented receivers -- Jarvis Landry and Odell Beckham Jr. -- have had tremendous success this season, helping LSU to the fourth-most passing yards in the SEC.
October, 17, 2013
10/17/13
4:00
PM ET
TUSCALOOSA, Ala. --
Jarrick Williams
should have been in this position a year ago. Heading into fall camp last season, he was slated to be Alabama's primary option at nickel back. But in a practice, he went to make a tackle, landed awkwardly, bent backward and felt the tell-tale pop in his knee that every athlete dreads. His ACL gave and he was lost for the season.
Geno Smith
, a freshman, took over the position and made a handful of key stops against Georgia in the SEC championship game.
[+] Enlarge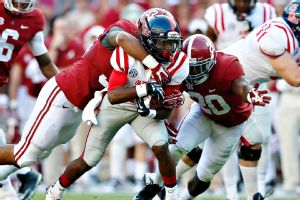 Kevin C. Cox/Getty ImagesWhen Jarrick Williams (20) hits, "you feel it," says Alabama teammate Vinnie Sunseri.
Largely overlooked during the offseason, Williams slowly worked his way back into shape. "There were some days I wanted to give up," he said, days where he thought he'd never be the same player again. A former four-star safety out of Prichard, Ala., Williams was a coveted prospect because of his size and athleticism. Scouting profiles noted his fluidity and ability to redirect in the open field -- all key traits in a defensive back. But with a bum knee, those skills were in doubt. Smith, it seemed, was the future at nickel back. Williams, at best, would provide some depth behind him.
"Going through all the surgery and stuff, I've just been ready to get out there on the field," he said.
Williams, who sought counsel from family members such as his mother to keep him focused during his rehab, stayed the course. And when Smith was arrested for suspicion of driving under the influence during camp, he seized the opportunity. Immediately he stepped back in at nickel, playing with a physical style.
Trey DePriest
, Alabama's starting inside linebacker, said Williams plays like a fellow linebacker only a few feet further removed from the line of scrimmage. At 6-foot-1 and 210 pounds, he has the frame to play wherever he wants.
"Jarrick is real strong, and when he plays and we go dime, he drops down into the box with
C.J. [Mosley]
, he's got the look of a linebacker," DePriest said. "He brings that presence."
That presence can boil over to off the field, too.
Vinnie Sunseri
, who directs the defense at strong safety, said, "When you get hit by him, you feel it." And that's not just during games.
"We'll be messing around off-the-field and he'll push me around and I'll say, 'You've got to calm down, man. You're too big to do that now,' " said Sunseri, no slouch at 210 pounds himself. "He can hit you, he can cover, and having him blitzing is a real threat, too."
Opposing offenses have felt Williams' pain as well. He's 10th on the team with 15 tackles. He had a highlight-reel sack against Kentucky last Saturday -- "He was either going to move or me. I moved him," Williams said -- and tipped a pass against Texas A&M that set up an interception return for a touchdown by Sunseri.
Mosley, the heart and soul of the defense at middle linebacker, said Williams has been "holding his own" since taking over at nickel back. Williams injured his eye against Texas A&M and temporarily lost sight in it, causing him to miss the following game. It proved to be a a cautionary step, but given his history, there was concern.
"He came back and hasn't missed a beat," Mosley said. "So he's helping us with our short depth at DB. He's doing a great job."
Williams, a man of few words himself, is now entrenched at nickel back. Smith has since moved to free safety, where he's rotating in with
Landon Collins
while
Ha Ha Clinton-Dix
serves a suspension.
With Arkansas next on the docket Saturday, Williams is poised to get plenty of looks in the nickel alignment, which is essentially a base formation for Alabama. The Razorbacks like to run the football, which is exactly like Williams wants to see.
"Oh yeah, a lot of contact," he said. "More tackling for me."
October, 14, 2013
10/14/13
11:00
AM ET
We've reached the midway point of the season. And, well, some teams are hot while others are certainly not. Let's take a look.
GLOWING EMBERS
Missouri:
Who knew? Prognosticators, both professional and amateur, are surely coming out of the woodwork by now, telling anyone who will listen how they had Missouri atop the SEC East before the start of the season. But tell those people to politely remove their tinfoil hats and drift slowly back to earth. No one had Missouri competing for a chance at the SEC championship.
James Franklin
hadn't even won the starting quarterback job entering fall camp. And the defense, without its best player in Sheldon Richardson, looked like a significant question mark. Sure, Gary Pinkel's bunch had to get better after all the injuries a year ago, but this? Pinkel's bunch is playing great football and we're only now starting to take notice after the way the Tigers throttled Georgia on the road 41-26. Missouri is in the top three in the SEC in scoring, passing and rushing offense, and most importantly the Tigers are leading the league in turnover margin.
[+] Enlarge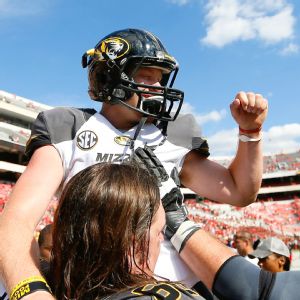 Kevin C. Cox/Getty ImagesMissouri is riding high after beating Georgia to remain unbeaten and climb to No. 14 in the AP poll.
HOT
SEC in the polls:
The SEC set a record on Sunday for the most schools (eight) in The Associated Press college football poll. Though just Alabama remains in the top five, having so many teams scattered throughout the poll says something about the depth of the league. LSU and Texas A&M are both title contenders despite having one loss, and South Carolina isn't far behind at all. Florida, despite losing its starting quarterback, has maintained course, and Georgia, while seriously decimated by injuries, should remain in the top 25 this season. The surprises, though, are what make the league so special. No one had Missouri in the top 15 and very few thought Gus Malzahn could turn around Auburn so quickly, getting it back into the top 25 for the first time since November 2011.
NOT
Ole Miss:
One team that would have made nine SEC schools in the AP Top 25, Ole Miss, dropped from the rankings two weeks ago when it lost to Auburn on the road. That defeat was bad enough. Losing at home to Texas A&M on a last-minute field Saturday night made it even worse. Sure, Ole Miss wasn't favored to win the game, but that didn't dull the sting of seeing another win slip away. Hugh Freeze told anyone who'd listen this offseason to expect some bumps in the road, that his team couldn't live up to the sky-high expectations being forced upon it. But Freeze couldn't help going 3-0 and beating Vanderbilt and Texas on the road. Now his team has come down from its early-season high and the holes we all expected -- offensive line, depth on defense, etc. -- are once again glaring. And with No. 6 LSU up next, things aren't getting any easier for the Rebels.
HOT
The Mad Hatter:
Was Florida's defense that good? Was LSU's offense that bad? Did any of that matter? Nitpick all you want at LSU's 17-6 win at home over Florida, but the fact remains Les Miles' bunch won the game, improved to 6-1 on the season and remains right in the thick of the championship race. Yes, we all expected
Zach Mettenberger
,
Odell Beckham
Jr. and
Jarvis Landry
to do more through the air, but like a pitcher on the mound without his best stuff, LSU found a way to survive the day with a W.
Jeremy Hill
proved once again why he's one of the best running backs in the country, and we may have seen LSU's embattled young defense take an important step forward.
NOT
Clowney the villain:
I'm reminded of the Jay-Z song "Can I Live," and no, it's not because of the rumor that the rap mogul tried to sign
Jadeveon Clowney
before the start of the season. Instead, you have to look at South Carolina's embattled defensive end as a point of over-speculation. Let's just let the man live. No, he's not having the Heisman Trophy campaign many hoped for, but so what? How many defensive players win the trophy, anyway? Forget the missed snaps and missed practices and all of the talk that surrounds Clowney and just appreciate his talent. Remember, he'll be gone to the NFL soon. Maybe after weeks and weeks of harping on the negative with very little to show for it, we can just let him play the game and watch him like we would any other player.
[+] Enlarge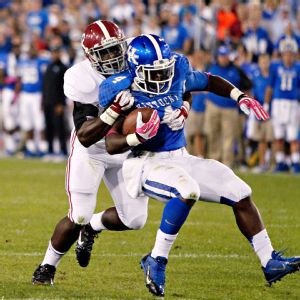 AP Photo/Garry JonesThe Alabama defense had a streak of 14 quarters without yielding a touchdown snapped at Kentucky.
HOT
Alabama's defense:
It took two defenders literally running into each other for Alabama to finally surrender an offensive touchdown. Against Kentucky, cornerbacks
John Fulton
and
Jarrick Williams
collided in coverage and both fell to the turf. UK wideout
Javess Blue
gladly caught the wide-open pass and trotted untouched into the end zone. And thus ended Alabama's streak of 14 quarters without allowing a single offensive touchdown. Alabama's defense, which garnered its fair share of criticism after being lit up by Texas A&M -- what defense hasn't? -- has played lights out since.
NOT
Kentucky's offense:
The Air Raid 2.0 didn't get an inch off the ground Saturday in Lexington. Kentucky's young offense was dominated by Alabama, held to under 200 yards. It took a fluke play for the Wildcats to even score (see above). Converting on 2 of 12 third downs is bad no matter how you slice it. And to make matters worse, UK starting quarterback
Jalen Whitlow
looks like he'll miss some time after injuring his ankle. The good news is nothing was broken, but for a player who relies heavily on his mobility, coming back early isn't an option. Give Mark Stoops credit for what he has done on defense, but he has some work to do on the other side of the ball. You're not going to score many points in this league when you're starting a walk-on at wide receiver as UK did on Saturday night.
FREEZER BURN
Homecoming disaster:
Steve Spurrier's words after the game said it all. "I do feel badly for Arkansas," the South Carolina coach explained. "That's not fun getting your butt beat at home, homecoming and all." Why Arkansas scheduled the Gamecocks for its homecoming game is anyone's guess. But whoever did it should be second-guessing himself or herself today. In front of alumni and fans, the Hogs jumped out to a 7-0 lead, only to see South Carolina score 52 unanswered points and win going away. The Gamecocks threw for 260 yards to Arkansas' 30 and held the football 43:25 to Arkansas' 16:35. Watching, it felt like there was barely enough time to throw a parade, let alone name a homecoming queen.
September, 23, 2013
9/23/13
3:00
PM ET
TUSCALOOSA, Ala. -- When
Deion Belue
,
Jarrick Williams
and
Nick Perry
walked onto the field Saturday dressed in sweatpants, you knew the game would be different. Those were three of the most experienced members of Alabama's secondary on the sideline, unable to play against Colorado State because of lingering injuries.
Then
Kevin Norwood
, who started 11 games at wide receiver last season, followed them out of the tunnel, wearing the same crimson pants and sneakers. He too would miss the game.
[+] Enlarge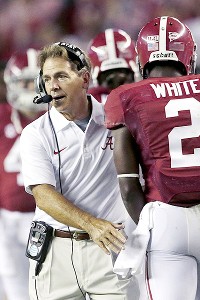 AP Photo/Dave MartinNick Saban's Alabama squad wasn't sharp in the win over Colorado State as the Tide played several youngsters on defense.
And as we later found out, they wouldn't be alone. Right guard
Anthony Steen
and wide receiver
Amari Cooper
, both key starters on offense, dressed for the game but never played. Steen sat out with a headache and Cooper rested with a sprained toe, never so much as picking up a helmet on the sideline. To make matters worse, starting running back
T.J. Yeldon
sat out the first quarter, serving a suspension for his behavior in the game against Texas A&M the week prior.
Alabama coach Nick Saban had said throughout the week to expect some younger players to get a chance to compete Saturday, but we had no idea it would go like it did. The offense struggled to move the ball with any consistency and the secondary, already reeling from a poor performance against Texas A&M the week before, was put to the test with so many players sidelined with injuries.
Very little was expected from reserve cornerbacks
Bradley Sylve
and
Eddie Jackson
coming into the season, and yet there they were being announced over the P.A. system in Bryant-Denny Stadium as starters in the home opener. The near-capacity crowd cheered, but only wearily, unsure of anything to expect other than the color of the jerseys. Jackson, a true freshman, hadn't played a single snap in the first two games of the year. Sylve, who had all of six tackles a season ago, hadn't been in on a single stop this year.
John Fulton
, the only senior available in the secondary, didn't play until the second half as the staff opted instead to try out youngsters like Jackson, Sylve,
Maurice Smith
,
Cyrus Jones
and
Geno Smith
.
The results were predictable. Colorado State played on Alabama's youth, hitting up the defense for a number of big gains, 10 plays going for 10 or more yards, including four of which that went for 20-plus yards. Rams coach Jim McElwain, a former offensive coordinator at Alabama, was able to move the ball downfield almost at ease, dinking and dunking the defense with screens and misdirection plays when it didn't go for the deep pass from quarterback
Garrett Grayson
.
It was death by a million paper cuts as UA allowed more yards to a sub-.500 Mountain West team (279) than it did in all but five games last season. Five SEC teams and Big 10 powerhouse Michigan had less success against the Tide defense in 2012.
"Well, they all made mistakes," Saban said of his young corners. "Their little bit of lack of experience shows up like [when CSU] hit that little x-screen with the halfback blocking the corner about three times for first downs, and I don't know that we've ever given up a first down on that play. It wasn't played correctly."
Landon Collins
, a sophomore, is still learning the ins and outs of Saban's defense at safety. And yet on Saturday he was the veteran voice in the secondary, calming down his even more inexperienced teammates.
"Just a lot of new guys on the field," Collins said. "We've got to figure out what to do. They're going to be some great players when they come down to it and know what they really have to do.
"I told them just be calm. It's a fast game. Everything's going to slow down after a while."
If Saban wanted to find someone capable of joining the cornerback rotation this season, that player didn't appear to emerge Saturday. The job of starting opposite Belue might return to Fulton, who has been underwhelming thus far, or Jones, who is still experiencing some growing pains at the position after playing wide receiver last season.
With Ole Miss coming to town this weekend, whoever wants the job must step up now. The Rebels, which average 490 yards and 38 points per game, can make a veteran defense look bad. As UA linebacker
C.J. Mosley
said of the mistakes made Saturday, "Some of those little things will get us beat next week."
"We played about five guys at corner, just kind of rotated them in there with the idea that we're going to see if somebody can play the position with any kind of consistency and do their assignment and do their job," Saban said after the game. "That's an area we need to do better in. It'd certainly be helpful if we get Deion back."
If Alabama doesn't get Belue back, it could be in trouble. Another game like the one against CSU could blow a hole in the Tide's championship hopes.
September, 14, 2013
9/14/13
11:58
PM ET
COLLEGE STATION, Texas — There was no plan for
Johnny Manziel
to speak to the media on Saturday.
In fact, win or lose,
Texas A&M
officials made it clear before the game that the Heisman Trophy winner would not be available for postgame interviews. Earlier this week, coach Kevin Sumlin noted that Manziel's family and attorneys advised him not to speak publicly this week.
[+] Enlarge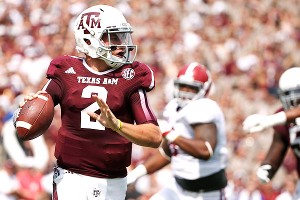 Scott Halleran/Getty ImagesJohnny Manziel produced more than 500 yards but admitted there were a couple of throws he wished he could take back.
But Manziel wasn't going to be told no. He approached Sumlin and Texas A&M associate athletic director for media relations Alan Cannon and said he was going to speak. When Cannon mentioned the objections from Manziel's parents and lawyers, Manziel said, according to Cannon, "My team didn't quit on me, so I'm not quitting on them."
The No. 6 Aggies showed no quit in their 49-42 loss to No. 1
Alabama
on Saturday at Kyle Field in one of the most highly anticipated games in school history. What they did show is that they're a good team with a lot of flaws that still need ironing out.
The message from Manziel, who played brilliantly for much of the day but had a couple of throws he'd like to have back, was that the Aggies had to keep playing -- both on Saturday and moving forward.
"My initial reaction is that I'm just proud of these guys," said Manziel, who threw for 464 yards and five touchdowns and ran for 98 yards. "I kept telling them that no matter what point in the game it was, we were never out of it. Didn't matter what [Alabama] did. I told the offense that going into it, that no matter what happened on the defensive side of the ball, no matter what happened on special teams, we felt like we could come out and score points. So I was proud initially more than anything else, proud of the way they kept fighting until the very end. I mean, we're a young team. That's impressive to me."
The Aggies (2-1) were down by as many as 21 points in the third quarter after taking a 14-0 lead in the first quarter. Alabama roared back with 35 unanswered points and used its power running game and efficient passing attack behind
AJ McCarron
to eat up yardage and extend drives to score points while keeping the Aggies' offense on the sideline.
The biggest flaw seen on Saturday was on defense. The Aggies' front seven was hammered by the Alabama offensive line -- a unit that struggled in its season opener against Virginia Tech -- to the tune of 234 rushing yards and 6.3 yards per carry, led by
T.J. Yeldon
's 149-yard effort. McCarron was rarely pressured in the passing game and wasn't sacked a single time; only one player on the Aggies defense,
Kirby Ennis
, recorded a quarterback hurry. There were big plays given up in the passing game as well, as the Tide threw for 334 yards.
"We've got to get some things shored up in our front defensively," Sumlin said. "We're playing a lot of young guys in there. [Gavin] Stansbury was back and [Steven] Jenkins was back [from suspensions], so they were a little rusty. We didn't have
Isaiah Golden
today because of the tragedy [involving the death of a family member] earlier this week. That put a lot of pressure on Hardreck [Walker] to handle that type of stuff with Kirby. We just have to get those guys in a routine, a steady routine and a rotation and shore some things up up front."
Mike Evans
, who already was considered one of the country's better receivers, made his case to be considered among
the
best after catching seven passes for a school-record 279 yards and a touchdown. He beat man-to-man coverage consistently, ran good routes and was an asset for Manziel when scrambling.
"I couldn't be prouder of him," Manziel said. "Last night in the hotel, me and him, we're roommates, and we were just talking about how the game was going to play out. I knew he was going to come out and play really well."
Manziel wasn't perfect. A fade pass to Ja'Quay Williams in the end zone was intercepted by
Cyrus Jones
in the second quarter ("We probably could have run a better route," Sumlin said). He tried to squeeze a pass in to
Travis Labhart
early in the third quarter but it was tipped by Alabama defensive back
Jarrick Williams
and intercepted by
Vinnie Sunseri
, who returned it 73 yards for a touchdown.
[+] Enlarge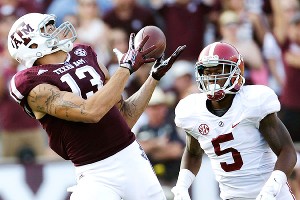 AP Photo/David J. PhillipMike Evans set a school record with 279 receiving yards, including this 95-yard touchdown.
"I had a couple throws that I want to have back, two in particular," Manziel said. "Coach Sumlin always says there's no regrets. Leave it all out on the field. I think that's what we all did. I know I did."
But he was, like the Aggies, still very good. He set the single-game school record for passing yards and put up the second-most total offensive yards in a game (562), second only to his own total (576) against Louisiana Tech last year.
He made what many would call an ill-advised throw in the second quarter after magically evading a sack while in the grasp of Alabama defensive end
Jeoffrey Pagan
, heaving a jump ball 40 yards downfield while falling backward. The ball wound up in the hands of a leaping
Edward Pope
for a first down that sent the crowd into a frenzy. The gain was only 12 yards; Manziel retreated back far to evade pressure.
At some point, it seems it might just be worth chalking it up to a little Manziel magic, since he has seemingly found an uncanny ability to make jaw-dropping plays of the sort each week. It's part of what captivated the college football world en route to his Heisman Trophy last year.
For those who said Manziel's eventful and sometimes tumultuous offseason would come back to haunt him when the games started this year, none of that seemed to be a factor. Though there were some mistakes made on the field, Manziel's play is hard to criticize, especially against the team that was No. 1 in the country last season in total defense. Manziel said afterward that it wasn't a factor.
But for all the flash, the bottom line was that Manziel and the Aggies fell short of their goal on Saturday. They were beaten by a better team.
The disappointment could be heard in the voices of the players afterward; they wanted Saturday's win badly. But with nine games to go in their season, they feel that what they want -- an SEC West title, SEC title and BCS title game berth -- is still within reach; it's just more difficult to obtain now that they're 0-1 in SEC play.
But if the Aggies are still serious about pursuing those goals, there's still much work to do.
"Just got to go game by game," Manziel said. "Just like last year, continue to get better, week by week, and the result was what happened in the Cotton Bowl. For us this wasn't the end of our season. This wasn't the Super Bowl. This wasn't the last game of the season.
"Alabama lost a game last year and still went on to win a national championship. They lost to
LSU
the year before and still went on to win the national championship. Our season isn't over. Anything can happen. This is college football. Some of the craziest things happen every week. So you never know. All we can do is take care of ourselves, take care of what's in this locker room and continue to get better as a team."
September, 4, 2013
9/04/13
1:08
PM ET
TUSCALOOSA, Ala. -- University of Alabama starting nickel back
Geno Smith
and backup running back
Kenyan Drake
are back in good standing and ready to go against No. 7 Texas A&M, according to coach Nick Saban. The No. 1-ranked Crimson Tide is currently on a bye week before the highly anticipated Sept. 14 trip to College Station, Texas, to face the Aggies.
But whether the pair of sophomores will play is anyone's guess. Smith was reinstated this week after being suspended for Week 1 after his arrest for a DUI, had
Jarrick Williams
play well in his absence against Virginia Tech this past weekend, helping limit
Logan Thomas
to 59 yards passing in the season opener. And though Alabama struggled to move the ball on the ground against Bud Foster's defense, the rotation of tailbacks didn't appear to be left wanting with
T.J. Yeldon
leading the way, followed by
Jalston Fowler
,
Dee Hart
and
Altee Tenpenny
.
"We have other players that played in the game in their place," Saban said, "So it's up to them to sort of prove that they're better than those players and can do a better job."
For Smith, his seeing the field next Saturday could end up being a result of the numbers game going in his favor. The former four-star prospect is one of only a few experienced cornerbacks on the roster, and against Texas A&M, the Tide will need all the help it can get as Aggies coach Kevin Sumlin likes to spread out on offense with multiple receivers.
Johnny Manziel
picked apart the Alabama secondary early in last year's game, scoring two touchdowns through the air in the Tide's lone loss of the season.
Drake's status, though, is still uncertain. Many have wondered how someone who was expected to be the No. 2 tailback entering fall camp would suddenly drop to scout team and not travel for the season opener, but sources inside the program indicate the move was the result of a deeper pool of running backs with the addition of four talented backs in the 2013 recruiting class.
"I think all the running backs are really good, the freshmen, and I think they'll all be able to contribute," Saban said on Aug. 13. "Some of the guys who are showing a little bit more maturity and learning and being able to sustain performance, which I think is going to help their development and it's going to help them be able to contribute and play.
"
Derrick Henry
being here in the spring obviously helps his (chances). Altee Tenpenny seems like he's a guy that seems to get it and is pretty well rounded and has been able to grasp things and sort of learn quickly. But the other guys have done a good job as well."
Tenpenny and Henry both took snaps in the season opener. Tenpenny ran the ball six times for 31 yards, while Henry, the No. 1 athlete in his class, carried it just once for 3 yards.
On Tuesday, Saban scoffed at a reporter's question about the young running backs getting playing time against Virginia Tech, saying that he didn't see enough to take Yeldon, Fowler or Hart out of the game.
"I saw that they have ability and potential and they need time to develop so that they're comfortable and confident in doing what they're supposed to do and they can do it fast," he said. "They did make good contributions on special teams, both of them. And we need guys to be able to do that, and running backs are great guys to do that because they have size and speed and they're athletic."
How that translates to Drake getting carries is up for debate, though him playing on special teams is a strong possibility. Should Alabama stick with a three-man rotation at running back, it could prove difficult for Drake to break through considering how far he's dropped.
August, 20, 2013
8/20/13
8:20
PM ET
TUSCALOOSA, Ala. -- He was talking about football at the time, but what Alabama coach Nick Saban said following Saturday's scrimmage was exactly the type of message he likes to deliver at this point of the year, a warning that every action has a consequence whether it's on the field or off of it. With the season opener exactly two weeks away, Saban outlined what his players couldn't be if they wanted to be successful.
"We can't have complacency," he said. "Can't be satisfied with where we are. … Can't have selfishness on the team because that will fracture the team chemistry. We can't lose our accountability and attention to detail. Those three things right there are very important in us being the kind of team we're capable of being. Everybody's got to make that choice and decide are they willing to do the things they need to do to do it."
[+] Enlarge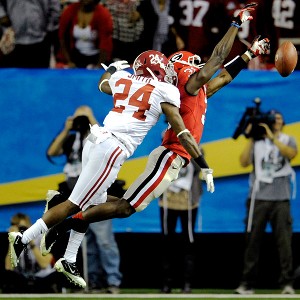 Paul Abell/USA TODAY SportsDefensive back Geno Smith was a key contributor late last season for Alabama.
He couldn't have made it any clearer, but what Alabama's seventh-year head coach said fell on deaf ears for sophomore cornerback
Geno Smith
, who dealt himself a major setback only hours later when he was arrested by the Tuscaloosa police department for suspicion of driving under the influence. He was held on $1,000 bond by the sheriff's office, but no amount of cash could save him from the
one-game suspension Saban awarded him
on Tuesday for his reckless behavior.
"He's never been in trouble here before, never been in my office for anything," Saban said, "but I think this is something that everybody should learn from that when you make a bad choice, sometimes the consequences of that choice can really have a negative effect. Some of these guys don't have enough foresight to understand cause and effect, but Geno has been a really good person in the program and just made a choice, bad decision. Made several of them, so now he's got consequences for it."
Smith, a former four-star prospect who came on late last year as a freshman, was expected to log significant minutes this season as the team's nickel back. Against teams like Virginia Tech who like to spread the field with multiple receivers, he would have played a big part of the Tide's defense, matching up against the slot receiver.
Now, Alabama must go back to the drawing board to determine who can fill his vacancy during the suspension. With
Deion Belue
and
John Fulton
projected to start as boundary corners, it falls to sophomores
Cyrus Jones
and
Bradley Sylve
to step up among the cornerbacks. Jones shifted to defense from wide receiver this year and has looked promising at the position, which he played in high school.
But the intriguing, and more likely option, is for Saban to utilize his depth at safety and bring down someone like
Nick Perry
,
Vinnie Sunseri
,
Jarrick Williams
or
Landon Collins
to play nickel, or "star" as Saban describes it. To get an idea of all the different combinations that are possible, take a look at what Saban said of the star and money positions in early April.
"Geno's been playing star, Vinnie can play star -- he played it all last year," Saban said. "Geno did it for the last three or four games of the season. Vinnie's been playing money, Landon Collins has been playing money, Jarrick Williams has been playing money, which is what he was before he got hurt. We've been trying to develop somebody other than Vinnie. Nick Perry can play star. We don't really have another corner that can play star. Also, Jarrick Williams is playing star. We have more multiples of guys right now than we had a year ago."
The options, clearly, are there. The problem, though, is that while Alabama is deep at safety, it's thin in terms of true cornerbacks. Signing
Anthony Averett
,
Jonathan Cook
,
Eddie Jackson
and
Maurice Smith
in February helped, but a freshman learning curve is inevitable. Given Saban's complicated defense, it's hard for rookies to see the field early. Hence, Geno Smith not coming on until late last year.
"First of all, opportunity is important, to have an opportunity to do that," Tide defensive coordinator Kirby Smart explained. "[It takes a] very conscientious kid to understand, 'Hey, I got to know this defense inside and out, I got to know all the checks, I got to know all the motions and checks, I got to know all the adjustments.' You've got to be very conscientious to do that, but you've got to have some ability. It's very easy for us to find those guys out there. When we recruit good players, they usually stick out as freshmen. We find ways to get them on the field and always have in some kind of role."
April, 11, 2013
4/11/13
1:00
PM ET
TUSCALOOSA, Ala. -- It's a good problem to have, losing players early to the NFL draft. Alabama coach Nick Saban knows all too well what it's like to watch talent walk out the door, especially from the secondary. In two of the last three drafts he's seen at least one of his defensive backs get taken in the first round. This year will be no different as
Dee Milliner
is likely to go among the top 10 picks.
"We keep losing first-round picks back there," Saban told ESPN on Wednesday afternoon. "For guys to step up on a consistent basis is the biggest concern I have."
Not a rebuilt offensive line, a thin linebacking corps or a defensive line replacing two of three starters. It's the secondary that worries Saban most.
[+] Enlarge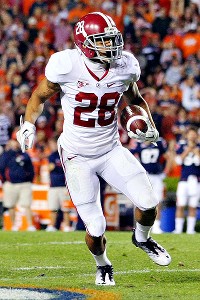 Marvin Gentry/US PresswireDee Milliner stepped in and became an immediate impact player in Alabama's secondary. Now that he's NFL-bound, who's next for the Tide?
"Even though we have a lot of guys back at safety, we don't have the depth or quality corners and experience at corner that we've had in the past," he said, "so that's the challenge."
With top reserve cornerback
John Fulton
out all spring recovering from a turf toe injury, the depth in the secondary has been left wanting. As a result, Alabama opened camp with three offensive players trying their hands at cornerback: running back
Dee Hart
and wide receivers
Christion Jones
and
Cyrus Jones
.
It was an experiment, Saban said, one he hoped would yield at least one player who could make the move to defense full time. And after 10 practices it appears he's found his man. Cyrus, who caught four passes as a reserve wideout last season, has practiced every day at corner and has even spent some time with the first unit at nickel back.
"The first couple weeks out there, it felt weird because [Cyrus] used to be right next to me, running routes with me," said UA receiver
Kenny Bell
, "but he took ownership of the position."
Bell went on to say that Cyrus has become a "great player" on defense, a spot he's familiar with from his time at Gilman School in Baltimore. Cyrus was the No. 4-rated athlete in the 2012 class and could have played on either side of the ball, according to scouts. It just so happens he would play both in his first two years on campus.
"He picked up on it fast and he comes out there and competes," Bell said.
March, 22, 2013
3/22/13
1:00
PM ET
TUSCALOOSA, Ala. -- Nick Saban opened spring practice by saying it was a time for re-invention. When you lose 25 percent of your team each season, it has to be. Who would be this team's leaders? Who would be the ones to step up and set an example?
Then, in the next breath, the head coach of the defending national champion Alabama Crimson Tide spoke about three players trying their hands at new positions. Running back
Dee Hart
and wide receivers
Christion Jones
and
Cyrus Jones
are all playing cornerback this spring. And through three practices, they've done their best to pick up the new, yet somewhat familiar position.
Deion Belue
, who started at cornerback opposite
Dee Milliner
last season, said the rookies on defense have played like naturals.
"Coming out of high school they were athletes, so it was a smooth transition," he said, "because they've played on defense before. It's not their first time."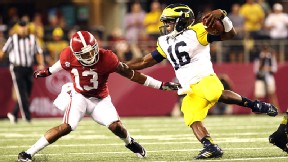 Kevin Jairaj/US PresswireDeion Belue has been impressed at how three players who moved to cornerback have performed so far this spring.
But for the secondary as a whole, it might as well be starting from scratch. Milliner is gone, as is veteran safety
Robert Lester
. Even rising senior cornerback
John Fulton
is out for the spring as he recovers from surgery on his toe, leaving few experienced options for Saban and defensive coordinator Kirby Smart to work with. Thus the experiment with Hart and the Jones receivers. Belue isn't guaranteed anything after an up-and-down first season, and though rising sophomore
Geno Smith
played well down the stretch, he's not being handed anything. Competition, Belue said, is at a premium.
"It's the University of Alabama," Belue said matter of factly. "All we do is compete all year around. In the summer, spring -- it doesn't matter. If the spot is there, just put your best foot forward and we'll see who comes out with it."
Even rising junior safety
Ha'Sean Clinton-Dix
is battling for starter's reps. Though he started 10 of 14 games at free safety and finished strong with a standout performance against Notre Dame in the championship game, he's not considering himself a shoo-in. Clinton-Dix,
Vinnie Sunseri
,
Nick Perry
,
Landon Collins
and
Jarrick Williams
are competing for two spots.
"There's a lot of competition going on," Clinton-Dix said, adding that Hart, his former high school teammate, is coming along quickly and recovering well from back-to-back knee operations. "The safeties, the corners -- like I said, no one has a starting job. So everyone is out there competing, going after it, balls to the wall, so you never know who could step up and who could step down."
Collins is one player poised to rise up the depth chart. The former top-rated prospect in the 2012 signing class and the No. 1 safety in the country played primarily on special teams last season. But with Lester gone, he has his chance. So far, he's earned the praise of his teammates.
"Landon's coming along very well," Clinton-Dix said. "He's maturing a lot. He loves the playbook now. He's competing.
"He's fast, he's strong, he can break on the ball really well -- he has it all down pat."
Whether that will translate to game situations remains to be seen.
Said Saban: "It takes time. We're very patient with the players we have."
He'll have to be, with so many new and young faces. He's called the team a work in progress, and for a coach who specializes in the secondary, that's where it will start. Thankfully for him, he has the spring to get his affairs in order.
"We feel like we can make a lot of progress toward getting where we want to be by the end of the spring," Saban said. "Then being able to work on the things that they need to do over the summer so we have an opportunity to continue to progress in the fall."
March, 19, 2012
3/19/12
4:35
PM ET
We're starting a new series today called "Spring shoes to fill." We'll be taking a look at one key player who must be replaced on each of the 14 teams in the SEC and how these teams will go about it this spring.
We're going to go in alphabetical order so that means that Alabama is up first. Coincidentally, Alabama starts up spring practice again today.

OUT: S Mark Barron:
Why Barron and not Heisman finalist
Trent Richardson
? Well, for starters, Richardson's understudy,
Eddie Lacy
(turf toe), is out for the spring as he recovers from surgery. There are other running backs that will be completing this spring, but Lacy is the one who will get the bulk of the carries this fall. Plus, Alabama does just fine running the ball, regardless of who carries the rock. So, why not go with someone who was extremely valuable on the other side of the ball? Barron was arguably the top safety in all of college football last season. He was an All-American and an All-SEC performer after recording 68 tackles (including five for loss), intercepting two passes and defending seven in 2011. Barron was physical enough to play the run and instinctive enough to take away the deep ball. Barron could play all over the field for the Crimson Tide, so replacing him on the field won't be easy. Linebackers
Courtney Upshaw
and
Dont'a Hightower
got most of the credit and attention on defense, but Barron might have been Alabama's best defender for most of the season. It also won't be easy to replace his leadership skills inside the locker room, either so this will be quite the job in 2012.
IN: Ha'Sean (Ha Ha) Clinton-Dix, Nick Perry, Vinnie Sunseri or Jarrick Williams:
This one should be fun to watch this spring. Clinton-Dix is the one everyone is excited about in Tuscaloosa. He was one of the top prospects coming out of the 2011 class and was a real high-flyer in the secondary in high school. The coaches are excited about what Clinton-Dix can do when it comes to playing the pass and the run, so he'll certainly have the chance to take over Barron's spot. Sunseri is someone who will also have a shot. He got some time last year when Barron was injured and has played with fellow safety
Robert Lester
before. That will really go a long way when it comes to knowing plays and where each other is on the field. Familiarity is a plus. Sunseri proved his worth when he was on the field last season and he does have more experience than Clinton-Dix. Perry and Williams are both juniors, but played sparingly in 2011. Neither registered eye-popping stats, but have been around the program and the defense a while. You certainly can't count either out. Regardless of which player takes Barron's spot, he will greatly benefit from having Lester by his side.