October, 9, 2013
10/09/13
3:30
PM ET
COLLEGE STATION, Texas -- For years, Texas A&M felt like its identity was defined by others.
Whether it was other schools in the state of Texas or other members of the Aggies' former conference, the Big 12, some felt that the outside world viewed A&M through another lens.
[+] Enlarge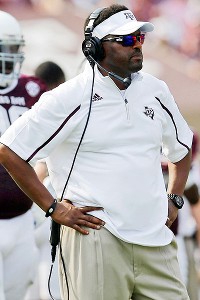 AP Photo/David J. PhillipKevin Sumlin is 15-3 as coach of the Aggies.
The move to the Southeastern Conference gave the school a chance to change that, and the hiring of Kevin Sumlin prior to the 2012 season gave the football program an opportunity to redefine itself. And while in the thick of its second year of SEC membership, A&M has taken full advantage of establishing its brand, not only regionally, but nationally.
While the exposure that comes with being in the SEC helps, winning football games helps quite a bit too.
"That's all it is," senior running back
Ben Malena
said. "When you're the so-called 'it' school, you must be winning. That's just something that Coach Sumlin has brought over, a winning attitude and believing that we could win every single game."
Texas A&M is a tradition-rich school and its roots as a regional, all-male military institution with a heavy focus on agriculture are what the school was long known for. As time passed, things changed.
While the Aggies are still very much about tradition, the school has grown into a research-intensive institution with more than $700 million invested in that endeavor. There are more than 27,000 women in the student body of more than 50,000, 50 years after women were first admitted to the school.
Changing the old perception of not only the school, but the football program, was something Texas A&M aimed to do upon entry into the SEC. So far, it appears A&M has been successful, especially on the football side of things.
"As your program starts to move on, you've got to be known for something," Sumlin said. "Whatever that is, you like to try to control what that is. Everyone's going to have their opinion about who you are and what your program is. What you try to do is get out there and speak for yourself and not let everybody else talk about Texas A&M and Texas A&M football."
Sumlin helped change the culture around A&M football in several ways. He put together an energetic coaching staff, several of which were assistants of his at his previous head coaching stop in Houston. They brought an aggressive, up-tempo, no-huddle offense that was a smashing success in its first SEC season.
He added nuances like playing hip-hop music during the team's practices (something he did at Houston and adopted from Washington coach Steve Sarkisian after a 2011 visit to the Huskies' spring practice), tweaking the uniforms the Aggies wore for some games last year (the Aggies sported all-white uniforms and all-black uniforms on separate occasions) or changing the team entrance to add music and smoke as the team comes out of the tunnel before home games. Players say he fosters an atmosphere that, while business-like, is about having fun.
"He's very plugged in helping shape how we want to present Texas A&M," said Jason Cook, associate athletic director for external affairs. "I think he really has a pulse on the things that are important to Texas A&M, but also the things that he can tweak around the edges.
"I think that he has brought a new look, a different feel, a new kind of energy behind Texas A&M that we haven't seen."
During a spring scrimmage in April, Sumlin wowed recruits and fans in attendance by bringing in a live disc jockey to spin tunes at Kyle Field. Sumlin and associate athletic director for football Justin Moore put together a unique experience by bringing an equipment truck onto the Kyle Field sideline with DJ Double R, a Texas deejay whom Sumlin has known since he was at Houston, inside with his turntables, flashing neon lights and a camera projecting the image of the scene onto the scoreboard for all in attendance to see while the Aggies participated in a roughly two-hour-long scrimmage dubbed "Friday Night Lights."
Things like that have helped shape the way recruits think about Texas A&M football. Sumlin and Moore also conceived the idea to start their own web site and "social content hub" for A&M football dubbed "AggieFBLife." Run by FusionSports, Inc., which is in the business of digital brand management for professional athletes, the website (
AggieFBLife.com
) as well as Facebook, Twitter, Instagram and Vine accounts by the same name provide a unique, insider view into Texas A&M football. The accounts often showcase behind-the-scenes videos of players conducting their daily business at practice, in games or in between, in the locker room or the Bright Football Complex. They're documented by a videographer that has complete access to all aspects of A&M football and the initiative is unique for a major college football program.
"We wanted to create the message of what Texas A&M football was, not what everybody else was telling them," Moore said. "Our goal was ... create our own brand and our own message of what Texas A&M football is and do it in a unique way that our target audience will actually consume the information."
But at the end of the day, it comes down to winning. What helped the Aggies expand their brand was the success had in their inaugural SEC season. After going 11-2 and having a Heisman Trophy winner in
Johnny Manziel
, who has become the biggest celebrity in college football, it created a perfect storm of sorts that pushed A&M football to the forefront of the national conversation. Merchandising sales went up, attention and coverage -- both football and non-football -- has increased significantly. Television ratings for A&M games are consistently high.
Accomplishing those things in the SEC, the country's premier football conference, opened the door for exposure that is unprecedented in A&M history. The difference in national exposure and national perception now compared to the Aggies' pre-SEC days is drastic.
"Night and day," Cook said. "They know who we are now."
September, 6, 2013
9/06/13
12:00
PM ET
COLLEGE STATION, Texas -- In answering the final of several questions he received on Tuesday about his Heisman Trophy-winning quarterback, the negative attention said quarterback received after the game and what it's like to be in the middle of it all while shots are fired from critics across the nation, Texas A&M coach Kevin Sumlin looked at a reporter with a knowing smile and gave the world a peek into what's really happening inside the Bright Football Complex.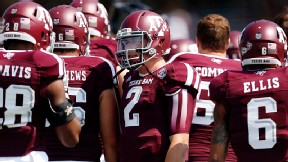 Thomas Campbell/USA TODAY SportsDespite much of the attention centered on Johnny Manziel, the Aggies say it's not affecting them inside the locker room.
Sumlin's message was clear: You might think the national scrutiny is getting to us, but it isn't. In fact, it might be doing us a favor.
"Obviously, after last Saturday, people want to make a story out of anything that happens on this team right now," Sumlin said as the smile slowly crept in. "And in a way, right now, for me as a coach, I'm not going to complain about it. Because it's kind of putting a wall up between us and everybody."
That wall became necessary because having the reigning Heisman Trophy winner and one of the most talked-about athletes on the planet,
Johnny Manziel
, on its roster has created an easy target for that attention. Last season, much of it was positive as Manziel set records, led the Aggies to a takedown of No. 1 Alabama and he became the first freshman to win college football's most coveted individual award.
This year is different. After an offseason in which Manziel checked items off a bucket list that most sports fans can dream of, endured criticism for tweets, leaving the Manning Passing Academy early and becoming the focal point of an NCAA investigation, a lot of the attention became negative. The scrutiny got to the point that Manziel was vilified by some for an unsportsmanlike conduct penalty he committed against Rice and celebratory hand gestures that he -- as well as his teammates and other players across the country -- have done before.
Texas A&M senior associate athletic director for external affairs Jason Cook recently told TexAgs Radio, a show that airs on local radio station KZNE-1150 AM, that he received as many calls from celebrity gossip site TMZ as he did from traditional sports media outlets during the NCAA investigation into Manziel.
But the Aggies say they're letting none of this get to them.
"I believe with the off-the-field issues, we really don't bother ourselves with that," senior defensive back
Toney Hurd Jr
. said. "… When it comes to the off-the-field issues, Coach Sumlin and the staff upstairs will definitely handle that. But as for on the field, right now, I feel like we're playing well and we can only get better from this point forward."
The wall is more than a metaphor. While the coaches and players might be taking an "us against the world" approach in their newfound fame, a wall is also what Manziel and the school have put up -- for now -- when it comes to him speaking publicly.
The 20-year-old has not spoken to the media since SEC media days in mid-July. Texas A&M wisely did not make him available to the media during the NCAA investigation into allegations that he profited from autographs and the school stayed mostly silent on the matter as well.
As reporters wait with bated breath, Manziel remains away from the microphone. Sumlin said Tuesday that he felt this isn't the "right time," for Manziel to speak but that when the time comes, he will.
"I think it's important now, based on where he is, that his focus is to try to be our quarterback and a student-athlete," Sumlin said. "That's his biggest challenge right now. It's not his challenge to be here. That's me."
Does having to answer for Manziel frustrate his teammates?
"No, it doesn't," senior running back
Ben Malena
said. "It comes with it. You want to have a defending Heisman Trophy winner as your quarterback. That's not a bad thing."
Malena stressed what life inside the Aggies' locker room was really like.
"What's perceived from the outside world is, nine times out of 10, a complete [180] of how the team looks at it," Malena said. "So how you guys might single him out or anything like that doesn't hurt us as a team, because right now, we're just focusing on getting ready for Sam Houston."
So far, life inside the emerging walls appears to still be business as usual. Whether that changes remains to be seen and the Aggies' showdown on Sept. 14 against Alabama could certainly play a role in that. Sumlin is aiming to keep his team's focus with what's happening on the field, not all the noise off of it.
"The discussion we had Monday, both in here and on the field, I think our players understand that," Sumlin said. "And there's not much confusion on what goes on here in this program."