February, 17, 2014
Feb 17
2:00
PM ET
GAINESVILLE, Fla. -- In the last decade, more than any other time in its history, Florida's status as a recruiting juggernaut has been proven.
Once head coach Steve Spurrier established his alma mater among college football's elite, blue-chip talent started flocking to UF. The Gators also recruited well under Spurrier's replacement, Ron Zook. Then Florida won two national championships with coach Urban Meyer.
The fact that Florida has thrived on the recruiting trail despite Meyer's soap-opera departure and some sub-par seasons on the field is a testament to the strength of the brand.
This week we count down the
five most impactful UF recruiting classes in the last decade
, not including Florida's most recent class, which isn't even fully assembled on campus yet.
No. 5 on our list in order of impact is the Class of 2011, head coach Will Muschamp's first class, which was
ranked No. 12 by ESPN
.
[+] Enlarge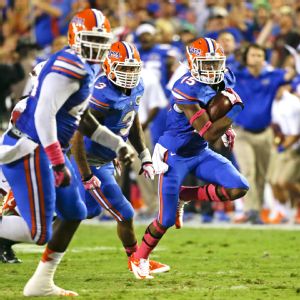 AP Photo/John RaouxLoucheiz Purifoy's big-play ability at cornerback allowed him to stand out in three seasons at Florida and should get him selected high in this year's NFL draft.
The stars:
This is easy.
Marcus Roberson
and
Loucheiz Purifoy
became lockdown cornerbacks and were the only three-and-done players from this 19-man class. Roberson made an instant impact, starting his first 10 games as a true freshman, and Purifoy first emerged as a special-teams terror. By the end of their college careers, the two clearly established NFL pedigree -- Roberson for his advanced technique, Purifoy for his supreme athleticism. They are expected to be picked no lower than the second round this May.
The contributors:
Several players stand out in this class, including a few starters. Among them, starting quarterback
Jeff Driskel
is the one who could still push his way into the star category if he improves during his final two seasons of eligibility. Other starters have carved out significant roles for themselves, including fullback
Hunter Joyer
, safety
Jabari Gorman
and tight ends
Clay Burton
and
Tevin Westbrook
.
Valdez Showers
successfully converted from safety to running back last season. And
Kyle Christy
was a record-setting punter who stumbled in 2013 and will fight to take his job back this year.
The letdowns:
Some of the top talents in this class never panned out at UF, as eight of the 19 players transferred and one quit football after injuries derailed his career. The biggest name to transfer was QB
Jacoby Brissett
, who started four games at Florida but left for NC State after losing the competition for the starting job to Driskel. WR
Ja'Juan Story
, TE
A.C. Leonard
, RB Mike Blakely and S
De'Ante Saunders
were four of the Gators' five highest-rated recruits in the class. Transfers Story, Blakely and WR
Javares McRoy
were recruited by Meyer for his spread-option offense and never quite fit Muschamp's pro-style scheme. Leonard and Saunders made strong impressions on the field, but both ran afoul of the law and transferred to Tennessee State.
The results:
There have been high points, such as an 11-win season in 2012 in which Florida was just one Notre Dame loss away from playing for the national championship. But there have been more low points, such as a 7-6 season in 2011 and a numbing 4-8 season in 2013. The results on the field have been uneven, but there's still time for this class to distinguish itself.
June, 24, 2011
6/24/11
9:10
PM ET
Florida's front seven has taken a big hit.

Friday, coach Will Muschamp announced that redshirt freshman defensive end/linebacker Chris Martin is transferring from the program.

"Chris and his family have indicated that it might be best for him to be closer to home," Muschamp said. "We wish him nothing but the best of luck."

Martin is now the fifth player to leave Florida's program this year. All-SEC cornerback Janoris Jenkins was dismissed from the team this spring, following his second arrest on misdemeanor marijuana charges in less than three months. Freshmen receivers Chris Dunkley and Javares McRoy both transferred, along with freshman running back Mike Blakely.

Martin, who played high school ball at Aurora, Colo., Grandview, originally signed with California, but transferred to Florida in July because he felt his heart was at Florida and there were too many distractions at Cal.

But Cal wasn't even Martin's first choice in recruiting. Martin, who was in and out of three different high schools, originally committed to Notre Dame in February of 2009, but later decommitted and was going to commit to Florida. He chose Cal in December after former Florida defensive coordinator Charlie Strong left to be the head coach at Louisville.

Now, Martin is on the move once again and will be looking for his fourth school to call home.

There's no denying the ability Martin has on the field. During his redshirt year, Florida coaches and players raved about his play and how he was one of the most talented defensive players in practice. The 6-4, 250-pound athlete practiced at middle linebacker in the fall, but was moved outside this spring. He left spring as the backup to rising sophomore Ronald Powell at the hybrid Buck position.

While Martin had all the talent to excel in this league, issues off the field might have finally caught up with him. On Jan. 29, Martin was cited by Gainesville police for possessing less than 20 grams of marijuana. A source close to the situation told ESPN.com Friday night that Martin had multiple off-the-field issues that played a part in his decision to transfer.

Martin also had a history of being pretty outspoken on social media outlets.

Shortly after Jim Tressel's resignation at Ohio State, former Florida coach Urban Meyer released a statement stating that he wasn't interested in pursuing any coaching jobs this fall and that he was committed to his new as a college football analyst with ESPN.

After Meyer's statement came out, Martin took to Twitter on the account @cmart4634 to express his feelings about what Meyer said.

"Committed to espn? Lets see if the other analyst stress him out so bad he has to spend time with his family in COLUMBUS now.. #truthhurts," Martin tweeted.

Earlier this year, Martin wrote on his Facebook page that he was dismissed from the team. After a handful of people responded both on his Facebook page and on Internet message boards, he wrote that his status was an "early April Fools" joke and then offered up this gem to those who read his Facebook:

"FOR ALL YOU FACEBOOK STALKERS THAT POST OUR STUFF TO MESSAGE BOARDS...HERE IS THE FIGURATIVE FINGER FOR BEING NOSY."

Immaturity is something all college athletes struggle with, but more and more these off-field antics are shortening careers, but it seems like Martin is still figuring that out.

One thing is for certain, Martin is wasting some quality talent and with the current college football climate, coaches might think twice about getting involved with someone who has a knack for putting himself before his team.
April, 15, 2011
4/15/11
5:30
PM ET
The wide receiver unit at Florida is starting to become more of a concern for the Gators. It was a very unproven group heading into spring and now two of the younger faces are gone.
Friday, coach Will Muschamp announced that freshmen receivers
Chris Dunkley
and Javares McRoy are transferring from Florida to pursue football careers elsewhere.
"We wish both of those guys the best of luck in their future endeavors, both on and off the field," Muschamp said.
McRoy, who enrolled in January from Lakeland, Fla. but missed the spring game after undergoing a minor procedure on his lung, intends to transfer to Texas Tech in order to play with his brother
Ben McRoy
, who is in his second year as a running back for the Red Raiders.
"I enjoyed my time at Florida, but I really want the chance to play with my brother Ben, who is at Texas Tech," McRoy said. "Florida has been very understanding and is giving me that opportunity."
As for Dunkley, his reasons aren't as clear. He missed all of 2010 with a hamstring injury and was suspended from the team last week because of academic issues.
"It's been a great learning experience being here at the University of Florida, but I feel like it's in my best interest to get a fresh start somewhere else," Dunkley said.
The former Pahokee, Fla., standout was one of Florida's prized offensive recruits in 2010. Outside of Ronald Powell, he was one of the most exciting guys to watch at Florida's 2009 Friday Night Lights camp. Most expected him to come in and make an instant impact for the Gators.
However, a hamstring injury nagged him throughout his entire freshman season. It appeared to vanish this spring, but academic issues wrecked the rest of his time.
Dunkley seemed perfect for Urban Meyer's spread and the thought was that there wouldn't be a drop off in Charlie Weis' pro-style offense. Now, Dunkley is off to find a new home and start fresh with his third college coaching staff in less than a year.
It's unclear if Dunkley just wasn't invested, but slipping academically isn't a great sign.
As for McRoy, he originally committed to Texas Tech, but switched to Florida last summer. He was a total spread guy, so adapting to the pro-style might have been an issue for him. However, with his speed, he drew some praise from coaches and players this spring.
Regardless, Florida finds itself down two bodies at receiver. Of the guys returning, senior
Deonte Thompson
has had the most production. He caught 38 passes for 570 yards and a touchdown in 2010, but had major issues with dropping the football.
Behind him are
Omarius Hines
and Frankie Hammond Jr. Hammond might have the best playmaking ability of the group. He only caught 22 passes for 276 yards and two scores last year, but he showed that he's not only got good speed, but he's pretty shifty in the open field. Hines could be a receiver/tight end hybrid for the Gators and seemed to be heavily underused last fall.
Florida also found out this spring that rising sophomore
Robert Clark
has the tools to be solid in the slot and redshirt freshman
Quinton Dunbar
has earned high praise from Muschamp and his teammates for being the top playmaker in camp.
Florida's coaches will now have to accelerate the acclamation process of incoming freshman Ja'Juan Story -- Florida's only other receiver from the 2011 class.
The Gators have options at the position, but experience is an issue. And after a less-than-stellar offensive showing in the spring game, this does less to help the concerns people have about Florida's offense heading into the offseason.
SEC SCOREBOARD
Saturday, 12/20
Monday, 12/22
Tuesday, 12/23
Wednesday, 12/24
Friday, 12/26
Saturday, 12/27
Monday, 12/29
Tuesday, 12/30
Wednesday, 12/31
Thursday, 1/1
Friday, 1/2
Saturday, 1/3
Sunday, 1/4
Monday, 1/12
Tweets from https://twitter.com/ESPNCFB/lists/sec