August, 12, 2013
8/12/13
4:00
PM ET
On the surface, the departure of wide receiver
Mekale McKay
looks like a big blow to an Arkansas team in major transition mode.

McKay, who was
granted his release from his scholarship
by head coach Bret Bielema over the weekend, was Arkansas' top returning receiver heading into the 2013 season. But that doesn't mean this receiving unit is in major trouble at all.
There will be some nice qualities that McKay possesses that the offense will miss. Last season, McKay was Arkansas' second-leading wide receiver with 21 catches for 317 yards and two touchdowns. McKay had all the measurables and ability to be the Hogs' go-to guy this fall, but he battled injuries throughout spring and wasn't listed on the team's two-deep depth chart.
What improvements he could have made this fall with the Hogs, we'll never know, but Bielema has plenty of options to work with at receiver.
Missing someone who stands 6-6 and weighs nearly 200 pounds hurts from a matchup stand point, but Bielema should at least feel good about his team's options. Are any of them on the same level as the receivers who have recently passed through Fayetteville? Not right now, but there's good potential sprinkled all around.
Things will start with senior
Demetrius Wilson
, who really impressed the staff this spring. Bielema has already said that he was the team's best receiver this spring and was arguably the most consistent player, too. Wilson only caught nine passes in 2012, but he picked up this new offense quickly. He could become quarterback
Brandon Allen
's top target if he continues on the track he's on.
Wilson won't be a lone by any means. Fellow seniors
Javontee Herndon
, who was right behind McKay in receiving last season, and
Julian Horton
, are also in the mix. Herndon displayed a high level of physical play this spring, which should help him fit in nicely in Bielema's more smash-mouth offense. Horton has the speed and elusiveness to be a real playmaker for the Hogs as well.
Sophomore
Keon Hatcher
will also get a chance to help this offense. Plus, Arkansas should be much more run-oriented this season, which will take some heat off the receivers.
Allen has slowly improved through the early stages of fall camp. While he's certainly getting more comfortable, he's also getting help from his receivers. It would have been nice to have McKay out there, but the Hogs still have a solid group coming back. It hasn't been the most productive unit (Herndon, Horton and Wilson have combined for just 67 receptions), but the skill is there to make this a good group for Allen to grow with.
April, 26, 2013
4/26/13
10:30
AM ET
Cobi Hamilton
isn't walking through Arkansas' doors in 2013.
He may come back for a visit or two, but he won't be suiting up for the Razorbacks, which means that his single season school-record 90 receptions and 1,335 receiving yards aren't returning, either.
With a relatively inexperienced quarterback in
Brandon Allen
taking over and a brand new coaching staff in town, the Hogs will surely miss a top-flight receiver like Hamilton, but things aren't totally bleak in Fayetteville. The good news is that the Hogs will be able to replace Hamilton with numbers -- veteran numbers.
[+] Enlarge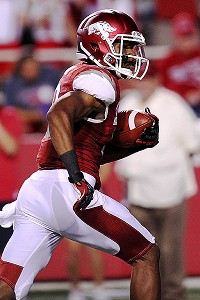 Nelson Chenault/USA TODAY SportsThe toughness of Arkansas WR Javontee Herndon has caught the eye of new coach Bret Bielema.
Arkansas has three senior receivers --
Javontee Herndon
,
Julian Horton
and
Demetrius Wilson
-- sitting atop the post-spring depth chart. Now, they might only have 67 combined receptions among them, but they've been around the game long enough to generate some confidence in the coaching staff this spring.
Their hunger to make things right again at Arkansas during their last go-round also excites Arkansas' coaching staff.
"When you have three seniors and it's as important to them as it is, the other guys can kind of take shape around them," coach Bret Bielema said. "I expect them to lead us."
Herndon will enter the fall with the most production of the three. He has 31 career receptions for 473 yards and three touchdowns. He caught 21 of those passes and all of his touchdowns last year. Herndon's on-field attitude and toughness really impressed Bielema this spring.
"Probably one of the more physical guys in our group," Bielema said of Herndon.
While Wilson, who came from the junior college ranks last year, only caught nine passes in his first year with the Hogs in 2012, Bielema said he was Arkansas' top performer at receiver this spring. The thing that really made him stand out was his consistency and he bought into the offense and what coaches asked him to do.
"Everything he does is 100 miles an hour," Bielema said. "He's very engaged, he's very hard on himself. If he makes a mistake or does something that he knows is wrong he's very critical, but is quick to rebound and make a great play after it."
Then you have Horton, who caught 14 passes last year. He has the physical ability to be a real playmaker in this offense with his speed and elusiveness. Bielema said he really came on during the last few weeks of spring practice.
It's not going to be easy to replace Hamilton -- or his production -- but the Hogs have bodies to work with. The next step is really developing that on-field confidence during game situations. It'll be tough with a younger QB taking over, but this is where coaches have to lean on their vets.
The Hogs will call upon youngsters like
Mekale McKay
and
Keon Hatcher
to help this fall, but to have three seniors clicking like they are exiting spring is a big win for this new coaching staff.
April, 3, 2013
4/03/13
2:00
PM ET
We continue
my chat
with Arkansas senior fullback
Kiero Small
.
What did he think about Bret Bielema's joking jab at Nick Saban and Alabama? Does he like Arkansas being a huge underdog this year?
Let's find out:
You've been around this program for a couple of years now and have seen some big highs and bad lows, so what's the feeling like for you and some of your teammates this spring with everything being so new?
Kiero Small:
For me, right now, it's a good feeling. It's steady and I know what's coming next. I know the coaching staff is going to be here. You know, this time last year, we were all in an uproar and we didn't really know what was going to happen. It feels good to know what's coming and to know that Coach "B" (Bret Bielema) and all of the rest of the coaching staff have our backs and they are going to put us in the best situations to be good.
I know your coach caused a little bit of a stir this week when he was joking about Nick Saban, but do you guys like that? Do you like the confidence that he's brought and the fact that he isn't afraid to say stuff like that?
[+] Enlarge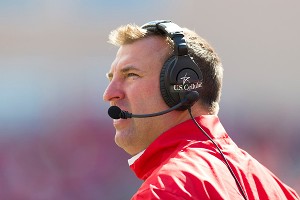 Jeff Hanisch/US PresswireIn Bret Bielema, Arkansas players know they have a coach who isn't lacking confidence.
KS:
I've seen it here and there, but I didn't really see what context it was in and I didn't really get to read it. Coach B is a guy that believes in himself and he believes in us. That helps us know that when we go out on the football field it's going to be us against whoever we play and it's going to be our set of guys against their set of guys and our coaches against theirs. It's a good feeling to know that your coach has confidence.
Does it feel like you guys are flying under the radar right now, and do you like that feeling?
KS:
I like it a lot. Right now, no one is talking about us. Everybody is making their (preseason) picks and everything of that sort and should they (pick Arkansas)? We didn't have a good year last year and lost a lot of guys, but this team has taken on more of a working mentality. We have to go and make our own name. It's a new regime and it's time for us to go pick a name for ourselves, but, you know, last year we were picked to beat everybody. We were picked to win a lot of games and picked to be great and it didn't turn out that way. At the end of the day, those picks really don't mean anything. You have to go out and play football.
You guys have a lot of young parts coming back on offense, but what have you seen so far this spring that excites you about that side of the ball?
KS:
A lot of guys have a working mentality and at every position group you have maybe one or two guys who have been here a long time. On the (offensive) line we got [
Travis] Swanson
, you got me in the running backs room, you've got
Javontee [Herndon
] in the receivers room and you have [
Austin] Tate
in the tight ends room, so you have one guy or two guys who have been here for a long time and the young guys are really preparing themselves behind them. That's a sight to see when you have young guys who are willing to learn and willing to go and attack practice every day.
What have you seen from the quarterbacks so far this spring?
KS:
It's been pretty good. We have some competition there. You like to see competition, especially at that position. Every day they are racking their brains to try and be good and make the plays. It's been a steady competition and good to see. You have two guys (
Brandon Allen
and
Brandon Mitchell
) who can get the job done. Right now they are battling to see who is going to make it happen for this year. There are no set positions. Everybody is having to look over their shoulder and have to be able to go and attack practice.
What do you guys really want to get out of spring practice this year?
KS:
Right now, we're just trying to learn these new systems and new schemes. We're playing fast, but the coaches are doing a good job of simplifying things so we can learn it, which allows us to play faster. I really like that. They're not trying to complicate things because at the end of the day we don't have games on Saturdays. We have the spring game and we have scrimmages, but now we get to learn and that's going to push us through the summer so in (fall) camp we have a basis for what is going on.
October, 6, 2012
10/06/12
3:34
PM ET
Even with a new quarterback, Auburn couldn't manage to find much semblance of an offense in its third SEC loss of the season.


Auburn coach Gene Chizik replaced starting quarterback
Kiehl Frazier
with backup
Clint Moseley
at halftime of the Tigers'
24-7
loss to Arkansas on Saturday. Frazier threw an interception and failed to register any points in another abysmal first half for the Auburn offense.
Moseley couldn't manage much better against an unstoppable Razorbacks pass rush, however. Arkansas came into the game allowing 40.6 points per game -- last in the SEC. That average will drop all the way down to 35 points after holding Auburn to one touchdown, largely thanks to a pass rush that generated a whopping eight sacks against a completely overmatched Auburn offensive line.
Even when the Tigers could keep their quarterbacks upright, they still committed five turnovers on the afternoon. Moseley fired two interceptions along with Frazier's one, and the Tigers coughed up a pair of fumbles.
Those horrific stats made a stop-and-start Arkansas performance look masterful by comparison. It looked like the Razorbacks would blow Auburn off the field early when they racked up 224 yards on the way to a 10-0 lead at halftime. But ugly miscues -- such as a missed 26-yard field goal and a muffed third-quarter punt -- allowed the Tigers to hang around and cut the lead as close as 10-7 at the end of the third quarter.
Arkansas quarterback
Tyler Wilson
, who finished the day with 216 yards on 20-of-27 passing, led the Razorbacks into the Auburn red zone on his first drive of the fourth quarter. From there wide receiver
Brandon Mitchell
fired a 26-yard touchdown pass to fellow wideout
Javontee Herndon
on a trick play, putting Auburn in what proved to be an inescapable 10-point hole.
Arkansas running back
Dennis Johnson
carried the bulk of the ground game in place of starter
Knile Davis
, who did not appear to be injured. Johnson toted the rock 16 times for 70 yards and a pair of touchdowns. His second touchdown of the day put Arkansas up 24-7 with 8:20 to play.
July, 11, 2012
7/11/12
2:00
PM ET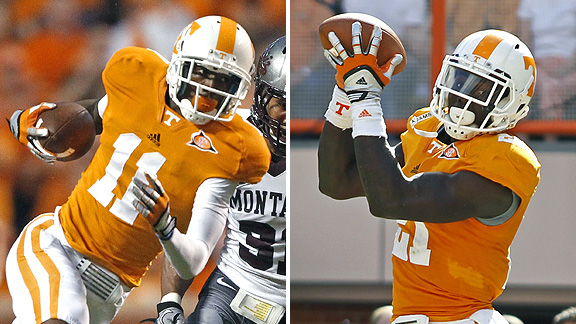 AP Photo/Wade PayneJustin Hunter (11) and Da'Rick Rogers (21) are considered to be the best receiving duo in the SEC.
Our SEC position rankings continue with a look at schools' wide receiver and tight end groups.
Past rankings:
On to the league's wide receiver/tight end groups:
1. Tennessee:
The Vols are equipped with two of the top wideouts in the league with
Da'Rick Rogers
, who was second in the SEC in receiving last year, and
Justin Hunter
, who might be the SEC's top deep threat. It sounds like Hunter will be 100 percent this fall after his ACL injury last year. Junior college transfer Cordarrelle Patterson is big, fast and possesses the big-play gene. The speedy
Zach Rogers
is back and is so is talented tight end
Mychal Rivera
.
2. Arkansas:
Cobi Hamilton
is now Arkansas' primary receiver, and he might be the league's most complete wideout. He can make the big-play and elude defenders along the way. While
Marquel Wade
's status is still unclear, if he does return, he'll be a major lift for this offense because of his playmaking ability in the slot.
Julian Horton
and
Javontee Herndon
have always impressed coaches in practice and now will get their chances to in games. Tight end
Chris Gragg
should be even more involved and is the league's top tight end.
3. Georgia:
While
Malcolm Mitchell
could go back and forth between receiver and corner, when he's at receiver he's Georgia's top offensive threat and was one of the league's best as a rookie. There are vets behind him, starting with reliable senior
Tavarres King
, who had a very good spring, senior
Marlon Brown
, who seemed to take a big step in his game this spring. Sophomores
Michael Bennett
and
Chris Conley
combined for 48 catches for 608 yards and seven touchdowns last year. Unproven tight ends
Arthur Lynch
and
Jay Rome
will replace Orson Charles and Aron White.
4. Texas A&M:
This isn't the fastest group out there, but there are some pretty reliable weapons, starting with star
Ryan Swope
, who could have left for the NFL after catching 89 passes for 1,207 yards and 11 touchdowns last year.
Uzoma Nwachukwu
was third on the team with 50 catches for 639 yards and three tight ends --
Nehemiah Hicks
,
Michael Lamothe
and
Hutson Prioleau
-- return. Keep an eye on junior
Nate Askew
, who could be a downfield threat this fall.
5. LSU:
Odell Beckham
Jr. was one of the top rookies last year and could be even better in Year 2. He'll be joined by potential deep threat and big-play target
Jarvis Landry
, who developed some good chemistry with quarterback
Zach Mettenberger
this spring.
Russell Shepard
is talented, but he's been wildly inconsistent. Keep an eye on junior
James Wright
and incoming frosh
Avery Johnson
, who is the younger brother of Patrick Peterson. Also, tight end
Chase Clement
is on the John Mackey watch list.
[+] Enlarge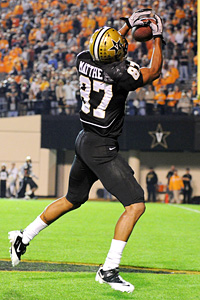 Don McPeak/US PresswireWide receiver Jordan Matthews is one player the Commodores will be counting on this fall.
6. Vanderbilt:
This group surprised last year and returns most of its components, starting with
Jordan Matthews
, who was fourth in the SEC in receiving last year. Sophomore
Chris Boyd
was solid last year, hauling in 31 catches and eight touchdowns.
Jonathan Krause
is very good in space and should see his role increase this fall after a solid spring. The coaches are excited about former QB
Josh Grady
moving to receiver. Replacing tight end Brandon Barden won't be easy.
7. Alabama:
There is more speed out wide in Tuscaloosa, but there's a lot more youth. The Tide could turn to freshmen Chris Black, Amari Cooper and Eddie Williams to help develop a more downfield passing game. More will be expected from veterans
Kenny Bell
and
Kevin Norwood
, while sophomore
DeAndrew White
possesses a ton of speed. Still no word on
Duron Carter
. Tight end
Michael Williams
was solid last year, but will be used even more this fall.
8. Mississippi State:
There is a lot of experience here, but this group has still underperformed at times, especially senior
Chad Bumphis
, who has yet to live up to all the hype that followed him from high school. Seniors
Chris Smith
and
Arceto Clark
combined for 65 catches last year, while the staff is very excited about the big-play potential redshirt freshman
Joe Morrow
possesses. Tight end
Malcolm Johnson
serves as a very reliable tight end target, as well.
9. Missouri:
The Tigers lost two starting receivers and stud tight end Michael Egnew, but three of the top five pass catchers are back, including inside threat
T.J. Moe
, who led Mizzou in receiving last year. Big things are expected from
Marcus Lucas
, who can stretch the field with his speed and physicality, and the coaches think
L'Damian Washington
can also be a downfield threat. Also, Dorial Green-Beckham, last year's top recruit, should make an immediate impact.
Eric Waters
is replacing Egnew, but has just two career catches and suffered a knee injury this spring.
10. Auburn:
Emory Blake
is one of the league's top downfield threats and has been one of Auburn's most consistent offensive weapons. So has tight end
Philip Lutzenkirchen
, who should be more of a passing threat with the addition of transfer fullback
Jay Prosch
. There is a lot of depth, but it's unproven.
Trovon Reed
was supposed to be a star, but had a lackluster second year. Seniors
Travante Stallworth
and
DeAngelo Benton
have 15 and 14 career catches, respectively.
Quan Bray
has shown potential and could have a bigger role this season and keep an eye on freshman Ricardo Louis.
11. Florida:
The Gators have struggled here since 2009 and still lack proven playmakers.
Andre Debose
is probably the best bet to be one, but he's been very inconsistent.
Quinton Dunbar
has the speed to be an outside threat, but caught just 14 passes last year. And the coaches are still waiting for senior
Frankie Hammond
Jr. to turn things up. True freshman Latroy Pittman had a great spring and the coaches are excited about his potential. Tight end
Jordan Reed
is one of the most athletic players in the league and will be a bigger target with two young quarterbacks throwing the ball.
12. South Carolina:
Now that Alshon Jeffery is gone, the Gamecocks have questions and inexperience here. The fast, athletic
Ace Sanders
is the only returning pass catcher with at least 20 catches from last year (29). The hope is
Bruce Ellington
will be more of a factor this fall. Tight ends
Justice Cunningham
and
Rory Anderson
combined for 26 catches and four touchdowns.
Damiere Byrd
has blazing speed, but caught just one pass last year.
DeAngelo Smith
had a solid spring, and the coaches hope he can be a downfield threat. A lot will be expected from incoming freshman Shaq Roland.
13. Ole Miss:
Sophomore
Donte Moncrief
is a budding star in this league and thinks he'll be even better in Hugh Freeze's spread offense.
Ja-Mes Logan
caught 20 passes last year, but had a very good spring. But Nickolas Brassell was an academic casualty and
Randall Mackey
had to move over from quarterback. The coaches are looking for consistency from
Terrell Grant
and
Vince Sanders
, who are both pretty unproven. Tight end
Jamal Mosley
is expected to do more in the spread and averaged 13.8 yards per catch last year.
14. Kentucky:
Joker Phillips' goal this spring was to find more playmakers and he thinks he did with sophomore
Demarco Robinson
, who had five receptions last year, and redshirt freshman
Daryl Collins
. The hope is that they'll take some pressure off of
La'Rod King
, who is really the only proven receiving threat on the team. Tight ends
Ronnie Shields
and
Tyler Robinson
did well this spring, but combined for just 10 catches last year.
July, 10, 2012
7/10/12
5:00
PM ET
We continue our "One good reason" series by checking in on the
Arkansas Razorbacks
:

Arkansas will win the SEC: That offense is still very good.
Sure, quarterback
Tyler Wilson
lost three NFL wide receivers from last season and stud
Marquel Wade
's status for the upcoming season is unclear. But as a whole, this team is still very talented and very explosive on offense. Wilson is the SEC's top quarterback and could have easily been a first-round draft pick in this year's NFL draft if he had decided to leave school early. But he's back and so is that cannon of a right arm. Oh, and who will be by his side? None other than the dynamic
Knile Davis
. He's one of the best running backs in the country and it sounds like he's going to be 100 percent this fall after that gruesome ankle injury he suffered last fall. This is the league's best QB/RB duo.
At receiver, Cobi Hamilton should be in contention to be the league's best. We always knew he had talent, so now he'll really get to show it as the primary receiver for the Razorbacks. It sounds like he and Wilson developed some pretty good chemistry this spring, too. Tight end
Chris Gragg
, who is on the John Mackey Award watch list, is one of the top tight ends in the SEC and the coaches expect him to be an even bigger part of the offense this fall. Rising juniors
Javontee Herndon
and
Julian Horton
have had to bide their time, but impressed coaches in practice all of last year and should step right in and contribute more this fall.
The offensive line is still a bit of a concern, but there is still some decent experience there and that goes a long way in this league. Paul Petrino certainly isn't his brother, but don't expect too much change, if any, when it comes to how the Hogs' offense is run.
Why it won't: Bobby Petrino's absence will be too much.
Defensively, there are still some questions and Arkansas still plays in the toughest division in all of college football, but the real concern is how this team will respond without Bobby Petrino. His embarrassing exit was a real slap in the face to a team that he heralded as arguably his best during his tenure. Sure, the Hogs have rallied around interim coach John L. Smith, but we haven't seen this team with him as the head coach in a pressure situation during a big game or during the season. We haven't seen him as the leader during two-a-days. What happens if adversity strikes this fall? Could an early-season loss cause this team to lose some confidence?
Petrino injected a ton of confidence and edge into his past Arkansas teams. You could see the same confidence he carried every second of the day in his players, and that's one thing that made Arkansas so good and gritty the past couple of seasons. He was also an exceptional playcaller, so the loss of that will surely be felt at times.
It'll be interesting to see how players react to Smith this fall, considering he has that 10-month interim tag attached to his name. Will he be able to command the same sort of respect that Petrino did and will he be the same sort of leader and motivator that Petrino was? Honestly, we aren't sure, yet.
April, 16, 2012
4/16/12
11:15
AM ET
While there were six SEC spring games this weekend, six other teams also took part in scrimmages over the the weekend:
ARKANSAS

Quarterback
Tyler Wilson
had yet another big scrimmage for the Razorbacks. Wilson completed 39 of 49 passes for 448 yards and three touchdowns during Friday's scrimmage. Wilson completed 20 consecutive passes at one point.
Wilson has yet to throw an interception in Arkansas' three spring scrimmages. He led the offense on scores on seven of the offense's 11 possessions Friday.
The good news for Wilson is that his production has come against the first-team defense. The bad news for Arkansas is that his production has come against the first-team defense. But maybe Wilson is just playing that well this spring.
Wide receiver
Marquel Wade
led Arkansas with nine receptions for 98 yards, while tight end
Chris Gragg
caught eight passes for 83 yards and a touchdown on Friday. Receiver
Javontee Herndon
added five receptions for 73 yards and two scores.
Defensive tackle
Robert Thomas
led the defense with four sacks, while defensive end Austin Flynn added three sacks.
Wide receiver
Cobi Hamilton
, linebacker
Tenarius Wright
and tight end
Austin Tate
all sustained injuries Friday, but coaches didn't feel they were serious.
Check out more from Arkansas' scrimmage
here
and
here
.
KENTUCKY

The Wildcats took part in a very spirited scrimmage Saturday. It was one that left coach Joker Phillips proud of both the offense and defense.
The 90-minute scrimmage featured the first-, second- and third-team offense and defense. The offense started things well, with quarterback
Maxwell Smith
leading a 70-yard drive on 13 plays. He capped the drive with a 21-yard touchdown pass to wide receiver
La'Rod King
.
Smith finished the scrimmage completing 25-of-38 passes for 227 yards and four touchdowns. King also led the offense in receiving with seven catches for 76 yards and two scores.
Kentucky's defense stepped up considerably after that, allowing just one touchdown and a field goal on the next 10 possessions, including seven three-and-outs.
You can find more info on Kentucky's scrimmage
here
.
MISSISSIPPI STATE

Despite a fast start by the offense, the defense won Mississippi State's scrimmage Friday after forcing five turnovers late.
The first- and second-team defense held the offenses to four touchdowns and a field goal on 27 possessions. They also registered seven sacks and four interceptions.
After quarterback
Tyler Russell
led touchdown drives of 75 and 80 yards on the offense's first two possessions, the defense stepped up, forcing a few three-and-outs for the first- and second-team offense.
Russell had an impressive outing inside Davis Wade Stadium, passing for 310 yards, two touchdowns and three interceptions.
Wide receiver
Joe Morrow
had arguably the play of the day when he caught an 83-yard touchdown pass. He sprinted 50-plus yards to the house after spinning off of cornerback
Corey Broomfield
about 30 yards up field. Morrow finished with 103 receiving yards, while tight ends
Malcolm Johnson
and
Brandon Hill
registered 110 and 75 receiving yards, respectively.
The player of the day might have been senior cornerback
Darius Slay
, who intercepted three passes.
Head coach Dan Mullen missed the practice after the birth of his daughter Friday.
For more on Mississippi State's scrimmage, check
here
and
here
.
OLE MISS

It was an air affair in Oxford, as Ole Miss quarterbacks combined for eight touchdowns in the Rebels' Saturday scrimmage.
Barry Brunetti
finished the day with 119 passing yards and two touchdowns. He also rushed seven times for 41 yards and two more scores.
But he didn't do much to separate himself from junior college transfer Bo Wallace, who threw for 113 yards and three touchdowns. He also carried the ball five times for 32 yards and another score.
However, both had their hiccups, as Wallace completed less than 45 percent of his passes and Brunetti threw two interceptions. Coach Huge Freeze told reporters after the scrimmage that he had mixed emotions about both, but felt Wallace played a little better Saturday.
"Standing out there it's real clear to me our quarterbacks, our personnel, we don't quite understand the game," Freeze said. "Third-and-2 we don't know those things. We have very little awareness of those at times. We get in second-and-5s and we get negative plays because we try to do more than we can do. Then it puts you in third-and-8, instead of just keeping it third-and-5. There's so many things that we have to understand."
Brunetti threw two 20-yard touchdowns, one to wide receiver
Ja-Mes Logan
and one to receiver
Vince Sanders
. Logan also caught two touchdown passes from Wallace, who also hit receiver
Terrell Grant
for another score.
For more on Ole Miss' scrimmage, you can go
here
and
here
.
TENNESSEE

Justin Hunter
picked up right where he left off the last time he played inside Neyland Stadium.
After missing most of last season with an ACL injury, Hunter caught three passes for 70 yards, including a 50-yard touchdown pass in his return to Neyland.
Quarterback
Tyler Bray
completed his first seven passes of the day and finished with 180 yards and a touchdown on 13-of-23 passing.
While Hunter had a solid outing, sophomore wide receiver
Jacob Carter
was the top receiver of the day, catching four passes for 102 yards.
Marlin Lane
, who has improved a lot this spring, had the big day that he needed with his 71 rushing yards and a touchdown on 12 carries.
Defensively, the Vols got sacks from defensive linemen
Jordan Williams
,
Willie Bohannon
and
Steven Fowlkes
. Defensive backs
Justin Coleman
,
Izauea Lanier
and
Rod Wilks
added six tackles.
For more on Tennessee's scrimmage, go
here
.
TEXAS A&M

As the quarterback race continues in College Station, redshirt sophomore
Jameill Showers
stood out in Texas A&M's scrimmage over the weekend. He threw for more than 150 yards and two touchdowns. He also threw an interception, but only after it was dropped by a receiver.
Showers played in seven series with both the first- and second-team offense.
Redshirt freshman
Johnny Manziel
split snaps with Showers, throwing for more than 150 yards and two touchdowns as well, but he threw two interceptions, with one that was returned for a touchdown by junior defensive back
Toney Hurd
Jr.
None of the offenses' possessions reached double digits in plays. Turnovers, sloppy play and penalties hurt the offense in the Aggies' first open scrimmage of the spring.
"We just have to be more consistent in our play on both sides of the football, and that's why we're here," coach Kevin Sumlin said. "For the quarterbacks to go operate the way they did, checking plays and moving around, it's encouraging. It gives us a real starting point."
Sophomore linebacker
Donnie Baggs
, junior linebacker
Charlie Thomas
, junior linebacker
Domonique Patterson
and senior linebacker Jonathan Stewart all registered sacks in the scrimmage.
For more on the Texas A&M's scrimmage, go
here
and
here
.
February, 22, 2012
2/22/12
11:30
AM ET
After a drama-filled, late signing day for ESPNU 150 athlete
Davonte Neal
(Scottsdale, Ariz./Chaparral), the nation's No. 8 prospect finally made a decision.
He picked Notre Dame
over Arizona, Arkansas and North Carolina, ending what had turned into quite the spectacle.
Now that Neal's recruitment is officially over, Arkansas' coaching staff can officially put the 2012 recruiting class to bed. And while Neal would have been a tremendous addition to the Razorbacks' class, it's not the end of the world that Arkansas didn't land him. In fact, missing out on both Neal and top receiver
Dorial Green-Beckham
won't set Bobby Petrino's team back.
Also, after the "show" that Neal put on with his recruitment, there are definitely questions about his mindset. We don't know every single detail concerning his recruitment, but from what I know about Petrino's offense, a me-first attitude doesn't work within a scheme that tries to spread the ball around as much as possible.
[+] Enlarge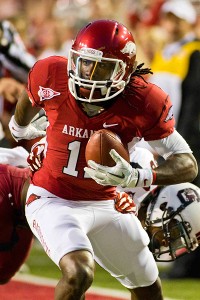 Beth Hall/US PresswireCobi Hamilton should be among the top returning receivers in the SEC.
Arkansas lost three future NFL draft picks in
Joe Adams
,
Greg Childs
and
Jarius Wright
, but returns a handful of receiving targets in 2012. Two of those returning -- tight end
Chris Gragg
and receiver
Cobi Hamilton
-- ranked third and fourth, respectively, in receiving for the Hogs.
Hamilton, who will probably see his name near the top of the list of returning SEC receivers this fall, caught 34 passes for 542 yards and was second on the team with four touchdowns. Gragg, one of the top returning tight ends in the league, caught 41 passes for 518 yards and two scores.
That's a good foundation, but it doesn't end there for the Hogs. Arkansas' deep receiving corps hasn't accumulated a ton of stats, but that's because these players haven't had much of a chance with those vets in front of them. They've shown that to the coaches in practice, but haven't had the chance to do it for the public.
One of those players expected to make a big leap in 2012 is rising sophomore
Marquel Wade
. He only caught eight passes last fall, but the coaches are expecting big things from him in Year 2. Wade has big play ability, is shifty and the coaches think he resembles Adams in his movements and returning ability. He should receive a lot more attention from quarterback
Tyler Wilson
and opposing defenders. However, with his speed and elusiveness, he should be able to make a play or two next fall.
Juniors-to-be
Javontee Herndon
and
Julian Horton
, who combined for 17 catches in 2011, are also back and from what the coaches have seen in practice, they expect them to step right in this fall.
Also, keep an eye out on incoming juco transfer receiver Demetrius Wilson and freshman tight end Demetrius Dean. Wilson should certainly get a chance to compete early because coaches don't exactly bring in juco players to sit and watch. Dean (6-foot- 3, 240 pounds) could come in and line up opposite Gragg and has the ability to split out wide if needed.
Striking out with both Neal and DGB wasn't exactly part of Petrino's recruiting plan, but his teams have led the SEC in passing the past three years for a reason, so don't expect him to pout too much about losing these two.