August, 21, 2014
Aug 21
1:00
PM ET
GAINESVILLE, Fla. -- Preseason camp is a time of constant evaluation, with players' fortunes rising and falling in each day of competition.
That part is over for the
Florida Gators
, who now shift into preparations for Week 1 opponent Idaho.
UF held its 16th and final preseason practice on Wednesday, and in recent days the Gators' depth chart has begun to take shape.
"We'll sort through the depth chart of guys we can count on moving forward, and guys that need to get more reps, and guys whose reps will dwindle," coach Will Muschamp said. "I mean, that's just part of it.
"Your tape is your résumé. The guys that are producing and playing well and doing it the way we want to do it, those are the guys that'll play."
Muschamp listed his biggest concerns, and they haven't changed much throughout the last two weeks.
Florida needs to develop depth behind its starters on both lines. The offensive line is the bigger concern.
Roderick Johnson
and
Trip Thurman
have emerged as reliable backups, but that still only gives UF seven linemen it can count on.
"We need to have eight or nine," Muschamp said. "That's a critical issue."
As of now, Florida is turning to juco transfer
Drew Sarvary
to be the backup center and
Antonio Riles
to play guard on the second unit. Riles was a defensive lineman until he changed positions late in the spring.
The issue on Florida's defensive line is mainly a matter of experience, as young players such as
Joey Ivie
,
Jay-nard Bostwick
and
Caleb Brantley
will be pressed into duty. Ivie is the only player of the three who has ever taken a snap for the Gators.
Still, Muschamp is bullish on their potential.
"Jay-nard Bostwick is a guy that's improved tremendously," he said. "We really worked on his lower-body flexibility. He's really made some big strides. I think Caleb Brantley has made some strides. Joey Ivie has made some strides."
Another large concern is at backup quarterback. The Gators are planning to turn starter
Jeff Driskel
loose in the running game, and with his history of injuries, the need for a backup is greater than ever.
The candidates are
Skyler Mornhinweg
, a third-year sophomore who started the final three games of last season; true freshman
Will Grier
, who enrolled in January and participated in spring practice; and true freshman
Treon Harris
, who arrived in the summer.
Mornhinweg is more of a pocket passer, while Grier and Harris are more athletic and can run the ball.
Muschamp has said Florida will play its backup QB in the first game. He also said he wouldn't want to rotate quarterbacks.
"I'd rather name a guy and go with it," he said. "I think it's hard, especially with an inexperienced player. They need to get as many reps as possible."
While UF coaches haven't seen any of their backup QBs separate themselves, there is a sense of urgency as the team is days away from its first game week.
"It's obviously getting close to decision-making time," offensive coordinator Kurt Roper said on Tuesday, "but I also think it's a fluid thing that can change at any time just because you don't know what's going to happen.
"So obviously we've got to start on who's going to spend the time getting the two reps as much as possible."
A handful of other jobs remain up for grabs, such as placekicker and punter. Nowhere is the competition more wide open than in the secondary, where Florida is very young and inexperienced.
"Still no separation in the secondary other than Vernon [Hargreaves III] and Keanu [Neal]," Muschamp said of his top cornerback and top safety, respectively. "Got some guys who have done some decent things, we just have to be more consistent."
With just over a week before kickoff, the clock is ticking on UF's final decisions.
April, 29, 2014
Apr 29
2:30
PM ET
GAINESVILLE, Fla. -- Soaring temperatures and a lack of football tells you that spring is over in Florida. It's time for the long days of summer.
The Gators will work out in the weight room, delve deeper into playbooks and conduct drills with each other. Fifteen signees are expected to enroll in June, several of whom come with legitimate hopes for immediate playing time.
With more than three months before Florida practices again, there are still several questions that must be answered. Here are a few:
[+] Enlarge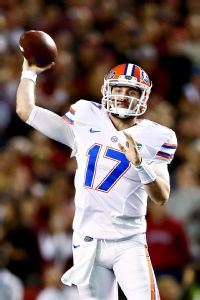 Streeter Lecka/Getty ImagesSkyler Mornhinweg will try to hold off a couple of true freshmen for the right to back up Jeff Driskel.
1. Who's the backup QB?
Jeff Driskel
is entrenched as the starter, but with his history of injuries, the Gators must prepare their backups like never before.
When Driskel was lost for the season last September, whole sections of the UF playbook went with him. That can't happen again, and it doesn't seem that it will, because Florida has more depth at quarterback than it has had in a long time.
True freshman
Will Grier
split reps throughout the spring with third-year sophomore
Skyler Mornhinweg
, and true freshman
Treon Harris
will enter the fray in August. The prevailing thought is that Grier is more talented and athletic than Mornhinweg and got a leg up on Harris by enrolling early.
But overlooking Mornhinweg, who started the last three games of 2013, would be a mistake. The coaches valued his experience and decision-making enough to cut into Grier's development this spring, and Mornhinweg rewarded them by showing improvement in the passing game.
He doesn't have Grier's arm or Harris' mobility, but Mornhinweg could easily be Driskel's primary backup.
2. What happens if the injury bug strikes again?
Injuries devastated Florida's 2013 season, but 2014 has yet to be a whole lot better.
Seven scholarship athletes missed all of spring recovering from injuries. Two others were limited to just a few days of practice in non-contact jerseys. Six more players got hurt during practice and missed time.
The good news? Every one of those players is expected to participate fully in fall camp. The bad news? Florida still hasn't developed enough depth to overcome losses at key positions such as quarterback, defensive tackle or cornerback.
One big injury could hurt in more ways than one, so other than simply having some better luck this fall, the Gators will need their young backups to prove they can handle larger roles.
3. Will UF finally have a dangerous receiver?
It's a stunning statistic, but Florida hasn't had a receiver record 600 or more yards in a season since 2009 when wideout Riley Cooper had 961 and tight end Aaron Hernandez had 850.
A lot will depend on the new scheme, Driskel's improvement in accuracy and decision-making, as well as the offensive line's ability to pass block. But if all of those things happen, the Gators believe they finally have the wide receivers to make hay.
Senior
Quinton Dunbar
, a solid possession receiver, is the leader on and off the field. A trio of sophomores --
Demarcus Robinson
,
Ahmad Fulwood
and
Chris Thompson
-- brings size, speed and much-needed athleticism.
Andre Debose
, back for a sixth year of eligibility after a torn ACL in 2013, is a talented wild card.
The numbers might not match those of Cooper or Hernandez, but Florida will be thrilled with even one pass-catching threat after four years of going without.
4. What can the Gators expect out of the backups on both lines?
If you listened to the coaching staff, the answer after spring was not much. A familiar refrain from head coach Will Muschamp and Co. was that there was "a huge drop-off" in effectiveness between the first and second units on the offensive and defensive lines.
That wasn't a motivational ploy. It's a real problem.
On the offensive line, the Gators have one backup -- junior
Trip Thurman
-- they appear comfortable with. Given the injury histories of the starters, a lack of depth here could be the biggest concern on the team. Florida will need reserves
Drew Sarvary
,
Cameron Dillard
and
Kavaris Harkless
to improve rapidly. Redshirt freshman
Roderick Johnson
and true freshman
Nolan Kelleher
must come back from the injuries that cost them the entire spring, or the O-line could see another revolving-door season.
On the defensive line, Florida needs more from redshirt freshmen DTs
Jay-nard Bostwick
and
Caleb Brantley
, who showed flashes of talent but little consistency. This could be an area where UF benefits from some heralded true freshmen who arrive in June.
Gerald Willis III
,
Thomas Holley
and
Khairi Clark
could all be in the mix on the D-line in fall camp.
5. Will there be enough carries for all of the running backs?
The players say yes, but that was during a spring that didn't include former starter
Matt Jones
and true freshman
Brandon Powell
, both out with injuries.
Sophomore
Kelvin Taylor
looks to be the starter, senior
Mack Brown
is a reliable backup, and redshirt freshman
Adam Lane
emerged as another weapon. But none of the three has breakaway speed. Although they run with similar styles, UF's backs believe they will all play. Duke's offense in 2013 supports that notion, as offensive coordinator Kurt Roper employed four tailbacks throughout the season.
"Our offense is definitely not stingy and we're going to pass the ball around and use each other in different situations," Lane said. "I wouldn't say it's really roles, but in some situations some fit better."
Still yet to be resolved is where Powell and Jones fit. Powell has speed and wiggle and could be a change-of-pace back. Jones will get a look at the B position (typically manned by tight ends and fullbacks), where he could do damage as a pass-catcher and get more playmakers on the field at the same time.
"But he's going to play the running back positon as well," Muschamp cautioned.
Ultimately, the Florida offense will still be predicated on running the ball, so it's possible five backs could share the load.
April, 15, 2014
Apr 15
10:00
AM ET
GAINESVILLE, Fla. -- Nobody does optimism quite like a football team in springtime. Especially one with a lot to prove.
As
Florida
made its way through spring practice, a majority of players who spoke to the media predicted that 2014 will be a whole lot better than 2013. Even coach Will Muschamp got into the prognostication business.
"We're going to have a good team next year," he said. "We just need to continue to progress."
Now that the Gators' spring practice is in the rear-view mirror, it's time to re-evaluate our spring predictions with the benefit of hindsight.
Prediction No. 1: Florida will have a whole new attitude
[+] Enlarge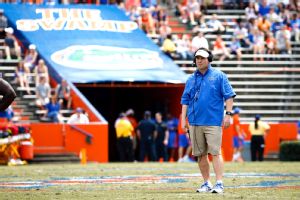 Rob Foldy/USA TODAY SportsFlorida coach Will Muschamp was satisfied with the progress the Gators made in spring practice.
OK, so we started off with a softball. It wasn't much of a reach to say the Gators would change the "woe-is-me" tune that permeated through an awful 2013 season. Nevertheless, a new attitude was extremely important in setting the tone of spring practice, building team chemistry and creating an environment for learning and development.
Leaders who were projected to step forward, such as quarterback
Jeff Driskel
and defensive end
Dante Fowler Jr
., actually did more than was expected. Fowler became an authority, at one point taking two teammates to task over academics. Driskel was a focal point, gathering his teammates before the spring game to spur them into action.
The biggest thing that Muschamp needed to see this spring was belief in the concept of the new offense. He got that and a more.
Prediction No. 2: Kurt Roper will lead an improved offense
This seemed to be another easy one to fulfill, as the Gators' offense really had nowhere to go but up.
The biggest surprise of the spring might have been how the offense looked on the first day of practice. It was fast-paced, generally well-executed and coherent in its design.
In Roper, Florida fans were promised a fresh offensive mind. Four weeks later, he might have been the biggest new star to emerge.
The best move Roper made was to simplify everything and make his offense easy to learn. Aside from designing and implementing a scheme that best suited the players, Roper also did well in coaching his new pupils. He was equal parts patient and assertive and quickly established himself as a respected authority figure.
Prediction No. 3: New leaders will emerge on defense
This kind of thing happens every year at Florida, where the defense produces NFL players like a factory assembly line.
[+] Enlarge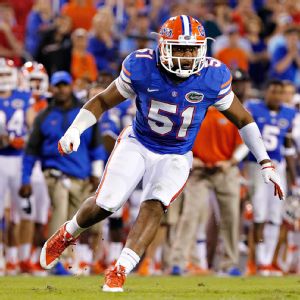 Kim Klement/USA TODAY SportsLinebacker Michael Taylor aims to lead by example for the Florida defense.
The names might have been slightly off, but the final outcome was as expected. Fowler,
Vernon Hargreaves III
,
Jabari Gorman
,
Michael Taylor
and
Jarrad Davis
are the players to whom teammates look for tone-setting and guidance.
Taylor, a senior linebacker and a respected veteran, pointed out that UF had too much of the wrong kind of leadership in 2013. He and his defensive teammates did very little talking this spring and made few predictions. The emphasis is now on leading by example, so it's no surprise to see that all of Florida's aforementioned leaders are reliable performers.
There is an obvious air of confidence on this defense, despite a heavy dose of youth. Some of these guys are going into their fourth year in Muschamp's system, which has made players like Taylor practically into coaches on the field.
Prediction No. 4: Roper's offense will showcase the QBs
This one didn't fully bloom to fruition, as Florida focused on basic installation for most of the spring and then added more complexity late.
Driskel, a junior coming back from a broken leg, showed that he was both healthy and clearly ahead of his competition. Sophomore
Skyler Mornhinweg
and freshman
Will Grier
split second-team reps. All three wore noncontact jerseys and were limited in the running game, which is likely to be the foundation of the offense.
It should also be noted that Muschamp is extremely cautious about revealing details of any new schemes to the public. The overall result was a pretty vanilla version of a no-huddle spread offense. In the spring game, however, each of the three QBs had their moments.
"I really have looked at Practice 1 to Practice 15," Muschamp said after Saturday's game. "Have those guys improved every day? Yes. I think the answer is yes. Those guys have made subtle and sometimes huge leaps of improvement."
Prediction No. 5: Spring standouts will emerge
Ugh. This happens every year. Some poor player lights it up and is crowned the star of spring practice ... only to never be heard from during the regular season.
There were a lot of names -- some hits and misses -- mentioned in our final prediction blog.
Running backs
Kelvin Taylor
and
Adam Lane
were excellent in camp, but Florida might very well use four tailbacks this fall, which would greatly diminish the possibility of a star rising.
Redshirt freshman wide receiver
Alvin Bailey
was solid but unspectacular and did not climb the depth chart as predicted. He's behind at least six other wideouts.
Junior cornerback
Brian Poole
did not capitalize on his experience to pull away from his competition this spring. Young defensive backs
Jalen Tabor
,
Nick Washington
and
Marcus Maye
performed well, but the secondary remains unsettled heading into the summer.
Offensive linemen
D.J. Humphries
and
Trenton Brown
had very strong showings, and Brown did indeed move to guard, where he started the spring game.
The other side of the line was up and down. Fowler met everyone's expectations, but young reserve defensive tackles
Caleb Brantley
and
Jay-nard Bostwick
were regularly pushed and prodded by coaches and teammates to improve their focus and stamina.
There was no singular star player this spring, and that could be a good thing.
April, 2, 2014
Apr 2
1:00
PM ET
GAINESVILLE, Fla. -- Ever the perfectionist, Florida coach Will Muschamp was not happy with his run defense last season.
Sure, the Gators had a top-five defense overall. But the run defense, which gave up 94.9 yards per game to rank fourth in the nation in 2012, slipped to No. 33 in the country last fall and gave up 142.4 yards per game.
Those concerns carried over to spring practice, as the run defense had some struggles last weekend in scrimmaging against the team's new uptempo spread offense.
[+] Enlarge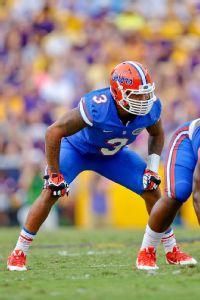 Derick E. Hingle/USA TODAY SportsAntonio Morrison is trying to mature in his role as the QB of Will Muschamp's defense.
"Our defense needs to handle and respond better to the tempo, especially our young defensive linemen understanding getting aligned, getting the call," Muschamp said on Tuesday. "All those things that a hurry-up offense creates angst with, we did not handle very well defensively.
"Atrocious tackling for leveraging the ball, being in the right spots. So those are all things we need to improve on."
Florida has lost plenty of reliable veteran starters from the middle of its defense in the last two offseasons. Last year, the Gators had to cope with the departures of defensive tackle Sharrif Floyd, linebackers Jon Bostic and Jelani Jenkins, and safeties Matt Elam and Josh Evans. All were drafted in the first six rounds of the NFL draft.
The defense started strong last fall but slumped noticeably after star defensive tackle
Dominique Easley
was lost for the season to injury, which had a cascading effect on the rest of the unit.
"Some other guys' production went down a little bit when Dominique wasn't in there anymore," Muschamp said. "It affects you tremendously. ...
"You get blocked a lot more when you lose a guy like that."
As a result, Muschamp said, the linebackers weren't as productive as he expects.
"It was tough," junior middle linebacker
Antonio Morrison
said. "We lost some of our best players to injury, not to use that as an excuse. It was a tough year, but that's behind us. We learned from it and we're ready to get on with it.
"We just know that's unacceptable. We're not trying to put that on the field anymore."
This spring the Gators are counting on experienced linebackers such as Morrison and
Michael Taylor
to turn things around.
"They need to be able to calm the defense down at times," said Muschamp, calling his middle linebacker the quarterback of the defense. "I think Jon Bostic was as good as I've been around as far as handling and managing our front and back end with communication. Just did an outstanding job of that, and Jelani did a great job as well.
"We need to do a better job from a communication standpoint at that position, and I think we've made some strides."
Muschamp acknowledges that his defense puts a lot of pressure on its linebackers. Leadership and communication are not optional.
Perhaps no player has been under more scrutiny than Morrison, who was impressive as a freshman outside linebacker but struggled at times last fall in the middle. It didn't help that two arrests last summer undermined Morrison's ability to be a vocal leader, but Muschamp sees signs of progress.
"I think each year you mature a little bit, and sometimes you have to learn from your mistakes publicly to take steps forward, and I think he's done that," Muschamp said. "I've been pleased with his production as a player on the field; I've been pleased with how he's handled himself off the field.
"We all mature at different levels and different times, and certainly he is a guy that needed to mature, take that next step. I think he's done that."
Florida is looking to its interior defensive linemen to grow up as well. Muschamp has cited the talent level of redshirt freshman defensive tackles
Caleb Brantley
,
Antonio Riles
and
Jay-nard Bostwick
. But he has also repeatedly expressed how much work they still need.
"The hardest thing for a young defensive lineman is disengaging from blocks," he said, "because they've been so much better than the other guys in high school, they haven't had to disengage from blocks. A lot of the time, the guy blocking them wasn't good enough to get a hat on them.
"Well now you've got to take on the block, understand how to defeat the block and then go to the ball carrier and do it over and over again, which sometimes is a little bit of a challenge for some of our guys."
With senior defensive tackle
Leon Orr
out this spring with a broken wrist, the onus has fallen on senior
Darious Cummings
and junior
Jonathan Bullard
, whom Muschamp praised for his work in moving inside from defensive end.
"I've seen some positive things, just very inconsistent once we get past that first group," he said. "The drop down is way too big. Way too much of a separation between the groups."
Taylor, who prefers to lead by actions instead of words, is confident the run defense will improve after identifying the problems.
"[We] saw what we needed to work on," Taylor said, "saw how we were getting blocked, saw how teams were trying to run on us and simplified some things, cleared some stuff up, and we worked on what we needed to get better on. And that's what we've been doing."
March, 31, 2014
Mar 31
11:00
AM ET
GAINESVILLE, Fla. -- The Gators have completed seven of their 14 practices, and the spring game is less than two weeks away.
Before Florida opens another practice to its fans today, let's go over a few developments.
Fast-moving offense:
It's all anyone wants to talk about. The Gators are installing a new offense, and so far the key word is speed. The players have learned and adapted quickly. The tempo is much faster than at any time in the last three years. Players look fast again.
Give much of the credit to new coordinator Kurt Roper, who simplified everything and really made the most of his meeting time before practice began.
"You spend the time you're allowed in the meeting room trying to create that understanding and showing it to them on tape," he said. "You're trying to put your install together that makes sense for them to understand it. The biggest thing for us is we try to create lining up simpler than most people. I think because of that, that's part of what you see. We're able to get lined up in a hurry."
[+] Enlarge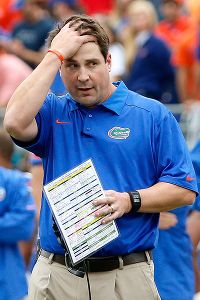 Sam Greenwood/Getty ImagesWill Muschamp's future probably rides on Florida's offensive improvement.
Head coach Will Muschamp, whose future probably rides on Florida's offensive improvement, has noticed the difference and says he's very pleased.
"[They're] really play fast, physical," he said. "We've really limited negative plays to this point. … Our guys have got a lot of confidence, playing real good tempo and having a lot of fun."
Driskel separates himself:
All three of Florida's top QBs -- junior
Jeff Driskel
, sophomore
Skyler Mornhinweg
and true freshman
Will Grier
-- have had their moments. They've shown a solid grasp of the offense in its early stages of installation, made solid decisions and delivered the ball to receivers in stride.
Muschamp has not yet named Driskel the starter but did say he has "distanced himself at this point" while the other two have split second-team reps.
Driskel, however, has a lot of work yet to do. While his arm strength has been on full display and he appears recovered from the broken leg that ended his 2013 season, Driskel is getting a crash course in quarterback fundamentals from Roper.
"Sometimes he's overstepping a little bit which causes him to sail the ball," Muschamp said. "That's been something that Kurt is really working on. Kurt is a really good fundamental quarterback coach."
D-line shuffle:
One of the players who has been singled out most often for praise is sophomore defensive end
Bryan Cox Jr
., son of the former Miami Dolphins Pro Bowl linebacker.
Muschamp said Cox has gotten stronger, put on a few pounds and has "made really remarkable improvement" in his technique. That has allowed the Gators to slide junior
Jonathan Bullard
inside to defensive tackle, where the coaching staff believes he can thrive as a pass rusher on obvious throwing downs.
Because senior defensive tackle
Leon Orr
is sidelined this spring with a broken wrist, it bears watching whether these plans stick in the fall.
Florida has a number of talented young linemen starting to make an impact. But it remains to be seen if redshirt freshmen
Caleb Brantley
,
Jay-nard Bostwick
,
Antonio Riles
and sophomore
Joey Ivie
are ready to do more than just provide quality backup minutes.
"I feel like the depth is there," Muschamp said. "We've got some good players."
Veteran line with one exception:
The makeup of Florida's first-team offensive line has been fairly consistent with junior
D.J. Humphries
at left tackle, junior
Trip Thurman
at left guard, senior
Max Garcia
at center, junior
Tyler Moore
at right guard, and senior
Chaz Green
at right tackle.
Thurman is the newcomer, the only player on that first unit who has never made a start.
"He hasn't played as much," Roper said, "but he's out there working hard to be a good player."
Starting would be quite a step forward for Thurman, who stands 6-foot-5 and 315 pounds. The fourth-year player has seen very limited playing time in just 15 career games as a reserve.
Overall, Muschamp and Roper have been pleased with the play of their O-line. There have been some issues with Garcia and backup center
Cameron Dillard
handling shotgun snaps, but the coaches expected some bumps in the road.
This is a unit that struggled mightily in pass protection last season but could benefit greatly from Roper's uptempo spread scheme.
Kickers still need work:
Before practice started, Muschamp identified the kicking game as one of his top two priorities of the spring. Florida's place-kickers were abysmal last season and likely cost the team a couple of wins, while starting punter
Kyle Christy
slumped badly enough to force the Gators to burn freshman
Johnny Townsend
's redshirt.
So far this spring, the two punters have been locked in a battle that has featured some colossal moonshots and no clear starter.
"We've got two guys that have Sunday legs," Muschamp said of their potential as pro prospects. "They both kick very well."
The Gators are still struggling with field goals, however, and it seems unlikely that sophomore
Austin Hardin
or senior walk-on
Francisco Velez
will do enough to win the job outright. Their competition could continue throughout the fall with other walk-ons getting chances as well.
"The kicking situation is still not what it needs to be," Muschamp said, "but Austin is hitting the ball more consistently the same way."
September, 25, 2013
9/25/13
7:30
PM ET
Things went from bad to worse for Florida on Wednesday, as coach Will Muschamp announced that starting defensive tackle
Dominique Easley
will
miss the remainder of the 2013 season
after tearing the anterior cruciate ligament (ACL) in his right knee during Tuesday's practice.
"As I said earlier today on the SEC Conference Call, Dominique injured his right knee in practice late Tuesday night in a non-contact situation," Muschamp said in a statement. "Test results have revealed that he suffered a tear of both his ACL and medial meniscus, which will require season-ending surgery.
[+] Enlarge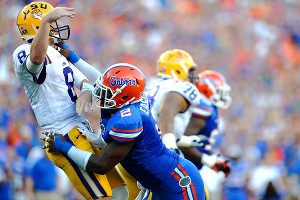 Jake Roth/US PresswireDominique Easley, one of the SEC's most disruptive linemen, might just be Florida's best player and replacing him will be no easy task.
"I talked to Dominique and the team this afternoon and we will continue to look for his leadership and experience throughout the season."
This is a major loss for the Gators. Already without starting quarterback
Jeff Driskel
for the remainder of the season because of a broken right fibula, Florida will now go the remainder of the season without arguably its best player. One of the most disruptive defensive linemen in the SEC this season, Easley was viewed as possible first-round draft pick.
He didn't have monster stats, but his explosion off the line, constant motor and ability to garner double-teams provided his teammates with one-on-one opportunities up front. He created more plays for those around him than he did for himself, yet he was still able to put constant pressure on quarterbacks and running backs.
"Watching any of your players go through this is one of the hardest things about being a coach," Muschamp added. "Obviously, it is hardest on Dominique. We are disappointed for him, but we will be there for him every step of the way through his surgery and rehab process."
Florida's SEC East title chances took a hit after Driskel went down -- making longtime backup
Tyler Murphy
the starter -- but they might be out the window with the loss of Easley. The Gators enter Saturday's game against Kentucky with the SEC's top defense and second-ranked defense nationally (212.3 yards allowed per game). Without Easley, the Gators will have to rely more on their outside pass-rush to create pressure on opposing backfields.
While Florida certainly has depth, and will rely heavily on interior players like
Leon Orr
,
Damien Jacobs
and
Darious Cummings
, it will be very hard to replace a player like Easley. Expect freshmen
Jay-nard Bostwick
,
Joey Ivie
and
Bryan Cox Jr
. to get more work in the rotation going forward.
The good news is that Florida has bodies to work with. There are enough players up front to create a solid rotation going forward, but players like
Ronald Powell
and
Dante Fowler Jr
. have to step up to be even more consistent playmakers. The double-teams that Easley commanded will have to go somewhere else in order to create mismatches up front.
This defense isn't sunk, but the pressure for it to carry this team just got a lot bigger with the loss of Easley.
September, 25, 2013
9/25/13
1:31
PM ET
Florida defensive tackle Dominique Easley's status for Saturday's game against Kentucky is unknown after coach Will Muschamp announced that he
"tweaked" his knee in practice Tuesday
. Muschamp added that Easley would probably miss Wednesday's practice.
"We'll see how it goes," Muschamp said on Wednesday's SEC coaches teleconference.
"We think he'll be fine. We just need more information. We're going through the process at this time."
Muschamp said that Easley injured his right knee while planting before trying to run on a screen play. Easley tore the anterior cruciate ligament (ACL) in his left knee back in 2011.
Reports surfaced before the teleconference that Easley had torn the ACL in his right knee and would be out for the season. Shortly after Muschamp's 10 minutes were up on Wednesday's call, Easley hinted from his Twitter account (@MR_ChUcKiE_2) that his Florida career could be over:
"Gatornation thank you for all of 4 yrs of sticking wi th me but god has something else planned for and have no worries #believe"
There was nothing official from UF about whether Easley will miss significant time, but losing him would be a big hit to one of the nation's best defenses.
The Gators have developed a better pass rush and do like to rotate guys all along the defensive line, but Easley is just a different kind of player. He doesn't blow up a stat sheet, but he consistently blows up opposing offensive lines. He only has five tackles on the year, but has been credited with four quarterback hurries.
Easley is explosive off the line, has a never-ending motor and is extremely disruptive. He might not make all the tackles, but he creates plays for other people. He draws a lot of double-teams, which opens things up for guys in one-on-one situations. Sharrif Floyd was on the receiving end of a lot of Easley's disruption last year, and the same can be said for a handful of Florida's linemen and linebackers this year. Having Easley out would put a lot more pressure on outside guys, like linebacker Ronald Powell and Buck defensive end/linebacker Dante Fowler Jr.
Inside, the Gators have a good rotation going with Leon Orr and Damian Jacobs at nose guard, and Darious Cummings has done well rotating with Easley. Remember, he did have that awkward looking interception and return last week. Freshman Jay-nard Bostwick will be in the mix at tackle, while defensive coordinator D.J. Durkin said Wednesday that freshmen Joey Ivie and Bryan Cox Jr. are both capable of playing Easley's position if needed.
Depth will help the Gators for as long as Easley is out, but that "it" quality will be missing.
September, 2, 2013
9/02/13
3:00
PM ET
By now, you've probably seen the video of Will Muschamp's postgame tirade from Saturday directed at a few members of the media.
If not,
here you go
.
[+] Enlarge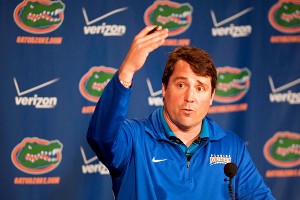 AP Photo/Phil SandlinWill Muschamp has shown a penchant for defending his players, which plays well in the locker room and in recruiting.
Basically, Muschamp
laid into reporters
from The Gainesville Sun, The Palm Beach Post and Gatorcountry.com for incorrectly identifying freshman defensive lineman
Jay-nard Bostwick
as being one of six players suspended for the season opener against Toledo.
Bostwick dressed and didn't play, but he wasn't suspended so Muschamp took it upon himself to let the media know how he felt about the inaccurate reports in a 2-minute, 15-second diatribe after the Gators' 24-6 win over the Rockets.
Outside of
Mack Brown
's breakout performance, it was probably the most exciting part of the Gators' afternoon.
People will say Muschamp might have overreacted, but once again Muschamp publicly went to bat for one of his players. Say what you will about his method, but this will play well in his locker room and certainly on the recruiting trail. Players and parents see these things and remember them.
Coaches always talk a big game about loving their players and creating a family environment within their programs. Muschamp's actions showed some of that love. It showed some rage, too, but he earned points with his players, which will pay off.
Remember when he stood up for Sharrif Floyd when the NCAA ruled him ineligible for two games for accepting more than $2,500 over several months from the nonprofit organization Student Athlete Mentoring Foundation? Muschamp ripped into the NCAA and stood by Floyd the every step of the way.
I wouldn't be shocked to see other coaches react the same way, but this isn't a first for Muschamp. Plus, his fiery attitude and intimidating facial expressions make it that much more entertaining to watch. Muschamp has no problem sticking up for his players when he feels he has to. He really cares about the people in his locker room, and he isn't afraid to swing away and support them.
Here's what Muschamp said Saturday:
"That was very irresponsible journalism. You guys can write whatever you want to say about me. You can say I'm a bad football coach. You can say I'm a bad dad, I'm a bad husband, I'm a bad person. You really can say anything you want to say; that's your opinion. You can talk about our offense, our defense, our special teams. You can talk about our coaching staff. You can talk about our administration. That's your opinion, and you're entitled to that, and that's fair.

"But when you take a shot at a kid, and it's inaccurate and it's written inaccurately, I've got a problem."
He continued ...
"It was inaccurate and it was wrong and it was totally irresponsible. Your opinion is fine. Take shots at me all day. [Florida athletic director] Jeremy [Foley] pays me enough. I'll take 'em all day. But to take a shot at a freshman that's done everything we've asked him to do since he's been here. He's a great young man. He should have played today if we had gotten in some situations to play him. He's done everything we've asked him to do. He's a great teammate. He's great in that locker room, and to take that shot is wrong. ...

"Our trust is done, I can assure you that. And you know exactly who I'm talking to. I don't know where them Gator Country guys are, but I'm going to tell you right now we're done. That was completely wrong. You need to apologize to those parents and you need to apologize to that kid."
And then ...
"Who was your source? Church mice in here. If you want to write something, stand up and stand behind it. That's what I'm going to tell you. You took a shot at a kid and a family that's done nothing wrong, and it's really bad. And I'm going to meet with Mr. Foley to see if y'all will even be allowed to come back in here again. I'll be honest with you, it was a low blow for me. Our opening ball game at the University of Florida, and I'm dealing with this -- bad journalism. Sources said."
August, 16, 2013
8/16/13
9:30
AM ET
GAINESVILLE, Fla. -- Florida fans better get a good look at senior wide receiver
Solomon Patton
this season because guys like him are going to be hard to find around here from now on.
Small guys.
The 5-foot-9, 171-pound Patton doesn't really fit into coach Will Muschamp's philosophy that bigger is better. Not just on the line of scrimmage, either. Big receivers. Big defensive backs. Big linebackers.
[+] Enlarge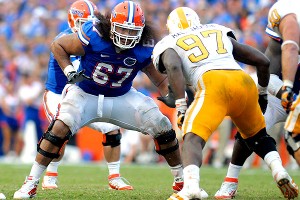 AP Photo/Phelan M. EbenhackGuard Jon Halapio, at 6 feet 3 and 321 pounds, meets Will Muschamp's size criteria to compete in the SEC.
Size does matter at Florida now. Muschamp believes it's the best way to have success in the Southeastern Conference.
"This is a big man's league," he said. "When you go pay to watch a boxing match, you don't go watch the featherweights fight. You go watch heavyweights fight. This is a heavyweight league.
"So we need have a big, physical team. You can still be really fast, but you better be big and physical if you want to win in this league right now."
Muschamp is in his third season and working on his fourth signing class, and he has certainly made the Gators a bigger, more physical team in that short period of time. To see the difference, look at UF's roster from 2009. The Gators had five starters or key contributors who were 5-9 or shorter: Jeff Demps, Chris Rainey, Ahmad Black, Markihe Anderson and Brandon James.
This year's team has only one starter that small: 5-9 safety
Cody Riggs
. Patton is a role player (he's the jet sweep guy) and the shortest player on scholarship is 5-7 freshman running back Adam Lane -- who weighs 222 pounds.
Muschamp's philosophy goes further than just the size of the players. He wants the bulk of his 85-man roster to be comprised of what he calls big-skill positions: offensive and defensive linemen, linebackers and tight ends. He wants 50. Right now he has 42 (see breakdown below).
Muschamp wants 15-17 offensive linemen, and the Gators are close to that number. They have five scholarship tight ends, too. The defensive line is where the problem is. The Gators are short on ends, especially speed rushers. There are eight scholarship defensive tackles, but only three have played in a game (
Dominique Easley
,
Leon Orr
and
Damien Jacobs
), and just two bucks (hybrid defensive end/linebacker).
It'll take at least a couple more signing classes for the Gators to be as stocked along the defensive line as Muschamp would like. Muschamp believes long-term success at Florida -- and therefore the SEC -- depends on beefing up those defensive numbers.
And not just to compete with Alabama and Nick Saban, either.
"When big guys run out of gas, they're done," Muschamp said. "We don't ever want our big guys up front to play more than six or eight snaps in a row and have the intensity you've got to play with to be successful in this league. So you can't ever have enough defensive linemen or pass rushers, especially the way the game's going.
"You look in our league at Missouri and Kentucky and Tennessee, a lot of schools are going to a little bit of a Big 12 model, like Texas A&M, where they're spreading the field, and you can't ever have enough guys that can play in space and rush the passer. The most exerting thing in football is rushing the passer. Those guys are battling against a 315-pound guy and trying to push the pocket, so you can't ever have enough of those guys."
Here's the breakdown of what Muschamp calls the big-skill players:
Offensive line
Ideal number:
15-17
Number on the roster:
14.
Tyler Moore
,
Quinteze Williams
, Rod Johnson, Octavius Jackson, Cameron Dillard,
Trip Thurman
,
Jon Halapio
,
D.J. Humphries
,
Jonotthan Harrison
,
Chaz Green
,
Max Garcia
,
Trenton Brown
,
Ian Silberman
,
Kyle Koehne
.
Comment:
The Gators will lose four players to graduation but have four offensive line commits for 2014, three of whom weigh more than 300 pounds. The line has gotten bigger, stronger and more physical since Muschamp called them soft at the end of his first season.
Defensive tackle
Ideal number:
8-10
Number on the roster:
8. Damien Jacobs,
Joey Ivie
, Leon Orr,
Darious Cummings
, Jay-nard Bostwick, Caleb Brantley, Antonio Riles, Dominique Easley.
Comment:
Not a lot of experience here, but the four freshmen (Ivie, Bostwick, Brantley and Riles) will gain valuable experience as part of the rotation this season.
Defensive ends
Ideal number:
6-8
Number on roster:
4.
Alex McCalister
,
Jonathan Bullard
, Jordan Sherit, Bryan Cox.
Comment:
Easley also can play end. This is perhaps the most flexible position, with several players having the ability to play inside on passing downs to get the best pass rushers on the field.
Bucks
Ideal number:
4-6
Number on roster:
2.
Dante Fowler
,
Ronald Powell
.
Comment:
This position also needs to be beefed up quickly, with Powell likely leaving after this year if he has a good season. Some flexibility here, too, because Cox and McCalister could spend time here.
Linebackers
Ideal number:
9-12
Number on roster:
9.
Michael Taylor
,
Matt Rolin
,
Jeremi Powell
, Jarrad Davis,
Neiron Ball
,
Darrin Kitchens
,
Daniel McMillian
,
Alex Anzalone
,
Antonio Morrison
.
Comment:
UF has one bona fide stud (Morrison) and a mix of veteran role players and freshmen. McMillian is a player to watch. He could become a starter by midseason. This is an important position group because it produces a lot of special teams players.
Tight ends
Ideal number:
3-5
Number on roster:
5.
Clay Burton
,
Tevin Westbrook
,
Kent Taylor
,
Colin Thompson
, Trevon Young.
Comment:
A lot of players, but little production so far. Burton, Westbrook and Thompson are mainly blockers, but there's optimism that Thompson can develop into someone who can work the middle of the field.
February, 6, 2013
2/06/13
3:55
PM ET
Florida has announced its 2013 signing class.
The Gators are currently No. 1 in the ESPN recruiting rankings and finished the day signing 28 players, including 11 ESPN 150 and 16 ESPN 300 members. The Gators picked up commitments on the defensive side of the ball on Wednesday in four-star defensive tackle
Jay-nard Bostwick
(Port Saint Lucie, Fla./West Centennial) and three-star junior college defensive tackle
Jarran Reed
, who picked the Gators over Alabama.
The class is headlined by top corner prospect
Vernon Hargreaves III
(Tampa/Wharton), who is the No. 3-rated player nationally, and top running back
Kelvin Taylor
(Belle Glade, Fla./Glades Day), who is the No. 8 prospect nationally and is the son of former Florida All-American running back Fred Taylor.
You can view Florida's entire 2013 signing class
here
.
February, 6, 2013
2/06/13
9:45
AM ET
Florida needed to add some depth to its interior defensive line, and coach Will Muschamp got just that early Wednesday morning when defensive tackle
Jay-nard Bostwick
(Port Saint Lucie, Fla./Centennial)
picked the Gators over Alabama and Miami
.
The 6-foot-4, 250-pound lineman ranks 27th nationally at his position and 286th in the ESPN 300.
The Gators now have three defensive tackle commits in this class, as Bostwick joins ESPN 300 member
Darious Cummings
and ESPN 150 member
Caleb Brantley
.