May, 8, 2012
5/08/12
2:10
PM ET
The good folks over at the SEC office delivered a plethora of post-spring notes for us to dive into as summer creeps closer and closer.
I've split it up by division, so you all aren't overwhelmed. We'll start with the SEC West:

ALABAMA
The attendance for A-Day was 78,526 (1st in the SEC and 2nd nationally this year to Ohio State) which was the fifth-largest in school history. Each spring game under coach Nick Saban has had an attendance of 78,200 (2008) or higher.
As an SEC head coach (beginning in 2001 at LSU and 2007 at Alabama), Saban has totaled 73 NFL draft picks with 20 first-round selections and 10 among the top 10 overall.
During the last academic year, Alabama's football program led the SEC (in what is believed to be a conference record) with a total of 38 student-athletes on the Academic All-SEC Honor Roll. A total of 22 players were on the bowl roster who had already earned their degrees, which was tied for first nationally in terms of graduates on bowl rosters.
Of Alabama's 13 starters lost, all were either drafted or signed free -agent contracts with the NFL. Included among those 13 were the four first-rounders along with LB Courtney Upshaw (2nd round), NG Josh Chapman (5th round), DB DeQuan Menzie (5th round) and TE Brad Smelley (7th round). OG Alfred McCullough, WR Marquis Maze, WR Darius Hanks, C William Vlachos and LB Jerrell Harris each signed as free agents following the draft.

ARKANSAS
Arkansas is the only team in the SEC to return a quarterback (Tyler Wilson) with a 3,000-yard passing season in his career and a running back (Knile Davis) with a 1,000-yard rushing season.
Arkansas has been ranked in 32 straight Associated Press polls, tied for the seventh-longest active streak in the nation, and in the top 10 for nine straight polls, which also ranks seventh among active streaks in the country.
Arkansas finished the 2011 season undefeated at home for the first time since 1999. With seven home victories in 2011, the Razorbacks have 19 wins at home in the past three years, which is tied for the fourth-highest total in the NCAA. Arkansas enters the 2012 season with an 11-game home winning streak, the fifth-longest active streak in the country.
Kicker Zach Hocker enters his junior season as Arkansas' record holder for career field goal percentage with his success rate of 80.4 percent. He also ranks in the top 10 in school history in six other categories and finished the 2011 season second in the SEC in points per game, field goals made per game and touchback percentage.

AUBURN
Auburn returns 48 lettermen (20 offense, 26 defense, 2 specialists). Of the 68 scholarship players who participated in spring drills, 61 percent (38) were underclassmen.
The Tigers start the 2012 season in the same location as they finished the 2011 campaign, playing in Atlanta's Georgia Dome. On Sept. 1, Auburn opens with Clemson in the Chick-fil-a Kickoff Game. The Tigers completed the 2011 season with a 43-24 victory over Virginia in the Chick-fil-a Bowl on Dec. 31. Auburn's 2012 schedule features eight games against bowl participants from a year ago, including five that played in traditional New Year's games.
Junior punter Steven Clark, one of three finalists for last year's Ray Guy Award, is one of two returning first team All-SEC honorees for Auburn, along with junior defensive end Corey Lemonier. Returnees Philip Lutzenkirchen (senior tight end) and Onterio McCalebb (senior all-purpose back) were second team all-SEC selections in 2011.

LSU
The Tigers have four running backs coming back who had seven or more rushing touchdowns (Spencer Ware 8, Kenny Hilliard 8, Michael Ford, Alfred Blue 7).
LSU has five returning offensive linemen with starts to their credit, led by C P.J. Lonergan with 26 and OG Josh Dworczyk with 26. Other linemen with career starts to their credit include LT Chris Faulk (13), RT Alex Hurst (23) and RG Josh Williford (9). A sixth offensive lineman – La'el Collins – came out of spring practice as possibly the starter at left guard.
Defensively, LSU returns its top two tacklers (Tyrann Mathieu 76, Eric Reid 76) and its top two leaders in both tackles for loss (Barkevious Mingo 15.0, Sam Montgomery 13.5) and sacks (Montgomery 9.0, Mingo 8.0).
LSU returns 11 players on defense that started at least one game a year ago, including five defensive linemen.

MISSISSIPPI STATE
Mississippi State is one of only two SEC teams to bring back all 10 on-field coaches from last season. The entire staff continuity is a first in more than a decade (1999-2000) for the Bulldogs.
Dan Mullen enters the 2012 campaign with 21 wins in his first three seasons, the second most in school history (Alllyn McKeen, 26, 1939-41). Mississippi State had only won 21 games over any three-year stretch eight times prior to Mullen's arrival.
Wide receiver Chad Bumphis enters the season with 101 career receptions, good for eighth in school history and 61 shy of David Smith's (1968-70) record of 162. The Tupelo native needs five touchdowns to reach the school record of 17 held by Eric Moulds (1993-95) and Justin Jenkins (2000-03).

OLE MISS
Five returning offensive linemen have each started five or more games in their career, including junior starting center Evan Swindall. Senior A.J. Hawkins and sophomore Aaron Morris settled in at the guards during the spring, while a pair of potential first-time starters, junior Emmanuel McCray and mid-year JUCO transfer Pierce Burton, have taken the lead at the tackles.
Special teams remains a strength of the Rebels, led by 2010 NCAA punting champion and two-time All-SEC senior Tyler Campbell. In addition, senior K Bryson Rose has made 25 of 29 career field goals and 65-of-67 PATs.
In the return game, junior running back Jeff Scott has established himself as a weapon during his career, ranking 20th in the country in kickoff returns in 2010 and helping Ole Miss finish third as a team nationally in punt returns in 2011.

TEXAS A&M
Senior Dustin Harris enters the 2012 football season as the reigning punt return average statistical champion. The cornerback from Livingston, Texas, led the NCAA with a 18.9 average on 18 returns in 2011, with a 72-yard touchdown return against Kansas. Against the Jayhawks, Harris set a school record with 162 punt return yards.
Senior Ryan Swope, from Austin, Texas, has career numbers of 180 catches for 2,204 yards and is chasing Jeff Fuller's school records of 233 catches for 3,092 yards. Fuller's records would appear to be within range after Swope's record-setting junior season that saw him set school standards with 89 catches for 1,207 yards.
The Aggies led the nation with 51 sacks in 2011 (six more than the second-best team), and A&M's top two pass-rushing threats return in 2012. In fact, Texas A&M is the only team in the nation with two returnees that posted 8.5 or more sacks in 2011. Senior Sean Porter led the Big 12 with .73 sacks per game (No. 19 nationally), while junior Damontre Moore chipped in .71 per game (No. 21 nationally).
Despite attempting the ninth most pass attempts in the NCAA FBS, the Aggies did a remarkable job of protecting their quarterback in 2011. In 13 games, A&M allowed just nine sacks for a NCAA-low 44 lost yards. Four of five starters return from the 2011 offensive front, including juniors-to-be OTs Luke Joeckel and Jake Matthews, who have been mentioned as first-round draft picks in several early 2013 mock drafts.
The offensive line was penalized for holding just twice in 2011 and enters 2012 with a streak of 11 straight games without a holding call against a lineman.
February, 8, 2012
2/08/12
10:30
AM ET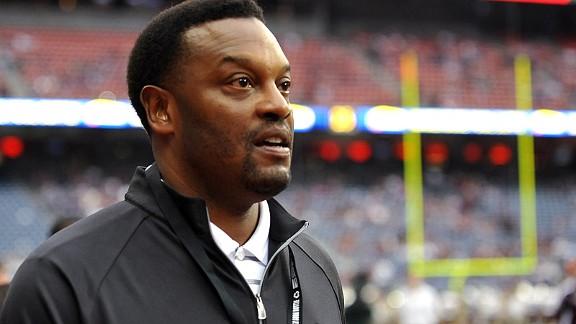 Cal Sport Media/AP ImagesBetween a young team and a tough new conference, coach Kevin Sumlin has his work cut out for him.
It's Moving Day No. 2 on the blog network today, and the Aggies are following Missouri out the door into the SEC blog. We introduced the Aggies to the SEC earlier, but now it's time to debate.
The Aggies' move to the SEC was more about having the program grow in new soil, whereas Missouri's move was more about conference stability.
Will the Aggies thrive? SEC blogger Chris Low and Big 12 blogger David Ubben go head-to-head to find out.
Chris Low:
OK, David, let's not tiptoe around. The SEC is a big-boy conference with big-boy stakes. I know everything is supposedly bigger in Texas, but do the Aggies really know what they're getting themselves into? For one, they tend to play all four quarters in the SEC. Judging by what I saw from the Aggies last season, somebody might want to remind them that there is a second half. Come to think of it, that's not very hospitable of me. I take that back. But, honestly, how do you think the Aggies will handle the grind of this league?
David Ubben:
Now, now, Chris, that's not very nice. The Aggies are ...
As one final tribute to Texas A&M, I elected to forfeit the second half of that sentence.
In the early running, Texas A&M will have a lot of issues. Losing the volume and quality of talent it did in 2011 will hurt, especially on offense, as the program moves into a league -- and, particularly, a division -- known for defense.
Ryan Tannehill
wasn't great last year, but his experience helped, and
Jeff Fuller
and
Cyrus Gray
are a pair of NFL players who don't roll around every year.
I like the talent on campus at A&M a lot, though. They're just going to be young for now. With what they have now, they'll get better and better, as long as Kevin Sumlin does well. Based on what we've seen from his career, I think he will.
[+] Enlarge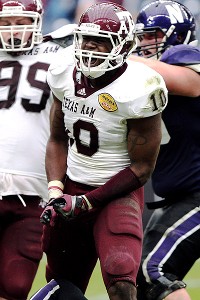 Troy Taormina/US PresswireLinebacker Sean Porter tallied 9 sacks for A&M last season, but the Aggies will need more from their defensive line.
Beyond these first three to four years, how well they progress will depend on recruiting. The Aggies think the SEC will be a big draw for Texas recruits who want to play in the best conference in college football. Being able to offer that could help them surpass Texas on the recruiting trail and on the field.
Are you buying that? I lean strongly toward no, but I could see it happening. What do you think? Is playing in the SEC going to be a draw for Texas kids? Why or why not?
CL:
I absolutely think the SEC will be a draw for some Texas recruits who see it as a chance to stay in the state, still play their college football and be able to do it against SEC competition. That's a pretty sweet proposition: Stay close to home in the football-crazed state of Texas and compete in the football-crazed SEC, which has a standing order with the sculptor who designs that crystal trophy every year for the BCS national champion.
There's also another side to this story. The boys in the SEC think their chances of going deep into the heart of Texas and landing elite prospects are better than ever with Texas A&M joining the league. Rival coaches can tell mamas and daddies (that's the way the Bear used to say it) that they'll be able to keep up with their sons just as they were in the Big 12 with the Aggies now part of the SEC family, although the recruiting atmosphere in this league isn't very family-oriented. Just ask Urban Meyer. He got so tired of the recruiting shenanigans in the SEC that he's now pulling his own in the Big Ten, according to some of his new brethren there.
That leads me to my next question: Has anybody informed the Aggies that the rules are a little different in the SEC? Unlike the Big 12, it's not the first team to 40 points that wins.
DU:
For the record, the league changed those rules for Baylor-Washington in the Alamo Bowl. First to 60 points wins now, but that's irrelevant news for the Aggies.
A&M's front seven has been really good these past two years, but this season, it was the secondary that let the team down. The Aggies led the nation with 51 sacks, but the team wasn't happy that it took a lot of risky blitzes to get those sacks. The defensive line wasn't the unit applying the pressure most often -- it was linebackers and defensive backs. That meant a lot of big plays in the passing game; the Aggies ranked 109th nationally in pass defense, giving up more than 275 yards a game. Now, they won't see the same caliber of quarterbacks in the SEC, but we will see if the front seven can handle the power of teams in the SEC West, which, to their credit, do have a handful of quarterbacks with a lot of potential.
Tyler Wilson
's great now.
AJ McCarron
and
Kiehl Frazier
could be elite soon.
We'll see what new defensive coordinator Mark Snyder can fix.
On the flip side of the recruiting debate, how much do you think SEC teams will try and slide into Texas? Could we see some collateral damage in the Big 12? Will the SEC someday take over the world? I heard Nicolas Sarkozy already has a special security detail in place in case Mike Slive comes after him.
CL:
I'm not sure about taking over the world. It's just college football that the SEC someday would like to own. Some might suggest it already does.
Arkansas and LSU probably will be helped the most in terms of going into Texas and getting players. Other schools in the SEC might be more apt to target players in the state of Texas and make a push for those select players, but I don't think you're going to suddenly see a mass of teams in the SEC setting up camp in Texas on the recruiting trail. There's no need to when you look at how bountiful the states of Florida, Georgia, Alabama, Louisiana and South Carolina are in most years.
You mention some of the quarterbacks in the Western Division. It's fair to say that this wasn't a quarterback's league this season, and I also realize that the Big 12 has produced some quarterbacks over the last few years who've put up Xbox-type numbers.
[+] Enlarge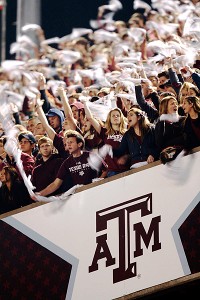 Thomas Campbell/US PresswireThere's little doubt that the state of Texas and the SEC share a deep passion for football.
But my question for you: Is Texas A&M capable of playing the kind of defense it takes to win big in the SEC?
DU:
I think so, eventually. The Aggies know they have to, which is huge. They've seen how teams succeed in the SEC, and it's with defense.
If you invest in something, especially with the resources A&M has, good things will happen. Don't forget, the Aggies' defense was really, really good last year. The athletes are there. For A&M, it's about putting it together.
CL:
With all due respect, "really, really good" on defense in the Big 12 is entirely different than being "really, really good" in the SEC on defense. The more I watch this conference, the more it's ingrained in me that you're never going to win at a high level unless you can run the ball, stop the run and consistently win the turnover battle. Everything else is window dressing. I understand that's not exactly rocket science, but being able to run the ball creates a mindset that positively impacts your entire team. The same goes for playing good run defense.
So if I were offering any advice to the Aggies as they make the big jump, it would be to fortify their offensive backfield and recruit like crazy in the offensive and defensive lines. There's no such thing as too much depth in the SEC.
Having a little Texas flavor in the SEC is exciting. I know you're on record as saying the Aggies might struggle next season. But over time, I think they have what it takes to be an upper-echelon team in the SEC. Of course, that's the beauty of the SEC. So does everybody else in the league.
DU:
Oh, there's no respect due when we're talking Big 12 defenses. The best in the SEC are on another stratosphere from the best in the Big 12.
Your game plan sounds like what I'd recommend, but it's easier said than done. Like Mizzou, A&M will have to start mining some of those junior colleges down South like the rest of the SEC West.
Generally, I'd agree with you on A&M's long-term prospects. The Aggies will win less than they did in the Big 12 ... which is to say not much. But they could put it together and have a huge year every now and then. I don't see them surpassing Texas as a program, but they're on their own now.
For some Aggies, that's enough. Next year, the Aggies will struggle, but watching them grow and try to build a new program will be fascinating.
February, 7, 2012
2/07/12
4:00
PM ET
The NFL has released its list of
invites to this years NFL combine
. Of the more than 300 prospects taking part in the pre-draft shenanigans starting Feb. 22, 62 are from the SEC (for fun we are including Missouri and Texas A&M).
Here are the SEC representatives:
Joe Adams, WR, Arkansas
Antonio Allen, S, South Carolina
Justin Anderson, OT, Georgia
Ryan Baker, LB, LSU
Vick Ballard, RB, Mississippi State
Mark Barron, LB, Alabama
Jake Bequette, DE, Arkansas
Brandon Bolden, RB, Ole Miss
Brandon Boykin, CB, Georgia
Michael Brockers, DT, LSU
Ron Brooks, CB, LSU
Randy Bullock, K, Texas A&M
Drew Butler, P, Georgia
Josh Chapman, DT, Alabama
Orson Charles, TE, Georgia
Greg Childs, WR, Arkansas
Morris Claiborne, CB, LSU
Fletcher Cox, DT, Mississippi State
Jeff Demps, RB, Florida (Demps decided earlier this year that he will not pursue a career in football and will focus on professional track)
Michael Egnew, TE, Missouri
Terrence Frederick, CB, Texas A&M
Jeff Fuller, WR, Texas A&M
Stephon Gilmore, CB, South Carolina
Cordy Glenn, OT, Georgia
Cyrus Gray, RB, Texas A&M
A.J. Greene, OT Auburn
Winston Guy, S, Kentucky
Dom Hamilton, DT, Missouri
Darius Hanks, WR, Alabama
Josh Harris, LS, Auburn
Casey Hayward, CB, Vanderbilt
Dont'a Hightower, LB, Alabama
Jaye Howard, DT, Florida
Melvin Ingram, DE, South Carolina
Jerrell Jackson, WR, Missouri
Malik Jackson, DT, Tennessee
Jordan Jefferson, QB, LSU
Alshon Jeffery, WR, South Carolina
Ben Jones, C, Georgia
Coryell Judie, CB, Texas A&M
Dre Kirkpatrick, CB, Alabama
Bobby Massie, OT, Ole Miss
Marquis Maze, WR, Alabama
Quan Menzie, CB, Alabama
Charles Mitchell, S, Mississippi State
Brandon Mosley, OT, Auburn
DeAngelo Peterson, TE, LSU
Tauren Poole, RB, Tennessee
Chris Rainey, RB, Florida
Rueben Randle, WR, LSU
Sean Richardson, S, Vanderbilt
Trent Richardson, RB, Alabama
Quentin Saulsberry, OG, Mississippi State
Jacquies Smith, DE, Missouri
Ryan Tannehill, QB, Texas A&M
Brandon Taylor, S, LSU
Danny Trevathan, LB, Kentucky
DeAngelo Tyson, DE, Georgia
Courtney Upshaw, LB, Alabama
Blair Walsh, K, Georgia
Rokevious Watkins, OT, South Carolina
Jarius Wright, WR, Arkansas
School breakdown:
Alabama: 9
Arkansas: 4
Auburn: 3
Florida: 3
Georgia: 8
Kentucky: 2
LSU: 8
Missouri: 4
Mississippi State: 4
Ole Miss: 2
South Carolina: 5
Tennessee: 2
Texas A&M: 6
Vanderbilt: 2
January, 10, 2012
1/10/12
3:00
PM ET
We officially said goodbye to the 2011 season Monday night and crowned the
Alabama Crimson Tide
as college football's new champions. Now, it's time to shift our focus to 2012. Here's to hoping the Mayans were wrong:

1. Alabama:
The defense will get hit the hardest by graduation and the NFL draft, but Alabama's offense should be better. While it's almost a forgone conclusion that junior running back
Trent Richardson
will declare for the NFL draft, Alabama returns a veteran offensive line, has a good set of up-and-coming receivers and has some pretty talented running backs to work with, including pounder
Eddie Lacy
. Oh, and that quarterback ain't too bad, either.
2. LSU:
The Tigers might have come up short in the big one, but it's not like LSU is going anywhere. That defense that ranked second nationally was made up by a slew of youngsters. LSU returns double-digit starters next year, including most of its front seven. A major bright spot for this team is that former Georgia quarterback
Zach Mettenberger
will now get his chance, and has skill that
Jordan Jefferson
and
Jarrett Lee
lacked.
3. Georgia:
The Bulldogs might return more starters next year than LSU. After surpassing expectations and challenging LSU for the SEC title, the Bulldogs should enter next fall as the favorites in the SEC East. Stud quarterback
Aaron Murray
returns and so do most of his weapons. With arguably the easiest schedule (again) in the SEC, Mark Richt will be expected to take his Dawgs back to Atlanta.
4. South Carolina:
There won't be any sleeping on the Gamecocks in 2012. After getting 11 wins for only the second time in school history, South Carolina should compete for the SEC East for the third straight year. The Gamecocks return a slew of talent, especially on defense, and saw tremendous improvement in quarterback
Connor Shaw
. Also, running back
Marcus Lattimore
should be back and healthy after his devastating season-ending knee injury.
5. Arkansas:
The Razorbacks will lose a lot of key players that have helped Arkansas get to where it is under Bobby Petrino. Defensively, five seniors will say goodbye, while the offense will lose three NFL wide receivers. However, that offensive line, which grew up as the season progressed, will be much better and star running back
Knile Davis
should be back and healthy. Quarterback
Tyler Wilson
is back, so there shouldn't be much dip in the passing game even with some new faces at receiver.
6. Auburn:
Those youngsters on the Plains will be more mature and much improved in 2012. That has to be a scary thought for other SEC members. Auburn doesn't lose much from its 2011 team and gets a great addition to the defensive side of the ball in new defensive coordinator Brian VanGorder. Offensively, there are weapons everywhere, but the key will be finding the right quarterback ... again.
7. Florida:
Will Muschamp's first year as the Gators' head coach didn't go as planned, but there is still a lot of talent in Gainesville, especially on the defensive side of the ball. Florida loses just one starter on defense and should have one of the fastest, most aggressive defensive units around the SEC. Getting that offense going will be key to Muschamp's second year, but with all that turnover, it should be a fresh start for this unit.
8. Missouri:
This new group of Tigers enters 2012 as a factor in the SEC East. Missouri returns nearly everyone from 2011, including quarterback
James Franklin
and running back
Henry Josey
, who both put up solid numbers in 2011. The Tigers will no doubt hit some snags as they transition into their new home, but with all the talent that returns, Missouri won't be a pushover in its first year in the SEC.
9. Tennessee:
Derek Dooley has the pieces in place on both sides of the ball to compete in the SEC East. That young defense won't be so young in 2012 and quarterback
Tyler Bray
returns with his deep-threat sidekicks at wide receiver. With a solid offensive line, the next step for Tennessee is to find a consistent running back to help take the pressure off of the passing game. There's a lot of pressure on Dooley to get things done, and he has the talent to in 2012.
10. Texas A&M:
The Aggies have the pleasure of entering the SEC as a Western Division team. That's not exactly a warm welcome. It doesn't help that Texas A&M is losing a ton from its 2011 team. There could be six NFL draft picks who won't be back in College Station next season. Quarterback
Ryan Tannehill
and top safety Trent Hunter are gone, and so is receiver
Jeff Fuller
.
Christine Michael
should do well as
Cyrus Gray
's replacement at running back, but the core of this team will be gone.
11. Vanderbilt:
Year 1 of the James Franklin era was a success and there shouldn't be a lot of drop-off for the Commodores next season. Vandy loses top defenders Chris Marve, Tim Fugger and Casey Hayward, but a lot of veterans return on that side of the ball.
Jordan Rodgers
is back at quarterback,
Zac Stacy
returns at running back and wide receivers
Chris Boyd
and
Jordan Matthews
will be back. Running back and specialist
Warren Norman
should be back too and the offensive line returns four starters.
12. Mississippi State:
The Bulldogs lose a lot on both sides of the ball in 2012, but should have a top cornerback combo in Johnthan Banks and Corey Broomfield. Losing Fletcher Cox up front will leave a hole on the defensive line and saying goodbye to linebacker Brandon Wilson won't be easy.
Tyler Russell
will probably get the first crack at quarterback for the Bulldogs, but he will be without his safety net in running back
Vick Ballard
. The good thing is that the receivers are back, but this team will have to grow up in a hurry.
13. Kentucky:
The offensive line will have some missing pieces in 2012 and the defense loses six starters, including star linebacker Danny Trevathan.
Maxwell Smith
and
Morgan Newton
will battle at quarterback, but with how 2011 ended, Smith might have the advantage. This team struggled mightily on offense and the problem was that there wasn't a lot of improvement throughout the year. The offseason should be dedicated to find ways to get this offense moving.
14. Ole Miss:
Hugh Freeze steps into a tough situation at Ole Miss. His first order of business needs to be improving the discipline on this team. It was awful in 2011, and if Ole Miss wants to improve it has to clean that up. The defense should get a boost with leader D.T. Shackelford returning from his season-ending knee injury and offensive playmakers
Jeff Scott
,
Donte Moncrief
and
Nickolas Brassell
are back. The offensive line loses some key components, and the quarterback situation is far from figured out.