February, 19, 2013
2/19/13
9:00
AM ET
It didn't take long for Nick Saban to find a replacement for former offensive line coach Jeff Stoutland.
With Stoutland leaving the Crimson Tide to take a job with the Philadelphia Eagles, Alabama
has hired Mario Cristobal as his replacement
, a source inside the program told Alex Scarborough of ESPN's TideNation. CBS Sports originally reported Cristobal's hire. Cristobal is leaving Miami after he was hired in January to be the Hurricanes' tight ends coach and associate head coach. Cristobal was also the head coach at FIU from 2007-12.
Cristobal walks into his new job facing the challenge of replacing three valued starters on Alabama's offensive line, but he does have some experience when it comes to coaching the big fellas up front. He coached Rutgers' offensive line and tight ends from 2001-03 and coached Miami's offensive line in 2006.
He was also an offensive tackle at Miami during his college days (1989-92).
So, it's not like Cristobal won't know what he's doing while he tries to restructure the Tide's offensive line. He also brings a heavy amount of experience recruiting in South Florida. That was Stoutland's recruiting area, and with Cristobal so familiar with that part of the state, he should have no problem picking up where Stoutland left off with all of the ties he has down there.
February, 8, 2013
2/08/13
1:55
PM ET
Alabama coach Nick Saban confirmed Friday that offensive line coach Jeff Stoutland was leaving for a job on the Philadelphia Eagles' staff.

"Coach Stoutland did an excellent job with our offensive line along with each and every responsibility he had while he was here at the University of Alabama. We appreciate all that he did in terms of his time and his dedication in contributing to the success we've had over the last two years. He's an outstanding coach and he will do a great job with the Eagles. We wish him and his family the best," Saban said in a release.
Stoutland is the second member of the Alabama coaching staff to depart. Secondary coach Jeremy Pruitt left to be the Florida State defensive coordinator and was replaced by Greg Brown.
February, 8, 2013
2/08/13
12:39
PM ET
It's Friday and time to make our daily rounds in the SEC:
January, 23, 2013
1/23/13
12:16
PM ET
Making the rounds in the SEC:
November, 4, 2012
11/04/12
3:16
AM ET
BATON ROUGE, La. -- Before Alabama center
Barrett Jones
trotted onto the field for the No. 1 Crimson Tide's season-defining drive at No. 5 LSU on Saturday night, he offered offensive line coach Jeff Stoutland one final suggestion.
"Hey, don't forget about the screen," Jones told Stoutland.
With about 1? minutes to play, LSU had a 17-14 lead and was threatening to knock off defending BCS national champion Alabama, which probably would have ended the SEC's hopes of winning a seventh consecutive national title.
Along with most of a record crowd of 93,374 fans at Tiger Stadium, college football fans from Eugene, Ore., to Manhattan, Kan., to South Bend, Ind., (and everywhere else outside the Southeast) were probably roaring for the Tigers to make one more defensive stop.
After LSU's
Drew Alleman
missed a 45-yard field goal with 1:34 to play, the Crimson Tide took possession at their 28-yard line. They probably needed to drive more than 40 yards for a tying field goal attempt or, even better, 72 yards for a winning touchdown.
And they didn't have much time -- or any timeouts -- to do it.
"I just looked at everybody on the sideline," Alabama quarterback
AJ McCarron
said. "We got down for a minute, but we pulled it together. I told them, 'We do it every Thursday in practice. It doesn't matter how many people are in the stands. The field is still 100 yards long, and we have to go put it in the end zone.'"
To read Mark Schlabach's full column, click
here
.
December, 26, 2011
12/26/11
12:05
PM ET
By
ESPN.com staff
| ESPN.com
Hope everyone had a Merry Christmas and survived the clean-up operation. Here are some SEC links to relax with:
August, 19, 2011
8/19/11
12:16
PM ET
The weekend is only hours away, so enjoy some end-of-the week SEC links as you chomp down on your last bag lunch.
August, 17, 2011
8/17/11
10:25
AM ET
The damning allegations made by convicted Ponzi schemer and former Miami booster Nevin Shapiro might cripple University of Miami athletics, but Shapiro's actions might affect some schools outside of Coral Gables.
In a Yahoo! Sports report, Shapiro said he
provided impermissible benefits
to at least 72 Miami athletes and other athletes, and also committed NCAA violations with members of the Miami coaching staff when he had improper recruiting contact.
It is an NCAA violation for a school's booster to be involved in the recruitment of prospective student-athletes.
Three SEC schools -- Florida, Georgia and Alabama -- were linked to Yahoo! Sports' report.
First-year Alabama assistants Jeff Stoutland and Joe Pannunzio have been accused by Shapiro of
steering recruits to him
in order to help persuade them to sign with Miami.
The Yahoo! Sports report quoted Shapiro as saying Stoutland, Alabama's current offensive line coach, was among coaches who brought prospects to his home or luxury suite for recruiting pitches. The story also said Pannunzio, Alabama's director of football operations, was involved, though the report only cited unnamed sources when referring to Pannunzio.
Stoutland was the offensive line coach at Miami from 2007-10, while Pannunzio spent the past five years as the Hurricanes' tight ends coach/special-teams coordinator.
Alabama released a statement Tuesday night through team spokesperson Doug Walker.
"The University of Alabama is aware of the story, but we will have no further comment," Walker said.
Shapiro told Yahoo! Sports
that Florida wide receiver
Andre Debose
and offensive tackle Matt Patchan were athletes who were improperly brought to him so that he could try to persuade them to attend Miami. Shapiro also alleged that current Florida wide receivers coach Aubrey Hill was one of the coaches present when impermissible contact with three recruits, including Debose, took place in 2008.
According to the report, Debose, along with two of his high school teammates, was brought to Shapiro's multimillion dollar mansion by Miami recruiting coordinator Clint Hurtt. The report also stated that Hill, who was Miami's receivers coach at the time, was also there.
"I took [Debose, Armstrong and Dye] in my car the first night," Shapiro told Yahoo! Sports. "They came to my house. They were there with Clint Hurtt, who at the time was the recruiting coordinator, and Aubrey Hill, who was the receivers coach. I gave them a strong pitch on why they should come to the University of Miami. Ray-Ray Armstrong and Dyron Dye were both already in the boat, meaning they were ready to come. Debose was the only one who was wavering."
Shapiro also said he gave Miami equipment assistant Sean Allen around $2,000 to $3,000 in cash and told Allen to show the players "a good time." The reports states that Allen later used the cash to take the three players to nightclubs and a strip club.
Shapiro alleges that two Miami assistants were with Patchan, three members of his family and several other Miami players. Shapiro also said Stoutland was there.
Florida released a statement through Associate Athletics Director/Communications Steve McClain in regards to Hill's role at Miami.
"While we declined comment for Yahoo's request, coach Hill indicated he was very comfortable with, and very confident in how he conducted himself while at the University of Miami," McClain said.
Georgia tight end
Orson Charles
was also listed as a player who had impermissible contact with Shapiro. The report stated that Charles allegedly toured Shapiro's mansion in 2008 with Tampa (Fla.) Plant coach Robert Weiner and then-Miami quarterback
Robert Marve
, who also played at Plant.
Florida and Georgia will not face program violations, but it's unclear what could happen to Debose, Patchan and Charles.
A former SEC name also linked to the Yahoo! report is former Tennessee running back
Bryce Brown
. He originally committed to Miami, but signed with Lane Kiffin at Tennessee after national signing day, before transferring to Kansas State last year.
Shapiro alleges he provided a lunch costing more than $500 and a hotel room for more than $1,000 for Brown, his family and family adviser in 2008.
April, 7, 2011
4/07/11
4:45
PM ET
The standard was a lofty one for Alabama's offensive line.
When you're as dominant and as good as the Crimson Tide were up front in both 2008 and 2009, any kind of drop-off seems like a steep one.
That's what happened a year ago.
Alabama certainly didn't play poorly on the offensive line, but it also wasn't up to the standard the Crimson Tide set the previous two years.
Injuries to center William Vlachos, right guard Barrett Jones and right tackle D.J. Fluker hurt their continuity, but nobody's making any excuses.
The bottom line: They just weren't as dominant up front and weren't able to dictate to teams what they were going to do offensively.
"I think last year we didn't quite form an identity at all or the way we wanted to form it as a power running team," said Vlachos, who was plagued by an injury to the ball of his foot. "That's what we are and what we will be. It's on our shoulders to take the reins as far as that goes and establish that.
[+] Enlarge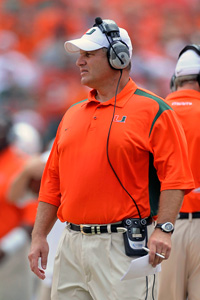 Richard C. Lewis/Icon SMIJeff Stoutland left Miami to become the offensive line coach at Alabama.
"We need to get our attitude back, competing relentlessly and dominating the guy in front of us. That's the name of the game. We're looking forward to establishing that identity and getting the edge back."
The Crimson Tide also have a new coach this spring. Jeff Stoutland, who made the move from Miami, takes over for Joe Pendry, who retired following last season.
Pendry was as good as it gets. But in his own way, Stoutland has already had an profound impact among Alabama's offensive linemen.
"I love Coach Pendry probably more than anybody, but coach Stoutland has brought a fresh approach," said Jones, who missed the Auburn game last season with an ankle injury. "He's just a lot different than Coach Pendry. That's the best way to say it. They're both awesome, but Coach Stoutland is so excited and all up in your face.
"I think it's been good for some guys to have somebody in your face a little bit."
The battle this spring has been at left tackle, where junior college newcomer Aaron Douglas has been battling with senior Alfred McCullough. Douglas was a Freshman All-American at Tennessee in 2009 before leaving the program and playing at Arizona Western College last year. But McCullough, who can also play guard, hasn't conceded anything.
Overall, Jones likes what he sees from this group.
"One thing we're really focusing on this year is going back to communication as an emphasis," said Jones, who earned first-team All-SEC honors a year ago. "We did a great job with that when we won the national championship and kind of got away from it a little bit with our inexperience last year."