November, 28, 2014
Nov 28
10:00
AM ET
What more could you want to finish the regular season?
There are games with playoff implications, division implications and bowl implications to choose from. There's even a Friday afternoon game to get you through to the weekend.
The SEC's regular season has been crazy so far. Now it's time to see whether it ends with a flourish.
Friday, Nov. 28
2:30 p.m.
Arkansas at No. 17 Missouri, CBS:
All right, Missouri, you've been doubted all season. You've been knocked as soft on defense and woefully inconsistent on offense. You were laughed out of the room when you lost to Indiana. But here you are a win away from claiming the Eastern Division crown for a second straight season. The only thing standing in your way is Arkansas, which has won back-to-back SEC games in convincing fashion.
Saturday, Nov. 29
[+] Enlarge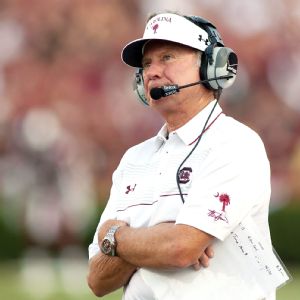 Jeremy Brevard/USA TODAY SportsCan South Carolina coach Steve Spurrier notch his sixth straight win over Clemson?
Noon
Kentucky at No. 22 Louisville, ESPN2:
If Mark Stoops'
Kentucky Wildcats
are going to reach a bowl game ahead of schedule, it's not going to be easy. It would mean breaking a five-game losing streak on the road at Louisville, which would easily be their most impressive win of the season. The problem is the Cardinals boast one of the best defenses in the country.
South Carolina at No. 21 Clemson, ESPN:
There's not a lot on the line for either team other than pride, which is good because there's plenty of it in this rivalry. The back-and-forth between Steve Spurrier and Dabo Swinney the past few years has been worth the price of admission, and on Saturday we'll find out whether the Head Ball Coach can extend his winning streak over Clemson and Swinney to six games.
No. 16 Georgia Tech at No. 9 Georgia, SEC Network:
If Missouri somehow loses to Arkansas and gives Georgia the Eastern Division title, that's not the end of the story. Because if the Bulldogs want to somehow sneak back into the playoff conversation, it will take more than backing into Atlanta. It will take beating Georgia Tech convincingly, and that won't be easy seeing as the Yellow Jackets average 327.9 yards per game rushing and have won four games in a row.
3:30 p.m.
No. 4 Mississippi State at No. 19 Ole Miss, CBS:
Talk about two teams going in opposite directions. On the one hand, there's Ole Miss, which fell deeper into the dumps last week by losing at Arkansas 30-0. On the other hand, there's Mississippi State, which redeemed itself after a tough loss at Alabama by beating Vanderbilt 51-0. With the Bulldogs playing for a spot in the playoff and the Rebs playing for pride, it's clear which team has the greater inspiration to win the Egg Bowl.
Florida at No. 3 Florida State, ESPN:
Speaking of inspiration, it will be interesting to see how Florida comes out for coach Will Muschamp's final time leading the Gators. Will his end be Ron Zookian? Or will it be one final, unceremonious note? While that's unclear, one thing is certain: Florida State likes to make things interesting. The Seminoles have struggled against teams they were supposed to blow out before. Could we be looking at a repeat?
4 p.m.
Tennessee at Vanderbilt, SEC Network:
Not a lot of people thought Tennessee would make a bowl game this year. Not with a schedule that included tough nonconference games against Utah State, Arkansas State and Oklahoma. But lo and behold, the Vols are one game away from bowl eligibility, and the only opponent left is Vanderbilt. Easy, right? It should be, seeing as the Commodores haven't won an SEC game all season.
7:45 p.m.
No. 15 Auburn at No. 1 Alabama, ESPN:
The best Auburn can hope for is to play the role of spoiler, to crush Alabama's dreams of an SEC title and a playoff berth with one final regular-season swing. And in a rivalry as intense as the Iron Bowl, that might be enough. But the fact of the matter is Auburn just isn't playing good football these days. Alabama has won huge games against LSU and Mississippi State in recent weeks, while Auburn has fallen woefully flat with losses to Texas A&M and Georgia.
November, 13, 2014
Nov 13
1:00
PM ET
AUBURN, Ala. --
Nick Marshall
has been in big games before. He played in both the SEC championship and the national championship last year. He's faced off against two past Heisman Trophy winners. He recently returned to the state where he rejuvenated his career.
But will any of that prepare him for what he's going to face Saturday when he goes back to Georgia, the school that dismissed him back in 2012 for a violation of team rules?
"Last year there's no doubt it was definitely different for him," Auburn coach Gus Malzahn said. "But any time you have that experience one time, it's not as a big a deal the second time. He's going to prepare like he normally would, and there's not going to be any more to it than that."
[+] Enlarge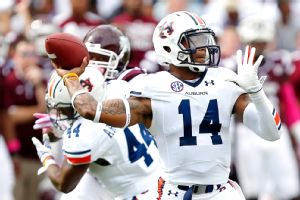 AP Photo/Rogelio V. SolisAuburn's Nick Marshall is aiming to beat Georgia -- his former school -- for the second straight year.
Tell Marshall that. The Auburn quarterback played one of his better games against the Bulldogs last season as he accounted for 318 total yards and three touchdowns in the 43-38 victory, but that was at home in front of his fans. On Saturday, he enters the lion's den.
The Georgia fans haven't forgotten about him. His former teammates certainly remember him. It's not going to be a friendly atmosphere inside Sanford Stadium.
"He knows a lot of those guys over there," Auburn offensive coordinator Rhett Lashlee said. "He spent a year there. It's his home state. He's human. But at the same time, when that game starts, he's going to play just as hard as he would any other game.
"At the end of the day, he's going to do whatever he can to try to help our team win."
Prior to last year's Georgia game, Marshall said he wasn't going to treat it as anything too big because it was just another opponent.
Don't expect that to change this year. That's his mindset. It's why he's always so even-keeled and calm under pressure. It doesn't matter if he just threw an interception or if he's leading his team on a game-winning drive or if he's about to face his former team.
"He's pretty much the same guy all the time," Auburn running back
Cameron Artis-Payne
said. "His demeanor doesn't change too much. He doesn't go up and down."
"I think that's one of his biggest strengths," added Lashlee. "I think it helps him not make too much of the situation and not make the moment bigger than it is. He can just focus on playing and trying to play his best because that's what we're going to need him to do in order to go into a place like Georgia and try to get a win."
Saturday will be a big game for Marshall, but it will also be a big game for the other 40 players on Auburn's roster who hail from the Peach State. They might not have started their careers at the University of Georgia, but they're all returning to their home state.
"I think it's going to mean a lot to Nick," teammate
Gabe Wright
said. "He mentioned that he hasn't been back since his freshman year.
"But honestly, it goes that way for a lot of guys. Me, [Angelo] Blackson, Jeff [Whitaker], Ben [Bradley], a lot of us haven't been back in years. It will be as hyped up a game as I can imagine, but I'm pretty sure collectively we're going to be focused and stay level-headed."
That level-headed demeanor stems from Marshall, though. If he keeps his cool on the road, in a familiar, yet hostile atmosphere, then so will his team.
"He's just trying to come out and win," Auburn wide receiver
Quan Bray
said. "He doesn't care about what's been going on, he just wants to come out and win."
September, 8, 2014
Sep 8
8:00
AM ET
After what was a dull weekend around the SEC, we get a bit more spice in the lineup this week. We're a long way from Saturday, though. Let's regroup and take a quick look around the league with several days to go before some big games arrive for SEC clubs.
Poll watching:
I'd imagine some Alabama fans were a bit perturbed by dropping a spot in Sunday's new Associated Press poll, from second to third, after dismantling Florida Atlantic on Saturday. It doesn't matter much, though. Here's why: teams ranked fifth, seventh, 10thand 14th are also on the Crimson Tide's schedule. They'll have more than enough opportunity to prove they deserve a higher ranking before long.
Many
national writers have been having a field day lately
writing early obituaries for the Big Ten. The weekend
was an unmitigated disaster
for that league, so that's obviously fertile column material these days. Meanwhile, the SEC keeps on keeping on,
placing four teams in the AP's top seven
(Alabama, Auburn at No. 5, Georgia at No. 6 and Texas A&M at No. 7) and five in the top 10 (LSU comes in at No. 10). Overall, eight SEC teams are in the top 25 (add No. 14 Ole Miss, No. 20 Missouri and No. 24 South Carolina).
The SEC's lofty poll position only reinforces its spot as the home of the "Haves" in college football – a sport where the class divide between rich and poor seems to grow by the season. However, I never would have expected the Big Ten to languish among the "Have Nots" – not this early in the season, anyway. They usually wait until bowl season to receive that annual reminder.
Points to prove:
Jokes aside, this is going to be an enormous weekend for a few of the ranked SEC teams. Specifically South Carolina and Missouri.
If Georgia goes into Williams-Brice Stadium on Saturday and wins
, not only will the Bulldogs jump into the driver's seat in the SEC East, they might hand Steve Spurrier's Gamecocks an early knockout blow. South Carolina is already wobbly after a humiliating beating from Texas A&M in the opener, and the effects seemed to linger in Saturday's 33-23 win against East Carolina. If they fall to 1-2 and 0-2 in league play, it will be time to re-evaluate things. They typically give Georgia all it wants in Columbia, though, so I'm sure Mark Richt doesn't expect anything to come easily on Saturday. It never does for Georgia at Williams-Brice.
When it comes to Mizzou, I'll be honest: I'm not impressed with what I've seen so far. Seriously, if the Tigers lose to Central Florida this weekend – I doubt that will happen, but UCF was a handful for Penn State in Ireland – I'm going to start wondering whether Mizzou will even become bowl eligble.
That would be an overreaction since Mizzou's schedule is so weak that a decent non-BCS team would have a shot at getting to six wins. But reasonable Tigers fans can't love what they've seen so far. South Dakota State was down by just three points about five minutes after halftime in the opener.
And Toledo had 410 yards of total offense on Saturday, but repeatedly shot itself in the foot after gashing the Missouri defense for huge gains.
Nonetheless, the Tigers closed strong in both games and posted two 20-point wins while breaking in a bunch of new players. I didn't think last season's Mizzou team would be able to go the distance, either, and that group certainly proved me wrong. From what I've seen of these Tigers, though, they've got a lot of improving to do before they're poll-worthy, much less legit contenders in the SEC East. But like I mentioned earlier with Alabama, Missouri will have the chance to prove where it belongs soon enough – particularly in the three-game stretch that arrives in a couple of weeks where it will visit South Carolina and Florida and host Georgia.
Gator believer:
Here's a team I am on board with, though: Florida. At least to the extent that I believe they're going to make life interesting in the SEC East.
I'm not sitting in the front seat of the bandwagon yet, but it's been apparent since Will Muschamp arrived in Gainesville that his teams will field a championship-caliber defense. The trick seemed to be building an offense that a smart-aleck sportswriter couldn't accurately describe as "bumbling."
The Gators appear to have at least that, and probably one that is much better than average, judging by its 65-0 win against Eastern Michigan.
That defense will indeed be great and Kurt Roper seems to have things rolling with Jeff Driskel and company. The schedule is unforgiving, though, seeing how Florida's cross-division games are against Alabama and LSU, plus they'll have to face Florida State at the end of the year. But I've already seen enough to believe that Muschamp's team is going to hang around the Eastern Division race this season – partially because the division is not that great and partially because this team looks to have legitimate firepower on offense, defense and special teams.
A few more links for the morning:
" LSU's defense has held opponents scoreless for
nearly six quarters
.
" Auburn defensive tackle Jeff Whitaker continues to deal with an
"irritating" knee issue
.
" Richt called receivers Justin Scott-Wesley and Malcolm Mitchell
doubtful for the South Carolina game
.
March, 5, 2013
3/05/13
9:00
AM ET
Auburn got a little thinner along its defensive line over the weekend when head coach Gus Malzahn announced that rising junior defensive tackle Devaunte Sigler was
dismissed for an undisclosed violation of team rules
.
"We have high standards for our players," Malzahn said in a statement released Friday. "They will represent the team and Auburn the right way."
Sigler had played in 18 career games at Auburn, registering 12 total tackles, before his dismissal. However, he saw his production decrease in 2012, as he played in just five games and totaled two tackles.
While the loss of Sigler leaves the Tigers down a man on the defensive line, the good news is that Auburn's depth shouldn't suffer too much with the bodies the Tigers return and the new faces added in this year's recruiting class. Seniors
Jeff Whitaker
and
Kenneth Carter
return, along with juniors
Angelo Blackson
and
Gabe Wright
. The Tigers will also have the services of redshirt freshman
Tyler Nero
and signed junior college transfer Ben Bradley, who is already on campus, and four-star/ESPN 150 defensive tackle Montravius Adams.
Sigler's absence likely won't affect the Tigers too much with all those bodies to work with, but chances are the staff would rather have an extra man in the rotation this spring, especially with a new coaching staff running things on the Plains. Still, having good numbers at the defensive tackle spot will help ease the loss of Sigler, who appeared to be falling down the depth chart at his position before spring practice even began.
October, 4, 2012
10/04/12
5:00
PM ET
Gene Chizik is hoping that his Tigers used their bye week to their full advantage.
With all the issues Auburn had through the first four weeks of the season, Chizik made sure players and coaches saw all the glaring mistakes that put his team in bad situations. He wanted them to see those mistakes and learn from them before the bye was over with.
[+] Enlarge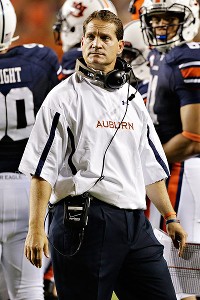 AP Photo/Dave MartinFollowing his team's 1-3 start, Gene Chizik said there's an "urgency to win" around Auburn.
Changes and tweaks were made, and Chizik hopes they work on Saturday, especially against an Arkansas team that really has nothing to lose with its 1-4 record.
Chizik said his team knows where it stands with its own 1-3 record. Auburn is on the verge of being on the outside when it comes to the postseason. Chizik said neither he nor his team are running from the realization of how big Saturday's game against the Razorbacks is.
"There's an urgency around Auburn, without question, when you're 1-3," Chizik said. "And there's an urgency to win."
With a loss, Auburn will likely miss out on a bowl game for the first time since 2008 and it doesn't help that the Tigers own the SEC's worst offense (297.8 yards per game) and the third-worst defense (419.3).
But the defense looked much better against LSU last week, holding the Tigers to just 12 points and forced LSU into a handful of mistakes.
Chizik said his team was more than energized in that game, and the hope is that it carries over to this weekend.
"Our kids are hungry and they want to win," he said. "That's the expectation this Saturday as well."
He's even seen an increase in leadership. Guys like
Corey Lemonier
, Jeff Whitaker,
Onterio McCalebb
and T'Sharven Bell have all stepped up to guide this team. Having these vets step up will go a long way if they can really take hold of their teammates.
Even with all the issues Auburn has had, the Tigers have to feel confident facing the SEC's worst defense. Arkansas is allowing more than 500 yards and 40 points a game. Even Auburn's offense should be able to do something with that.
And a fast start against a reeling team is what Chizik said his team needs if it's going to pull out a must-win on the Plains. Arkansas' offensive talent can't be forgotten, and Chizik doesn't want to have to play catchup with the Hogs.
"Certainly for us, forget about the opponent, we need to have a great start," he said. "We need to have something good happen. We need to be able to get a little bit of momentum for our football team."
June, 18, 2012
6/18/12
12:30
PM ET
Not the most exciting finish to the U.S. Open, but that squawking fan was pretty entertaining. So are all of these links ...
April, 13, 2012
4/13/12
11:00
AM ET
Lost in all of the Bobby Petrino hoopla was an inspiring story on the the Plains.
Wednesday, Auburn offensive lineman
Shon Coleman
returned to practice
. But this wasn't just any regular practice. Coleman was back in shoulder pads and had his helmet on two years after he was diagnosed with acute lymphoblastic leukemia soon after he signed with the Tigers.

Coleman
Coleman signed in 2010, but learned two months later that he had leukemia. It cost him his immediate football future, but more importantly, it put him in the ultimate battle for his life. That didn't keep Auburn coach Gene Chizik from keeping Coleman in the Auburn family. Regardless of whether Coleman would ever play football again, Chizik wanted him to attend and graduate from Auburn.
Two years later, Coleman was back and ready to do more than earn a diploma; he was competing on the football field.
"He tried to downplay it, but you could see he was excited and he was happy," defensive lineman Jeff Whitaker told reporters. "I know he was excited about the response that he got. Coach Chiz made him stand up in front of the whole team. Coach Chiz didn't even have to acknowledge it. Once he stood up the whole team gave him a standing ovation."
Coleman won't return to his former football self overnight. It's going to take time some time for him to get back into the swing of things and get his body back into field and playing shape. Auburn's medical staff will be monitoring his every move, as well, making sure he's not doing anything that could put his health at risk.
Regardless, just seeing Coleman, who is cancer free, back in pads and going through the motions must have been quite the sight for his teammates and coaches. Two years removed from being diagnosed, Coleman is looking to make a comeback in football after he could have completely given up on it, and no one would have thought twice about it. No one would have challenged him for thinking of his health and well-being.
But Coleman, who was once a top offensive line prospect coming out of high school, battled through cancer and is looking to battle through football once again.
Chizik said Wednesday that he wasn't sure if Coleman would make an impact on the field this fall, but there's no question his courageous actions in life and in his attempt to return to football have already made an impact on everyone in and around Auburn's program.
"He's extremely excited and I'm excited for him and his family," Chizik said. "You talk about perseverance and commitment, he's worked extremely hard to get to this point. I'm very proud of him."