June, 15, 2012
6/15/12
11:00
AM ET
All that chirping you hear coming from South Carolina coach Steve Spurrier can only mean one thing: He's convinced his team is pretty good.
The Head Ball Coach has never really lacked confidence, but the more digs he takes, the more he likes what he has on the field. And that means good things for the Gamecocks.
[+] Enlarge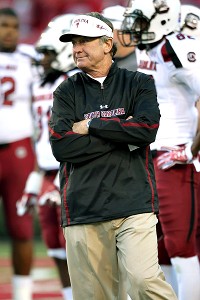 Nelson Chenault/US PresswireSteve Spurrier led the Gamecocks to their first-ever 11-win season in 2011 and his team looks poised to make an SEC title run in 2012.
Two years removed from taking South Carolina to its first-ever SEC championship game, Spurrier will enter the 2012 season with a team poised to make yet another SEC title run, as the Gamecocks continue to trend upward in the conference.
Not to be outdone, Arkansas, which joined the league with South Carolina in 1992, has also made tremendous strides and once again has the talent to compete for an SEC West championship.
Two programs that have dealt with inconsistency in the past have now become legitimate contenders in the nation's toughest league. Not just for now but the future.
It was clear Arkansas made the right choice in 2007 when it hired Bobby Petrino away from the NFL's Atlanta Falcons. Sure, his awkward departure from Atlanta will forever be scrutinized -- and rightly so -- but in only a short amount of time he turned Arkansas into a real winner.
After winning just five games in 2008, Arkansas won eight, then 10 and 11 games in 2011. Arkansas reached its first-ever BCS bowl game in 2010 and then won 11 games for the first time since 1977.
Petrino's on-field success also led to some nice facility upgrades for the program. The school has touched up Razorback Stadium and recently broke ground on a new, $35 million football operations center that the Hogs will move into before the 2013 season.
There was a wave of momentum churning in Fayetteville after last season and Petrino made it clear that he thought his 2012 squad might be even better than last season's 11-win team. But that wave was momentarily silenced in April when Petrino was fired after he withheld information about an affair that he carried on with a football employee he hired, Jessica Dorrell.
After reaching the threshold under Petrino, the Hogs are now putting things back together under interim coach John L. Smith. Smith is surrounded by elite talent, especially on offense and a strong showing in 2012 should keep things rolling in Fayetteville for Arkansas' next coach.
Before Spurrier arrived in Columbia, S.C., the Gamecocks were hardly intimidating. There were some ups under former coach Lou Holtz, but Spurrier has truly made this program respectable. While he hasn't seen the immediate success he did when he took over Florida's program in the early 1990s, South Carolina has made a tremendous turnaround under his watch.
The program that lost 18 straight SEC games from 1997-99 has won no fewer than three conference games in Spurrier's seven years at South Carolina, has had an SEC title trip and its first 11-win season in program history.
A lot of that success has come from keeping most of the top in-state talent home, which historically wasn't the case. It started with Alshon Jeffery and Stephon Gilmore in 2009 and continued with
Marcus Lattimore
,
Jadeveon Clowney
, and now Shaq Roland.
The past wasn't great for either of these programs, but in recent years, both Arkansas and South Carolina have thrown themselves right in the middle of the SEC conversation and both are looking to stay there for the foreseeable future.
May, 9, 2012
5/09/12
1:30
PM ET
For a few thousand dollars, you could own a piece of controversial Arkansas football history.
The website
Copart.com
is selling the motorcycle that former Arkansas coach Bobby Petrino wrecked on April 1. That was the day that started the firestorm that eventually led to athletic director Jeff Long firing Petrino after the coach withheld information about an affair that he carried on with a football employee he hired, Jessica Dorrell. Dorrell was with Petrino when he wrecked.
According to
Arkansassports360.com
, it was confirmed Wednesday morning that the motorcycle, which is named "Hawg Wild" and has a current bid price of more than $3,000, is the one from Petrino's crash. The closing bid date is set for May 30.
The website's report also said that the motorcycle is being sold on behalf of an insurance company.
The listing says the motorcycle has a repair cost of $18,481 for front-end damage.
April, 20, 2012
4/20/12
9:00
AM ET
Documents released Thursday revealed that former Arkansas coach Bobby Petrino carried on a relationship with Jessica Dorrell
for more than a year
.

Petrino admitted to Arkansas athletic director Jeff Long that he sent her candy, referred to her as a "close friend" and said the affair with Dorrell started with a kiss between the two over lunch last fall.
That information came from handwritten notes by Long during his investigation of Petrino and assistant athletic director Jon Fagg. They were released as part of a Freedom of Information Act request made by The Associated Press.
According to the notes, Petrino, 51, and Dorrell, 25, were intimate for about five months until February. But the university discovered a heavy amount of phone calls and text messages between the two that date to April of 2011.
The notes also suggest that the two decided they would have to end their intimate relationship when Dorrell decided she wanted to apply for a job under Petrino, which he wanted her to "earn."
Clearly, that didn't completely happen, considering they were together April 1 when Petrino's motorcycle accident that triggered all of this occurred.
Petrino was fired nine days after the now infamous accident. Long fired him because he failed to disclose his relationship with Dorrell, a former Arkansas volleyball player whom Petrino hired in March without disclosing his obvious conflict of interest. He also failed to disclose that he had given her $20,000. Long's notes said that the money was used for a car, wedding expenses and a vacation. Long also wrote that the payment could make Arkansas "vulnerable to sexual harassment" lawsuit.
Long's notes also made it clear that he was attempting to keep Petrino as Arkansas' head coach, but couldn't find enough reason why Petrino's actions didn't violate his contract.
April, 18, 2012
4/18/12
12:00
PM ET
It's time to check out the SEC with some linkage.
April, 6, 2012
4/06/12
2:35
AM ET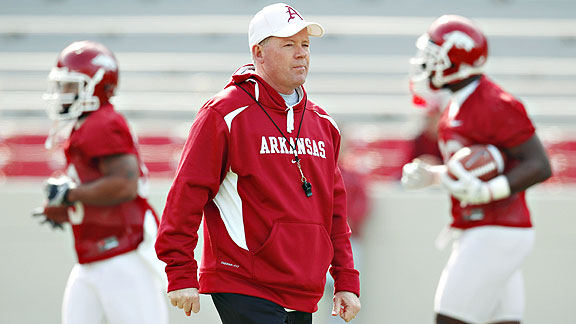 AP Photo/Beth HallThe breaking scandal has coach Bobby Petrino on thin ice at Arkansas.
Football coaches who win at a high level have been known to survive the most serious of storms.
The storm that has engulfed Arkansas coach Bobby Petrino might get worse before it gets better, and it has already become a huge embarrassment for the university.
Petrino's success on the field and the way he has made Arkansas relevant again nationally will weigh heavily in his corner, but the stigma that's sure to follow him now might be too much to overcome.
Furthermore, who knows what other details might be out there concerning his motorcycle crash last Sunday night, and more specifically, his relationship with the 25-year-old woman he was riding with when the crash occurred? She's the same woman, Jessica Dorrell, who was hired last month as the student-athlete development coordinator for football. She works under Petrino and oversees on-campus recruiting.
Clearly, Petrino's bosses are ticked. Arkansas athletic director Jeff Long announced at a news conference late Thursday night that
Petrino had been placed on paid leave
, and Long said he would conduct a review of both Petrino and Dorrell.
While Petrino's away, Long said assistant head coach and linebackers coach Taver Johnson would serve as Arkansas' interim head coach. The Hogs are in the middle of spring practice and will play their spring game April 21.
Ultimately, what Long will have to decide is whether Petrino violated the terms of his contract, which has a clause in it that would allow Arkansas to fire Petrino for "engaging in conduct, as solely determined by the university, which is clearly contrary to the character and responsibilities of a person occupying the position of head football coach or which negatively or adversely affects the reputation of the (university's) athletics programs in any way."
Lying or misleading the media is one thing. The same goes for the public. But when you're not forthcoming with your bosses, that's one of those things that tends to resonate.
Only when an Arkansas state police report confirmed Thursday that Dorrell was riding with Petrino did he come clean after initially saying through a statement released by university officials that he was alone when he crashed. He repeated that claim after finishing up his news conference on Tuesday when asked specifically by a media member if he had been alone during the crash.
Long said he didn't find out until Thursday afternoon from Petrino that Dorrell was riding with the Hogs' head coach, and it was later Thursday that Petrino, who is married and has four children, issued another statement acknowledging a previous inappropriate relationship.
It only muddies the situation that, according to several reports, Dorrell was engaged to marry the Hogs' director of swimming and diving operations, Josh Morgan, in June.
[+] Enlarge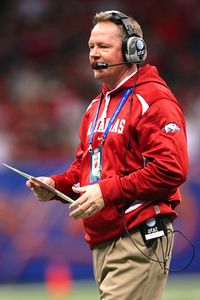 Nelson Chenault/US PresswireArkansas administrators must weigh Bobby Petrino's on-field accomplishments against his off-field actions.
Here's Petrino's statement in full, in which he expresses his desire to remain as Arkansas head coach:
"The state police report today provides an accurate description of my accident, which includes details that had not publically come to light prior to the report being issued. I regret that I have not publically acknowledged a passenger on the vehicle. I have been in constant pain, medicated and the circumstances involving the wreck have come out in bits and pieces. That said I certainly had a concern about Jessica Dorrell's name being revealed. In my press conference, I referred to her simply as 'a lady'. My concern was to protect my family and a previous inappropriate relationship from becoming public. In hindsight, I showed a serious mistake in judgment when I chose not to be more specific about those details. Today, I've acknowledged this previous inappropriate relationship with my family and those within the athletic department administration.

I apologize to my wife, Becky, and our four children, Chancellor (David) Gearhart, Jeff Long, the Board of Trustees, University administration, my coaching staff, student-athletes and the entire state of Arkansas. I have been humbled by the outpouring of concern and get-well wishes. I apologize to the Razorback Nation for the attention my actions have brought to the University of Arkansas and our program. I will fully cooperate with the University throughout this process and my hope is to repair my relationships with my family, my Athletic Director, the Razorback Nation and remain the head coach of the Razorbacks."
Much will be made about the "previous inappropriate relationship" Petrino speaks of and the fact that Dorrell was out riding the countryside with him.
But the two biggest factors working against Petrino are, No. 1, that he wasn't truthful with his superiors about the accident and lied about it publicly, and No. 2, that Dorrell was somebody who was hired to work under Petrino in the football office. If a "previous inappropriate relationship" with Petrino did indeed lead to her hiring, that's bad news for everybody involved.
It's especially bad news for the Arkansas fans, who deserved better.
Just when you thought the Hogs might be on the verge of breaking through and joining the SEC party in the national championship equation, this happens.
Petrino was dug in, too. He signed a contract two Decembers ago that more or less locked him down at Arkansas for the foreseeable future. I can also tell you from my conversations with Petrino that he truly believed that he could win a national championship at Arkansas and that the Hogs weren't that far away.
The job he'd done to this point was exemplary, and even though he was castigated for leaving the Atlanta Falcons before the 2007 season was over, it was a coup for Arkansas to get a coach of Petrino's caliber.
It all seemed to be pointing in the right direction for the Hogs, who played in their first-ever BCS bowl game in 2010 and then followed that up with 11 wins last season.
Now, in the wake of one forgettable motorcycle crash, it remains to be seen whether Petrino will get a chance to finish what he started.