June, 18, 2014
Jun 18
12:00
PM ET
March, 12, 2013
3/12/13
1:00
PM ET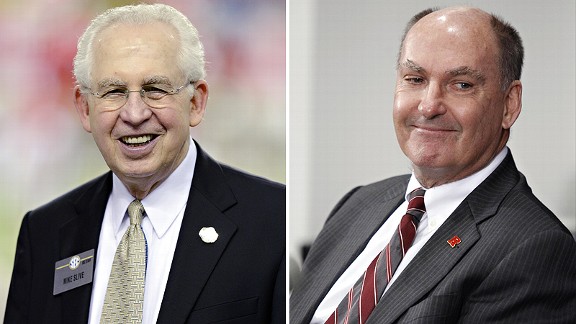 USA TODAY SportsSEC commissioner Mike Slive, left, and Big Ten commissioner Jim Delany are among the most powerful men in sports.
Sports Illustrated recently came out with its list of the
50 most powerful people in sports
. Two college conference commissioners made the rundown: the SEC's Mike Slive at
No. 17
, and the Big Ten's Jim Delany at
No. 26
. The men who lead the nation's richest and most popular conferences have been
rivals throughout the years
, and they've both made moves to strengthen their leagues and shape college football.
Bloggers Chris Low (SEC) and Adam Rittenberg (Big Ten) weigh in on Slive, Delany and which commissioner -- in the immortal words of Snap! -- has got the power.
Chris Low on Slive
The easy part would be starting with the rings, although Mike Slive himself doesn't have a jewelry box overflowing with national championship bling. He's content to let the SEC schools display their own hardware. And for those not keeping count, it's up to seven straight national championships now for the SEC.
There's such a thing as power, and then there's the kind of power you command when you're on top.
The SEC is looking down at everybody else in the college football world and has been for a while, and Slive's a big reason why. The administrators and coaches in the league have supreme confidence in him to make the right moves in the ever-changing landscape of college athletics.
They don't necessarily fear Slive, but they also know better than to cross him. Lane Kiffin and Tennessee got a dose of his wrath.
One of the most obvious examples of Slive's power is the four-team college football playoff, which will begin in 2014. Remember that he was the one who proposed a playoff back in 2008, and not enough other people were on board at the time.

Well, everybody's on board now, and it's a reality. Not only that, but the format is basically what Slive wanted. There aren't any restrictions about having to win your conference championship, and the games will be played at bowl sites ... and not on college campuses.
Slive didn't want the playoff party to be limited to conference champions. The rest of the country moaned and groaned over the all-SEC BCS National Championship Game in 2011 between Alabama and LSU. Slive wanted to make sure the door was open for multiple SEC teams to get into the four-team playoff, because more times than not, at least two SEC teams will be deserving.
Most people would agree that conference expansion is far from over. But with all of the jockeying to this point, did any conference benefit more than the SEC with its addition of Texas A&M, which secured a foothold in the state of Texas?
The value of that move will be front and center when the SEC negotiates its next television contract with CBS and ESPN. You better have a good calculator to tabulate those figures.
And, oh yeah, Slive knows a thing or two about steering clear of serious NCAA trouble.
The SEC is always going to be the SEC. After all, the league's unofficial slogan is, "If you ain't cheating, you ain't trying."
Slive's not real fond of that slogan, by the way. But the NCAA has done its share of poking around several different SEC programs over the past several years, and the last school to be hit with a postseason ban in football was Mississippi State in 2004.
Nobody's suggesting that Slive has a direct line to the NCAA enforcement staff.
But he also has clout, and probably more importantly, a keen understanding of how the NCAA process works. He can be a huge asset when SEC schools are trying to navigate choppy waters.
Just ask Auburn and Cam Newton.
Slive, a former district court judge in New Hampshire, jokingly refers to himself as a recovering attorney.
Now a proud grandfather, he looks the part with the white hair, warm smile and stooped-shoulder walk.
He's quick to deflect any talk about his role in making the SEC the juggernaut that it's become.
Of course, the most powerful people don't have to talk about what they've done. Everybody already knows.
Adam Rittenberg on Delany
This discussion essentially comes down to how much a commissioner's power stems from the number of football national championships that are won in his conference. If crystal footballs are the sole basis for determining which commissioner carries more clout, Slive wins in a landslide. After all, the SEC has won the past seven national titles, the league's total during Slive's tenure as commissioner (2002 to present). Delany has been Big Ten commissioner more than twice as long (1989 to present), but the league has claimed only two football national titles (1997, 2002) during that span, and none in the past decade.
But let me remind everyone that neither of these men plays football or coaches football. They have no direct control over whether their teams hoist the crystal football. They can put their leagues in the best possible positions to compete for championships by increasing revenue and TV exposure, and by shaping the BCS/playoff format, but their work is done outside the lines, not between them.

Although Slive has done some great things as SEC commissioner, his timing also has been impeccable. Was Slive's predecessor, Roy Kramer, a bad commissioner because SEC teams won only three national titles during the 12 football seasons in which he served? Such a notion seems absurd. The Big Ten's lack of championships in the major sports is part of Delany's legacy as commissioner, but can anyone reasonably argue that Delany has put the league in a weaker position to win titles? Also absurd.
If anything, Delany has strengthened the Big Ten's chances to win championships and continued to build the league even when it wasn't winning championships. His teams simply have let him down over and over -- not just in football, but in men's basketball -- while Slive's teams have come through time and again.
If we're basing this on how much a commissioner has done in his role, Delany has built more power than Slive. He fundamentally changed the television landscape by spearheading the Big Ten Network, an idea many thought would crash and burn but instead has flourished. The Big Ten pioneered the use of instant replay, which is a staple around college football these days. Delany expanded the Big Ten with home-run additions, first from the East (Penn State) and then the West (Nebraska). Some blame the Big Ten for launching realignment fever in December 2009, but you can also argue Delany was ahead of the curve in sensing what would come around in college sports. Although Delany's latest expansion moves -- Maryland and Rutgers -- and possible future moves (Georgia Tech, Virginia, North Carolina) aren't overly popular among Big Ten fans, his goal to expand the Big Ten footprint into new markets and create new revenue streams for the league is understandable.
Although Slive is older, Delany has been around longer and has accomplished more. His name resonates throughout the sports world more than Slive's. And while Slive and other conference commissioners have brokered historic television deals, Delany and the Big Ten are the last in line -- the current deal expires in 2016 -- and are poised to cash in really, really big.
The past few years have been tough for the Big Ten, both on and off the field. The scandals at Penn State and, to a much lesser extent, Ohio State, damaged a reputation Delany helped to build. Delany's strong support of the BCS system also didn't help his cause as public opinion shifted sharply toward a playoff. But the notion that Delany "lost" the playoff debate is a farce driven by media members who didn't actually listen to what he said throughout the process (Delany has smartest-guy-in-the-room syndrome and sometimes talks over people rather than to them). He was
first to mention using a selection committee
, which will be adopted. And while the playoff participants won't all be conference champions, league champions will get preference over non-champions at the 4-5 margin, as Delany wanted.
SI.com's Andy Staples recently wrote
the gap between Delany and Slive is thin
and gives Slive the edge based on the SEC's championships. That's fair. But if you want to base power on what each commissioner actually has done, Delany gets my vote.
June, 25, 2012
6/25/12
8:04
PM ET
The
BCS presidential oversight committee
meets Tuesday afternoon in Washington D.C. to discuss college football's future postseason. The 12 presidents will hear from the FBS commissioners who last week endorsed a seeded four-team playoff beginning in 2014, which would have semifinals at bowl sites and bid out the championship game nationally. The commissioners are expected to present multiple models and discuss the evolution of their discussion, which came to a head last week in Chicago. Although the commissioners are unified, they've made it clear the presidents have the final say here.
The oversight committee begins its meetings at 3 p.m. ET, and while initially scheduled to meet four hours, the session likely will last well into Tuesday night.
To get you prepared for a long day and night, here's a primer, in question-and-answer form.
What action will the presidents take Tuesday?
It's likely they'll approve the four-team playoff model endorsed by the commissioners. ESPN.com has learned that the two most evolved elements of the playoff are the basic four-team model and the use of a selection committee to determine the four teams. Two elements that still must be discussed further and likely won't be resolved Tuesday: understanding playoff access and revenue distribution. Although there's an agreement in principle among the commissioners for how the revenue should be divided, the presidents want to have a thorough discussion on this topic.
What elements unified the commissioners in Chicago?
The two big ones were the selection committee and having the semifinals played inside the bowls. Commissioners who have chaired the NCAA men's basketball tournament selection committee -- such as the SEC's Mike Slive, the Big Ten's Jim Delany and the Big 12's Bob Bowlsby -- strongly advocated for it, and others, like the Pac-12's Larry Scott, warmed up to the idea. They see the committee as more transparent, more rational and having fewer conflicts of interest than the current polls used in the BCS formula.
The commissioners emerged from their April meetings in Hollywood, Fla., with two models: a four-team playoff inside the bowls and a four-team playoff at neutral sites outside the bowls. ESPN.com has learned three leagues -- the SEC, Big 12 and Conference USA -- advocated neutral sites for semifinal games, which likely would bring in more revenue but devalue the top bowl games. The Big Ten and Pac-12 didn't want to see the Rose Bowl drop down several notches (think NIT) and endanger the other bowls. This was a deal breaker, and it eventually pushed the group toward an inside-the-bowls model.
How will the model work inside the bowls and with access?
It's very likely that five or six bowls, not just the four BCS bowls, will be part of the playoff structure. There will be the familiar four -- Rose, Sugar, Orange and Fiesta -- as well as one or two yet-to-be-determined bowls (Cotton, Capital One, etc.). Although the commissioners spent a lot of time discussing an anchor plan -- where the No. 1 and No. 2 playoff participants would play at regional sites -- they determined it would be too difficult because of television sponsorships, ticket distribution and other factors. So the semifinal games will be predetermined and rotate between the bowls. For example, if the TV contract is for 12 years and the rotation includes six bowls, each game could host a semifinal four times.
The selection committee could end up selecting participants for more than just the four-team playoff, especially because the additional bowls will provide access for champions from smaller conferences. The same guidelines applied to selecting the playoff participants – strength of schedule, valuing conference championships -- also will be used to determine who appears in some of the additional bowls. For example, if the Mountain West champion and the Big Ten's No. 2 team have comparable profiles, including strength of schedules, and are ranked 12th and 13th, the Mountain West champion likely would get the nod to a big bowl because of its championship.
While there will be access for smaller-conference champions, the bowls who have contracts with certain leagues will continue to feature teams from those leagues. If the Rose Bowl isn't a national semifinal and loses the Pac-12 and/or Big Ten champion to a semifinal game, it will replace them with Pac-12 and Big Ten teams. The only way the Rose Bowl features teams not from the Big Ten or Pac-12 is if it's a semifinal.
How much traction does the plus-one model have?
None. It will be discussed Tuesday because the presidents want to look at multiple models, but everyone is so far down the road toward a four-team playoff and they're highly unlikely to turn back. Nebraska chancellor Harvey Perlman, a playoff opponent who prefers the status quo and a plus-one over a four-team playoff -- as do the Big Ten colleagues he represents and some Pac-12 presidents -- will have his say, but he also understands where this is headed. Perlman realizes he can't be Mr. Davis in "12 Angry Men" and sway everyone else in the room.
How would the selection committee operate?
The group will have certain guidelines for selection, such as valuing strength of schedule conference championships. There are no hard-and-fast rules, but these guidelines will help break ties. Expect the committee to be around 15 members, and it will meet throughout the season. It's unclear who will serve on it, although former coaches as well as school and league administrators are the likeliest candidates.
According to a source, the committee could reveal a poll midway through the season to let the public know where things stand with certain teams. Such a poll likely would debut around the time the initial BCS standings do (Week 8 or so).
When would the playoffs take place?
The five or six bowls in the playoff rotation likely will take place around Jan. 1. The Rose Bowl will keep its traditional New Year's Day afternoon time slot, whether or not it's a national semifinal. A new contract for the Rose Bowl is expected this week and will last through the 2026 game. The Rose Bowl contract always has been completed before the BCS contract.
We could end up seeing three of the bowls take place Dec. 31 and the other three, including the Rose, on Jan. 1. The championship game then would take place about 10 days later.
Colleagues Mark Schlabach and Heather Dinich will be in D.C. for the presidential oversight committee meeting, so be sure and check in with ESPN.com throughout Tuesday afternoon and night.
June, 19, 2012
6/19/12
10:13
AM ET
It looks like we are getting closer and closer to having a four-team playoff in college football.
A little less than a week after conference commissioners and Notre Dame athletic director Jack Swarbrick met in a playoff war room in Chicago, ACC commissioner John Swofford told ESPN.com's Mark Schlabach on Monday that "considerable progress"
has been made concerning a playoff
ahead of their meeting in Chicago on Wednesday.
Swofford said he hopes the commissioners will be able to present a four-team playoff model, to be implemented beginning with the 2014 season, to the BCS presidential oversight committee in Washington, D.C., next week.
What still needs to be ironed out are when and where the two semifinal games and the national championship game will be played, how the four teams will be selected, what will happen to the current BCS bowl games and how the conferences will divide as much as $400-500 million in annual TV revenue.
[+] Enlarge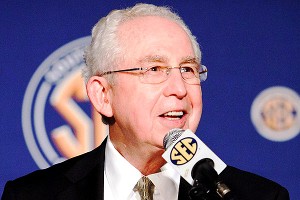 Darrell Walker/Icon SMICommissioner Mike Slive won't likely get quite everything the SEC wants in the playoff debate.
But what most people are
really
interested in is how the teams will be selected. SEC commissioner Mike Slive has made it perfectly clear that he wants the top four teams selected, regardless of if they win their conference or not. He knows that plays to the SEC's strength because there could be the occasional scenario, as in 2011, where the SEC could send two teams to the playoff, increasing the conference's chances of competing for and winning a national championship. And if you take conference championship prerequisites out of it, the SEC might even be in contention to get three teams in (very, very unlikely, but the league did have the top three spots in the BCS heading into the final weekend of the 2011 regular season).
The problem that Slive has run into is that other big conference commissioners are leaning toward prefering giving special treatment to teams that win their conferences. And other commissioners certainly don't want to see three SEC teams in the playoff.
So that means that compromise is going to have to be made. Someone will have to bend, even if the SEC has been very consistent about its feelings toward selecting the four teams.
"This league (the SEC) is all about competition and it just makes sense to me to let the four best teams compete and see who's going to be the national champion if we're going to have the playoffs," Mississippi State athletic director Scott Stricklin told ESPN.com at the 2012 SEC spring meetings in Destin, Fla. "It's hard for me to fathom a scenario that the fans across the country would really buy into that doesn't feature the four best teams."
As we get closer to finding out what will be made of all this playoff talk, it sounds like Slive and his SEC comrades won't get their way. That doesn't mean the SEC will be at a total loss. A hybrid scenario of some sort should still consistently have the SEC champ in it and that "wild-card" spot could go to the next-highest SEC member if it's ranked high enough. An SEC team ranked No. 2 or No. 3 has a better shot at making the playoff than a conference champ ranked fifth or sixth. But what Slive is worried about is a fourth-ranked SEC team getting passed by a fifth-ranked conference champ.
Slive's push for the "best four" model is all well and good, but other commissioners don't think it's easy to determine definitively a No. 4 from a No. 5. That's where winning your conference comes into play. In a hybrid, it's much easier to determine if a No. 2 or No. 3 should go over a 4 or 5, so that's where the SEC -- or any other conference -- would come up short. Slive understands that 2011 will only happen so often, so he wants to make sure that an SEC team sitting around fourth or fifth in the rankings has a shot to play for a national title.
Thus strength of schedule now comes into play, forcing SEC teams to step out of their comfort zone in scheduling. Now, maybe that No. 4 SEC team has a better case because it played two tougher out-of-conference games. But tougher schedules mean you decrease your chances of running the table, and Slive knows that.
We still have a way to go, but it seems like the cards are stacked against the SEC and compromise might be the best option.
May, 30, 2012
5/30/12
9:00
AM ET
DESTIN, Fla. -- The idea of having a four-team playoff drifted into the 2012 SEC spring meetings and was met with a resounding "yes."
You would have been hard-pressed to find anyone toting an ounce of SEC pride who didn't like the idea of having the four best teams in the country playing for a chance to go to the national championship at season's end.
"I think the event is spectacular," LSU coach Les Miles said of a Final Four-like ending to the college football season. "Any play that is tournament-style and ends with a championship is preferred."
And one reason it's
really
preferred around these parts is that it'll give the SEC an even better shot at competing -- and winning -- more national championships. The conference dripping with power, confidence and championships stacked on championships wants more of those three things and believes it'll get them with this playoff model.
"If you take four teams that have won a conference championship, it will be a guarantee that only one of us could go," Georgia coach Mark Richt said. "If you had it the other way, we'd have a shot of two going. You can say it any way you want, but that's kind of what everyone's talking about. We also could be shut out in that scenario as well."
Hence why Big Ten commissioner Jim Delany had been so outspoken about having a four-team playoff constructed purely of conference champions. He knew it would somewhat level the playing field with the mighty SEC. More chances for the SEC means fewer for the Big Ten -- and Delany wanted to ensure Alabama-LSU never happened again.
[+] Enlarge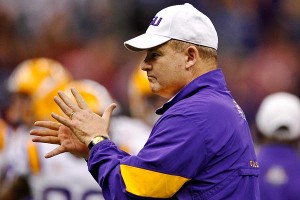 Derick E. Hingle/US PresswireLSU coach Les Miles is among those who doesn't want a playoff restricted to conference champions.
Unfortunately for Delany, you wouldn't always get No. 1 versus the true No. 4. A No. 5 or 6 could easily slide in there with a conference championship under its belt, hardly making this a battle of the top four.
But at the heart of this fight, the SEC is concerned with continuing its dominance. And coaches know that. Even if their school hasn't sniffed the BCS national championship game during its existence, they're still going to side with what benefits the league as a whole and generates a more powerful brand that it's attached to.
While Alabama coach Nick Saban called those clamoring for the conference champion mode "
self-absorbed
," the SEC is guilty of being a little self-absorbed as well.
"I'm not a fan of a four-team playoff if it only includes conference champions," Ole Miss coach Hugh Freeze said. "That's a negative for our conference. Our conference has proven it's possible that we should have two teams in it. So, I'm not in favor of anything that rules us not having more than one team in [the playoff]."
Under Delany's original idea, Alabama wouldn't be coming off its second national title in three years. But it also means LSU might have its second under Miles. Yet Miles, who would have benefited from not facing Alabama in the last BCS national championship, is against the conference championship idea.
"I want to be the team that wins the conference, plays the best teams that they can play, sees the best team in the championship game and wins it for the championship," Miles said. "Simply put: We wanted to play the best team in the country when we got there. And doggone it, we did."
SEC coaches know that a four-team playoff (or really any playoff at all) gives this conference an even better shot at maintaining the league's supremacy at a steady rate. The SEC has won six consecutive titles and could very well win its seventh this season. But if a playoff does come -- and it could come as soon as 2014 -- the SEC wants to make sure it's covered and has the opportunity get into that playoff each and every year.
The SEC won't win national titles forever. The streak is bound to end sooner or later, but the day a playoff comes where multiple SEC teams have a chance to get in, real fear will manifest itself throughout the rest of the college football world.
"I think it needs to be the four best teams in the country," Florida coach Will Muschamp said. "I don't think it needs to be the conference champions because in our league, we might have four of the best teams in the country."
May, 29, 2012
5/29/12
8:20
PM ET
DESTIN, Fla. – Alabama coach Nick Saban hasn't held back from talking about his disdain for placing only conference champions in a four-team playoff. He's very much for a four-team playoff, but he won't go for one that alienates teams by only picking the top four conference champions.
The whole reason any of this playoff talk even started is because people outside of the game are passionate about seeing one in college football. To take away the chance for the four BEST teams to play makes no sense to Saban.
"There's no question that we're even doing the top four because fans and the people who are interested in college football are interested in seeing the best four teams play in a playoff," Saban said Tuesday at the 2012 SEC spring meetings.
[+] Enlarge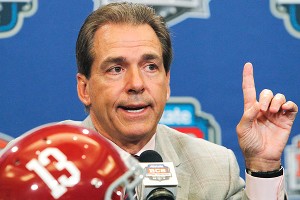 AP Photo/Dave MartinA four-team playoff shouldn't be limited to conference champions, Alabama head coach Nick Saban reiterated.
"Now, we're going to mess that up by saying you have to be a conference champion. I think somebody's a bit self-absorbed and worrying about how it affects them and how they can best get somebody in the (national championship) all the time, rather than getting the best four teams. I don't think that's fair to the fans and the people who really have made it known that they want to see the four best teams play in a playoff.
"The bigger these conferences get the better chance you have to have two very good teams in that."
Saban didn't go as far as to name names, but anyone paying attention to all of this playoff talk knows he's talking about Big Ten commissioner Jim Delany, who has been extremely outspoken about having only conference champions represented in a four-team playoff and has taken a few shots at Alabama and its 2011 title along the way.
Saban went a bit further during an interview with SECSports.com:
"It's self-absorbed people who are worried about how it affects their circumstance or their league rather than what's best for college football who would want to do that," Saban said. "It's not what's best for the fans because they've made it very clear what they want it to be."

"People want to see the best four teams play in a playoff. The problem in college football is there's not equal parity in the leagues. Some leagues are stronger than others in different years. It's not always going to be where the SEC is stronger than another league. There's going to be years when other leagues are stronger than the SEC. It's not an SEC thing. History in recent years would say that, but that's how it's been all the way through.

"I think you're going to get a lot of real complaining if we have a four-team playoff and we go through all this that we're going through to try to implement this and execute it and, all of a sudden, next year we have the No. 1 team, the No. 3 team, the No. 7 team and the No. 11 team being the four teams in the playoffs. There's going to be a mutiny on the ship, there's no question about that."
Saban isn't alone, as many of the other SEC coaches agreed with getting rid of the conference champs idea. SEC commissioner Mike Slive continued to plug a four-team playoff that takes the four best and continued to say he won't support a plus-one model, either.
"It's going to allow access in a way that the plus-one does not allow access," Slive said. "It's better for college football as a whole than just the plus-one."
Other notes from Slive:
While he wouldn't come out and say it, Slive doesn't appear to be on board with South Carolina coach Steve Spurrier or LSU coach Les Miles about having divisional games count more toward determining division champs: "It's hard for me to think about a conference game that doesn't count."

There haven't been many discussions about who will determine the four teams for the playoff (committee or otherwise), but Slive said those talks will continue this week.

He also hopes to finalize a scheduling format with the presidents, chancellors and athletic directors by the end of the week.

Even with all the expansion talk yet again swirling around the sport, Slive said the SEC is happy at 14 and isn't in a hurry to expand further: "We were in an expansionist mode and we're not in an expansionist mode now."

As for TV deals, Slive didn't go into much detail at all. There have been rumblings about the SEC having its own network and channel. Plus, there have been renegotiation talks concerning TV deals with the league. But Slive wasn't interested in talking about any of that, as he offered up a childlike smile and this gem when asked about any of it: "We're talking with our television partners about our future and we'll see how that develops."
May, 18, 2012
5/18/12
2:30
PM ET
The days of the Rose Bowl being the bowl of bowls could soon be coming to an end now that the SEC and the Big 12 have agreed on a
five-year bowl partnership
.
The new deal, announced Friday, will have the champions of the Big 12 and SEC meet in a New Year's Day bowl game annually beginning with the 2014 season. So while it won't have the tradition of the Rose Bowl, it'll have the viewers and it'll have the popularity.
We're seeing more and more how power is truly the most important component in college football, and this is a great example. Soon, we'll have the two best BCS conferences going at it in their own special bowl competing with the beloved Rose Bowl.
We're joined on the SEC blog by Big 12 blogger David Ubben to get his thoughts on what this means for the Big 12. We're gentlemen down here in SEC country, so we'll let him go first:
David Ubben:
Rose Bowl, we love you. Not as much as Jim Delany does, but I'm not sure anyone can stake that claim. Anyway, it's time to face an unfortunate truth: You've been one-upped. The unnamed, unplaced bowl partnership between the Big 12 and SEC won't have the same level of tradition, but it will feature better teams. That's a powerful draw.
The BCS has played 14 national title games since its birth. The Big 12 or SEC have participated in 12 of them. Teams from the league have met in the game twice.
Now, they'll have another big stage to showcase their top teams. If a Big 12 or SEC champion is in the four-team playoff that will likely begin in the 2014 season, the next-best team will fill their place in the annual game. Deciding who plays in that game is up to each conference. The nation's two best conferences will get a much-needed opportunity to face one another on the field and test the hotly debated offense vs. defense theories on the field annually. The nation's college football fans were robbed of that when Oklahoma State was squeezed out of the national title game for SEC West second-place finisher Alabama. This year, the SEC and Big 12 only play once, when eight-win Texas travels to face two-win Ole Miss in September. Not exactly must-see TV.
This will be.
It assures the Big 12 a place at the adults' table of college football, further extending the distance between college football's top four leagues -- the SEC, Big 12, Pac-12 and Big Ten, in that order -- and the ACC and Big East. The ACC and Big East have the Orange Bowl, but any game like the SEC and Big 12 put together will pale in comparison when it comes to TV ratings and more importantly, TV money.
Only a few months ago, the Big 12 had eight teams, with half the league considering a move to the Pac-12 and the conference on life support. Things are looking very different now. It's about to sign a giant television deal, likely extending the grant of rights into the next decade and assuring stability at least through then, and probably beyond.
Tired of getting stuck playing Boise State and UConn in everything to lose, nothing to gain BCS bowl matchups? Seven-time Big 12 champion Oklahoma won't have to worry about that anymore, and even if the Sooners are in the forthcoming national championship playoff, the next-best Big 12 team will have a quality opponent to prove itself against.
Another plus for the Big 12? The Cotton Bowl's odds of getting into the BCS as it stood were minimal. Now? It's still in flux, but does anyone want to bet against Jerry Jones and his wallet to get this game in his Dallas palace at some point? That's a big game in the Big 12 footprint, something that's never happened on the BCS bowl stage.
How will this affect Florida State, too? News has surely reached Tallahassee by now, and the Florida State spear-toting brass have to be wondering how much this factors into their wandering eye toward the Big 12. Is the ACC the place to be?
We'll find out soon, but on Jan. 1, 2015, there will be only one place to be.
This game.
Edward Aschoff:
I couldn't agree more with pretty much everything you said. There's no question that both of these leagues have dominated the BCS since its first year in 1998. The conferences have been left out of the national championship just twice in the last 14 years and the SEC has participated in -- and won -- eight. The Big 12 has won two of its seven appearances.
SEC commissioner Mike Slive has just about everything he wants in his conference, but he hasn't had the Rose Bowl. Sure, all those national championship trophies are nice, but an annual game like the Rose Bowl commands respect. The game that the Big Ten and Pac-12 covet so much, and is watched by millions annually, will now get a major run for its money. While they'll be played in different time slots, there's no question that this will turn into the ultimate popularity contest. If you could sense that Big Ten-SEC tension before, just wait. Now, the SEC will be looking down on the Big Ten
and
picking at the game it holds so dear. Don't think that didn't cross the commissioner's mind when he was thinking about this deal.
The SEC has truly been front and center in the college football world for the past six years with its 6-0 record in BCS championships, and now it will pursue a game it thinks can have the gusto of the Rose. This is a great opportunity for the SEC to build another fine tradition for the country's top college football conference. And fans/the media want to see more of these matchups. For the most part, we're all deprived of them during the regular season, so here's a chance for us to win something as well. These two conferences need to play more. The best should always play the best, and as David said, we can finally settle the whole offense-defense debate.
This also means that more SEC teams have the chance to play in a primetime, marquee matchup in January. If this had been in place last season, Arkansas, which certainly had a BCS-caliber team, would have played in a BCS-like bowl, since Alabama and LSU met in the title game. The Cotton Bowl got the matchup this game would have received, but it would have been on a much grander scale and much more attention would have been paid to it. Oh, and much more money would have come out of it.
It would likely help the SEC this year too, as there could be as many as five teams jockeying for BCS position. Imagine if the four-team playoff took place this season? You might have two more SEC teams fighting for a chance at a national championship, meaning this game would give No. 3 a chance strut its stuff in front of its own grand audience.
There's no question that with a four-team playoff, the SEC will have more opportunities to put teams in the national championship, continuing its dominance. Now, Slive has helped to ensure that a high-caliber team left out of the championship hunt will still play in a game that will command the type of attention that comes with a BCS bowl.
May, 14, 2012
5/14/12
12:10
PM ET
By
ESPN.com staff
| ESPN.com
Some Monday linkage for your viewing pleasure:
July, 14, 2011
7/14/11
11:00
AM ET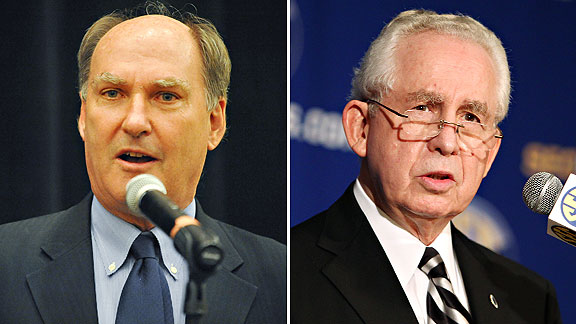 AP PhotosCommissioners Jim Delany of the Big Ten, left, and the SEC's Mike Slive support paying athletes.
Two of the most powerful men in all of college sports, Big Ten commissioner Jim Delany and SEC commissioner Mike Slive, came out this spring in support of providing more money to college athletes to cover the full cost of attendance. When these guys speak, people listen, so naturally there has been a lot of talk about the issue. Some wonder if it's merely the start of a seismic shift in college athletics. What does it all mean? Big Ten blogger Brian Bennett and SEC blogger Chris Low break it down.
Brian Bennett:
Chris, Jim Delany caused a stir at the Big Ten spring meetings when he said his league was looking at increasing scholarship money. It wasn't a new idea -- the late Myles Brand and current NCAA president Mark Emmert have publicly supported the same plan. Still, things are different when Delany and Slive get behind an idea.
We know that the Big Ten and SEC are flush with money thanks to their lucrative TV contracts, so they can afford an extra $3,000 per athlete if they decided to go this route. I guess the big question is, are these leagues merely exploring this idea with the student-athletes' best interests at heart, or are they trying to move toward a model where the richest schools operate on a different playing field? What do you think?
Chris Low:
The SEC (and the Big Ten) trying to gain a competitive edge? Surely you jest, Brian. Nah, I think Slive is serious about exploring every realistic possibility to try and share the wealth with the athletes. As South Carolina's Steve Spurrier reminded us all in Destin, Fla., at the SEC spring meetings in June, the athletes are the performers and the ones who are bringing in all of the big dollars. They're the ones who deserve a piece of the pie, or at the very least, enough money to help bring in their families every weekend to see them play. Remember, too, that Spurrier was willing to give up part of his salary to pay each player a $300 stipend for every game, which would equate to a little less than $300,000 per season. That's a lot of coin. But when nine of the 12 SEC head football coaches are making $2.5 million or more per year, they can spare a few extra dollars.
Obviously, Spurrier's proposal has no chance of passing, even though six other SEC head coaches signed it. But his point is well taken. This is a movement, Brian, that I think is just going to keep gaining momentum. What do you see as the biggest hurdle to paying athletes? To me, it's the simple fact that you're going to have to pay all athletes (on both the men's and women's side) and not just football players. When you do the math, that's a lot of cash ... even for leagues with seemingly endless pockets.
BB:
With Title IX, it's impossible to envision a scenario where only players in revenue-generating sports receive extra money. But I have done the math. The average gap in cost of attendance is about $3,000. At a place like Ohio State where there are about 400 varsity athletes, that works to about $1.2 million a year. That's a lot of money, but when the Big Ten is raking in more than $20 million per year per school from its TV deals, that figure is not outlandish.
And why shouldn't these leagues do this? Do SEC and Big Ten schools really need to pay coaches more? Do they really need to build even bigger stadiums and spotless weight rooms? There has to be a limit to the arms race at some point, and putting this influx of cash into the players' hands is a noble goal in many ways.
I guess the concern here is that Western Michigan isn't the same as Michigan, nor is Alabama-Birmingham the same as Alabama. Outside of the Big Six leagues (or maybe Big Five; it's questionable whether the Big East is rich enough), very few conferences could afford to go this route. Many athletic programs are in the red already and need student fees to stay afloat. Ohio State athletic director Gene Smith suggested in May that non-AQ teams shouldn't try to spend like the big boys and that the playing field does not need to be level. Are we headed for a scenario where the wealthy schools gain even more of an advantage through cost-of-attendance increases, or an eventual split among the FBS haves and have-nots?
CL:
Brian, I think there's already an unofficial split between the FBS haves and have-nots. You mention the arms race in college football. Try walking around an SEC campus these days. There are new football facilities going up all the time, and I'm talking about state-of-the-art digs. Auburn is getting ready to open a brand new indoor practice facility, and Arkansas is poised to spend $34 million on a new complex. It truly is an arms race and recruiting-driven in most cases. Prospects do keep count. If Alabama has one, then LSU and Auburn have to have one. And if Florida has one, then you can bet Tennessee and Georgia will be angling to get one.
I don't see any way the FBS have-nots can keep up in the facilities arm race or the paying of coaches arms race. The SEC has an assistant coach (Auburn offensive coordinator Gus Malzahn) making $1.3 million. I'm old enough to remember when it was a big deal that then-Tennessee head coach Phillip Fulmer hit the $1 million plateau just prior to the Vols winning the national championship in 1998.
With all this money flying around, there has to be some practical way to share it with the players. I know the cynics insist a lot of the players are already being paid under the table, and there's no denying that. But what about the second-team offensive guard who was lightly recruited and comes from an impoverished background? He's the guy I think about in this whole deal.
BB:
Some might suggest that SEC players are already getting some extra money. But I digress.
Giving players the true cost of attendance is a worthy cause, but I'm not sure it will ever fly. There will be many objections from the non-AQ leagues, and unless the Big Six are truly ready to strike out on their own, I don't see it happening for a while. I do think that eventually things have got to change. With all the recent scandals, the lawsuit over player images in video games and the huge dollars being thrown around, sooner or later this concept of amateurism in college sports needs to be revisited and revised for a more equal partnership. I just don't know if that will happen in our lifetimes.
OK, Chris, since I just took a cheap shot and your league has won all the national titles, you get the last word. Where do you see this all heading?
CL:
Where do I see it heading? Honestly, nowhere. There will be considerable grandstanding. Players will speak out, and Slive and Delany will continue to push the issue. But the whole concept of paying collegiate athletes is a road too many people simply don't want to go down. Hey, it quit being an extracurricular activity a long time ago. A successful football program at a place like Ohio State or Alabama is worth millions of dollars to that university and to that state.
I, too, don't expect to see any significant changes in the system in our lifetimes, and in the meantime, those intent on breaking the rules will see to it that certain players and hotshot recruits are compensated ... be it in cold, hard cash or maybe even tattooes.
July, 8, 2011
7/08/11
2:24
PM ET
The drought mercifully ended for Ohio State back on Jan. 4 in New Orleans when the Buckeyes held on to defeat Arkansas 31-26 in the Allstate Sugar Bowl.
At last, Ohio State had beaten an SEC team in a bowl game. That's what we all thought at the time, anyway.
[+] Enlarge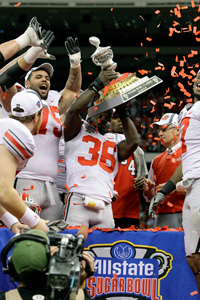 AP Photo/Patrick SemanskyOhio State's victory over Arkansas in the Sugar Bowl has been wiped from the record books.
But with Ohio State's announcement Friday that it was vacating all of its wins from the 2010 season, including the Sugar Bowl victory, that means the Buckeyes are still oh-fer against the SEC in bowl games.
Officially, the Buckeyes are still 0-9 against SEC teams in bowl games.
Yes, it's a silly punishment, but Ohio State's win over Arkansas has been vacated. I guess it's like the game was never even played, that the Hogs didn't botch that chance to return a blocked punt for an easy touchdown and that Ryan Mallett didn't throw that late interception to seal the Hogs' fate.
Arkansas doesn't pick up the win. Ohio State simply loses it.
And speaking of fate, anybody find it ironic that Ohio State is paying this price because the Buckeyes played ineligible players to finally break through against the SEC, the league everybody else around the country points to as being the model for cheating in college football?
Remember Big Ten commissioner Jm Delany's comments about the NCAA missing an opportunity to stand up and hold the people involved in the Cam Newton ordeal accountable?
Granted, the NCAA hasn't closed the Auburn case yet, so we won't go there.
But one case that has been closed is that Ohio State is still looking for its first win against the SEC in a bowl game.
At least, officially.
May, 27, 2011
5/27/11
1:30
PM ET
ESPN senior writer Bruce Feldman has gone and made me wish I was in charge of national football scheduling.
He recently ranked his
"Top 10 'should be' rivalries that aren't"

and the SEC is all over the place. In fact, half of the rivalries involve SEC teams, including his top three.
Respect!
I understand big-time programs don't really like these kinds of matchups because one loss could derail national title hopes, but for my own selfish reasons I want these games every year. As a fan of the game I'd love to see an early-season Goliath vs. Goliath in place of the traditional cupcake snoozer. If only there was a way for games like this to exist during the regular season without the postseason being completely wrecked by one loss ...
Here's what Feldman had to say:
1. Alabama Crimson Tide vs. Boise State Broncos
Attached to the Broncos' storybook rise to the sport's elite has been a feeling that they've also become one of the most polarizing topics in college football. No fan base seems more offended by Boise State hype than the SEC crowd, which feels as if most of the Broncos' success has come against suspect competition. What better way to prove that they belong than by taking on the SEC's resident super heavyweight, Alabama? Watching the Crimson Tide on Boise's blue "Smurf Turf" would be a fantastic spectacle.
My thoughts:
The Broncos aren't scared of anyone, but a trip to Tuscaloosa might make that walk off the bus just a little slower. Just imagine the shock the state of Alabama would be in if the Broncos took down one of the SEC's finest. This one
needs
to happen soon.
2. USC Trojans vs. Tennessee Volunteers
The intensity between these two programs has cranked up dramatically since Lane Kiffin bolted Knoxville to return to USC. To say Kiffin had a messy exit from Tennessee would be a understatement on the level of saying that he only stepped on a few toes in the SEC while coaching the Vols.

In winter 2010, he left Knoxville for USC and took half of his staff -- and a few of his top UT recruits -- with him. As it turns out, he walked into a situation in which he had to inherit massive NCAA sanctions. After that, Trojans defensive lineman Malik Jackson left the program and signed on with the Vols. Kiffin's successor in Knoxville, Derek Dooley, also faxed over a list containing every junior and senior on the Trojans' roster, seeking more wanna-be transfers from USC.

Complicating things even further, a cloud has hung over Kiffin and UT in the form of an ongoing NCAA investigation. The Vols waited until after Dooley's signing day press conference was completed to leak the allegations. It remains to be seen who gets hit harder by the NCAA: Tennessee or Kiffin.
My thoughts:
When USC visits Tennessee, Kiffin might have to arrive in disguise. Seriously, imagine the getups he'll have to wear just so he can make it inside the locker room with his team. Funny hats? Reconstructive surgery? With the SEC bridges Kiffin nuked during his time in Knoxville, the entire SEC will become Vols fans for at least three hours every year.
3. Texas Longhorns vs. Florida Gators
These two almost met in the 2009 BCS Championship Game, but Oklahoma got the title shot, not the Longhorns. UT and UF had disastrous 2010 seasons and now each is going through staff transitions. The spicy part here is that new Gators head man Will Muschamp had been tabbed coach-in-waiting behind Mack Brown in Austin but decided not to stick around and instead took the Florida job.
My thoughts:
We'll find out which state is truly the football king when these two meet -- Texas or Florida. Plus, there's got to be a little bit of bitterness brewing in Austin with Muschamp spurning the Longhorns to take over at Florida. And I'm sure Muschamp would love to walk out of Darrell Royal-Texas Memorial Stadium with a win and a smirk on his face.
6. LSU Tigers vs. Michigan Wolverines
After years of rumors that LSU coach Les Miles, a former Wolverines lineman and Bo Schembechler disciple, would return to Ann Arbor to rescue his alma mater, we now know that he's not leaving Tiger Stadium for the Maize and Blue. Of course, it would be fun if he and his program visited Michigan every other year. Any time one of Jim Delany's prized programs takes on one of Mike Slive's, you're going to end up with a lot of compelling drama.
My thoughts:
So, if Miles wins at Michigan, will he be asked to stay for an interview afterward? Obviously, Michigan will offer him the job (again) when he steps off the team bus. Maybe it would take a return to The Big House for Miles to reconsider. Or maybe it would just be fun to silence that place.
7. Florida State Seminoles vs. Georgia Bulldogs
One of Bobby Bowden's favorite protégés, Mark Richt, left Tallahassee for Athens, and the Noles haven't been quite the same since. Then again, after a very strong first eight years at Georgia, Richt is getting close to hot-seat status, while the Noles' second-year boss, Jimbo Fisher, appears to have FSU on the upswing. Both of these programs face off about a dozen times a year for blue-chip recruits. They should carry it over to the field, too.
My thoughts:
Finally, a team from the state of Florida would make the trip to the state of Georgia to play the Bulldogs. This one has the potential of getting heated pretty fast with the recruiting implications. Richt would have to feel a little funny returning to his old stomping grounds on the wrong sideline.