November, 21, 2014
Nov 21
10:00
AM ET
Saturday feels a little like the calm before the storm in the SEC. There are eight games on the docket, including a couple of intriguing matchups, and yet everybody is already talking about the rivalry games next week.
Let's not get ahead of ourselves. Here's a preview of this Saturday's slate. All times ET.
Noon
Eastern Kentucky at Florida, SEC Network:
It might be a bit strange to see Will Muschamp on the sideline Saturday considering he won't be back at Florida next season, but he's staying on to coach the team's last two regular-season games. How will the players respond to a coach who's on his way out? Based on
Dante Fowler Jr.
's tweet this week, I'd expect them to come out and play hard for their coach. Also, the Gators become bowl eligible with a win.
South Alabama at South Carolina, ESPN3:
Raise your hand if you had South Alabama becoming bowl eligible before South Carolina this season. If your hand is raised, you're lying. Credit the job Joey Jones has done in his sixth season with the Jaguars, but don't expect an upset on Saturday. The Gamecocks bounced back from that excruciating overtime loss to Tennessee with a solid, come-from-behind win in the Swamp last weekend.
Charleston Southern at No. 10 Georgia, SEC Network:
If there was ever a week to give
Nick Chubb
a break, this would be it. With
Todd Gurley
out for the season, Chubb is once again the man in Georgia's backfield, but fellow freshman
Sony Michel
is expected to return Saturday, and both he and
Brendan Douglas
should see plenty of carries. All three backs could be in for a big day against the Buccaneers.
[+] Enlarge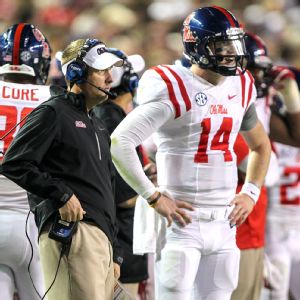 Troy Taormina/USA TODAY SportsBo Wallace and Ole Miss will have a tough matchup Saturday against an Arkansas defense fresh off a shutout win over LSU.
3:30 p.m.
No. 8 Ole Miss at Arkansas, CBS:
After last weekend, Ole Miss still has a chance to win the SEC West. Auburn knocking off Alabama isn't likely, but crazier things have happened. First, though, the Rebels have to take care of business Saturday against an Arkansas team that is dangerous at home and confident after winning its first conference game in over two years. The Razorbacks allowed a total of 31 points to Alabama, Mississippi State and LSU this season. That doesn't bode well for
Bo Wallace
, who will be without top target
Laquon Treadwell
. With rain in the forecast, points might be hard to come by in this one.
4 p.m.
Western Carolina at No. 1 Alabama, SEC Network:
The Alabama basketball team had trouble with the Catamounts earlier this week, but I don't expect much of a struggle for the football team on Saturday. Western Carolina might be a "good little team," as Nick Saban put it, but the Crimson Tide have dominated all three previous meetings and should do the same this season. If anything, it will give us another look at backup quarterback
Jake Coker
.
7 p.m.
Samford at No. 14 Auburn, ESPNU:
There are a lot of connections between these two in-state schools. Samford coach Pat Sullivan won a Heisman Trophy at Auburn back in 1971. Samford assistant coach Kodi Burns played and coached at Auburn. And Auburn offensive coordinator Rhett Lashlee spent a year at Samford before joining Gus Malzahn at Arkansas State. The game itself won't be very entertaining, but it should get the Tigers back on track.
7:30 p.m.
No. 20 Missouri at Tennessee, ESPN:
Missouri has to lose, right? There's no way the Tigers can get back to Atlanta for the second straight season. Consider this -- Gary Pinkel's team has won 12 of its past 14 conference games and has won nine straight road games, including seven straight in the SEC. Maybe it's time we start taking this team seriously. The Tigers are going to have their hands full Saturday against a Tennessee team on the rise. The Volunteers have won back-to-back games with
Joshua Dobbs
under center, and a win over Missouri would make them bowl eligible for the first time since 2010.
Vanderbilt at No. 4 Mississippi State, SEC Network:
Dan Mullen was a happy man Tuesday when the latest College Football Playoff rankings came out, as his Bulldogs were still among the four playoff teams despite losing to Alabama the week before. Now the question is: Can they stay in the top four and hold off teams such as TCU, Ohio State and Baylor? Mississippi State has two chances left to impress the committee, beginning with Saturday's tilt against the Commodores. It's important the Bulldogs not only win, but win big.
May, 23, 2012
5/23/12
9:13
AM ET
Leaving one's job can be pretty awkward. For college football coaches, it usually is. Rarely do we see an amiable mutual parting in these situations.
As we continue to take a look at the coaches we love to hate this week, we're looking at SEC coaches who have left their respective schools in a lurch.
We already discussed Bobby Petrino's
more than awkward departure at Arkansas
, so we're going with three other recent departures that happened unexpectedly.
Let the bad memories return:
[+] Enlarge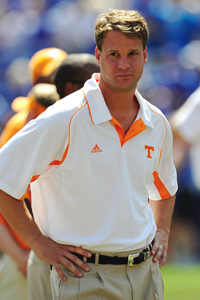 Sam Greenwood/Getty ImagesLane Kiffin was 7-6 in his one season at Rocky Top and was cited for failure to monitor an atmosphere of compliance within the Vols program.
Lane Kiffin, Tennessee:
He left for USC in 2010 after one season at Tennessee. Kiffin replaced longtime Tennessee coach Phil Fulmer in 2009 and was immediately confrontational with other SEC coaches, and that sort of arrogance was something that had to be a little attractive to Tennessee's fan base. However, his lack of production on the field made his pompous attitude laughable. Through all the chirping, he delivered a 7-6 season, which might go down as the most celebrated 7-6 season in SEC history. He talked so much about all the good things he'd do at Tennessee, but whined about not having enough talent. Then he built up his first signing class, but it eventually turned into nothing more than a paper tiger. Kiffin suddenly left Tennessee for USC just three weeks before national signing day in 2010. During his uncomfortable news conference, in which he announced his departure, Tennessee fans showed up in droves to wish him a not-so-safe trip to Cali. Kiffin left under the protection of police and left Tennessee with an NCAA cloud hanging over its head, which got the school a visit from the NCAA infractions committee. Kiffin and his staff's recruiting practices prompted an investigation that resulted in two years of probation for Tennessee. The NCAA found that Kiffin and his staff had committed 12 secondary violations, but Kiffin wasn't penalized. Derek Dooley took over for Kiffin in 2010 and has dealt with a laundry list of player and attrition issues. He has gone 11-14 in his two years.
Urban Meyer, Florida:
He announced that he'd be stepping away from coaching in 2010, but is now coaching at Ohio State. There was no question that Meyer was one of the best coaches to swing through Gainesville. During his six-year tenure, he won two national championships and took the Gators to three SEC championship games. But it was the way he left that sent Gator Nation into a frenzy. First, he announced his retirement for health reasons a couple of weeks after the loss to Alabama in the 2009 SEC championship game. His retirement barely lasted 24 hours, but Meyer and Florida were never the same. The 2010 season was a major step back, as Florida went 8-5, and Meyer stepped away again after the regular season concluded. Meyer said he was taking time off because of his health and his desire to spend more time with his family. Then, he took over at Ohio State (one of his dream jobs) for the fired Jim Tressel. But it wasn't just leaving Florida for a Big Ten school barely a year later that upset Florida fans. It was the fact that he left new coach Will Muschamp with what Meyer himself deemed a broken program. Muschamp dealt with discipline and attrition issues during his first season, in which he went 7-6. While Meyer was the king of winning the recruiting ranking game, he too often missed on character.
Tommy Tuberville, Ole Miss:
He left Ole Miss after the 1998 season for Auburn. Tuberville took over a struggling Ole Miss program in 1995 and helped the Rebels to three winning seasons in four years. But four years wasn't what the Ole Miss faithful expected to get from Tuberville; he made it seem that he would be there for much longer when he uttered those now-infamous words: "They'll have to carry me out of here in a pine box." That pine box apparently had to be filled with money, as just a couple days after he emphatically stated that he wanted to stay in Oxford and be the Rebels' coach, he took a pay raise that doubled his salary and headed off to Auburn. Soon after Tuberville left without so much as telling his players, Ole Miss fans donned T-shirts inspired by the movie "Liar, Liar" with Tuberville's face on them instead of Jim Carrey's. Tuberville went 7-3 against his old team during his time at Auburn. David Cutcliffe, Tuberville's replacement, guided Ole Miss to five winning seasons in his six years, including a 10-win season that ended with a Cotton Bowl victory.
April, 19, 2012
4/19/12
6:45
PM ET
COLUMBUS, Ohio -- Paul Haynes and Taver Johnson were among the coaches entrusted to guide Ohio State through a storm 2011.
The last thing the two men could have expected at their next coaching stop was another tempest. And, in many ways, a more damaging one.

Haynes and Johnson are part of an Arkansas staff left to pick up the pieces from the Bobby Petrino scandal. Johnson, the Razorbacks' assistant head coach/linebackers coach, is in charge until a head coach is named, while Haynes serves as the Hogs' defensive coordinator after leaving Ohio State in December. Johnson had a chance to remain with Ohio State but left to join Hayes in Fayetteville.
Ohio State defensive coordinator Luke Fickell, who served as the Buckeyes' head coach last season after Jim Tressel's departure, has been in touch with Haynes since the Petrino scandal broke.
"A very, very difficult situation," Fickell told ESPN.com on Thursday. "Different in a lot of ways, but similar in some ways, too. Everybody learned from last year, whether they were an administrator here, whether they were an intern, a defensive coordinator or a head coach, you learn a lot of different things, and it's going to help them in the long run."
Fickell and Haynes are close friends and remain in regular contact, as do their wives. Fickell hasn't spoken as often with Johnson, but he's confident the two men don't need his advice despite another difficult situation.
"Hell, they were here, they know what happened," Fickell said. "Now if the situation [at Arkansas] stays the way it is, before they start a season, I'm sure just like I had, they'll have an opportunity to communicate with some different people and pick some brains. Right now, they're probably just trying to keep the whole ship afloat."
Through some very choppy waters.
April, 10, 2012
4/10/12
9:05
PM ET
The overriding feeling in the Ozarks was that this would be Bobby Petrino's best football team at Arkansas.
But now that
he's not going to be around to coach that team
, where do the Hogs go from here?
As we saw with both North Carolina and Ohio State a year ago, it's never easy to navigate a season when your coach has been sent packing in the months leading up to that season.
Granted, Butch Davis was fired at North Carolina about a month before the 2011 season began, and Jim Tressel was forced out heading into June.
So Arkansas' coaches and players at least have a little more time to process the situation, but this is the kind of thing that can fester for even the most resilient of football teams.
One day, Petrino is there, firmly in control and feverishly building on last season's No. 5 finish in the polls.
And then one ill-fated motorcycle ride later, he's gone.
There's no way to prepare for such a sudden transition, no textbook, no therapist who can all of a sudden make everything right again.
Put yourself in the place of the Arkansas players.
[+] Enlarge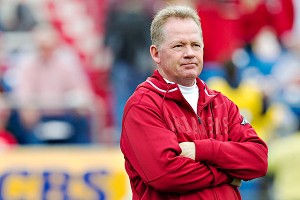 Wesley Hitt/Getty ImagesArkansas faces an uncertain 2012 season without Bobby Petrino at the helm.
Petrino had guided them to this position, and together, they engineered the kind of success the Hogs haven't had for 30 years. He talks about doing things the right way, being accountable to your teammates and never losing sight of the fact that you're representing an entire university and an entire state when you put on that Arkansas uniform.
Those words ring hollow now, and the only thing more hollow is the feeling that everybody associated with the football program must be experiencing.
There are so many unanswered questions going forward.
Petrino had obviously done a masterful job in making the Hogs relevant again nationally, so losing his leadership is one thing.
But what about his offensive genius?
Few coaches in football have a better feel for the game when it comes to breaking down defenses and calling plays.
Petrino called all of the Hogs' plays on offense, so losing that dynamic is a huge blow.
What this team has going for it is talent, not to mention experience in key spots.
Talent has a way of covering up even the nastiest of wounds.
Having one of the best quarterbacks in the SEC helps, too, and
Tyler Wilson
now has a full season as a starter under his belt.
Wilson's leadership in 2012 will be crucial. The same goes for running back
Knile Davis
, who knows a little something about dealing with hardship.
Davis, who missed all of last season after injuring his ankle, was already an inspiration to his teammates with the way he has continued to fight back from injuries.
The Hogs are going to need him more than ever, both on and off the field, in 2012.
Petrino had overhauled his defensive staff in the offseason, and it just so happens that two of the guys he brought in -- defensive coordinator Paul Haynes and linebackers/interim head coach Taver Johnson -- were at Ohio State last season.
If anybody has a clue what Arkansas is about to face, it's Haynes and Johnson. They lived it last season with the Buckeyes following Tressel's ouster.
Ultimately, the coaches will only be able to do so much.
If the Hogs are going to keep 2012 from being a lost season and fulfill the promise everybody had for this team prior to Petrino's dismissal, it's going to be on the players.
They have the talent to weather the storm. We'll find out in the fall if they have the fortitude.
January, 2, 2012
1/02/12
4:26
PM ET
Urban Meyer's old team beat his new team in the TaxSlayer.com Gator Bowl, as Florida used huge special-teams play, stout defense and just enough offense
to beat Ohio State
. The Gators end Will Muschamp's first season on a good note, while the Buckeyes can't wait to start the Meyer era.


How the game was won:
For the second consecutive year, Florida used superior special teams and opportunistic play to beat a Big Ten opponent in a bowl. Two of the Gators' three touchdowns came in the kicking game, as
Andre Debose
had a 99-yard kickoff return and Graham Stewart scored following
Chris Rainey
's blocked punt. Neither offense was overly impressive, but the Gators limited Ohio State's rushing attack and forced a pair of turnovers, including a
DeVier Posey
fumble in Florida territory. The Gators responded to every Buckeyes surge and nearly kept Ohio State off of the scoreboard in the second half.
Player of the game:
Florida running back Chris Rainey. He has made a habit out of blocking punts and got another one, smothering Ben Buchanan early in the third quarter. The Gators recovered and scored to extend their lead to 21-10. Rainey also had 71 rush yards, 31 receiving yards and 31 return yards in the game.
Stat of the game:
The Gators came in ranked 112th nationally in third-down conversions at only 30.6 percent. But they converted 6 of 13 attempts against the Buckeyes to keep drives alive.
Record-setting:
Ohio State finishes 6-7 to suffer its first seven-loss season since 1897, when it went 1-7-1. The Buckeyes had the longest stretch without a seven-loss season in the FBS by 78 years. The next-longest stretch had been Florida State (1975). Ohio State also has its first four-game losing streak since 1943.
What it means for Florida:
The Gators ended a mediocre year on a positive note and claimed their fourth consecutive postseason victory and second straight against the Big Ten. Quarterback
John Brantley
made some mistakes but still completed 12 of 16 passes for 132 yards. The Gators are strong enough on defense and special teams to make noise in the SEC East next season, but the offense will be the top priority for Muschamp and his staff during the offseason.
What it means for Ohio State:
The Buckeyes struggled in their final bowl appearance until the 2013 season, and some of the problems that surfaced all season showed up in the bowl. A mostly conservative offensive game plan produced only 17 points and 299 yards, although Ohio State held edges on Florida in both yards and first downs (20-14). Buckeyes fans won't be sorry to see offensive coordinator Jim Bollman go. Strong special teams had been a staple of the Jim Tressel era, and Ohio State had been better this year than it was in 2010 -- until the bowl breakdowns. It's all about Meyer now and moving things forward. Meyer inherits a mostly young and talented roster, but he and his staff have a lot to do in the offseason.
June, 6, 2011
6/06/11
12:33
PM ET
By
ESPN.com staff
| ESPN.com
A Monday stroll around the SEC:
May, 31, 2011
5/31/11
6:40
PM ET
DESTIN, Fla. -- The news of Jim Tressel's resignation at Ohio State sent ripples throughout the college football world. It was stunning to see a coach of that status step down for a crime so egregious, but it also showed that no one is immune to the consequences of the negative practices in college football.

Some of the SEC coaches that spoke before the first day of SEC spring meetings touched on Tressel's situation. Here's what some of the coaches had to say:

Alabama coach Nick Saban:
"I guess if you were in the military you would say we lost a fine comrade in this whole thing. He's a good friend. He's been somebody I've had a tremendous amount of respect for, for a very, very good number of years in terms of the job he did at Youngstown State. We kind of grew up together in coaching. I'm from the Big Ten, Ohio, West Virginia, Michigan, places that I've spent times in coaching [they] crossed paths quite a bit and always had a tremendous amount of respect for Jim Tressel as a person, as a coach and professionally the way he handled his business with a lot of class and character.

"I don't know the details of this whole circumstance and the situation there and certainly don't want to comment on that, but obviously there were mistakes made and there are going to be consequences for it. I still think this is one of the finest people in our profession and certainly hate to see what's happening happen."

Arkansas coach Bobby Petrino:
While he was still pretty upset at the fact that Ohio State was allowed to play six players who had been caught breaking NCAA violations, he did show some compassion for Tressel.

"When something like that happens you never like to see it. I feel for him, his family. It affects a lot of other people in the state and the university, so you feel for all those people."

Florida coach Will Muschamp:
"I don't really have all the information on what all happened. It's all hearsay, as far as what you read. The big thing is go on gut feeling and do the right thing. That's what I do and that's what I expect our guys to do.

"Jim did a lot of really good things for college football. He's an outstanding football coach, he listened to his players … he's always been class to me, so that's all I can judge things by on how somebody's treated me and he's been first class.

"You've got to be smart and you got to be honest and you gotta be upfront about what's going on. Again, Jim Tressel has done so many good things for college football. I don't want to look at one thing and make it be a negative."

Ole Miss coach Houston Nutt
"I went to Iraq with him and spent nine days [with him for the second annual Coaches Tour to the Middle East]. He's one of the finest men I know. I don't know everything that happened at Ohio State, I'm just now reading it, but I just know his core, what he's about, and I think he's a good man.

Tennessee coach Derek Dooley:
Dooley cautioned that he wasn't talking specifically about Tressel and the Ohio State situation.

"Maybe it's my legal background, but knowing and should have known go hand-in-hand. I'm not speaking on this incident. I don't know the facts, but that's the standard I've always operated on. If there are enough things floating around you, you should probably do something."
May, 31, 2011
5/31/11
3:55
PM ET
DESTIN, Fla., -- Bobby Petrino didn't hold back when discussing the wrongdoings that went on at Ohio State.
Remember, Arkansas played and lost to Jim Tressel and his Buckeyes 31-26 in the Allstate Sugar Bowl last season. OSU did so with six players -- including quarterback
Terrelle Pryor
and wide receiver
DeVier Posey
-- who were found to have received cash or discounted tattoos for selling OSU memorabilia. However, the NCAA permitted all six to play in the bowl game.
Their suspensions begin with the first game this fall.
How did all that sit with Petrino? Not so well.
"There's no question that I don't understand how they were eligible to play in the game," Petrino said during the annual SEC spring meetings in Destin, Fla., Tuesday. "I just don't, and I never will."
Petrino recalled a time when he was the head coach at Louisville and two of his players were suspended after spending more than their allotted per deim on food after being stranded following media days. Their punishments were dealt with immediately, while the OSU players had theirs postponed.
"They [the NCAA] kind of changed the rules for that bowl game," Petrino said.
While Petrino was irked by the NCAA's decisions to allow those Buckeyes to play, he was fine with getting OSU's best shot in that game.
'We wanted to play their best players," he said. "When you have a year like we had and you're able to win six games down the stretch and get to a BCS bowl game you want to play their best players. That's what you want to do."
Petrino wasn't surprised by Tressel's Monday resignation, and while he's miffed at the NCAA about last season, he does have some sympathy for the man.
"When something like that happens you never like to see it," he said. "I feel for him, his family. It affects a lot of other people in the state and the university, so you feel for all those people."
May, 31, 2011
5/31/11
11:00
AM ET
It's one of his dream jobs.
He's an Ohio native.
And he'll be well rested just in time.
When Ohio State is done with the 2011 season -- and probably interim coach Luke Fickell -- the university shouldn't hesitate to place a phone call to former Florida coach Urban Meyer and try to woo him up to replace Jim Tressel.
[+] Enlarge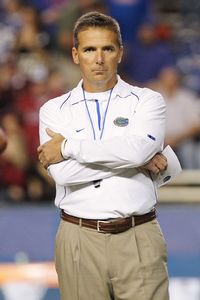 Kim Klement/US PresswireUrban Meyer had a 65-15 record and won two national titles at Florida.
I know, he's looking to recharge and he's said in the past that he doesn't plan to return to the coaching ranks until his son Nate -- the youngest of Meyer's three children -- graduates from high school. And we still aren't sure if his health issues that played a role in him stepping away from college football last year have cleared up.
Meyer's oldest daughter Nicki also said on Twitter (using the account @Nicki_07) last month that she didn't think her father would be taking over for The Sweater anytime soon -- if ever.
"Stop txting me abt my dad. HE IS NOT repeat NOT, GOING TO OHIO STATE. thanks," she tweeted.
Meyer, now a college football analyst for ESPN, even released a statement shortly after the news of Tressel's resignation stating that he wouldn't pursue any head-coaching jobs this fall.
"I am committed to ESPN and will not pursue any coaching opportunities this fall," Meyer said. "I have thoroughly enjoyed working with the people at ESPN this spring and remain very excited about my role with the network this fall."
"Jim Tressel has been a respected friend and colleague for a long time. I wish Jim and his family the very best now and in the future."
I hate to nitpick, but "this fall" leaves this case very open. And this isn't a job Meyer is just going to shrug off. He loves Ohio and this is considered a dream job for the man from Toledo, Ohio, who attended college at Cincinnati and was a graduate assistant at Ohio State from 1986-87.
The man has a lucky buckeye for crying out loud.
Oh, and there's the itch. It's a coaching itch that won't leave a man, who "retired" at the age of 46, anytime soon. He's won everywhere he's been and led the Gators to two national championships and three SEC title games in his six years in Gainesville. His health might be in question (for now), but that coaching fire that made him one of the most exciting young coaches in the country is still inside him somewhere.
Don't expect a new recruiting base to deter him either. He coached at Bowling Green, where the Midwest was his home and if he can dominate recruiting in the SEC, the Big Ten shouldn't be an issue. OSU's recruiting grounds stretched all the way to the southeast, especially Florida, and Meyer owned that area.
As far as family is concerned, it might not have much input this time around. Meyer said in a book in 2008 that OSU, Notre Dame and Michigan were the only coaching jobs that his wife had no power to veto.
Check and mate.
We aren't sure what sanctions will or won't be handed down, but having the chance to go back home and rescue the state's team is something that should greatly entice Meyer.
At least one of his former players at Florida seems to think he'll be on OSU's sideline soon enough. Florida sophomore linebacker/defensive end Chris Martin turned to Twitter under the account of @cmart4634 to express his feelings about Meyer's statement from Monday.
"Committed to espn? Lets see if the other analyst stress him out so bad he has to spend time with his family in COLUMBUS now.. #truthhurts," Martin tweeted.
If OSU makes that phone call after next season, the truth is it will be hard for Meyer to say no.