July, 15, 2011
7/15/11
2:57
PM ET
Scratch Georgia Tech's Dan Radakovich from Tennessee's list for a new athletic director.
Georgia Tech's recent NCAA troubles and the NCAA's assertion that Georgia Tech officials attempted to "manipulate the information surrounding potential violations" makes Radakovich untouchable for a school that appeared before the Committee on Infractions just last month for major violations in both football and men's basketball.
Tennessee should find out sometime next month what sanctions it will face for violations that occurred on the watch of former athletic director Mike Hamilton, who stepped down in June.
[+] Enlarge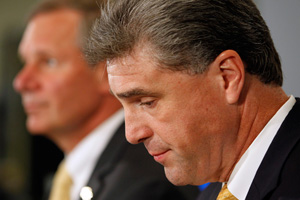 AP Photo/John BazemoreGeorgia Tech athletic director Dan Radakovich had been a front-runner to take the same job at Tennessee.
In the meantime, Tennessee is left to pick up the pieces now that Radakovich is out.
What's most troublesome for Tennessee supporters is that the university forked out six figures to the Parker Executive Search firm to help identify candidates, gather information … and conduct background checks.
If that's the case, how does a guy like Radakovich emerge as the front-runner when his own shop is about to get hit with NCAA penalties?
Given what Tennessee has gone through with the NCAA over the past year or so, the first directive Tennessee chancellor Jimmy Cheek gives to the Parker search firm is to make sure that any and all serious candidates don't have even a trace of NCAA baggage.
Yet, until the news broke Thursday that Georgia Tech was being stripped of its 2009 ACC championship and going on NCAA probation, the feeling of many in and around the Tennessee athletic department was that Radakovich was clearly the guy to beat in the Vols' search for a new athletic director.
Again, good thing they forked over all that money to the Parker search firm, which has collected nearly $300,000 of Tennessee's money when you throw in the searches that led to the hiring of football coach Derek Dooley and basketball coach Cuonzo Martin.
And one more thing: Who is Cheek listening to?
Better yet, is he purposely trying to botch this one even worse than he did the Bruce Pearl situation?
Cheek openly supported Pearl after the former basketball coach admitted to lying to the NCAA and was adamant that Pearl was going to be the Vols' coach. Cheek reiterated that support even after the SEC suspended Pearl for eight games. And then after allowing the whole thing to fester for a season and Tennessee to take a public relations bloodbath nationally, Cheek then decided it was time to pull the plug on Pearl.
Needless to say, his handling of the matter didn't exactly inspire confidence among the Big Orange Nation.
He faces an even more important decision in this next hire, because if Tennessee football doesn't get back to playing for and winning championships -- and doing it the right way -- Cheek might be the next one Tennessee is searching to replace.
No word yet on whether a search firm would be necessary.
As for the athletic director candidates remaining on Tennessee's board, Tulsa's Bubba Cunningham, Buffalo's Warde Manuel and Cincinnati's Mike Thomas appear to be at the top of the list.
From the day Hamilton stepped down, Cheek's initiative was to attract an established athletic director from a bigger school, and he assured key people it would be somebody with a strong football background.
Tennessee took its shot at several so-called bigger names, but those candidates weren't interested in making the move. It's no secret that righting the Vols' ship is going to be a major undertaking for anybody.
Part of Tennessee's problem in this whole search might be that it hasn't looked closely enough within the family.
Senior associate athletic director David Blackburn is a candidate. Where he is in the pecking order at this point is anybody's guess.
But if Cheek genuinely wants to get this one right, Blackburn ought to be at the very top.
He's a Tennessee guy. He understands what's important to the Tennessee people. He's willing to fight for Tennessee, and he's also willing to fight against those (coaches, boosters, anybody) who put Tennessee at risk.
It was Blackburn who saved Tennessee's football program from a failure to monitor charge in the whole Lane Kiffin-NCAA mess. For that matter, Blackburn saved Tennessee football from much worse charges because of his diligence, his integrity and his willingness to stand up to people.
Simply, he's the right fit at Tennessee, the kind of person and the kind of administrator the Vols' athletic department desperately needs.
And it doesn't take a $100,000 search firm to figure that out.
June, 10, 2011
6/10/11
11:30
AM ET
By
ESPN.com staff
| ESPN.com
The early word out of Tennessee is that chancellor Jimmy Cheek favors bringing somebody in from the outside as the Vols' new vice chancellor/director of athletics.

Now, that doesn't necessarily mean somebody with Tennessee ties will automatically be ruled out, but it does mean that Cheek will initially set his sights on established athletic directors at other schools.

Kentucky's Mitch Barnhart told The Lexington Herald-Leader that he has no interest in the Tennessee job, but four others to watch could be Missouri's Mike Alden, South Carolina's Eric Hyman, Louisville's Tom Jurich and Wake Forest's Ron Wellman.

All four were mentioned as possibilities when Tennessee promoted Mike Hamilton in 2003 to replace Doug Dickey.

Former Tennessee coach Phillip Fulmer has received strong support from former players and some high-profile boosters, but there's also a faction of people out there who don't want to see Fulmer back as athletic director.

He very much wants to help his alma mater and would certainly listen, but he's made it clear that he wants it to be right for everybody.

In a lot of ways, bringing in a Tennessee insider or somebody that truly understands Tennessee and has a feel for its inner-workings could help speed up the process of uniting what is clearly a fragmented "Tennessee family" right now.

Mark Dyer would certainly be one of those guys. He's a Tennessee graduate who came up through the ranks with Host Communications and the Vol Network and is now a senior vice president with IMG Worldwide. He was formerly an executive with NASCAR.

Former Tennessee defensive back Charles Davis, now an analyst with FOX Sports, is somebody else who may get a call and has been recommended to members of Tennessee's board of trustees.

Whoever it is, one thing had better happen on this new athletic director's watch, or Tennessee will find itself in this same position five or six years from now.

The football team has to get back to playing for and winning championships and doing it the right way.

Former Tennessee president Joe Johnson (who incidentally got it) used to say that the athletic department, and specifically the football program, was the front porch of the university.

Well, that porch in Knoxville lost its curb appeal some time ago.

The pressure's on Cheek to find the right person to help Derek Dooley get it back.
June, 7, 2011
6/07/11
3:20
PM ET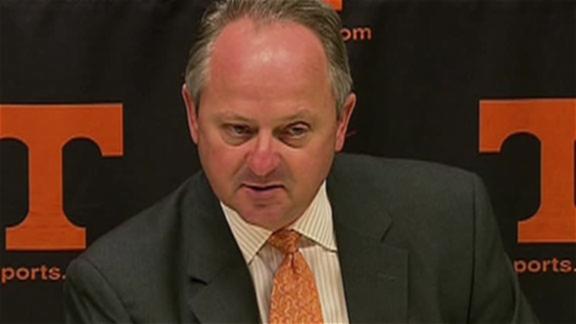 KNOXVILLE, Tenn. -- As Mike Hamilton said himself on Tuesday, it was inevitable that he wasn't going to be around much longer as Tennessee's athletic director.
One way or the other, he was going to be out.
My sense is that he resigned himself to that fact months ago and felt it was best for him and best for the university to
go ahead and step aside
prior to Saturday's hearing before the NCAA's Committee on Infractions.
He'll still be in Indianapolis this weekend as Tennessee defends itself against 12 major violations levied against the football and men's basketball programs.
Those 12 violations all came on Hamilton's watch and on the watches of coaches hired by Hamilton -- Lane Kiffin in football and Bruce Pearl in basketball.
There will be some who blame Hamilton's downfall on his hiring of Kiffin and Pearl, the two coaches who landed the Vols in hot water with the NCAA.
Kiffin bolted for USC after 14 tumultuous months at Tennessee that included almost as many secondary violations as he had wins (seven) during the 2009 season.
Pearl totally revolutionized the Tennessee men's basketball program, taking the Vols to a No. 1 ranking in the polls during the 2007-08 season and an Elite 8 appearance during the 2009-10 season. But he was fired along with his staff following this past season after admittedly lying to NCAA investigators.
While Hamilton will forever be tied to Kiffin and Pearl and the embarrassment they caused the Vols off the field and off the court, what ultimately led to Hamilton's demise was his inability to manage either coach.
Simply, it's why Tennessee is staring down the barrel of the NCAA right now.
Hamilton did a lot of good things during his time at Tennessee, and he's a genuinely good man.
But in the SEC, if you can't manage coaches (and tell them "no" every once in a while) and aren't a rock in crisis situations, you're not going to be very effective as an athletic director.
And that was Hamilton's undoing in a nutshell.
He could no longer be effective as Tennessee's athletic director, not with this NCAA cloud hovering and not with the way he had become (fairly or unfairly) a lightning rod for so much negativity directed toward the university.
For Tennessee fans, these past two or three years have represented one of the darkest periods in athletic department history.
There's been one public relations hit after another off the field, both the football and men's basketball programs facing NCAA major violations, and two of the last three football seasons ending with a losing record.
Just like a U.S. president, Hamilton gets the credit for everything that goes right on his watch, and he gets the blame for everything that goes wrong.
The wrong mounted to intolerable proportions for most of the people who count at Tennessee, meaning a change at the top of the athletic department tree was inevitable.
Tennessee chancellor Jimmy Cheek said a national search would be conducted for Hamilton's replacement.
If Cheek is wise, he'll at least take a look fairly close to home.
In alphabetical order, senior associate athletic director David Blackburn, former defensive back and current FOX television analyst Charles Davis and IMG Worldwide senior vice president Mark Dyer, formerly an executive at NASCAR, are three guys with Tennessee ties who would make excellent candidates.
Also, Kentucky athletic director Mitch Barnhart was at Tennessee for 12 years as an assistant under former Tennessee athletic director Doug Dickey.
Being a "Tennessee guy" shouldn't be a prerequisite for the job, but finding the right guy who just happens to be a "Tennessee guy" could go a long way toward healing what's been a fractured Tennessee family for some time now.