September, 26, 2013
Sep 26
12:15
PM ET
We're a little closer to game day in the SEC. With several notable conference matchups on tap, here's look at some of the storylines, news and notes from around the league:
September, 10, 2013
Sep 10
10:00
AM ET
ATHENS, Ga. -- As he does each Sunday, Mark Richt sat down and rewatched his Georgia team's game from the previous day -- this time a 41-30 win against then-No. 6 South Carolina.
Asked Sunday evening what he took away from that second viewing, Richt's first comments concerned his starting tailback,
Todd Gurley
.
[+] Enlarge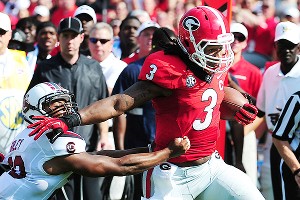 Scott Cunningham/Getty ImagesTodd Gurley is seventh in the nation with 286 rushing yards and tied for fourth with four TDs.
"Just watching Gurley run was fun," Richt said. "He's just such a powerful back. He's got such great balance, speed."
Fans -- and Heisman Trophy voters -- have had the opportunity to make similar observations over the last two weeks as Richt's Bulldogs played two top-10 opponents. And all Gurley has done is dominate in both games, despite missing a portion of the opener at Clemson with a quad injury and despite facing one of the nation's better run defenses from last season in South Carolina.
Gurley on Monday received two rounds of treatment on the thigh injury that kept him from practicing much last week, but it didn't prevent him from dominating on the ground Saturday and fulfilling one of his few stated offseason goals of contributing more in the passing game. He hauled in his first career touchdown catch in the third quarter of the Bulldogs' win.
"I really didn't sit down this offseason and say, 'I'm trying to do this, I'm trying to do that,' " Gurley said. "One of my main things was just to get more plays in the passing game and just work on playing without the ball. That was about all."
After his 30-carry, 132-yard effort, which included one rushing and one receiving touchdown, Gurley is seventh nationally with 286 rushing yards and tied for fourth with four touchdowns.
"He probably is at the top of the group of running backs who are going for the Heisman right now," said Chris Huston, whose Heisman Pundit website tracks the race closely throughout the season. "I'd say he has pushed himself to the top of that group."
Obviously it's early, but Gurley has already continued his upward trajectory from a breakout freshman season where he rushed for 1,385 yards and scored 18 touchdowns.
There was his 75-yard touchdown run against Clemson where he exploded through a hole and outran everyone to the end zone. And then there were runs Saturday like the one where he somehow stayed on his feet when South Carolina defensive lineman
Kelcy Quarles
ripped off his helmet by the facemask, and very well might have scored a helmetless touchdown if not for the rule that requires such a play to be blown dead. Or when he burst down the sideline during a second-quarter touchdown drive and easily tossed Gamecocks cornerback
Jimmy Legree
aside with a vicious stiff-arm.
"Watching film on him, he's by far in my opinion -- anyone who watched him would probably agree with me -- the best player in the country. I don't think there's anyone like Todd," Georgia quarterback
Aaron Murray
said Monday.
He might not enjoy the spotlight, but Gurley possesses the total package that a Heisman-contending running back needs in order to generate national attention. Now he needs his teammates to help him remain in the conversation.
Spread-offense quarterbacks have the odds in their favor in this day and age, although that position held the advantage even before dual-threat passers like Cam Newton, Robert Griffin III and
Johnny Manziel
claimed each of the last three Heismans. Quarterbacks have won 11 of the last 13 years, so Gurley not only needs to separate himself from other running backs with impressive yardage totals and highlight-reel runs, he needs Georgia to remain in the BCS conversation in order to remain a viable alternative to quarterbacks like Manziel, Clemson's
Tajh Boyd
, Oregon's
Marcus Mariota
and Ohio State's
Braxton Miller
.
"It's hard for a running back to win, but if he does win, he has to have as little competition from other running backs in the race as possible," Huston said. "Gurley's first task is to sort of establish himself as the running back alternative to whatever quarterbacks there are."
Then again, he must also separate himself from his own teammate to become a true Heisman frontrunner.
Murray reignited his Heisman hopes with a nearly flawless 309-yard, four-touchdown performance against South Carolina. Interestingly enough, however, Huston said the perception that two contending teammates might siphon votes away from one another isn't necessarily accurate.
As an example, he used the 2004 race where USC quarterback Matt Leinart won and running back teammate Reggie Bush finished fifth. Oklahoma's Adrian Peterson and Jason White finished second and third that year. In other words, members of the two teams that played for the BCS championship took up four of the top five spots in the voting -- and their respective abilities likely helped their teammates from a performance and publicity standpoint.
"You could argue that Jason White's support cost Peterson the Heisman, but you could also say that Bush's support cost Leinart more votes in that situation," Huston said. "Would Peterson have gotten more votes if White wasn't as good? So it's kind of a symbiotic relationship between the two. If Aaron Murray wasn't as good, Gurley probably wouldn't be as successful because teams would be able to key on him more."
May, 6, 2013
May 6
6:30
AM ET
South Carolina Gamecocks
2012 record:
11-2

2012 conference record:
6-2 (third, Eastern Division)
Returning starters:
Offense: 7; Defense: 5; kicker/punter: 1
Top returners
QB
Connor Shaw
, QB
Dylan Thompson
, RB
Mike Davis
, WR
Bruce Ellington
, OT
Brandon Shell
, DE
Jadeveon Clowney
, DT
Kelcy Quarles
, CB
Victor Hampton
, CB
Jimmy Legree
Key losses
RB Marcus Lattimore, WR Ace Sanders, C T.J. Johnson, DE Delvin Taylor, LB
Shaq Wilson
, LB
Reginald Bowens
, Spur DeVonte Holloman, S D.J. Swearinger
2012 statistical leaders (*returners)
Rushing:
Marcus Lattimore (662 yards)
Passing:
Connor Shaw* (1,956 yards)
Receiving:
Bruce Ellington* (600 yards)
Tackles:
Shaq Wilson (86)
Sacks:
Jadeveon Clowney* (13)
Interceptions:
Jimmy Legree* and DeVonte Holloman (3)
Spring answers
1. Lattimore's replacement:
It wasn't going to be easy to replace Marcus Lattimore at the running back spot, but rising sophomore Mike Davis did a heck of a job showing that he has what it takes to be the No. 1 guy at that spot this fall. He left the spring as the starter and during his limited time in the spring game he rushed for 40 yards on two carries, including a 25-yard touchdown. He has all the talent to be a big-time back.
2. Good problem at QB:
With Connor Shaw out this spring because of foot surgery, Dylan Thompson took more steps forward in his development. Coach Steve Spurrier has made it clear that there isn't a quarterback controversy, and that Shaw is the starter, but he has a good problem on his hands with two very quality quarterbacks on his roster. Thompson prepared like the starter this fall and should be more than ready if Shaw goes down again this fall.
3. Clowney's focus:
With "The Hit" taking the world by storm and all of that Heisman hype bombarding South Carolina's best player, Jadeveon Clowney took everything in stride. He didn't flinch and talked more about the improvements he'd like to make before fall practice arrives. Clowney is a man on a mission this year (he also might be faster) and he took the proper steps this spring to make sure he's still on track to accomplish his goals for 2013.
Fall questions
1. Receiving help:
Ace Sanders' surprising exit left no seniors at receiver and a big hole to fill. Bruce Ellington is back, which certainly helps, but he'll need assistance this fall. Rising sophomore
Shaq Roland
arrived with a ton of hype last year, but didn't live up to his billing. He made good strides this spring, but he'll still have to prove himself all over again this fall. The coaches are also hoping
Damiere Byrd
can turn into a consistent deep threat. Throw in
Nick Jones
and a couple more youngsters and there are bodies to work with but not a lot of experience.
2. Finding that Spur:
Losing DaVonte Holloman was a big hit to this defense. The hybrid linebacker/safety spot is a big piece to what the Gamecocks do on this side of the ball, and defensive coordinator Lorenzo Ward doesn't have a ton of confidence in the position right now. Junior
Sharrod Golightly
and redshirt freshman
Jordan Diggs
battled for the spot this spring, with Golightly having a slight lead heading into the offseason. He's primarily played special teams at South Carolina.
3. New faces at LB/DB:
The Gamecocks will have a lot of new faces to work with at linebacker and in the secondary. They have to replace their entire two-deep at linebacker along with D.J. Swearinger and
Akeem Auguste
in the secondary. Cornerback Victor Hampton looked like a potential first-round pick at times to coaches this summer and linebackers
Kaiwan Lewis
and
Kelvin Rainey
made good strides, but both are learning and there should be growing pains this fall from both positions.
September, 13, 2012
9/13/12
12:00
PM ET
The weekend is almost here. More football!
August, 28, 2012
8/28/12
1:35
PM ET
Depth charts for all 14 SEC teams are out, so let's take a look at them.
I'll handle the Eastern Division, while Chris takes a look at the West later today.
I've added some notes of my own for each team:

FLORIDA
Depth chart
The first thing you notice is that "Or" comes up a few times. The quarterback spot is still up for grabs, as sophomores Jacoby Brissett and Jeff Driskel will play by quarters against Bowling Green Saturday. The "X" receiver spot has three names by it with Frankie Hammond, Latroy Pittman and Andre Debose competing for that spot. Everyone is still waiting for Debose to be more of a complete player.
Both corner spots might appear to be up for grabs, but it would be a shocker if sophomores Marcus Roberson and Loucheiz Purifoy didn't start. Roberson has the talent to be an All-SEC player at some point, while the staff thinks Purifoy is an extremely athletic player. Also, seeing Antonio Morrison behind Jelani Jenkins is impressive. He's been solid since arriving this spring.
You don't see De'Ante Saunders on there at free safety. Will Muschamp said he's battling a hamstring injury and will be out two weeks. Corner Jeremy Brown is also battling a wrist injury and isn't on the two-deep, either.

GEORGIA
Depth chart
(Page 2)
It's hard to say how much we can really make of Georgia's depth chart. Bacarri Rambo and Alec Ogletree are both listed as starters. Rambo and Ogletree could still sit out a couple of games due to their reported failed drug tests this spring and Mark Richt hasn't said if either will play Saturday.
Malcolm Mitchell is listed as a starter at cornerback, opposite Branden Smith, and is a third-team receiver. That sounds about right, as Mitchell has primarily played corners since the spring. He has taken some reps on offense, so you might see him on both sides of the ball Saturday.
Two guys to keep an eye on are center David Andrews and outside linebacker Ramik Wilson. Andrews might be the key to the offensive line. He has done very well at center and there was some worry that he might not be cut out of the position. If he had to move this line might have been in disarray. Wilson received a lot of praise from his teammates this spring and he continued to show out this fall. He won't outshine Jarvis Jones this fall, but he'll cause a stir on defense.

KENTUCKY
Depth chart
You can tell that the Wildcats aren't afraid to throw out some younger players this fall. Kentucky has 24 sophomores, redshirt freshmen or true freshmen listed on its two-deep for Saturday. That's a lot, especially for a team that is looking to revamp both sides of the ball. There could be a lot of growing pains for this team early.
Sophomore receiver Demarco Robinson and redshirt freshman receiver Daryl Collins might be currently listed as backups for the Cats, but don't let that fool you. Both have been very impressive since the spring and both will get plenty of chances to see the field Saturday. Having three senior starters at wide receiver will help bring those two along, but I expect them to breakthrough eventually.
You won't see sophomore Josh Clemons listed on the two-deep at running back, as he's out after his knee was cleaned up. CoShik Williams and Raymond Sanders are listed as co-starters. I'm also curious to see what happens at linebacker. Four new starters are in and there were questions surrounding the weakside position. Former quarterback Tyler Brause moved ahead of Malcolm McDuffen, who exited spring as a starter. Joker Phillips has said this will be a day-to-day competition.

MISSOURI
Depth chart

SOUTH CAROLINA
Depth chart
The first thing that stands out to me is that top signee Shaq Roland is listed as a third-team wide receiver behind Ace Sanders and DeAngelo Smith. It might say more about how the others have done, but Roland is someone this staff has been very excited about and hopes he can make an instant impact on offense. He isn't taking Sanders' spot, but he'll get on the field.
That secondary looks pretty green without Akeem Auguste in it. He's out after tearing a muscle in his right thigh, meaning junior Jimmy Legree, who moved from safety this spring will get the start against Vanderbilt Thursday. Legree began last season as a starter, but lost his spot after struggling during the first two games. First-time starter Victor Hampton is at the other corner spot. He's unproven, but the staff is excited about his talent and athleticism.
Freshman tight end Jerell Adams might be listed as a second-teamer, but the coaches have been very impressed by him this fall and he'll have every chance to get some solid playing time early.

TENNESSEE
Depth chart
Junior Rajion Neal did a good job of staying ahead in the running back race. After an impressive spring, he will enter Friday's opener against NC State as the Vols' starter. He edged out Devrin Young and Marlin Lane, who both made good strides this spring. He has a lot of pressure to deal with, as Tennessee was awful running that ball in 2011.
Tennessee is hoping to get much more out of its defensive line this fall and junior college transfers Daniel McCullers and Darrington Sentimore could be the answers. Both came in with a ton of hype and snatched starting spots at nose guard and end, respectively. McCullers' arrival moved Maurice Couch from tackle to end. Derek Dooley has said the line is still a work in progress, but a lot is expected from Sentimore and McCullers.
Byron Moore and Brent Brewer are listed as co-starters right now, but Moore let it slip last week that he was named the starter. This could be another position that won't be settled right away. The secondary will get a nice test against the Wolfpack, so that could make things clearer for Week 2.

VANDERBILT
Depth chart
Redshirt junior Warren Norman is back, but he might have to wait his turn for reps. He's listed on Vandy's second team, but Zac Stacy and Jerron Seymour are on the first team. If the Commodores line up with two backs Seymour could be out there before Norman, who is coming back from a knee injury that sidelined him for all of 2011.
The defensive side has a few guys who were banged up listed as starters. Inside linebacker Chase Garnham was limited during fall camp, but he's set to start Thursday against South Carolina. So are defensive tackles Rob Lohr and Colt Nichter.
Looking at that offensive line, you'll see nothing but underclassmen on the second team. While that's a good sign for the future, it could be worrisome for this staff if a starter goes down this fall. Staying healthy up front is critical for this team.
August, 22, 2012
8/22/12
1:52
PM ET
Making the rounds on a Wednesday:
August, 20, 2012
8/20/12
5:18
PM ET
With senior cornerback
Akeem Auguste out indefinitely
, South Carolina's already thin secondary just got a lot thinner.
South Carolina announced Monday that Auguste tore a muscle in his right thigh during last Saturday's scrimmage. He will be re-evaluated by a doctor in four to five weeks, which means he'll miss at least the first few games. It could be longer given the nature of his injury and the position he plays. It's the kind of injury that tends to linger. Auguste, who had injured his groin earlier in preseason camp, missed all of last season with a foot injury, so this is a particularly tough blow for him.
Junior
Jimmy Legree
is next in line at cornerback with Auguste out. Legree played safety last season, but moved to cornerback in the spring. He seems to be much more comfortable at cornerback after struggling in his two starts at safety to open last season. The Gamecocks' other starting cornerback, sophomore
Victor Hampton
, will also be a first-time starter this season.
The big concern now is depth. Redshirt freshman
Ahmad Christian
, who showed marked improvement in the spring, will almost certainly have to play some in the cornerback rotation. He's been slowed by a concussion. Senior
Jared Shaw
, who walked on after transferring from Newberry College, can play both cornerback and safety, while true freshman
Chaz Elder
is another possibility.
South Carolina also announced Monday that redshirt freshman running back
Shon Carson
would be out indefinitely after having surgery on his wrist.
Marcus Lattimore
has looked good in preseason scrimmages. He'll go into the season opener as the starting running back with senior
Kenny Miles
backing him up. Sophomore
Brandon Wilds
has been slowed by a sprained ankle, so it's wait and see on his status for the Aug. 30 opener at Vanderbilt.
May, 15, 2012
5/15/12
7:30
AM ET
2011 record:
11-2
2011 conference record:
6-2
Returning starters:
Offense: 7; defense: 6; kicker/punter: 0
Top returners:

WR
Ace Sanders
, OG
A.J. Cann
, QB
Connor Shaw
, RB
Marcus Lattimore
, CB
Akeem Auguste
, DE
Jadeveon Clowney
, DE
Devin Taylor
, DT
Kelcy Quarles
, LB
Shaq Wilson
, Spur
DeVonte Holloman
, S
D.J. Swearinger
Key losses:
WR Alshon Jeffery, OT Rokevious Watkins, OG
Terrence Campbell
, Spur Antonio Allen, DE Melvin Ingram, CB Stephon Gilmore, DT Travian Robertson
2011 statistical leaders (*returners)
Rushing:
Marcus Lattimore* (818 yards)
Passing:
Connor Shaw* (1,448 yards)
Receiving:
Alshon Jeffery (762 yards)
Tackles:
Antonio Allen (88)
Sacks:
Melvin Ingram (10)
Interceptions:
Stephon Gilmore (4)
Spring answers
1. Shaw's development:
The goal for quarterback Connor Shaw this spring was to work on the passing part of the position. The run-first quarterback showed flashes of transformation in his mindset toward the end of last season and it bled over to this year. He seems to be more confident in his passing and that will go a long way for the Gamecocks offense, as the downfield passing game was missing for most of South Carolina's season in 2011.
2. Running back depth:
With Lattimore sitting out the spring, South Carolina turned to reserves
Brandon Wilds
and
Kenny Miles
. Both performed well, but Miles was named the offensive player of the spring. He wrestled with returning to the Gamecocks, and still seems to be creating some drama about his return this fall, but if he comes back he'll be the No. 2 back. Miles made major strides in his game and his return would mean South Carolina has some insurance at running back if Lattimore struggles. Even if he returns at full health, having Miles there will give the Gamecocks a solid option to keep Lattimore fresh.
3. Shell's development:
South Carolina's coaches were anxious to see what redshirt freshman
Brandon Shell
could do and he didn't disappoint. He ended spring as the starter at left tackle -- the same position that Rokevious Watkins manned last season. The Gamecocks lost two starters along the offensive line, but Shell provided a nice spark at the most important position along the line.
Fall questions
1. Lattimore's health:
While word out of South Carolina's camp is that Lattimore was ahead of schedule with his knee rehab, it's still unknown if he will be back to his old self. It's hard to believe that anyone could come back from an ACL injury in this amount of time and be as effective and as good as Lattimore was, but his coaches think he can do just that. Until we see him play, there will still be some uncertainty. A healthy Lattimore makes this an SEC contender and maybe more.
2. Secondary:
South Carolina has veterans Akeem Auguste and D.J. Swearinger returning in its defensive backfield, but both dealt with injuries in the spring and the Gamecocks must replace three of its top four cornerbacks from last season. The injuries gave young guys the opportunity to get more reps, but questions still remain.
Victor Hampton
, listed as a starter, might be South Carolina's most athletic returning corner, but he has limited experience and a history of off-field issues.
Brison Williams
should enter the fall as a starter at strong safety, but has just one career start. He's one of two players at strong safety with game experience.
Jimmy Legree
and
Cadarious Sanders
are the only other corners with game experience. Expect redshirt freshman
Ahmad Christian
to compete for time as well.
3. Wide receiver:
The Gamecocks will start the summer still wondering about the wide receiver position. Ace Sanders returns as the team's most productive receiver, but after that there isn't a lot of production. The good news was that
Bruce Ellington
returned to football this spring, but the bad news is that even with him back, Sanders is still the only receiver returning with 20 or more catches (29). Speedster
Damiere Byrd
showed progress and the coaches expect to get more from
D.L. Moore
, but the position is still a mystery. Incoming freshman Shaq Roland will be relied on a lot when he reports in the summer.
April, 16, 2012
4/16/12
9:30
AM ET
Behind 272 passing yards and four passing touchdowns, South Carolina's Black team defeated the Garnet team 38-24 in the Gamecocks' Annual Garnet & Black Spring Game in front of a crowd of 34,513 inside Williams-Brice Stadium Saturday.
Quarterback
Tanner McEvoy
led the way for the Black squad with 132 yard and two touchdowns, while
Connor Shaw
completed 6 of 7 passes for 128 yards and two more scores. Shaw made his presence known early by connecting with wide receiver
Damiere Byrd
for a 70-yard touchdown pass on the game's first play.
Shaw later hit walk-on receiver
Riley Gallaher
for a 39-yard score on the first play of the second quarter in the spring game's traditional "receiver off the sidelines" to give the Black a 14-3 lead.
Six quarterbacks saw time Saturday and combined to complete 39 of 54 passes for 511 yards and 6 touchdowns with two interceptions.
"We obviously threw the ball and caught it better than any spring game," coach Steve Spurrier said. "Probably more passing yards and completions. I thought coverage could've been better. We didn't have a pass rush.
Jadeveon Clowney
and
Devin Taylor
didn't play much. The quarterbacks had time and the receivers caught about everything. They had good routes. Who's to say if our coverage is suspect or not, but I know Coach [Lorenzo] Ward wasn't happy about some guys getting behind them. It made the offensive guys look pretty good throwing and catching. Whatever it means, I don't know."
Dylan Thompson
also threw the ball well for the Garnet team, completing 15 of 20 passes for a game-high 168 yards. He also threw a 22-yard touchdown pass to wide receiver
Nick Jones
in the third quarter.
Minus starter
Marcus Lattimore
, the Gamecocks didn't run the ball as well. Both squads combined for just 115 yards, but also combined to run the ball just 29 times.
Spur
Sharrod Golightly
led the defense with 4.5 tackles, while cornerback
Jimmy Legree
and safety
Kadetrix Marcus
both recorded four tackles.
Safety
Sheldon Royster
essentially put the game away when he intercepted
Seth Strickland
's pass and returned it 50 yards for a touchdown on the final play of the first half to put the Black team up 35-10.
You can read more about South Carolina's spring game on the school's
official website
.
March, 13, 2012
3/13/12
1:00
PM ET
Schedule:
South Carolina opens spring camp at 4:15 p.m. ET Tuesday at the Bluff Road Practice Fields. The Gamecocks will conclude spring with the Garnet & Black Spring Game on April 14, beginning at 1 p.m. ET at Williams-Brice Stadium. All 15 of practices are open to the public, unless determined otherwise.

What's new:
Four of South Carolina's nine assistants are new. John Butler, Jay Graham, Jeep Hunter and Ellis Johnson are all gone. Lorenzo Ward was promoted from defensive backs coach to defensive coordinator, replacing Johnson. Ward will still focus on the cornerbacks this season. Head coach Steve Spurrier also added Kirk Botkin to coach linebackers/Spurs, Grady Brown to coach the secondary, Joe Robinson to coach special teams/tight ends, and Everette Sands to coach running backs. Joe Connolly also replaces Craig Fitzgerald as South Carolina's strength and conditioning coach. Also, South Carolina will be looking to replace kicker
Jay Wooten
and punter
Joey Scribner-Howard
. Walk-ons
Landon Ard
and
Adam Yates
will compete at kicker this spring, and sophomore
Patrick Fish
should be No. 1 at punter.
On the move:
Safety
DeVonte Holloman
is looking to transition back to the Spur position after spending 2011 at safety. He worked at the Spur last spring, but the departing
Antonio Allen
played there last season. Also,
Damario Jeffery
is slated to move from the Spur to Will linebacker this spring.
Jimmy Legree
is moving back to cornerback after making a couple of starts at free safety last season.
On the mend:
The Gamecocks will be without star running back
Marcus Lattimore
, who is still recovering from a devastating knee injury suffered halfway through the 2011 season. Running back
Shon Carson
is also out and recovering from a knee injury suffered last season. Sophomore offensive lineman
Mike Matulis
will sit out the spring after recovering from shoulder surgery, and senior cornerback
Akeem Auguste
will be limited as he tries to get over a foot injury that kept him out of all but one game last season. Safety
D.J. Swearinger
will miss the spring after having an operation on his foot. Offensive lineman Brock Stadnik will sit out the spring following shoulder surgery.
Questions:
Auguste and Swearinger are dealing with injuries, South Carolina must replace three of its top four cornerbacks, and Holloman is moving back to the Spur, meaning the Gamecocks' secondary is loaded with questions. Sophomore
Victor Hampton
is expected to take one of the cornerback spots. He's talented, but has had off-field issues. He has the potential to be a key player for the Gamecocks. Depth behind him is a question, as Legree and
Cadarious Sanders
are the only other cornerbacks with game experience. A big spring from redshirt freshman
Ahmad Christian
could put him in the thick of it for a starting cornerback spot. Sophomore-to-be
Brison Williams
takes over at strong safety after playing in eight games last season, but depth behind him is a concern, as rising sophomore
Kadetrix Marcus
,
Edward Muldrow
and
Sheldon Royster
enter spring with six games of experience, all from Marcus. South Carolina must also find players at free safety.
Key battle:
With
Alshon Jeffery
taking his talents to the NFL, and
Bruce Ellington
sticking to basketball, South Carolina enters the spring with little experience at wide receiver.
Ace Sanders
is the only returning receiver with 20 or more catches (29), and
Nick Jones
is the only other one with 10 or more catches (12). There are bodies, but not production.
D.L. Moore
and
DeAngelo Smith
should enter the spring as starters, along with Sanders. Both showed promise in the past, but they combined for just 11 catches last season.
Lamar Scruggs
is a junior, but didn't catch a pass last season. Speedster
Damiere Byrd
is back after missing four games last season because of NCAA issues. Also, redshirt freshmen
Shamier Jeffery
(Alshon Jeffery's brother) and
K.J. Brent
will need to have big springs. South Carolina is expected to get good use out of incoming freshman Shaq Roland, but the Gamecocks need to find at least two solid options before he arrives this summer.
Don't forget about:
South Carolina's front seven should be solid again in 2012.
Jadeveon Clowney
and
Devin Taylor
will man the defensive end positions, while rising sophomore
Kelcy Quarles
, who enjoyed a tremendous freshman season, will help ease the loss of
Travian Robertson
inside. At linebacker, South Carolina only lost
Rodney Paulk
, and returns seniors
Reginald Bowens
and
Shaq Wilson
, who combined for 96 tackles in 2011. Seniors Damario Jeffery and Quinn Smith will also get time at the Will spot.
Breaking out:
The coaches are very excited about the potential redshirt freshmen offensive tackle
Brandon Shell
possesses. He was a standout high school player, and will have every chance to earn the starting spot at left tackle this spring. He has supposedly had a good offseason so far, and has gotten stronger. If he's as good as the coaches say, he'll help shore up a line that has to replace two starters, including left tackle
Rokevious Watkins
.
All eyes on:
Quarterback
Connor Shaw
saw vast improvements in his game as the 2011 season went on. He started to develop into more of a passer than a runner. While he still likes to run at times, you could tell that Shaw was making a conscious effort to rely on his arm first. In his last three games, Shaw averaged 219 yards and threw eight touchdowns to one interception. Now is the time for him to really come into his own as a passer. For South Carolina's offense to be successful, Shaw has to play smarter, and has to boost the Gamecocks' passing game. He'll also need to create better chemistry with his unproven receivers. South Carolina's offensive players will feed off Shaw's spring.
September, 2, 2011
9/02/11
12:00
PM ET
Football season is finally here! Games started Thursday night, but tomorrow is the big day. Get those tailgates going and check out some links while you're at it.
April, 26, 2011
4/26/11
8:00
AM ET
South Carolina has released a
post-spring practice depth chart
, and suspended quarterback
Stephen Garcia
remains bracketed No. 1 along with sophomore
Connor Shaw
.
Garcia missed the last part of spring ball, his second suspension of the spring, but South Carolina coach Steve Spurrier said last week that Garcia would "hopefully" be back if he meets certain guidelines.
Junior DeVonte Holloman, who started at safety last season, is listed co-No. 1 at the Spur hybrid position along with senior Antonio Allen.
Sophomore Jimmy Legree is listed as the starter at free safety and junior D.J. Swearinger as the starter at strong safety.
On offense, redshirt freshman A.J. Cann exited the spring as the starter at left guard.