December, 30, 2013
12/30/13
2:00
PM ET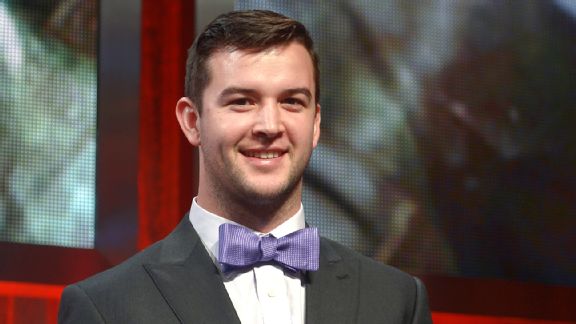 AP Photo/Phelan M. EbenhackAlabama quarterback AJ McCarron looks to put a bow on his career with win No. 37.
After all the big moments, big throws and, most importantly, big wins,
AJ McCarron
has one final game in what has been a record-setting Alabama career.
It's not the way he hoped to go out or the way he expected to go out.
One of college football's most accomplished winners, McCarron had his sights set on a third straight national championship. Instead, Alabama will face Oklahoma in the Allstate Sugar Bowl on Thursday.
As consolation prizes go, it's not a shabby one. But McCarron is accustomed to playing for the top prize only. In fact, this will be the first time as Alabama's starting quarterback that his season hasn't ended in the national championship game.
It will be odd, for sure, but his legacy is untouchable, and according to those who came before him, he has very few peers in a renowned Alabama quarterback fraternity that includes the likes of Joe Namath, Ken Stabler and Bart Starr.
"I don't think there are many quarterbacks in college football history, much less at Alabama, who have the resume AJ has," said Jay Barker, who quarterbacked the Crimson Tide to the 1992 national championship.
"There have been other quarterbacks at Alabama who've been a part of back-to-back championships, but I don't know if they've contributed as much as AJ has. He's been a leader. He's delivered in pressure situations. He's played through injuries. I think you have to put him at the very top."
[+] Enlarge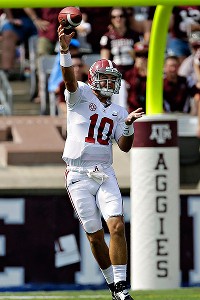 AP Photo/David J. PhillipAJ McCarron will be remembered as a tough competitor who always came up big in big games.
McCarron owns virtually every career passing record at Alabama, at least the major ones. And in most cases, it's not even close.
He'd already thrown more career touchdown passes than anybody at Alabama coming into this season. He heads into the Sugar Bowl with 75. Second place on that list is John Parker Wilson with 47.
McCarron also holds the school record for career passing yards (8,632), total offense (8,625 yards) and career completions (667).
In his last two seasons, he has thrown 56 touchdown passes and just eight interceptions. He led the nation in passing efficiency a year ago and is eighth nationally this season.
In truth, he has put up the kind of numbers that might not be touched at Alabama for a long time. But the numbers that mean the most to McCarron are 36-3, his record as the Crimson Tide's starting quarterback. The 36 wins are the most in school history and third most in SEC history.
"What he's been able to accomplish there is amazing," said Greg McElroy, who quarterbacked Alabama to the 2009 national championship. "It's been fun to watch. One thing I can say is that it's tough playing quarterback at Alabama, especially when you consider that AJ grew up in that state. The pressure can be overwhelming at times, but the level of consistency that he's sustained has been nothing short of spectacular."
His penchant for performing on the biggest stages has set him apart, whether it was his clutch drive in the final minutes at LSU last season, his four touchdown passes in the BCS National Championship last season or his Offensive MVP performance in the BCS National Championship two years ago.
"Everybody talks about him being a game manager, but that's a part of that position. You have to be a good game manager if you're going to be a good quarterback," Barker said. "What I look at is AJ in big games and in big moments. He always seems to deliver in those moments.
"I know it's not a fair comparison, although it's a flattering one. But AJ reminds me of Tom Brady in the way he thrives under pressure and makes the plays that have to be made. There are a lot of quarterbacks who have good stats. But what separates the men from the boys at the quarterback position is being able to handle the biggest of moments.
"Those are the ones who are special, and AJ is in that class."
Even though there's not a national championship at stake in New Orleans, McCarron has made it clear to anybody who will listen that the Tide will be ready. The last time Alabama lost two consecutive games was the end of the 2008 season when the Crimson Tide fell to Florida in the SEC championship game and were then beaten handily by Utah in the Sugar Bowl.
"We slipped up one time. That's football," McCarron said of the bitter loss to Auburn in the Iron Bowl. "You've got to let it go. It's the next game. I don't want to come out and just play a game and not win it. … I don't really care what I'm playing. I want to win."
And that's precisely the way he'll be remembered -- as a winner.
"Coach [Gene] Stallings used to always say, 'Don't confuse activities with accomplishments,'" Barker said. "In other words, if you're not winning, who cares if you're throwing for 300 yards and four touchdowns?
"Ask
Johnny Manziel
or any other quarterback who's putting up big numbers if they'd rather have those stats or have some championships. They'd rather have the titles.
"Your job as a quarterback is to deliver the win, and that's what AJ was so good at."
May, 9, 2013
5/09/13
12:00
PM ET
Yeah, I might have stayed up all night watching hockey. I'm proud of it.
January, 19, 2012
1/19/12
12:00
PM ET
Checking out the SEC with some links.
October, 22, 2011
10/22/11
7:21
PM ET
TUSCALOOSA, Ala. -- We are all set down here inside Bryant-Denny Stadium, where temperatures could deep into the 40s tonight.
Both teams are making adjustments to their offensive lines tonight. For Alabama, right guard Anthony Steen is out after suffering a concussion against Ole Miss, so we'll see Alfred McCullough start in his place.
We could also see some of freshman Cyrus Kouandjio at left tackle tonight. Starter Barrett Jones missed time at practice this week, so Kouandjio could get more action tonight.
Tennessee has moved Alex Bullard, who transferred from Notre Dame, from left guard to center. James Stone moves from center to left guard. The Vols worked with this setup during the week — and Stone has had snapping issues all year.
The interesting thing about this move is that Bullard has yet to play center in an organized football game in his life. Well, what a time to make the move.
We could also see Prentiss Waggner play some corner tonight for the Vols, which would mean that freshman Brian Randolph would play in Waggner's place at safety. Waggner is Tennessee's best defensive back and is so versatile that he's also the Vols' best cover guy.
Tennessee will no doubt load the box to try and slow down Alabama running back
Trent Richardson
, so if someone's going to be on an island back there it might as well be Waggner.
Meanwhile, former Alabama quarterback Joe Namath is the honorary captain for the Crimson Tide tonight.
August, 4, 2010
8/04/10
5:19
PM ET
ESPN.com's House of Pain project continues its countdown of the 50 most painful outcomes in college football history.
Today,
Nos. 30-21 are featured
, and it has a distinct SEC flavor. Losses involving Alabama, Georgia and Ole Miss are all included. I probably don't have to tell Ole Miss fans which game was selected involving the Rebels.
Here's a hint: It was played on Halloween night, and a guy named Cannon broke a few tackles on his way to a memorable punt return for a touchdown.
No. 25:
LSU 7, Ole Miss 3
Oct. 31, 1959
The black-and-white footage of Billy Cannon breaking tackles and racing to an 89-yard punt return for a touchdown against Ole Miss might as well be a horror flick in the state of Mississippi. After all, the game was played on Halloween. The No. 3 Rebels led 3-0 in the fourth quarter when Cannon scored the game's only touchdown and ripped out the Rebels' collective hearts. Ole Miss came back to beat LSU in the Sugar Bowl, but Cannon's legendary return cost the Rebels a perfect season.
No. 23:
Texas 21, Alabama 17
Jan. 1, 1965
Alabama was named the 1964 national champion by both the AP and UPI, but had its perfect season ruined in the Orange Bowl when quarterback Joe Namath was stopped short of the goal line on a fourth-down play from just inside the 1. That play remains one of the most controversial in Alabama football history. Namath, who had hurt his knee earlier in the season, contends to this day that he got into the end zone and so do his teammates.
No. 22:
Penn State 27, Georgia 23
Jan. 1, 1983
Herschel Walker was poised go out on top. That's the way it's supposed to be for legends, but the previously unbeaten and No. 1-ranked Bulldogs couldn't stop the Nittany Lions' offense that night in the Sugar Bowl and suffered what many in Dawg Land still consider the most painful loss in school history. A win would have secured Georgia's second national championship in three years.
August, 13, 2009
8/13/09
9:00
AM ET
Posted by ESPN.com's Chris Low
TUSCALOOSA, Ala. -- Here's the second part of my Q&A with Alabama coach Nick Saban.
It's obvious in listening to him talk about his father, Nick Sr., what a huge influence he was on the younger Saban's life and why he is the way he is today.
The values the coach preaches in his program -- self-determination, being accountable, being disciplined, doing a day's work for a day's pay -- come straight from his father.
| | |
| --- | --- |
| | |
| | Marvin Gentry/US Presswire |
| | As a kid growing up, Nick Saban was an Alabama football fan. |
Saban's father died in 1973 of a heart attack. He was only 46. Saban was just starting his coaching career at the time as a graduate assistant on the Kent State staff under Don James.
How often do you find yourself thinking about your father and the influence he had on your life?
Nick Saban: He was a big influence on a lot of people's lives because he started Pop Warner football in our area [Fairmont, W. Va.]. He bought a school bus and went and picked up kids. Everybody lived in a coal mining town, so we hitch-hiked about every place we went. All of us did. We didn't have cars. You kind of knew who was going to go by. It was a rural area. You knew who would pick you up and who wouldn't. A lot of kids didn't participate because they couldn't get to practice. There are a lot of things I took from my dad -- work ethic, responsibility, compassion for other people. The lessons I learned working at that Gulf service station that my dad owned ... I still relay a lot of those lessons to our players now.
What were some of the most enduring lessons?
NS: I was working at the station when I was about 15 years old. I remember being in a bad mood because I had a fight with my girlfriend, and we broke up. So I wasn't treating the customers very well and talked back to a customer. In those days, everything was full service. You cleaned the windows, checked the oil, put the gas in, said 'please' and 'thank you,' got the change and gave it back to them. I was a little curt that day. My dad said, 'Your mom told me you broke up with your girlfriend. You're a little upset about that?' I said, 'Yeah, I'm a little upset about that.' He said, 'Let me just tell you this: When you let one bad thing that happens to you affect other things, sometimes you create more negative consequences than you like. You're about ready to cause a couple more. You don't have a girlfriend right now. Pretty soon, you're not going to have a job, because I'm going to fire you. And if I fire you, I'm going to whip your ass.' It was that kind of stuff from him all the time.
June, 22, 2009
6/22/09
10:29
AM ET
Posted by ESPN.com's Chris Low
Here's a look at the SportsNation results from Alabama Day in College Football Live's "50 States Tour" and my take on whether or not I agree:
1. Which team was the best in state history?
SportsNation results (29,093 votes)
1992 Alabama, 13-0, national championship: 37 percent
2004 Auburn, 13-0, SEC championship: 30 percent
1979 Alabama, 12-0, national championship: 29 percent
1978 Alabama, 11-1, national championship: 2 percent
1957 Auburn, 10-0, national championship: 2 percent
My take: Agree
It's hard to pick against that 1992 team, which featured one of the most ferocious defenses the SEC has ever seen. I can still see John Copeland and Eric Curry coming off the edge and so do most quarterbacks who had the unfortunate task of trying to pass against them. My biggest question, though, is where is the 1961 Alabama team on this list? You want to talk about a dominant defense, the Crimson Tide finished 11-0 on their way to Bear Bryant's first national championship and never allowed more than seven points in a game. Included were six shutouts, including five in a row heading into the 10-3 win over Arkansas in the Sugar Bowl.
2. Which player is the best in state history?
SportsNation results (26,765 votes)
Bo Jackson, Auburn: 55 percent
Joe Namath, Alabama: 29 percent
Derrick Thomas, Alabama: 11 percent
Cornelius Bennett, Alabama: 5 percent
Pat Sullivan, Auburn: 1 percent
My take: Agree
Jackson is perhaps the most well-rounded athlete to ever come through the SEC and rivals Herschel Walker as the best running back in league history. But, geez, how is Alabama offensive tackle John Hannah not on this list? For that matter, where's Bart Starr, Don Hutson and Ozzie Newsome?
3. Which coach is the best in state history?
SportsNation results (26,343 votes)
Paul "Bear" Bryant, Alabama: 85 percent
Pat Dye, Auburn: 7 percent
Shug Jordan, Auburn: 5 percent
Frank Thomas, Alabama: 2 percent
Gene Stallings, Alabama: 1 percent
My take: Agree
Talk about a slam-dunk. Asking who the best football coach is in Alabama state history is like asking who's the world's best golfer right now. Bear Bryant is, was and always will be the standard for college football coaches. His legacy will endure. Even though he's been dead for more than 25 years, he remains the face of football in the SEC.
February, 18, 2009
2/18/09
12:07
PM ET
Posted by ESPN.com's Chris Low
The Eastern Division was hard enough. Now, onto the Western Division.
I could have picked 10 or 12 for Alabama. Maybe the Crimson Tide should have two Mount Rushmores.
Anyway, here goes and thanks again for all your help. I'm sure there will be no second-guessing, right?

ALABAMA
Bear Bryant: Bryant is revered as much today in Alabama as he was when he was winning six national championships.

Lee Roy Jordan: Bryant referred to Jordan as the "finest player he ever coached."

Joe Namath: Broadway Joe was called the "greatest athlete I ever coached" by Bryant.

Ozzie Newsome: The quintessential tight end, Newsome was one of the most complete players to play for Bryant.

Just missed the cut: Cornelius Bennett, John Hannah, Don Hutson, Ken Stabler, Derrick Thomas, Frank Thomas.

ARKANSAS
Lance Alworth: The first athlete at Arkansas to letter in three different sports in the same year.

Frank Broyles: An iconic figure in the state, Broyles spent 50 years at Arkansas as either head football coach or athletic director.

Darren McFadden: Two-time Doak Walker Award winner is one of the SEC's best backs of the last quarter century.

Billy Ray Smith Jr.: Followed in his father's footsteps and became a two-time All-America defensive end in 1981-82.

Just missed the cut: Gary Anderson, Brandon Burlsworth, Dan Hampton, Ken Hatfield, Lou Holtz.

AUBURN
Pat Dye: As coach, he won 99 games and four SEC titles. As athletic director, he brought the Alabama game to Auburn.

Bo Jackson: The 1985 Heisman Trophy winner remains the greatest all-around athlete the SEC has ever seen.

Ralph "Shug" Jordan: Auburn's stadium bears his name. He won 176 games in 25 years, including the 1957 national championship.

Pat Sullivan: Two-time SEC Player of the Year who became Auburn's first Heisman Trophy winner in 1971.

Just missed the cut: Terry Beasley, Tucker Frederickson, Tracy Rocker, Tommy Tuberville, Carnell "Cadillac" Williams.

LSU
Billy Cannon: A true SEC legend and LSU's greatest player, Cannon won the Heisman Trophy in 1959.

Tommy Casanova: Played offense, defense and returned kicks and was a three-time All-American from 1969-71.

Glenn Dorsey: The most decorated defender in LSU history, Dorsey led the Tigers to the 2007 national championship.

Charles McClendon: LSU's winningest coach with 137 wins and 13 bowl appearances from 1962-79.

Just missed the cut: Paul Dietzel, Kevin Faulk, Dalton Hilliard, Bert Jones, Nick Saban.

MISSISSIPPI STATE
Johnie Cooks: The Bulldogs' greatest defender and a force on some of their best teams. The No. 2 pick in the 1982 NFL draft.

D.D. Lewis: A member of the College Hall of Fame, Lewis was a two-time All-SEC linebacker in 1966-67.

Jackie Sherrill: The winningest coach in Mississippi State history, Sherrill took the Bulldogs to the SEC title game in 1998.

Jackie Parker: An All-America quarterback in 1953 and a two-time SEC Most Valuable Player.

Just missed the cut: John Bond, Jack Cristal, Sylvester Croom, Eric Moulds, Tom "Shorty" McWilliams.

OLE MISS
Archie Manning: The very definition of an icon. The speed limit on Ole Miss' campus is 18 mph to commemorate his jersey number.

Eli Manning: The youngest Manning followed his dad to Ole Miss and became the most prolific passer in school history.

Chucky Mullins: Ole Miss players pass his monument before every game, and many touch his head on the way to the field.

John Vaught: In 24 years as Ole Miss' coach, he made the Rebels a fixture in the national polls and won six SEC titles.

Just missed the cut: Charlie Conerly, Jake Gibbs, Frank "Bruiser" Kinard, Barney Poole, Patrick Willis.