February, 8, 2012
2/08/12
1:05
PM ET
We move to linebackers today in our postseason position rankings.
Defensive lines are very important in this league, but there are other guys in the box who have to be pretty reliable as well in this league. This league has done a pretty solid job of producing some top talent at this position as well.
You can see what are preseason linebacker rankings looked like
here
.
And here are our postseason rankings:
[+] Enlarge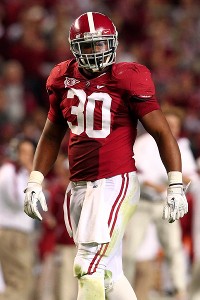 Marvin Gentry/US PresswireDont'a Hightower had career highs in tackles (79), sacks (3.0) and interceptions (1) this season.
1. Alabama:
This unit was at the top of our preseason rankings and didn't budge throughout the season. When you have two All-Americans in Courtney Upshaw, who was the defensive MVP in the Allstate BCS National Championship Game, and Dont'a Hightower it's pretty understandable to see why. Those two combined for 136 tackles, including 29 for loss. Nico Johnson was fourth on the team in tackles, while C.J. Mosley added 37 of his own. Alabama's defense was first nationally in total defense and first in rushing defense, allowing 74.2 yards per game.
2. Georgia:
Linebackers are essential to any 3-4 defense, and the Bulldogs' group did quite well in 2011. Georgia ended up with one of the nation's best linebackers in Jarvis Jones, who led the SEC with 19 tackles for loss and 13.5 sacks. He also had 49 quarterback hurries. Michael Gilliard was third on the team behind Jones with 65 tackles. While Alec Ogletree missed part of the first half of the season, the speedster still finished with 52 tackles, including 7.5 for loss. Cornelius Washington, Amarlo Herrera Christian Robinson combined to add 101 more tackles, as Georgia's defense ranked fifth nationally.
3. Arkansas:
Arkansas' defense had a lot of bend in it last season, but the linebackers found ways to make plays. Newcomer Alonzo Highsmith was third on the team with 80 tackles, led with 12.5 tackles for loss and had 4.5 sacks. The star continued to be Jerry Franklin, who led the team in tackles (101) for the fourth straight year. Then there was Jerico Nelson, who was all over the field as that hybrid linebacker/safety. He came away with 70 tackles, two sacks and two interceptions. Ross Rasner, who played outside with Nelson, added 53 more tackles and two sacks.
4. Florida:
The Gators' defense ranked eighth nationally in part because of the aggressive play of its front seven. Jon Bostic commanded the middle, leading the team with 94 tackles, including 10 for loss. Jelani Jenkins seemed to come more into his own outside, finishing third on the team in tackles. The big surprise was Lerentee McCray, who played both Sam linebacker and the hybrid Buck. He was one of Florida's most active linebackers and grabbed 7.5 tackles for loss. Ronald Powell started at the Buck, but saw most of his production from defensive end.
5. Vanderbilt:
The Commodores entered the season needing to replace three starting linebackers and ended the year with a very impressive linebacking corps. It was led by vet Chris Marve, who was 10th in the league in tackles. Archibald Barnes had a solid year at the Will, ranking fourth on the team in tackles and grabbing two interceptions. Chase Garnham and Al Owens manned the Sam position and combined for 72 tackles and 7.5 tackles for loss. Against conference foes, Vandy's rush defense ranked fourth in the league.
6. LSU:
The Tigers were in search of that dominant middle linebacker all season and might have found a budding star in Kevin Minter, really grew into the position by the end of the season and was fifth on the team in tackles. He started 11 games, but shared time with Karnell Hatcher, who finished with 24 tackles. Ryan Baker was LSU's best linebacker, was an outstanding leader and was fourth on the team with 64 tackles. Stefoin Francois was the starter at Sam, but he accumulated just 11 tackles, while backup Tahj Jones registered 27. Still, LSU owned the No. 2 national defense.
7. South Carolina:
The Gamecocks saw improvement from this group as the season went on. While the defensive line got a ton of credit, the linebackers did their part in securing the defense's No. 3 national ranking. Antonio Allen spent some time in the box at the Spur position and led South Carolina with 88 tackles and had 9.5 for loss. Rodney Paulk and Shaq Wilson, who returned from injury, rotated at the Mike and combined for 109 tackles. Will linebacker Reginald Bowens added 44 tackles.
8. Kentucky:
The Wildcats owned the SEC's top tackler in Danny Trevathan (143), who should have received more national attention. Trevathan was one of the most active defenders around at the Will. Winston Guy played the hybrid linebacker/safety and was third in the SEC with 120 tackles. Ronnie Sneed added 71 more tackles. Kentucky's defense was much more aggressive under new defensive coordinator Rick Minter and got more exotic looks from its linebackers.
9. Mississippi State:
Cameron Lawrence was a beast for the Bulldogs in 2011. He was second in the SEC with 123 tackles, and had 49 solo. Senior Brandon Wilson added 94 more tackles. Brandon Maye, who transferred from Clemson, was expected to make a bigger impact for the Bulldogs, but played behind Wilson and was 11th on the team in tackles. Sophomore Deontae Skinner added 69 tackles and Mississippi State ranked in the bottom half of the SEC in total defense.
10. Tennessee:
The Vols' top three tacklers were linebackers. The leader was senior Austin Johnson, who finished the season with 81 tackles, including 41 solo. Next were two true freshmen on the outside in A.J. Johnson (80) and Curt Maggitt (56). Both freshmen experienced up-and-down seasons, but were SEC All-Freshman selections. Herman Lathers, who was a projected started, missed 2011 with a fractured ankle, and after the big three, the Vols didn't get a ton out of their linebackers, as Dontavis Sapp was their next most productive linebacker with 20 tackles.
11. Auburn:
The Tigers' defense really struggled in 2011 and gave up more than 200 rushing yards a contest. Auburn had to basically start over at linebacker, but lone returning starter Daren Bates had a heck of a year, ranking fourth in the league with 104 tackles. He really tried to make sure he played all over the field last fall. After that, the play was up-and-down. Senior Eltoro Freeman took over in the middle halfway into the year and finished with 58 tackles, while Jake Holland and Jonathan Evans combined for 83 tackles.
12. Ole Miss:
The Rebels' defense had all sorts of problems defensively, including allowing 256.5 yards per game and 21 rushing touchdowns. The linebackers took a major hit with the absence of D.T. Shackelford, who missed the season with a knee injury. Mike Marry stepped up at the Mike and led Ole Miss with 81 tackles and five for loss. Freshman Serderius Bryant and junior Joel Kight combined for 122 tackles. Damien Jackson played the Spur and added 64 tackles, but Ole Miss' defense ranked dead last in the SEC.
August, 30, 2011
8/30/11
3:30
PM ET
Ole Miss' defense is getting back to the roots of it all.
Fundamentals, attitude, a blue-collar work ethic and trying to outwork others will be the foundation of a defense that was a disaster in 2010.
Defensive coordinator Tyrone Nix said his players took their talents and what those before them did for granted last season. Players strutted around thinking the red carpet was going to roll out for them each game.
It didn't come close to working that way as the Rebels ranked last in the SEC in scoring defense (35.2 points per game) and 11th in total defense (399.2) and passing defense (246.3). Ole Miss also allowed opponents to score a league-high 95 percent of the time when they ventured into the red zone (27 touchdowns and eight field goals in 37 attempts).
[+] Enlarge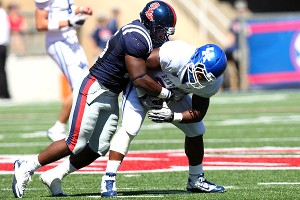 Nelson Chenault/US PresswireJoel Kight is part of an Ole Miss defense that expects to be improved this season.
That's a far cry from the defenses Nix led at Ole Miss in the previous two seasons. Those defenses commanded respect and delivered results. Last year's defense just struggled to keep its head above water.
This season, Ole Miss is dealing with a slew of younger players on defense. It has been both exciting and tiresome for Nix and his defensive staff, but with days until the Rebels' tough season-opener against BYU, Nix says he's happy with where his defense is.
"These kids have really worked hard and are trying to restore some of the respect that was lost last year," Nix said. "We built this thing up in the first couple of years and earned a lot of respect defensively and we're going to continue to work toward that."
In order to do that, this group has had to shovel away its pride and start over. Nix said he's seen players getting to meetings on time or earlier this time around. Players are holding each other accountable instead of assuming they'll get it right on the next play.
There is fire and determination in practice, Nix said, and he sees that in his coaching staff as well. Nix said the addition of Keith Burns as the secondary coach has been a major boost for the defense and added that the coaches have become better teachers. They too took past talents for granted.
Senior linebacker Joel Kight agrees: This team thought the past would push it in 2010. He was also wrong, but he also sees a change.
Kight sees more togetherness and trust among players. Youngsters are being vocal, but they are also willing to listen to veterans. Kight is being looked at as a leader, but he's made sure he hasn't fallen off in practice or his words will mean zilch to players, especially the young ones -- and there are a lot who will see the field early.
Top-rated linebackers C.J. Johnson and Serderius Bryant are expected make major impacts. So are defensive backs Cody Prewitt and Senquez Golson.
While Nix admits no true freshmen are ready to be regular starters, he thinks they'll contribute a lot, starting with the opener.
Seasoned players will also guide this team. Senior end Kentrell Lockett is back after blowing out his knee last season, providing a tremendous presence in the pass rush. Wayne Dorsey will be assisting opposite, while Marcus Temple will lead a more athletic defensive backfield.
The hope, Kight said, is that everyone doesn't hold back this year.
"They say we have a lot of potential. I don't really like the word potential," he said. "I want to see us use that potential. We're very talented and it's up to us to be a good overall, all-around defense."
But there will be plenty of hiccups. It's hard for a unit to perform an instant 360, and Nix is fine with that. What he won't tolerate is complacency. For the defense to shake last season's setback, it will have to rediscover itself and get back to the foundation of football.
"You're either at the top or at the bottom because everybody sitting in between is just a juggling act," he said. "Right now, we're at the bottom of it and we want to finish on top and all we can do is control the present and that's play the best we can, play as a team and play fundamentally sound. If we do those things I think we'll be happy with our season this year."
August, 29, 2011
8/29/11
5:00
PM ET
With just days until the season starts, another SEC team has released its opening day depth chart.

This time, it was Ole Miss, who starts the season with a tough home opener against BYU.
This one was expected to be more exciting with the whole quarterback battle going on, but with
Randall Mackey
being suspended for Saturday's game because of a fight at a downtown bar,
Barry Brunetti
was named the starter last week.
Even with that out of the way, there were still some interesting notes to come out of coach Houston's Nutt's
season-opening depth chart
.
For starters, true freshman linebacker C.J. Johnson, who most people expect to be a star in the Rebels' defense is listed as the No. 2 middle linebacker behind sophomore Mike Marry. Johnson's arrival has been highly anticipated and it wouldn't be a shocker if he moved up the depth chart in the coming weeks.
Redshirt freshman linebacker Ralph Williams is currently listed ahead of junior Joel Kight at weakside linebacker. Kight started nine games in 2010.
The only true freshman to make the first starting lineup for the Rebels is wide receiver
Donte Moncrief
, who is ahead of redshirt freshman Vincent Sanders, who some have felt could be a major playmaker for the Rebels. Highly-touted prospects
Nickolas Brassell
and
Tobias Singleton
are listed in the "or" situation with
Ja-Mes Logan
.
Junior college transfer cornerback Wesley Pendleton is listed as a starting cornerback. Big things are expected from him after a success JUCO career and a very solid spring and preseason.
August, 11, 2011
8/11/11
12:45
PM ET
Checking out some links around the SEC.
June, 30, 2011
6/30/11
9:00
AM ET
By
ESPN.com staff
| ESPN.com
We take a closer look today at a key member of Ole Miss' staff.

Coach:
Tyrone Nix
Position:
Defensive coordinator and linebackers
Experience:
He's entering his fourth season on the Ole Miss staff and was promoted to assistant head coach in January 2010. Prior to coming to Oxford, Nix was the defensive coordinator at South Carolina for three seasons from 2005-07 under Steve Spurrier. Nix spent 10 years on the Southern Miss staff from 1995-2004 and coached every position on defense. During his final four seasons at Southern Miss, he was the Golden Eagles' defensive coordinator. Ole Miss has finished among the top 20 teams nationally in tackles for loss all three of Nix's seasons as defensive coordinator.
Of note:
The Rebels have generated more than 30 sacks in each of Nix's three seasons as defensive coordinator. They finished with 31 last season, 36 in 2009 and 39 in 2008. ... Nix, 38, got his first job as a defensive coordinator in 2001 at Southern Miss when he was just 29, making him the youngest Division I-A defensive coordinator in the country. ... In 2003, Nix was a finalist for the Broyles Award, which is given annually to the nation's top assistant coach. ... He played collegiately at Southern Miss from 1990-93 and was a standout linebacker. He was inducted in 2003 into the Southern Miss M-Club Hall of Fame. ... Former Florida coach Urban Meyer tried to hire Nix as the Gators' defensive coordinator when Charlie Strong took the head coaching job at Louisville following the 2009 season, but Nix stayed put at Ole Miss and received a hefty raise. He made $500,000 last season and will earn $550,000 in 2011.
His challenge:
The Ole Miss defense took it on the chin last season, finishing 11th in the SEC in total defense and giving up just under 400 yards per game. Not much went right for Nix and the Rebels' defense, which was decimated by injuries and inexperience in the secondary. The Rebels gave up 24 touchdown passes and intercepted only six passes. Nix's first order of business in 2011 is seeing to it that his team rekindles that same edge and attacking, aggressive style that epitomized the 2008 and 2009 Ole Miss defensive units. Somewhere along the way, the Rebels lost that edge a year ago. And as linebackers coach, Nix faces a major rebuilding task. His top returning defender, junior D.T. Shackelford, tore up his knee in the spring and isn't expected back this season. Shackelford was the Rebels' weak side linebacker and also lined up some at defensive end. If that's not enough, sophomore linebacker Clarence Jackson was kicked off the team in May following his second arrest in nine months. Jackson ended the spring as the starter at weak side linebacker. The Rebels had already lost a pair of senior starters at linebacker from a year ago -- Jonathan Cornell and Allen Walker. Nix is high on sophomore Mike Marry and junior Joel Kight, but there's not much in the way of proven depth at linebacker. Incoming true freshman C.J. Johnson will almost certainly have to play right away. It helps that defensive end Kentrell Lockett was granted a sixth year of eligibility by the NCAA, but he's coming off a serious knee injury. The Rebels could really use big years from a couple of junior college transfers, namely nose guard Gilbert Pena and cornerback Wesley Pendleton, and it's a defense that needs something good to happen early to help build some momentum. Last season, it was just the opposite. The bottom fell out in that season-opening 49-48 overtime loss to Jacksonville State, and it was a struggle the rest of the way for Nix's guys.