August, 22, 2013
8/22/13
2:00
PM ET
NASHVILLE, Tenn. -- When
Wesley Tate
says he can do just about everything in Vanderbilt's offense, he means it.
Nothing outside of being asked to run things under center is too much for Vandy's fifth-year athlete. He started his career as a running back, but spent time in 2011 and 2012 at slot receiver before moving back to running back before last season started.

Depth issues caused so much back-and-forth for Tate, who admits to being a little frustrated with his movement at first. It was tricky picking up and understanding his routes. Where was he supposed to be? Why was he supposed to be there? What were his protection duties?
It also didn't help that when Franklin's staff arrived, Tate wasn't sure what to do when he wasn't holding the rock.
"When he had the ball in his hands he was fine, but when he didn't he would kind of watch or stop," said offensive coordinator/running backs coach John Donovan.
Getting the movement down helped, but it wasn't until he fully understood his role the position did Tate feel comfortable moving.
"At first, I was a little confused about it and wasn't really sure, but as I began to learn positioning and became comfortable with it, I understood why," Tate said.
During James Franklin's first season as Vanderbilt coach in 2011, he moved Tate to receiver because of a lack of bodies there. Tate finished the season ranking fourth on the team with 22 receptions and 187 yards. Not bad for a beginner, but just when Tate thought he'd be catching on even more, he moved back to running back the next spring. During fall camp, he started as a receiver, but left as a running back.
After rushing for 376 yards and ranking second on the team with eight touchdowns, Tate will begin the 2013 season against Ole Miss as the Commodores' No. 1 running back. And he'll do so a smarter, more complete player.
[+] Enlarge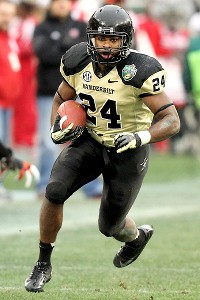 Scott Donaldson/Icon SMIVanderbilt tailback Wesley Tate tries to model his game after NFL star Adrian Peterson.
See, all that movement has benefited the 6-1, 223-pounder. He has known the running back position his entire football life and is now comfortable enough to line up at receiver or make plays in the passing game out of the backfield.
"He gives you some flexibility as far as where he can go and what he can do," Donovan said.
"He's Mr. Versatile."
The staff would love for Tate to be a do-everything player, but the hope is that he can become a true big-back. He has the build for it, but mentally he has to turn on his physical switch, Donovan said.
He's showed glimpses in the past, but it's time for Tate, who tries to mimic NFL running back
Adrian Peterson
's bullish running style, to be more consistent in that area and Donovan's advice has been pretty simple: "When in doubt, stick your foot in the ground and get north. You're a big, fast dude and not many people are going to want to tackle you."
More physical play could do wonders for Tate. He might be listed as the team's starter, but Franklin has made it clear that sophomores
Brian Kimbrow
, who has the best speed and moves at running back, and
Jerron Seymour
are right there with him. His position certainly isn't set in stone, but more complete play could get him closer to that.
Tate sounds ready for more pressure and more responsibility. It was easy to play behind Vandy great Zac Stacy for two seasons, but now it's Tate's turn. He felt better this summer because he knew what position he'd be playing. He helped his game by watching more film this summer than he had during any other summer combined. He reads defenses better, anticipate blitzes better and improved his footwork.
Tate's eyes have been all over the field, and with this being his last chance with the Dores, it's time for him to show what he's learned.
"For me in my career I haven't had a lot of opportunities, but when you have the opportunity, you have to take advantage of it," Tate said.
"Playing receiver has helped us be diverse in our offense, and our opponents are definitely going to see that this season."
December, 28, 2012
12/28/12
12:00
PM ET
The bowls are coming! The bowls are coming!
December, 23, 2011
12/23/11
9:00
AM ET
By
ESPN.com staff
| ESPN.com
The regular-season grades for the
Vanderbilt Commodores
are pretty spiffy. They're headed to the AutoZone Liberty Bowl to face Cincinnati on Dec. 31.
OFFENSE: B-

When you consider that the offensive grade for the Commodores each of the past two seasons was a resounding F, the fact that they check in this season with a B- is a testament to how much they improved on offense. That improvement was most glaring in the offensive line, which paved the way for
Zac Stacy
to rush for a school-record 1,136 yards. The Commodores averaged 26.9 points per game, a full 10 points more than they averaged a year ago.
Jordan Rodgers
' emergence at quarterback helped bring the big play back to the Vanderbilt offense. Sophomore receiver
Jordan Matthews
averaged 19.5 yards per catch, while redshirt freshman receiver
Chris Boyd
caught seven touchdown passes. After being held without a touchdown in back-to-back games against South Carolina and Alabama, Vanderbilt averaged 31.6 points in its final seven games and scoring at least 21 points in all seven.
DEFENSE: B
The Commodores had several veterans returning on defense and played at a high level on that side of the ball all season. Early on when the offense was trying to find its identity, the defense carried this team. Senior leaders Chris Marve, Tim Fugger, Sean Richardson and Casey Hayward all had big seasons, and it's a defense that specialized in taking the ball away. The Commodores forced 27 turnovers, tied for fourth in the SEC, and returned four of their 17 interceptions for touchdowns. The Commodores ranked 19
th
nationally in total defense, allowing an average of 324.6 yards per game, and were 27
th
in scoring defense, giving up an average of 20.8 points per game. Vanderbilt has had some good defenses over the years, but this one ranks right up there with any of them.
SPECIAL TEAMS: C+
The Commodores made some big plays on special teams. They gave themselves a chance to beat Georgia with the late blocked punt, and Andre Hal returned a kickoff 96 yards for a touchdown earlier in that game. But they also made just 7 of 13 field-goal attempts, missing two in the 27-21 overtime loss to Tennessee, and had a costly running-into-the-kicker penalty go against them in that loss to the Vols, too. They were fourth in the league in both net punting and kickoff coverage. Richard Kent averaged 42.5 yards per punt.
COACHING: B
Some might look at this grade and think it's a bit high for a team that went 6-6 in the regular season. But how many times have the Commodores won six games in the regular season, and how many times have they played in a bowl game? In his first season, James Franklin came in and completely changed the culture at Vanderbilt. He also brought an edge to the program that should serve it well for years to come. It wasn't just Franklin, either. His staff is excellent. Look at the job offensive coordinator John Donovan did with a unit that ranked 112
th
nationally in scoring offense last season. The same goes for offensive line coach Herb Hand, who was the only holdover from the previous staff. Defensive coordinator Bob Shoop is one of the brightest defensive minds out there. It's a staff that wasn't shy about trying new things, either, and they obviously pressed all the right buttons with this team – only the fifth in school history to play in a bowl game.
April, 21, 2011
4/21/11
11:47
AM ET
NASHVILLE, Tenn. -- It couldn't have started any better for
Larry Smith
at Vanderbilt.
His first career start came in the 16-14 win over Boston College in the 2008 Music City Bowl, which just happened to be the Commodores' first bowl win in 53 years.
Since that game, there haven't been a lot of memorable moments for Smith, now a senior, as the Commodores have struggled to find any semblance of offensive firepower.
In 13 of their last 16 SEC games, they've been held to 14 points or fewer and finished 110
th
nationally in total offense each of the last two seasons.
[+] Enlarge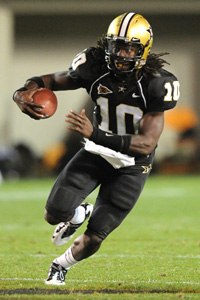 Don McPeak/US PresswireThe Commodores need to identify more playmakers to help quarterback Larry Smith.
Smith, who's had each of his past two seasons cut short by injuries, has completed just 47 percent of his passes with 10 touchdown passes and 12 interceptions over the past two seasons.
From an offensive perspective, it's been hard to watch.
But the last thing first-year Vanderbilt coach James Franklin is going to do is dump all of the Commodores' offensive woes the last two years on Smith.
And in fairness, there were a lot of times when Smith never even had a chance.
"Larry Smith has played a lot of football here and taken a lot of the blame, and probably a lot of it unwarranted, for the lack of success," Franklin said. "I was very impressed with him this spring. He has a great body, understands concepts, has natural leadership skills and a strong arm.
"But the reality is that we didn't have a quarterback competition.
Jordan Rodgers
is a guy we're excited about, but he wasn't healthy this spring."
So what Franklin wants to do when preseason camp rolls around is make Smith earn the job once Rodgers' shoulder is healthy enough to compete and once the three freshman quarterbacks arrive on campus.
"Although I was pleased with Larry and impressed with what he did, I still want it to be a competition and want him to have someone to compete with and give those other guys an opportunity to earn the job as well," Franklin said.
Of course, for any quarterback at Vanderbilt to have success, the Commodores are going to have to find more playmakers. They didn't scare anybody down the field the last two seasons, making it easy for defenses to load the box.
This spring,
Jordan Matthews
, a 6-foot-3, 200-pound sophomore receiver, showed signs of being one of those guys who could give the Commodores more big plays, and Franklin was also impressed with sophomore
Jonathan Krause
and his ability to make plays.
Once
Warren Norman
returns to full speed from his wrist injury, the Commodores should have a strong stable of running backs. Sophomore
Wesley Tate
really came on this spring with his blend of size and speed, and senior tight end
Austin Monahan
should prosper in this system.
The great unknown is the offensive line, which has been a recurring problem, especially in the depth department.
However it shakes out, Smith is confident that the Commodores are already ahead offensively of where they were either of the past two seasons.
For one, he feels like he's a better player in all facets thanks to the tutelage of quarterbacks coach Ricky Rahne and Franklin, who also played quarterback in college and has worked extensively with quarterbacks during his career.
"I've gotten better across the board, whether it's learning how to study film, my footwork or just being a better leader," Smith said. "There's a lot more focus this year, and you can see it on the field. We've had fewer mental errors, and guys are playing their roles."
As frustrating as the past two seasons were for Smith, he's eager to see what this offense can do under the new regime.
He can already tell that the guys around him on offense are playing with more confidence.
"It starts with us. We've got to believe," Smith said. "The last two years, our confidence level was low. I think Coach Franklin has done an excellent job of improving our confidence and having a mindset that it can be done here at Vanderbilt.
"I'm not worrying about the past. I'm focusing on Elon and plan to go out with a bang my last season."
Franklin said he's yet to make a final decision on who would call the plays next season. He may call his own plays or turn those duties over to offensive coordinator John Donovan, who came with Franklin from Maryland.
"We'll wait and feel this whole process out," Franklin said. "We'll work through the summer and summer camp and then make a decision that's in the best interest of our program."